Mini Countryman review (2010-on)
The country bumpkin grows up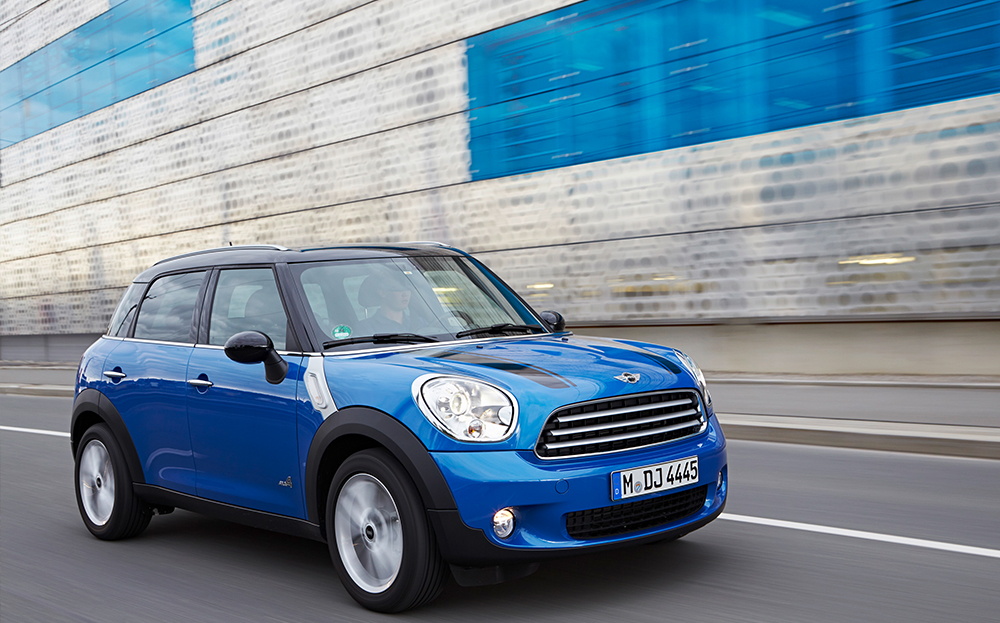 What is the Mini Countryman?
For those of a certain age, the Mini Countryman is a small estate car with a bit of timber glued on the back. Today, that car is called the Mini Clubman (although there's no exterior woodwork) while the Countryman has morphed into a compact, crossover SUV with five doors. It's a handy 374mm longer than the Mini hatch and 154mm taller. The result is a cabin that can accommodate five people and a boot just roomy enough for their luggage.
In this respect, the model's closest rival in the Mini range is the better looking but more expensive, Paceman. It shares the Countryman's wheelbase and track width but comes with only three doors. However, like the Countryman it is available in two and four-wheel drive formats.
---
Search for and buy a Mini Countryman on driving.co.uk
---
Countryman prices range from a reasonable £16,545 for the 98bhp 1.6 One 2WD to a stiff £29,800 for the John Cooper Works auto ALL4 (Mini-speak for four-wheel drive). On the upside, this last squeezes out 218bhp and 206 lb ft torque – good for  0-62mph in 7 seconds ­ – from its 1.6-litre turbocharged engine. Four-wheel drive ensures there's no unruly torque steer.
The remaining petrol engines are the 122bhp 1.6 powering the standard Cooper and the 184bhp 1.6 in the Cooper S. The diesel range is represented by a 90bhp One D, 112bhp Cooper D and 143bhp Cooper SD. ALL4 transmission is available on Cooper D and Cooper S models upwards.
The drive
Taller and podgier but no less fun to drive, the Countryman has much of the hatchback's point and shoot character. Admittedly, our test car was the range-topping  JCW with levels of grip and power far in excess of lesser Countrymans. But it wasn't so sporty a set-up as to make us believe standard models would be wildly softer and bouncier. At all times the JCW's ride was supple and absorbent rather than harsh and crashy, while body roll was kept nicely in check. It's a noisy car, though. On motorway drives, engine boom competes with wind noise from the side window and windscreen pillars.
Fuel economy on the JCW was close to 40mpg in gentle driving, impressive considering the car had permanent four-wheel drive, but on a blast or merely cruising at 70mph on the motorway it fell to 32mph.  In everyday motoring the four-wheel drive system splits power 50:50 across the wheels  with up to 100% being fed to the rears as circumstances demand. It's a quiet and discreet system.
The Countryman's seating position is not as lofty as a conventional SUV but is usefully higher than the Mini hatch. The relationship of driving seat to clutch could be better. It is possible to adjust the seat but even at its lowest, your clutch foot can struggle to modulate the pedal, leading to some occasional sharp take-offs and slurred changes. One minor point: the aircraft-style handbrake was awkward to use. "Why oh why" can't car makers be happy with a conventional lever?
The interior
In the front of the Countryman it's business as usual. If anything, the Mini's trademark "Cyclops-eye" speedometer is even larger and more absurd. As ever, some minor controls are fiddly to use. Those for the ventilation, for example, are arranged low down on the centre console, ahead of the gear lever. Familiarity soon teaches you to use them without fumbling but it shows what value Mini places on style and panache, both of which abound in the Countryman.
It's in the rear cabin and beyond that the car shows its distinctive colours. There's space for three people here, though don't expect saloon-car proportions. The seats, arranged as a two-thirds/one-third split can slide to increase legroom or boot space. Two individual seats separated by a centre rail into which you can slot cupholders are available as a no-cost option. The boot is already fairly large but you can make it larger still by sliding the seats forward and tipping their backs onto the squabs. There's underfloor storage, especially good for smaller, more valuable items.
For all its SUV pretensions, the Countryman is too low-riding for sight-seeing and feels a little too cool and self-conscious to allow the kids free rein. Active, boisterous families should look elsewhere but calm couples should be happy.
The one to buy
Mini Countryman Cooper D
Specifications
Engine: 1598cc, 4 cylinder
Power: 112bhp @ 4000rpm
Torque: 199 lb ft @ 1750rpm
Transmission: 6-speed manual
Acceleration: 0-62mph in 10.9sec
Top speed: 115mph
Fuel: 64.2mpg (combined)
CO2: 115g/km
Road tax band: C
Dimensions: L 4097mm, W 1789mm, H 1561mm
Mini Countyman rivals