The world at their wheels: The Grand Tour episode guide
Get ready for expensive cars in exotic places and loud explosions, says script editor Richard Porter
---
Published 31 October 2016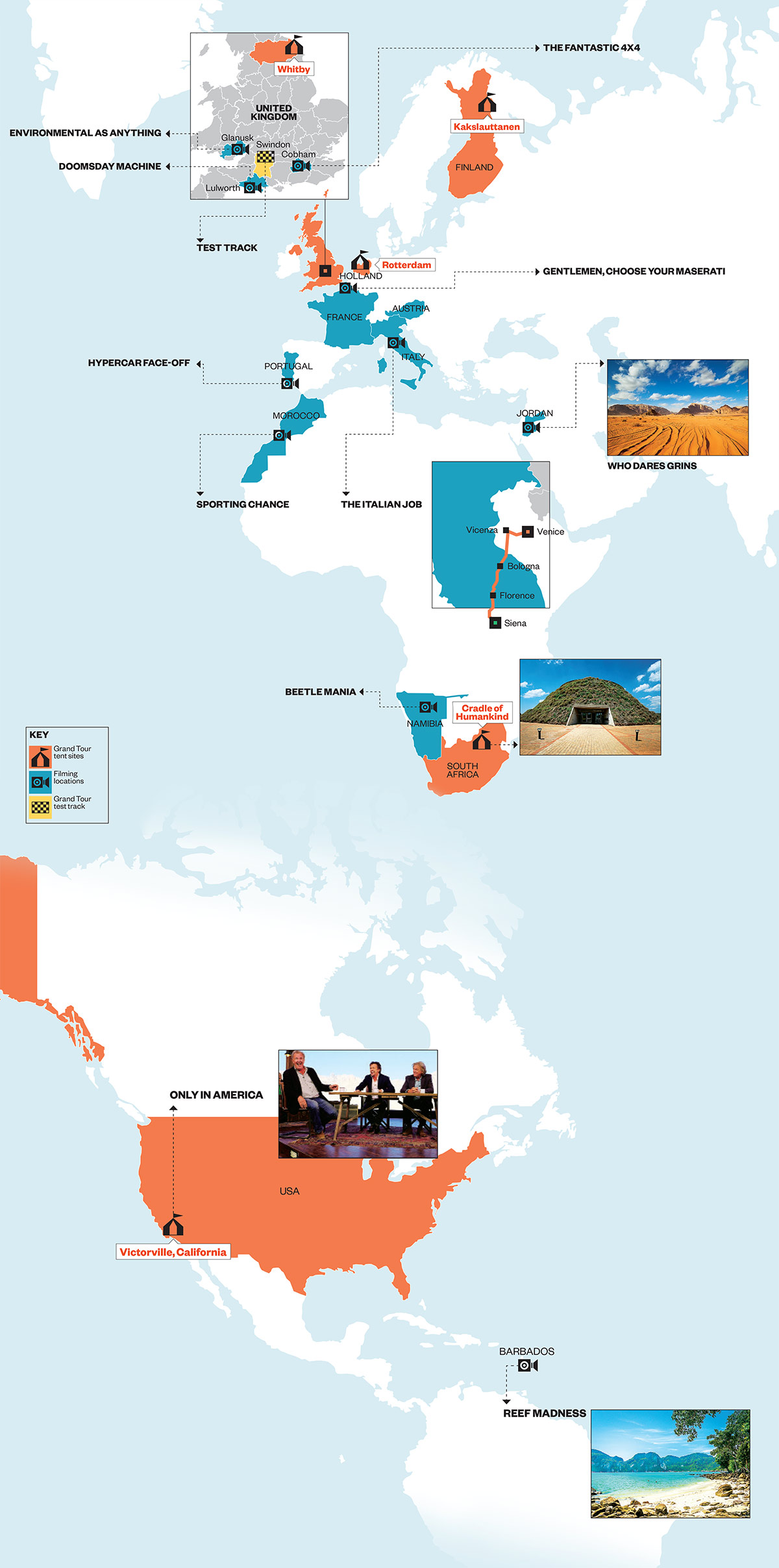 ONLY IN AMERICA
Location: Victorville, California
How do you make a splash to announce the arrival of a new car show? Well, one method is to take over a vast tract of Californian desert, assemble a massive flotilla of unusual machines, sprinkle in some crazy "art cars" from Nevada's Burning Man festival and garnish it with a flame-spitting metal scorpion, a lorry that looks like a pirate ship, a gang of stilt- walkers and fire-breathers, a trio of hot Ford Mustangs, a crowd of many thousands, a live band and a squadron of jets flying overhead. Then stroll on stage as coolly as possible and say: "Hello, and welcome to the new show".
ENVIRONMENTAL AS ANYTHING
Location: Glanusk, UK
Motoring manufacturers are quick these days to boast of how green their vehicles are, what with their recycled plastics, renewable materials and guava-stem carpet mats. But Clarkson, Hammond and May believe that such things pay mere lip-service to the idea and, to lead by example, they each create a car made of properly sustainable materials. Viewers may be grateful they don't have smell-o-vision.
DOOMSDAY MACHINE
Location: Lulworth, UK
You may be unfamiliar with the world of "preppers". They're people who believe an apocalypse is on the way and are keen to survive it through being prepared — or "prepped". It's a way of thinking that's very popular in America and hence something that catches the eye of Hammond, because he likes American things. Specifically, he becomes fascinated by the preppers' idea of a doomsday-proof car, also known as a "bug-out" vehicle. Keen to get cracking before the nukes and ultra-wasps and zombies arrive, Hammond sets out to build a British bug-out car and show it off to his colleagues — who, naturally, are not to be outdone.
---
Browse NEW or USED cars for sale on driving.co.uk
---
THE GRAND TOUR TEST TRACK
Location: Swindon, UK
The Grand Tour has its own punishing test track at a secret location (Swindon). Highlights include an unexploded bomb, an electricity substation and an old lady's house.
THE FANTASTIC 4X4
Location: Cobham, UK
The sport utility vehicle is a staple of modern motoring, and few car companies do without at least one in their range. Yet Clarkson believes they're all doing it wrong and, to show them the error of their ways, sets out to create his own SUV at a fraction of the cost. After a false start that we won't dwell on here, he reveals his ingenious creation, which he names, with no small amount of modesty, the Excellent. Hammond and May remain sceptical.
GENTLEMEN, CHOOSE YOUR MASERATI
Location: Pan-Europe (starting in France)
Ferraris and Lamborghinis are all very nice, but there's nothing to beat the elegance and sophistication of a Maserati, a car that imbues owners with an air of cruising across Europe, on the way from chateau to schloss, pausing along the way to lunch with ambassadors and solve a couple of crimes. Enthused by this idea, the Grand Tour presenters each buy a bargain-priced Maserati and meet in France to live out their
Euro-touring fantasies. The producers admit that this item does not contain any chateaux, schlösser or ambassadorial lunches, though they insist there is a crime in there. Probably in the clothing department.
HYPERCAR FACE-OFF
Location: Portugal
For the past couple of years the car-nerd landscape has been dominated by debates about the relative merits of three hybrid hypercars — the McLaren P1, the Porsche 918 Spyder and the Ferrari LaFerrari. The Grand Tour has brought them together on a Portuguese racing circuit to decide once and for all which is the best. This film contains tests of extreme performance, exacting demonstrations of handling and, for Clarkson, a rather foolish bet.
SPORTING CHANCE
Location: Morocco
Nothing satisfies the keen driving enthusiast like a lightweight sports car, so the presenters stage a shootout between three of the best: the Alfa Romeo 4C Spider, the Mazda MX-5 and the Zenos E10. The contest takes place on stunning roads against a backdrop of the vast and beautiful landscapes of Morocco.
THE ITALIAN JOB
Location: Italy (obviously)
In the 18th century a grand tour was something a chap undertook in order to enrich himself with Europe's finest culture and cuisine. In line with the title of their new programme, Clarkson and May decide to undertake a modern version in two grand touring cars: the Aston Martin DB11 and the Rolls-Royce Dawn. Unfortunately their attempt at elegance and sophistication is soon undermined en route to Italy by a colleague with a more colonial take on the leisurely touring holiday.
WHO DARES GRINS
Location: Jordan
Deep within Jordan lies a top-secret training base where, every year, special-forces soldiers from around the world compete to see who's best at running about, firing guns and doing heroic things involving helicopters — a natural fit, surely, for the inherent athleticism of Clarkson, Hammond and May. Also, there may be a car chase.
---
Browse NEW or USED cars for sale on driving.co.uk
---
REEF MADNESS
Location: Barbados
It's well known that the world's coral reefs are dying, and this is almost certainly being blamed on car emissions. So, in a gesture that Bill Oddie would be proud of, the Grand Tour presenters take a trip to Barbados to redress the balance by creating an artificial reef — using cars. Not just a feeble excuse to take a nice holiday on expenses but important ecological work that Oddie himself would no doubt have undertaken if he weren't busy in the New Forest, rummaging around in badger poo.
BEETLE MANIA
Location: Namibia
Clarkson, Hammond and May concur on few things, but they do agree that the original Volkswagen Beetle is awful. Unless, that is, you turn it into that jaunty symbol of carefree 1960s grooviness, the beach buggy. For a true test of their endurance,
the three assemble their Beetle-based machines and then report to a remote beach in Namibia for the start of a journey that is epic in both scale and discomfort.
OTHER GRAND TOUR TENT SITES
Cradle of Humankind, South Africa
Kakslauttanen, Finland
Rotterdam, Holland
Whitby, UK
Contents
Click the title to view the page
The Grand Tour begins on Amazon Prime on November 18, 2016.