Jeremy Clarkson opens Diddly Squat restaurant thanks to 'cunning little loophole', but there are several catches
Not one for vegetarians
Jeremy Clarkson has opened a 40-seat restaurant on his Diddly Squat farm in rural Oxfordshire, despite initial plans to do so being refused by the local council.
The Clarkson's Farm presenter and regular columnist for The Sunday Times said that although he had been refused planning permission for a restaurant next to his farm shop outside the village of Chadlington, near Chipping Norton, on the grounds that councillors believed it would spoil the protected rural landscape, a "cunning little loophole" meant that the plans were able to go ahead.
"It's a weight off my shoulders and it appeals to my anti-establishment bent," Clarkson said. "You can write to your council and inform them that you are changing a barn's use, it's called permitted development . . . We happen to have a barn which met every single one of the criteria."
The impromptu and improvised nature of Diddly Squat Restaurant's establishment means that it has more than its fair share of idiosyncrasies compared to other bistros.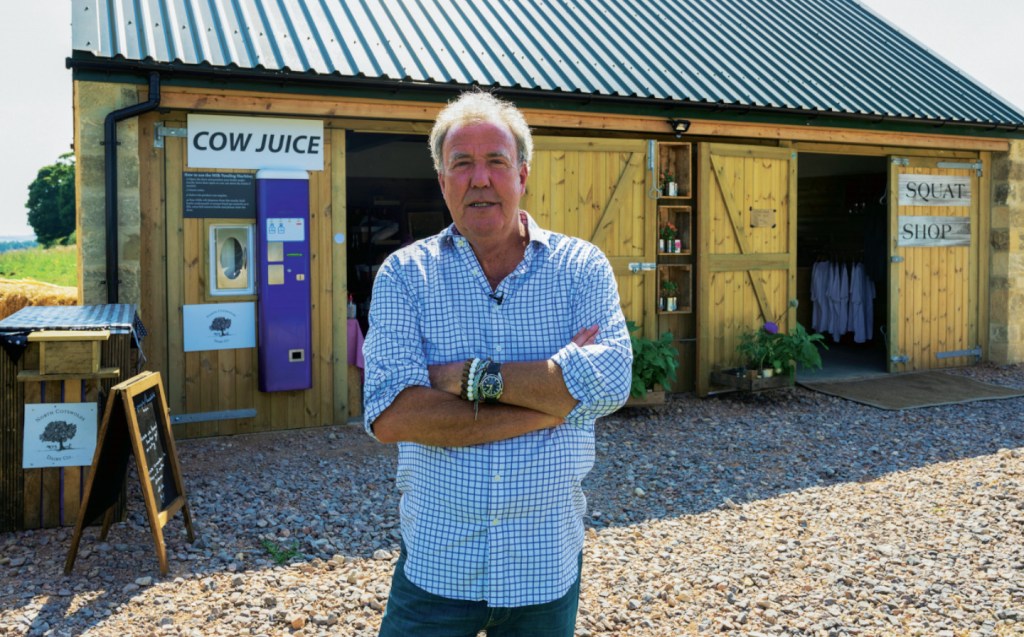 For one, guests arriving at the venue must climb into a trailer that is then towed by a tractor to the barn elsewhere on the farm. Apart from a tiny VIP section located in a shepherd's hut, the tables are entirely outdoors, while those wishing to go to the toilet must hop back on board the tractor to be taken to one of the four portaloos located some 250m from the restaurant (quad bikes are available for those in a rush).
Diddly Squat's kitchen is currently run by Pip Lacey, a winner of the BBC's Great British Menu TV show, and although there's no menu as such, the restaurant's offering is particularly heavy on beef. When The Times' Countryside Correspondent, Will Humphries visited, he described the food as "predictably fantastic", with "Clarkson's shorthorn cattle being used in myriad mouth-watering ways." Almost all the ingredients come from either the farm itself or nearby growers.
"I am told 1,000 people can eat from one cow and we have had one hanging for 29 days," said Clarkson. "Some people are going to get oxtail, some tongue and some will get fillet steak."
Humphries outlined the kind of food guests can expect:
"A sharing platter before the starters were served consisted of sticky beef croquettes with aioli and pickled chilli, baby beef pasties with raspberry and salsa verde and grilled courgettes with bone marrow.
"They were followed by sharing starters of beef tartare and smoked brisket with egg ceviche.
"The main was a roasted topside of beef with vegetables, followed by a dessert of Diddly Squat strawberries and honey with local ice cream."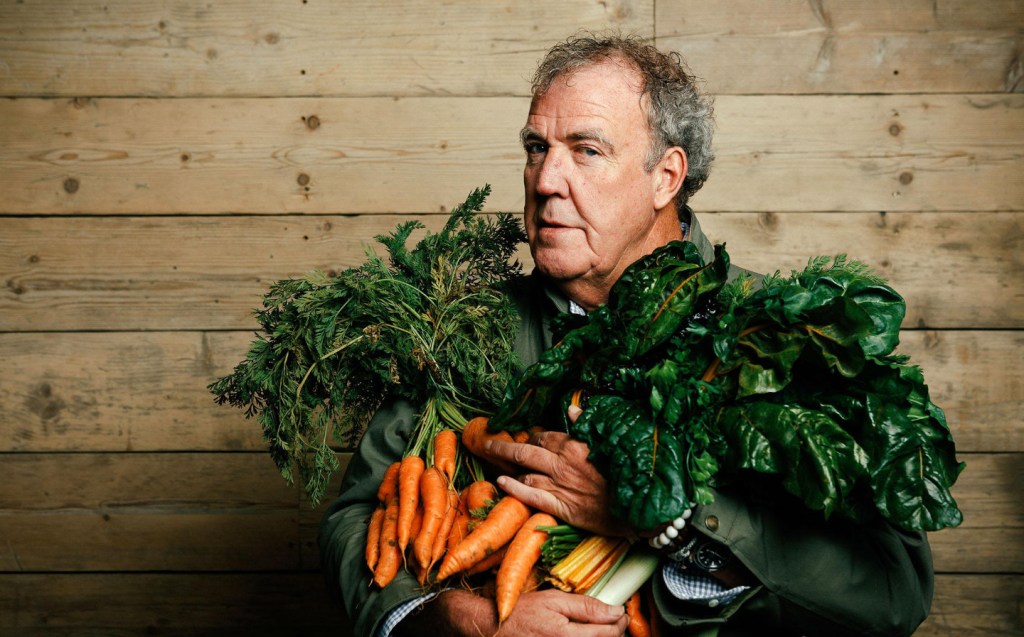 A three-course meal at Diddly Squat costs £49 per head, though as the restaurant has no alcohol licence, unless diners opt for the £69 VIP experience they must do without wine and instead have the option of buying bottles of Hawkstone lager (made from Diddly Squat-grown barley) or cider from the on-site shop before the tractor ride to the restaurant.
Customers are advised not to open the bottles until they get to their tables to reduce the chance of spillage during the bumpy journey.
Those opting for the VIP experience receive a complimentary bottle of English sparkling wine.
Because of the restaurant's limited capacity, guests hoping to dine at Diddly Squat can't just show up, instead being urged to book ahead through the Open Table app. The app's description of the restaurant is written in a typically Clarksonian style providing an overview of the experience.
"Before making your booking, you should know that it's small, outdoors and very rustic," the blurb reads. "Ordering a beer or going to the lavatory isn't as easy as in your local pub and we don't cater to the faddy.
"We've done our best to keep you warm and dry, but this is England. On the upside, the view is enormous and almost everything you eat was grown or reared on our farm, so it's fresh with minimal food miles.
"There is no menu as such — we simply serve what's available that day. But worry not, your table will be given a selection of snacks and starters followed by a roast and a pudding. Our bread, made with Hawkstone lager, is absolutely brilliant."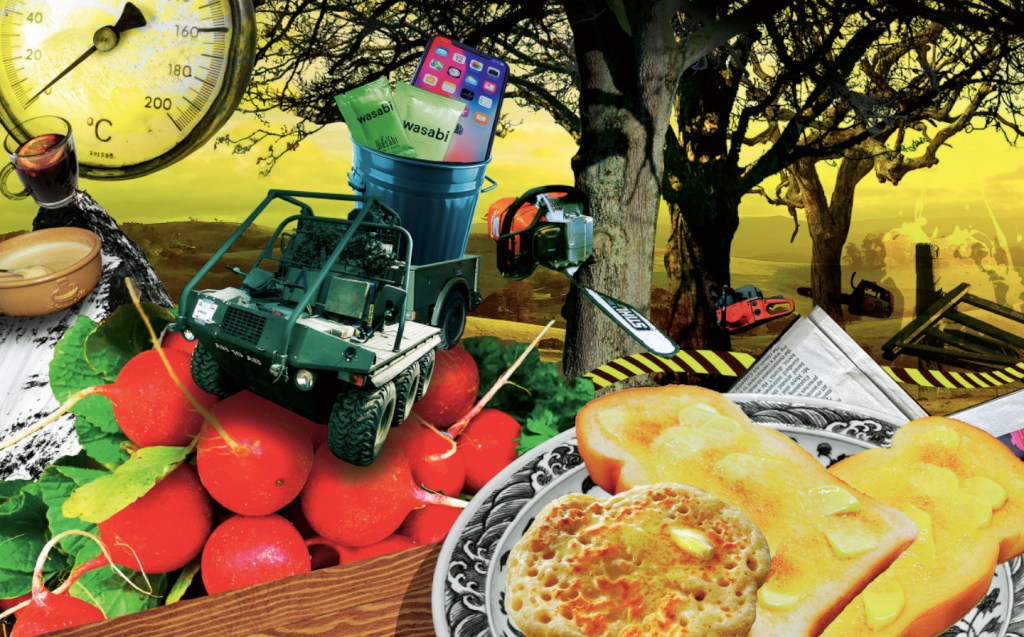 So far, the Diddly Squat experience has been well-received. Speaking to The Times, Tatiana Melnic, a Ukrainian property developer from London, her husband Dmytro and two of their children, saw a post on Instagram, booked a table and were not disappointed.
"With the situation [in Ukraine] this just takes you out of that completely. It's amazing, you are just in the middle of a field. I have never tasted food like this, it's 15 out of 10," Melnic said.
"The setting is exceptional, we have never been anywhere like this in the UK," said another guest, Rebecca Schofield from London. "It's very peaceful, I like the calm," she said, adding that the steak tartare was a particular highlight.
In January, Clarkson and other local farmers expressed disappointment at West Oxfordshire District Council's decision to refuse planning permission for a restaurant.
"There's a huge drive to allow farms to diversify, to attract more money and break down the gap between farm and plate," said one local bakery owner. "Jeremy is employing people, bringing in money. He's not everyone's cup of tea but what the council is doing seems absurd."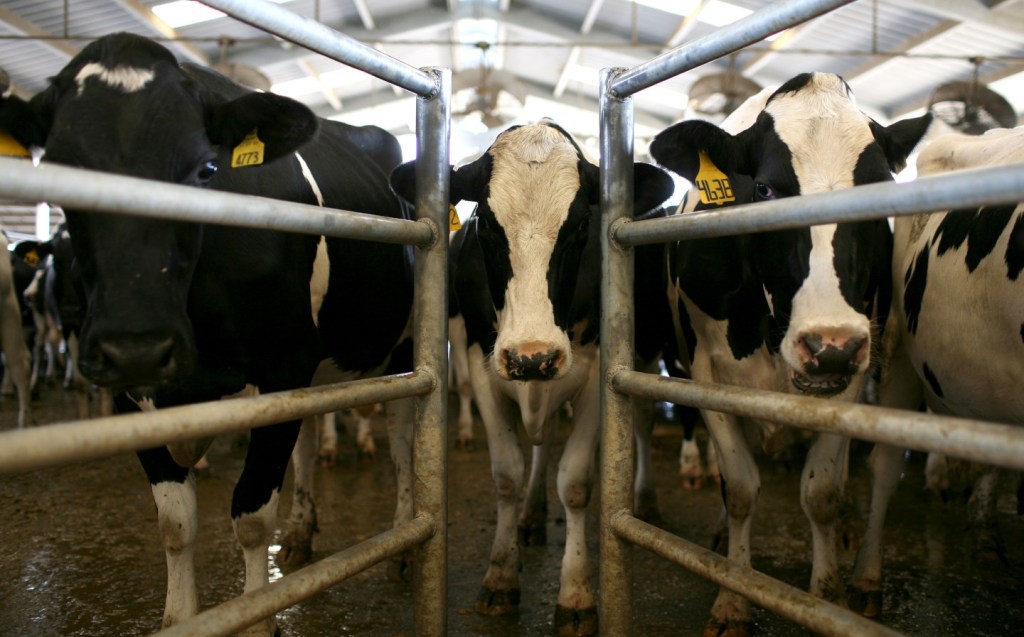 Other locals, however, have objected to Clarkson's expansion plans and the increased popularity and traffic levels that the hit Amazon show, Clarkson's Farm, has brought to the formerly-quiet rural area with guests hoping to catch a glimpse of the presenter and to buy locally-made produce from the Diddly Squat farm shop.
"There are clearly more Clarkson fans around the place," Nigel Ridpath, a local resident told The Guardian. "You can tell by the sort of vehicles they're driving, Subarus with gold wheels, there's absolutely more of that."
The farm's name, Diddly Squat, is derived from the fact that in its first year under Clarkson's aegis, it made just £140 — practically nothing, though the farm shop end of the business, Clarkson admits has been doing quite well.
At present, the restaurant is operating under a temporary food licence, meaning that if the restaurant were made permanent it would need to conform to more stringent regulations, with the open-sided barn kitchen needing to be contained. The al fresco nature of the restaurant also prompted questions about what will happen when the English weather turns colder and wetter in the coming months.
"We will cross that [bridge] when it comes," said Kaleb Cooper, a local contractor and one of the co-stars of Clarkson's Farm. "I will come up with a solution, I am sure of it."
Related articles
Latest articles