Vauxhall Insignia Country Tourer review (2013-2015)
The Vauxhall that left its manners at home
---
Published 05 September 2014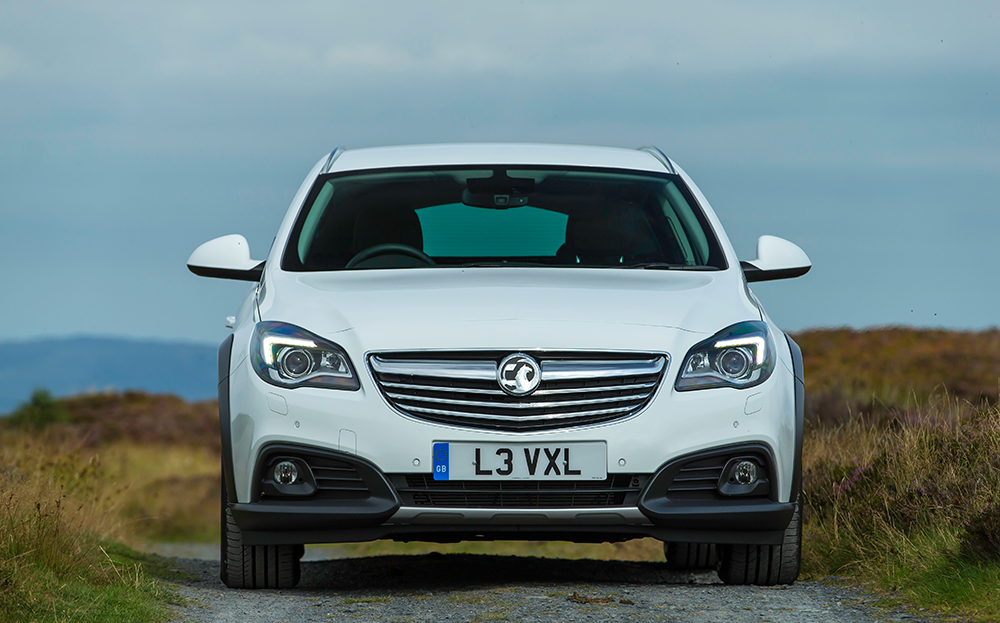 What is the Vauxhall Insignia Country Tourer?
It may sound like a plastic caravan but the Insignia Country Tourer is in fact the flagship model in the Insignia range, an estate car with four-wheel drive capability and a smattering of plastic cladding applied to give a hint of SUV, like faux-timber laid over a pebble-dash house.
If you like, it's Vauxhall's take on the Subaru Legacy Outback, the original rufty-tufty estate car that has earned a loyal following since its launch in the mid nineties. Audi was next to offer a similar car, in the shape of the A6 allroad.
The Insignia Country Tourer is priced from £24,349, although that version – the 2.0 CDTi ecoFLEX – doesn't have four-wheel drive. Drivers who want a degree of off-road capability will need to pay £25,494 for the Start/Stop 4×4 (a reference to the fuel-saving engine cut-out system, rather than making jerky progress during rapid retreat of a beach at high tide).
---
 Search for and buy a Vauxhall Insignia Country Tourer on driving.co.uk
---
It is only offered with diesel power, and a choice of 161bhp or 192bhp. The latter is only available with an automatic gearbox. You could consider the Insignia Country Tourer as much a rival to a Vauxhall's own Mokka, or a Ford Kuga, Nissan X-Trail and Audi Q5 as it is to the likes of the Audi's A4 allroad, a four-wheel drive BMW 3-series Touring and Skoda's huge Superb estate with four-wheel drive.
---
Search for and buy a used Vauxhall Insignia on driving.co.uk
---
The drive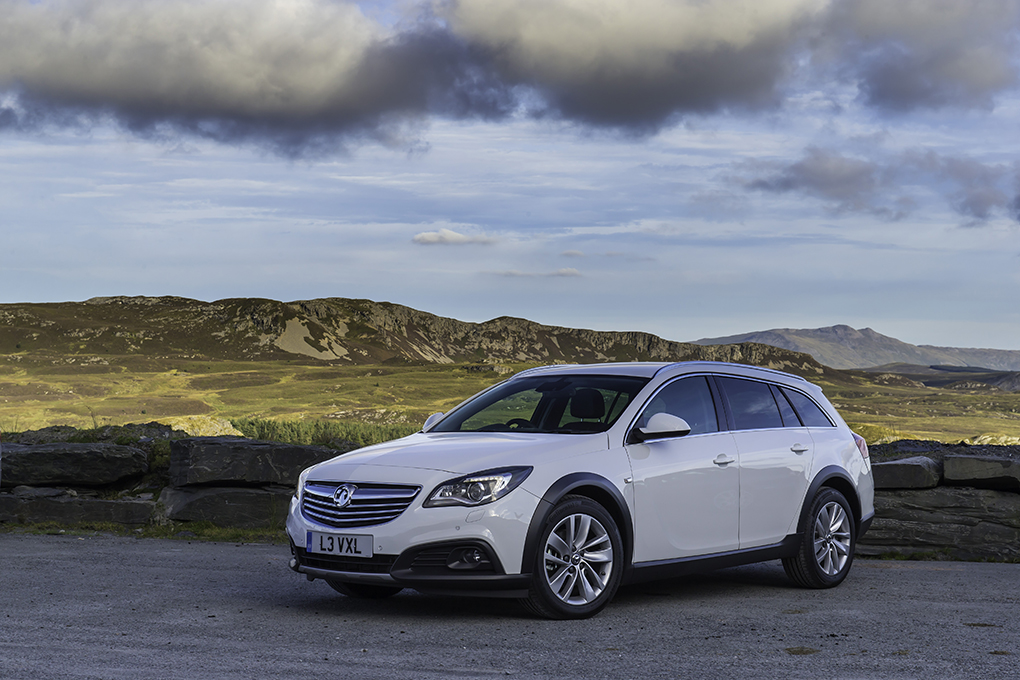 If first impressions count, then the Insignia Country Tourer is doomed from the moment you twist the key in the ignition and start the engine.
We tested the flagship 1.9 CDTi engine with 192bhp, and it comes as a shock to find that it has all the refinement of a London taxi. The engine vibrates whether warm or cold and rattles like a car on its last legs, rather than a sophisticated new diesel with high pressure common rail fuel injection.
The six-speed automatic gearbox forever feels as though it's half asleep. It responds with the reluctance of a child being told to eat all their greens
Unfortunately, things don't get better once on the move. The noisy engine spoils the driving experience to such an extent that you soon feel like parking at the nearest train station and seeking alternative transport.
Adding to its woes, the six-speed automatic gearbox we drove forever feels as though it's half asleep. It responds with the reluctance of a child being told to eat all their greens, so the driver ends up physically mashing their right foot to the floor to wake it up.  The result is a drop of one… two… three gears – by which point the engine is making three times as much noise so you lift off the throttle in a bid to restore calm.
For drivers covering plenty of miles – and let's face it, with many businesses buying Insignias, that's a lot of drivers – it adds up to a car which is rather wearisome.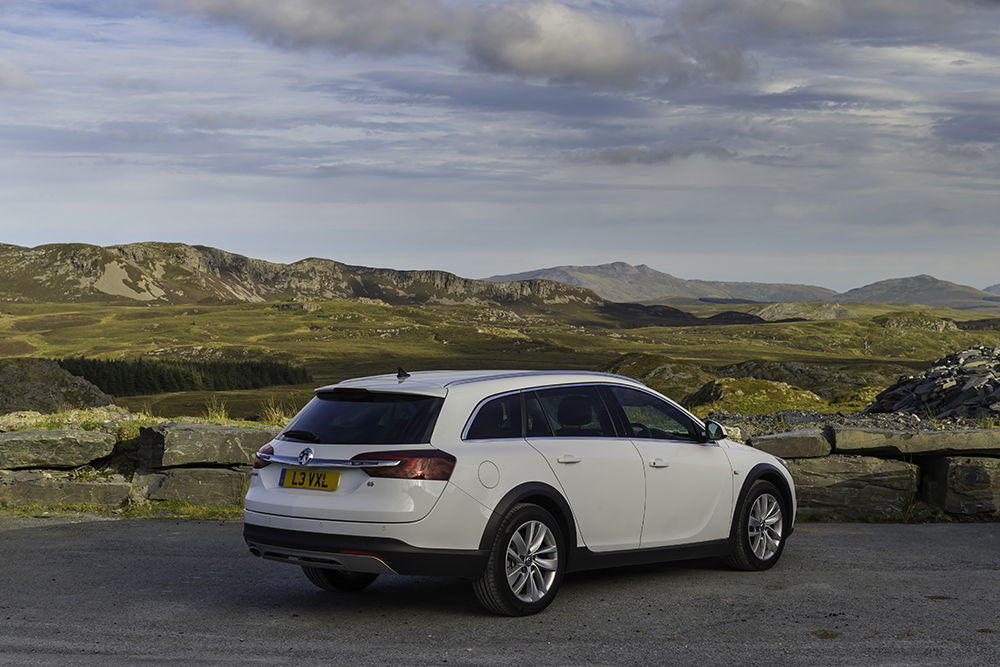 That's a shame. Because the Country Tourer has a reasonably comfortable ride, steers precisely and tackles corners with more enthusiasm that the rest of the car would lead you to expect. And its four-wheel drive system is unobtrusive in operation.
The flagship engine is claimed to achieve 42.8mpg and emit 42.8mpg, which is some way behind cars like the Audi A4 allroad 2.0 TDI and Skoda Superb 2.0 TDI 4×4. Business users would then be better off with the lesser powered 161bhp engine, but given that the more powerful version already felt like it was struggling to haul the Country Tourer along, you'd probably be better off choosing one of its competitors.
The interior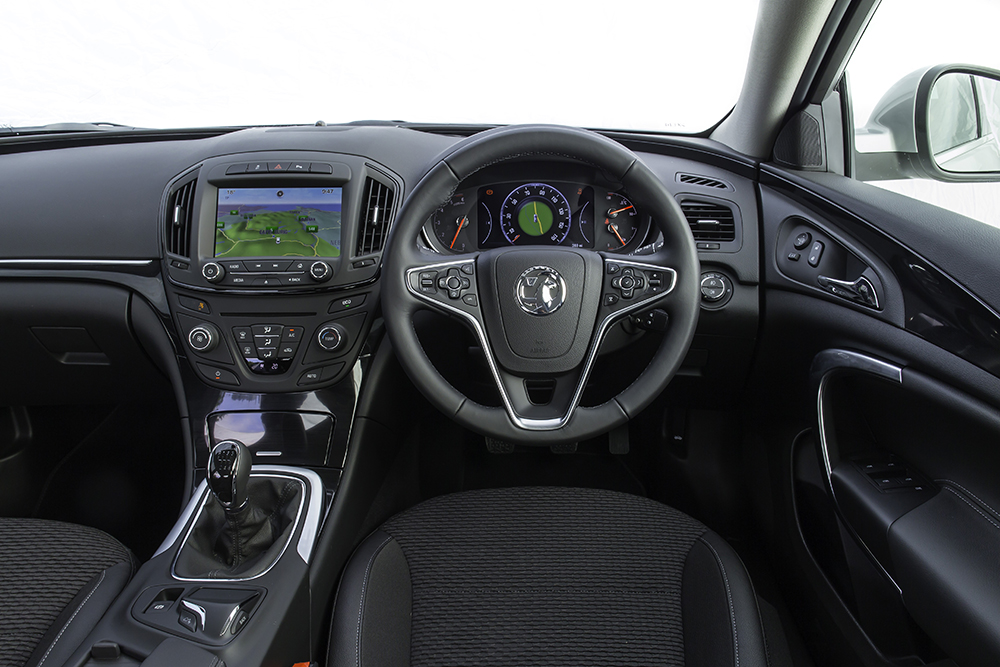 With life's little luxuries added to our test car, such as Nappa leather and a Bose audio system, you'd expect it to feel every inch the £35,579 machine it was (the price with such options fitted). Not a bit of it.
The Skoda Superb, Audi A4 allroad or BMW 3-Series Touring all comprehensively outclass the Vauxhall Insignia Country Tourer. It feels its age (the car was launched in 2008) and you can understand why cars like this and the Ford Mondeo have been losing so many customers to posh brands like Audi, BMW and Mercedes-Benz.
It's the little things that count, like the way the indicator stalk feels like a cheap plastic toy, or the comically oversized buttons on the dashboard which may be pleasingly simple to use but look low rent. Or how there is no shortcut button for the sat nav homepage, yet there is for the audio player and phone.
Mercifully, it's not hard to get comfortable as the wheel adjusts for height and reach and the seat, with multiple lumbar adjustment, will make longer journeys easy. In the back there's a reasonable level of space for adults, and a pair of Isofix mounts for child seats.
Open the electrically-powered boot and there's 540-litres of luggage space, which is a healthy 50 more than an Audi A4 allroad but almost 100-litres less than a Skoda Superb estate. The rear seats split and fold, and with them lowered the floor is level and flush with the boot, making it easy to load furniture for the run to the flea market.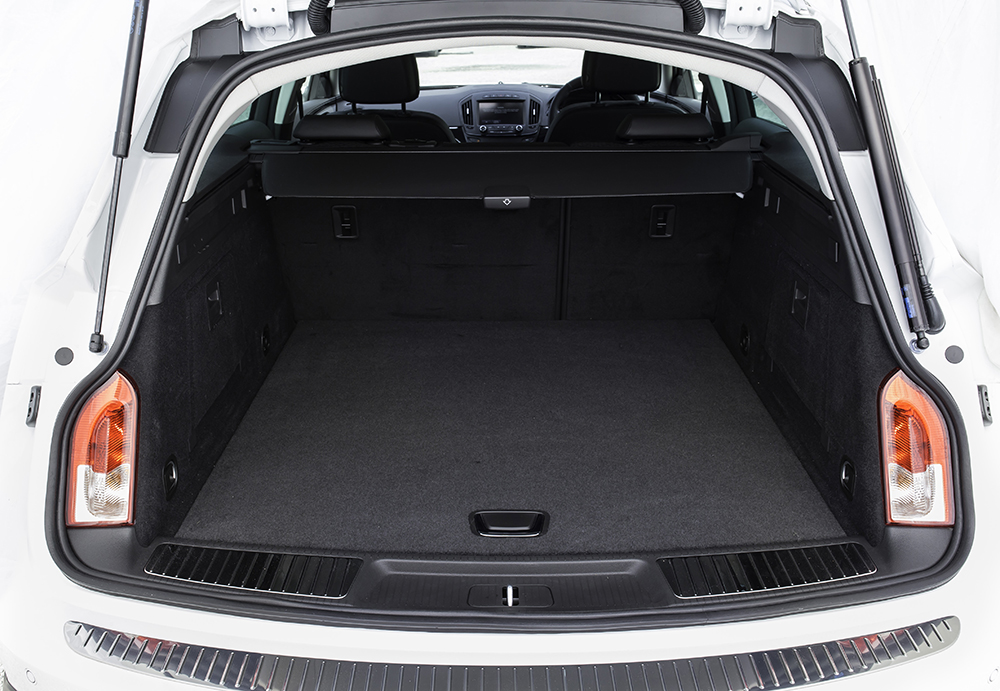 The one to buy
Vauxhall Insignia Country Tourer 2.0 CDTi 163 Stop/Start
Specifications
Price: From £24,349 (correct at first publication)
Engine: 1956cc, four-cylinder turbo diesel
Power: 161bhp @ 3750rpm
Torque: 258 lb ft @ 1750-2500rpm
Transmission: 6-speed automatic, front-wheel drive
Acceleration: 0-62mph in 9.9sec
Top speed: 133mph
Fuel: 62.8mpg (combined)
CO2: 119g/km
Road tax band: C
Dimensions: L 4920mm, W 2084mm, H 1523mm
Vauxhall Insignia Country Tourer rivals
---
 Search for and buy a Vauxhall Insignia Country Tourer on driving.co.uk
---