First drive review: Vauxhall Mokka 1.4 Turbo 4x4 Tech Line (2013)
Hot and frothy? I should cocoa
What I can say without fear of contradiction is that the new Vauxhall Mokka I drove the other day was brown. Actually, to be specific, and to use the term preferred on Vauxhall's online car configurator, it was Deep Espresso (a £525 option). But that's just wrong, isn't it? An espresso would be closer to black, surely. If you ordered an espresso and it came in the colour of my Mokka, you would ask the barista to make it again. "This is an extra-shot latte," you would say. "I asked for an espresso. And a blueberry muffin."
My Mokka wasn't brown only on the outside, though. It was also — and this could seem even harder to place as a fashion statement — brown on the inside. Or, rather, the interior was fitted out in a twin-colour combination declared officially by the manufacturer to be Cocoa and Dark Adriatic. The dashboard fascia and the door insets were a muted blue, while pretty much all else that remained, including the window sills, the generously appointed steering wheel, the plastic between the front seats and the nubby handbrake lever, was brown. Or, rather, cocoa. (You wouldn't take exception to your cocoa looking like this. Although you might ask for a little more milk.)
Anyway (and although other colour schemes are available), you'll get a sense of how seriously Vauxhall is taking this whole Mokka thing. We possibly haven't seen anything like this since 1991, when Suzuki, way ahead of the coffee-drinking revolution that would eventually sweep through our culture, came out, somewhat wince-inducingly, with the Cappuccino. Was that a good name for a car? And is Mokka? And does it matter? The success of the Nissan Qashqai, which is right up there among Britain's most popular cars despite having a name that appears to have been arrived at by someone leaning gently on a keyboard with an elbow, has ended the argument about the commercial importance of car names for ever.
---
Search for and buy a quality used Vauxhall Mokka on driving.co.uk
---
It's the Qashqai "crossover", or "boil-washed SUV", with which this new Vauxhall will find itself competing for custom — that and the Skoda Yeti. Oh, and the Kia Sportage and the Mazda CX-5 and the Ford Kuga — this not being by any means an open playing field. Whatever turns out to be the status of brown, cars on the scale of hatchbacks but with the design traits of 4x4s are definitely in vogue — a boom area as customers rush to enjoy the attractions of SUV driving without incurring a) the extravagant running costs and b) the political opprobrium.
The Mokka is part of a broader push towards a new, sprightly era by the Vauxhall/Opel brand, which in Britain especially always has to work hard to slough off the weight of historical glumness attached to the badge. We've had the handsome Astra and Ampera and the lively Adam supermini, and next year we're promised a full-size convertible, the Cascada.
Meanwhile, here's the Mokka — part Japanese urban warrior, part training shoe. It makes the Qashqai look conservatively drawn, though without managing the fizzy charm of the Skoda Yeti, which comes across as some kind of good-humoured Land Rover spoof. The Mokka's plastic-clad wheelarches sit high above the wheels. The boxy grille has a butch, slightly military feel. The flash of grey underside protector, lapping up onto the rear bumper, seems designed to suggest a car that would be just fine barging up a rocky stream in a war zone, although personally I wouldn't try it and certainly didn't have time to do so last week.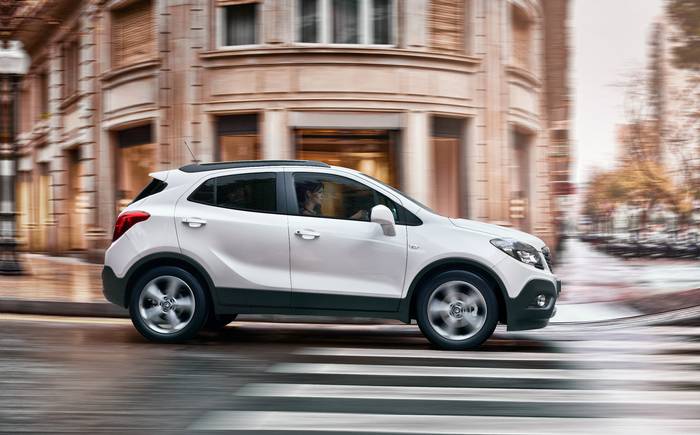 But I can report that its doors are wide and its seating position high. Its rear bench offers standard hatchback legroom and doesn't slide, but it does fold flat to create a space more than adequate for the carriage of white goods. The car is not especially wide, but it will transport a family of four with ease and a family of five with friction. The one in the middle in the back will complain that it's always them who has to go in the middle, and you will point out that that's not true because in fact they were on the outside the last time around, and even in the front the time before that, and this conversation will go on for about three-quarters of an hour or until the journey ends, whichever is sooner. Vauxhall hasn't come up with anything in the Mokka to get you beyond that, I'm afraid.
So, what about the storage solutions? Here Vauxhall has clearly put in the hard yards. The chances are, you'll just be dropping your children at school and then going on to the shops, but the Mokka seems to assume (perhaps not unreasonably) that you'll be taking everything you own with you when you do. Each door has two storage areas moulded into its lining and there are two glove compartments (one for each glove, I suppose), a lidded box on top of the dashboard and two deep plastic chests roughly the size of bread bins inside the centre console. There may well be other, secret compartments but, if so, they were so secret that I failed to find them.
And to drive? Well, its engine was, for a Vauxhall, a model of hushed refinement, its suspension was perfectly undisturbing and its steering completely average. I rather liked it. But did I mention it was brown?
Verdict
★★★☆☆
Factfile
Price:

£18,200

Engine:

1364cc, 4-cylinders, turbo

Power:

138bhp@ 4900rpm

Torque:

148 lb ft@ 1850rpm

Transmission:

6-speed manual

Acceleration:

0-60mph: 9.4 sec

Top Speed:

118mph

Fuel:

44.1mpg

CO2:

149g/km

Dimensions:

L 4278mm W 1777mm H 1654mm
The rivals
Nissan Qashqai 1.6 Acenta
£18,095
For Practical cabin and raised driving position are a hit with families
Against Sluggish performance of petrol engine
Check used Nissan Qashquai car prices on driving.co.uk
Mini Cooper Countryman
£18,030
For Fun to drive; frugal to run; exhaustive personalisation options
Against Not everyone can stomach the styling
Check used Mini Cooper Countryman car prices on driving.co.uk