Ford Kuga Mk 2 review (2012-on)
The compact SUV market is a highly competitive one - does the Ford stack up against the many rivals?

What is the Ford Kuga?
Just as the Ford Mondeo typified the family car of the 1990s (remember New Labour courting Mondeo Man?) so the Kuga perfectly sums up what the average Brit is driving today – an SUV.
Over the past two decades SUVs, or sport utility vehicles, have boomed in popularity like cookery programmes on television. The Nissan Qashqai SUV is the sixth best-selling car in Britain, and the Ford Kuga is a direct competitor.
You buy this type of car because you like its tough-guy image, even if the majority of models aren't that tough and are rarely driven off-road. You like it, too, because of its raised seating position which not only gives a commanding view of the road ahead, but also makes it easier to belt children into their seats.
Kuga pricing starts at £21,000. That buys the 148bhp, 1.6-litre turbocharged petrol Zetec with front-wheel drive. Unusually, Ford offers four-wheel drive on all trim levels, which gives car buyers greater choice. However, drivers wanting it with a petrol engine must have the higher powered 180bhp 1.6T with an automatic gearbox, which raises the price to £25,610 in Zetec trim.
---
Search for and buy a used Ford Kuga on driving.co.uk

---
The cheapest diesel-powered Kuga is the £22,400 front-wheel-drive 138bhp 2.0 TDCi Zetec. Ford offers the choice of a manual or automatic gearbox with the all-wheel drive version, priced at £23,900 and £25,400 respectively. The same engine is also available with 160bhp.
There is some serious competition in this part of the car market, so make sure you also test drive the Audi Q3, BMW X1, Nissan Qashqai, Mazda CX-5, Honda CR-V, Toyota Rav4, Volkswagen Tiguan and Volvo XC60 for starters. That should keep you busy over a weekend.
The drive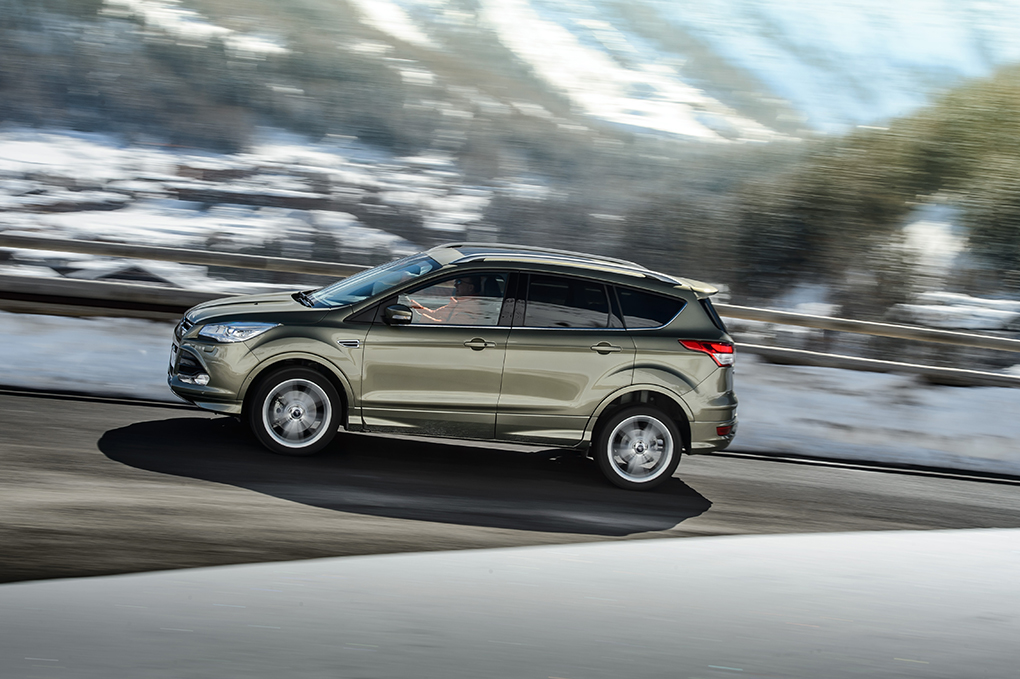 Ford often punches above its weight in terms of its vehicles' ride and handling, and the Kuga is no exception. Of course, it's no sports car; high sides and generous ground clearance mean there will always be above average body roll. The Kuga also has relatively soft suspension, tuned more for Britain's squadrons of sleeping policemen and pothole-scarred roads than for smooth switchbacks (the latest Toyota Rav4, another SUV, is slightly stiffer, for example).

The four-wheel drive system which, as mentioned above, is available across the range, is brilliantly effective and lends the Kuga a surprising amount of agility. Ford claims the Torque Vectoring Control system, which distributes drive to each wheel independently, monitors the wheels 100 times every second to ensure optimum traction and steering control. 
What does that mean in the real world? On grippy Tarmac, which is where most owners will spend the majority of their time, the power is fed mostly through the front wheels, saving fuel. However, if the car is being pushed hard, the power bias heads further to the rear and outside wheels, while braking is applied to the inside front wheel. The effect is astonishing, with the eager Kuga hugging corners, and dispatching twists and turns with ease.
Add water or snow to the road surface and the electronics will automatically get to work to improve traction and stability, making the Kuga a real all-weather and (almost) go-anywhere car. The driver can view the amount of torque being applied to each wheel via a graphic on the screen in the centre of the instrument binnacle.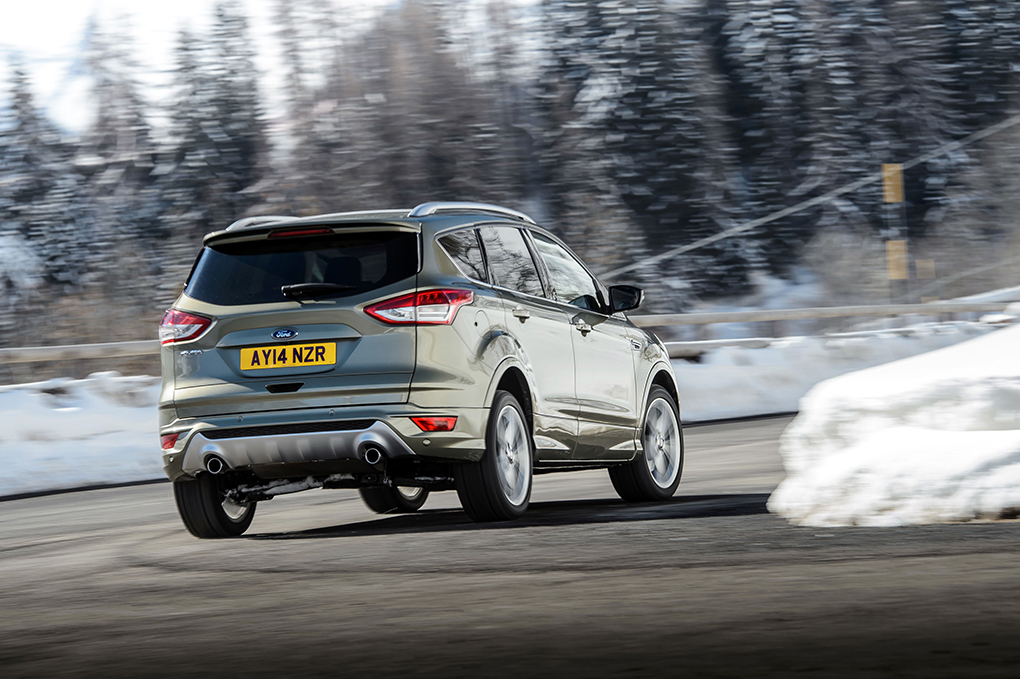 In terms of refinement the Ford Kuga scores well. The cabin is well insulated from engine, wind and tyre noise.
We tested the range-topping  Kuga Titanium X Sport with the 2-litre TDCI 163PS (160bhp) diesel and a six-speed manual gearbox. As diesels go, the engine was very smooth and refined, with the power spread across a wide rev range.
The equivalent specification car with the less powerful 140bhp engine is only available in two-wheel drive form and doesn't save much in the way of fuel (53.3mpg vs 49.6mpg on the official combined cycle). On the plus side this version is nearly as quick to 62mph (10.6sec vs 9.9sec), has CO2 emssions that drop it from tax band G to E (£130 per year instead of £180 at time of writing), and will cost you almost £2,000 less to buy.
The Ford Kuga interior
The Kuga's cabin is really very smart, with a good mix of hard and soft materials and one of the better-looking layouts to be found in an SUV. The Titanium X Sport trim on our test car is the top specification and means it is furnished with a full leather interior, Sony DAB radio, sat nav, dual zone climate control, a reversing camera and panoramic glass sunroof. It also includes the Appearance and Convenience packs for aluminium detailing and such luxuries as electric folding door mirrors, 19in alloy wheels and Active Park Assist (it will park itself).
However, specify a Kuga like this and it will cost a fairly hefty £31,745 in today's prices. With other options such as a detachable towing bar, adaptive cruise control and a kick-to-open power tailgate (a great feature if you've got your hands full), our test car cost £35,065. That's a lot of money, especially when you consider that the Volkswagen Tiguan in top R-spec trim with a 2-litre 175bhp diesel engine starts at £31,770. We'd wager the more desirable VW badge will mean it will hold its value better than the Ford, too. If buying new, we'd advise going for a lower-spec Kuga. Alternatively,  a two- to three-year-old higher spec model would be good value after depreciation has done its worst.
One of the Kuga's big let-downs is the infotainment system which, with its two-tone colours, clunky menu systems and a plethora of buttons, really is showing its age. Ford is behind in introducing touch screens across its range and a significant update can't come soon enough.
The Ford Kuga is impressive in many ways, though. We especially liked the vast amount of space for front and rear passengers. There's plenty of head and legroom in the back seats. This does come at the expense of boot space, however. With the rear seats up, the Kuga's boot has a capacity of 406 litres compared with 589 litres in the Honda CR-V and 647 litres in the Toyota Rav4. But fold the seats flat (very easy to do) and the Kuga's boot space increases to 1,603 litres; impressive but still not as good as the Rav4's 1,846 litres, though an improvement on the CR-V's 1,146 litres. Such things matter to SUV buyers.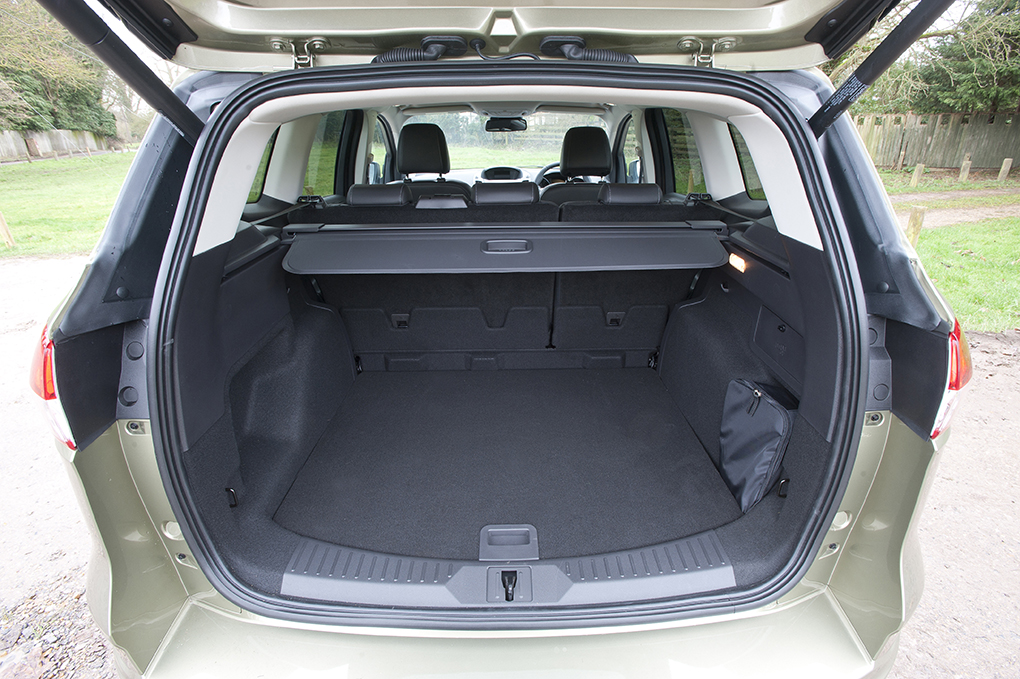 The one to buy
Ford Kuga 2.0 TDCI AWD Titanium
Specifications
Price: From £26,050 (correct at first publication)
Engine: 1997cc, four-cylinder diesel
Power: 138bhp @ 3750rpm
Torque: 236 lb ft @ 1750 – 2750rpm
Transmission: 6-speed manual
Acceleration: 0-62mph in 10.7sec
Top speed: 117mph
Fuel: 47.9mpg (combined)
CO2: 154g/km
Road tax band: G
Dimensions: L 4524mm, W 1838mm, H 1744mm
Ford Kuga rivals