Nissan Qashqai Mk 2 review (2014-on)
The 21st century family car
THIS IS the replacement for one of the most popular family cars of modern times. When the first Nissan Qashqai was launched in 2007, no one, Nissan included, could have predicted how popular it would become. It went on to be embraced by the Mumsnet crowd and production at the Sunderland factory had to be doubled.
---
Search for and buy a used Nissan Qashqai on driving.co.uk
---
The first Qashqai was bought for its affordable pricing and running costs, practical cabin and easy-peasy driving experience. For this second-generation model, which went on sale this February 2014, Nissan set out to add more technology, make the cabin feel a bit posher, and improve refinement and comfort so that those long runs to visit the in-laws aren't such a hardship.
It offers seating for five only, whereas the last Qashqai had a +2 option, with a longer body that allowed for a pair of fold-down seats in the boot. If you need seven seats, says Nissan, a salesperson would be delighted to show you around the new X-Trail model.
There is still the option of four-wheel drive, but Nissan reckons it could count on one hand the number of drivers who ordered it for the old Qashqai. The range opens with the 1.2-litre, 113bhp turbocharged petrol (called DIG-T) in Visia trim, the most basic, costing £17,595. The popular 1.5-litre dCi diesel costs from £19,290, again in Visia spec. For more diesel power there is the 1.6 dCi, which raises output from 108bhp to 128bhp. It costs from £20,595 as a Visia model.
Anyone who is adamant they need four-wheel drive will have to pay through the nose for it, as it only comes with the larger diesel engine, pushing prices to £25,695. And if you want an automatic gearbox (in this case a continuously variable transmission, or CVT), it, too, is available only with the largest diesel engine, priced from £21,945.
The drive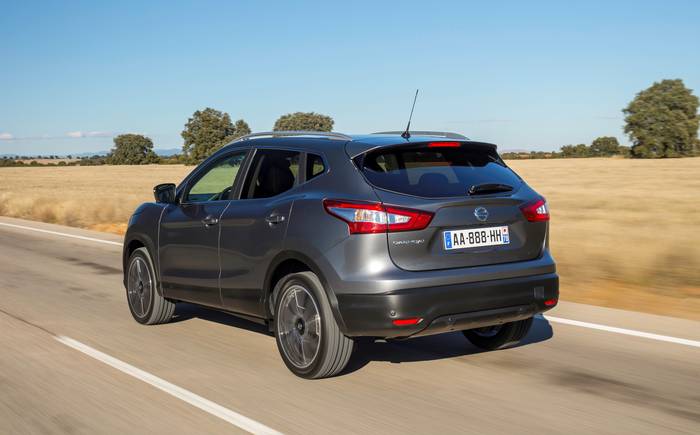 First, the good news. The second-generation Qashqai feels a lot more grown up than the first. It is a more refined and comfortable car. Even the entry-level 1.5-litre dCi (tested here) proves quiet when started from cold, and impressively smooth and hushed on the motorway – noticeably more so than rivals.
Now the bad news. Don't expect perky performance. The 1.5-litre dCi four-cylinder diesel struggles to haul the 1,419kg weight of the two-wheel-drive Qashqai. What a blessing, then, that it's so refined (right to the red line), as you'll need to drop down from sixth to fifth gear on a motorway incline, while overtaking calls for more careful planning than usual. Nissan says it will accelerate from standstill to 62mph in under 13 seconds, and return as much as 74mpg. We say buy the more powerful but slightly less efficient (64mpg) 1.6-litre dCi instead.
It feels similarly unenthusiastic through bends, too. The new Qashqai rolls noticeably when pressed through corners but to its credit, the Dunlop tyres of our test car clung to the road determinedly, so there was actually no shortage of grip. The steering weighting can be adjusted but felt at its happiest in the lighter Normal setting, rather than Sport, which gets heavier but still gives the driver no sense of the amount of grip the front tyres have. A Mazda CX-5 is more enjoyable to drive.
The car's suspension deals with lumps and bumps in the road well, presumably in part thanks to dampers that feature a pair of pistons, one for low-speed comfort, the other for high-speed body control. And there were a number of driver aids fitted as standard to our (Tekna trim) test model which drivers will either appreciate or choose to do without (either by buying a lower-grade trim, or switching off).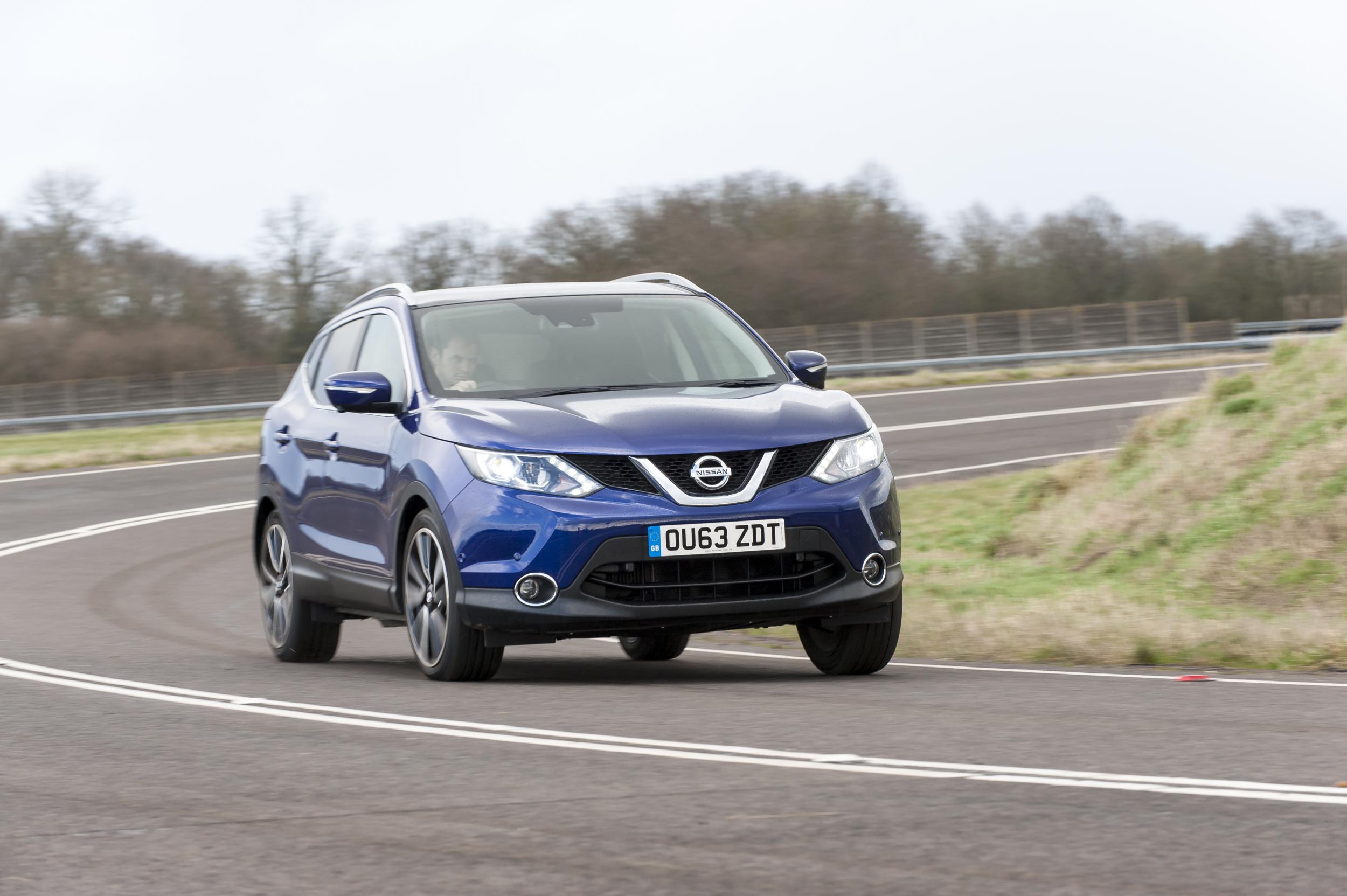 These included lane departure warning, a useful guardian angel for long distance commuters but irritating for those winding along a typical B-road where it continually sounds its alarm. As for front collision avoidance, this warns the driver, via audible and visible alerts, that they're too close to a vehicle in front. In heavy traffic, where he who snoozes loses, this can become annoying. If they aren't needed, both can be switched off.
There is a problem with the new Qashqai's more rakish profile. Its window line kicks up like a Nike tick at the back, obscuring the driver's visibility. Over-the-shoulder vision is poor, which makes reversing or parking stressful. Nissan has attempted to address this by adding a reversing camera — Around View Monitor 360-degree cameras, if you like — and sensors that warn of other vehicles or objects in the Qashqai's blind-spots, but since when was any of this a substitute for clear sight lines out of a vehicle?
Technology also means the Qasqhai can park itself. All the driver has to do is initiate the setting within the safety shield system, indicate as they drive slowly past a parallel or perpendicular parking bay (giving sensors time to scan the vacant bay for size), pull to a stop, select reverse and control the clutch and throttle. The Nissan steers itself into the bay, and when we tried it, sure enough, the Qashqai was parked perfectly parallel to the bay's lines.
The interior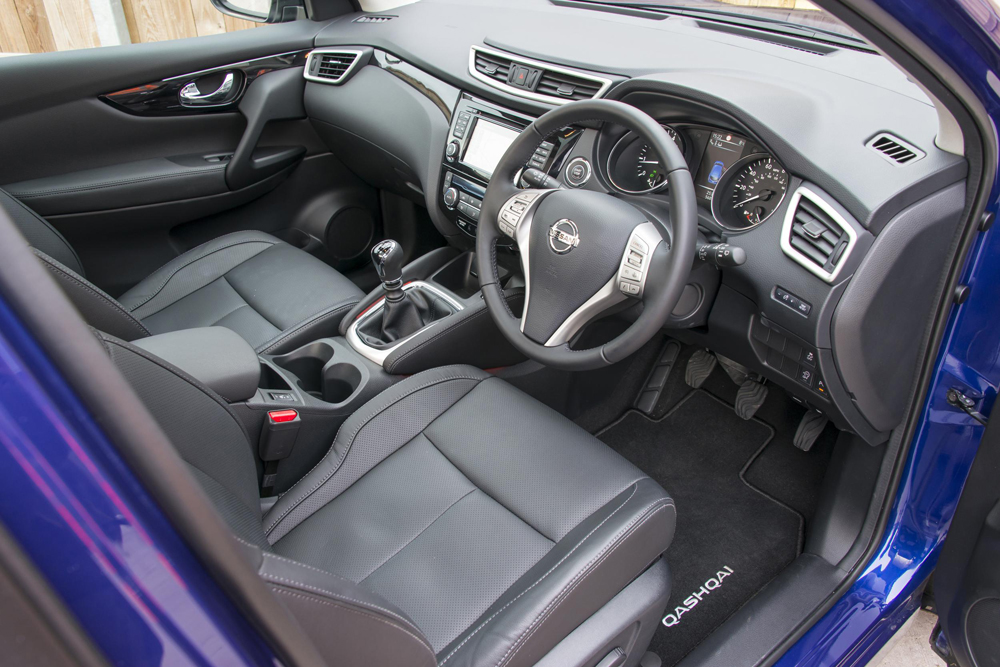 The Qashqai's overall impression of comfort is enhanced by a cabin that feels much plusher than the old model, and feels just as impressive as, say, an Audi Q3 or Volkswagen Tiguan.
There are neat touches, such as red mood lighting that runs around the centre console, and then there is the excellent quality of the plastics, attractive design and sheer number of swish gadgets. It's a pleasant place to spend time.
Is it a good family car though? That depends on your priorities. The full-length glass roof is great for star gazing, but would be even better if it could be opened on a sunny day. As it is, all you can do is open or close a sunshade. The cabin offers plenty of space for two adults in the front and a couple of kids or adults in the back, but the back seat is snug for three and the space lacks ventilation ducts.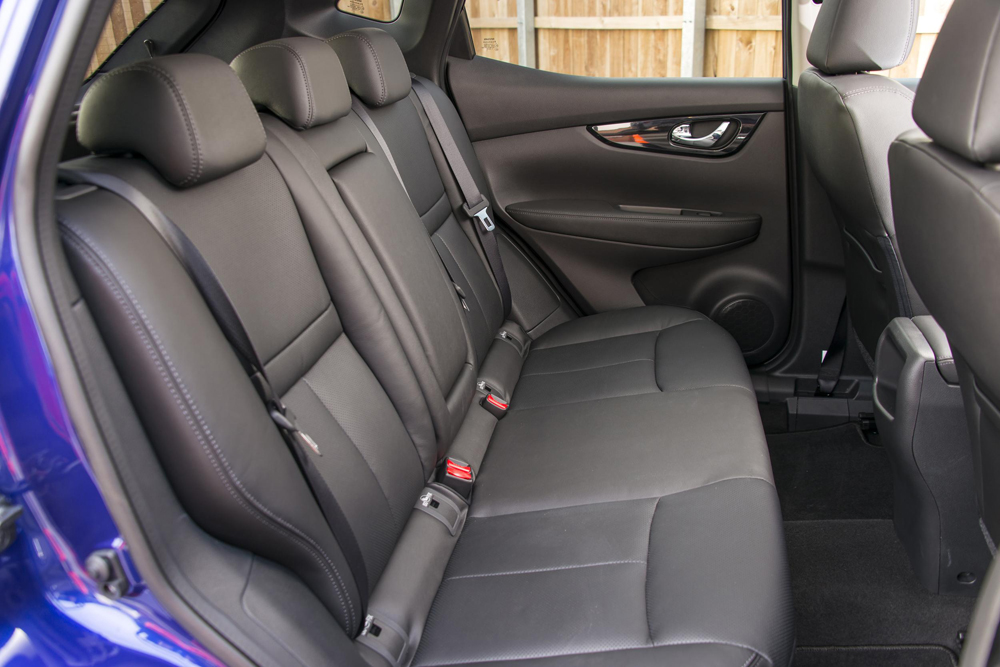 If you find the front seats comfortable in the new Qashqai, thank NASA. Nissan's engineers replicated medical scanning techniques, pioneered by NASA, to analyse pressure and blood flow in the lower back. The seats certainly felt comfortable on a particularly grim two-hour commute.
The boot is the Qashqai's main weakness. By the time a pushchair is folded down into it, there is precious little space left for the travelling circus that is family life. It has a moveable false floor, but it doesn't make much difference and leaves a ledge if the rear seats are lowered. At just 430 litres, it's one of the smallest in the class. A Honda CR-V's boot, for example, will hold 589 litres. For buyers after a practical family car, that could be the Qashqai's Achilles' heel.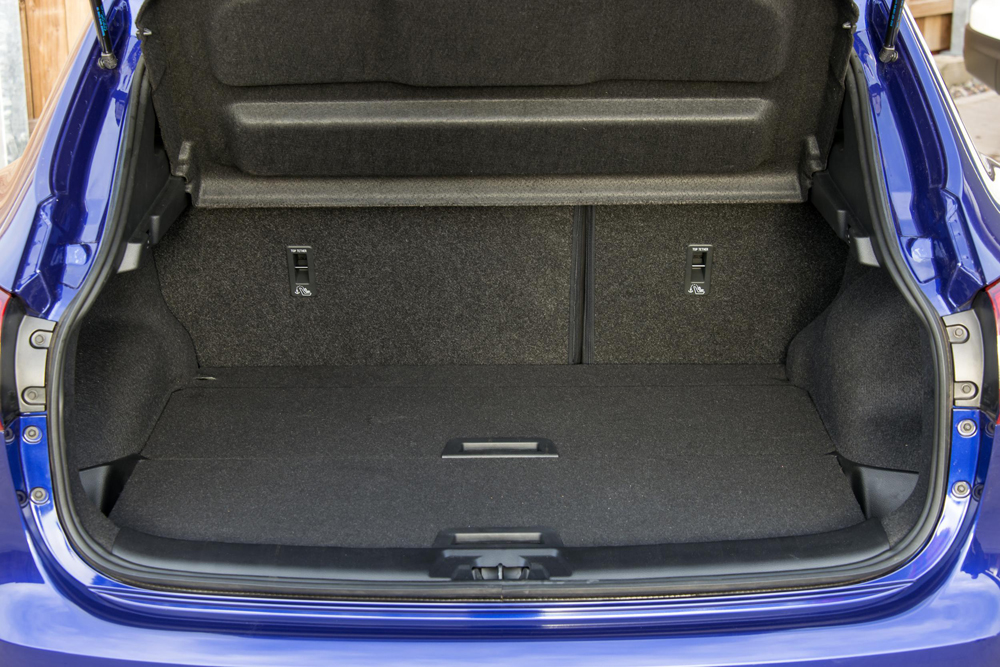 ---
Search for and buy a used Nissan Qashqai on driving.co.uk
---
The one to buy
Nissan Qashqai 1.6 dCi Acenta 2WD
Specifications
Engine: 1598cc, 4-cylinder diesel
Power: 128bhp @ 4000rpm
Torque: 236 lb ft @ 1750rpm
Transmission: 6-speed manual, front-wheel drive
Acceleration: 0-62mph in 10.5sec
Top speed: 118mph
Fuel: 64.2mpg (combined)
CO2: 115g/km
Road tax band: C
Dimensions: L 4377mm, W 2070mm, H 1590mm
Nissan Qashqai rivals