BMW X1 Mk 1 review (2009-2015)
Economy with muscle
What is the BMW X1?
BMW appears to be competing to devise the most tortured names for its cars and with some success — the BMW X1 xDrive 20d xLine contains no fewer than three "x"s in its title, but little clue to what kind of animal this vehicle actually is. Well, all BMW X models — X1, X3, X5, X6 — are crossovers, blending a mix of four-wheel drive, estate car or in the case of the X6, four-door coupé and 4WD. xDrive means it has all-wheel drive — rear-drive versions are sDrives — and xLine is a versatility oriented trim level. So now you know.
The X1 is BMW's smallest crossover, and an alternative to Land Rover's Evoque and Audi's Q3. It should really be considered as a high-riding estate car, especially in rear-wheel drive form. The embarrassment of being stuck in snow, in a vehicle that looks like it should sail through it, will probably steer most buyers to the all-wheel-drive versions, however, and of the four diesel engines offered (there are no petrols) the 2.0 provides the best performance and economy mix. If you don't need all-wheel drive and performance is relatively unimportant, then the 118d two-wheel drive is worth considering. The ultimate version, the 215bhp xDrive 25d, boasts the handling to make its power enjoyable.
The drive
Lording it over lesser cars, or at least seeing a bit further down the road, is one of the main advantages of crossovers like these with their loftier seating positions. The X1 duly delivers this, and it doesn't take long to feel confident with it, especially as it corners with very little roll and provides accurate steering. The more powerful X1s are lightly entertaining on open country roads too, not always a given with machines like this.
All versions of the X1, except the 20d Efficient Dynamics, can be had with an eight-speed automatic that suits the car well, improves its economy and despite the number of gears it has to juggle, is rarely foxed. Unless you love pumping clutches, it's the transmission to have if the budget runs to it. This gearbox also makes a more relaxed cruiser of the X1 at speed. Its diesel engines are relatively civilised but not the best, gruff vibrations occasionally invading the cockpit during enthusiastic acceleration.
The interior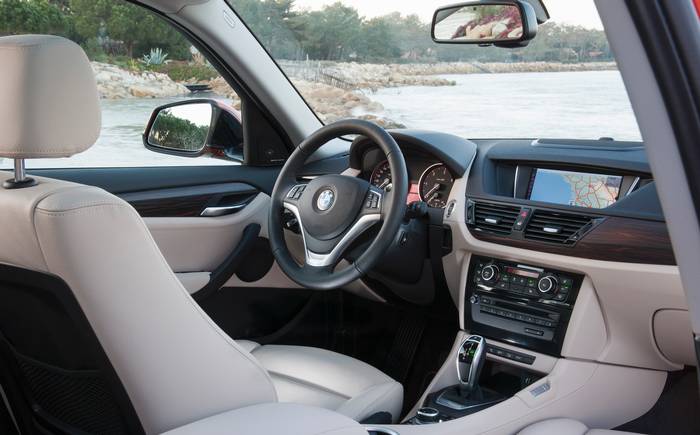 This is where you expect to find abundant space, and this being a BMW, unimpeachable finish, too. Truth is, the X1's cabin is barely any bigger than a Ford Focus's in practical terms, and back-benchers will find more legroom in the Ford. The X1's boot isn't enormous either. As mentioned, its main advantage over a lowly hatchback is its raised seating. You'd also expect a high-grade interior from a BMW, and it's not bad, but both the Range Rover Evoque and Audi Q3 are better.
What to look out for when buying a used BMW X1
BMW X1s, along with other BMWs,  with a 4-cylinder engine buit between June 2012 and August 2013 were recalled in January 2014 for brake assistance failure, so check that the problem has been attended to if going for one of these models. There have been no other recalls so far and there appear to be no big problems with the X1, but it hasn't always scored well in customer satisfaction surveys. It came bottom of the small 4×4 category in the 2012 JD Power report, though owners' complaints appear to have been provoked by minor niggles rather than serious mechanical problems, and the car was commended in a 2012 survey by Which? for "outshining BMW's overall reliability rating, which is average".
The one to buy
BMW X1 xDrive 20d xLine
Specifications
Price:

£29,580 (price correct at time of publication)

Engine:

1995cc, in-line four

Power:

184bhp @ 4000rpm

Torque:

280 lb ft @ 1750rpm

Transmission:

6-speed manual (automatic available)

Acceleration:

0-62mph in 8.1sec

Top Speed:

127mph

Fuel

51.4mpg

CO2:

145g/km

Road Tax Band:

F 

Dimensions:

L 4477mm, W 1798m, H 1567mm
BMW X1 rivals