Audi A6 allroad quattro review (2012-on)
The Audi A6 allroad is a jack of all trades, one part luxury saloon, one part estate car and one part four-wheel drive SUV.
---
Published 19 February 2014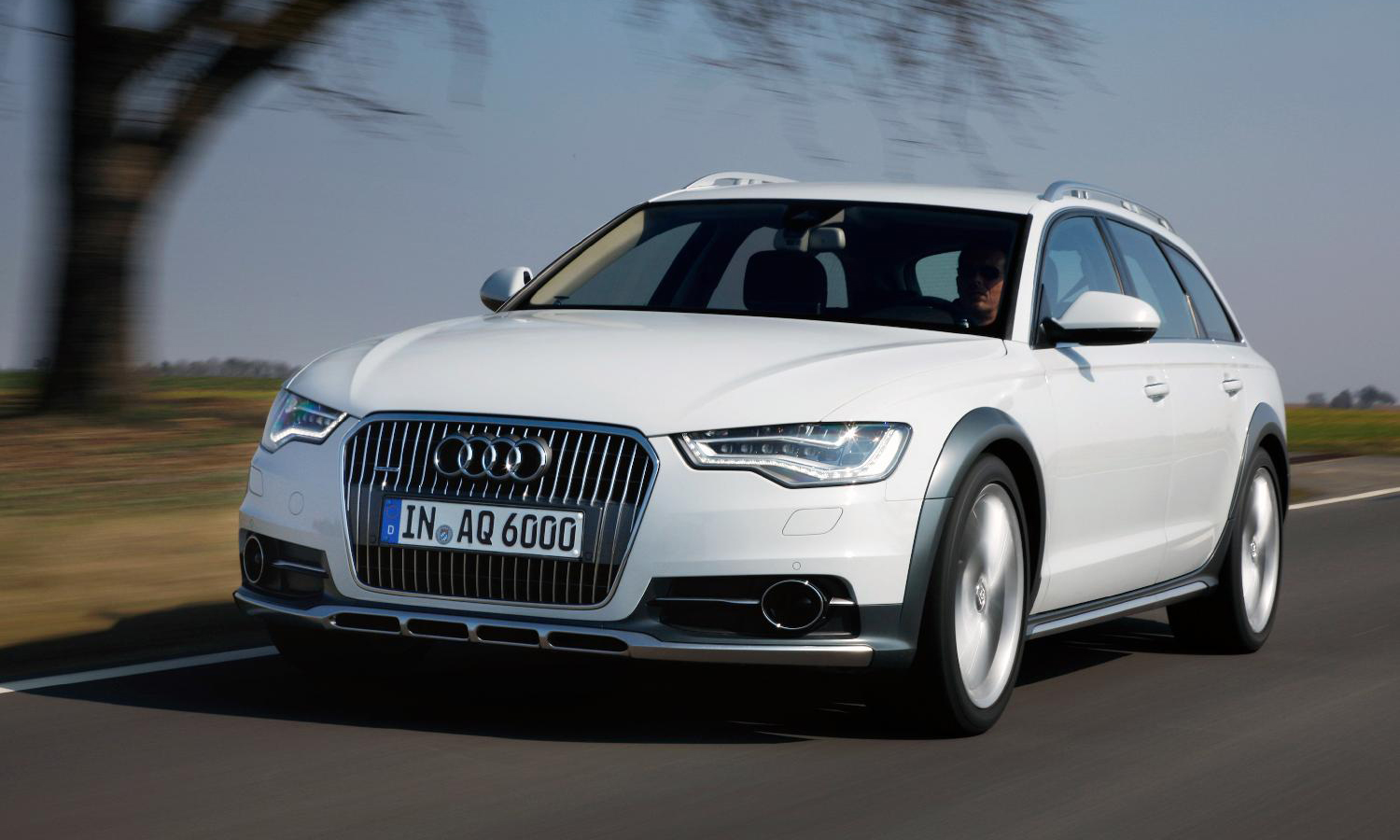 What is the Audi A6 allroad?
The Audi A6 allroad is a jack of all trades, one part luxury saloon, one part estate car and one part four-wheel drive SUV. If you need a car with some of the tough-guy capability of a Land Rover but prefer not to feel the piercing glare of Green Party supporters, welcome to your socially acceptable alternative.
This is the third generation of A6 allroad, and like the two before it, this one is capable of soothing away the stresses of a weekday commute, is spacious enough for weekend family pursuits and capable enough to get through muddy tracks or grip securely on wet slipways. It features Audi's quattro system, which delivers permanent four-wheel drive, and comes with a choice of two 3.0-litre V6 TDI diesels (201bhp or 241bhp) or a flagship variant of the same engine, called BiTDI, which uses two turbochargers instead of one and delivers a potent 308bhp. A supercharged petrol A6 allroad was dropped from the range last year due to lack of demand.
Our advice would be to stick to the middle of the road, as the 241bhp engine is almost as frugal and clean to run as the entry-level diesel, but boasts significantly more torque and therefore performance. It's also markedly less money to buy than the flagship version, saving you the best part of £5,000.
All engines use an automatic gearbox, with a seven-speed, dual clutch transmission called S tronic for the 201bhp and 241bhp versions, and an eight-speed traditional automatic for the BiTDI. There is no choice in trim levels. This makes it easier for buyers; all you have to do is decide which engine you want. Oh, and how much you want to pay – which, it should be noted, will be quite a lot of money irrespective of the version you choose. The three models cost £43,805, £45,345 and £50,105, which is expensive, but on a par with the darling of the Chelsea and Cornwall set, the Land Rover Discovery 4.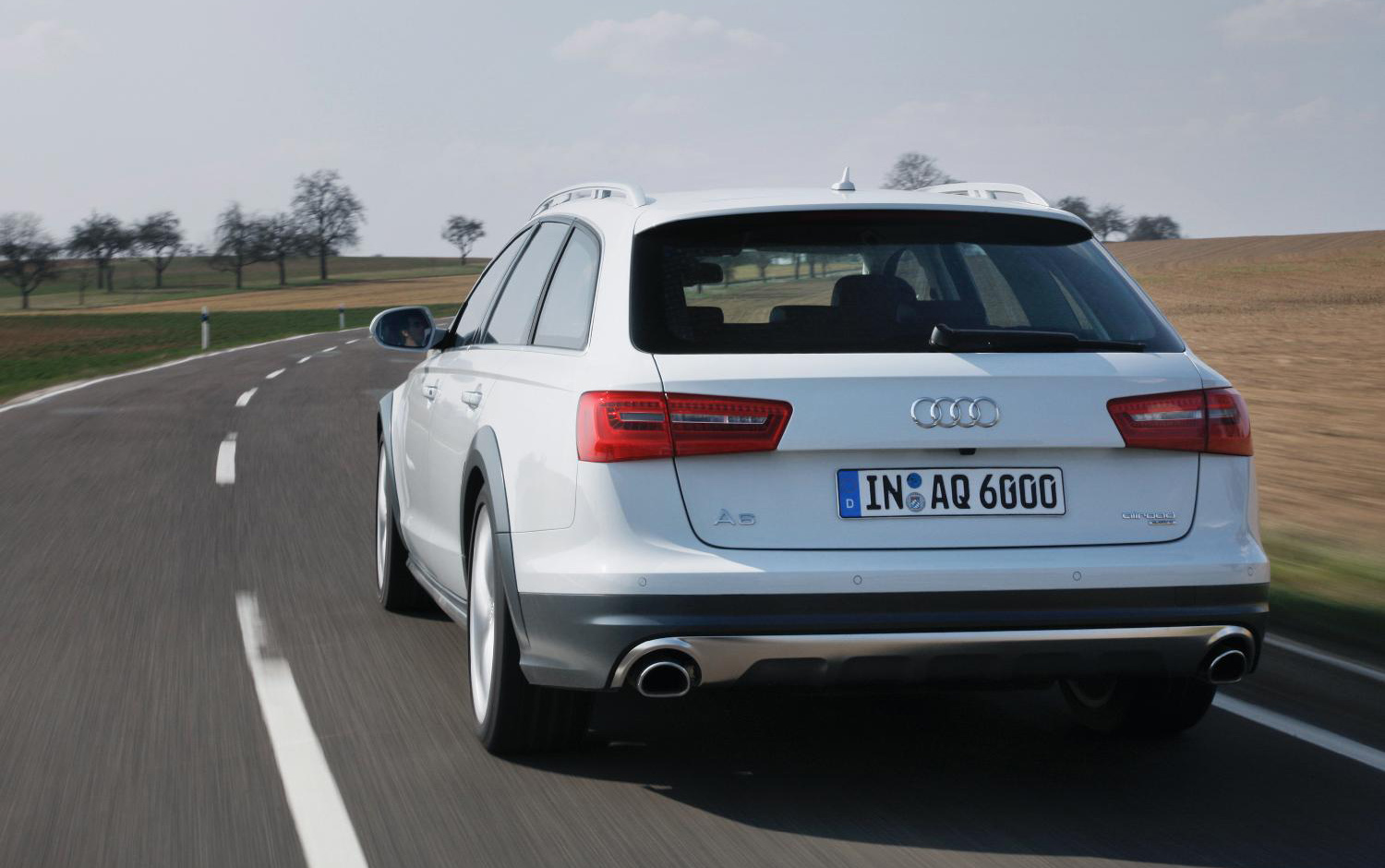 The drive
Think of the most relaxing spa experience you've had and it wouldn't come close to soothing away the day's stresses and strains as well as an A6 allroad. Climbing into it is like lying on a massage table in the middle of a forest with nothing but a Swedish masseur and birdsong for company.
That's because Audi's engineers have fitted it with air suspension, so it would be no exaggeration to say that an A6 allroad wafts along a road as if it's floating on air. This creates a car that lets you cover huge distances and step out wondering why other drivers make such a fuss about the state of British roads and traffic. There are six different driving modes to choose from, using what is known as Audi Drive Select; Comfort, Dynamic, Automatic, Allroad, Individual and Efficiency. These adjust the suspension, steering, throttle and gearchange accordingly.
Set it to Comfort and there's a real danger it will send everyone on board to the land of nod. Choose Allroad and the ground clearance raises to a rock-hurdling 185mm. Using Individual, it's possible to configure the car to your tastes, adjusting independently of one another the weighting of the steering (and ratio, with the optional dynamic steering), response of the throttle, gearshift behaviour of the transmission and the setting of the differential (locking it to equal power distribution between axles for off-road driving). It sounds daunting but in truth, it's intuitive and most of the time the system works perfectly well left in Automatic mode.
In day-to-day driving conditions, the quattro four-wheel drive system apportions 60 per cent of the engine's power to the back wheels, and the remainder to the fronts. This switches according to traction levels, and up to 80 per cent of power can be sent to the rear wheels. It's a competent system, but not as dynamic and exciting to drive on the road as, say, BMW's xDrive set-up.
Excitement isn't the point of the A6 allroad, though. Comfort, refinement and capability are the watchwords here. And as we've established, it's seriously comfortable. It's also delightfully refined. The engine is hushed at all times and the gearshifts are generally as smooth as cream. The intermediate, 241bhp 3.0-litre V6 TDI engine has bags of torque (427lb ft from 1750rpm), no shortage of performance (0-62mph in just 6.6seconds) and hauls a fully laden allroad effortlessly.
Its off-road credentials ably cover the typical uses an A6 allroad owner is likely to put the car through. It can tackle muddy tracks, wet fields and slipways at the sailing club with ease, and should feel in its element when towing. Anything more serious than that would probably require a Land Rover, but then you'll feel the difference where the driving experience and running costs are concerned.
Officially, the 241bhp 3.0 TDI will return 44.8mpg, and sure enough, during its time on test the fuel economy nudged just over 40mpg in a full range of driving conditions. That's competitive for a car of this size (Discovery owners will be lucky to see over 28mpg), and the CO2 emissions rating means the road tax rate for this engine is just £175 a year.
The interior

Dammit, Audi does a fine line in car interiors. The A6 allroad looks and feels luxurious, without sacrificing practicality in any way; you can seat a family of five in the cabin in comfort. During our test, its back seat comfortably carried a ten year-old, six-year old in a full-size child seat and a baby in a rear-facing ISOFIX-mounted child seat.
As for the 565-litre boot, it may not be the largest in class (that honour goes to the Mercedes E-class Estate, with 695-litres) but it will swallow a pushchair, weekend bags and Labrador, and open and close itself at the touch of a button. There's a luggage restraining net built in to the load cover and four lashing eyes which can be attached and moved along running rails set in the boot floor. And like an E-class, the seat backs can be dropped automatically using one-pull levers in the boot.
The driving environment is high class. The design and the type of materials used throughout is pretty much faultless, oozing good quality attention to detail. From supple leather to an intuitive MMI multimedia interface, everything helps justify the car's price. If there's a flaw, it's that the manually operated driver's seat, which comes as standard, lacks adjustment for the lumbar support and the pedals are slightly offset to the right, which could annoy taller drivers on a long journey.
Neat touches abound, such as the rear ventilation package, which gives individual control of the air flow and temperature for back seat passengers. Or the optional head up display, which projects speed and sat nav messages onto the windscreen, and makes the driver appreciate how distracting it can be to perform a task as simple as glancing at the speedometer.
What to look out for when buying a used Audi A6
With all of the latest generation of A6s still under warranty, any glitches that have cropped up seem to have been mopped up by dealers. On that note, Audi has some of the most attentive dealers around, so if you're unlucky enough to land an A6 with problems, they should be taken care of with the minimum of fuss.
The one to buy
Audi A6 allroad 3.0 TDI (241bhp)
Specification
Price:

£45,345 (price correct at time of publication)

Engine:

2967cc, V6 turbodiesel

Power:

241bhp @ 4000-4500rpm

Torque:

427lb ft @ 1750-2500rpm

Transmission:

7-speed S tronic, four-wheel drive

Acceleration:

0-62mph in 6.6sec

Top speed:

147mph

Fuel:

44.8mpg (combined)

CO2:

165g/km

Road tax band:

G

Dimensions:

L 4940mm, W 1898mm, H 1474mm
Audi A6 allroad quattro  rivals