Vauxhall Astra 2022 review: More desirable than a Golf?
A star is born
Has anyone ever got excited about a new Vauxhall Astra? It's always been a popular car but its image — sporty versions aside — is of a safe, sensible and affordable hatchback, to the point of it becoming somewhat anodyne. 
That's changed now with an all-new model that looks as contemporary as its sharpest peers, including the Ford Focus, Seat Leon, Peugeot 308 and the evergreen Volkswagen Golf.
Vauxhall is making something for everyone, too, with a mixture of petrol and diesel combustion engines, a plug-in hybrid and, from 2023, a pure-electric version. Later this year Vauxhall will also add an estate variant, called the Astra Sports Tourer.
Vauxhall has streamlined the choice of trims to make it easier for buyers to understand. Even the entry-level model comes with plenty of equipment, while top-line Ultimate versions include kit previously only seen on premium brand models.  
So can it really now vie for top-dog status in the congested hatchback segment?
Exterior design and rivals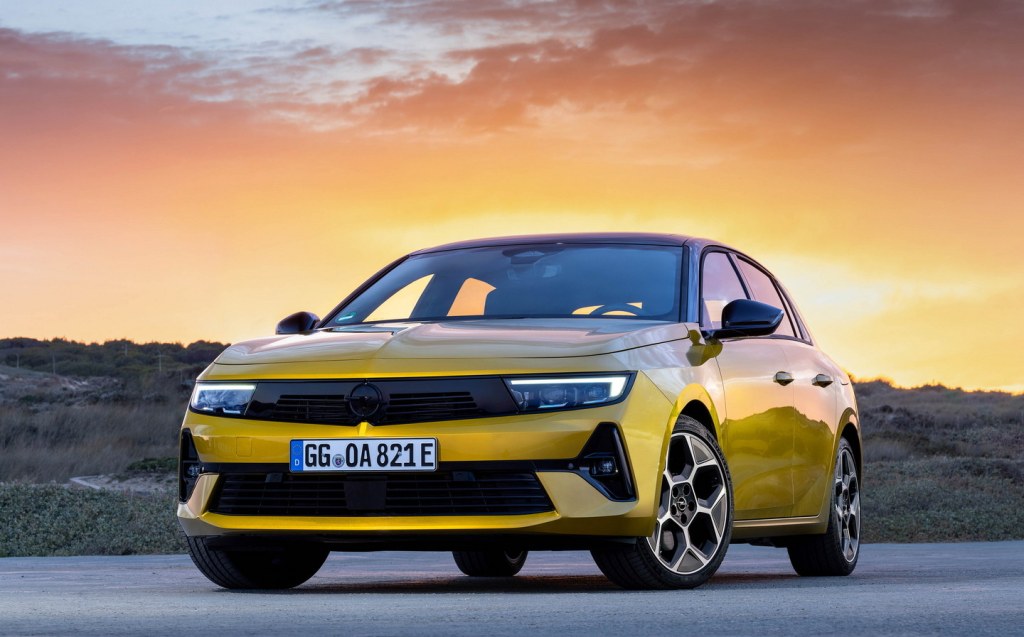 Vauxhall is no stranger to producing stylish cars these days. Though the pictured car wears Opel badges, the Vauxhall version of the Astra sports the brand's new image that centres around the 'Vizor' front; similar to that of the Mokka crossover.
A black panel discreetly incorporates some vents for cooling and frames the slim LED headlights. Their horizontal lighting signature combines with the sharp crease running down the centre of the bonnet to create a compass-like appearance when viewed head-on. It's a feature that is repeated at the rear of the car.
Little has changed with the size of the new Astra, which should be good news to existing owners. The overall growth of 4mm in length isn't likely to be noticed by anyone, but rear seat passengers might appreciate the 13mm increase in the distance between the front and rear axles, which adds a bit more legroom.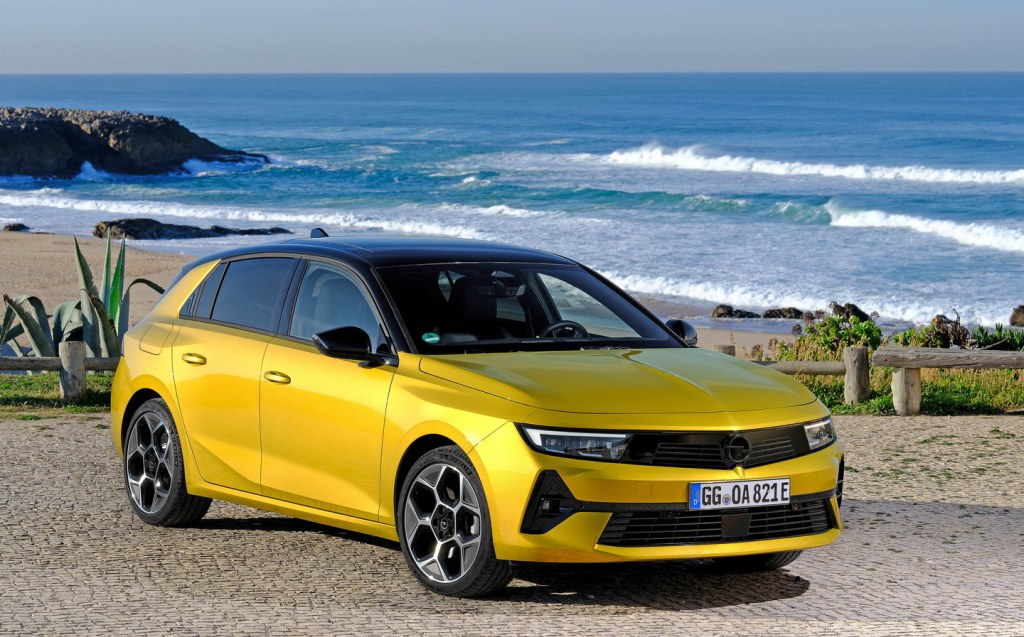 Mid-grade GS Line and top-spec Ultimate models gain a black roof that adds to the upmarket image and helps to give the car a more low-slung appearance.
It also emphasises the C-pillar that kicks up in a similar fashion to that of the Corsa and Grandland. A choice of seven exterior colours, 17in black alloy wheels on GS Line models or diamond cut 18in wheels on the Ultimate spec all gives the Astra plenty of kerbside appeal. 
Interior and practicality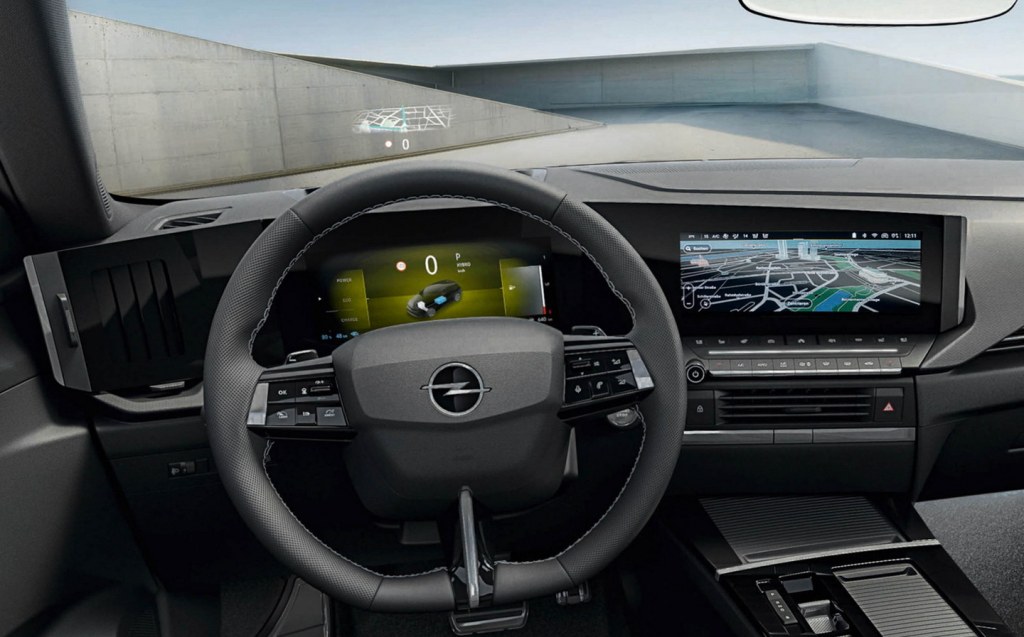 Vauxhall's designers have come up with what they call an interior detox for the Astra, meaning less clutter and a pared-back look. What was previously a sea of dark plastics strewn with buttons is now a vista of crisp lines and digital displays.
The dashboard fascia is a stylish gloss black affair with two display screens inset. Ahead of the pleasingly slim steering wheel is a 10in digital instrument panel, while a similarly sized touchscreen is subtly angled towards the driver and supported by a bank of physical buttons for climate control and features such as the heated seats.  
Cars equipped with automatic transmission feature a flat and wide centre console that houses a pair of cupholders and a small rocker switch for choosing between forward and reverse. A flush-fit drive mode selector and electronic parking brake complement the clean design, but the use of a high gloss piano black finish for the surface was already looking tarnished and tired on our test cars and is unlikely to age well.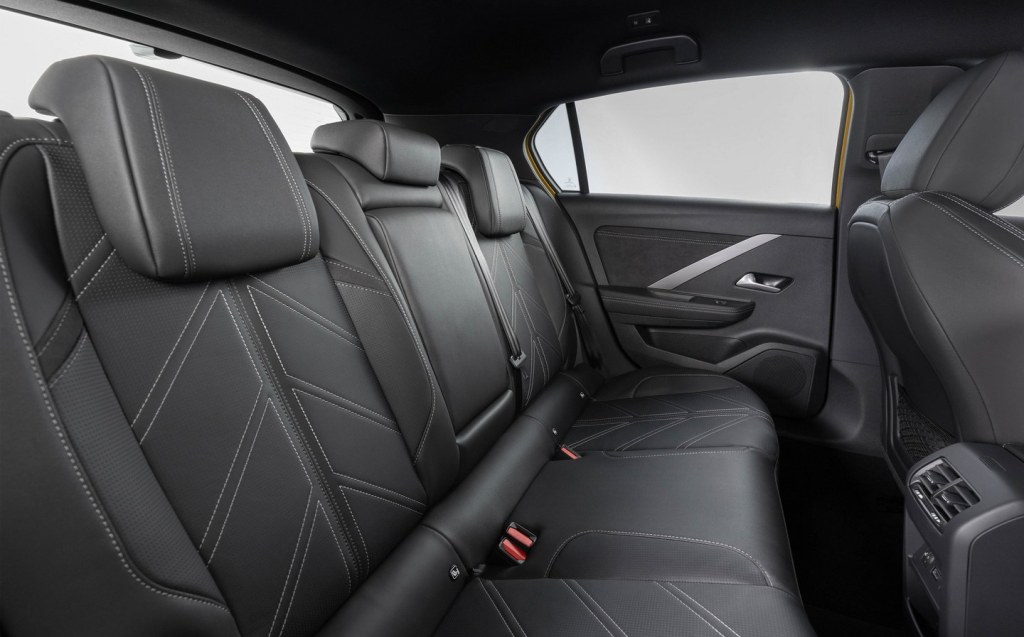 A good amount of adjustability for the steering wheel and the front seat means that people of all heights should easily find a suitable driving position. The Astra continues to offer some of the best seats in the business, complete with AGR certification, meaning that an industry panel of back specialists gave their seal of approval for its design. Optional leather seats are available with heating, ventilation and even massage functions.
The Astra steals a march on both the Focus and Golf when it comes to boot space with 422 litres, or 1,339 litres when the split-folding rear seats are dropped. In the case of the plug-in hybrid version, that volume decreases to 352 litres due to the battery packaging underneath, though it remains an acceptable size for a PHEV and a wide boot aperture makes loading bulky items less of a challenge.
Technology and safety
Vauxhall equips all new Astras with LED headlight technology and offers the latest iteration of its IntelliLux LED headlight that features Pixel light, too. Comprising 168 LED elements, these provide excellent adaptive illumination at night.
All versions of the Astra also include Android Auto and Apple CarPlay, so connecting your smartphone is never an issue. On Ultimate spec models there is also a wireless charging pad included.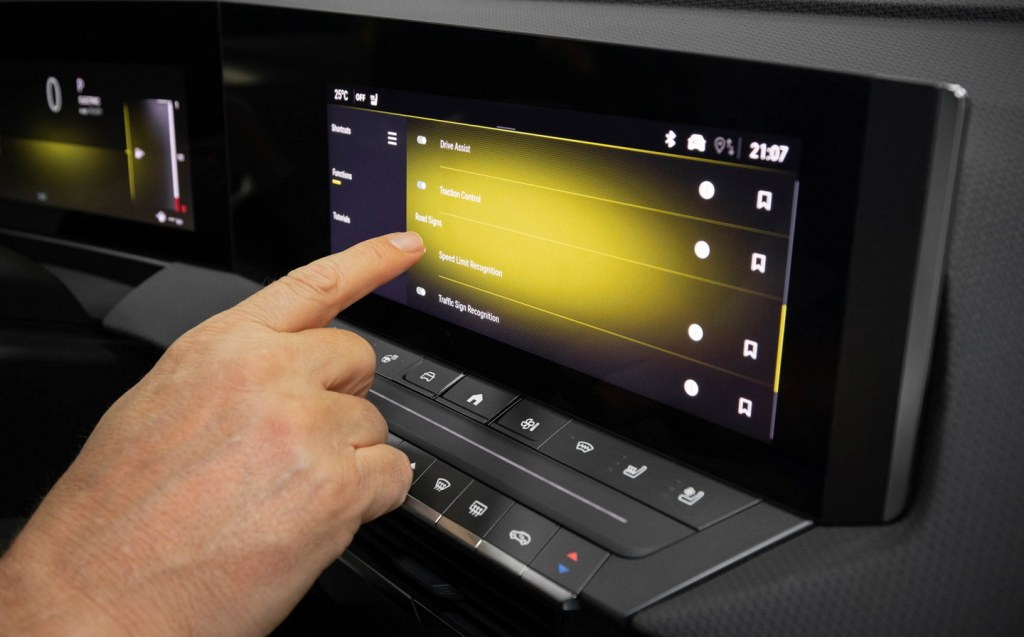 A full-colour head-up display is most impressive, not only because of its size, but also thanks to the quality and clarity of the information it can display. In particular, the direction information when using the built-in navigation.
There's a gamut of safety systems, too, including alerts and assistance for lane keeping, speed limits and a system that uses the road data to adjust the adaptive cruise control, such as slowing slightly for bends in the road.  
Heated front seats are standard on top-spec versions, as is a heated windscreen.
In the plug-in hybrid model it is possible to view the battery charge level via a connected app and this offers cabin pre-conditioning, so the car can be warming up while you're enjoying your breakfast on a cold winter's day. 
Performance, power output and acceleration
The versatile EMP2 platform from Stellantis that underpins the Astra enables a multitude of powertrains. Diesel and petrol engines will be available at launch alongside a plug-in hybrid. Vauxhall will offer a pure-electric Astra, too, although that won't be arriving until 2023.
So, which engine should you pick?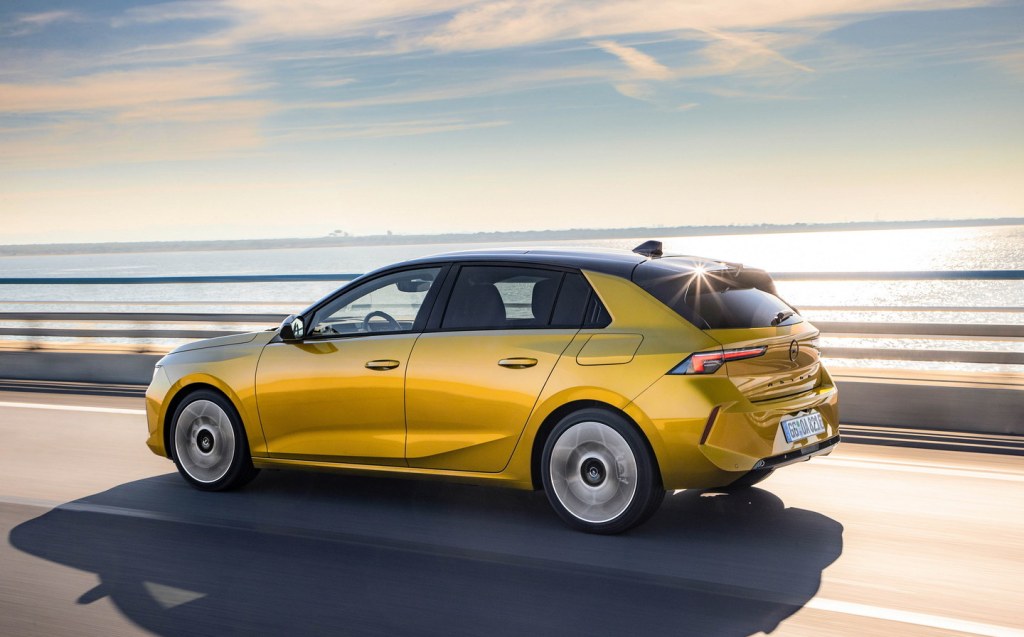 Diesel power may be waning in popularity with private buyers but it remains a viable choice for business and fleet users. With 128bhp, the 1.5-litre diesel matches the power output of the 1.2-litre petrol, but more torque gives it better pulling power and lower fuel consumption — particularly on longer motorway journeys. That should make it a reasonably cheap to run, with economy upwards of 60mpg. 
However, in traffic, the diesel isn't as smooth and quiet as it is on a long cruise, and the sluggish nature of the diesel's start-stop system, combined with the associated lurching of the automatic gearbox, soon becomes infuriating and is a blot on the Astra's copybook.
Better is the three-cylinder petrol engine as it offers 108bhp in base trim and matches the diesel's 128bhp elsewhere. 
The manual gearbox's throw is on the long side when going across the gate from second to third, for example, but it's perfectly serviceable. Nonetheless, if budget permits, opting for the eight-speed automatic makes for a sweeter combination.
The highlight of the Astra range is the plug-in hybrid, which combines a 1.6-litre four-cylinder petrol engine with an electric motor and 12.4kWh battery to produce a combined 178bhp. Vauxhall says that with a fully charged battery the Astra can cover 37 miles on electric power, and as much as 46 miles in city conditions.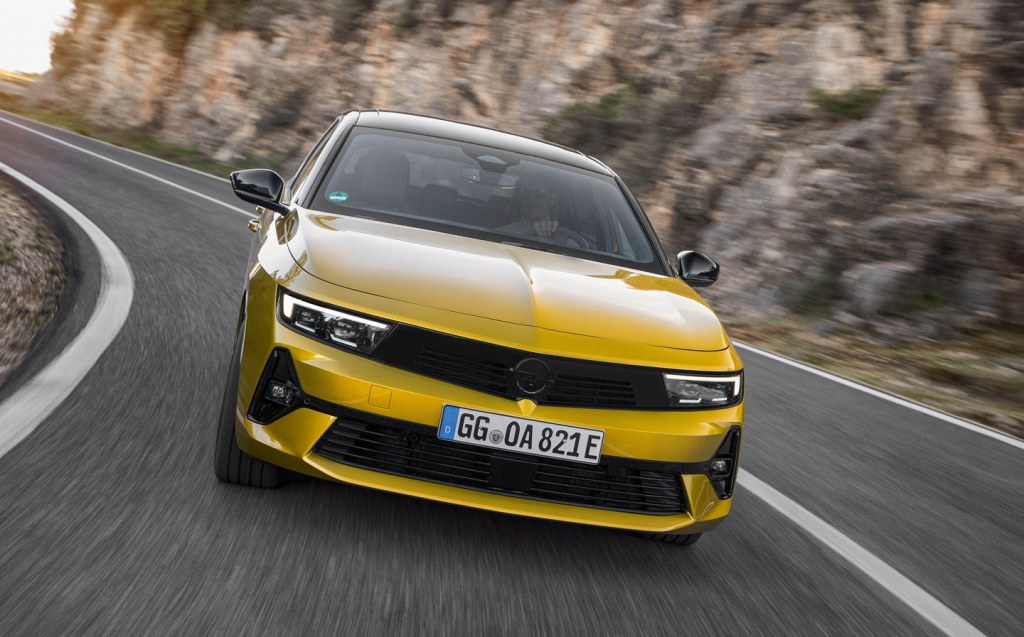 Ride and handling
While the Astra may share many of its underpinnings with the plush-riding Peugeot 308, Vauxhall's engineers have tweaked the suspension and steering set-up differently, and the result is a car that is that bit more engaging than before. 
The ride is good, if a little on the firm side. Our car's 18in wheels and low-profile tyres contributed to that, but the general impression is one of a car that's every bit as well sprung as a Volkswagen Golf and has steering that, while light, isn't short on accuracy, giving the driver plenty of confidence that the nose will go precisely where it's pointed.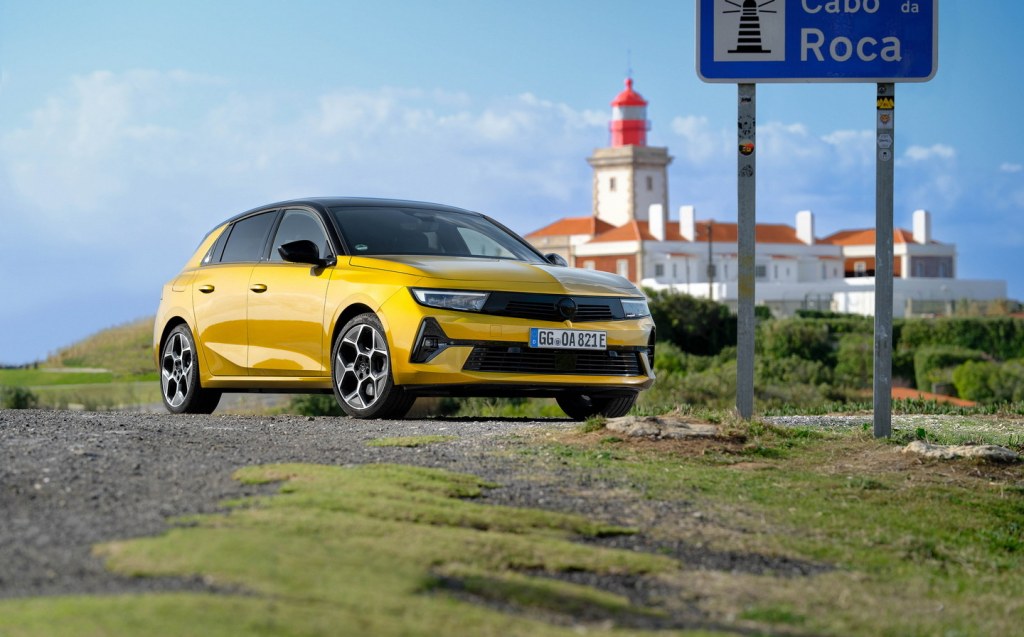 That suspension set-up aids the handling in the corners, too, by minimising body roll to ensure the Astra remains impressively level even during swifter changes of direction.
There is a bit more weight to contend with in the plug-in hybrid version, and when driven more enthusiastically, it can begin to push the nose on a bit when you're trying to clip tighter corners. A more powerful PHEV is due later this year, and the suggestion is that this version could have a more advanced adaptive damping suspension. 

On more open stretches the Vauxhall settles into a comfortable groove with sound-insulating glass helping to reduce any din in the cabin. On some surfaces the tyre roar is noticeable but in general noise from all of the engines is well suppressed, while the plug-in hybrid provides the quietest and most relaxing driving experience. 
Pricing and on-sale date
The Vauxhall Astra is available to order now with a starting price of £23,805 for the base 108bhp 1.2-litre petrol-engined Design specification.
Progressing to the mid-level GS Line includes the 128bhp unit and costs from £26,700.
Topping the range is the Ultimate model, which is priced from £29,815 when powered by the same petrol engine. 
The plug-in hybrid models are the most expensive ones, with prices starting at £32,200 for the GS Line, meaning you'll have to do plenty of battery charging to begin to recoup the initial outlay.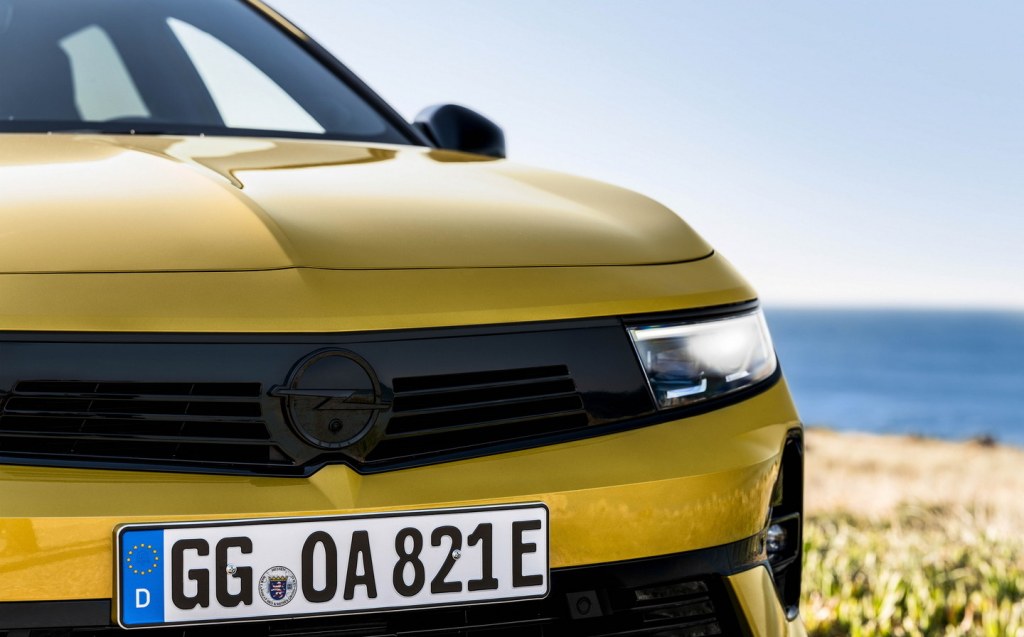 Order books for the Vauxhall Astra are now open with first deliveries due to begin in the summer.
Verdict: Vauxhall Astra review
After years of being there or thereabouts in the hatchback segment the Vauxhall Astra makes an impressive return with a package that is suitably modern and decently equipped. Choosing the right powertrain and spec level is key, and though expensive, the plug-in hybrid proves to be the best of the bunch. That is until the electric version arrives.
Of course, badge snobs will still turn up their noses but the new Astra is a clear step forward in quality and driver enjoyment.

Related articles
Latest articles