Dacia Jogger Review 2022: All the family car you'll ever need
Jog on, rivals claiming to offer value for money
---
Published 09 February 2022
THE DACIA name is built on simple, honest-to-goodness cars that offer value above all else. There's little in the way of luxury or fripperies with this Renault-owned brand, and the whole image is one of rebellion against the over-complicated mainstream models with their voice-activated this and semi-autonomous that.
It's a position that has made Dacia a household name. No longer a Romanian unknown, the company has become an established, if slightly niche, player in the UK car market.
Now the brand has a new family-orientated model called the Jogger. It's a silly name but a smart concept: essentially a seven-seater with the footprint of a compact estate car yet the interior space of a large people-carrier.
With the cheapest version costing less than £15,000, the Jogger is cheaper than a base-spec Skoda Fabia supermini. So while it might not be the most luxurious, most powerful or even the sexiest car on the market right now, there's nothing that can touch it for value.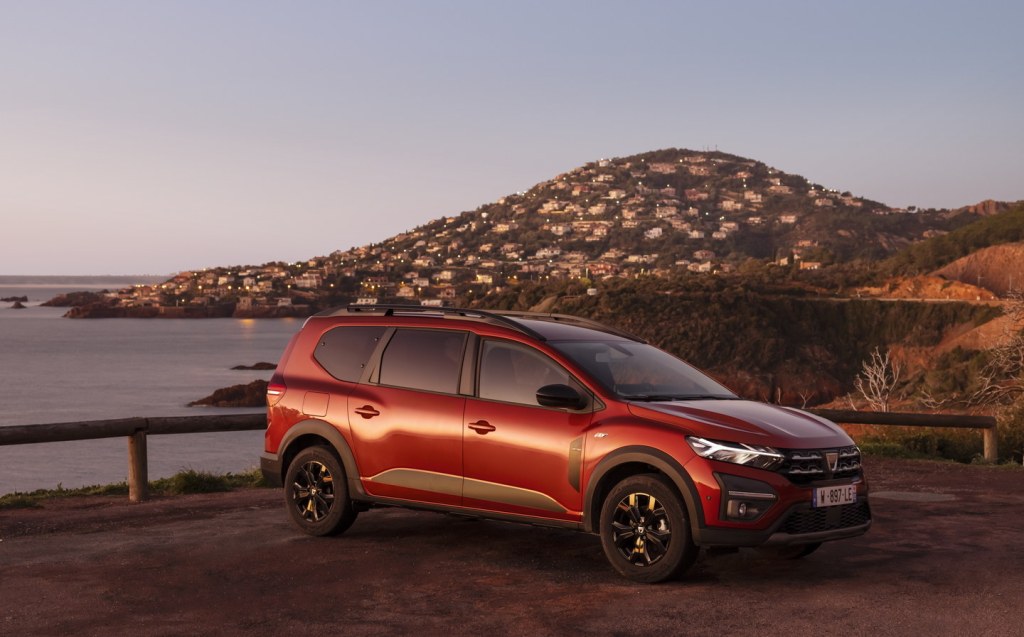 Exterior design and rivals
Pigeon-holing the Jogger is not easy. It's about as long as a Ford Focus Estate but taller than a Citroën Grand C4 SpaceTourer, and a genuine seven-seat people-carrier. The ground clearance, meanwhile, is reminiscent of a Nissan Qashqai or some other family SUV.
Perhaps the closest rivals are jacked-up estate cars such as the VW Golf Alltrack or Audi A4 Allroad, but those don't have the luggage or passenger capacity of the Dacia Jogger.
Like those off-road estates, the Jogger's plastic body cladding, grey skid plates and, in the case of our top-of-the-range Extreme SE test car, black alloy wheels. The look is completed by some clever all-in-one roof rails with removable centre sections that form the cross bars for loading roof boxes, ski carriers or whatever else Jogger drivers might want to transport.
But while there are some neat features and the front end is pretty handsome, there are one or two jarring aspects to the Jogger's design. That rear end looks a bit abrupt, what with the pretty much vertical tailgate, while the rear lights definitely give us knock-off Volvo vibes.
Worst of all, however, is the strange step in the doors. The top of the back door is an inch or so above the top of the front door, which makes the roofline look a little untidy. The advantage, Dacia claims, is extra light for the cabin and increased visibility for rear-seat occupants, who sit slightly higher than those in the front.
Quite why Dacia couldn't just raise the front windows to clean up the line is beyond us, but the overall effect is not aesthetically-pleasing. That said, a function-over-form attitude is certainly in keeping with the Dacia brand and the Jogger as a whole.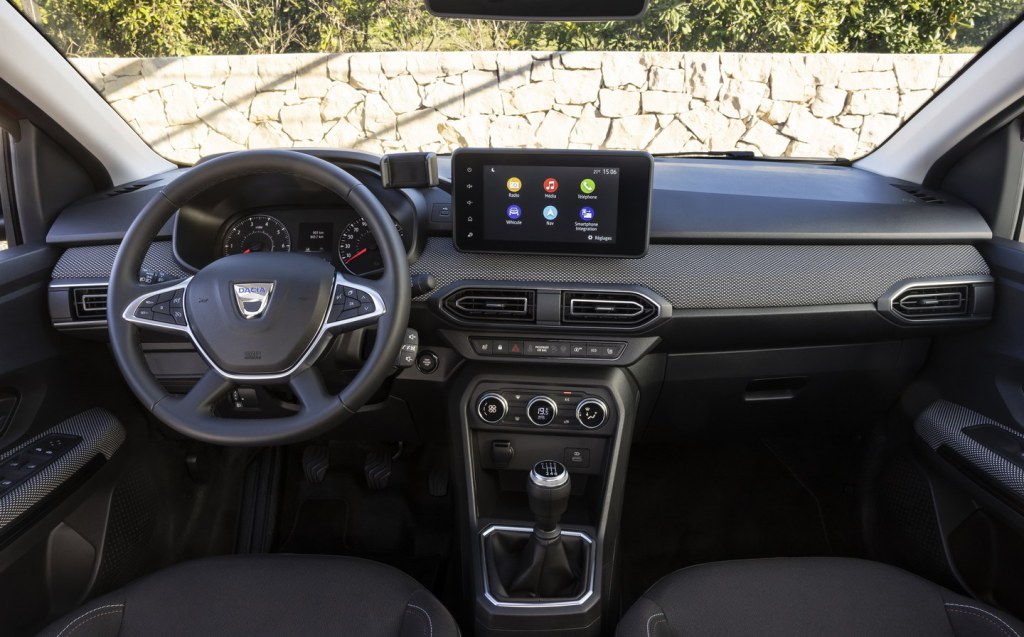 Interior and practicality
Space is the name of the game in the Jogger, and there's certainly plenty of that. Not only is there acres of space in the front, but the back seats provide ample headroom and legroom for adults over 6ft tall. Even the third row provides enough room for grown-ups, although taller passengers won't want to spend great lengths of time back there. Anything less than an hour would be perfectly feasible, and kids will be well accommodated in any of the seven chairs.
But despite having seven seats and a similar length to the VW Golf Estate, the Jogger somehow provides ample luggage space as well. Not only can you find 23 litres of space in the various door bins and storage cubbies, but the boot measures 270 litres even with all seven seats in place. That's more than you get in a four-seat city car such as the Hyundai i10.
Take the third row out (the seats only weigh 10kg apiece and it's a one-person job, albeit a slightly fiddly one) and that space grows to about 700 litres, which is pretty massive by any standards. If the Jogger needs to double as a van, however, the second row of seats folds and tumbles to free up more than 2,000 litres – an incredible cargo capacity for a car of this size.
There are catches, such as the length of the tailgate, which means it needs a lot of space to open, and the fact the boot floor is never really flat unless all seven seats are up, when the awkward shape makes carrying large objects less feasible.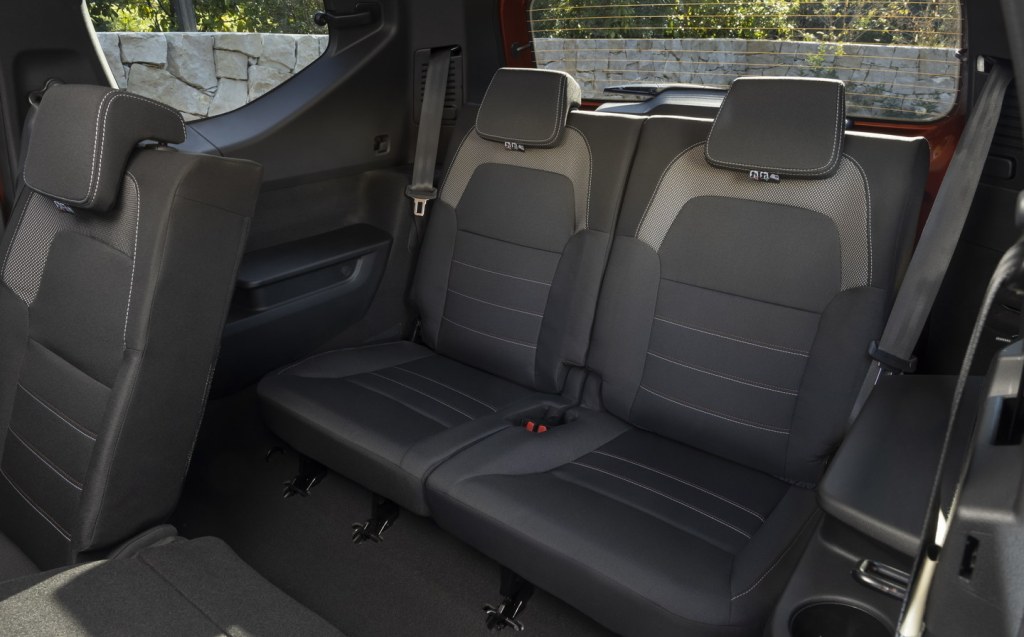 But for all that space, don't go expecting much in the way of luxury. The Jogger stays true to the Dacia values, and there are some cheap plastics in evidence.
The build quality is respectable, though, with some soft-feeling switchgear and a general sense of robustness. The fabric covering on the dashboard is a neat touch, too, and the seats are impressively comfortable.
Technology and safety
As we've come to expect from Dacia, the Jogger doesn't blow customers away with rafts of equipment and features. The use of the name 'Essential' for the basic trim level tells you pretty much everything you need to know. Choose that version and there's manual air conditioning, rear parking sensors and that's pretty much it. There's no touchscreen, but there is a docking station allowing you to use a smartphone for navigation or media.
To access the eight-inch touchscreen infotainment system, you need the mid-range Comfort model, which also gets alloy wheels, automatic air conditioning and front parking sensors, not to mention keyless entry and a reversing camera. It's £1,600 more expensive than the Essential model, but we reckon it's an upgrade worth making, if only for the touchscreen.
More modern and easier to use than anything offered by other budget brands, it's a handy thing to have in the dashboard – particularly as it comes with the Android Auto and Apple CarPlay smartphone integration technology. It might not look innovative, but it works well, and that's all you really need.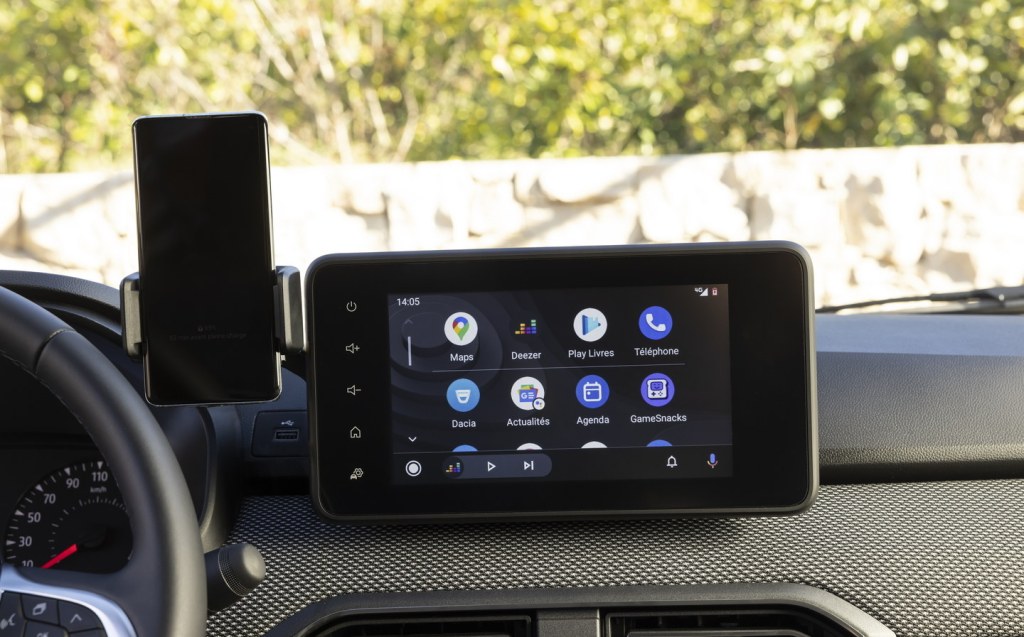 It makes upgrading to the Extreme SE seem a bit pointless, but that model will add an integrated navigation system and heated front seats, which will doubtless appeal to plenty of customers.
But there's no need to pick a top-end version to get some useful safety equipment. Even the Comfort model comes with a system that stops the car automatically if the driver doesn't respond to a hazard, while cruise control is also included across the range.
Automatic headlights come as standard, too, along with the usual fleet of airbags and stability control systems. Mid-range Comfort models add blind-spot monitoring and the rear-view camera, which are both well worth having.
Performance, power output and acceleration
For the time being, the Jogger is available with just one engine: a 1-litre, three-cylinder petrol unit that produces 109bhp. Dubbed the TCe 110, it comes with a six-speed manual gearbox (no complicated automatics initially) and front-wheel drive and, despite the Jogger's off-road-inspired looks, there's no option to have all-wheel drive.
Next year, a hybrid option will arrive in the UK, but for now it's petrol or nothing. Despite the inclusion of a turbocharger, the TCe 110 offers predictably leisurely performance, getting from a standstill to 62mph in 11.2 seconds. That sounds slower than it feels, though, and the Jogger will make perfectly adequate progress – especially if you're prepared to wring out every last drop of performance.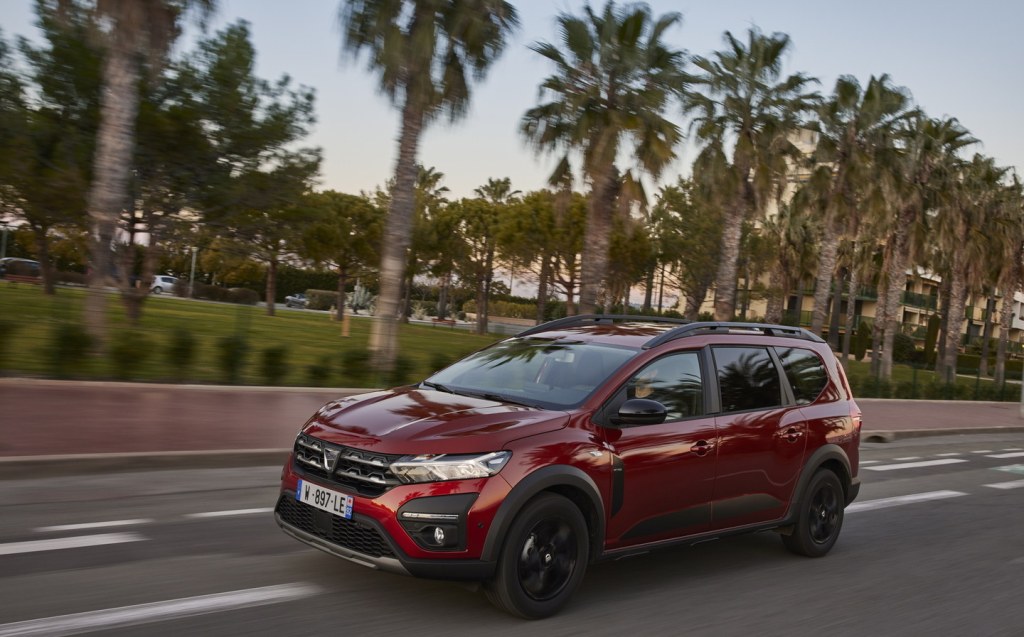 More importantly in a car that's sold on the basis of value, rather than velocity, the engine is at least efficient. The official figures suggest just around 50mpg should be achievable on a long run, and we wouldn't argue with that.
With all seven seats occupied and some luggage on board, though, we would expect that to fall somewhat. Especially around town, where stop-start traffic is more likely to favour the forthcoming hybrid.
But the hybrid Jogger will probably cost more than the TCe 110 and those fuel savings will be minimal. We suspect a diesel Jogger would only prove marginally more efficient, and it's unlikely to be quite so refined. The Jogger is relatively quiet at any speed, and even when pushed, the peppy buzz of the three-cylinder engine is quite charming and characterful.
Ride and handling
With Dacia's emphasis on common sense and value, the Jogger was never going to be particularly exciting on the road. Instead, it's very comfortable and very easy to drive, with well-sorted suspension and a relaxing atmosphere that makes it really rather pleasant to waft about in.
Admittedly, our test drive on smooth French roads was not a great test for the Jogger's springs and dampers, but it soaked up what little was thrown at it with ease. The ride isn't quite as marshmallow soft as you might expect from a luxury saloon, but it's supple and stable over any kind of bumps. Even speed bumps don't make too much of an impression.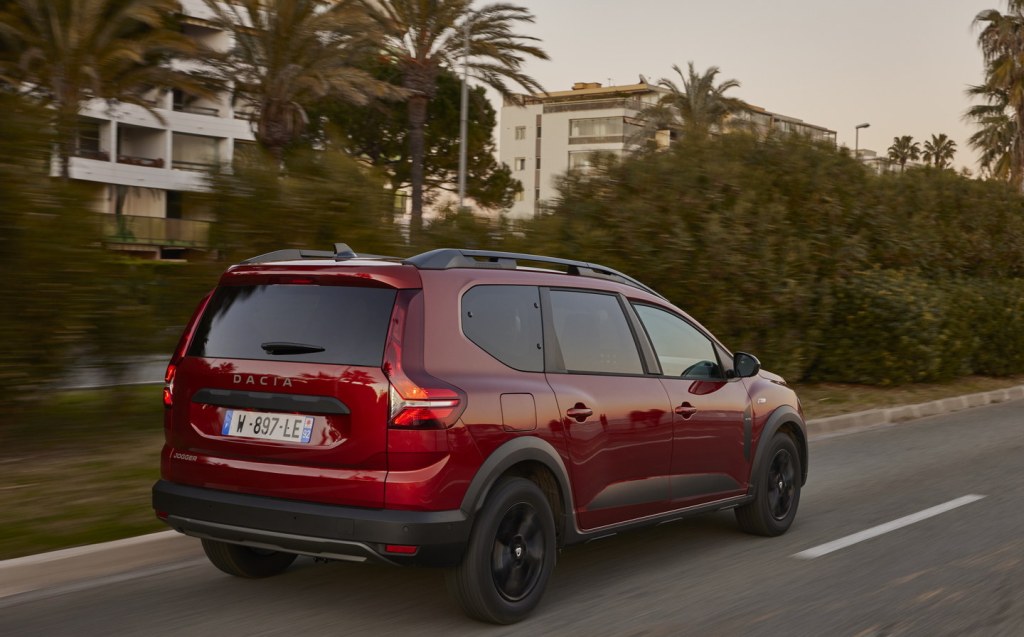 Nor does anything else, because Dacia has even invested in some sound insulation for the cabin. Wind noise can get a bit intrusive at higher speeds – particularly on blustery days – but tyre roar is mostly kept at bay and the engine is quiet unless you start thrashing that little three-cylinder motor.
The trade-off for that comfort and refinement is a slight lack of involvement for the driver, but we suspect few would-be Jogger owners will care too much about that. And even those who do will find the steering feels fluid and substantial.
Body roll is plentiful, but not alarming, and there's plenty of grip to make the car feel secure through the corners. It isn't especially exciting, but then it doesn't need to be.
Pricing and on-sale date
The Jogger is already available to order, with prices starting at £14,995 for the entry-level Essential model. Moving up to mid-range Comfort specification will take the price to £16,595, while the top-of-the-range, special edition Extreme SE version starts at £17,395. Nothing currently on the market with this much boot space or seven seats (let alone both) can be bought for so little cash.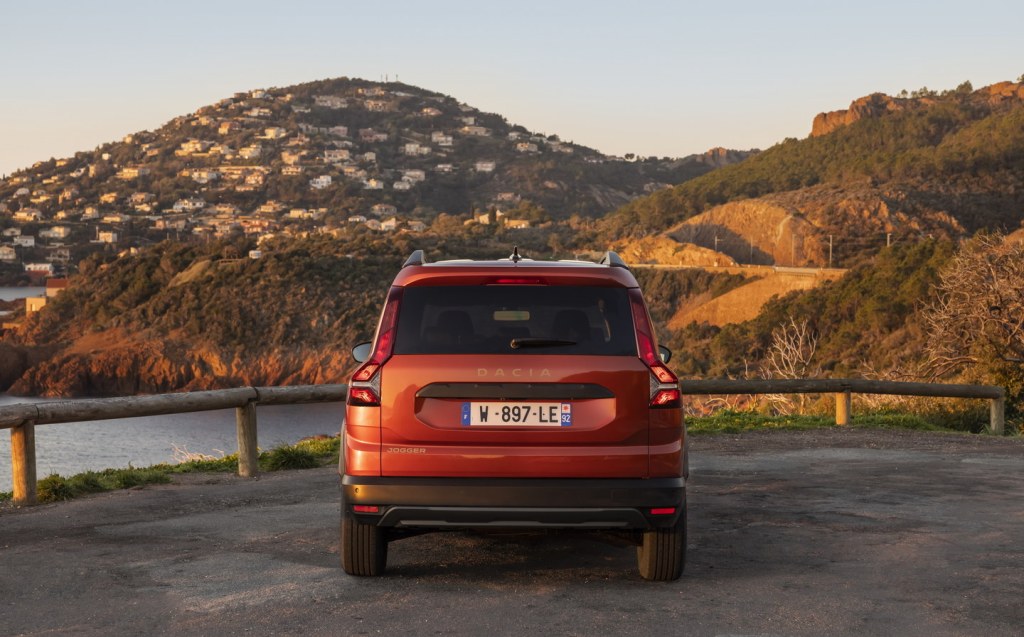 Verdict: Dacia Jogger review
The Dacia brand stands for no-frills practicality and comfort, and that's exactly what the Jogger provides. It's miles cheaper than anything else of this size, and it's roomier and more practical than any of the increasingly few cars that can compete on price.
Of course, other cars will be more desirable, despite Dacia's best efforts to make the Jogger look interesting, but there's more to the Dacia's anti-fashion appeal than just value. It's a comfortable, honest and useful car that's surprisingly pleasant to drive. You might want more from a family car, but you don't need anything else.
Tweet to @JFossdyke Follow @JFossdyke
Related articles
Latest articles