Extended test: Vauxhall Mokka SRi Nav Premium review 2021
Is the heavily revamped Mokka as good as it looks?
---
Published 04 January 2022
Model Vauxhall Mokka SRi Nav Premium 1.2 130PS Turbo Auto
Price From £27,455 OTR
Price with options £27,775 OTR
Colour White Jade
Cost options fitted Brilliant Paint: White Jade (£320)
Engine 1,199cc, 3-cylinder, petrol
Power output 128bhp at 5,500rpm
Torque 169 lb ft at 1,750rpm
Weight 1,740kg (gross)
Towing capacity 1,200kg (braked)
Luggage capacity 350 / 1,105 litres (seats up/ down)
Top speed 124mph
0-62mph 7.5sec
Fuel consumption (WLTP combined cycle) 47.1mpg – 47.9mpg
CO2 emissions (WLTP) 137g/km
VED (road tax) £220 for first year; £150 thereafter
BIK tax payable (2020/21) 30%; £1,685 (20%) or £3,370 (40%)
Insurance group 18E
Test Details
Test period May — November 2021
Starting mileage 1,097 miles
Updates
June 10: Introducing the Vauxhall Mokka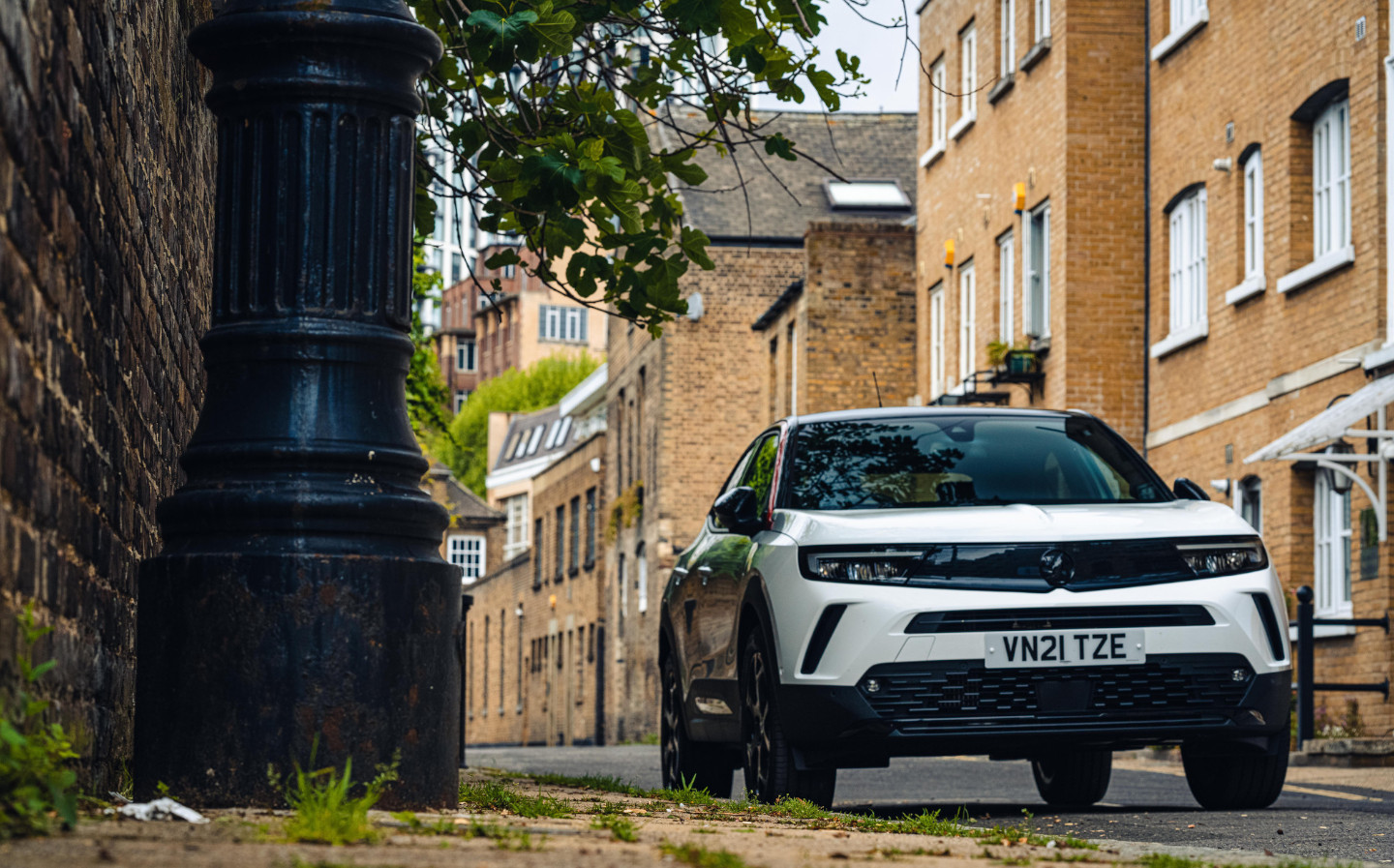 You'll probably recognise the new Vauxhall Mokka. Stellantis, Vauxhall's new(ish) parent company, has seemingly ploughed its entire advertising budget into ensuring that it's the new car we hear about and see the most: there are billboards, radio ads, glossy pages in magazines and a confusing TV advert featuring some nightmarish pigeon/ human monstrosities that kept popping up when I was trying to watch old episodes of Love Island the other day.
And to be honest, its prominence is understandable: the Mokka — previously called the Mokka X — used to be an ill-proportioned (albeit best-selling) lump of a car, whose snout always reminded me somewhat of a pitbull's from a certain angle. Now, however, it is a handsome, proud and assertively stylish compact crossover — more sightly, I'd say, than any of its competitors, including the similarly-styled Peugeot 2008 on which it is based. A few people at the pub across from my parking spot have even posited that it has a certain Evoque vibe to it. Just don't tell Land Rover that, for goodness sake.
The new Mokka is based on the GT X Experimental concept from 2018, and, aside from some of the more outré elements like Meriva-esque suicide doors and lack of B-pillars, the production model adheres to the concept an impressive amount — highlights include quirkily designed wheels pushed out to the edge of the silhouette, the new-era "Vauxhall Vizor" front fascia and a swoosh of colour that begins just in front of the A-pillar and ends at the rear of the car. You can even specify the black bonnet from the concept, if you wish, though that option doesn't yet seem to be available on Vauxhall- (rather then Opel) badged versions of the car.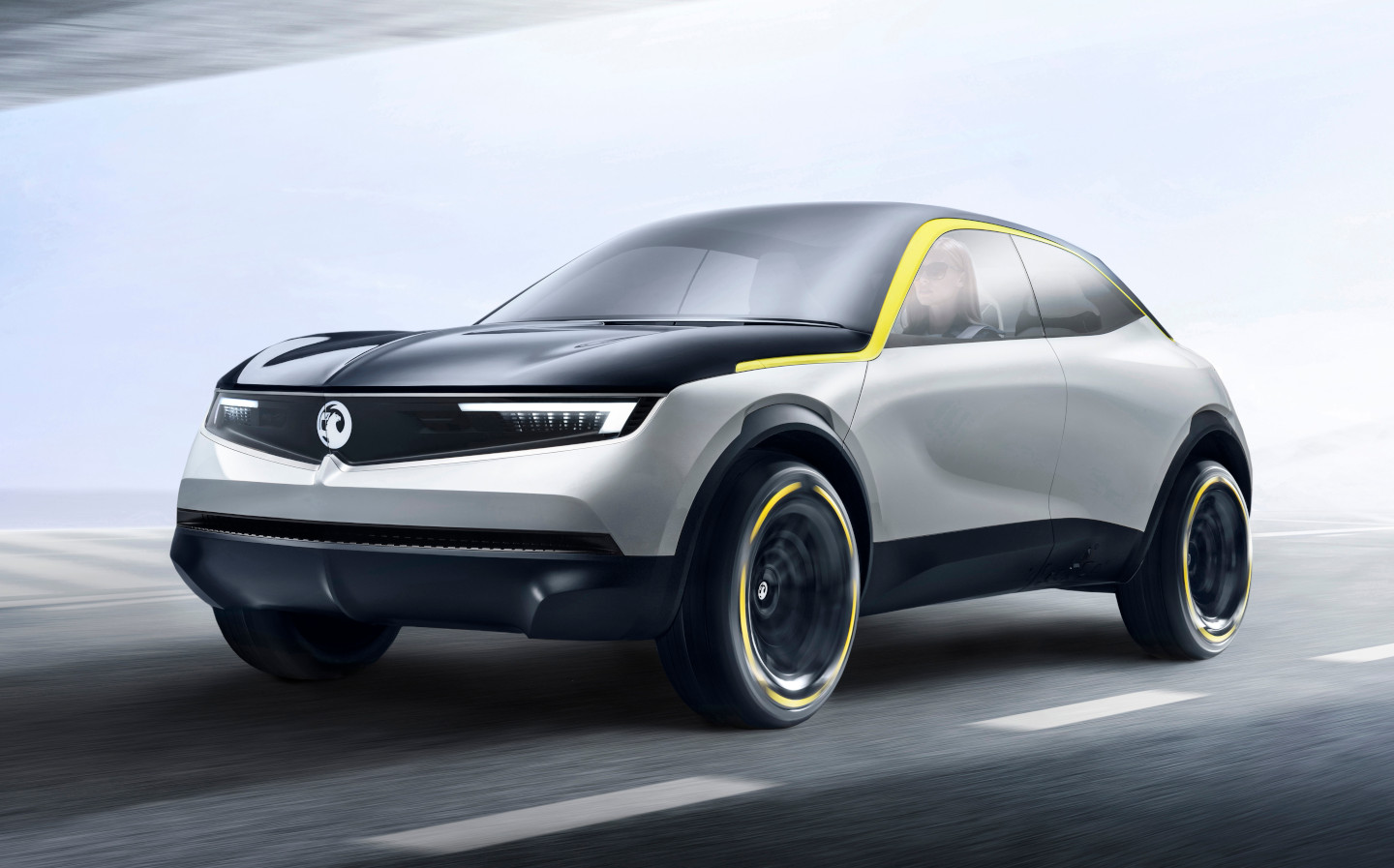 There are four colours to choose from in this bells-and-whistles SRi Nav Premium spec — quartz grey, which comes free, then Jade White (jade is usually green, isn't it?), Diamond Black (diamonds are usually colourless, aren't they?) and Power Red, all of which will cost you an extra £320.
The Jade White in which our test car is painted looks great, and definitely adds to the Evoque look those pub patrons were on about, though my favourite colour is the new and verdant Mamba Green. However, for now at least, that colour seems to only be available in the more spartan SE spec.
Overall, it's top marks to Vauxhall's design team for what I'd say has been a successful and dramatic change in Vauxhall's aesthetic ethos, but part of me does wonder how well the car will age, and whether or not I'll tire of the abundance of red accenting as my time with the Mokka goes on.
Having said that, there's a 2017 Citroën C3 with a white-and-red colour scheme parked around the corner from me, and I think that's ageing very well, despite its fussy design.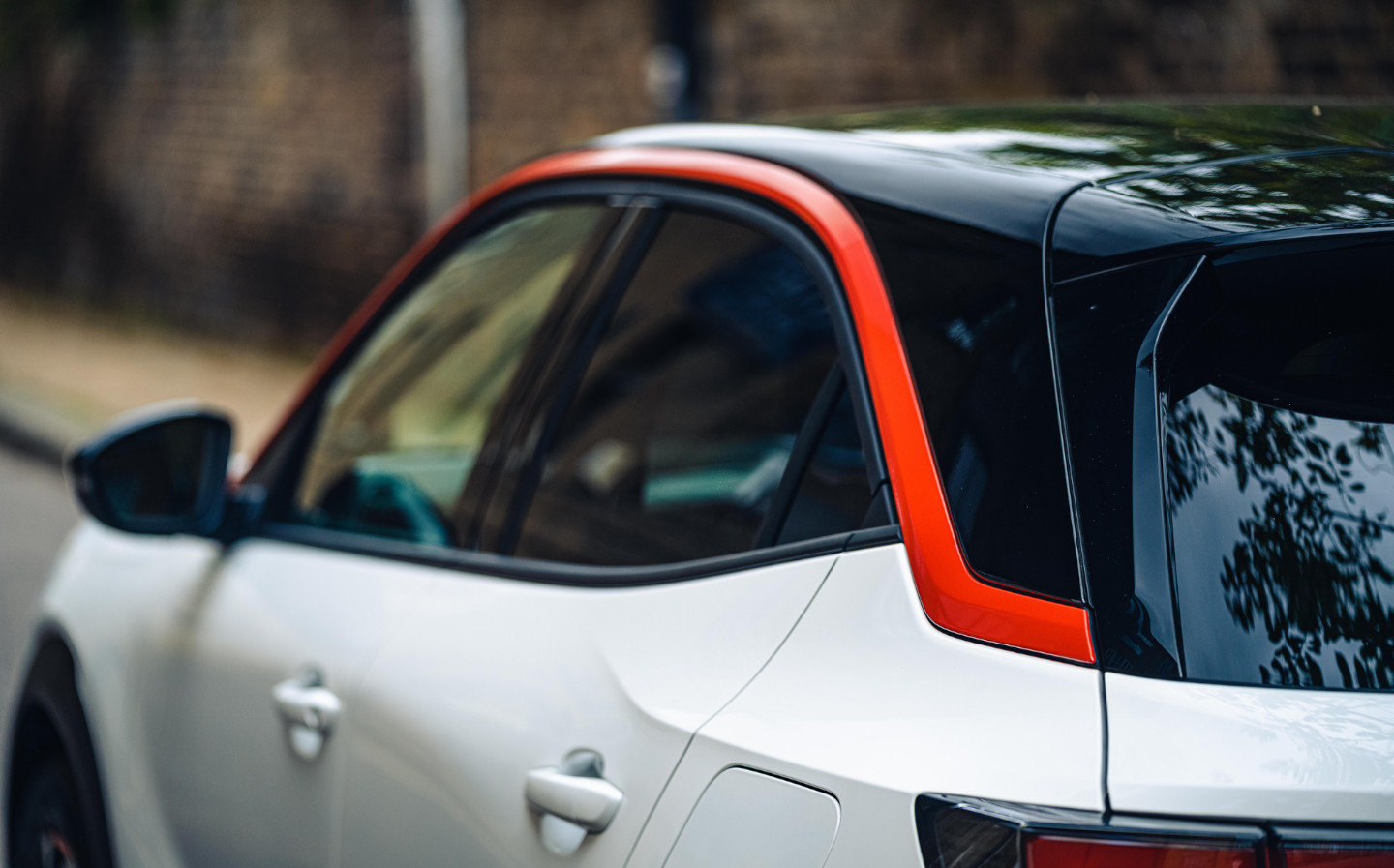 The Mokka comes in three flavours: petrol, diesel and electric. Living in central London, I don't have access to a home charger, and racing every plug-in car in the local area to the only street charger on my road isn't super high on my to-do list. And although, being Euro 6 compliant, the diesel Mokka doesn't have to pay charges in London's Ultra-Low Emissions Zone (ULEZ), diesels are — to put it mildly — dwindling in popularity. Trusty old petrol it is, then. However, if you do want to find out more about the electric Mokka, you can do so in Driving.co.uk editor Will Dron's review of the car.
Living in central London means I have little use for a car day-to-day — the city's overlords, through an expansion of bike lanes and a series of charges that will make your wallet wince (although this car, as a modern petrol, is ULEZ-approved) have succeeded in making driving in London an abjectly dehumanising experience, and it's far quicker, easier and cheaper to use the tube or other public transport (you will never catch me on a bicycle) to see friends or travel to work — the latter of which I haven't done in more than a year anyway.
However, I have a few friends on the outskirts of London and in surrounding areas, while my family live a three or four hour drive away in Cheshire. Also, now that we're allowed to mingle throughout the nation, I've got plans to see friends further afield, as well as plans for a trip up to Scotland, as long as Nicola Sturgeon doesn't stick a thistle through those.
My mum is also moving house next month, which will give me opportunity to test the Mokka's efficiency as a practical vehicle — on paper, the boot size is between 350 litres (rear seats up) and 1,105 litres (rear seats down), which puts the Mokka at the stingier end of its segment.
So I'll be using the car mostly to potter around north London, with trips every month or so up the M1. That means that I'll be paying particular attention not only to its performance as a city car, but also as a motorway cruiser. A good starting point is that Vauxhall's designers have reduced drag at motorway speeds by 16%, which improves fuel efficiency and reduces wind noise.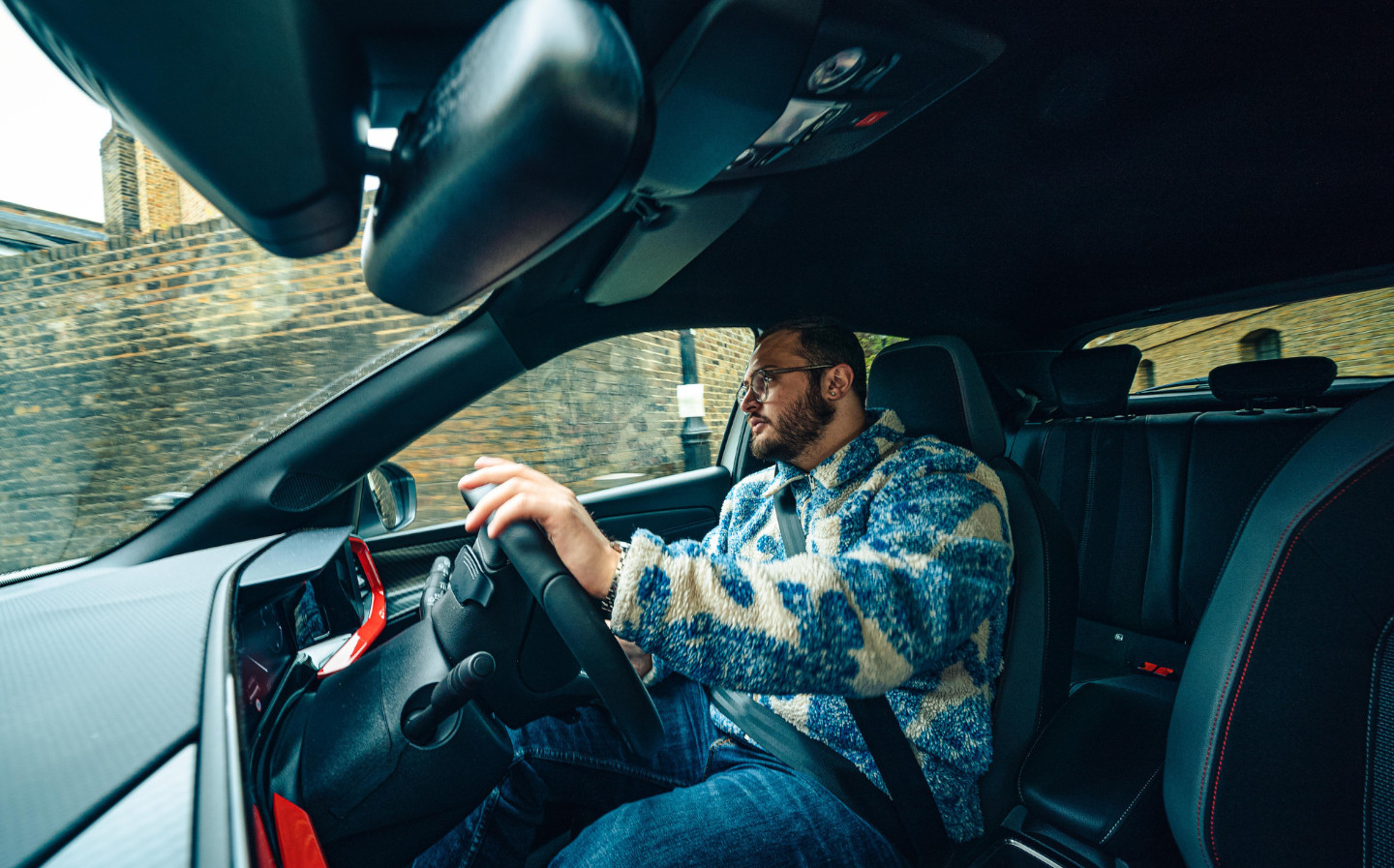 My initial drives, which have included a visit back up north to see family and friends, have been mostly positive experiences — the cabin of the Vauxhall is a nice place to be, the infotainment system is fairly easy to use, and the relative lack of wind noise, good fuel efficiency and adaptive cruise control mean that I've been mightily impressed with the Vauxhall as a long-distance option. However, I'll focus more specifically on what the Mokka is like to drive in a later installation of this review.
There have been a few early drawbacks. Firstly, and most annoyingly, is that it's not obvious how to open the boot without using the button on the key fob, which is infuriating if you've got armfuls of stuff to put in there. There must be a way — I'm sure you'll let me know in the comments below — but why is it so hidden?
Furthermore, one of my housemates took one look at the rear seats and decided they'd be flying up to Scotland in July, but to be honest I wouldn't expect any compact SUV's rear seats to comfortably house a nearly-6ft person for a seven hour trip — and he'd get annoying after that amount of time anyway, so Vauxhall has done me a favour, really. To be honest, I think space back there is satisfactory, if not generous. But I'm not the one who has to sit there.
Mileage today 1,720 miles
Distance since start 623 miles
Average consumption 43.4mpg
As always with our extended tests, you can ask questions at any time via my Twitter account or in the comments below.
Tweet to @KieranAhuja Follow @KieranAhuja
August 2: What's the Vauxhall Mokka like to drive?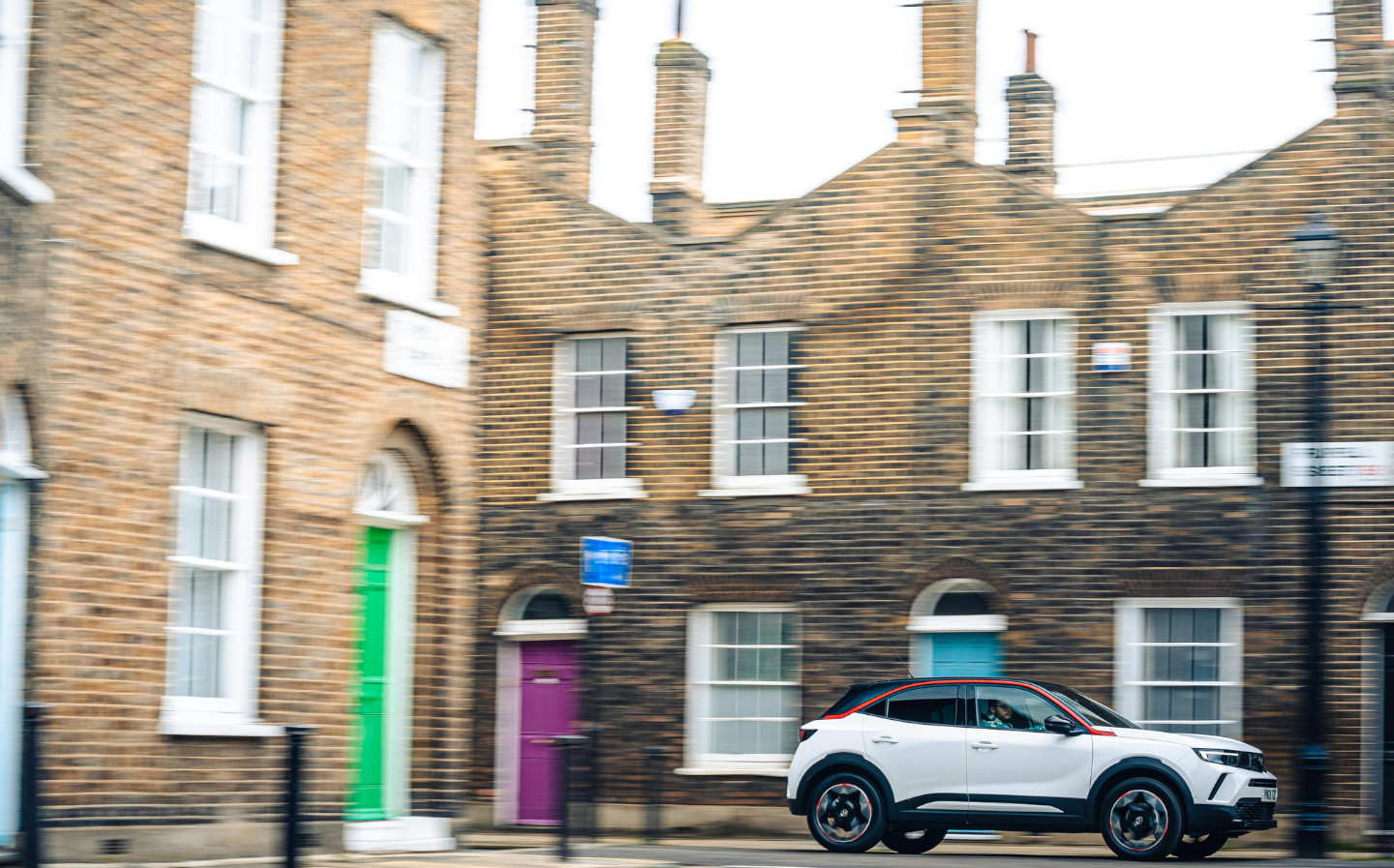 I've had the Mokka for a couple of months now and have put a couple of thousand miles on the clock, so I'm getting a more rounded picture of what it's like to drive.
This isn't designed to be a driver's car. People who want to throw a car around country lanes aren't likely to be making a trip to their local Vauxhall dealership for a compact crossover.
But that's fine, of course. The Mokka is a car made to be easy to drive — and it is. The majority of my journeys have been straight up the M1 towards where my parents live, meaning that most of my time in the Mokka has been spent either cruising on the motorway or crawling through North London traffic, and I've barely had to lift a finger. The adaptive cruise control has meant that once I get onto the M1, I can drive for nearly 90 miles barely having to touch the accelerator pedal.
Adaptive cruise control, for anyone unfamiliar, works very much like traditional cruise control, in that you set a speed and the car maintains it without the need for a foot on the accelerator. However, thanks to sensors positioned around the car, it can sense the vehicle in front and automatically adjust speed in order to stay a safe distance away.
I know this isn't exactly the stuff of driving folklore, but it makes motorway driving, usually a tedious experience, an absolute breeze. Depending on how much motorway driving you're doing, this alone might convince you to splash out £27,455 on the SRi Nav Premium spec.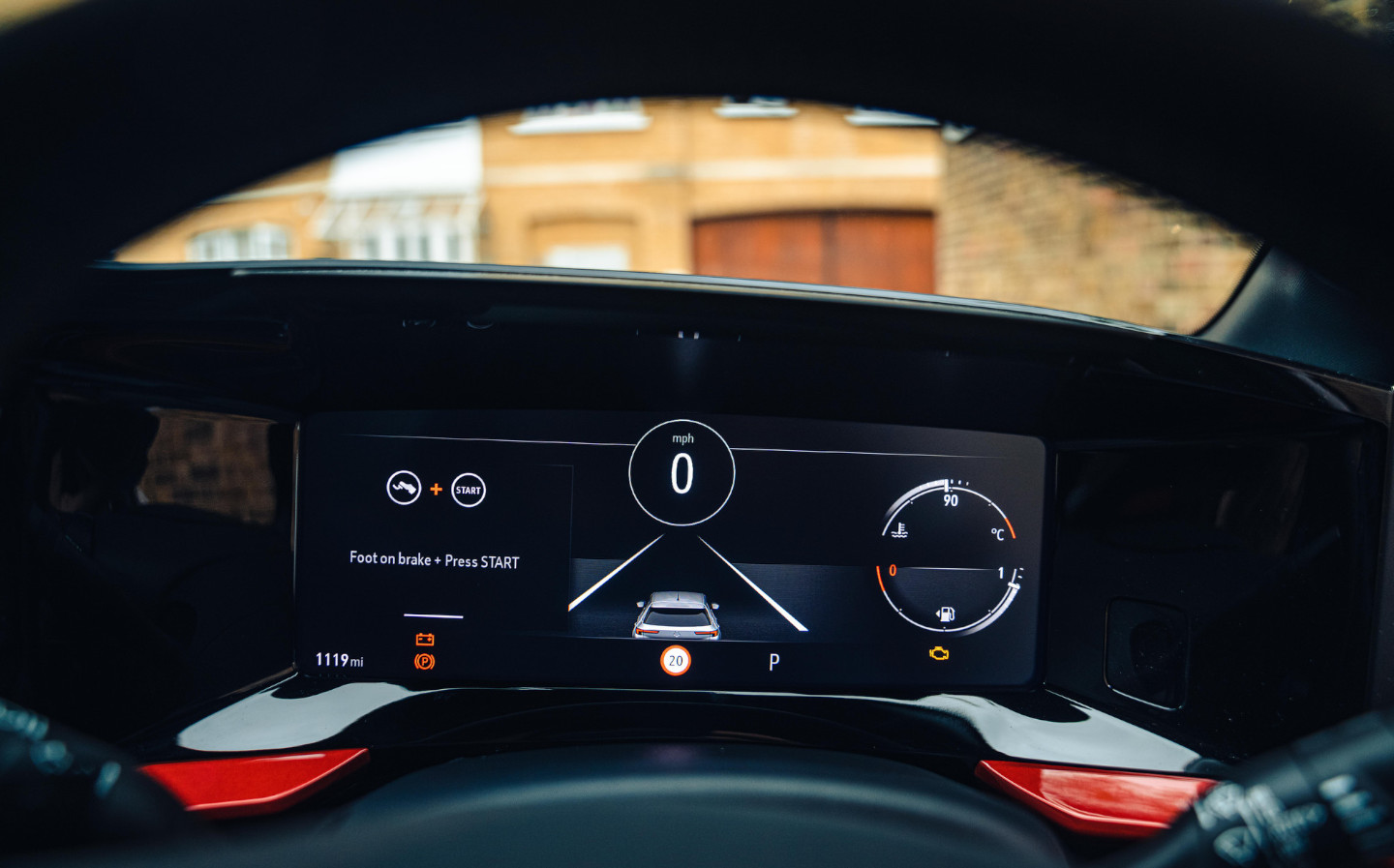 However, not all of the Advanced Driver Assist Systems (ADAS) are as welcome — namely, the Lane Departure Warning, which as you may predict, is installed to alert you when you're drifting out of your lane. It's a noble task, but it does result in a lot of annoying jolts from the steering wheel. Thankfully, it's easily turned off by pressing and holding a button on the console.
Other niggles about the driving experience include the fact that, once the petrol level gets into the red, the Mokka begins to beep at you every minute or so, which will simply irk some drivers, and in others will provoke nothing short of panic. However, it is good incentive to not let your fuel levels drop too low.
Overall, motorway driving in the Mokka is a nice and tranquil experience. This is augmented by the fact that its ride is suitably (if not mind-blowingly) supple, and while I haven't driven the electric version, in his review Driving.co.uk editor Will Dron reckoned the electric model was even more comfortable.
There's also an impressively low level of wind noise, meaning — despite the rather loud carbon and red accents — the cabin of the Mokka is a serene place to be. When accelerating, the 1.2 litre engine reminds you of its presence with a yelp (although it does also remind you that it's a three-cylinder), but it settles back into silence within seconds.
There are three predictable driving modes on the Mokka: Eco, Normal and Sport. Of course, the car defaults to Normal when you switch it on, but I like to switch to Eco when I drive, if I can remember. There isn't an option to mix-and-match features of each driving mode (e.g. set the steering to Sport and the suspension to Normal), as you will find in some other cars (many VW Group models have an "Individual" mode).
Due to a series of pings within my friendship group, the trip to Scotland I mentioned in my last update didn't work out, but I went to Ross-on-Wye a few weeks ago with family for a few days, which offered me the chance to try a couple of windier roads, which aren't North London's forte.
With low expectations I tried the Sport mode for this, and found myself turning it off again fairly quickly — although the heightened aggression, with more responsive throttle and steering, aren't exactly unwelcome, this car feels much more at home in either of its other modes.
I was pleasantly surprised, however, by how well the Mokka responded to being thrown into sharp bends. While comparing the new Mokka with the old one feels like a bit of an easy ride for the new model, it is 120kg lighter than its predecessor, and body rigidity has been improved by 15%, which goes up to around 30% on the electric model.
This means that the handling is comparatively keen, and body roll is kept to a minimum. While I wouldn't go as far as to call the steering communicative, it's definitely not numb, and it's sharp and accurate. This isn't the most fun car to drive in its claustrophobic segment — titles like that are often handed to the Ford Puma — but the Mokka does more for driving enjoyment than you might expect.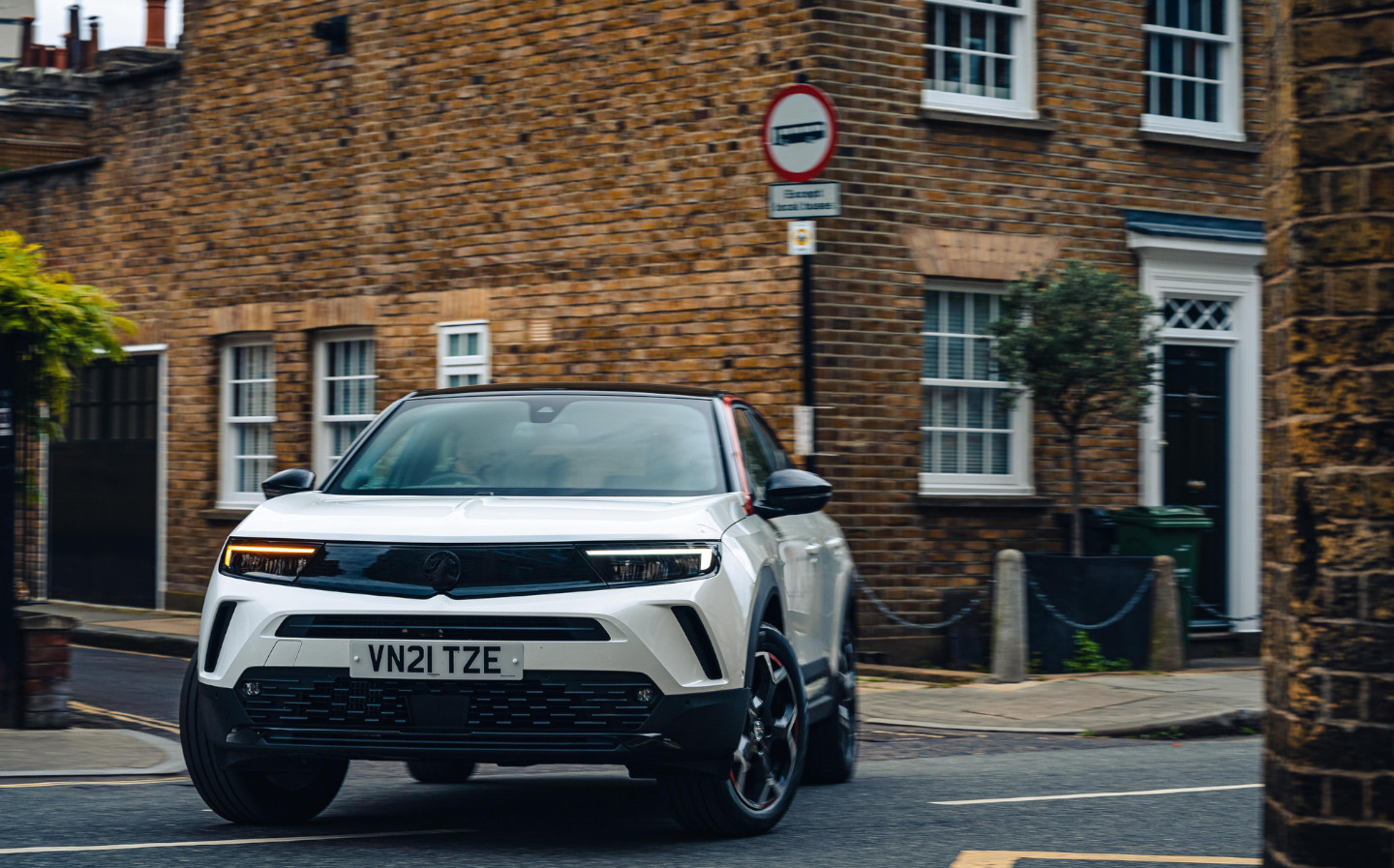 I also helped my mum move house last weekend. Her new home is located in a town which seems to be situated entirely on a very steep hill, and I wondered if filling the Mokka with 1,105 litres of heavy boxes would prove tricky — especially in relation to its automatic gearbox.
However, I was again impressed: not only could I fit more of my mother's possessions into the Mokka than I expected, the car mountaineered to her new house with aplomb. The automatic gearbox keeps up well, which is something I've also found when going for overtakes — I've never found myself stuck on the other side of the road in too high a gear for more than a heartbeat.
In other developments, after around a month with the car, I finally figured out how to open the boot without using the key: there's a physical button just above the number plate. I find this an odd place to put it — it's a part of the car that's likely to get a bit dirty and grimy, and it's not a place you'd immediately think to look. And as far as I'm aware, there's still no way to open the boot from inside the cabin.
Mileage today 2,810 miles
Distance since start 1,713 miles
Average consumption 46.2mpg
As always with our extended tests, you can ask questions at any time via my Twitter account or in the comments below.
Tweet to @KieranAhuja Follow @KieranAhuja
September 15, 2021: The Mokka's masterstrokes and misfires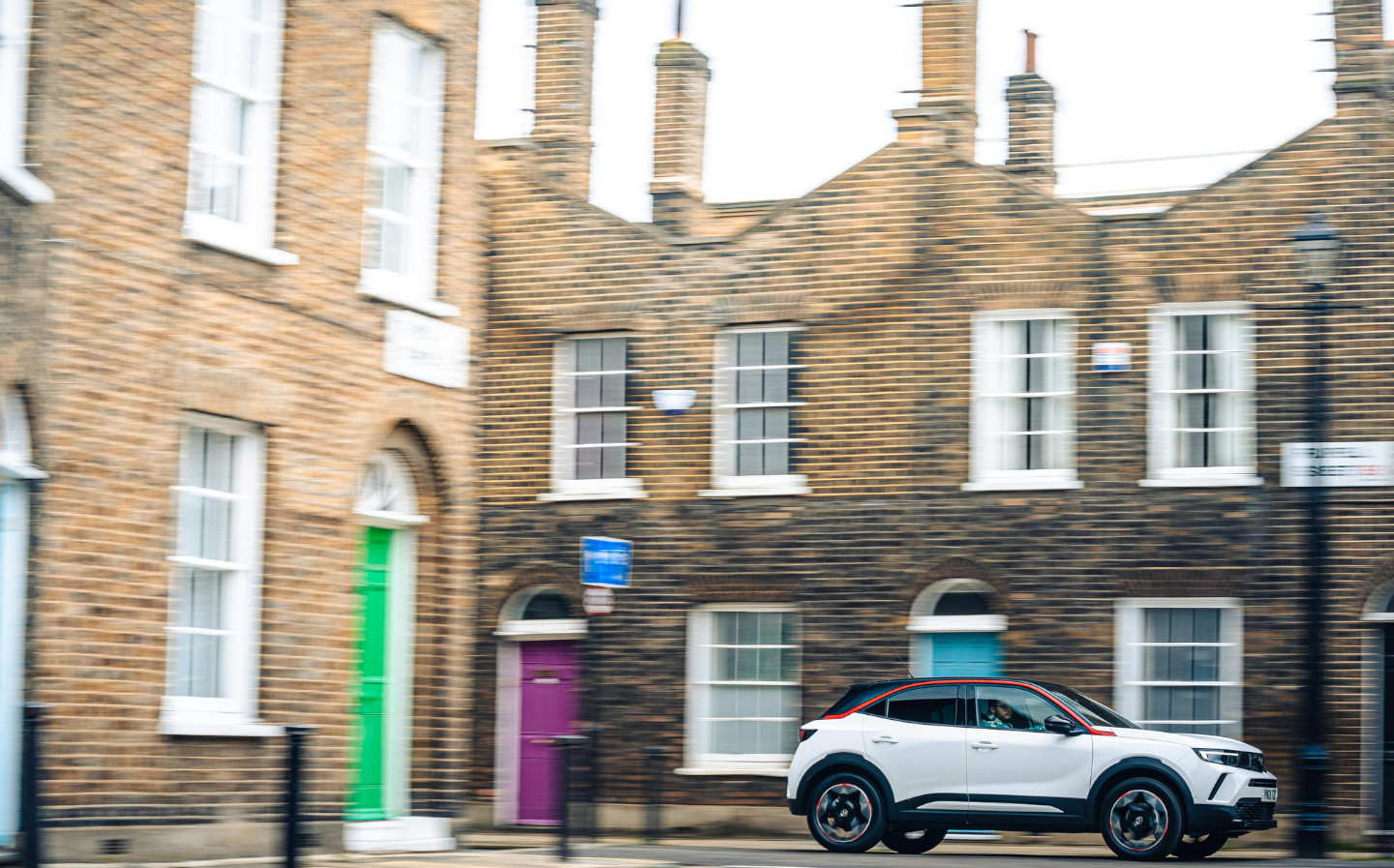 Now that the Mokka and I have been scuttling up and down the M1 for three months or so, I'm ready to talk about its good and bad bits — and this car has plenty of both.
I want to preface this by echoing what a number of other journalists have said already: the Mokka has got to be one of the most-improved cars we've seen in years. No one can deny the success of the previous generation (in its most popular year, 2015, 44,200 were registered, according to Statista) but for me it's a bit like Crocs or films starring Kevin James — people pay for them in droves but no-one really knows why.
This turnaround is no more evident than in its looks. I waxed lyrical about the new Mokka's visuals in the first entry of this review but a small part of me thought that its lustre would fade — not so much in its silhouette but in the details; the generous use of red accenting, the fake carbon fibre in the cabin, etc.
But if I'm honest, it hasn't. I know this is old hat now but I'm still astounded by the upgrade that Vauxhall has managed and that the Mokka has heralded. It still looks as striking to me as it did back in May when it turned up at my house, and by the looks of Vauxhall's even more recent work — I'm talking to you, Manta GSe — the brand's designers show no signs of letting up soon.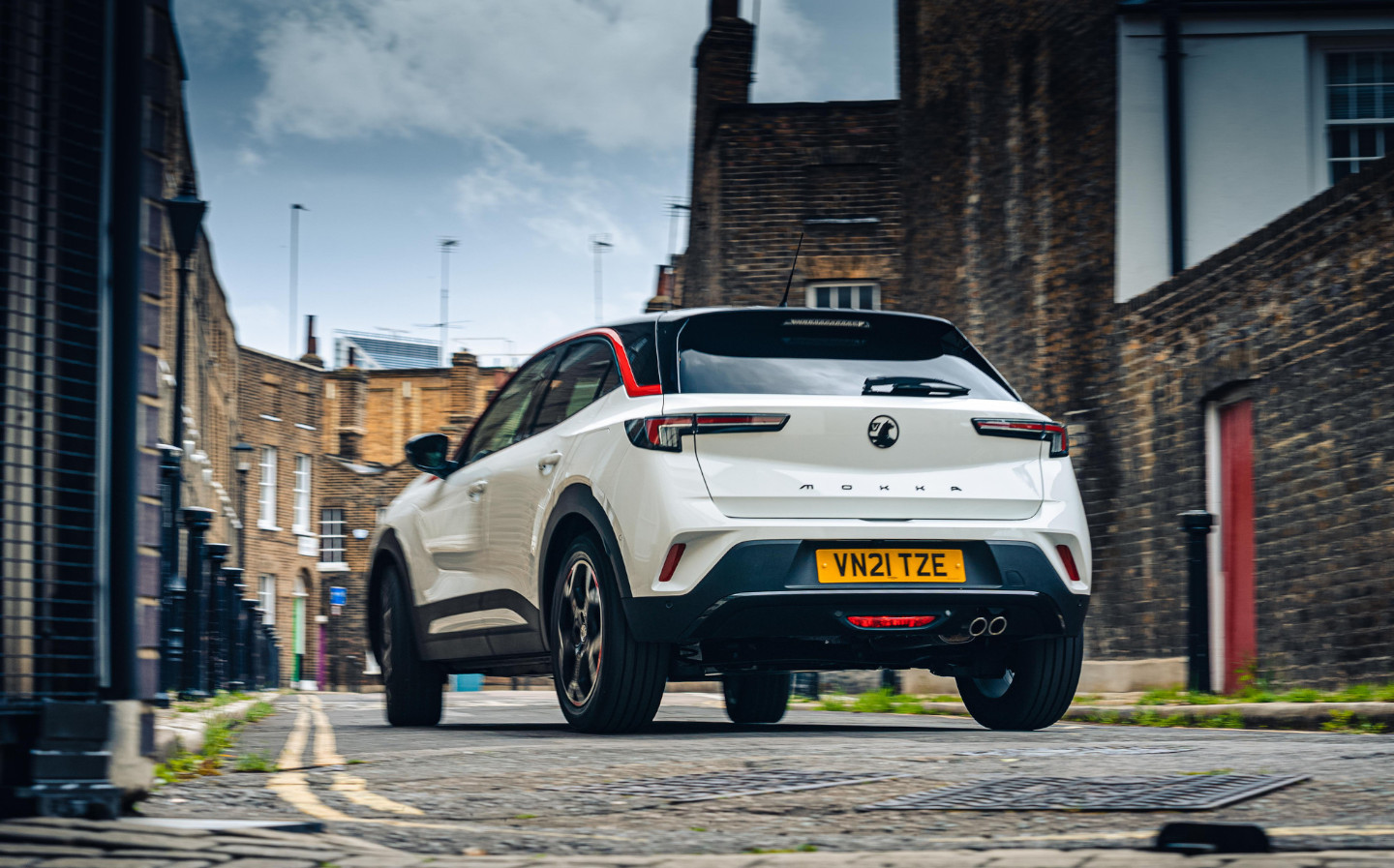 Recently I spotted a Mokka sporting Voltaic Blue paint, which was rather dashing, too (although confusingly, like Mamba Green, it's only available in the most basic SE spec). And it truly is hard to understate how meh the Mokka looked before.
Moving away from the looks — though I could dwell further — I've been extremely impressed with the SRi Nav Premium spec of our test car. Admittedly, even if you get it on a car with the dinky 1.0-litre, 98bhp engine, it's an extra three grand or so over the most basic version, taking the Mokka from being quite a cheap car (by modern standards) to being a "well, that's quite a lot for a Vauxhall" sort of car.
However, the various bits and bobs that comprise the SRi Nav premium are what have made the Mokka such a breeze to drive over the past few months. The 180° view reversing camera makes parallel parking a breeze, while the adaptive cruise control — as I noted in my last instalment of this review — makes toddling around the nation's motorway network a piece of cake.
It also feels remarkably solid most of the time; despite it's rather outré design, at its heart is what feels like a quietly sturdy bit of kit. I haven't for a second felt that it's not up to the task of road humps, potholes or rutted lanes.
Euro NCAP, the folks classed as the authority on vehicle safety, go some way in agreeing with this assessment. They recently awarded the Mokka a four-star rating — it got maximum points in the side barrier impact test, and was rated "good or adequate" for all critical body regions in the full-width rigid barrier impact test.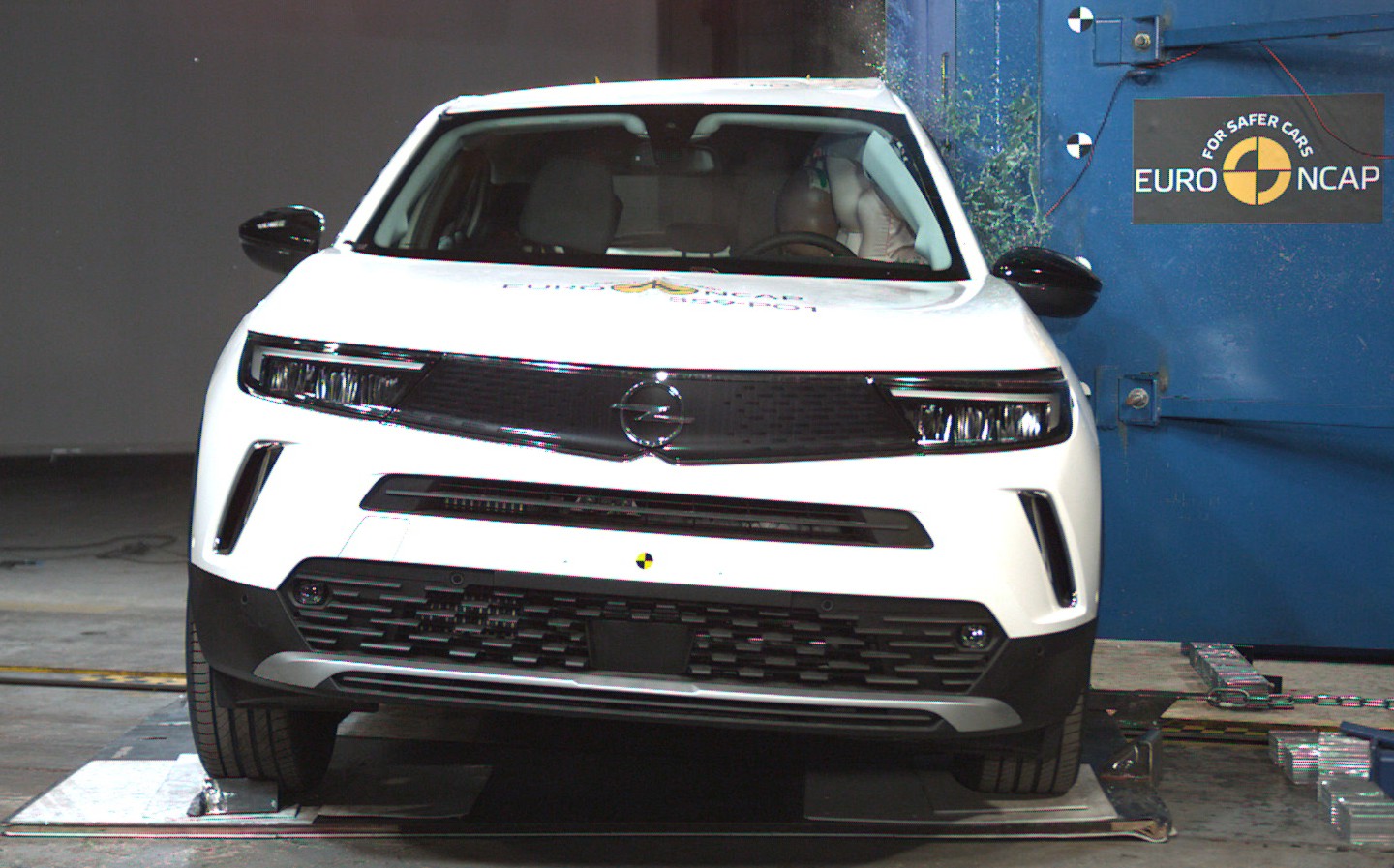 Testers rated its protection against whiplash highly, too, although there were also bad points — the test dummy was thrown across the car more than Euro NCAP would have liked in the event of a side impact (central airbags are now required for top scores), and its chest didn't fare too well in frontal impacts. Protection for adult occupants was rated at 73%, and protection of child occupants was 75%.
While the Mokka has felt reliable most of the time, there is one source of unwanted unpredictability: the Lane Departure System. As I've said previously, I understand the need for it, and on motorway trips, having it is undeniably a useful thing.
However, on less well-marked roads, like country lanes, I've noticed that it has a tendency to get confused and randomly pull the car to one side — it's not super dramatic and I imagine the various sensors on the car would prevent you from being dragged into oncoming traffic, but it's definitely unnerving when it happens. Luckily, press and hold a button and the system is disabled.
A button the absence of which is noted, though, is one that opens the boot from the cabin, although that matters less now that I've found the button at the back of the car that opens it.
There's also no denying that the Mokka's design has been overhauled to make it more pretty, rather than more practical. While the Mokka X was an unappealing blob, it was at least practical — it was more spacious than most of its rivals (I'll talk about how the new Mokka measures up to its compatriots in a future review), there was plenty of interior storage, and it was generally a practical option for a small family.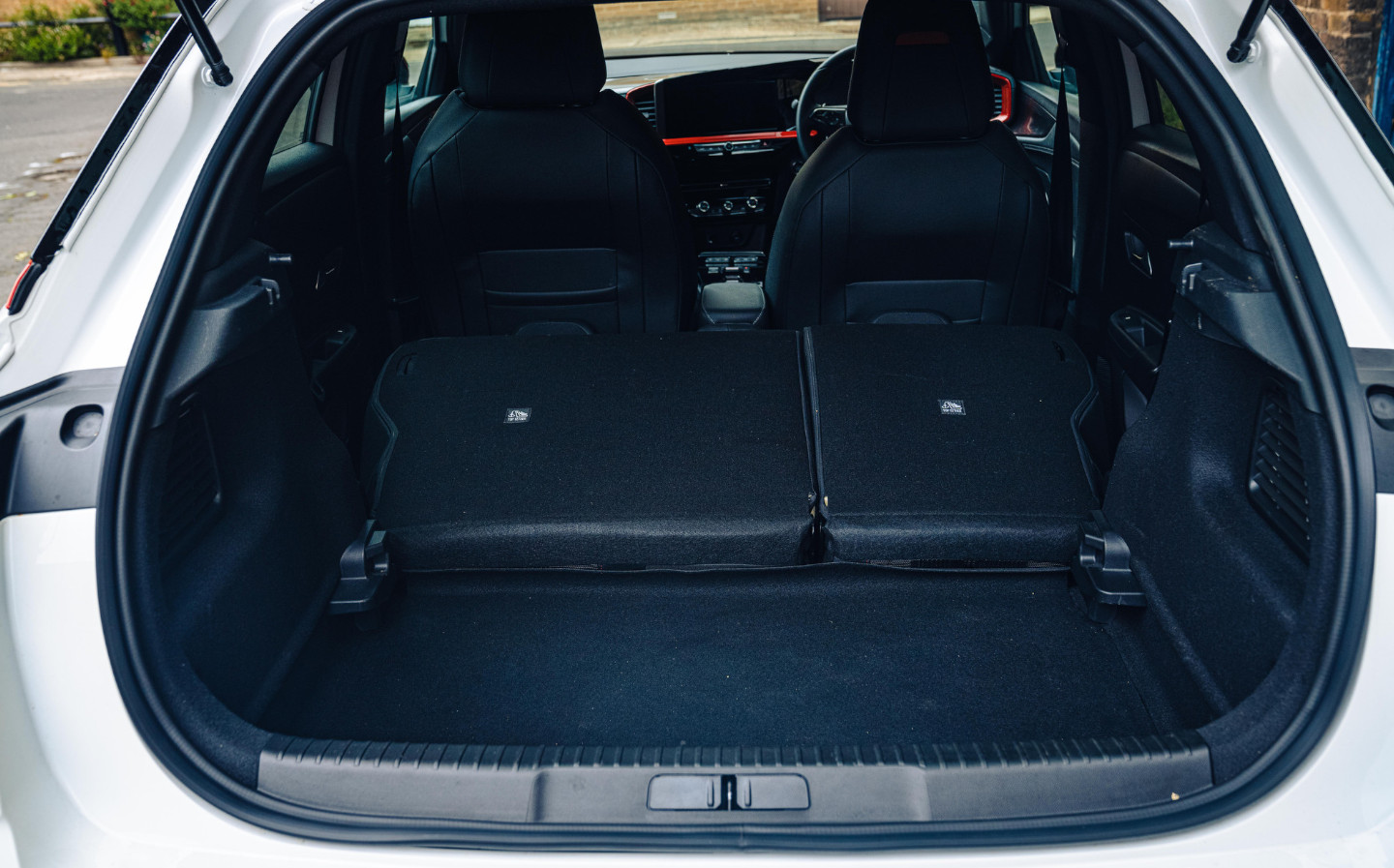 However, this has worsened in the new Mokka, rather than improved, which unsurprisingly isn't usually how it goes when a car maker chooses to update a model. Space at the front is ample, with a decently sized glovebox and door pockets, and although I'm not tall, I can't imagine even the tallest of drivers having too much of an issue getting in.
That's about the only part of the car where the use of "ample" is apt, though. Every passenger I've had in the rear seats has moaned about lack of room, and boot space is similar to the Mokka X, at 350 litres (down from 356 litres), which, while generous in the era of the Mokka X, now feels stingy in a world of ever-growing cars.
In fact, the Mokka has a bit of a reverse-tardis quality — it looks remarkably large when you look at it from outside but seems to shrink a little once you're inside.
In the grand scheme of things, these are small qualms, though. When it comes down to it, the Mokka has piqued and retained my interest, which is more than I can say for any Vauxhall that has come out for a long, long time.
Mileage today 3,522 miles
Distance since start 2,425 miles
Average consumption 45.5mpg
As always with our extended tests, you can ask questions at any time via my Twitter account or in the comments below.
Tweet to @KieranAhuja Follow @KieranAhuja
November 12, 2021 Looking at the Mokka vs rivals
Now that the Mokka and I are edging towards the end of our time together, my mind is naturally turning to the thought of whether or not I'd buy one over the multitude of other well-priced small SUVs currently on the market, so in this installation I'm going to compare it to some of its main rivals.
I should preface this by saying that I can't speak to how well all of them drive, having not tested them all, so I'm going to stick to cold, hard facts. Riveting, I know.
Now, say what you want about the old Mokka (you may already know my thoughts based on previous installations of this review), but it was practical — after all, people weren't buying it based on its handsome looks or charming handling.
The Mokka X's boot was one of the biggest you could get in a small SUV when it came out, boasting 356 litres with the seats up and 1,372 when the rear seats were folded down. In the new and improved Mokka (sans X), however, that has decreased to 350 litres with the seats up and 1,105 with the seats folded.
| Model | Price from | Length | Boot space (seats up) |
| --- | --- | --- | --- |
| Vauxhall Mokka | £21,835 | 4,151mm | 350 litres |
| Renault Captur | £20,590 | 4,227mm | 404 litres |
| Nissan Juke | £19,200 | 4,210mm | 422 litres |
| Mini Countryman | £25,305 | 4,299mm | 450 litres |
| Ford Puma Titanium | £20,415 | 4,186mm | 456 litres |
| Seat Arona | £20,040 | 4,145mm | 400 litres |
Now I salute Vauxhall for resisting the urge to make the updated Mokka bigger, and granted, it's unlikely that you're going to notice the six-litre deficit while the seats are up. But 267 fewer litres with them down? That's noticeable, despite Vauxhall's insistence in its press material that "boot capacity remains nearly identical to the previous Mokka iteration".
Also noticeable is that number's inadequacy compared to the luggage space of other small SUVs — as you can see from my handy table above, the Renault Captur, Nissan Juke, Mini Countryman and Ford Puma all have far more space when the seats are down (1,295 litres, 1,305 litres, 1,390 litres and 1,216 litres respectively), and even the dinky little Seat Arona has more space with all the seats up.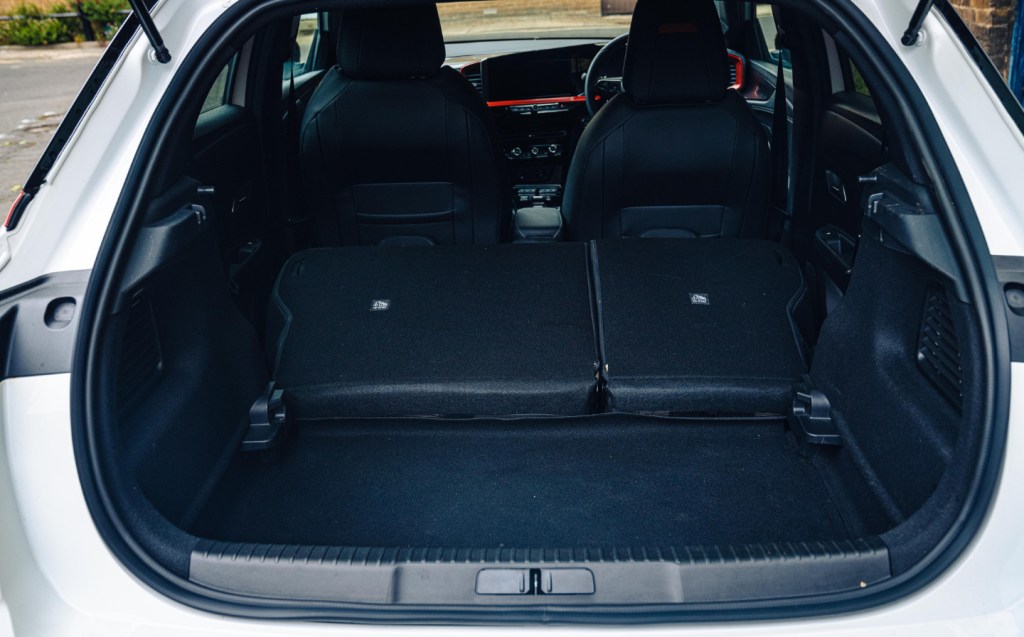 In fact, a whole host of cars that opt to label themselves "superminis" have bigger boots: the VW Polo has 351 litres and the Hyundai i20 has 352. Incremental, I know, but it illustrates my point.
The weird thing, though, is that you don't get this impression when you're at the wheel; the front cabin is so capacious you forget that you've only managed to get one bag for life in the boot and that your rear passengers have lost feeling in their legs. Of course, if you really care about luggage space, get an estate.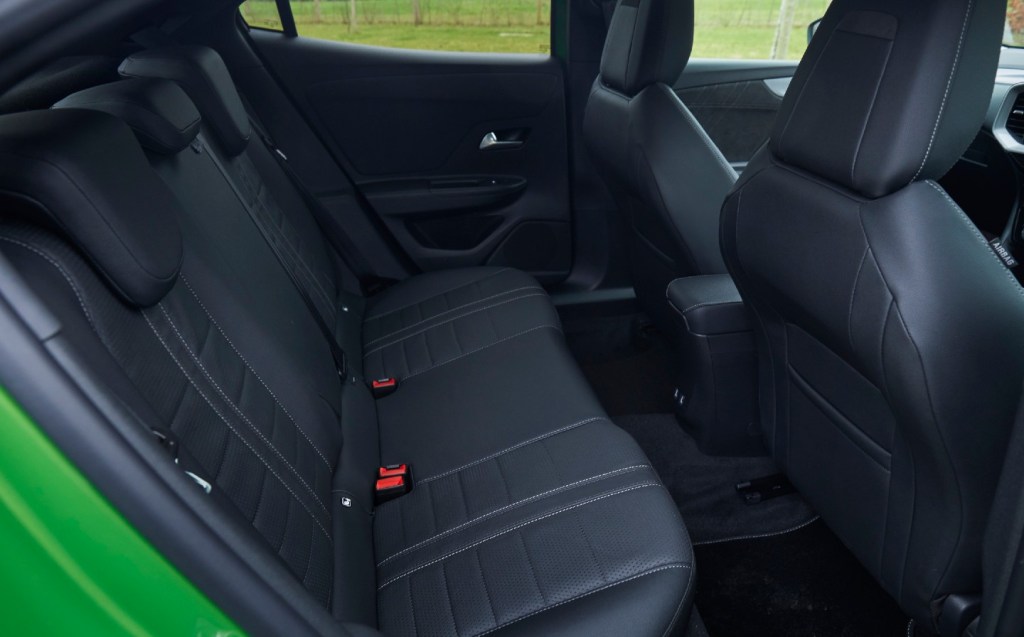 And to rub salt into the wound, the Mokka is also more expensive than most of its competitors, with its price starting at £21,835. The Captur, Juke, Puma and Arona all have lower starting prices, and not to offend, but people won't exactly pay a premium for a Vauxhall badge.
In fact, the only model in the little table above that is more expensive than the Mokka is the Mini Countryman, which is a significantly bigger car, packing 100L more boot space and a badge for which people are willing to fork out a bit extra.
Of course, starting prices aren't always an indicator of value, but if you compare what you get as standard between the Vauxhall Mokka SE, the most expensive base model in the list at £21,835, and the Nissan Juke Visia, the price of which starts at just £19,200, I'm not sure there's £2,635 of difference. They both get modern safety features like lane departure warnings, they both get air conditioning, they both get 16in wheels — the only major difference in the Mokka is that the interior is more techy.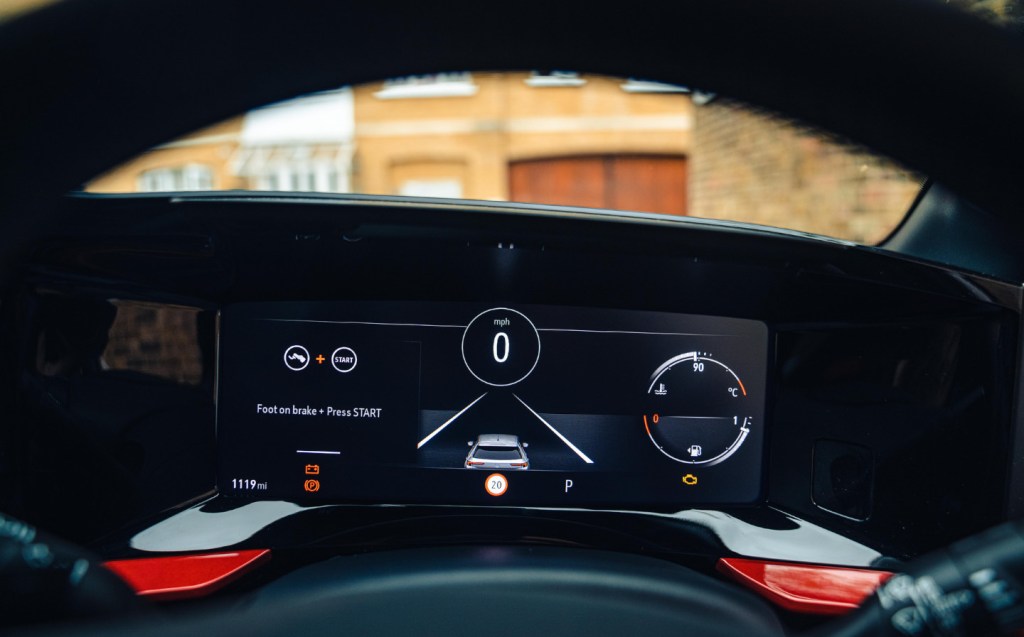 Next, economy: Vauxhall claims that the petrol Mokka I've been testing, which has a slightly uprated engine compared to that of the base model (128bhp rather than 98bhp) can achieve up to 47.9mpg with an automatic gearbox. If you opt for the manual configuration, that jumps up to a maximum of 51.4mpg.
My most recent check of the Mokka's dashboard revealed that I've averaged 45.5mpg over my time with it, and to be honest that's far closer to Vauxhall's claims than I'd been expecting: I reckon I've spent around 70% of my time in it on motorways, which as we all know isn't the best place for a car to be if you're trying to squeeze as many mpgs as you can out of it. In this respect, I've been impressed.
I know this is all stacking up to be pretty damning, and I don't mean it to be: I've actually found most of my niggles with the Mokka to be quite minor. If I'm totally upfront, the thing that I've hated the most was how long it took me to find out where the boot release button was — I maintain that, although my own incompetence may have had something to do with it, putting it just above the number plate was an odd decision on the part of the designers. As well as being hard to find, it's also a place that gets easily dirty.
The Mokka I've had is also extremely well equipped, handles well and emphatically ticks the box that is most important to many SUV buyers: supplying a commanding driving position and spacious cabin.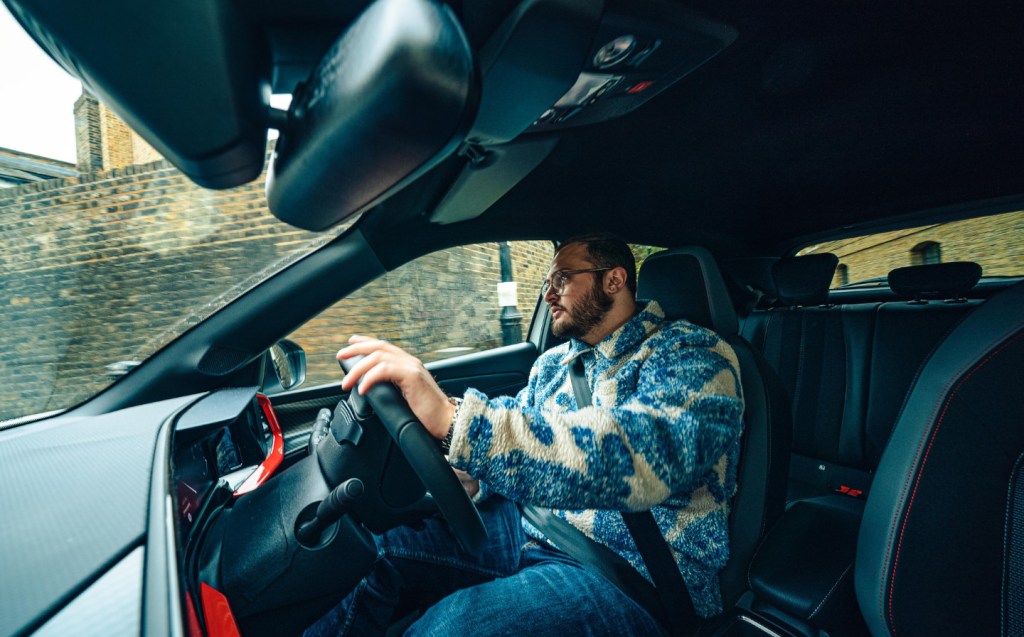 It's also, in my humble opinion, far and away the best looking of the six cars in the table above. I do like the recently evolved Renault Captur, with its muscular contours, and the Ford Puma is something of a looker, too, but there's something about the sharp edges of the Mokka that I've not got bored of.
If I were purchasing one — and to be honest, if I were buying a small SUV, I would consider it — I'd probably get rid of the red accenting, but apart from that I have zero complaints about the design. And I'm not the only one who thinks this — Top Gear magazine recently gave it a design of the year award. However, I'm still annoyed that the Mamba Green colourway isn't available in this spec.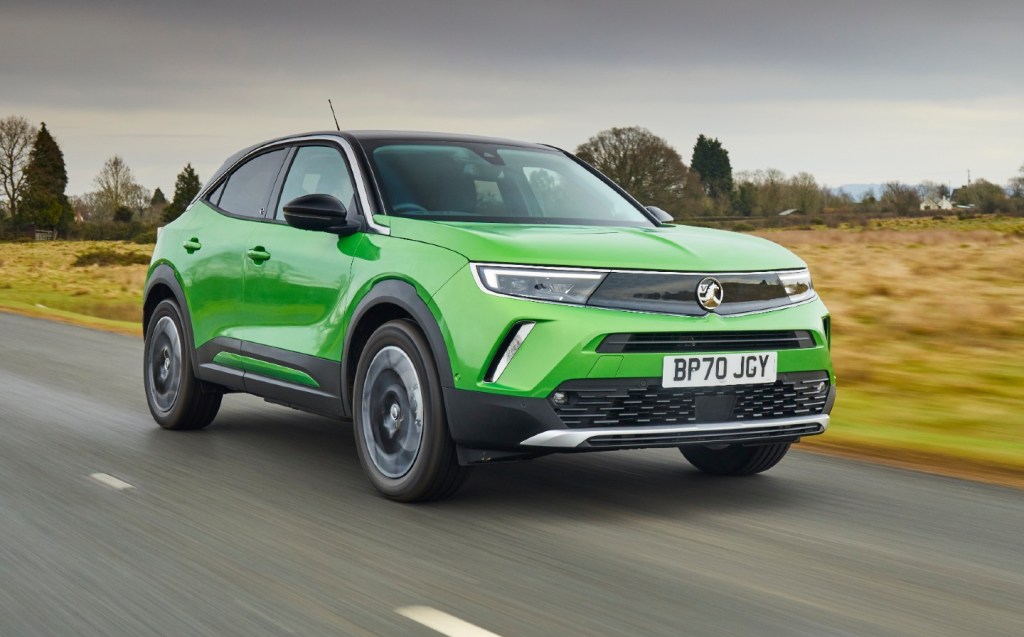 So no, the Mokka is not a standout winner when compared to the other cars you get in this category. There's plenty of inadequacies, as well as some odd design choices that I haven't got over — but it does have character, a bit of brio and, most surprisingly, considering the badge it bears, some swagger, which is more than you can say for many small SUVs.
Mileage today 4,102 miles
Distance since start 3,005 miles
Average consumption 45.5mpg
As always with our extended tests, you can ask questions at any time via my Twitter account or in the comments below.
Tweet to @KieranAhuja Follow @KieranAhuja
January 4, 2022: What trim and options to go for?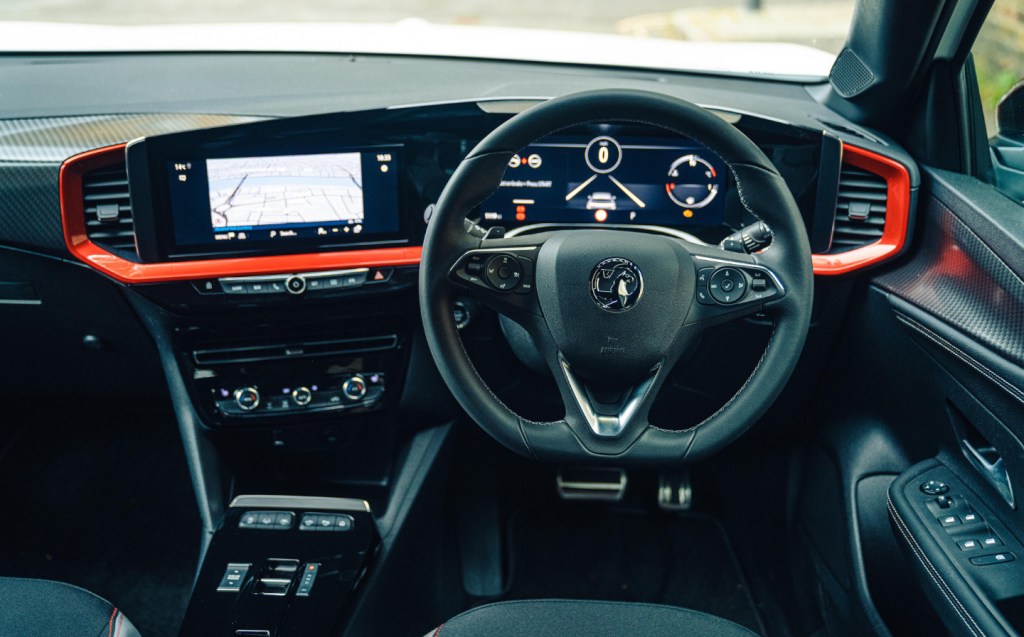 As you may have garnered from the last installation of this review, one of my main qualms with the Mokka is that, with a price tag starting at £21,835, it's more expensive than some of its key competitors.
And when it comes to the model I'm reviewing, we're not just talking about the base spec. We're talking about the SRi Nav Premium, which adds some creature comforts to the interior and, in automatic guise, £6,715 to the price tag.
For your £27,450 you do admittedly get some great features. Heated seats, for example, are one of those things you struggle to say goodbye to once you've become accustomed to them; I know Driving.co.uk editor Will Dron has similar feelings about heated steering wheels, which you also get in contemporary versions of the SRi Nav Premium (although mine arrived before that was added to the spec, unfortunately).
The SRi Nav Premium is the third rung up the Mokka ladder. At the bottom you have the SE, which comes with features including a 7in central infotainment system, another 7in screen behind the steering wheel, 16in wheels and a suite of driver assists.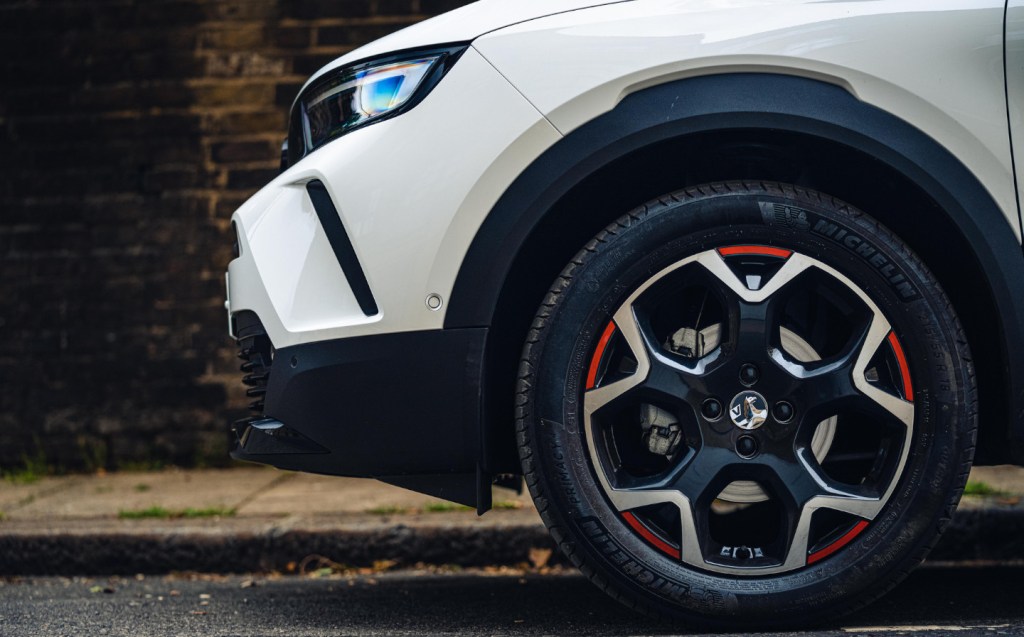 Just above that and costing an extra £3,670 is the SRi, an upgrade that adds two inches to the wheels, more sophisticated driver assist systems, rain-sensitive wipers, the heated seats and my beloved adaptive cruise control (scroll upwards to read my thoughts on that).
The price jump to the next spec — the SRi Nav Premium we have here — depends on which model you go for. If you're opting for the six-speed manual model with 99bhp then it's only an extra £205, but if you're forking out for the automatic that I've been testing, then the price difference is a bit more significant — £1,205, to be exact.
For that extra cash, you get an extra 5in of infotainment screen, a front parking sensor, keyless entry and a heated steering wheel, among some other bits.
I have no desire to bore you to death so I'm not going to go into forensic detail about every single spec, but above the SRi Nav Premium there are a few more rungs: Elite Nav, Elite Nav Premium and Ultimate Nav. There was also previously a bells-and-whistles Launch Edition, though it seems that has now sold out.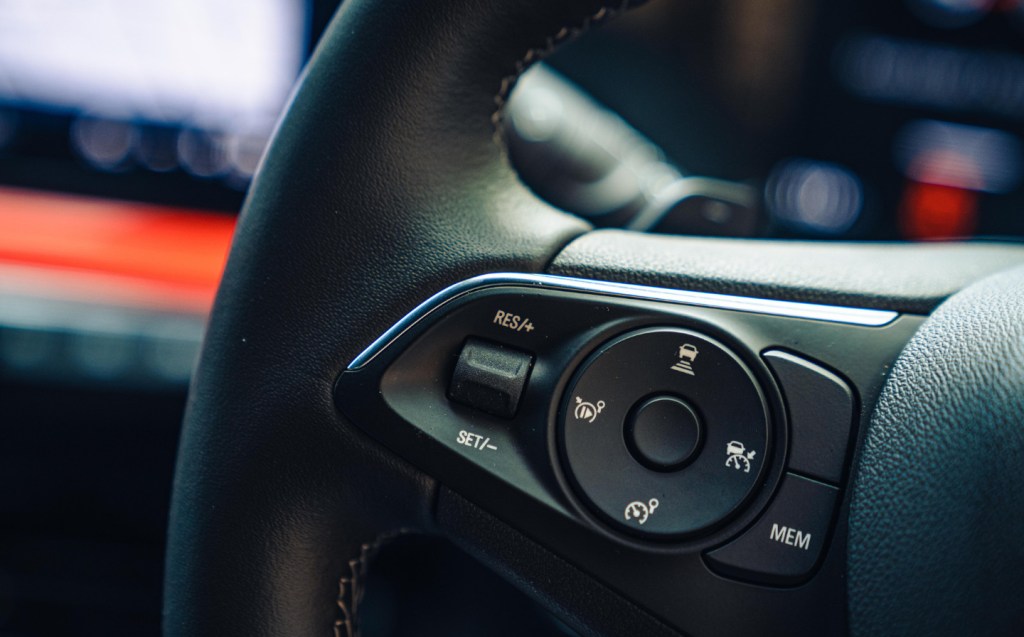 These more premium specs add a whole load of frankly unnecessary things to the Mokka, including Alcantara seats, alloy sports pedals, a sports switch with engine sound enhancement and massage seats. To me these all seem like completely superfluous features to add to a Vauxhall, considering that at least a part of the initial reason you buy one is because they're affordable.
The only thing I would be tempted to add from the upper echelons of the spec ladder is a wireless phone charger, which is useful if, like me, you have the annoying combination of a phone that seems to lose charge like a holed bucket does water and a habit of falling asleep without plugging in your phone. However, it's cheaper for me to simply buy a USB cable and become a bit more organised than to fork out for the Ultimate Nav model.
For me, the sweet spot here is the SRi, which in automatic flavour costs £26,245. Even as I write that, I'm thinking "crikey, that's a lot for a Vauxhall", but I'd honestly pay the extra three grand just for the adaptive cruise control. Because the majority of my time driving is spent on the motorway, it's almost the defining part of my driving experience.
Another feature of the SRi spec that I think many drivers will come to find indispensable is the rear-view camera, which for me is an absolutely crucial bit of kit. I live in central(ish) London, where parking spaces are few and far between, and while I'm not the worst parallel parker in the world, I'm by no means the best.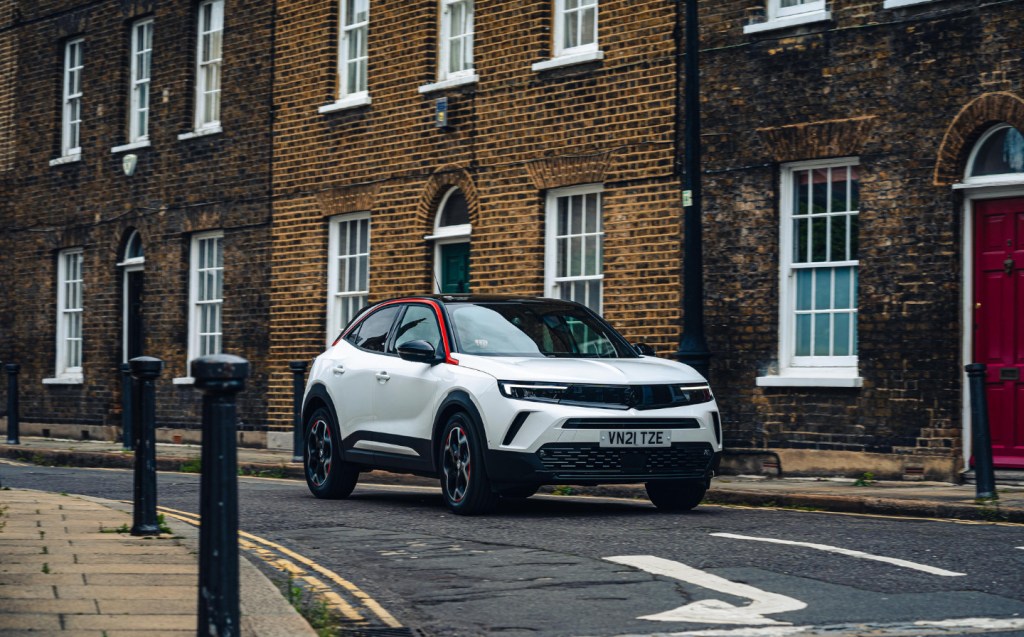 That means that a camera that shows you how much room you have, and even gives you a decent estimation of how far you are from the pavement using a birds-eye-view simulation, is extremely useful. You also get a rear parking distance sensor, making things even easier. You have to go up another price tier to get the front parking sensor, but I feel like most competent drivers should be able to park without one of those.
And parents will no doubt appreciate the fact that the SRi comes with a pair of rear USB connections, allowing kids to absorb themselves in their tablets and forget about the fact they don't have much legroom.
The jump I'd be more hesitant to take would be to the SRi Nav Premium spec I've been treated to. As I said earlier, that price hike could be smaller depending on which engine and transmission you go for, and if I was going for a less powerful engine and a manual 'box, then I'd pay an extra couple of hundred quid without hesitation. However, an extra £1,205 for the automatic? I'm unsure.
Those who love a tech-y cabin might think it's worth the extra cash for the extra 3in of infotainment screen and extra 5in of instrument cluster (plus the extra features that come with those), while those who have to wake up in the dark for their commute might feel it worth it for the heated steering wheel. And it's undeniably nice being able to enter and start your car without needing to take the keys out of your pocket, although if you're security-conscious, then this might in itself put you off.
If you're paying on finance, it's possible you wouldn't even notice that extra £1.2k on the bill, but just out of principal I don't think I could bring myself to pay £27,450 for a petrol Vauxhall Mokka — especially considering that, even if your hands are toasty and your keys are still in your pocket, it's still a car with a number of flaws.
Mileage today 4,442 miles
Distance since start 3,345 miles
Average consumption 46mpg
As always with our extended tests, you can ask questions at any time via my Twitter account or in the comments below.
Tweet to @KieranAhuja Follow @KieranAhuja
Related articles
Latest articles