Ora Funky Cat 2023 review: Don't judge a car by its name
Designed to dance among the pigeons
---
Published 16 November 2022
Chinese company Great Wall might not be a household name in the UK but it's no stranger to our car market. Having made an initial foray in the middle of the 2010s with the Steed pick-up truck, the company is back with something a little less agricultural. It's called the Funky Cat – stop laughing at the back – and it's a product of Great Wall's all-electric Ora brand.
Can the Funky Cat give models from established brands a run for their money, or will it be held back by more than just its name?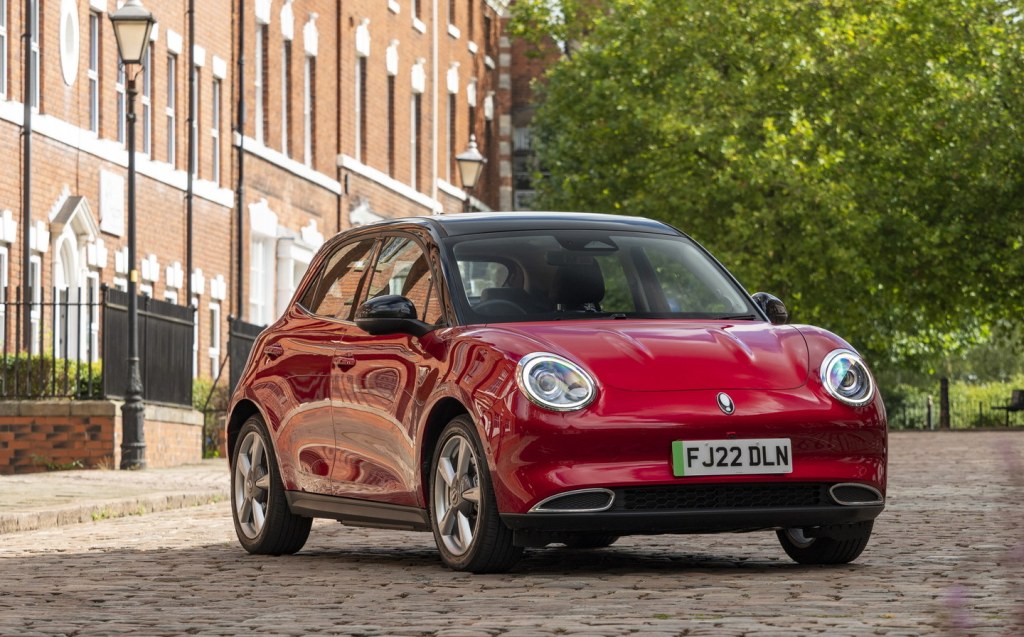 Exterior design and rivals
Ora says it wants the Funky Cat to be a "car-panion", rather than just a vehicle, which is why the car is designed with some animal-like characteristics. The puppy-dog eyes, the rounded lines, it's all styled to be cute and characterful.
The result, however, looks more like a mish-mash of different cars from elsewhere in the industry. The front end has something 911-ish about it, while the headlights are more Mini-esque. And the back end? We get shades of first-generation Nissan Leaf and Renault Zoe. [Does this makes the Funky Cat identifiably Chinese? — Ed.]
But in First Edition trim, with the two-tone paintwork and the simple alloy wheel design, the Funky Cat still looks quite good. There might be a degree of identity theft from other models, but the result is cohesive, and it comes with some neat features, including the LED light signatures when you lock and unlock the car.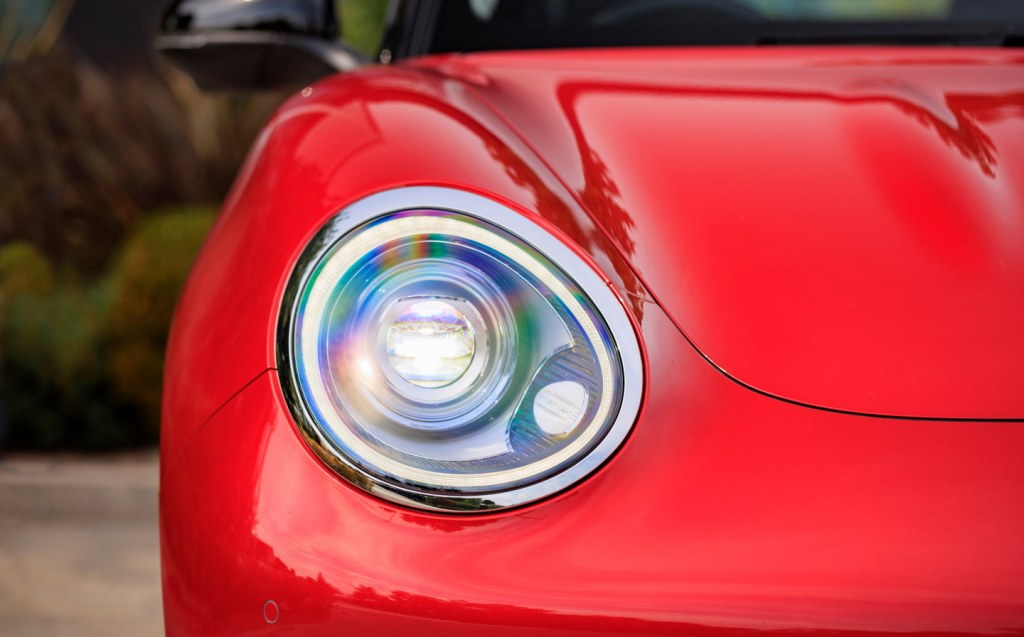 Unfortunately, the Funky Cat is not the only car in its class playing that game. Designed to appeal to a young yet affluent audience, it doesn't just have to beat the bargain MG4, sporty Cupra Born, refreshing Smart #1 and popular VW ID.3; it also has to go head-to-head with the chic Fiat 500e and Mini Electric – cars from established brands that trade on their style-conscious images, and do so to great effect.
Interior and practicality
Like the bodywork, the Funky Cat's cabin appears to steal bits from various other brands in the car industry. The steering wheel, for example, feels a bit Fiat 500-ish, while the toggle switches on the dash will be decidedly familiar to anyone who owns a modern Mini.
But if you look past the imitations, you'll find a cleanly-designed, stylish cabin that's solidly built.
Of course, not every material is rock solid but most of the things you touch feel great, and while some of the colour schemes are a bit… bold… the cabin is certainly good enough to compete with the MG4, Fiat 500e and VW ID.3.
That's partly because Ora has kept things simple. With the big touchscreen and voice recognition technology, the company has taken the chance to clean up the cabin, with very few buttons on display. Yes, there's a bank of toggle switches on the dashboard and there's some switchgear on the steering wheel, but there isn't that much to play with.
There's plenty of space, too, thanks to ample rear cabin space that allows four six-footers to sit in relative comfort. It's no Rolls-Royce back there, but there's more legroom than you get in the back of an electric Mini, for example.
The trade-off is a distinct lack of boot space. Where an MG4 has 363 litres of luggage capacity, putting it on a par with petrol-powered family hatchbacks such as the Ford Focus, the Funky Cat's boot has the capacity of a vehicle from the class below. But while a 228-litre load space is smaller than you get in the back of a VW Up!, the Funky Cat is still more commodious than the Fiat 500e and the Mini Electric.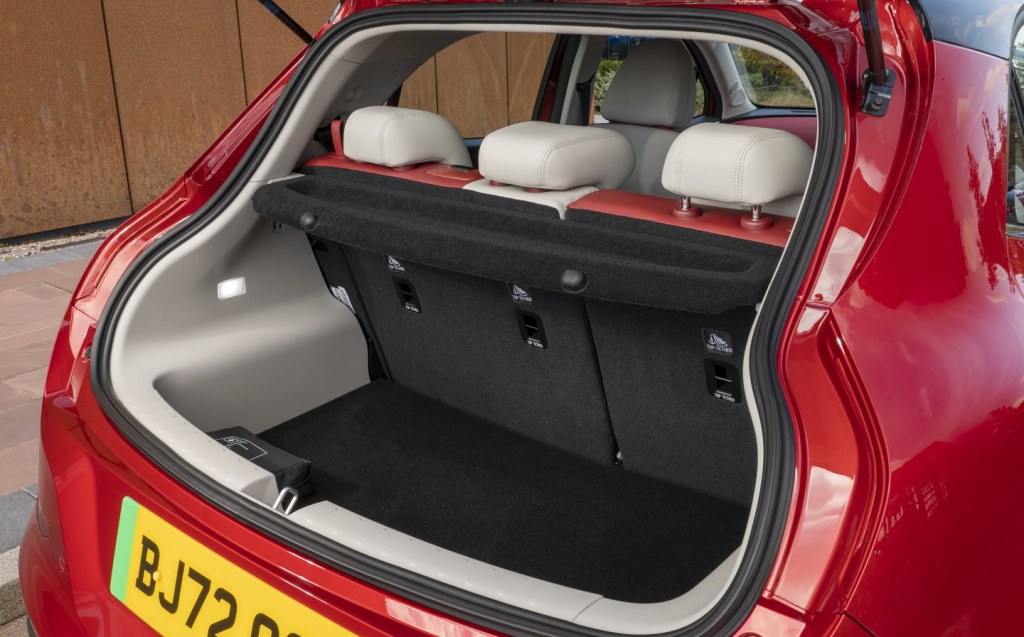 Technology and safety
GWM Ora has put plenty of emphasis on the Funky Cat's technology, which dominates the dashboard. Not only is there a central touchscreen and a digital instrument display, which is all stuff we've seen before, but there's also a facial recognition camera on the A-pillar.
Ora claims all the data it gathers is anonymised, of course, and we've seen nothing to suggest the company is not GDPR compliant, but the system is certainly watching you. When you climb in, the car will recognise you and put everything in the settings you favour. If you like the climate control set at 20 degrees, it'll do that for you. This technology is nothing unique to Ora, though drivers will have to decide which firms they trust in this regard.
These convenience features can also be set via your smartphone, which enables you to 'talk' to your car through the GWM Ora app. You can set the heating before your journey, check on the battery level and even lock or unlock the vehicle. It'll tell you how much battery charge is left, too, and it'll let you know if you've left one of the windows open.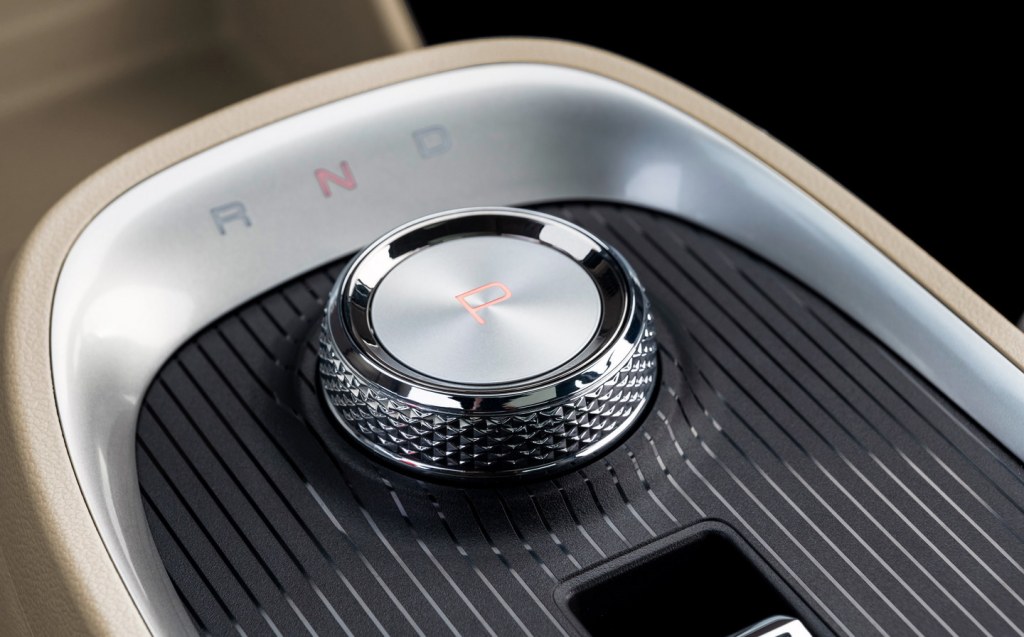 We've seen all that before, but the AI voice control system is one of the more advanced systems out there, doing more than just allowing you to set the navigation system and call your mates. You can open and close the windows using the system, or you can change the fan speed on the climate control, all using a range of voice commands.
Sometimes you have to be quite specific in your instructions, but the system accommodates a range of accents and interprets directions quite well. And Ora is working hard to improve it all the time, so over-the-air updates should make it even more intuitive as time goes on.
All of which, Ora says, should mean you barely have to touch the screen in the centre of the dashboard. Which is a shame, because there's absolutely nothing wrong with it. It looks clean and modern, it responds swiftly and it seems quite stable – it didn't crash or stutter at any point on our test drive.
Compared with the touchscreen shared by VW ID.3 and Cupra Born it's simple and clear, and the same goes for the driver's digital instrument display.
The tech isn't just used for information and technology, either. Ora has fitted a host of safety features to the Funky Cat, including cruise control that can maintain a safe distance to the vehicle in front and a system to prevent you from wandering out of your lane. Blind-spot monitoring is also included to warn you when something has wandered into the hard-to-see areas over your shoulders.
Of course, none of this is particularly new, but the Ora gets all this as standard, allowing it to achieve a five-star Euro NCAP safety rating.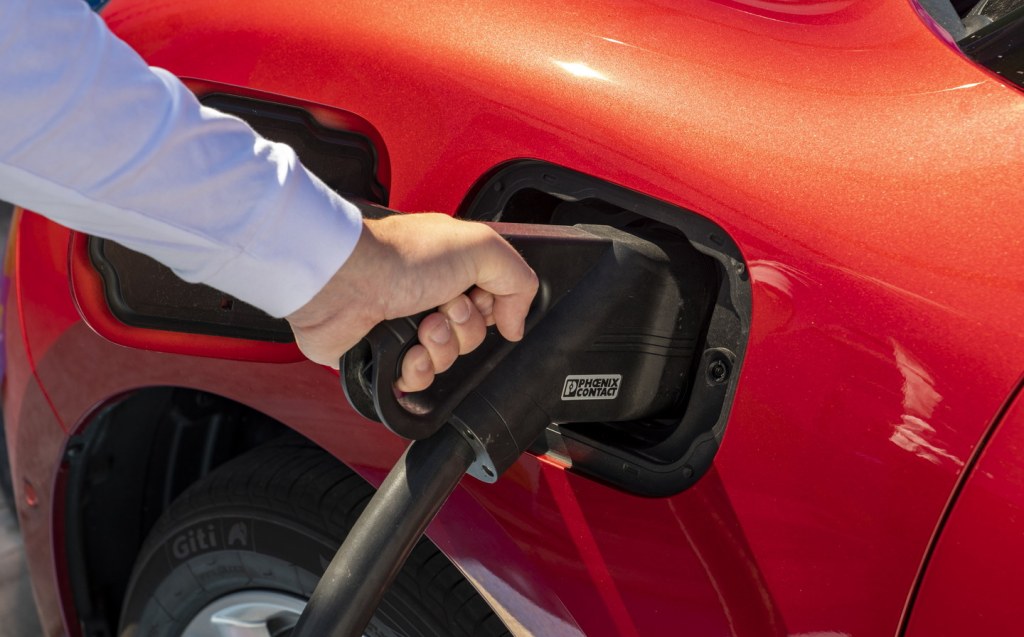 Performance, range and charging times
In the UK, Ora is initially offering just the First Edition model, which comes with a battery capacity of 48kWh and a 169bhp electric motor that drives the front wheels. Other battery and motor options are expected to arrive in time, but that's all there is for now.
Not that there's too much wrong with that system. The motor is more than powerful enough for a car of this size, and it allows the sprint from 0-62mph to take a mere 8.3 seconds, which is perfectly adequate for most. And the combination of electric motor and single-speed automatic transmission means it's great at nipping around town or even overtaking on faster roads.
More importantly, though, the 48kWh battery allows it to cover 193 miles on the official economy test. That isn't a huge range – even the Fiat 500e manages more than that – but our test drive suggested it was at least roughly achievable as long as the car doesn't spend its life on the motorway. And although the Ora Cat is perfectly happy on the motorway, that isn't really its home turf.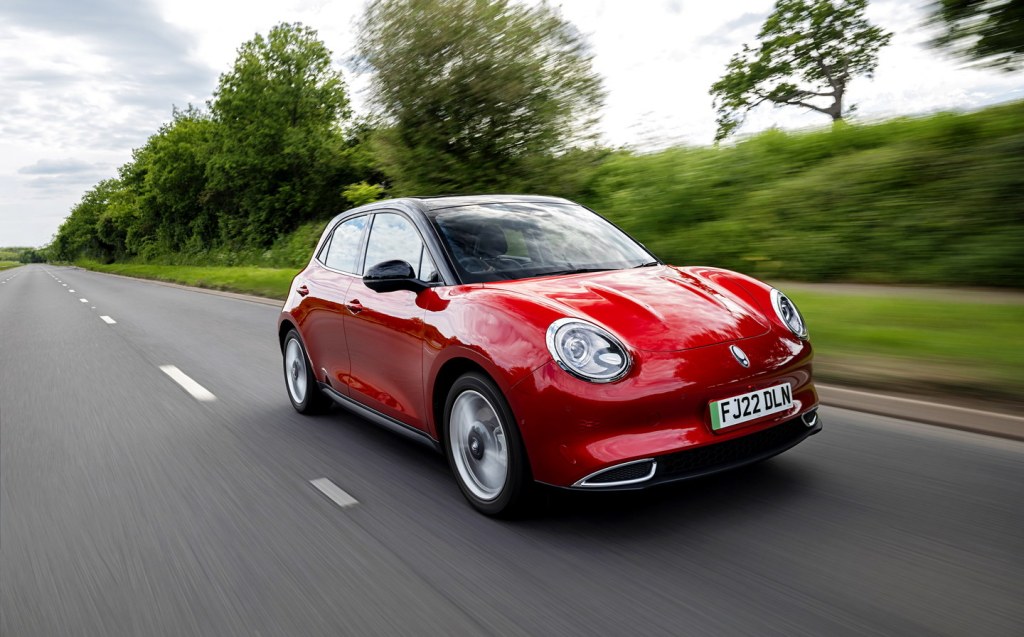 Crucially, the Funky Cat's predicted range seems pretty accurate, adapting to the way in which the car is being used to provide a more reasonable prediction of how far the car will go. On our test drive, a mile on the road more or less equated to a mile off the total range. Of course, it isn't perfect – these things never are – but it's a considerable improvement on some of the more optimistic range gauges we've tried.
When you do run out of miles, the car has the ability to charge at up to 64kW. At maximum speed it will take the battery from 15 to 80 per cent full in a little over 40 minutes, while achieving the same charge from a domestic charging point, or 'wallbox' takes just under five-and-a-half hours.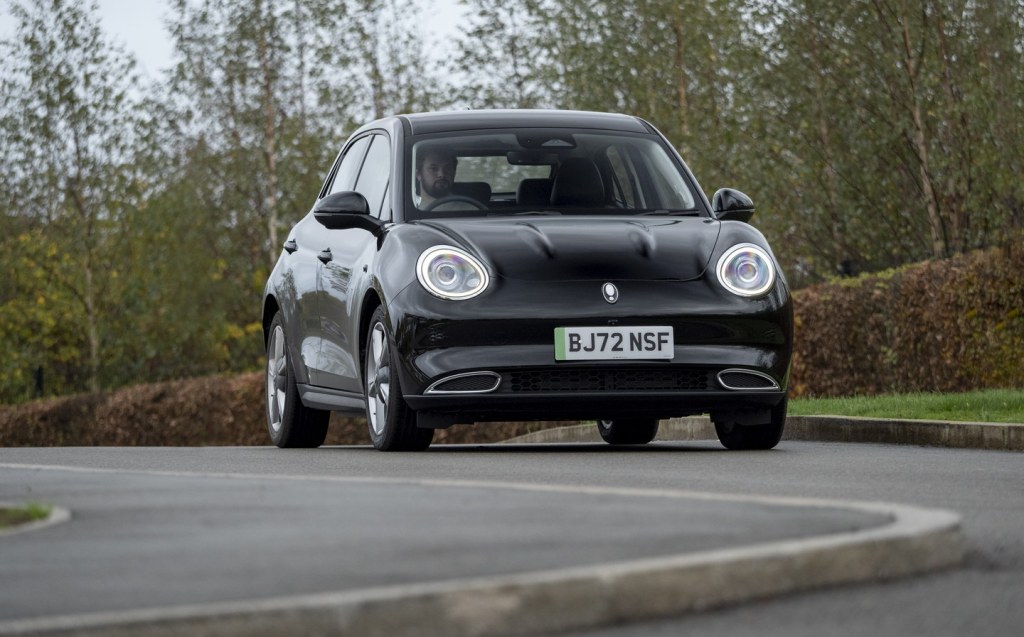 Ride and handling
Despite its sprightly performance and the 911-ish front end, the Funky Cat is not trying to play the part of a performance car. Even so, it's far from unpleasant to drive, with plenty of grip and suspension that prevents the body from rolling too much — although the low centre of gravity provided by the battery beneath the floor is also a factor in that.
It feels a bit too soft and numb to ever be considered sporty, but that's not what this car is about. More importantly, it's easy enough to manoeuvre and while visibility is acceptable, rather than excellent, the 360-degree camera system helps prevent any parking bumps.
The Funky Cat rides maturely, too, making it comfortable over most surfaces. Occasionally you can feel the weight of the car — the heavy battery ensures a kerb weight of more than 1.5 tons, or around 200kg heavier than a petrol-powered VW Golf — causing problems over some bumps, but it's generally quite smooth and it certainly doesn't jiggle or jar in the way some cars might.
It isn't quite as comfortable as the MG4 at speed but it's a match for the stiffly-sprung Mini Electric in terms of comfort, if not handling.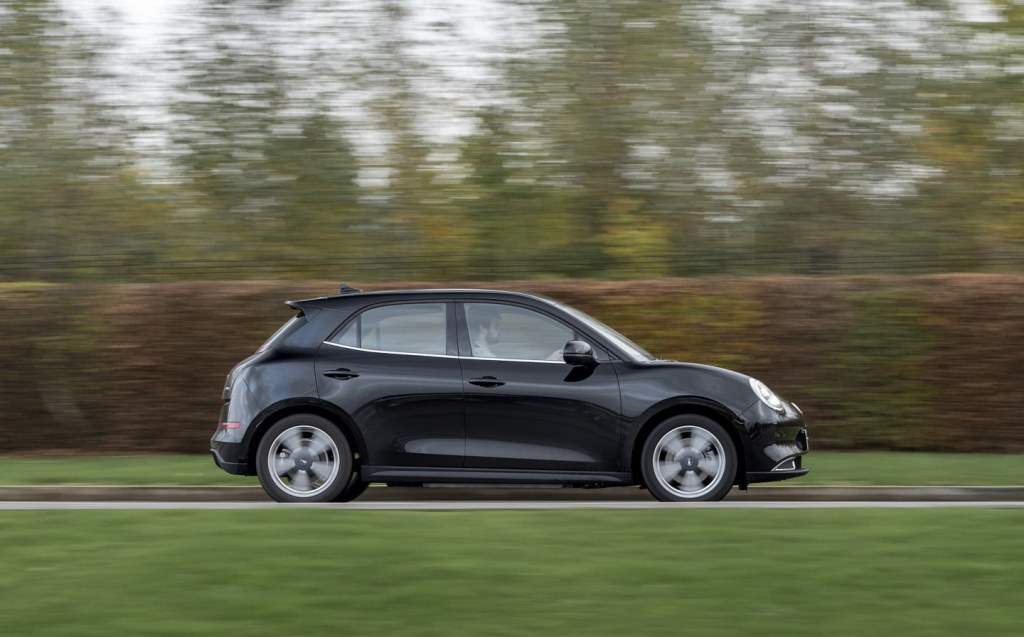 Where it falls down is, intriguingly, with some of that safety technology. The emergency steering assist system is far too sensitive, beeping every time it thinks it's required and encouraging you to switch it off at the earliest possible opportunity.
And then there's the facial recognition camera, which is a great idea in some ways but insists on monitoring you while you're driving, telling you to take a break if you yawn or to keep your eyes on the road if your attention wanders. It's all a bit Big Brother.
And it isn't just the clever stuff that Ora hasn't quite nailed. The brakes have plenty of bite, which is a good thing, but they have extraordinarily little feel. That means you're crawling in traffic, you tickle the brake pedal, and the car comes to a sudden and surprisingly violent halt.
We suspect it's an issue with the balance between the car's use of regenerative braking and the traditional friction brakes themselves, so another over-the-air software update might sort it out, but for now it certainly takes some getting used to.
Pricing and on-sale date
The Funky Cat will launch in the UK in First Edition form, which costs £31,995, but Ora hopes to introduce lesser models with correlating price tags in the coming months and years.
For now, though, the only choice is the First Edition with its reversing camera, navigation and digital instrument display. There are quilted leatherette seats, too, plus automatic climate control and automatic LED lights and wipers. It's a pretty comprehensive selection for a small electric hatchback.
It's priced lower than the less well-equipped ID.3 Life, but it's £500 more expensive than the top-of-the-range MG4, which has a similar kit list and significantly more range.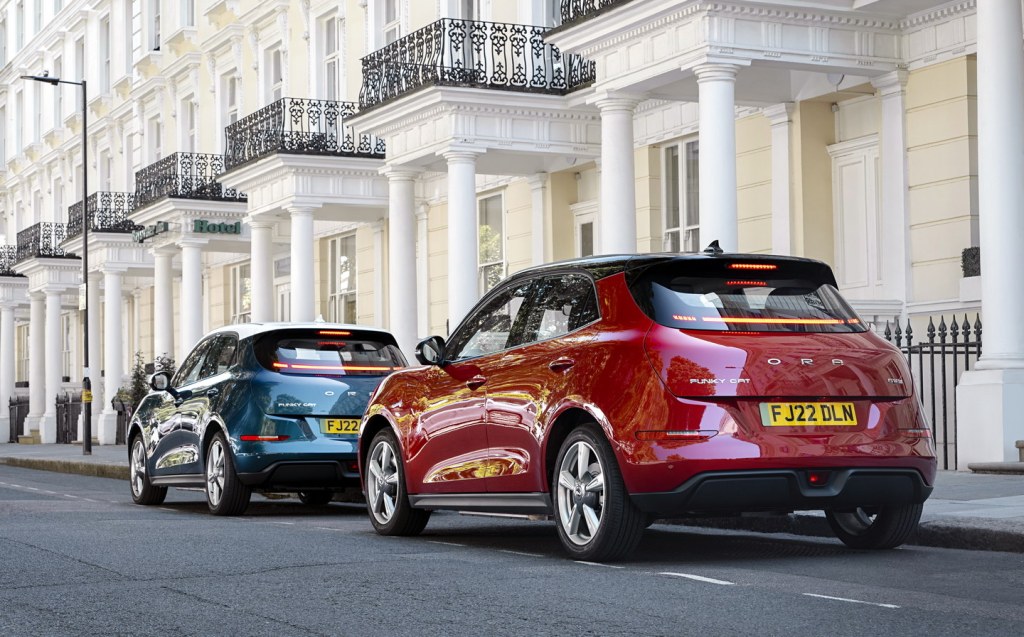 Verdict: GWM Ora Funky Cat review
The Funky Cat has its problems, including the price tag and the comparatively small battery, but it's still a competitive product, nonetheless. The driving experience and cabin quality are both a match for the Funky Cat's rivals, and the in-car technology is impressive.
Better still, Ora hopes prices will fall in future, after the First Edition models, and battery sizes will then increase, at which point the Funky Cat will be an even more serious contender.
Whether that happens or not, the greatest issue facing Ora's new hatchback might be its out-there name, but don't let that put you off what is a very competent car.
---
Update July 5, 2023: China and cars
Buyers ought to be aware that Chinese car makers, however independent they claim to be, have been criticised for receiving an unfair advantage through WTO rule-breaking state support, from a regime that Amnesty International reports carries out torture, genocide and routine suppression of dissent. 
Responding to these allegations, Ora told us:
"As a privately owned company, norms and international industry standards are very important to Great Wall Motor (GWM). All suppliers, across its whole supply chain undergo rigorous testing and evaluation processes to ensure they are upholding the highest of standards across key areas like: environment, safety, humanity, control of hazardous substance, law and regulation compliance and trade security.
"GWM adopts an attitude of openness and inclusiveness, carries out cross-regional and cross-cultural communication and recruits from global talent pools. It fully observes the well-established domestic laws and regulations including: the Labour Law of the People's Republic of China, the Labour Contract Law of the People's Republic of China, the Provisions on the Prohibition of Child Labour and the Social Insurance Law of the People's Republic of China.
"It strictly enforces policies on employment, working hours and dismissal, employment contracts and contributes to statutory social insurance for employees in accordance with the law, so that employees can work worry-free.
"It also firmly prevents discrimination based on aspects including gender, ethnicity, race, religion, and physiological conditions to protect the legitimate rights and interests of employees and prevents the use of child labour by using an identity card verification system to guard against recruitment of child labour."
Related articles
Latest articles