Cupra Born review 2022
First electric hot hatch?
---
Published 11 October 2021
CUPRA is on a bit of a charge these days so it's apt that we now get behind the wheel of its first fully electric model. The Cupra Born uses the same hardware as the Volkswagen ID.3 but comes across as the German car's more stylish (and slightly quicker) Catalan cousin.
Whereas the Volkswagen has a friendly face like a character from Pixar's Wall-e, the Cupra has an angrier look that hints at its sportier nature.
A trio of battery options, rear-wheel-drive and an e-Boost performance pack for a power bump to 228bhp make this something of an electric hot hatch. With its largest 77kWh battery the Cupra can cover up to 335 miles on a single charge, while the 58kWh version can accelerate from 0-62mph in 6.6 seconds.
Performance aside, it's also got some eco credentials to flex.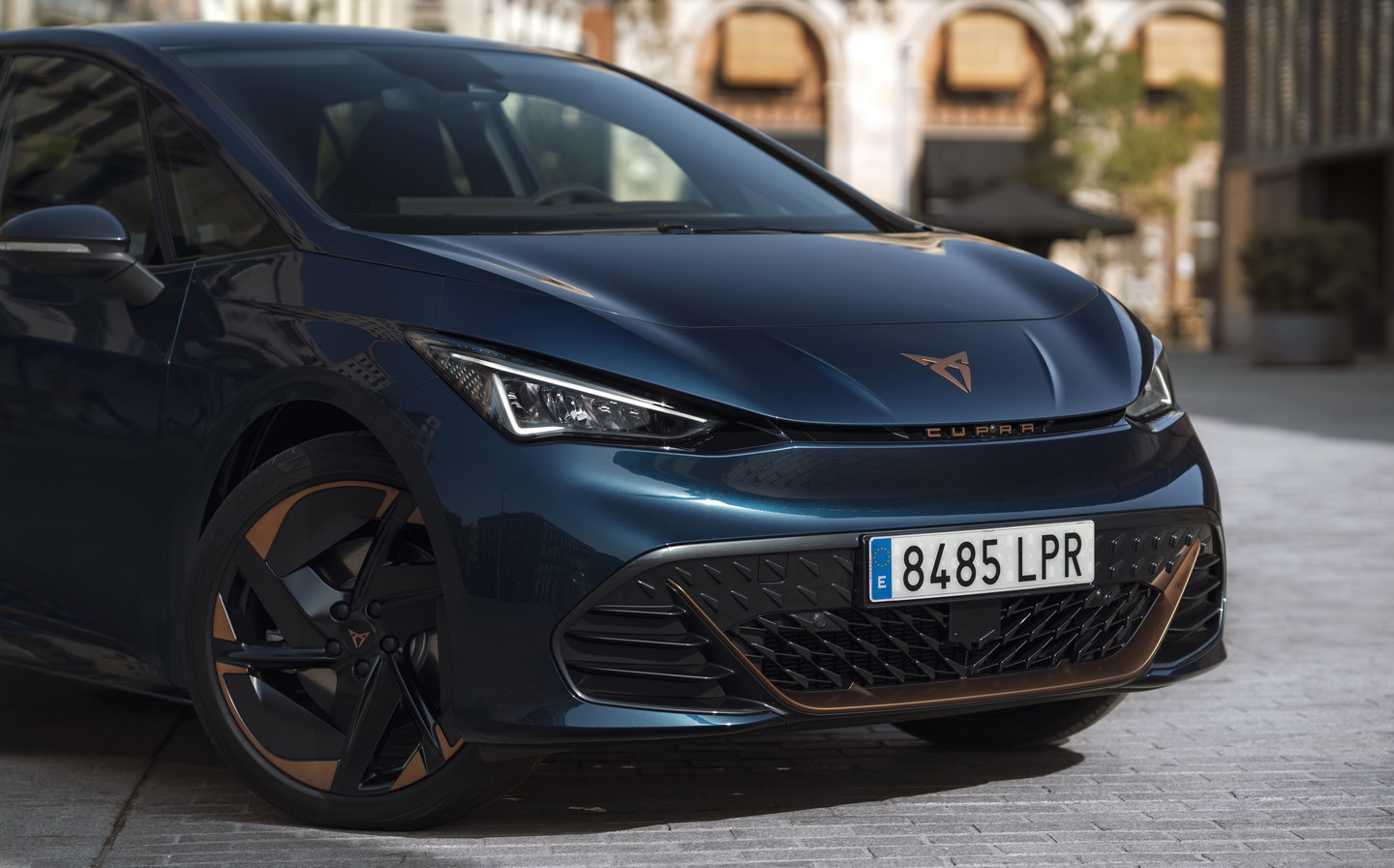 Exterior design and rivals
That furrowed brow of a bonnet gives the Cupra Born its most distinctive angle and just in case you didn't recognise the Transformers-like logo, the Cupra name is spelled out within the wafer-thin grille. Full-LED headlights result in a unique lighting design while the copper accents — a Cupra signature — extend to the lower bumper section.
Enhancing its more dynamic remit, the Born sits on suspension that is 15mm lower on the front and 10mm lower on the rear than the ID.3. A brace of quite interesting-looking alloy wheel designs extends up to 20in in diameter and accentuates what are already bold proportions. Cupra also fits wider tyres than are found on the Volkswagen, to generate more lateral grip.
The five-door Born has a longer wheelbase [the distance between the front and rear axles] than that of the larger Cupra Formentor crossover and, with minimal overhangs at either end, the car has a blocky stance. There's no real bonnet as such, due to the electric motor sitting at the rear, and that lets the windscreen stretch further forward to add to the Born's airy feeling inside. So much so that the base of the windscreen sits almost directly above the front axle line.
It's not so easy for it to shake its similarity to the ID.3 when viewed in side profile but Cupra has added a few design flourishes, such as a small air channel on the rocker panel just aft of the rear wheels and a three-dimensional triangular indent pattern on the C-pillar.
The Born is also a smidge longer than the ID.3, due to the different bumpers, though it's not immediately noticeable. Around the rear it gets a 'coast-to-coast' lighting design that incorporates an illuminated bar spanning the two light clusters. Look closely and you'll see the Born name made into the sides of the LED light clusters, too.
A sizeable spoiler section encloses the rear, adding to both style and aerodynamics, as it helps the air bleed off the roof and side more cleanly, thus adding to the car's efficiency.
On the whole it's a design that works well and shouldn't find too many detractors, especially when you consider what other cars of a comparable size are around. The Renault Zoe is far less sporty and the Cupra could potentially tempt buyers away from a Tesla Model 3.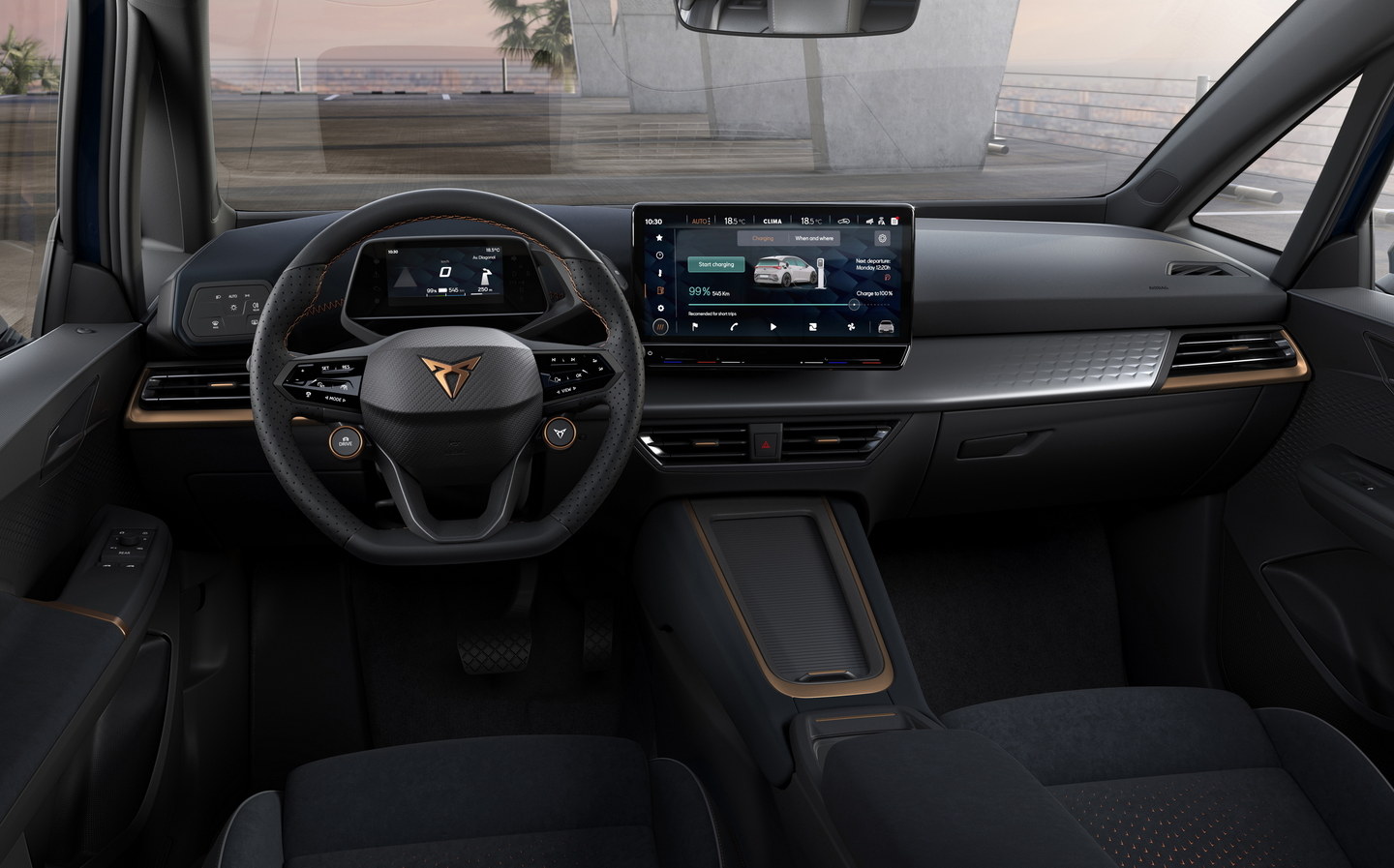 Interior and practicality
Cupra has to work with the same core layout as its German stablemate but the brand has put in a solid effort to make it look and feel a bit different. Most obvious is the use of unique materials throughout — there's quite a high-quality feel to everything inside.
Keen to underline its eco-credentials, Cupra partners with a company called Seaqual that employs Spanish fishers to trawl the sea for discarded rubbish and plastics. The marine plastic is then cleaned and upcycled to produce a yarn used to produce the sports seats. They look smart and have a fading cut-out pattern that is detailed with a copper underlayer.
The seats themselves aren't overly restrictive as sports seats go but will hold you in place should you embark on more enthusiastic driving. However, they are on the firm side, so your chiropractor will approve.
They are upholstered in a recycled suede-like material called Dinamica that also extends to the centre armrest and doors, lending the cabin a high-end feel.
Cupra uses a similar display setup as Volkswagen, with a small instrument cluster ahead of the steering wheel that also houses the drive select functions, much like the BMW i3.
A floating 12in touchscreen display sits at the centre and is positioned up high, close to your line of sight. Running a similar operating system as other Cupra (and Seat) models, the infotainment system is laid out logically and it runs Android Auto and Apple CarPlay, meaning you can switch to your favourite navigation and audio apps.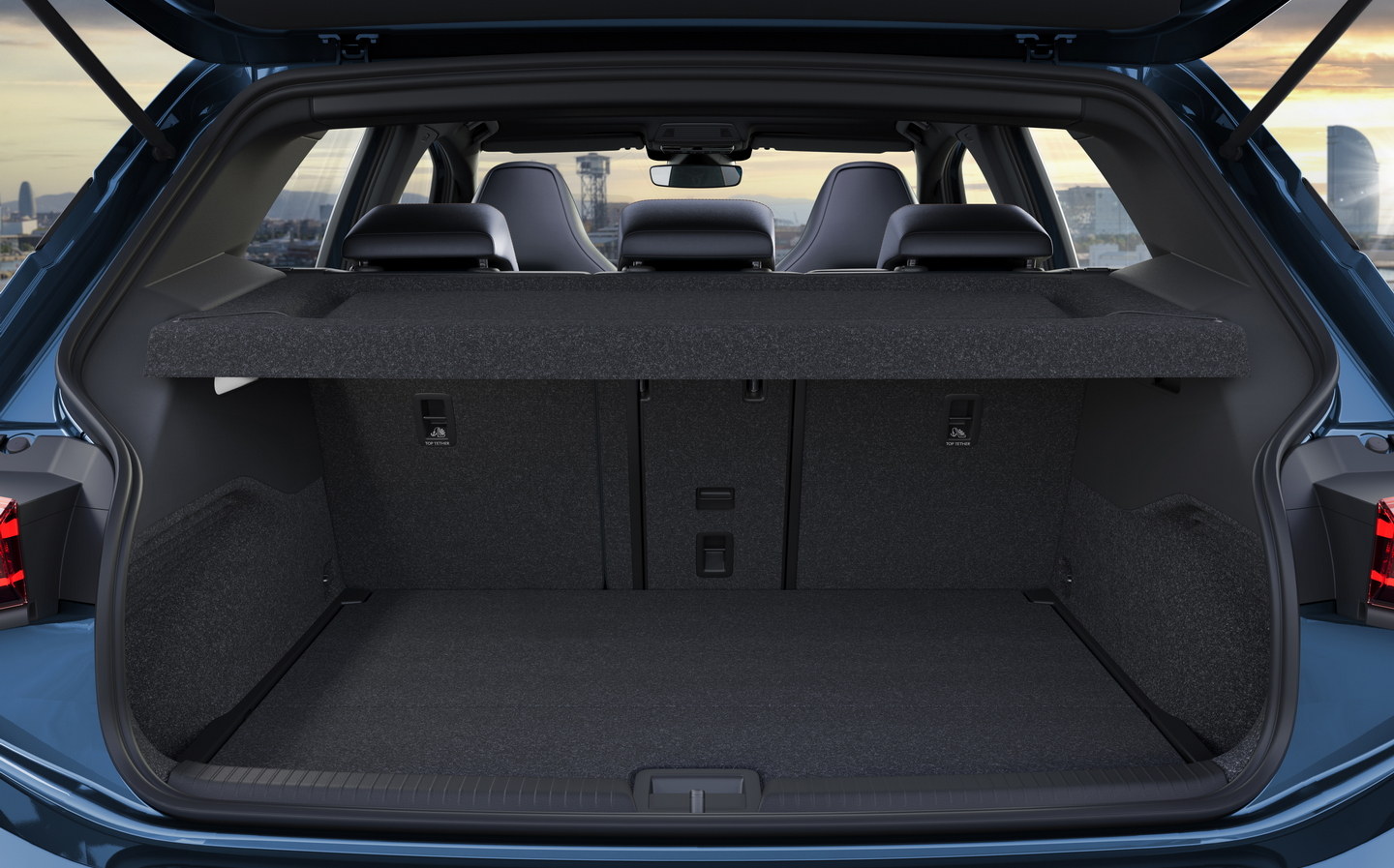 Within the centre console is a roller cover that slides back to reveal a pair of cupholders and added storage for smaller oddments. Underneath the centre armrest is some more space and two USB-C ports — now the standard connection type within VW Group cars.
While it may be seen as a compact electric car, rear space is quite reasonable. Head and shoulder room give no cause for complaint and, thanks to that long wheelbase, there's enough space for taller passengers to stretch out. The central seat is narrower, as is the norm, though an almost completely flat floor across the rear means plenty of room for feet.
Boot space is rated at 385 litres, which is slightly more than you get in other hatchbacks like the Ford Focus. That volume can be increased by tipping down the 60:40 split-folding rear seats. A load-through ski hatch, tie down points, LED lighting and a 12v power socket are also present in the boot.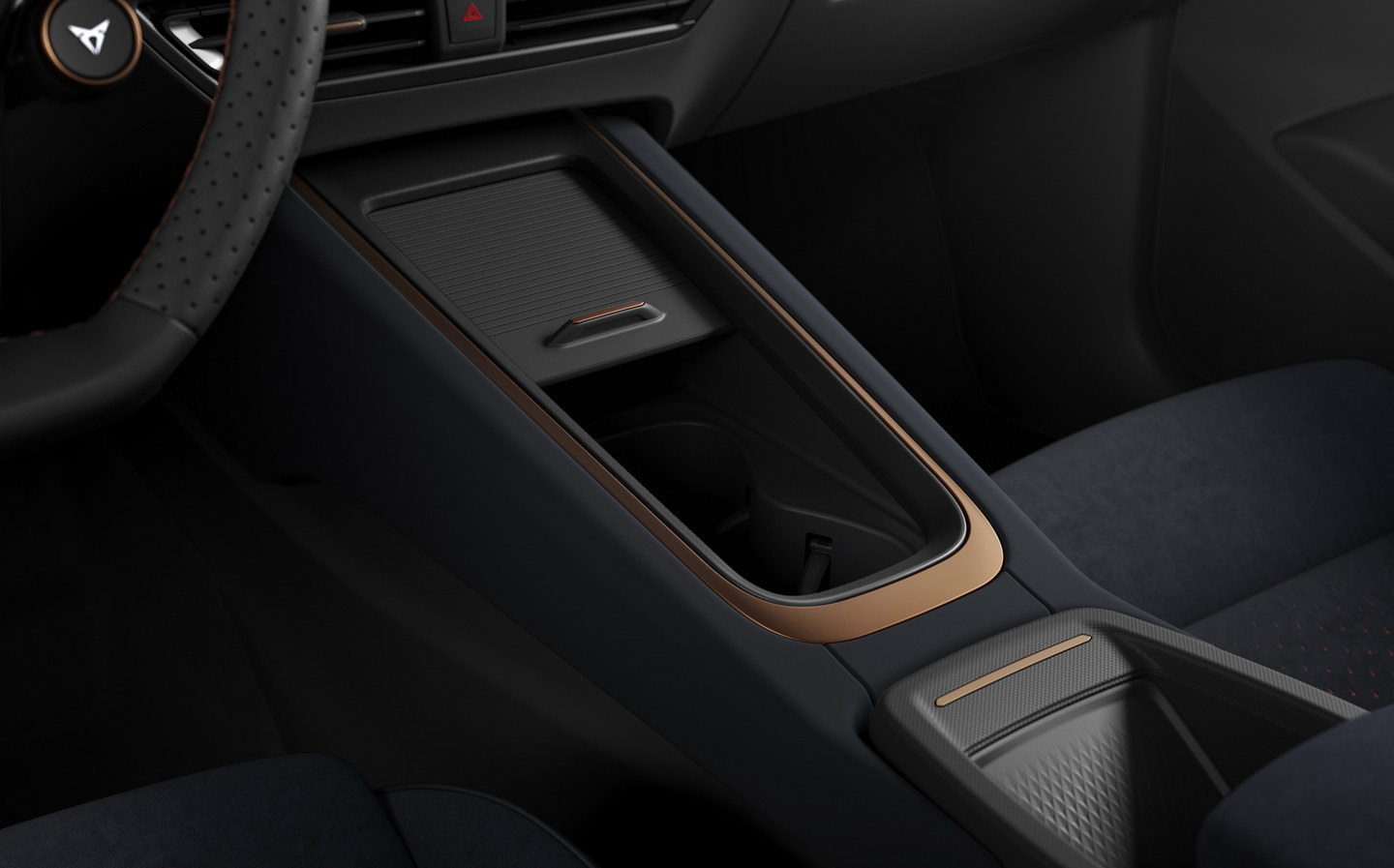 Technology and safety
If you don't fancy using the Cupra's native infotainment system, both Android Auto and Apple CarPlay mirroring are available, though only the latter works wirelessly.
A dedicated Cupra app will offer owners the features that are typically available with such systems, like making sure you've locked the car and seeing how much range you've got left in the battery. It won't stop there though, as Cupra plans to add more functions over time, the next being the integration of apps within the car's infotainment system, starting with Spotify.
Then there's the augmented reality head-up display that projects onto the windscreen. Aside from the usual speed and driving information, it can layer the directional arrows for navigation onto the screen. These grow in size as you near your next turn. It can also project the lines on the road ahead as a way of giving you a nudge if it thinks you're veering outside of your lane.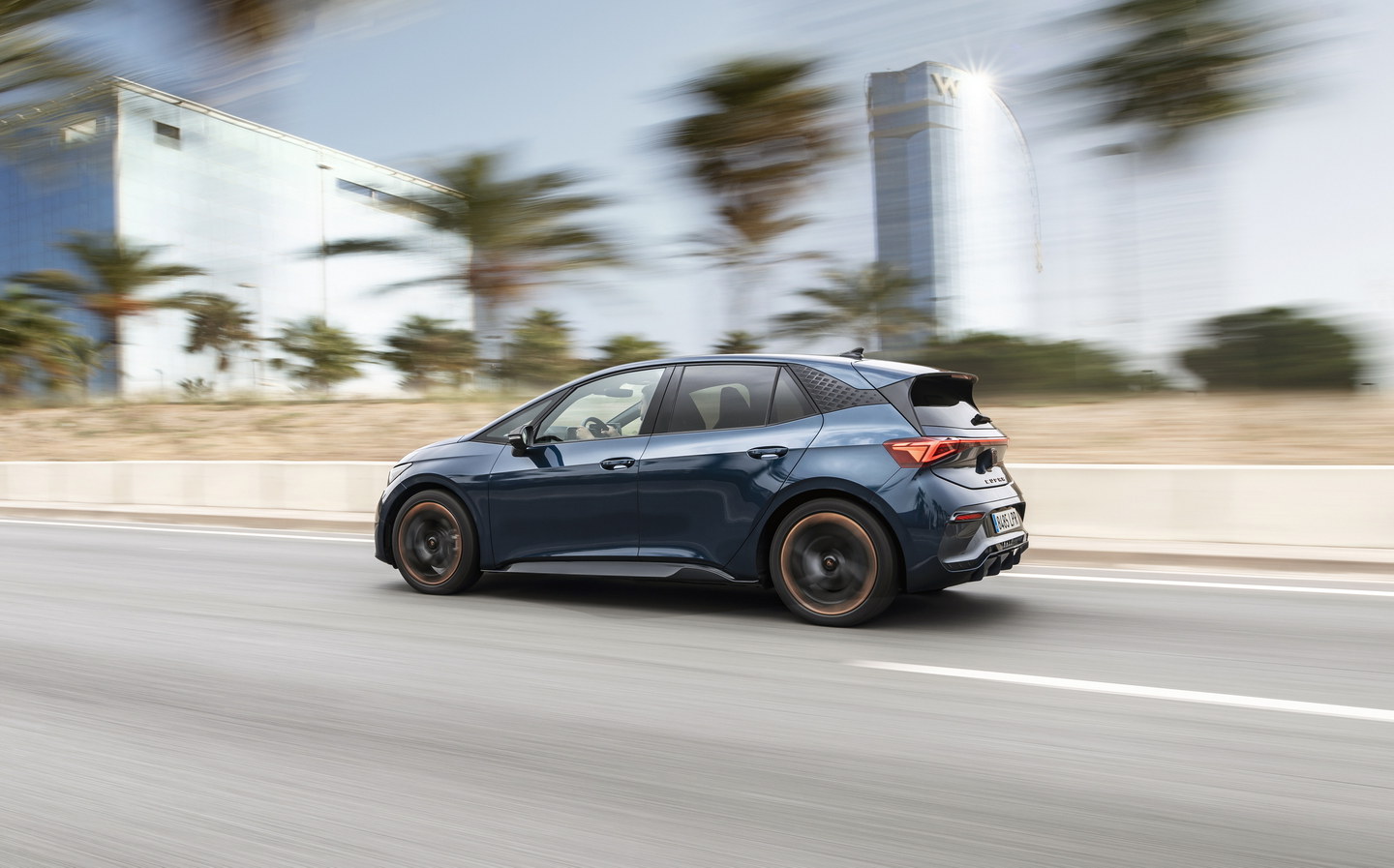 Performance, electric range and charging times
When the Cupra Born arrives it will be available with three battery capacities: 45kWh, 58kWh and 77kWh, which equate to driving ranges of around 211, 263 and 335 miles respectively. The electric motor ratings vary between 110kW and 170kW, and all Cupra Born models drive the rear wheels through a single-speed automatic gearbox that sits over the back axle.
The 45kWh Cupra Born has the shortest official driving range at 211 miles, and is the only model with a 148bhp maximum power output. It's the slowest to accelerate to 62mph, taking 8.9 seconds to do so. While it concedes outright pace, all Borns get the same 228lb ft of torque output, so even the entry-level model will be quick off the line, and the reduced weight of the smaller battery will be beneficial in terms of efficiency and handling.
A 110kW peak rapid charge rate means the Cupra only takes about 30 minutes to replenish the battery to 80%, while charging at home with the 7.2kW onboard charger will take 6 hours 45 minutes to fully charge from empty, meaning owners will have a full battery when they get to their car every morning.
In the mid-range 58kWh Born power output increases to 201bhp and peak charging rises to 125kW, reducing rapid charging times and making it more attractive to those who rely on the public charging network. The onboard AC charger is also upgraded to an 11kW unit, meaning at home it takes just over six hours to fully charge using an 11kW wallbox.
Cupra will offer its e-Boost Performance Pack for the 58kWh version that temporarily bumps up power output to 228bhp. This is done via a steering wheel button or a kickdown function, by mashing your foot fully down on the accelerator pedal. This, according, to Cupra, means 0-62mph in 6.6 seconds and only a minimal impact on range.
That same power output is also available with the range-topping 77kWh battery. It's worth noting that this added boost is only available for 30 seconds at a time and is dependent on the battery's state of charge. The larger battery takes 7 hours 30 minutes to charge using a 11kW AC charger or 38 minutes at a 125kW DC rapid charger.
From 2022, Cupra will apply an update that enables peak charging of up to 170kW for the 77kWh battery.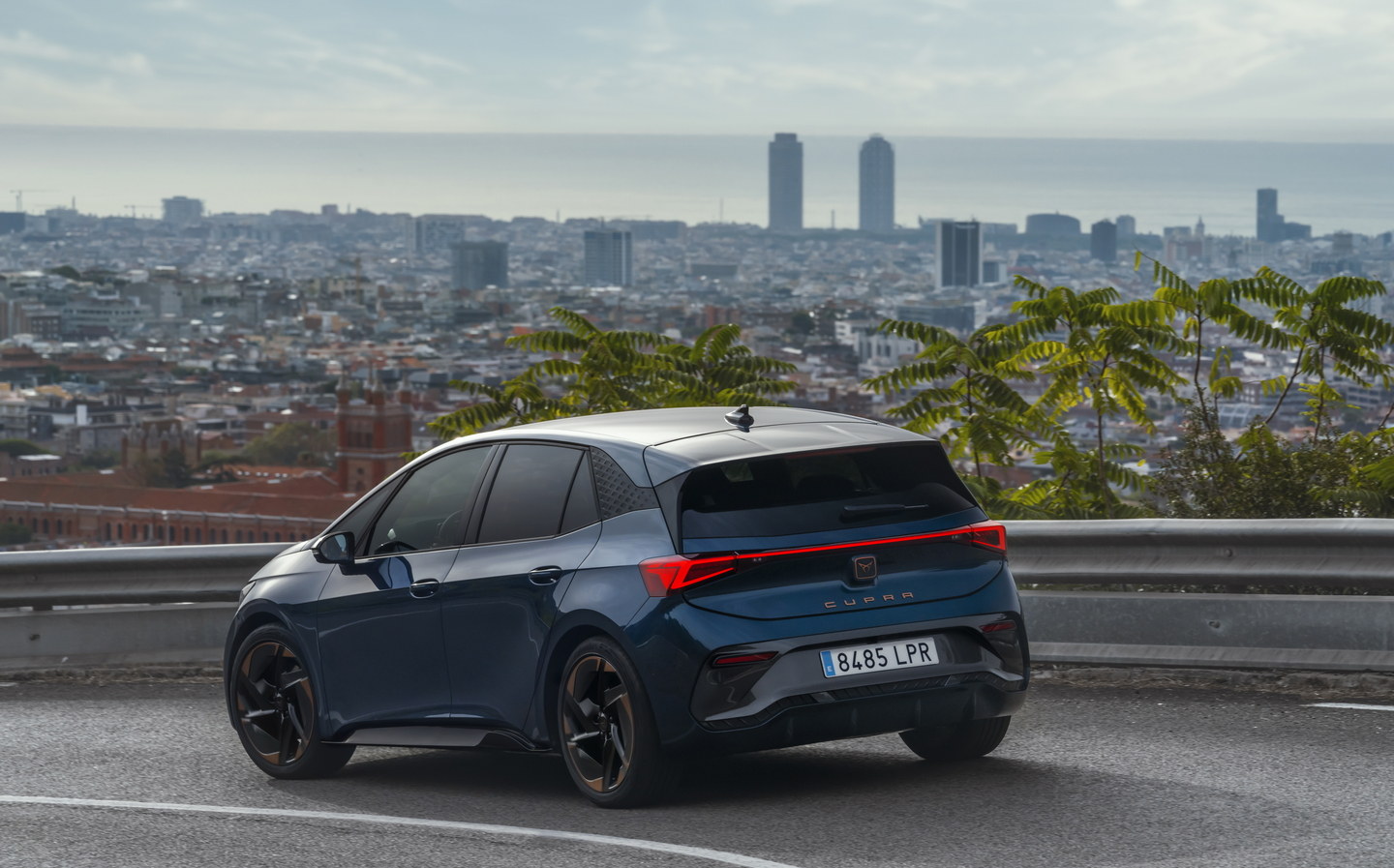 Ride and handling
Even before Cupra became a standalone brand from Seat, its engineers had always demonstrated talent for honing a car's handling characteristics, and that same skill shines through in the Born.
Complementing the car's low ride height are new suspension dampers that do a noteworthy job of striking the balance between comfort and the stiffness needed to keep the weighty electric car's body movements in check. The mid-range 58kWh battery weighs 340kg alone, though it's set low enough within the car's chassis that the centre of gravity is said to be 40mm lower than in a similarly sized combustion engined car.
Around a twisting mountain route the Born was unwavering in its ability to hold a tight line and there is little lateral movement in tighter corners. With its wheels pushed right out to the corners and a BMW-like 50:50 weight distribution, the Born handles direction changes with aplomb. Even on 20in wheels, which would usually be enough to reveal any loose fillings you might have, the Born deals with ruts and bumps well.
A variable ratio steering setup is fitted as standard that also alters the assistance depending on speed. The result is a car that feels light and manoeuvrable at lower speeds, responsive and agile on a B-road and yet not at all nervous on the motorway. It's pretty hushed with acceptable levels of wind and road noise even at motorway speeds.
There's a point-and-squirt feel to how the Cupra drives, and the instantaneous shove of the electric motor is grin-inducing.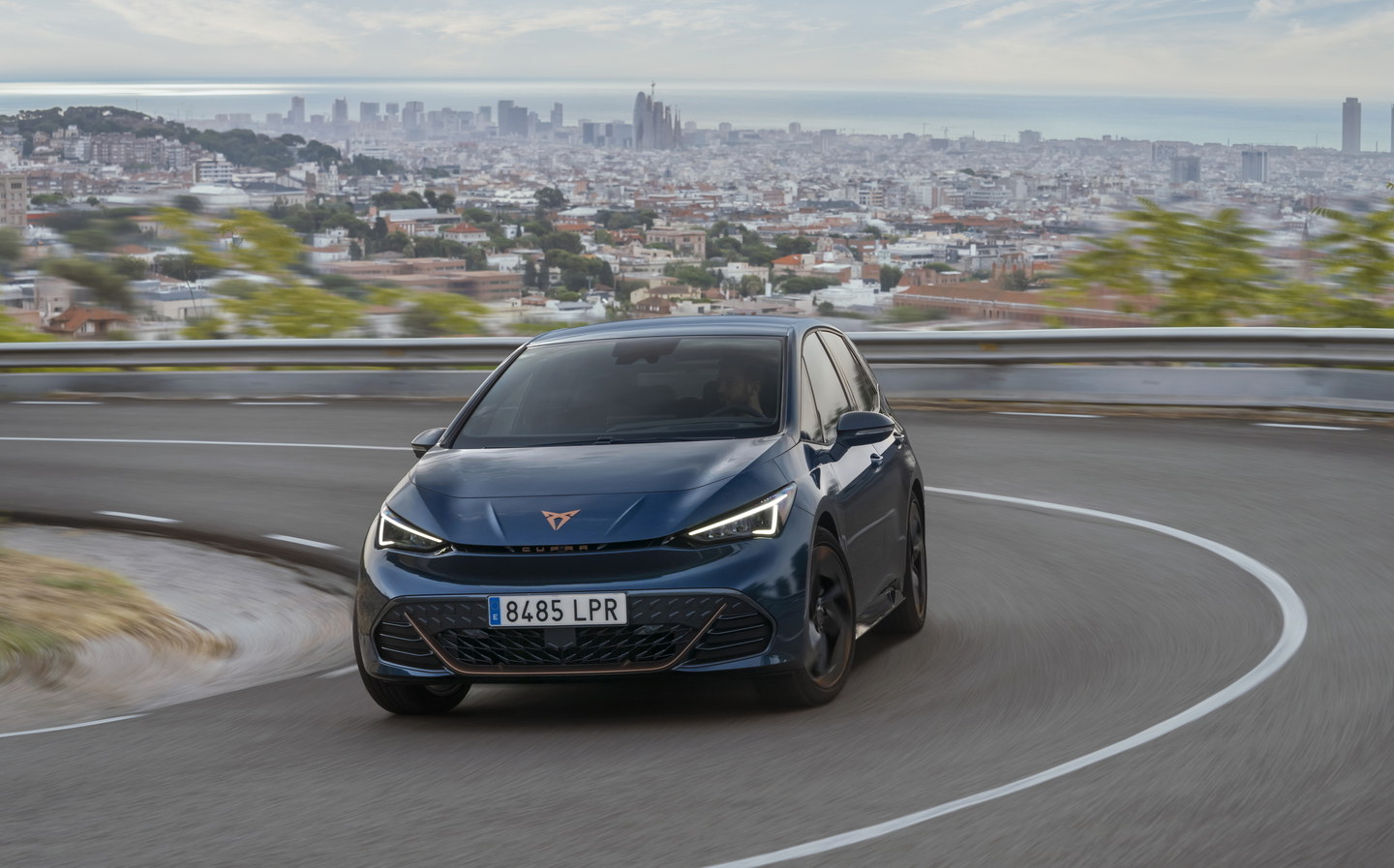 Direction changes happen as quick as you like, demonstrating a greater agility than its weight might suggest is possible. A contributing factor to this is Cupra's decision to fit wide tyres (235/40 R20) to the Born.
A choice of five driving profiles is selectable and cover the gamut between outright performance and stretching driving range as much as possible. When it's not sailing in its 'range' mode, the Born will scrub off a noticeable amount of speed when you lift off as it harvests energy back into the battery.
Stick to urban confines and that gives you one-pedal driving, and only rarely will you need to rely on the friction brakes at lower speeds.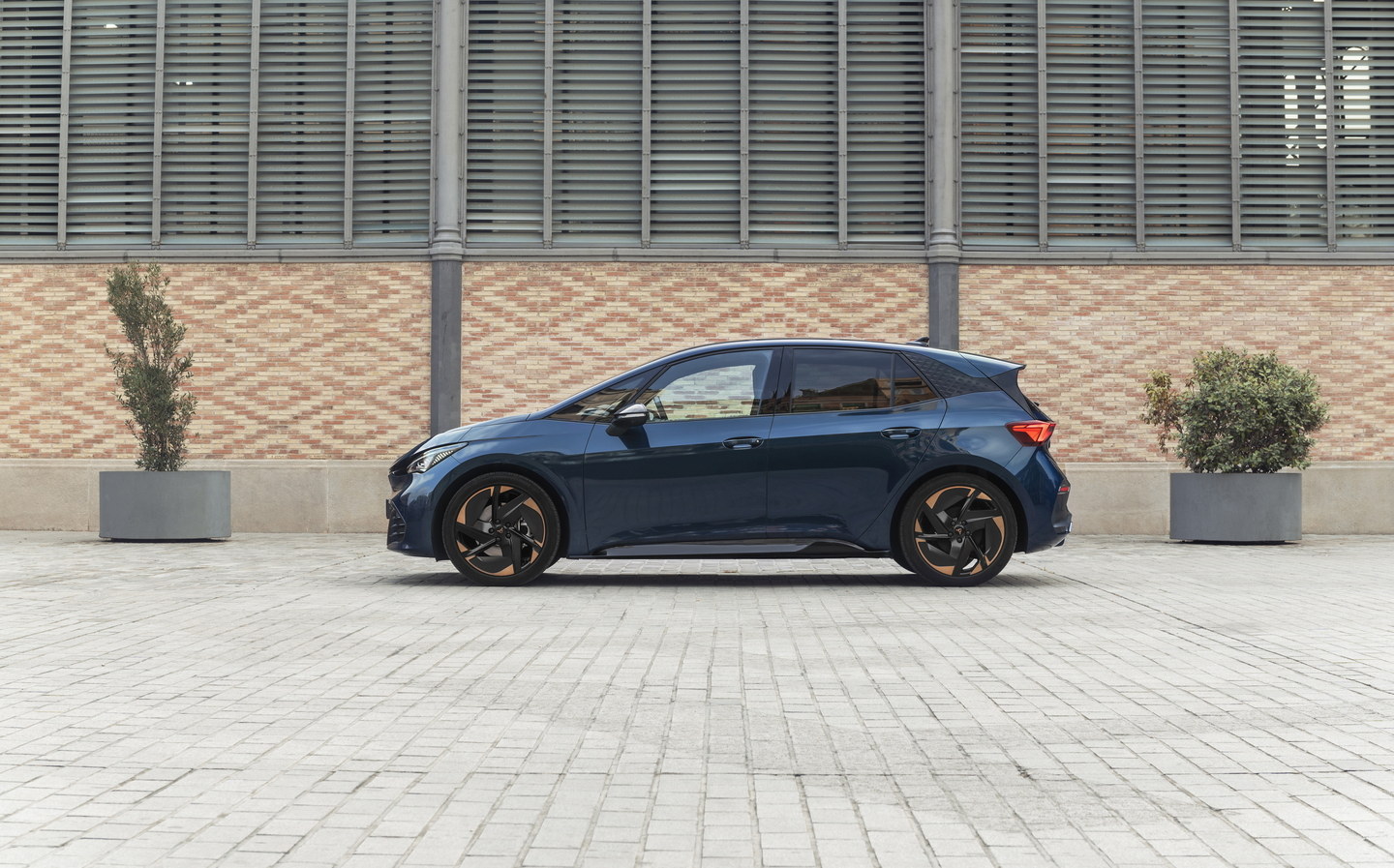 How much is a Cupra Born?
Cupra won't be announcing pricing or specifications for the Born until later this year but it is expected to have a starting price of around £32,000.
Buyers will be able to choose from battery sizes ranging from 45kWh up to 77kWh, meaning driving ranges of between 217 miles and 335 miles. All versions will be capable of 100kW rapid charging, but the 77kWh battery ups that to 125kW and Cupra plans to increase charging speeds to 170kW in 2022.
Verdict: 2022 Cupra Born review
A sophisticated chassis setup and plenty of power on tap galvanises the performance credentials of the Cupra Born to make it one of the first electric hot hatches. Combined with a more striking design and quality of interior finish, it has an edge over its closest rival, the Volkswagen ID.3.
Even if you aren't fussed by its on-road performance capabilities the Born is a superb electric car with a useful real-world driving range, and a modern and roomy interior.
Tweet to @LordHumphreys Follow @LordHumphreys