BMW i3 and i3 Range Extender review (2013-on)
The first truly cool, affordable electric car
This review was first published in April 2014 and updated on August 1, 2016 to include the BMW i3 94Ah. Additional reporting by John Evans.
---
What is the BMW i3?
BMW was behind Renault and Nissan in entering the electric vehicle market with proper production cars, but compared with true rivals such as Audi and Mercedes, it's well ahead of the pack. The car maker's first foray is this, the i3, which launched in late 2013. Its i8 plug-in hybrid sports car has since followed.
In creating the i3, BMW used space-age materials combined with eye-catching design. The model, available as a pure-electric car or with a 650cc petrol generator to extend the electric range, is built around a carbon-fibre tub rather than on top of a steel or aluminium chassis.
This type of ultra-lightweight but ultra-strong construction is derived from Formula One racing and, due to its high cost, has so far been the preserve of the most exclusive supercars. In order to make it cost-effective for mass-produced road cars, BMW built its own carbon-fibre parts factory in the US.
---
---
The pure-electric i3 was launched with a 60Ah (18.8kWh) lithium ion battery pack, mounted under the passenger compartment, but in August 2016 a 94Ah (28.2kWh) version was launched, offering an official range of 186 miles between charges. In real-world driving conditions and in adverse weather, with corresponding air conditioning or heating requirements, it can do 124 miles. That's roughly 50% more than the 60Ah, which BMW says will go around 80 to 112 miles, depending on driving style and conditions.
The increase in range has been achieved not by adding more battery cells – both versions have 96 – but with improvements in lithium-ion cell chemistry and materials.
It takes just under three hours to charge the larger battery to 80% using BMW's new smaller and lighter iWallbox, released to coincide with the launch of the new car. A full charge using a standard UK socket will take more than 10 hours. Rapid charging is also possible with an 80% charge requiring 30 minutes to one hour. Charging costs just a few pence, depending on your electricity tariff.
The i3 90Ah costs around £1,000 more than the 60Ah when it goes on sale later in August. It will be possible to retro-fit a 60Ah with the 94Ah battery pack. However, this option is likely to cost around £6,000.
The i3 with petrol range extender version, or i3 Rex, can also be specified with the 60Ah or 94Ah battery. With the former you'll be able to drive from 160 to 186 miles without stopping, at which point you can fill the petrol tank and/or charge the battery and continue on your way. The larger-batteried Rex has an official range of 206 miles between stops, but again a quick stop for petrol allows you to continue your journey without the need for plugging in.
Meanwhile, BMW has added extra colours to the i3 range including Protonic Blue, previously available only on the i8. Inside, there are new trims including dark oak and eucalyptus.
The drive
The BMW i3 introduces us to one-pedal motoring. Although there is, of course, a brake pedal, the car recovers so much energy when you lift off the accelerator (which is then channelled into the battery, improving range) that there is a very noticeable braking effect. It's possible to slow down and stop at a junction without ever touching the brake itself, such is the strength of the "regen".
Whether this makes for an enjoyable driving experience or not will be a matter of personal taste but it's certainly different and for those less confident behind the wheel, it does simplify things greatly.
"The instant torque an electric motor provides means that most other cars have trouble beating it away from the lights"
The performance of the new 94Ah BMW i3, which uses the same 170hp hybrid synchronous electric motor as the old 60Ah version, is largely unchanged. The 94Ah model is 50kg heavier and, as a result, accelerates from 0 to 62 mph in 7.3sec, compared with the 60Ah version's 7.2sec.
This sounds decent enough but the instant torque an electric motor provides – 184lb ft in the i3's case – means that most other cars have trouble beating it away from the lights.
There are Comfort, Eco Pro and Eco Pro+ driving modes, which increasingly temper power output to help improve range. In Eco Pro+, for example, speed is limited to 55mph and the heating/air conditioning system is switched off. The car will also nanny you into the Eco modes if you're low on charge, and the i3 Range Extender will reduce its top speed if the little petrol-powered generator between the rear wheels (which sounds much like a lawnmower when in action) can't cope with the energy demand.
This is not something the Vauxhall Ampera, the car (now discontinued) that pioneered extended-range electric tech, had a problem with. Its generator is a much more powerful 1.4-litre unit lifted straight from a Corsa.
BMW's solution is smarter, though, in that it is smaller and lighter. Its power is perfectly adequate for everyday use, whereas there does come a point when driving the Ampera that you wonder why on earth you're lugging around such a heavy lump of metal. Most of the time, with the batteries regularly recharged, it sits idle, whereas you never resent having the far lighter generator onboard the i3.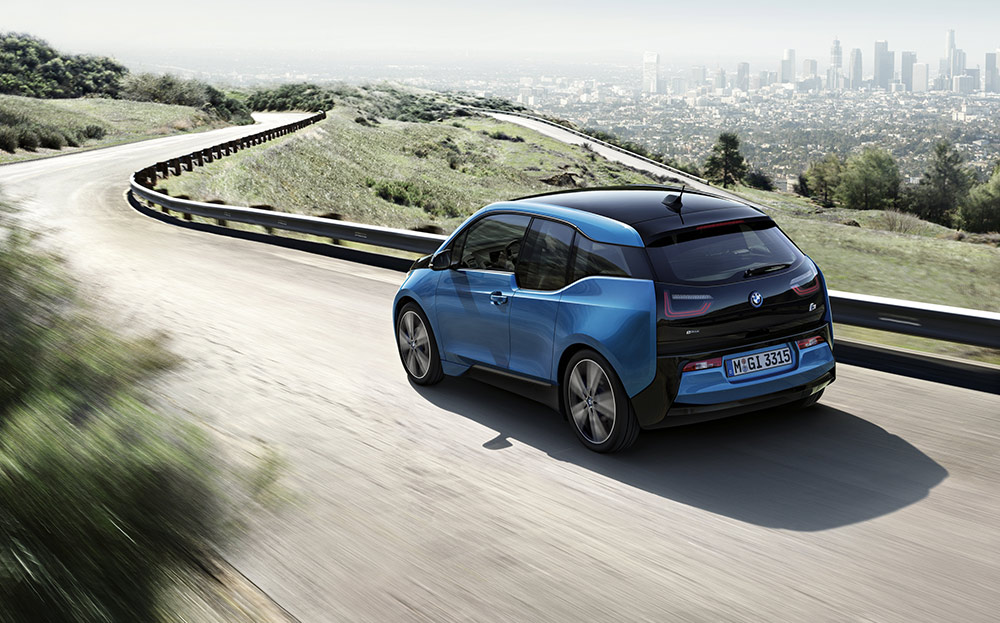 The car's carbon-fibre construction saves a weight, when compared with a metal-chassied car, which is just as well as the battery pack is weighty. The generator in the i3 Range Extender adds a further 120kg to the model's weight. However, BMW has cannily distributed the i3's weight 50:50 front to back and, by positioning it low in the car, given the model a low centre of gravity.
This can't change the fact that the i3 is quite high-sided. We found the original 60Ah i3 to have rather soft suspension, with noticeable roll and understeer through corners if pushed hard. We even called the handling "disappointing", making it "probably the least 'BMW' of BMWs".
---
Browse NEW or USED cars for sale on driving.co.uk
---
However, our drive of the 94Ah i3 in July 2016 restored some faith in the brand, with road tester John Evans remarking that although the ride can be choppy on irregular surfaces, it is generally smooth and unflustered, resisting excessive body lean and remaining composed.
The interior
We guarantee that your friends, if not impressed by its exterior, will be surprised ‒ most of them pleasantly so ‒ by the i3's futuristic cabin. It's as if the designer handed his concept artwork straight to the factory, bypassing the people in suits who, armed with data from focus groups and marketing reports, can sanitise and homogenise.
In place of the thick lump of plastic that normally constitutes a dashboard is an elegant, multi-layered combination of fabric, wood and floating LCD screens, of which there are two – one acting as the instrument binnacle, the other as the infotainment display.
The transmission lever has been relocated to the steering column, freeing up space in the footwell between the driver and front passenger. Meanwhile, the lightweight front seats, with their slim backrest, create improved legroom for rear passengers who, incidentally, are allowed access via rear, opposing "coach" doors (aka "suicide doors", because they open backwards). The absence of B-pillars, thanks to the model's carbon-fibre tub construction, should mean entry and egress are straightforward.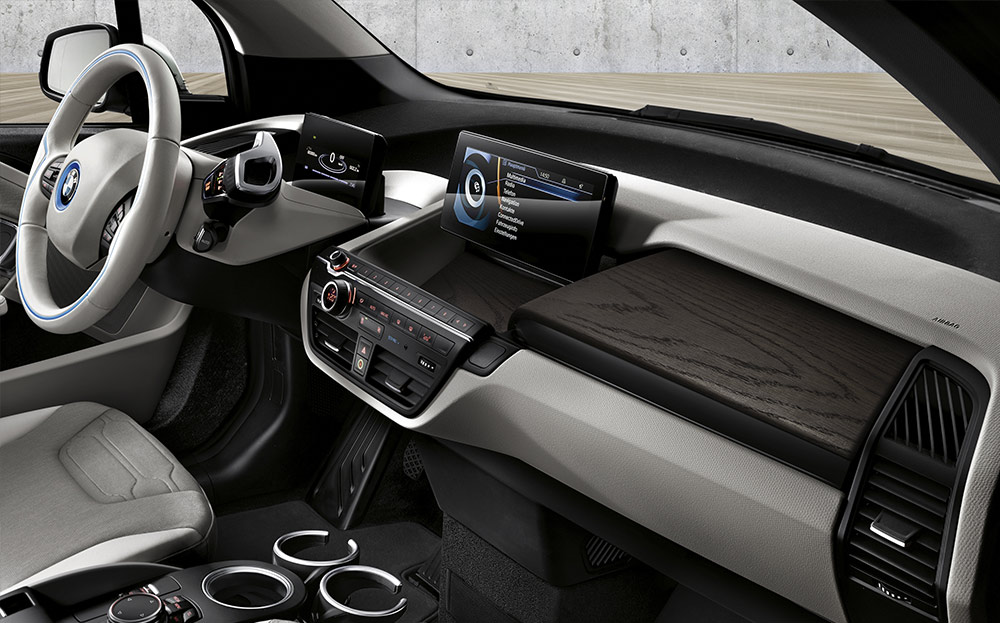 However, one elderly passenger we invited on a test drive found it tricky to access the rear seats, partly as a result of the car's high ground clearance. That extra height will be popular with many drivers, however, as it gives a commanding view of the road ahead.
At 260 litres with the rear seats up, or 1,100 litres with them folded flat, boot space is average for a car of this size. Unfortunately, the boot lip is relatively high due to the fact that the electric motor (and range extender, where applicable) are contained below.