What the political parties have in store for motorists for the general election 2015
The motorist manifestos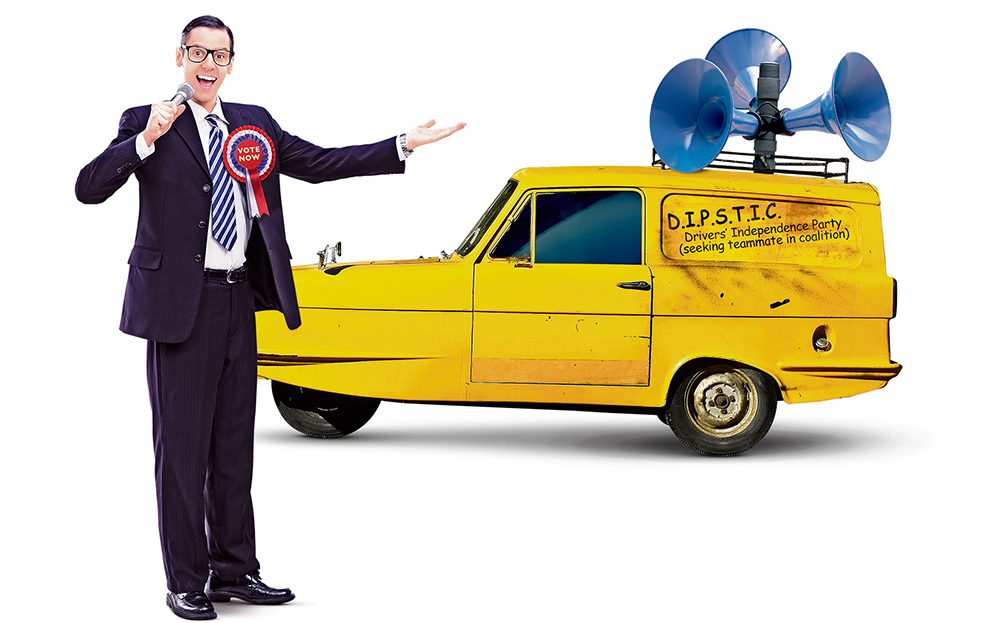 VOTING BLOCS don't come much bigger than drivers. There are 35m motorists in Britain, and they contribute £58bn to the Treasury each year in taxes. No wonder political parties have been keen to court their vote for this week's general election.
So what's in store for drivers over the next five years? We have combed the manifestos of the main parties.
---
Search for and buy your next car on driving.co.uk
---
Bearing in mind the possibility of a hung parliament, we may see a mish-mash of policies being enacted. Would a Labour-Green coalition make drivers responsible for any accident involving a cyclist or pedestrian? Would a Conservative-Ukip agreement scrap electric car subsidies? Our roundup will give you an idea of each party's thinking.
Fuel prices
Fuel duty has not been increased since January 2011. With promised cuts or freezes to other taxes, will the next government resist tapping motorists' pockets?
The Conservatives claim the credit for keeping fuel duty frozen for the past four years. They say no rises in duty are scheduled until at least April next year.
Labour has called for a more transparent oil market, allowing motorists to benefit more quickly from wholesale oil price falls. However, Harriet Harman, its deputy leader, has refused to rule out duty increases.
The Lib Dems say no fuel duty rises until at least April next year. The party wants to expand the fuel discount scheme, offering lower duty for isolated communities.
The Greens plan to reintroduce the fuel duty escalator (which automatically increases duty ahead of inflation), raising an extra £2.2bn a year from motorists.
Ukip is "sympathetic" to the argument that lower fuel duty can boost growth.
Taxes
Revenue from road tax is falling because cars are becoming more efficient and increasingly exempt from the emissions-based charge. Changes are expected.
The Conservatives have made no promises on road tax. Nor has Labour.
The Lib Dems say that reform of road tax is planned, to promote cleaner vehicles and to return revenue to 2010 levels, which would cost drivers an average £25 extra per vehicle. Different bands for diesel cars would be introduced.
The Greens would introduce road pricing schemes.
Ukip says it wants to remove road tolls where possible and make classic cars over 25 years old exempt from road tax.
Roads
Highways England, which manages England's motorways and trunk roads, has been promised £15bn to invest in the network between now and 2021, but road projects have a habit of being cancelled to save cash. A recent government report found the condition of many rural roads is continuing to deteriorate.
The Conservatives' investment plan would fund "the most extensive improvements to our roads since the 1970s". This includes making the A1 north of Newcastle upon Tyne a dual carriageway and upgrading the M62 and A47. The manifesto outlines plans to upgrade the A11 in East Anglia — although this has already been mostly completed. Enough funding would be provided to fix 18m potholes between 2015 and 2021.
Labour promises long-term investment in strategic roads and to address the neglect of rural roads but would delay the upgrade of the A27 and A358 in southern England — announced late last year — to pay for a train ticket price freeze.
The Lib Dems were part of the coalition government that approved the £15bn Highways England plan. The party also backs a wide-ranging plan to improve the road network in the north.
The Greens have called for an end to the £15bn national roads programme. Spend the money on public transport and fixing potholes instead, they say.
Ukip says that existing motoring taxes are enough to fund "the best road network in the world".
Parking
Council income from parking is rising faster than inflation and private parking firms are chasing 3m motorists a year for parking ticket charges. Private clampers have been banned, as has most on-road CCTV parking enforcement, but drivers still feel parking charges and penalties are unfair.
The Conservatives launched a review last month, looking into more regulation of private parking firms, including restrictions on the charges they can levy. It will also examine whether the 10-minute grace period in England before wardens can ticket a car should be extended.
Labour is short on specifics but has promised to treat motorists fairly and prevent them from being ripped off by high parking fines.
The Lib Dems helped to launch the coalition review of private parking and the 10-minute grace period.
The Greens would make parking charges proportional to the full cost of delivering the spaces, potentially increasing the parking costs.
Ukip has pledged to end hospital car park charging.
Speeding
Plans for an 80mph motorway speed limit have been dropped, and 20mph zones are sweeping across cities. A large programme of motorway "stealth" cameras is taking place.
The Conservatives abandoned plans for an 80mph motorway speed limit while in government. They have announced a review of the decision to paint motorway "stealth" speed cameras grey.
Labour would ensure motorway speed cameras were painted yellow.
The Lib Dems, as part of the coalition, reviewed the decision to paint speed cameras grey. They would give local authorities power to introduce a 10mph speed limit outside schools and would not increase the national speed limit.
The Greens promise to cut speed limits to 20mph in residential areas and 40mph on rural roads. They would be enforced with speed cameras and police.
Ukip says speed cameras would be permitted only near accident blackspots, by schools and in residential areas.
Environment
EU air quality targets are likely to force cities to introduce low-emission zones and charge owners of older cars — especially diesels — to drive into centres. London has already outlined its plans. Electric car grants are due to be reviewed weeks after the election.
The Conservatives are aiming for almost every car and van to be a zero-emissions vehicle by 2050 and would invest £500m over the next five years to achieve that. The party would also spend £300m to cut light pollution from new roads.
Labour would give councils the power to introduce low-emission zones.
The Lib Dems say that after 2040 only ultra-low-emission vehicles would be allowed on UK roads for non-freight purposes. The party says it would accelerate the introduction of fuel-cell vehicles and a hydrogen fuelling network. It would set a legal target for towns to create low-emission zones and review the MoT to see if emissions could be cut from existing vehicles.
The Greens intend to invest in electric charging points and work on eliminating diesel exhaust emissions.
Ukip would scrap subsidies for electric cars.
Cycling
Cities are hoping that increased numbers of cyclists will reduce the number of cars on the roads and help them to meet emission targets, but safety needs to be addressed: the most recent government figures show cyclist deaths up by 8% year on year.
The Conservatives say they would invest more than £200m to make cycling safer.
Labour promises to promote cycling and create local bodies to integrate cycling, buses, trains and trams into a single network.
The Lib Dems pledge to look at creating an intercity cycleway alongside the HS2 railway line — which they say would be included in the cost of the existing building works — and delivering £10 a head annual expenditure on cycling.
The Greens say drivers should be presumed liable for injuries to cyclists and pedestrians. Compensation could be reduced if the casualty has contributed to the collision unless they are a child, elderly or impaired.
Ukip has no national cycling policy in its manifesto, but a local campaign in Newcastle upon Tyne has described cyclists as "the chosen people", claiming that funding cycling discriminates against the elderly and infirm who do not ride.
Read more: The party leaders and their cars: who wins your vote?
---
Search for and buy your next car on driving.co.uk
---