Best Father Christmas sleighs designed by car makers
Ho, ho, woah!
---
Published 24 December 2021
VISITING every child in the world in one night is a big ask and one that requires equipment that's up to the job.
While many laud the performance and practicality of cars such as the Audi RS 6 Avant or Mercedes-AMG E 63, even their ferocious power and commodious boot space fall far short of what Father Christmas needs in terms of speed and luggage capacity on Christmas Eve.
That's why car makers over the years have attempted to design a sleigh to suit the big man's requirements — after all, imagine the brand publicity if St. Nick decided to trade-in his wooden clunker for a Vauxhall, Ford or svelte new Lexus.
While it's fair to say some haven't put in a great deal of effort, others have created bold, futuristic designs that hint at Santa's high-tech future.
In all cases, however, they've created unique concepts capable of bending the laws of physics with some help, not just from aerodynamics and jet engines, but from a little bit of magic too.
With Santa already on his annual rounds already this Christmas Eve, we're taking a look back at our favourite car maker sleighs, from 800bhp muscle cars on skis to self-driving sleds that can smash through the sound barrier.
1. Vauxhall slEigh-REV (2009)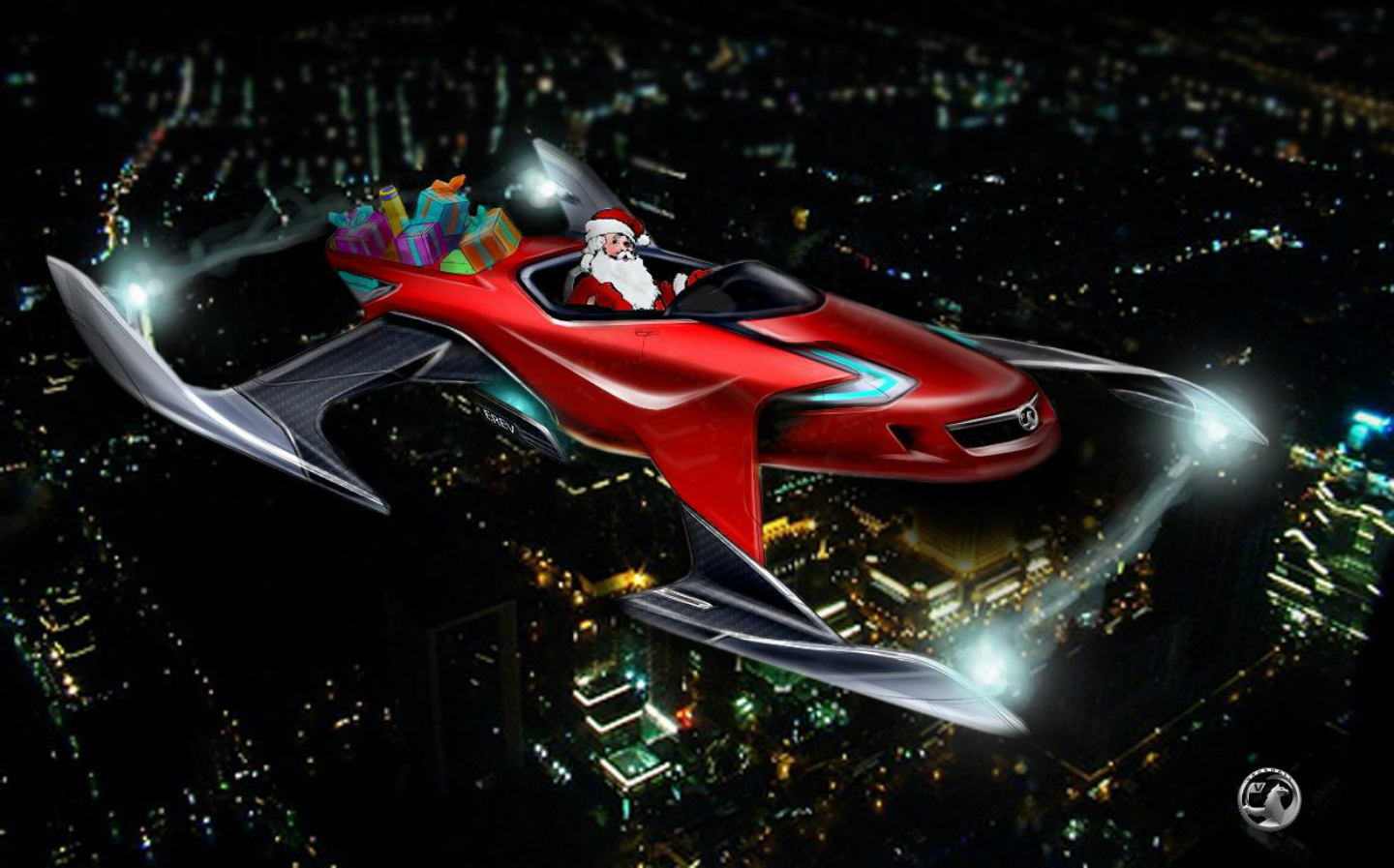 A concept from 2009 but ho-ho-oh-so modern in its thinking, thanks to its eco-friendly hybrid powertrain. Vauxhall's slEigh-REV idea uses the same extender-range electric powertrain from the discontinued Vauxhall Ampera and promises silent, zero emissions flying before an engine kicks in as a generator, to prevent the battery pack from going flat.
Vauxhall never cited emissions figures for the range-extender sleigh, so it was unclear if it would qualify for the Plug-In Car Grant at the time, but as the discount now only applies to pure-electric vehicles, Santa would definitely have to pay the full list price if he were to buy such a thing today.
He might also have to pay London's Congestion Charge, though being airborne he might get away with that. He would certainly escape the Ultra-low Emission Zone fees.
Of course, Father C. may choose to register it at the North Pole, rather than in the UK, thereby avoiding any such charges.
2. Dodge Challenger Hellcat Redeye Express (2018)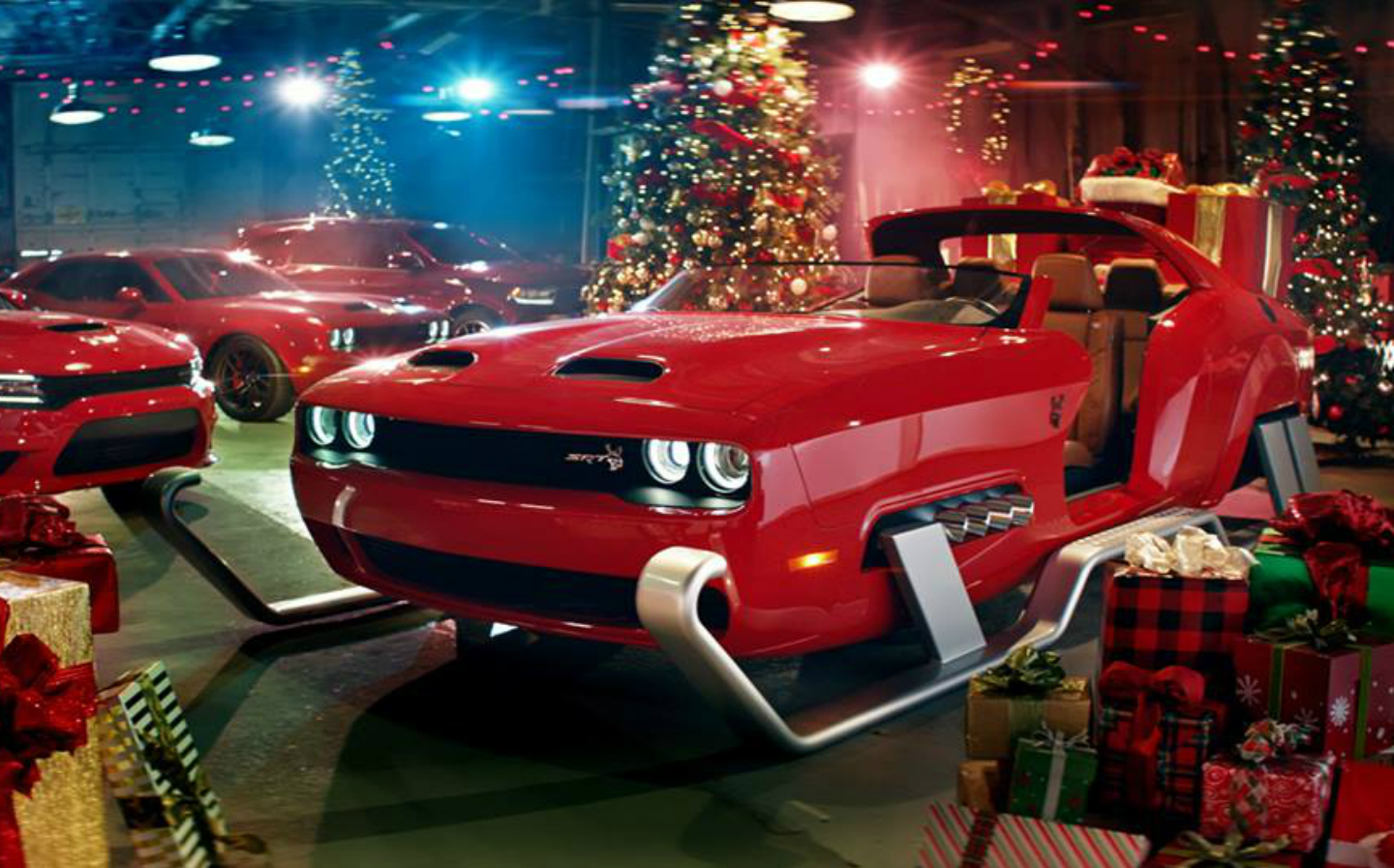 The one winter carriage on this list we do know the "real" power of is the Dodge Challenger Hellcat sleigh. As this vehicle is based on the Challenger Redeye, the Redeye Express features the almighty grunt of a 786bhp supercharged V8.
It's one of the cooler-looking options available to Saint Nick but with such a loud motor under the bonnet, he would struggle to drop off his presents without waking the kids, of course.
3. Ford Evos Sleigh Concept (2011)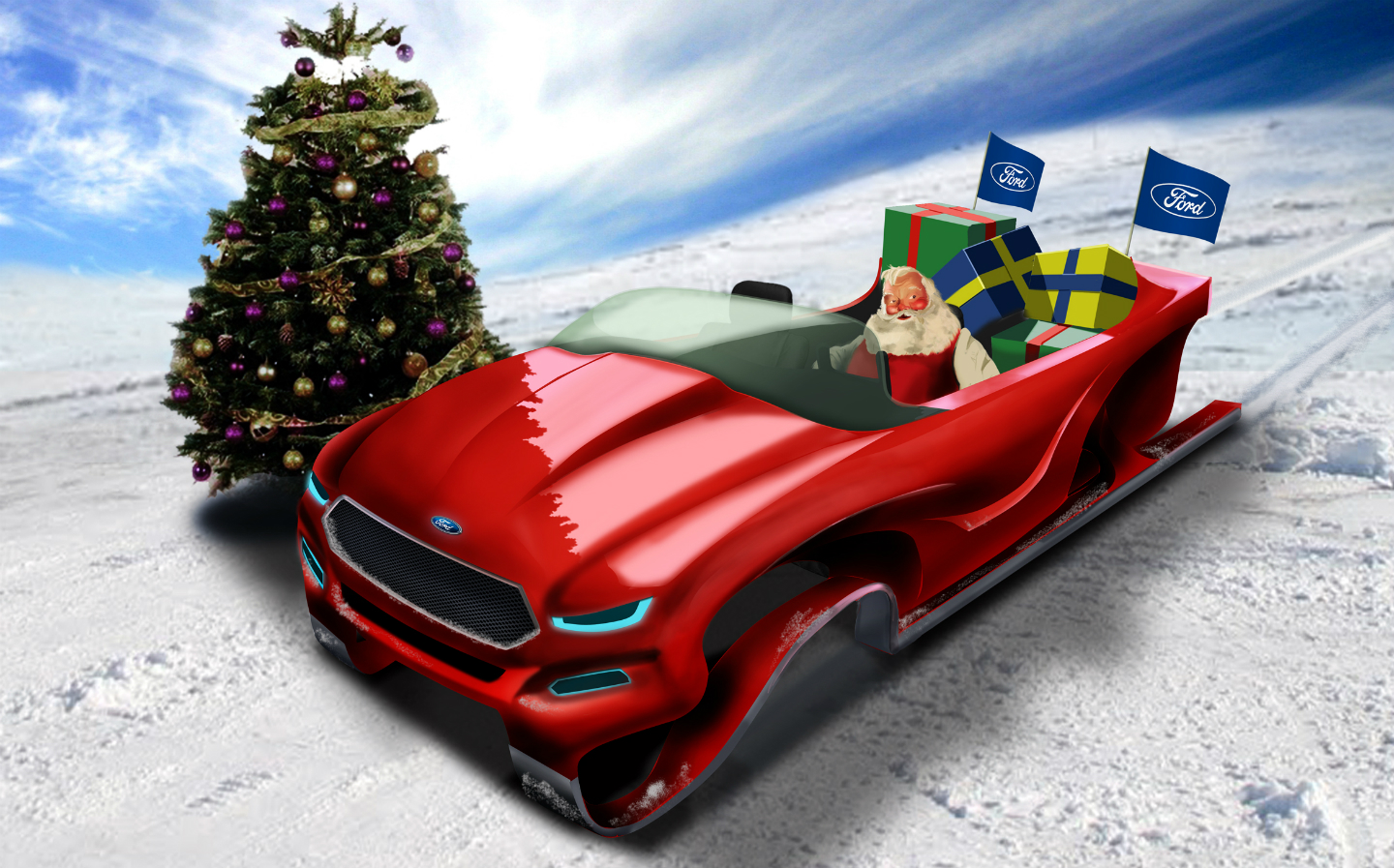 By comparison, Ford's proposition is far less likely to stir people from their slumber when Father Christmas comes to town. Based on 2011's Mondeo-previewing Evos concept car, the sleigh design study is also claimed to be fuel efficient, as it's powered by a 1-litre EcoBoost petrol engine.
But even with Evos' frugal motor, Ford still reckons the epic annual trip would rack up £12m in fuel bills. Makes you wonder how much energy Santa's traditional reindeers expend on Christmas Eve… no wonder they need carrots at every house.
4. Jaguar F-Sleigh (2015)

Jaguar has released many variants of its F-Type sports car but none have been as dramatic as this "F-Sleigh" version.
Though based on the F-type's shape, extensive modifications have been made for Santa's convenience — including snow runners, an open-top load bay and rear-mounted jet engine. The antlers are a particularly fetching touch.
5. Lexus Flying Luxury Cruiser (2012)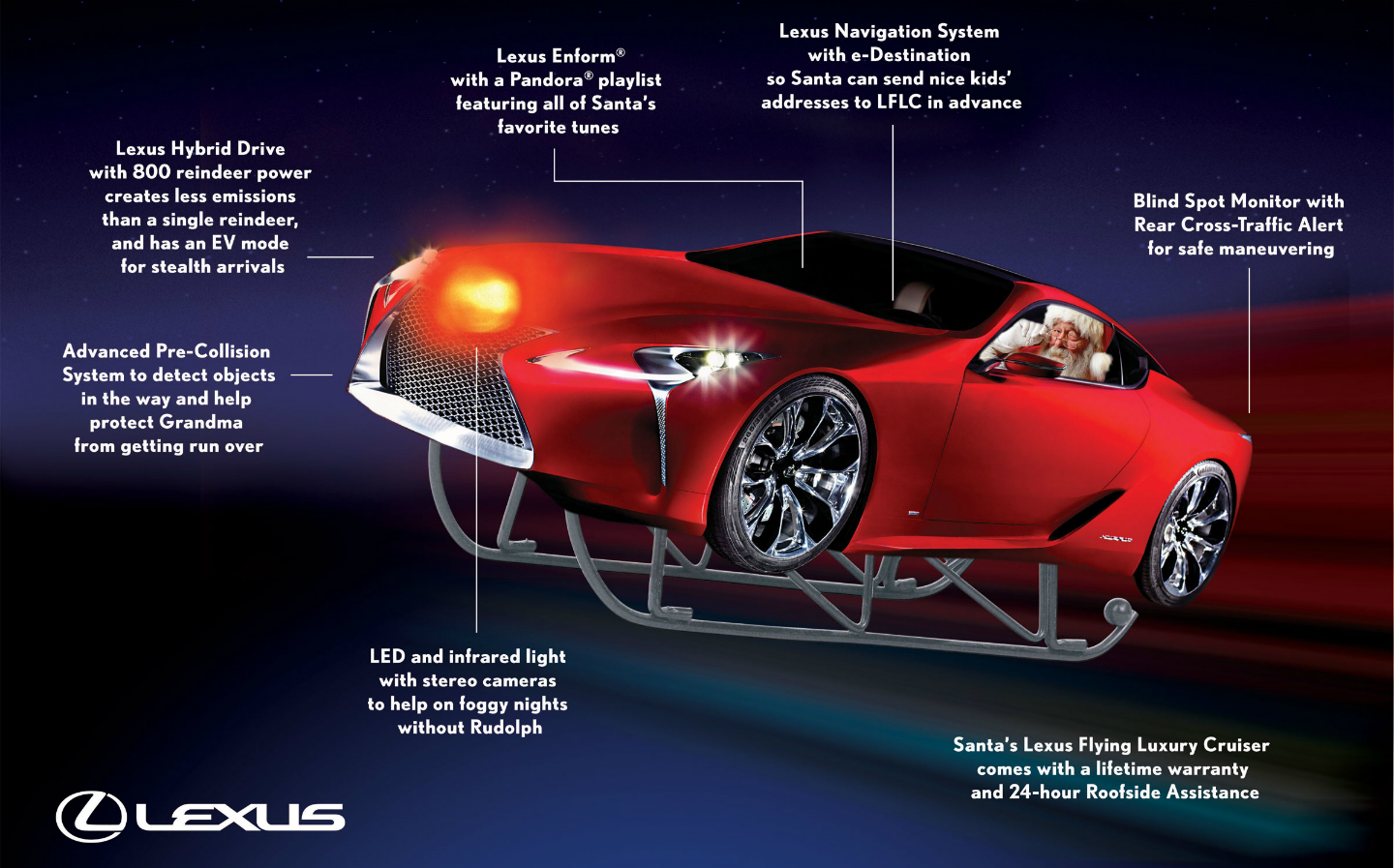 With approximately 99m miles to cover on Christmas Eve, Father C. might appreciate the comfort of a grand tourer during his epic global deliveries. That's at least what Lexus thinks, as it turned its gorgeous LC into an LFLC, or "Lexus Flying Luxury Cruiser".
In true Lexus tradition, the LFLC uses a hybrid powertrain, though we have no idea what "800 reindeer power" equates to in bhp. Nor do we know where he'd store his pressies.
6. White64 Motors JNGL64 (2016)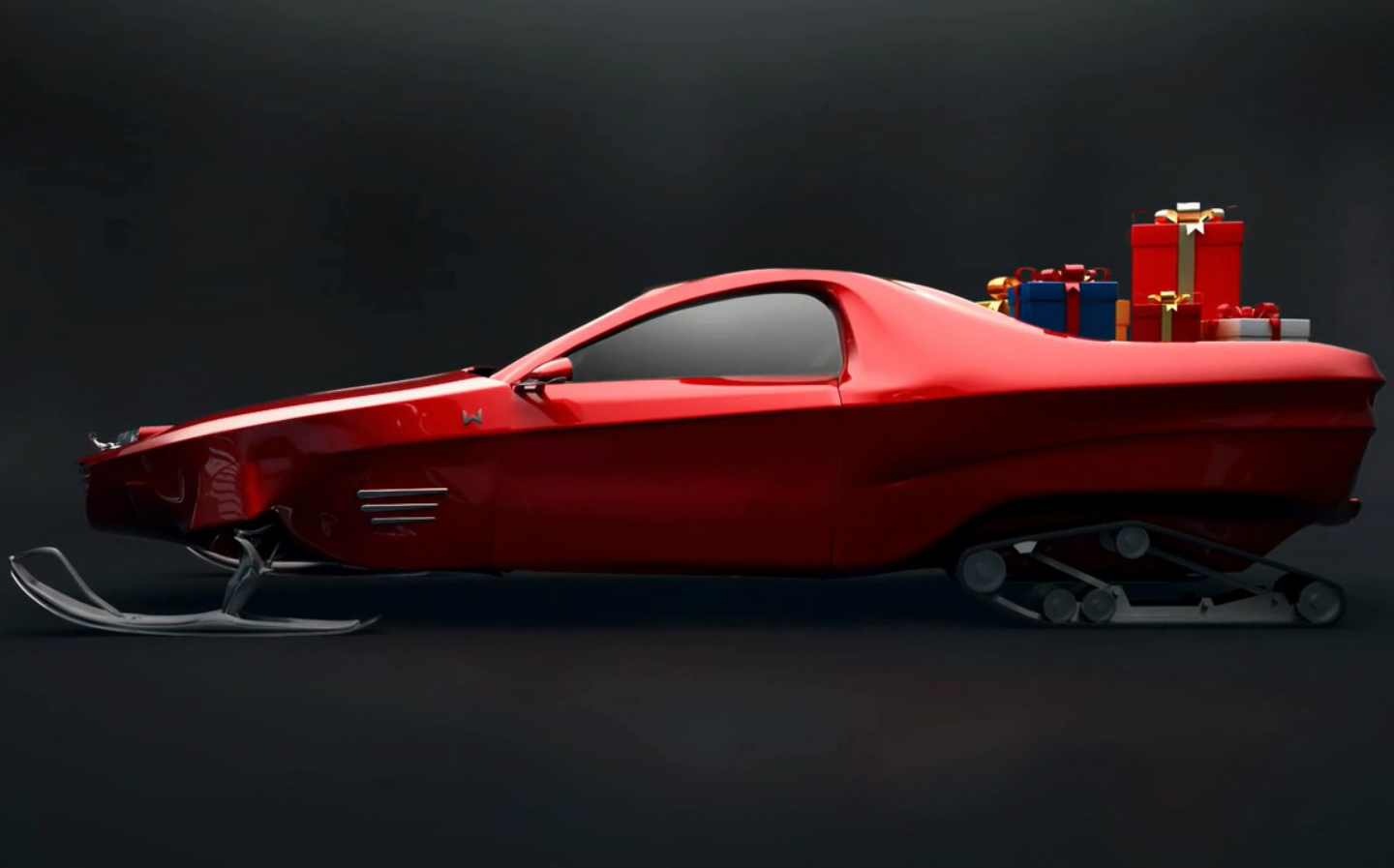 Though not from a real car maker, the White64 Motors JNGL64 is too cool for us not to feature on this list. Created by the White64 advertising agency, this flying sleigh is by some margin the most radical vehicle here, by virtue of its claimed fully autonomous abilities, 600,000 reindeer power powertrain and a top speed over three times faster than the speed of sound. Sounds a bit far-fetched to us, though.
7. Ferrari (2010)

In 2010, a Ferrari design team led by Flavio Manzoni penned its own Santa Sleigh. Manzoni is one of the greatest modern car designers and the man behind the Fiat 500, Volkswagen up!, Ferrari F12berlinetta and a whole host of other expensive and handsome modern Ferraris.
Naturally, his take on the sleigh looks fast and racy, though Ferrari released few details regarding the its powertrain. We can surmise from the design that it may have been jet-powered.
It looks, too, to have been steered via an old-fashioned steering wheel, though we're not sure how that worked — perhaps by funnelling the jet exhaust, perhaps by magic. Either way, it looked more akin to something Santa might keep as a weekend toy rather than using as a Christmas load-lugger.
8. Ford Transit Connect (2012)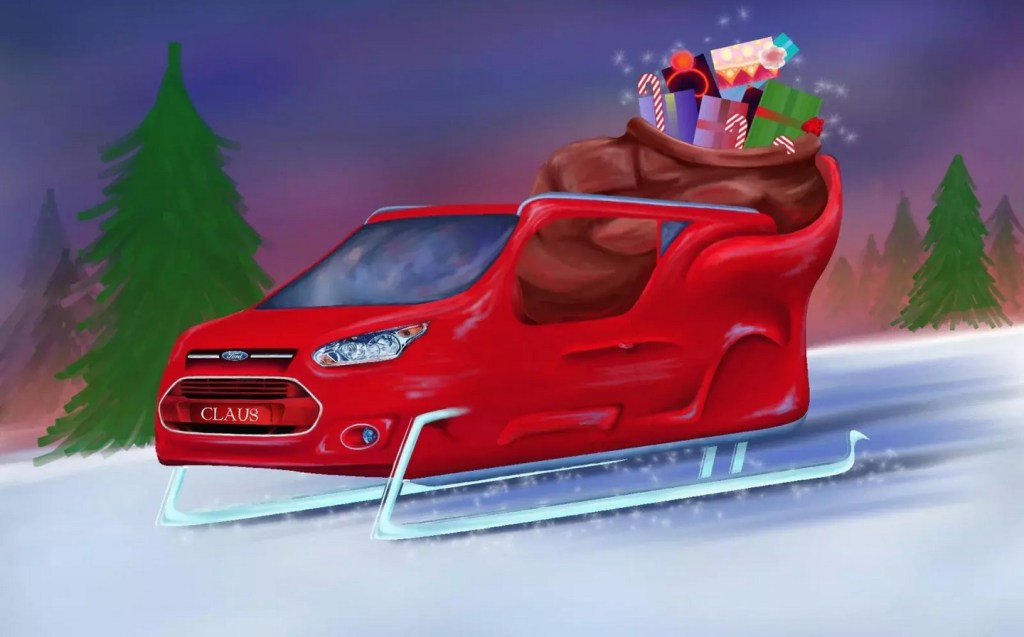 More practical than the Ferrari was Ford's vision of the Transit Connect van as a useful sleigh for Father Christmas. Said to use the company's EcoBoost engine, it's not clear how that power was converted into propulsion.
The Big Man and the Blue Oval need to keep some secrets, we suppose, though Ford did mention an "industry-leading" presents-per-gallon rating.
9. Mazda MX-Mas (2009)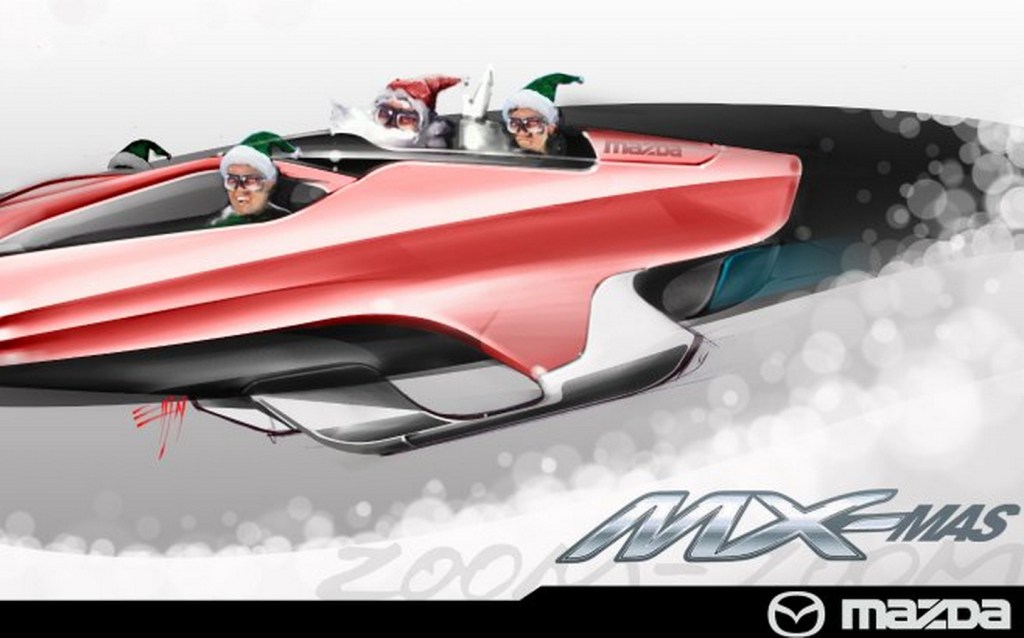 In 2009, German newspaper Der Spiegel put out a call to car designers to submit designs for a new sleigh for Santa. While a number obliged, the most interesting was the Mazda MX-Mas (geddit?), though like Ferrari's 2010 effort didn't appear to offer much in the way of luggage capacity.
It looked great, sure, but more like something a Bond villain rather than Santa might use. There was no indication given as to the powertrain, but considering that the Mazda RX-8 was still in production at the time, it's possible that a rotary engine may have driven it — once relatively common in snowmobiles.
10. Mercedes E-Class (2009)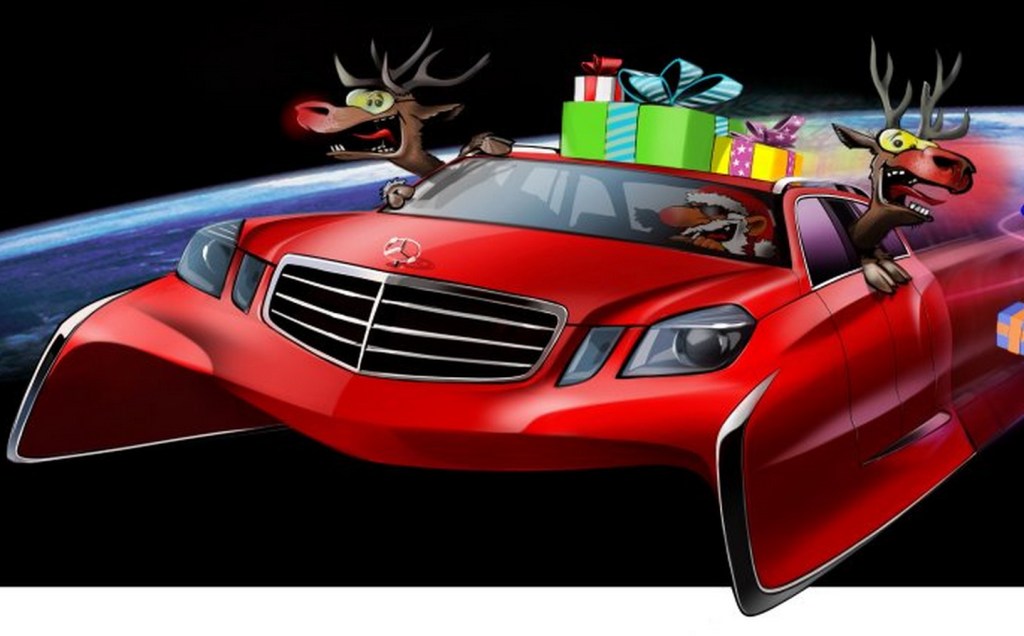 Mercedes's submission to Der Spiegel was the most sensible of the lot, using the commodious E-Class estate as the basis for its design.
It was bright red (naturally) and, considering the pace required to deliver presents to every child in the world in one night, it's likely that AMG had some hand in tuning this beast of a wagon.
11. Coventry University's pandemic-proof sleigh (2021)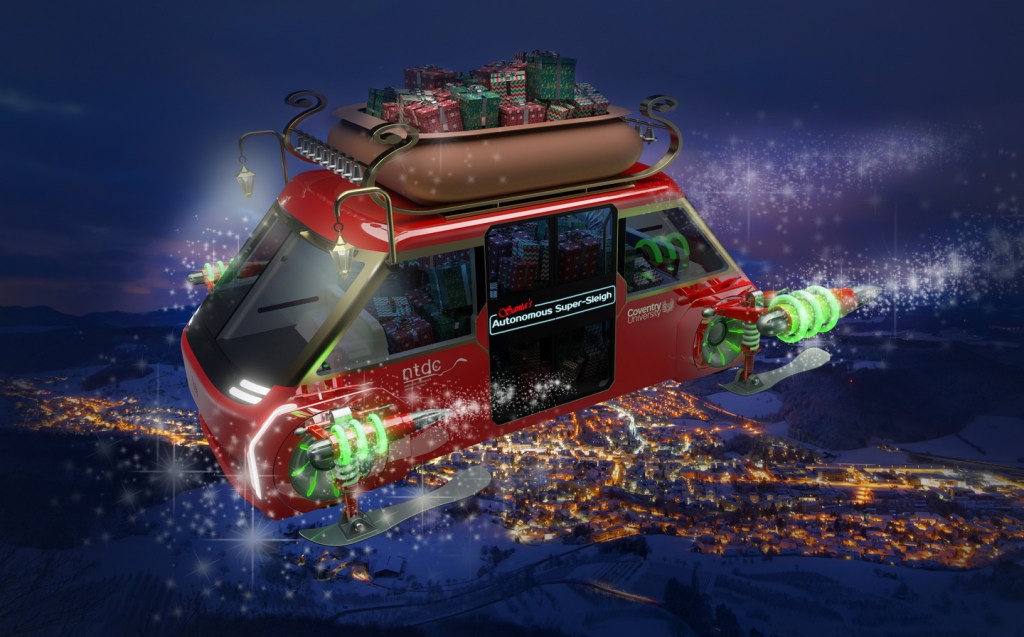 No reindeer and no Santa? That's what Coventry University's vision for a pandemic-proof sleigh seeks to achieve. With working-from-home guidelines in place, this one is autonomous and features UV lights to kill viruses, a configurable vehicle interior that provides occupants with their own personal space and touch-free doors to open automatically.
While that all sounds very practical, we'd be sceptical of the self-driving claims — they seem a bit far-fetched.
Tweet to @ST_Driving Follow @ST_Driving
Related articles
Latest articles