First Drive review: Ford Mondeo (2015)
Mondeo man gets his hands on executive perks
---
Published 03 February 2015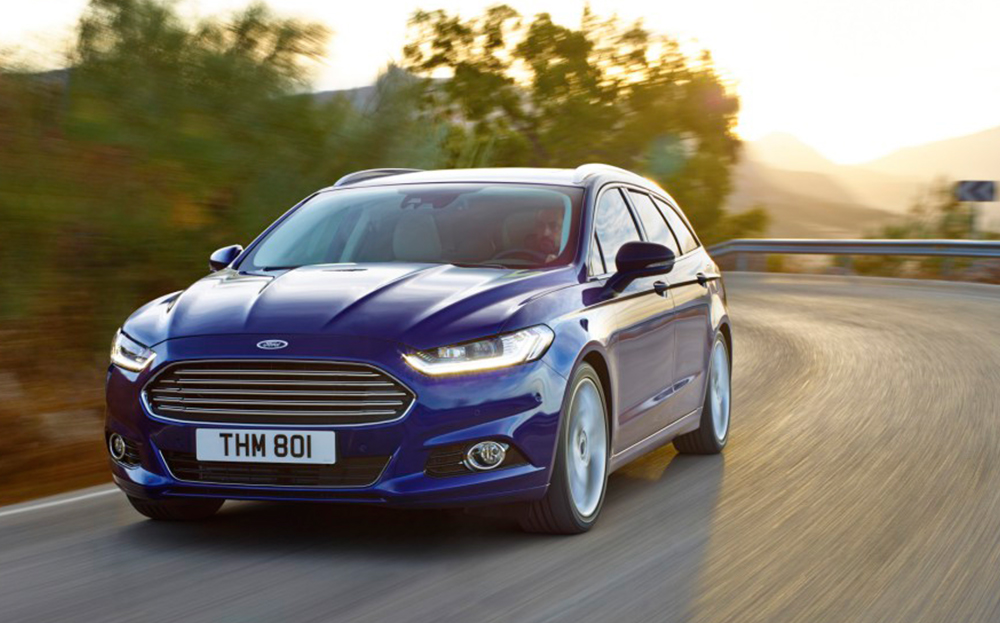 MONDEO MAN: remember him? Time was when his name was on everyone's lips, supplying analysts with shorthand for an entire political demographic, not to mention providing a handy means for people to channel patronising feelings about Essex-dwellers in the years before we had The Only Way is Essex to do that for us.
Yet history, of course, tells us that the first Mondeo man was spotted by Tony Blair, in 1992, while canvassing — not in Essex but in Sedgefield, his constituency in Co Durham. And he didn't even drive a Mondeo: it was a Ford Sierra, which, as any car-spotter worth his notebook will tell you, the Mondeo replaced in the following year.
---
Browse the used Ford Mondeos for sale at driving.co.uk
---
Never mind. As the story came to be written, this humble encounter was Blair's moment of epiphany and the point at which the future prime minister identified a type worth cultivating: the lifelong Labour voter who had got on at work, crowned his achievement with a nice four-door saloon and then promptly decided to vote Conservative because he feared a Labour government would come after him for his taste in cars.
"He crystallised for me the basis of our failure," Blair said in his speech at the 1996 Labour conference. "His instincts were to get on in life. And he thought our instincts were to stop him. But that was never our history or our purpose."
It wouldn't be true to say that Mondeo man — carefully targeted, gently wooed and ultimately persuaded that his saloon was safe — won Blair his landslide victory in 1997, but he certainly got a significant quantity of the topsoil moving. Yet here we are, 18 years later, in 2015, and it's hard to imagine his name figuring much in election talk. Mondeo man sits at home in his conservatory, his days of influence behind him, retired, forgotten, his children grown up and flown, and on his drive, most likely, a Peugeot 308.
Whom would the main parties be looking to convince now? The Ford range struggles to yield an emblematic equivalent. Fiesta man? It's Britain's bestselling car, so it doesn't rule out a lot of people — or certainly not enough to be useful. Focus man? It's Britain's second bestselling car, so ditto. S-Max man, perhaps — but again, where is the category definition? Certainly not Kuga man: the model doesn't hold that kind of clout and, in any case, Kuga man sounds like a deodorant.
Or maybe this year's election won't come down to cars at all, but rather to houses — not Mondeo man this time, but Mansion man in his Audi Q5.
The point is, only a tiny number of cars transcend their status as cars and, for a while, come to define a politically potent segment of the population and even a way of life. (Let's lob in Sloane Square's Volkswagen Golf and the Hollywood celebrity's ride of choice — to public events, at least — the Toyota Prius.) And none of them seems to do it twice.
Could we see the emergence of another generation of Mondeo men? Or, failing that, could the old ones get back together again, a bit like Fleetwood Mac? Ford, which recently launched the Mk 5 version of this history-encrusted model, will be hoping so — though surely aware that the chances of any saloon car coming to represent a whole social class are remote, when so much of the world's attention and covetousness has turned to fancy SUVs and pliable crossovers.
Still, what the new Mondeo definitely marks is a big, possibly conclusive, leap along the car's evolutionary path: from a company-provided tin for the moderately successful sales rep's Ginster products to a convincingly executive-level status-affirmer.
If one can join the motoring industry in the irregular use of "premium" as a comparative term, the Mk 5 Mondeo is as premium as a Mondeo has ever been. It seems to have been pitched precisely alongside the VW Passat — and priced accordingly. There's a hybrid version, to broaden the customer base, and they're also bringing in a range-topping Vignale model — all Italian-feel quilted leather and ankle-deep carpeting — designed to tilt at the BMW 3-series, no less. All the pointers are that, with this Mondeo, Ford is intent on social-climbing with an avidity at which even Blair in his pomp would have balked.
Note the refined and even rather ruminative bodylines along the sides and down the bonnet. Note the availability of such upper-class blandishments as remote-controlled parking systems and jewelled tail lights. I had the lithe, comely estate version, in the ultra-posh Titanium spec, whose seats eagerly warmed my buttocks through the ingratiatingly soft leather and where the provision of piano-black inlays extended even to the passengers in the rear.
Most of all, note the calm digital dash display and the 8in colour touchscreen. How often, down the years, Ford has offered us a centre console confusingly boiling with buttons, a fascia so busy that sitting in front of it was no more restful than being repeatedly beaten in the face with an Argos catalogue, open at a display of all-in-one hi-fis.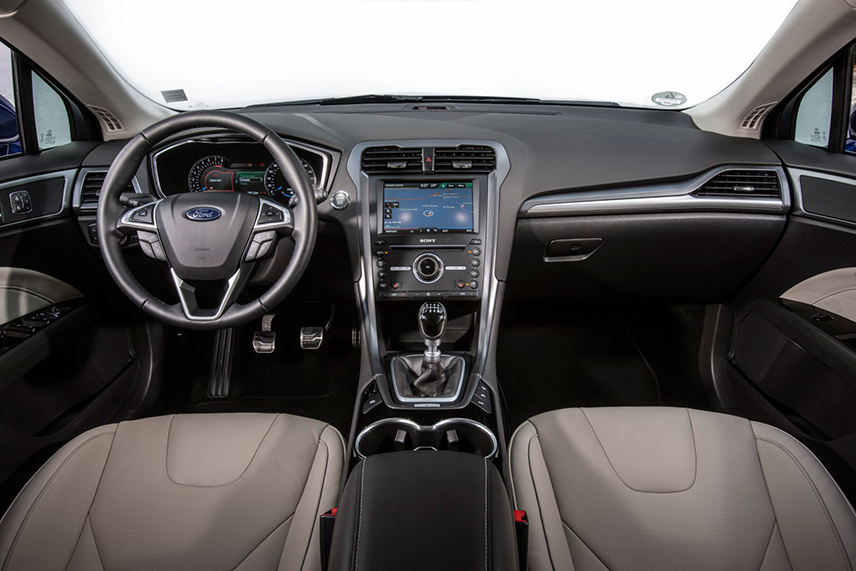 Here, by contrast, all is clean and simple, and even mellow, with the SYNC 2 voice controls enabling you to address the dash in your softest but most entitled tones and cause it to peer into its databanks and supply a restaurant recommendation. Very new Labour.
My Mondeo drive started in the outer reaches of Brentford, west London, on one of those cold, grey winter days that canvassers hate, on which the sun appears to have abandoned the idea of rising — the kind of day when you are much in need of a warm and gently convivial place to sit. The Mondeo amply provided it. The car cut a well-mannered course through the suburbs, its 2-litre diesel engine opening up powerfully but quietly (and frugally) on the motorway, before fighting above its weight in luxurious Henley-on-Thames, where it jostled for space with Range Rover Evoques and Volvo XC90s and boldly held its own.
The steering was precise and effortless, the automatic gearbox entirely subservient, the ride suitably cushioned. The whole package seemed supremely manageable: you felt the quality, but not the width. And you thought to yourself, there has to be a catch — literally. There has to be a catch that either opens the boot or flattens the rear seats but does it cheaply and not quite smoothly, and in a way that isn't entirely pleasant to the fingers. But there isn't. The boot springs open with a pleasant thunk, the seats drop solidly at the pluck of a lever.
But of course it's hard to keep history down. Squeezing back onto the M4, I switched on the radio and (I'm not making this up) the cabin abruptly filled with the funk-pop of Level 42's Lessons in Love. Could any track be more evocative of Mondeo man's lost soul-boy youth? For three eerily time-melting minutes, the road flowed under the wheels, Mark King's hilariously busy bass guitar throbbed from the speaker system and I all but spontaneously grew a pair of white socks.
Engaging car, though. And, OK, it's not going to win anyone an election this time. (What car is?) But it's strong and smart enough to knock down a few prejudices. Sing it, Mark: "We could use it, we should use it — lessons in love."
Read more: The cars that defined the decades 
Verdict ★★★★☆
Mondeo man's won a promotion
2015 Ford Mondeo estate Titanium 2.0 TDCi specifications
Engine: 1997cc, 4-cylinder diesel
Power: 148bhp @ 3500rpm
Torque: 258 lb ft @ 2000rpm
Transmission: 6-speed dual clutch
Acceleration: 0-62mph in 9.4sec
Top speed: 130mph
Fuel: 62.8mpg
CO2: 117g/km
Price: £24,745
Release date: On sale now
---
Browse the used Ford Mondeos for sale at driving.co.uk
---