Don't like our 112mph speed cap? You didn't like seatbelts, either, says Volvo
"Given time, we expect that the speed cap will be industry standard"
THE MIXED reaction to Volvo's announcement that all of its new cars will come with a 180kph (112mph) speed limit from next year has not been unexpected, according to one of the company's safety chiefs.
Speaking at a safety presentation in Sweden on Wednesday, Jan Ivarsson, Volvo's Senior Technical Advisor for Safety, drew comparisons between the negative feedback on the speed cap announcement with some of the reactions to the introduction of the three-point seatbelt, which became standard on all Volvos from 1959.
"Honestly, we didn't expect everyone to be positive," said Ivarsson. "Sixty years ago, and for decades to follow, my old colleague Nils Bohlin, the inventor of the safety belt, found scepticism to his invention."
Public comments following the introduction of the three-point seatbelt read out by Ivarsson included, "In a high-speed collision of 40 miles an hour, you have more chance of surviving when you're thrown out of a car than if you're strapped in the seatbelt," and, "This new law is very disturbing. Being strapped in scares me."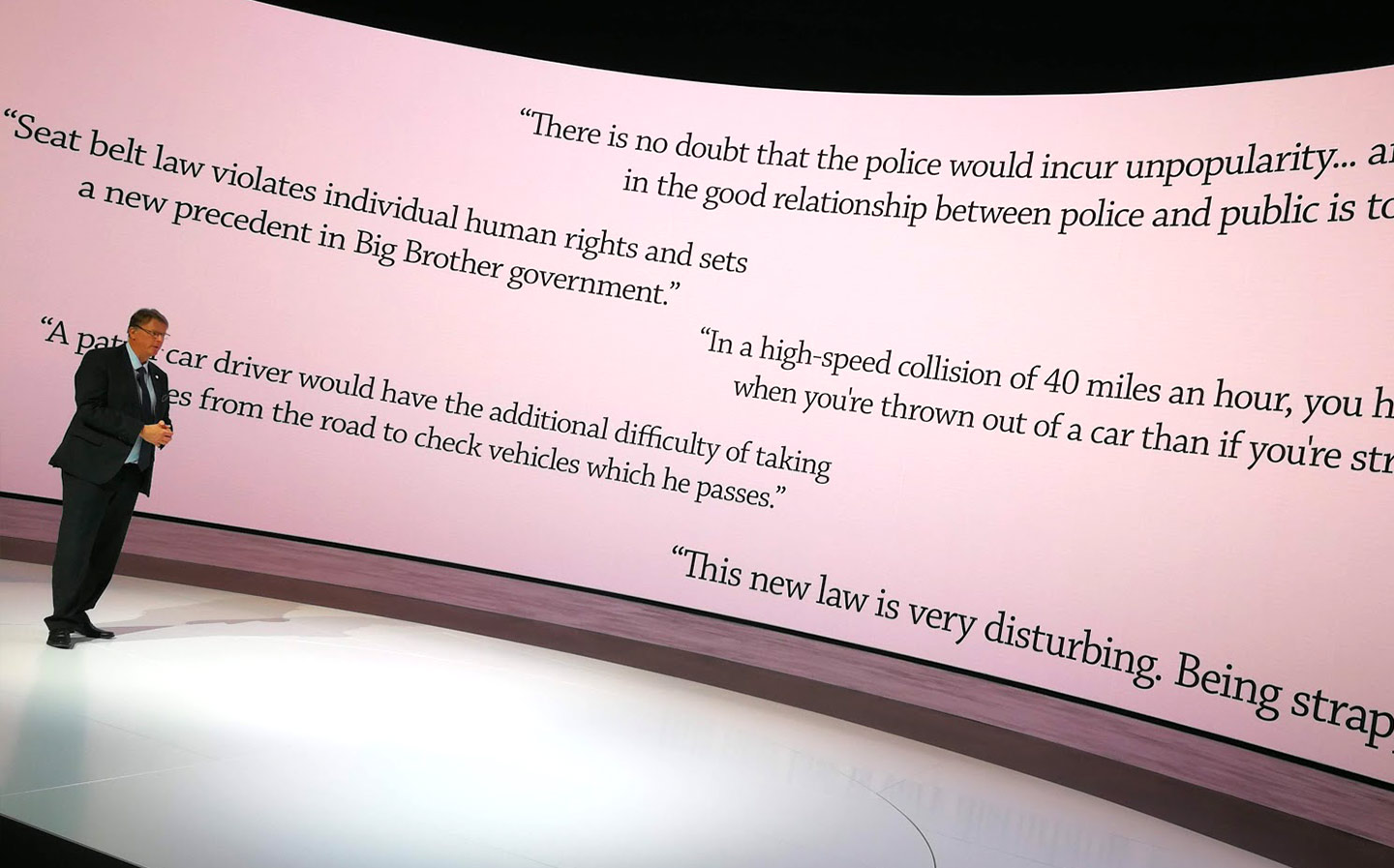 The idea that being thrown clear of a car in a crash was safer than being "trapped" inside was common in the days before safety cells, crumple zones, airbags and other such devices that we now take for granted.
Single-seater racing drivers would much rather be thrown clear than remain inside the cockpit at the moment of impact. However, as vehicle safety technology improved, and advanced materials and construction methods were used, the opposite became true.
Ivarsson said that these die-hard attitudes led to Volvo gathering its own data from real-world crashes involving its cars, from 1970, to prove the effectiveness of the three-point seatbelt.
In the UK, it only became mandatory for front seat belts to be worn by drivers and passengers (both adult and children) from 1983. Wearing rear seat belts became compulsory for children under 14 in 1989, and for adults in 1991. Today, seatbelt wearing is claimed to save more than 2,000 lives every year.
Volvo this week made this data available publicly via its website under a scheme called Project E.V.A. (Equal Vehicles for All).
Comments following Volvo's speed limiter announcement two weeks ago included, "It's a sign of weakness if the car can't safely go over 180kph," and "Speeding has nothing to do with safety. When I'm driving faster I'm sharper and have more attention on the traffic."
Ivarsson said: "Given time, we expect that the speed cap will be industry standard, just like the safety belt."
Volvo believes that speeding, along with driver distraction and intoxication, are the three human behaviours that need to be changed before its Vision 2020 initiative, which aims to ensure that no-one is killed or seriously injured by a new Volvo car from January 1 next year, can become reality.
Can't see the video? Click here.