Nine best Lego car sets to build in 2022
Absolutely bricking it
For some it was knitting, for others, sourdough baking, but for quite a number of car enthusiasts, the crafty activity that got them through various Covid lockdowns was constructing detailed automotive-themed Lego kits. For those still looking for a brick-based distraction to while away the hours, thankfully Lego kits weren't just a passing fad and there are loads on the market from which to choose.
Assembling Lego kits is a great activity to undertake with kids (bearing in mind small parts) and the attention to mechanical detail in certain models is sure to spark a lifelong interest in engineering for some. Should you wish to keep it all to yourself though, not only can assembling the kits offer a very zen experience, but the finished product can also provide quite a neat and quirky bookshelf ornament.
Here's our selection of the best Lego cars (and one scooter) to build right now.
1. Lego Technic Lamborghini Sian FKP 37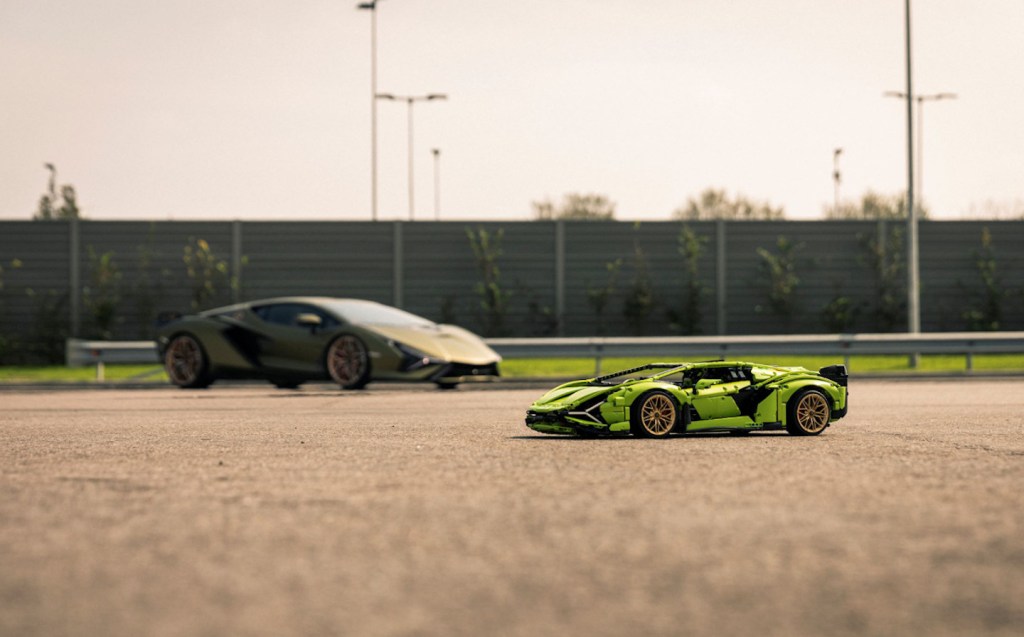 Released in summer 2020, the Lego Lamborghini Sian is a 1:8 model of the exclusive hybrid hypercar (just 63 of the real thing will be made), which was unveiled in 2019.
The set is one of the biggest Lego Technic cars ever produced, measuring 60cm x 25cm x 5cm. It's also one of the most intricate: it comprises 3,696 pieces, and the finished product includes features such as Lamborghini's characteristic scissor doors and an eight-speed sequential gearbox that can be manipulated using functioning flappy paddles.
There's also a version of the car's V12 engine, which in real life is a beefier version of the one used in the Aventador SVJ.
Admittedly, it's not cheap, at £349.99, but if you have some time on your hands to get stuck into a seriously involving project, it's a guaranteed de-stresser — we know from building the similarly-sized Lego Bugatti Chiron (below).
It's also a steal compared to the circa-£3m real car, though it probably won't do 0-60mph in 2.8 seconds.
Price £349.99
Buy it at Lego Store
2. Lego Technic Land Rover Defender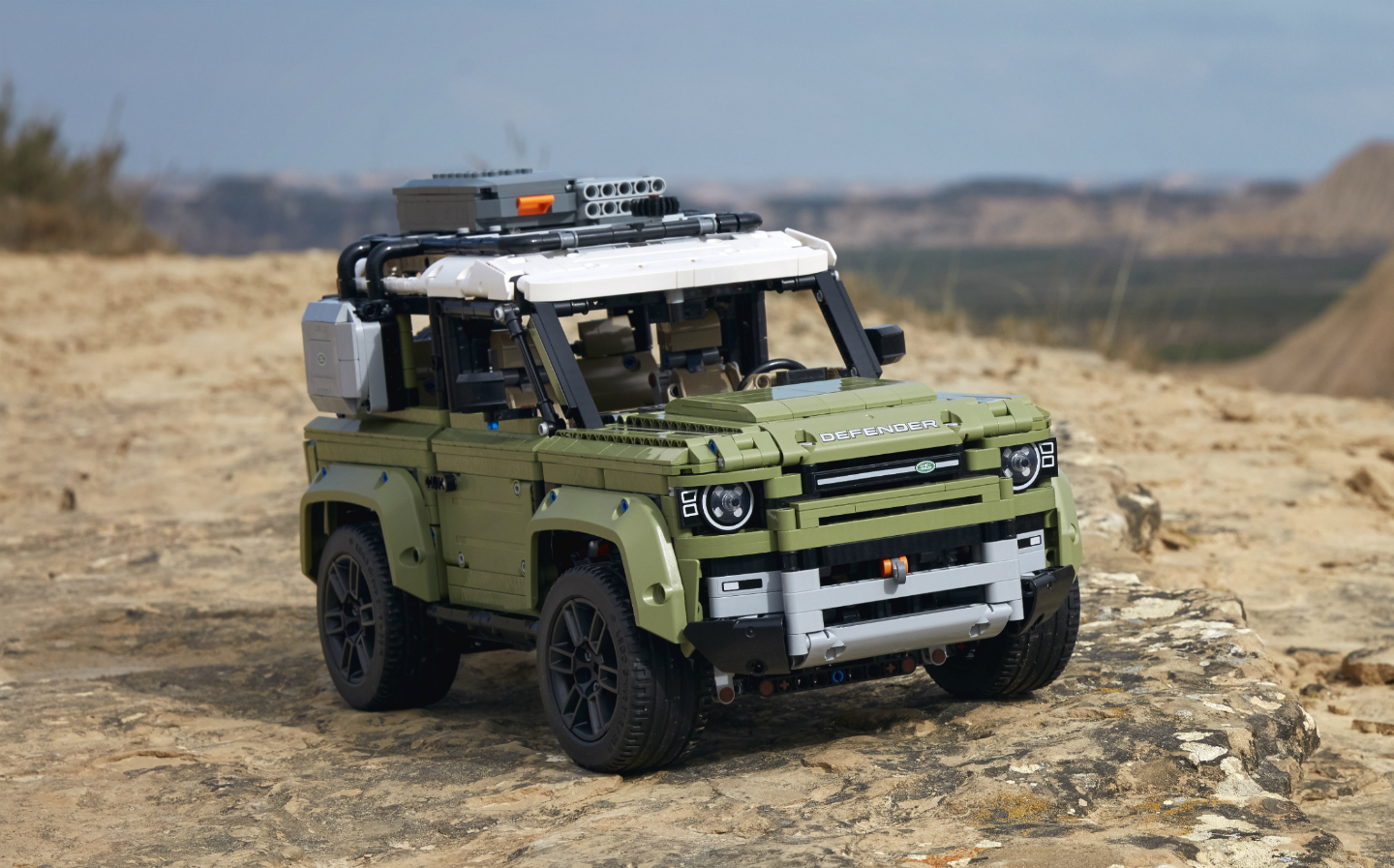 Announced shortly after the release of the real thing in 2019, Lego's collaboration with Land Rover belongs, like the Lamborghini Sian, to Lego's Technic family. That means that it's aimed strictly at an older audience, has a number of working functions and a advanced difficulty level.
Working functions in the Defender include what Lego labelled at the time "the most sophisticated Lego Technic gearbox to date". That comes in the form of a four speed (half the number that you'll find in the real thing, but we'll let them off) transmission that can be used via interior shifter controls, complemented by a low-range transfer box that, in real life, enables low-speed scrambling when off-road.
The set comprises 2,573 components — more than a thousand less than the Sian or the Bugatti Chiron — but that also means that it's less than half the price of those models. No complaints here.
Price £174.99
Buy it at Lego Store
3. Lego Creator Expert Porsche 911 Turbo and Targa
Apart from the fact it's a classic air-cooled Porsche 911, the thing we particularly like about this 1,458-piece two-in-one kit is that assemblers can either build either a 1980s whale-tail 911 Turbo or its non-turbo convertible alternative, the 911 Targa, depending on their mood or preference.
Detailing is good with one particularly nice touch being the ability to extend the rear axle to accommodate the wider wheel track of the Turbo model. Opening bonnet and doors are to be expected as is the opening rear engine hatch which lifts to reveal a nicely rendered version of the 911's flat-six engine.
Price £124.99
Buy it at Lego Store
4. Lego Technic Porsche 911 RSR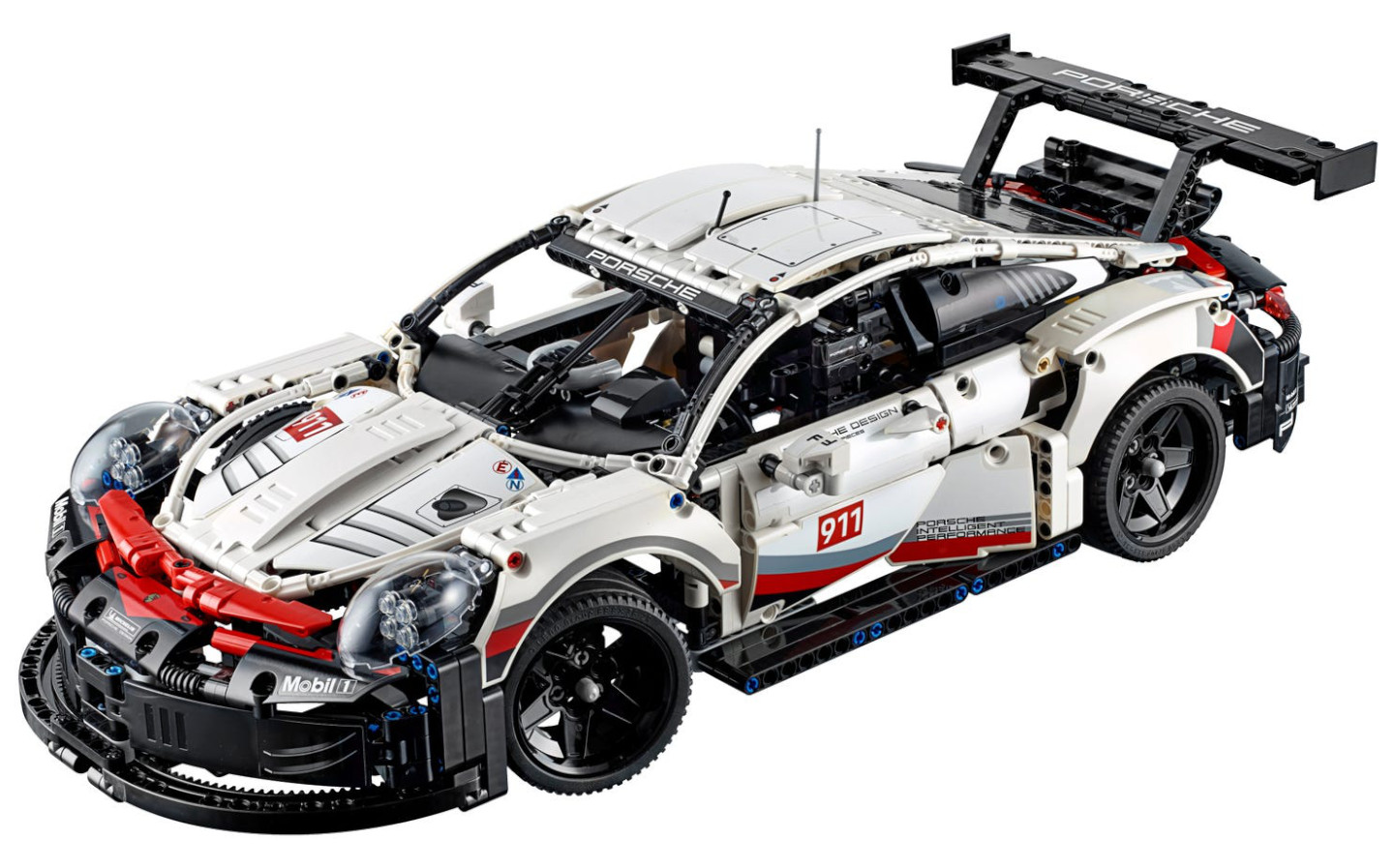 Another Porsche? Why not? This one's an entirely different beast to the classic air-cooled models above and quite a bit bigger too.
This set is one of Lego's earlier takes on the 911 and is based on the mid-engined car developed by Porsche in 2017 for use in endurance racing events, including the Le Mans 24 Hours.
Although Porsche has now replaced it with an updated version, also called the 911 RSR but with components that are reportedly 95% new, the Lego set is unlikely to seem terrifically out of date, given that it was never an exact likeness.
It's certainly no less cool as a result. The set comprises 1,580 pieces and has features including a working differential, independent suspension and a recreation of the six-cylinder boxer engine with working pistons.
Price £139.99
Buy it at Lego Store
5. Lego Creator Ford Mustang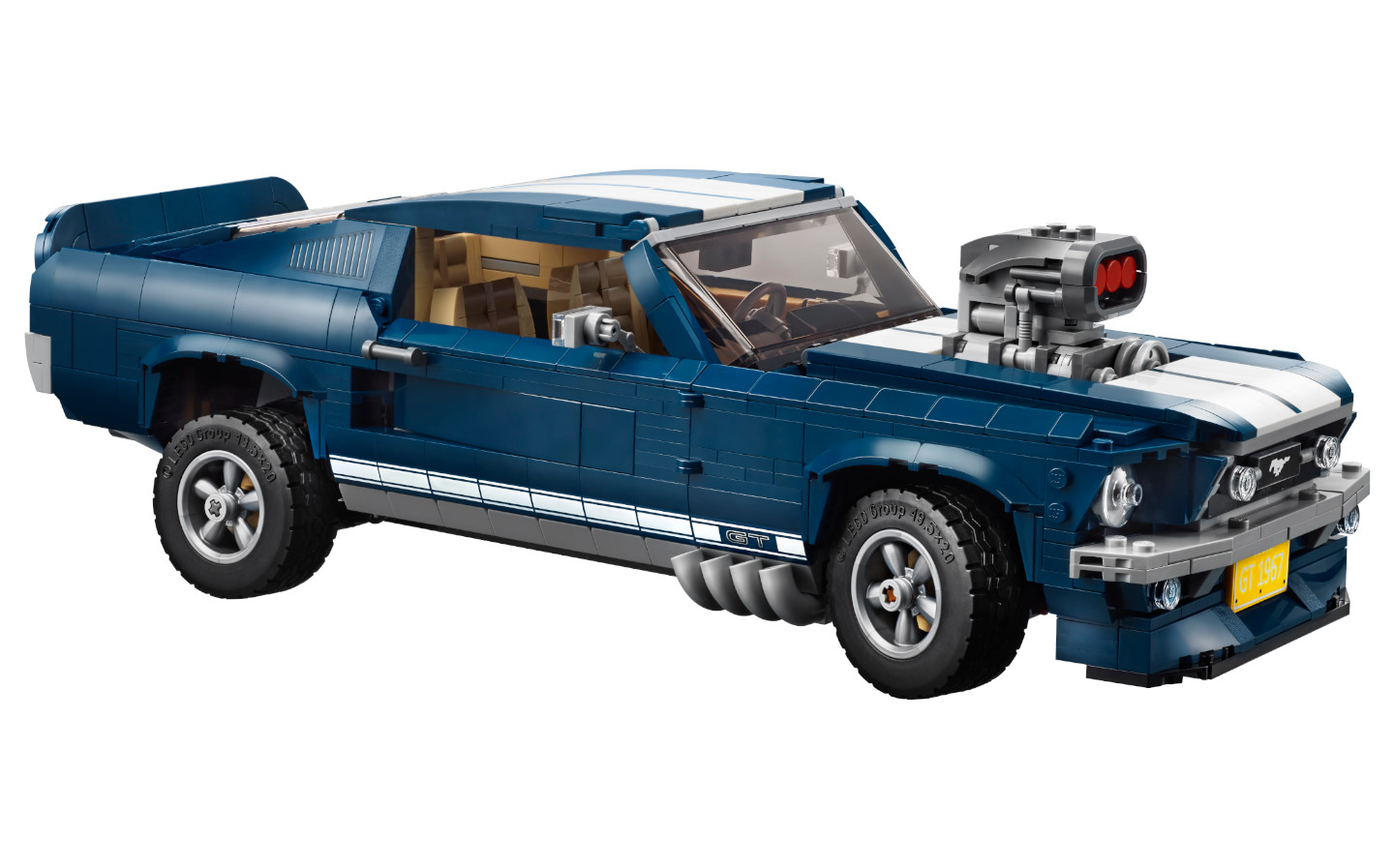 So far, we've mostly focused on European supercars, but Lego isn't averse to a bit of American muscle. As a part of Lego's Creator series, this 1960s Ford Mustang doesn't have the technical complexity of the Sian, Defender, Chiron or 911 RSR, but comes with enough specialised components to keep it interesting.
These include a detailed V8 engine, with optional additions including a supercharger and nitrous tank, in case you're a bit more Fast and Furious than you are Bullitt.
Price £124.99
Buy it at Lego Store
6. Lego Technic Ferrari 488 GTE "AF Corse #51"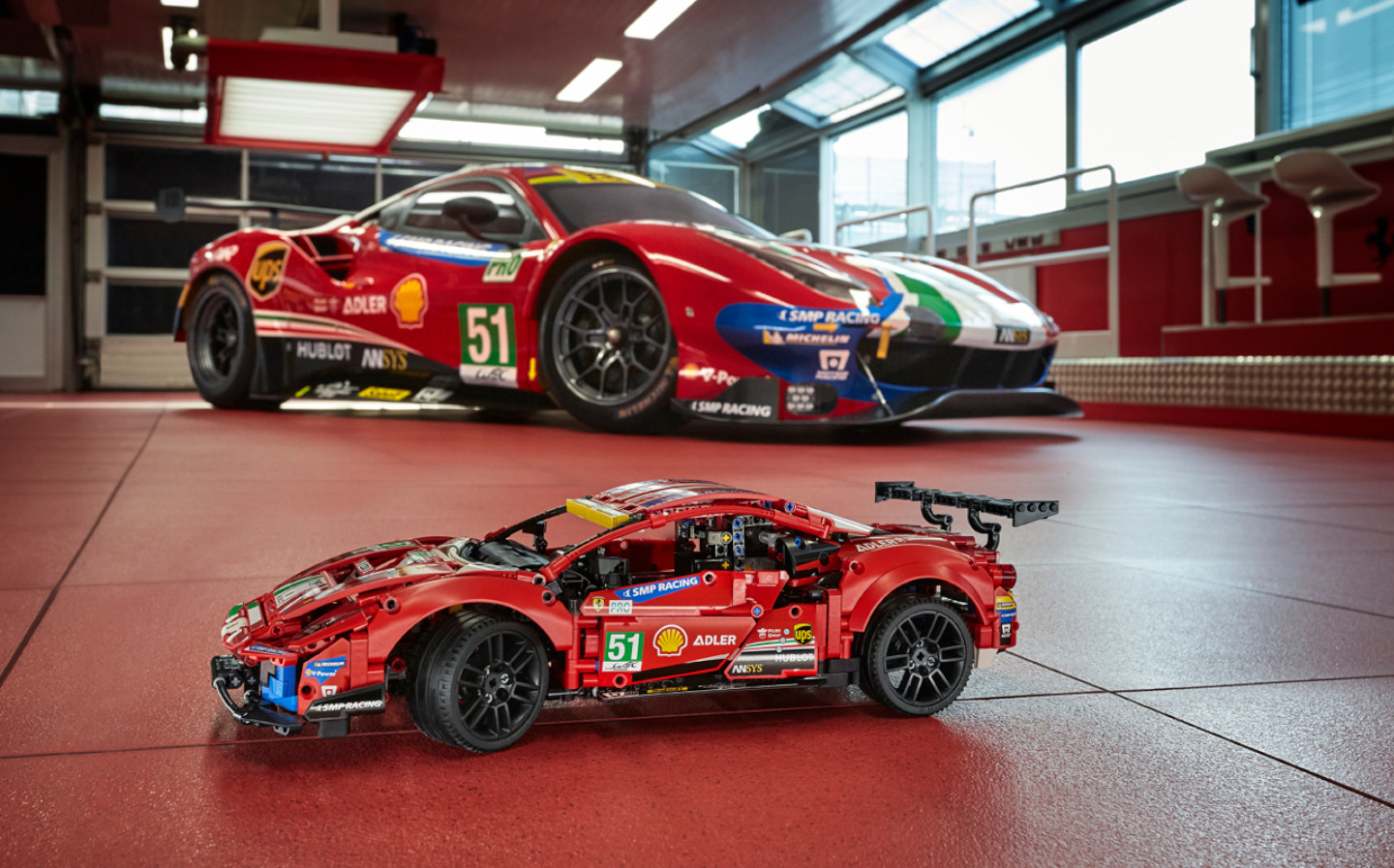 The Ferrari 488 GTE competed against the Porsche 911 RSR mentioned above in the 2017 and 2018 World Endurance Championships, including at the 24 Hours of Le Mans.
The number 51 factory-backed AF Corse car, raced by British driver James Calado alongside Alessandro Pier Guidi and Daniel Serra, took second place in the GTE Pro category at the 2020 24 Hours of Le Mans and won the class last year, beating Porsche and Chevrolet.
As a Technic set, this model includes front and rear suspension, and a recreation of the car's V8 engine with working pistons.
Price £159.99
Buy it at Lego Store
7. Lego Creator Expert Back to the Future Time Machine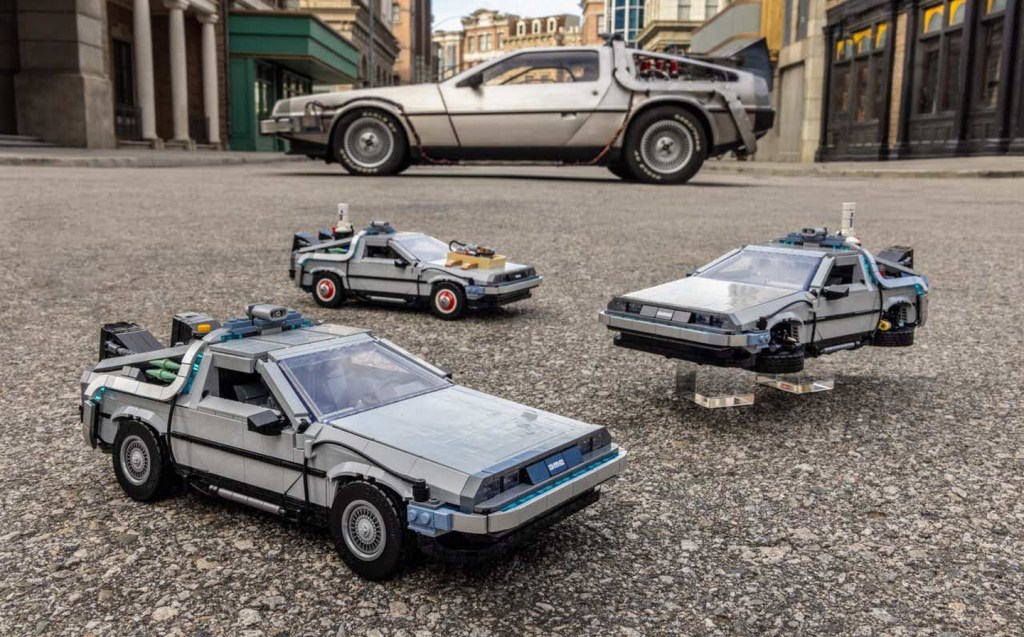 An homage to both the work of Giorgetto Giugiaro and Dr. Emmet Brown, Lego's DeLorean-based time machine offers a 1980s nostalgia hit from not just one, but all three Back to the Future films.
Like the two-in-one Porsche 911 Turbo and Targa kits above, once you've got the bones of the model completed, the manual divides depending on which version of the car you want to build. There's the one from the first movie, for example, with an optional lightning rod and battery-powered light-up flux capacitor brick at the rear. With the car from Back to the Future 2, the wheels can be flipped up for hover mode and there's the attachable Mr. Fusion nuclear reactor too. The car from the third film features whitewall tyres and a bonnet-mounted circuit board for that authentic 1885 look.
Speaking of the bonnet, it lifts clamshell-style to reveal a storage compartment that fits perfectly both the included case of plutonium as well as Marty's hoverboard. The DeLorean's gullwing doors are functional revealing a well-detailed interior with their date read-outs (not adjustable or functional, sadly) and the model also includes mini figures of both Marty and Doc Brown.
There's even the 'OUTATIME' licence plate to top it all off. Although 1,872 pieces is a lot, this one's endlessly customisable depending on which version you want to build.
Interestingly, perhaps for licencing reasons and despite Lego having produced a DMC DeLorean kit back in 2014, apart from the DMC badge on the front grille, there's no mention of the DeLorean name anywhere at all on either the packaging or in the manual. Still, it'll look good on any '80s-themed model shelf alongside Lego's version of the Ecto-1 from Ghostbusters.
Price £149.99
Buy it at Lego Store
8. Lego Technic McLaren Senna GTR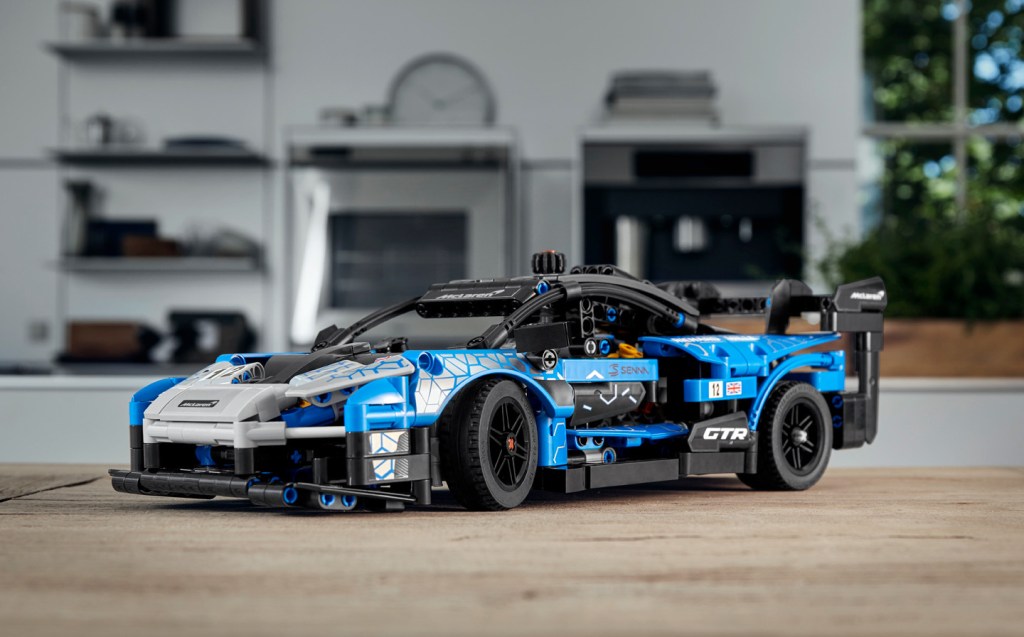 The Senna GTR is the fastest production car around a track that McLaren has ever made. Unlike the normal Senna, it is not road legal, thanks to features including a massive rear wing, and it's also wider and lower, resulting in a hell of a lot of downforce. It is, essentially, the Senna liberated from the bonds of road-car restrictions. Unsurprisingly, only 75 were made, and all have sold out.
However, you can still admire the Senna GTR's downforce-abundant dimensions with this Technic model, which has less than a quarter of the number of pieces as the Lamborghini Sian set, but costs less than a seventh of the price.
Price £44.99
Buy it at Lego Store
9. Lego Creator Expert Vespa 125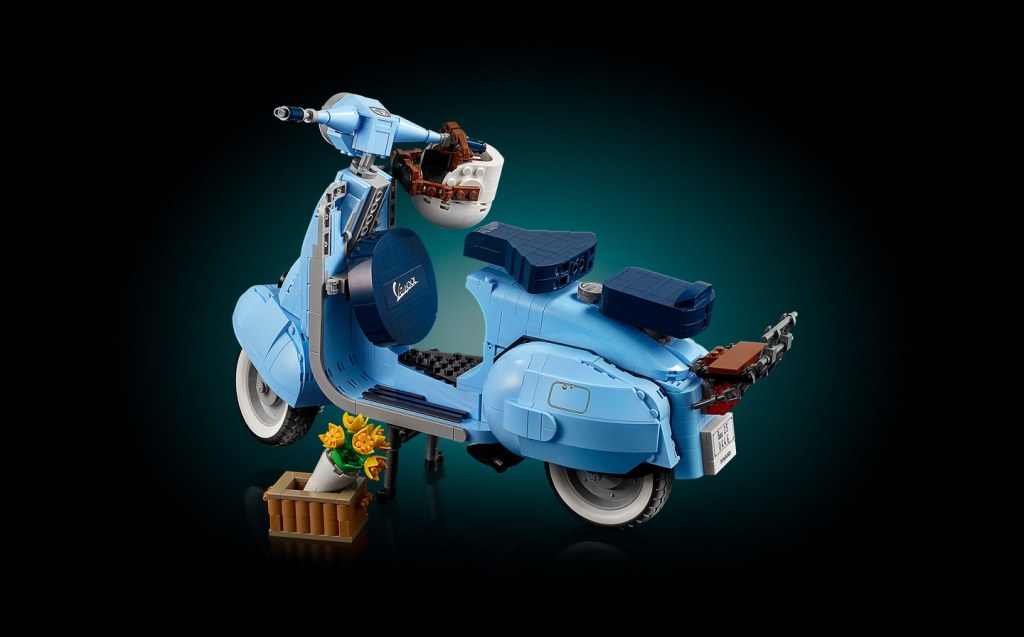 By virtue of being a motorcycle, Lego's Vespa kit has just 1,107 pieces, but it's still a fun build that has been "designed to help style lovers find a moment of mindfulness through Lego building", according to the company.
Based on the iconic Italian scooter that mobilised millions of Italians after the war and which continues to do so today, this is the first officially licenced brick version of the Piaggio Vespa.
Finished in pale pastel blue, the Lego Vespa 125 features attractive little details such as a bunch of flowers in the bike's basket (which attaches to the luggage rack), the rider's helmet, kickstand, working steering and a removable cover to reveal the brick-built engine. Further optional details to make the scooter period-correct include a stick-on 1960s Italian number plate and Vespa badging.
The little scooter became beloved by working people and movie stars alike and became well-known throughout the world thanks to the 1953 film, Roman Holiday, with Audrey Hepburn and Gregory Peck riding around the streets of Rome on one. The Lego Vespa set is perfect for Italophiles and will go nicely alongside the Lego Fiat 500, though because of their differences in scale, the scooter is much bigger.
Price £44.99
Buy it at Lego Store
This article features products that have been chosen independently by Driving.co.uk journalists, and our reviews are unbiased. We may earn revenue if you click the links and buy the products, but we never allow this to affect our opinions.
Related articles
Latest articles