HiPhi Z 2023 review: Futuristic Chinese fastback aims to lure luxury car buyers
Not quite on the Z list
HiPhi — yes, it's pronounced like the home sound system, so let's get the stereo-based guffaws out of the way early — is doing things slightly differently. Whereas some Chinese car brands such as Ora and BYD are playing at the budget end of the market, and others such as SAIC and Geely are buying up existing western marques including MG and Lotus, HiPhi is an all-new brand with its eye on the luxury end of the market, and it's hoping to challenge the likes of Audi and Mercedes.
That's a big ask, particularly for a company that has only been trading for a few years. Having taken over some empty factories in China, the brand took just three-and-a-half years to produce its first car — the X SUV – from a blank sheet of paper. How it managed that will have more than a little to do with support from the Chinese state, which creates certain moral quandaries (see verdict).
And now the second instalment, dubbed the Z, is here. Although it's ostensibly a four-door grand tourer intended to compete with the Porsche Taycan and Audi e-tron GT, the Z has a vastly different approach, using tech to justify its price tag, as well as the usual grand tourer weapons of sportiness and quality.
That's the idea, at least…
Exterior design and rivals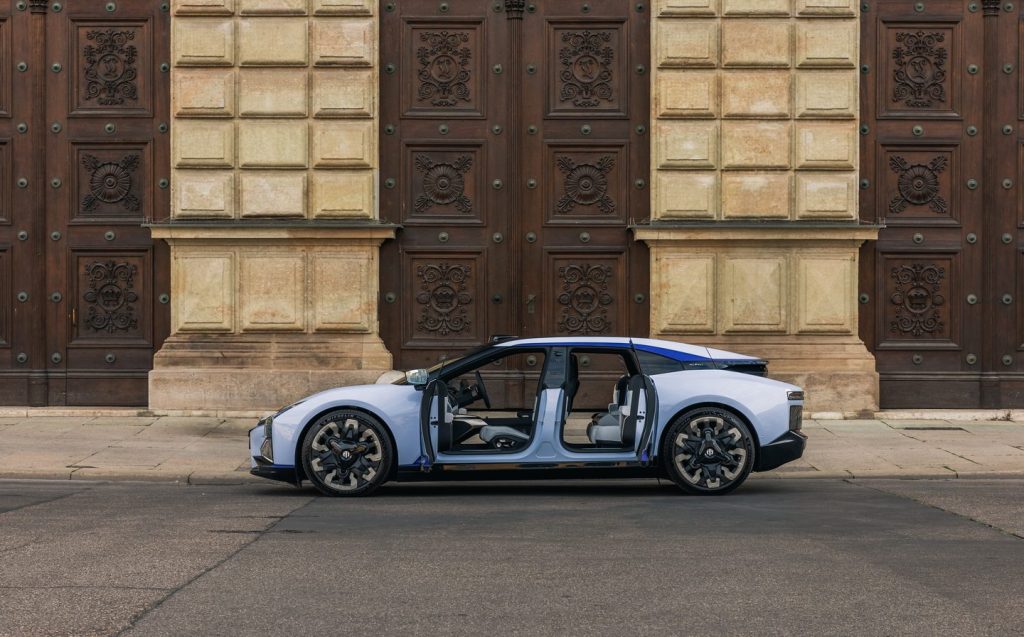 The HiPhi Z is nothing if not distinctive. The design is a bit of a mess of colours, angles and lights, but it certainly turns heads. Not least because it's enormous. At more than five metres in length, it's a big old beast, and it's more than two metres wide, which gives it presence in abundance.
It's interesting, too, with new features popping up every time you look at it. The thing on the roof that looks like a taxi sign? That's the housing for the lidar (LIght Detection And Ranging) sensor that in tehroyr enables the car to self-drive, although the tech isn't ready or approved for use in Europe.
There are lights that can send messages to the driver and to other road users (see below), and there are decorative rubber casings on the alloy wheels that prevent the alloy underneath from being kerbed.
Further back, there's a huge light arrangement that incorporates the HiPhi lettering, while a pronounced spoiler shrouds the rear window. Not that it needed covering — it was already quite small.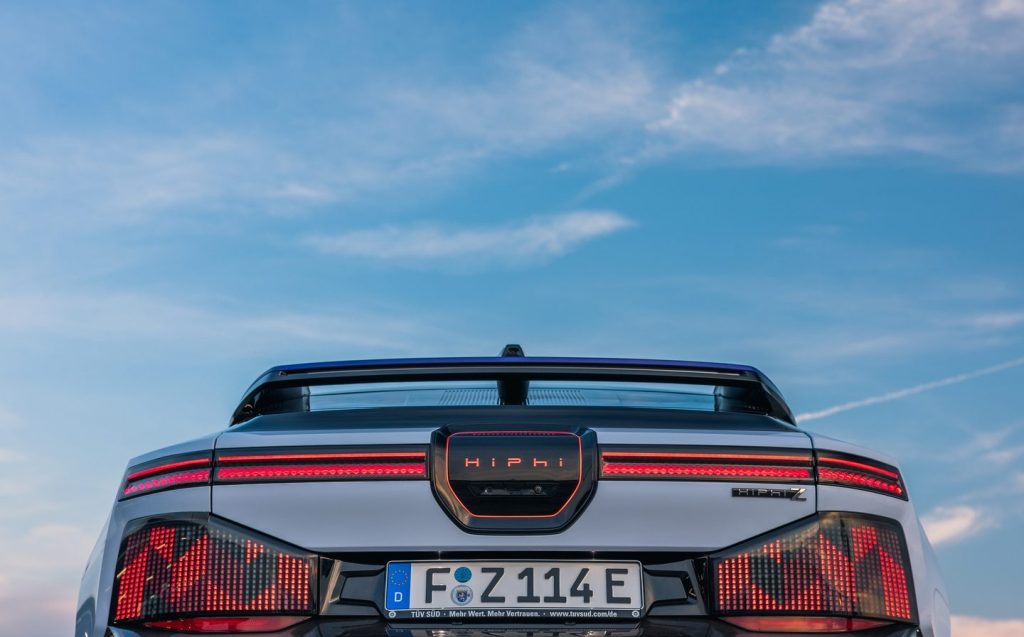 With all that going on, the HiPhi Z isn't what you'd call classically beautiful, but it's more visually intriguing than the HiPhi X SUV, which looks more like an overgrown MG4 EV until it opens its rear doors with the gullwing roof panels. There's no such trickery here, but the Z doesn't need gimmicks to make an impact. It's striking enough as it is.
However, it's up against a fleet of equally striking competitors. The Tesla Model S has somehow managed to remain fresh despite its age, although it's now only available in left-hand-drive form, much to the chagrin of UK buyers, and the Porsche Taycan is looking increasingly beautiful as the years go on — particularly in estate form. And while the Audi e-tron GT is a futuristic design, there's something of the chisel-jawed hero about its chunkiness.
Interior and practicality
The HiPhi's interior is every bit as futuristic and tech-heavy as the exterior, with two main displays dominating the cabin. The digital instrument panel is wide and flat, a bit like the one in a Ford Mustang Mach-E, and there's a huge 'floating' central touchscreen, which looks sophisticated and modern.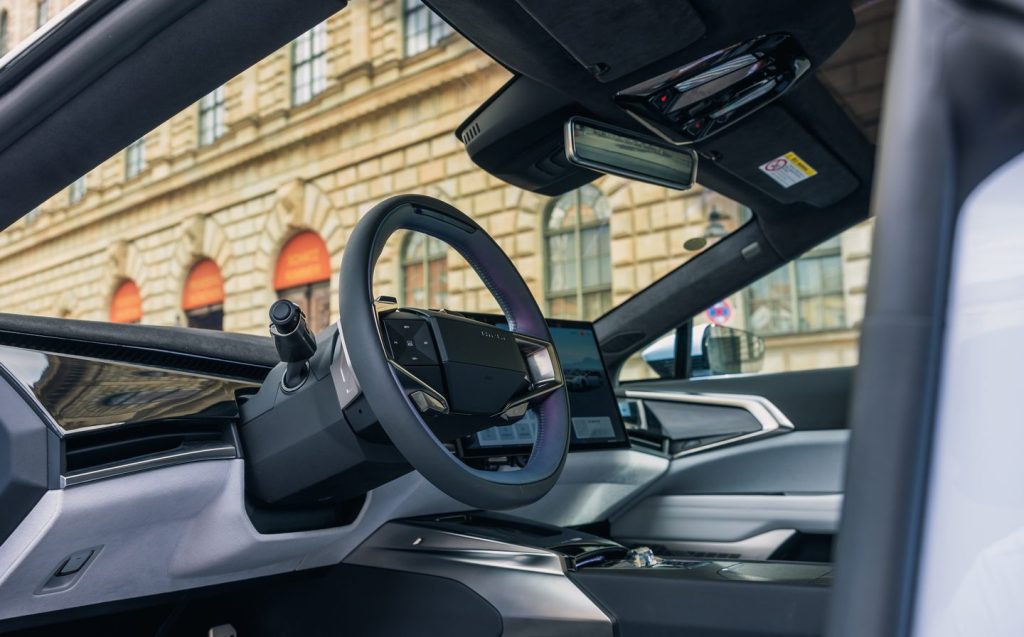 But for all the tech (more on that later), the Z still needs to tick off the usual premium car must-haves, including space and quality. HiPhi has certainly done a decent job on the latter front, with plenty of leather trim and some sporty-looking yet surprisingly comfortable front seats as standard.
Buttons are few and far between, although there's some switchgear on the wheel that's used for all manner of different functions, and that feels solid enough. Somehow, we don't think Audi will be worrying unduly but the HiPhi feels as though it can mix it with the likes of Volvo and Land Rover in terms of cabin quality.
And there's loads of room in there. The front seats are huge and there's plenty of space between the driver and passenger, while rear legroom is really impressive. In fact, there's so much space back there that occupants get adjustable rear seats, which feel more like they belong in a luxury saloon than in a sporty fastback.
Because of the styling, rear headroom is a bit limited so reclining the seats is a godsend for taller passengers, allowing them to get comfortable. While HiPhi says this is a car to drive, rather than to be driven in, being a passenger is still a pleasant enough experience.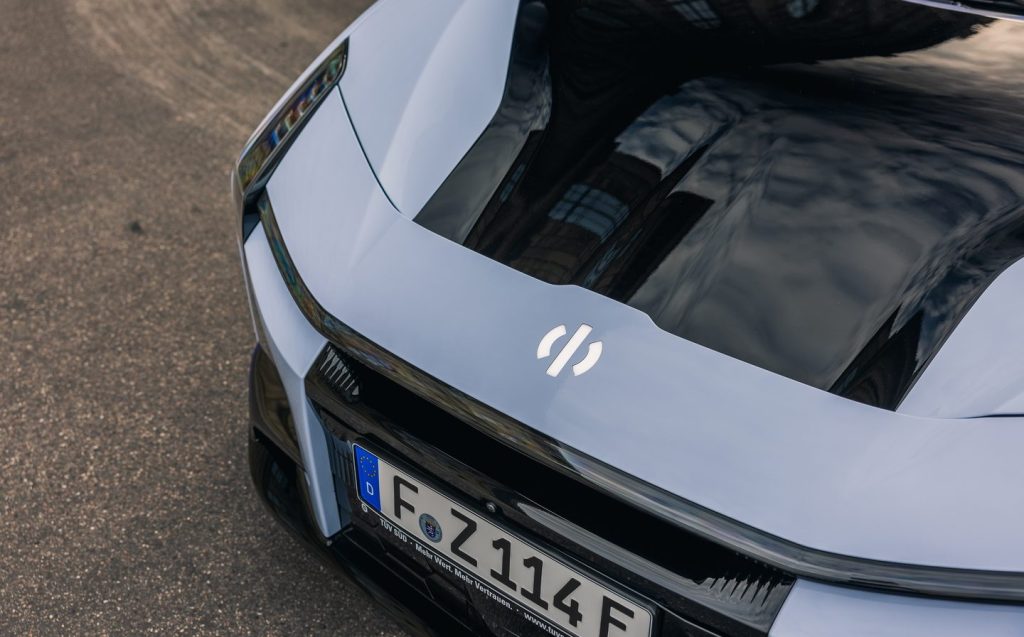 It isn't all sunshine and rainbows, though. Rear-seat space might be sufficient but boot space is somewhat less generous. While the 316-litre boot isn't that far behind the Porsche, it's almost 100 litres down on the Audi e-tron GT, and that's quite a difference. Given even a VW Polo has a bigger boot than the HiPhi, there aren't that many crumbs of comfort for HiPhi buyers.
Technology and safety
With such a focus on tech, it's no surprise that the Z's cabin has its fair share of screens. Not only do you get the massive touchscreen in the middle but there's a wide, bright instrument panel and a smart head-up display.
All the screens look pretty good — the resolution is high, and the menus feel modern and fresh — and the hardware feels good, too. The system responds well to finger prods, but that's only part of its capabilities.
Unfortunately, as our test car was set up for the Chinese market, despite running on German number plates, we couldn't test the system to its full extent — primarily because my Mandarin is limited, to say the least. But we did get a bit of a demonstration that showed off a range of conventional functions, as well as showcasing some of the lidar's functionality. The system mostly performed well though did momentarily mistake a bollard for a pedestrian, which is why these things aren't legal on UK roads just yet.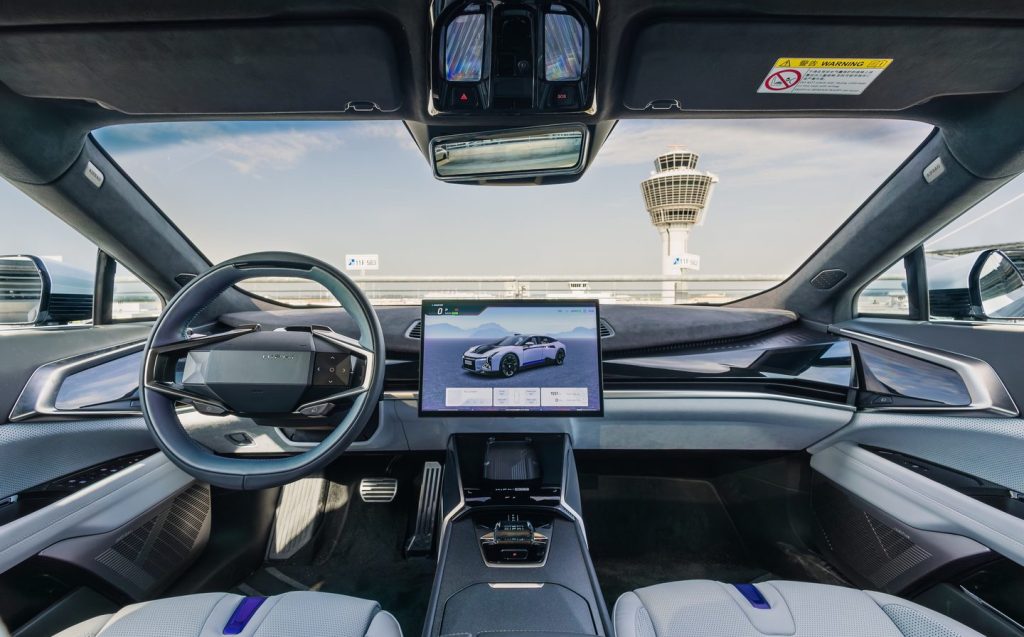 Because it's mounted on a robotic arm, the central infotainment screen can be positioned to the driver's taste, and you can use a combination of on-screen icons and the arrow buttons on the wheel to adjust it.
It will move seemingly of its own accord in certain situations, although again, my Mandarin wasn't up to the task of evaluating it properly. Apparently, if you speak to the screen, it will 'interact' through movements of the robotic arm in an attempt to ape the sort of movements people might make during a conversation.
The Z also gets a fleet of cameras dotted around the car, including a 360-degree bird's-eye view of the vehicle and the area around it. There are handy views down the flanks of the car, too, helping to keep those alloys away from the kerbs. It seems a bit superfluous when you've got the alloy protectors, but the Z is wide, and it helps when you're squeezing through tight spaces, too.
If any of the software weaknesses do become an issue, HiPhi says most problems can be remedied through an over-the-air update, many of which will be rolled out as the car ages. The Z can monitor almost everything about itself, and it uses that data to schedule updates when they're needed or to alert the driver and the company to any mechanical issues that might need fixing.
However, HiPhi boasts that customers often won't know when the car has been updated, which seems a bit strange. Perhaps more disconcertingly, HiPhi is using data to do all this, and though the company told us it's all anonymised, some would-be customers might feel a bit uneasy about a company that's part-owned by the Chinese government receiving that information.
But the HiPhi's tech isn't all on the inside. The lights are more than just headlights — they're projectors — and they can do all sorts of clever things, up to and including projecting symbols onto the road ahead. If you want to let somebody cross a road, the Z's headlights can even project a zebra crossing for them to walk across. And if you park facing a wall, you can use them to project a video onto the wall. It'll be in black and white, but even so one wonders if this will become a standard feature of future cars.
It doesn't stop there, either. When the car is stationary, you can use the other matrix displays on the front to send little messages in emoji form, while the lights down the flanks of the car can also be programmed to display messages.
And speaking of programming, HiPhi has a drag-and-drop app that allows customers to develop their own apps for the vehicle, which means they can execute a personalised series of actions at the touch of a button.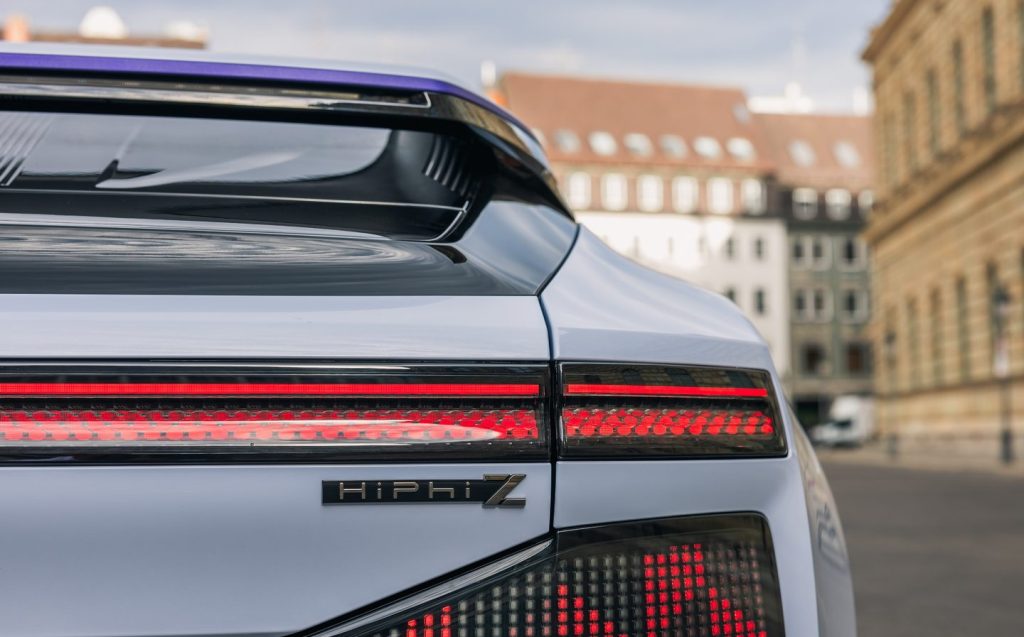 When the car is on the move, meanwhile, HiPhi has tackled the distinct lack of rear visibility with a camera system, which displays the view from a camera at the back of the car on the rear-view mirror. It isn't perfect, because it messes with your sense of depth perception, but it's better than the very restricted view through the back window.
Performance, charging times and range
It comes to something when a 646bhp two-motor electric powertrain is not the most remarkable piece of tech on a car, but the HiPhi Z still has to function as a grand tourer, and that means competing on the performance front. Of course, it's a big, heavy thing, but with a 120kWh battery and an electric motor at each end, it still goes like the proverbial off a digging implement.
With sticky Michelin electric car tyres wrapped around 22in rims, it pulls away from the lights at lightning pace. Officially, 0-62mph takes 3.8 seconds putting it roughly on a par with the sportier versions of the Taycan, but few drivers will regularly perform drag race sprints in the real world – at least not intentionally.
What it means, though, is that overtaking is laughably easy, and nipping in and out of traffic is a doddle.
The 124mph top speed will be more than enough for anyone who doesn't regularly use the German motorway network. How that will go down in Germany, one of the European launch markets for this car, remains to be seen.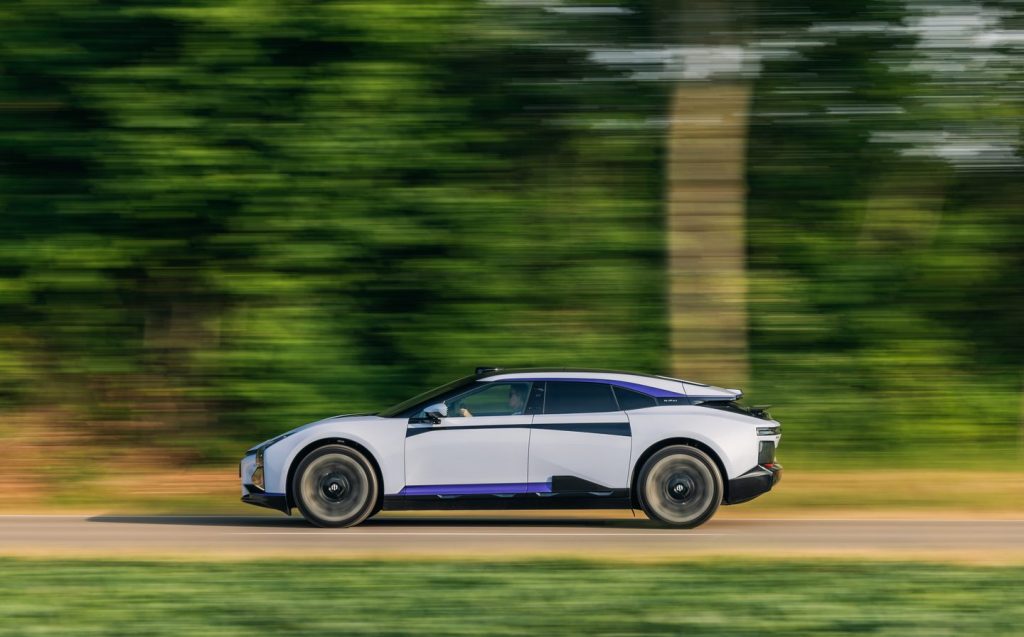 That said, customers probably won't want to use the performance too much in a bid to maximise the range. Officially, the Z will do about 345 miles on a single charge, and our test suggested more than 300 miles between charges would probably be achievable with gentle use of the accelerator.
Charging, however, is a bit more of a grey area. Our Chinese-specification test car wasn't fitted with a CCS rapid charging port (the standard across Europe), though HiPhi has promised us cars bound for our shores will get one.
There's no word on how fast it will charge, but we know filling the battery from an 11kW three-phase 'wallbox' charger will take more than 12 hours.
Ride and handling
Unlike other premium brands, HiPhi isn't putting much focus on driving dynamics, although the company says it is still a consideration. And in the case of the Z, HiPhi has managed to strike a decent balance, albeit one with more emphasis on ride comfort than handling. Certainly, it's more convincing than the X SUV, which feels a bit more brittle and a little less agile.
Generally speaking, the Z rides well, flowing over bumps thanks to its standard air suspension, which also makes it feel stable on the road. Even under heavy acceleration, it never twitches or wobbles. The ride isn't magic-carpet smooth, particularly at lower speeds, but it feels pretty supple on the motorway, and while the big alloys and heavy battery mean it sinks into potholes a bit around town, it's generally smoother than a Taycan.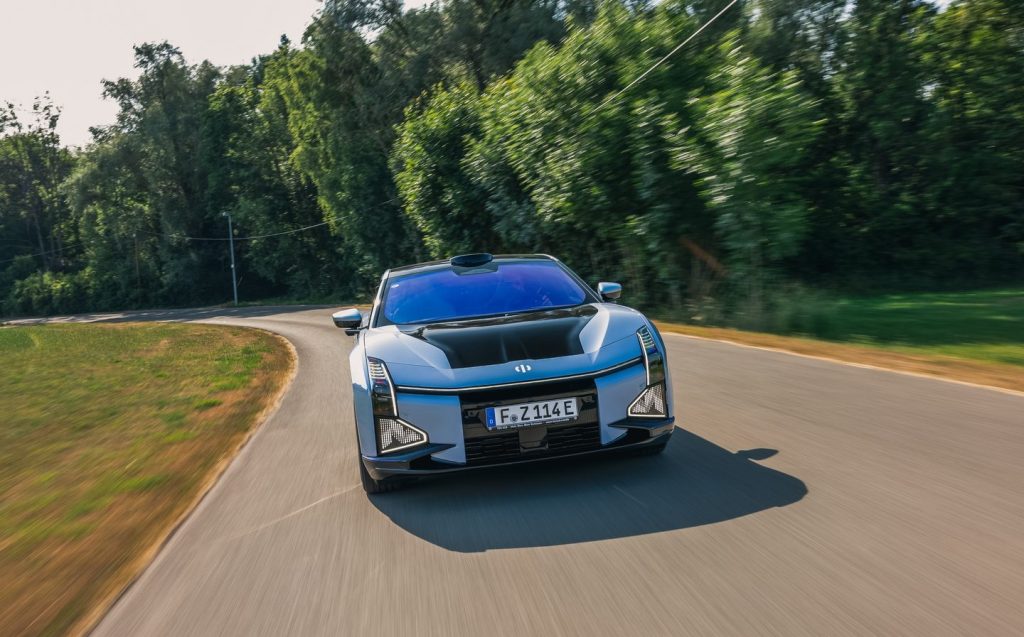 The catch with that is the HiPhi doesn't handle as well as a Taycan, although given its bulk that isn't necessarily a surprise. It has plenty of grip, though, with limited body roll and a general sense of security.
However there is the lack of feedback through the steering wheel, which still feels over-assisted even in its sportiest setting, and around town the Z really doesn't impress. Not only is the ride at its least cossetting but also the car's size causes problems, and the lack of visibility doesn't help either.
The camera systems can only do so much to help, and there are times when the optional wheel protectors are a handy backup to have, even though the tyres have more sidewall than you might expect. Even if you don't scuff the rims, it's nice to know graunching a wheel isn't going to prove ruinously expensive.
Pricing and on-sale date
HiPhi has said the Z and X models will go on sale in the UK in 2025 but the British chief technical officer, Mark Stanton, says the company already has a history of under-promising and over-delivering. In short, the cars may find their way to the UK even sooner than that.
There's still no word on pricing but in the two European markets in which HiPhi has already launched — Germany and Norway — the Z will set you back a chunky €105,000, or over £90,000 at today's exchange rate.
That's quite a lot for a new brand to charge, and it certainly puts HiPhi in the same ballpark as the big premium marques, but HiPhi says it will justify the price tag with service as much as the cars themselves. The showroom at Munich airport, for example, will park and charge your car for you while you're away, returning it clean and with a full battery at no cost to the customer.
Verdict: HiPhi Z review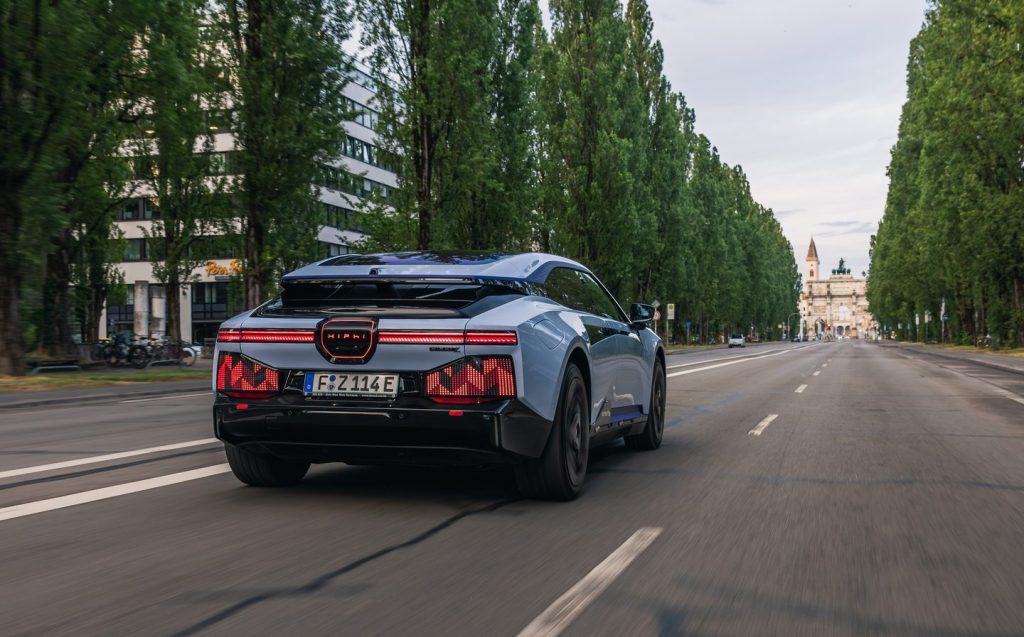 The HiPhi Z is a better all-rounder than its sibling car, the X, and it doubtless has its appeal. A supple ride and reasonable range, as well as a high-tech cabin all work in its favour. Admittedly, it doesn't quite have the polish or the handling prowess of a Taycan or an e-tron GT, but the fact we can discuss the HiPhi in such company is testament to the car's capability, even though it has a very different attitude. We've no doubt in the brand's ability to produce competitive cars.
Whether that will be enough to allow HiPhi to take off, though, remains to be seen. For one, there's the name. Pronounced in the same way you'd speak of your home audio system, the branding may not necessarily sit well with a western audience.
And then there's the moral question that goes with buying a Chinese car. The Chinese regime itself has been accused of torture and genocide, as well as mistreatment of dissenters (see what Amnesty International has to say here), while Joe Biden called the country's president a "dictator".
For those asking how that affects buying a car in the UK, the Chinese government's fingers reach into numerous pies. HiPhi's response to our questions included its assertion that it is a privately owned company, although Driving.co.uk was told that the Chinese government is supporting the brand, not least with help to build its factories. The company's founder is even a former deputy governor in Shanghai. This is all highly concerning to western politicians such as Sir Iain Duncan Smith.
And let's not forget, a lot of this tech relies on data. HiPhi responded that the data is "anonymised and secure", but some will feel uneasy about Chinese companies harvesting their information in any form. Especially given Chinese rules that mean companies have to hand data to the government on demand.
Related articles
Latest articles