Riding shotgun in the mighty Radical Rapture at Goodwood
Radical's race car for the road combines serious performance with surprising composure
THE NEW Radical Rapture "can deliver an unapologetic assault on the senses" according to the British car maker, which also proudly highlights the road legal sports car's vital statistics: 765kg; 350bhp; 0-60mph in 3.0sec; 0-100mph in 8.4sec.
Under normal circumstances those would be show-stopping stats, but these are not normal circumstances and we're not at a normal car show: we're at Goodwood Festival of Speed, where even the most fearsome performance cars struggle to stand out from the crowd.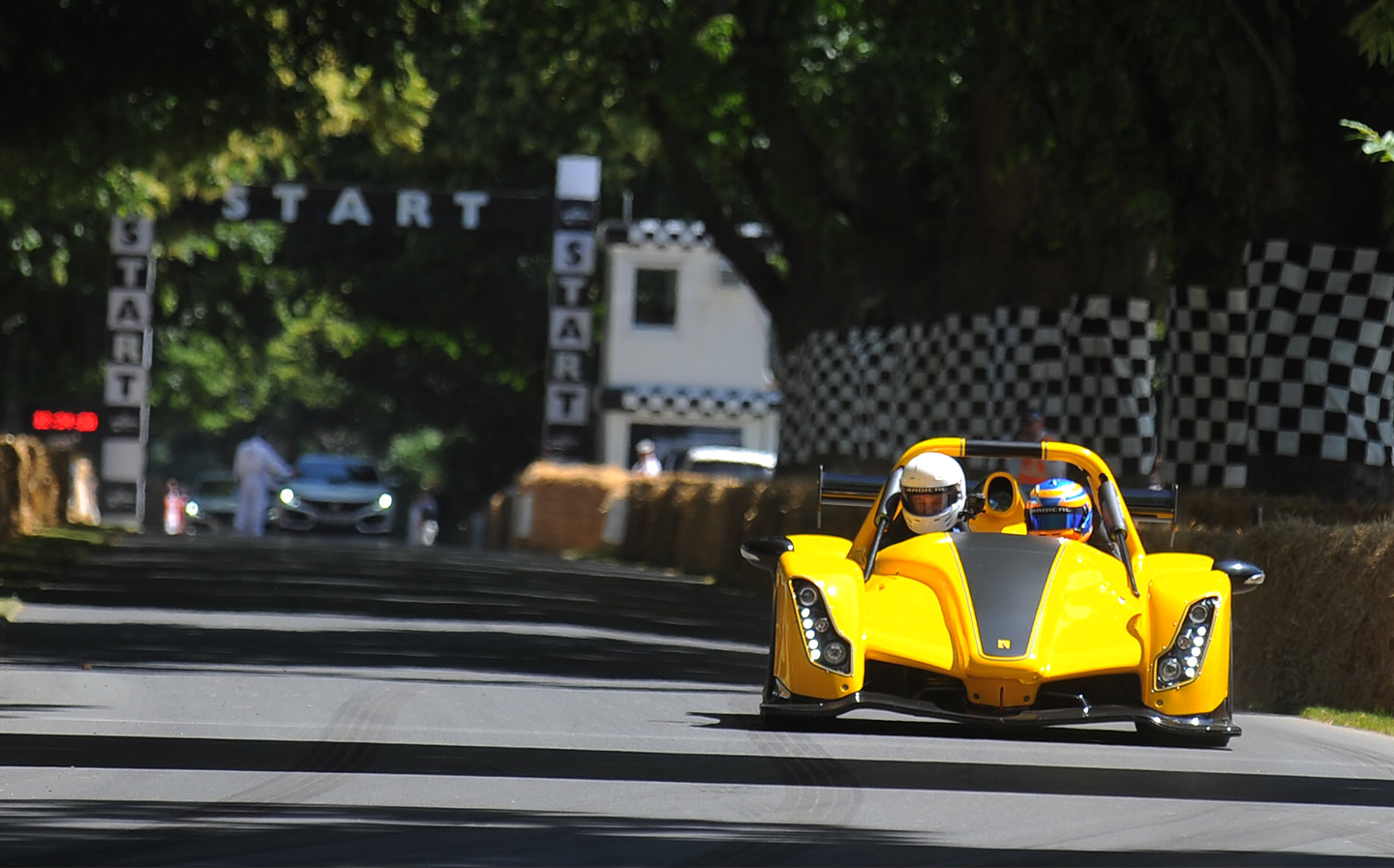 Goodwood is a fitting venue for the Rapture's launch, though. It's a British car through-and-through, designed and built in the UK, and a race-bred car for the road descended from generations of track-only weapons.
Radical is renowned for its giant-killing racing machines, which seem to follow the Colin Chapman ethos of "simplify, then add lightness".
Although built for the road, the Rapture is no exception — 765kg is light by any standards, and road cars don't get a lot simpler. There's no roof, no windscreen, no airbags. Its sound system is the 2.3-litre Ford EcoBoost engine, lifted from the Focus RS but reworked by Radical Performance Engines, mid-mounted just behind the cockpit.
There are a few luxuries, though, most importantly a heater, which allows jaunts in chilly weather. The wing mirrors are electrically adjustable, which is a godsend given that reaching across to adjust them by hand is impossible once the multi-point harness is done up. And there's a 12v socket, allowing your phone to be charged on the move. There's even a little cubby hole in which to store your phone.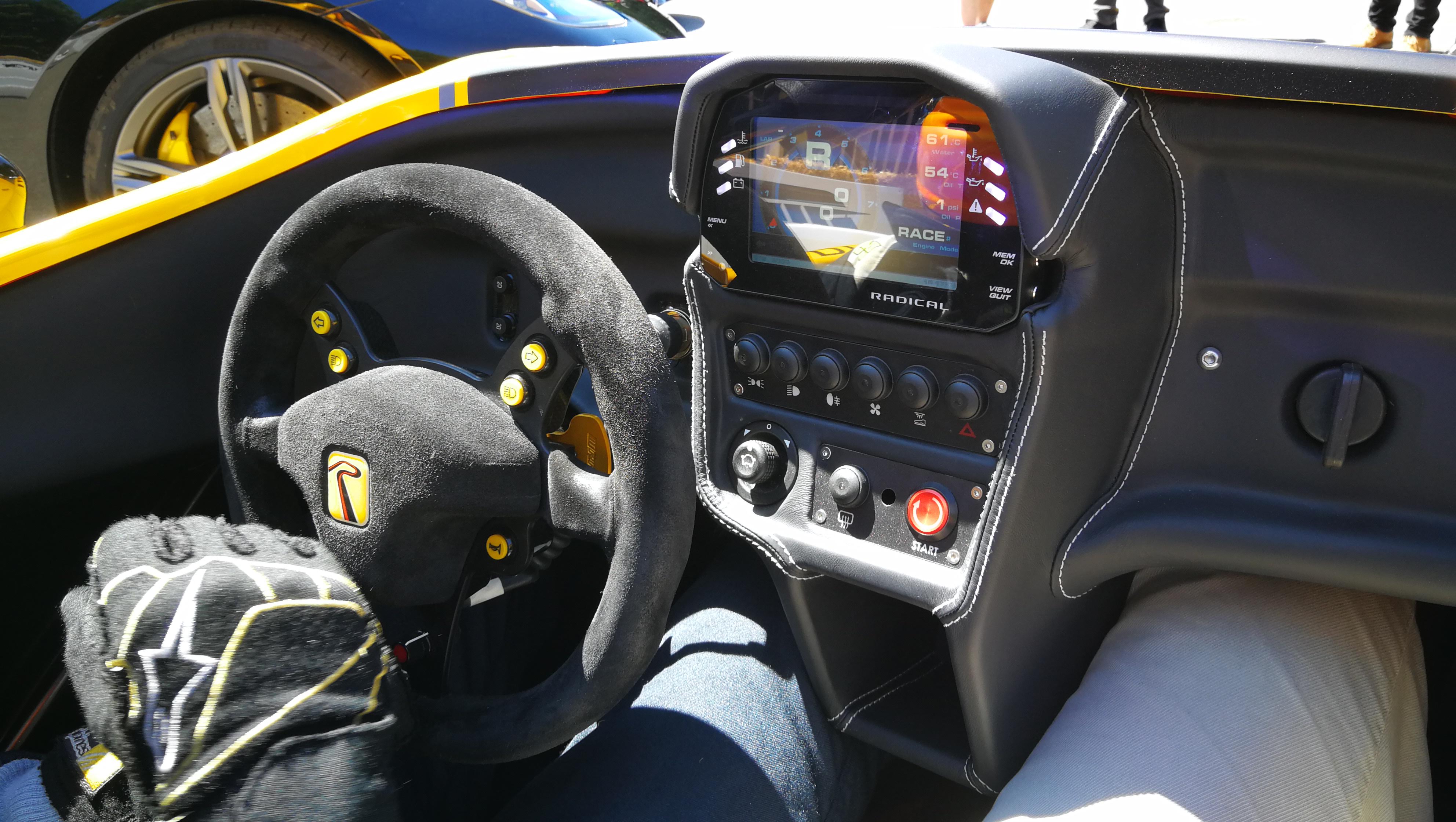 The cockpit includes a race-derived AiM MXS full colour digital display, which not only gives you data from the ECU, including gear shift warning lights, but can log lap data, too.
"What about cupholders?" I ask with a wink, while climbing in beside development driver Joe Crook, an approved Radical instructor who helped with the development of the Rapture, and my pilot for the car's first run up Goodwood Hill. "Here you go," he says, offering me his right hand.
It's tight in the cockpit for a tall person like me — at 6'5″ and relatively broad, I'm probably at the upper limit of what it is possible to fit comfortably into the Rapture's passenger seat, and I wouldn't like to be driven for long distances. I later tried the driver's seat and realised that it's possible for me to drive it, but again I'm not exactly the ideal height.
More of a problem would be my size 13 (UK) feet — the little pedals are packed too tightly together for me to operate easily, so I made a note that if (when?) I get a chance to drive the Rapture myself, I'd need to squeeze my feet into a pair of size 12 racing boots.
Comfort levels were impacted further by the lack of air conditioning (no surprises there), and while waiting in an assembly area in 23C heat, with a cloudless sky and no shade, it started to get fairly sweaty inside. As a road car, the Rapture doesn't require the wearing of helmets but for safety reasons at Goodwood, Radical insisted Crook and I do so, which compounded the problem. This was a sweaty day at the office.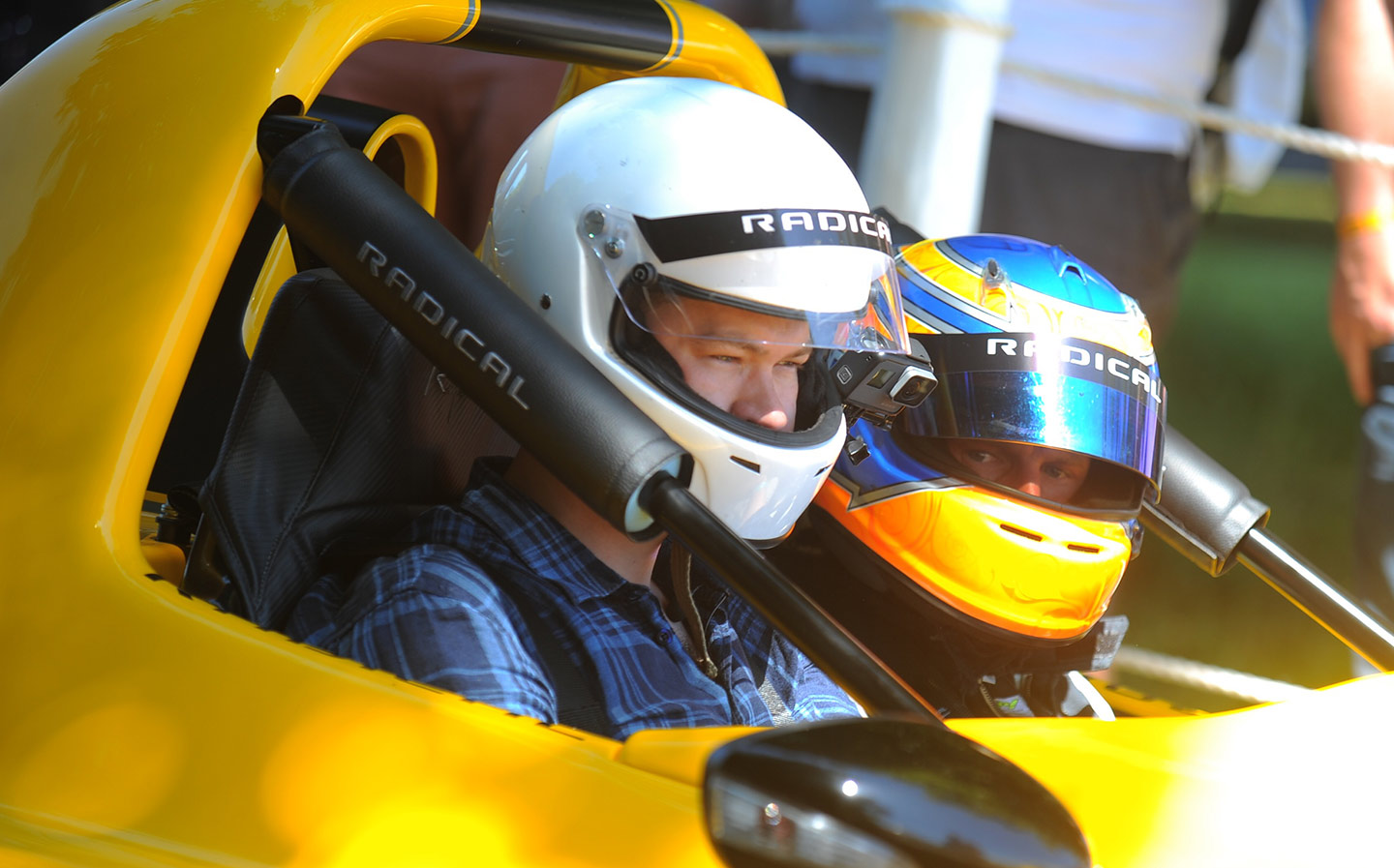 But that was all forgotten as, after about an hour of hanging around, we took our place on the start line. With a wave of the flag, Crook nailed the throttle and the Rapture launched itself towards the first corner with savage ferocity. Gear changes come and go quickly, Crook working his way through the six-speed 'box via the wheel-mounted paddles. Downshifts feature an automatic throttle blip, allowing smooth transitions and power delivery.
I tried to talk my way up the run, having filmed on a GoPro, but the car's potency left me quite breathless, and I knew the noise from the wind would probably interfere with the mic, anyway.
I wasn't wrong, but Crook insists the Rapture manages to flow air over the cockpit better than any other Radical. A full day of tuition in an SR3 leaves him with an aching neck, he told me, as his helmet is buffeted around; after a full day's driving of the Rapture, he had no such issue.
Although it's designed for the road, the Rapture's aero and chassis are still based on race-bred technology. The long front splitter helps with cooling but also improves stability at speed, which is further aided by the biplane rear diffuser. The underpinnings, including the spaceframe chassis and front and rear double wishbone suspension have a lot in common with the SR8, I was told, and the crash structure is approved for competition use by the FIA, motor sport's governing body.
That said, half way up the famously bumpy Goodwood Hill it was obvious that the springs and Intrax adjustable dampers had been ideally tuned for uneven road surfaces — whereas I was expecting a tooth-rattling, spine-crushing experience, the Rapture's ride is astonishingly forgiving.
In fact, while thunderously quick, with a consistent, relentless shove across a wide rev range from the EcoBoost motor, eye-popping stopping power from the brakes (300mm 48-vane fully-floating discs at the front, 280mm versions at the rear, with four-pot calipers) and excellent grip through the turns, the Rapture remained calm and composed.
It's the sort of lightweight sports car that has just the right amount of performance without terrifying a novice driver. There's drama — three seconds to 60mph is hardly a snooze-fest — but I doubt driving it on the road would ever venture into the realm of scary. Making it even more accessible, Radical offers every Rapture buyer a track tuition package so that they can get the most out of their new machine.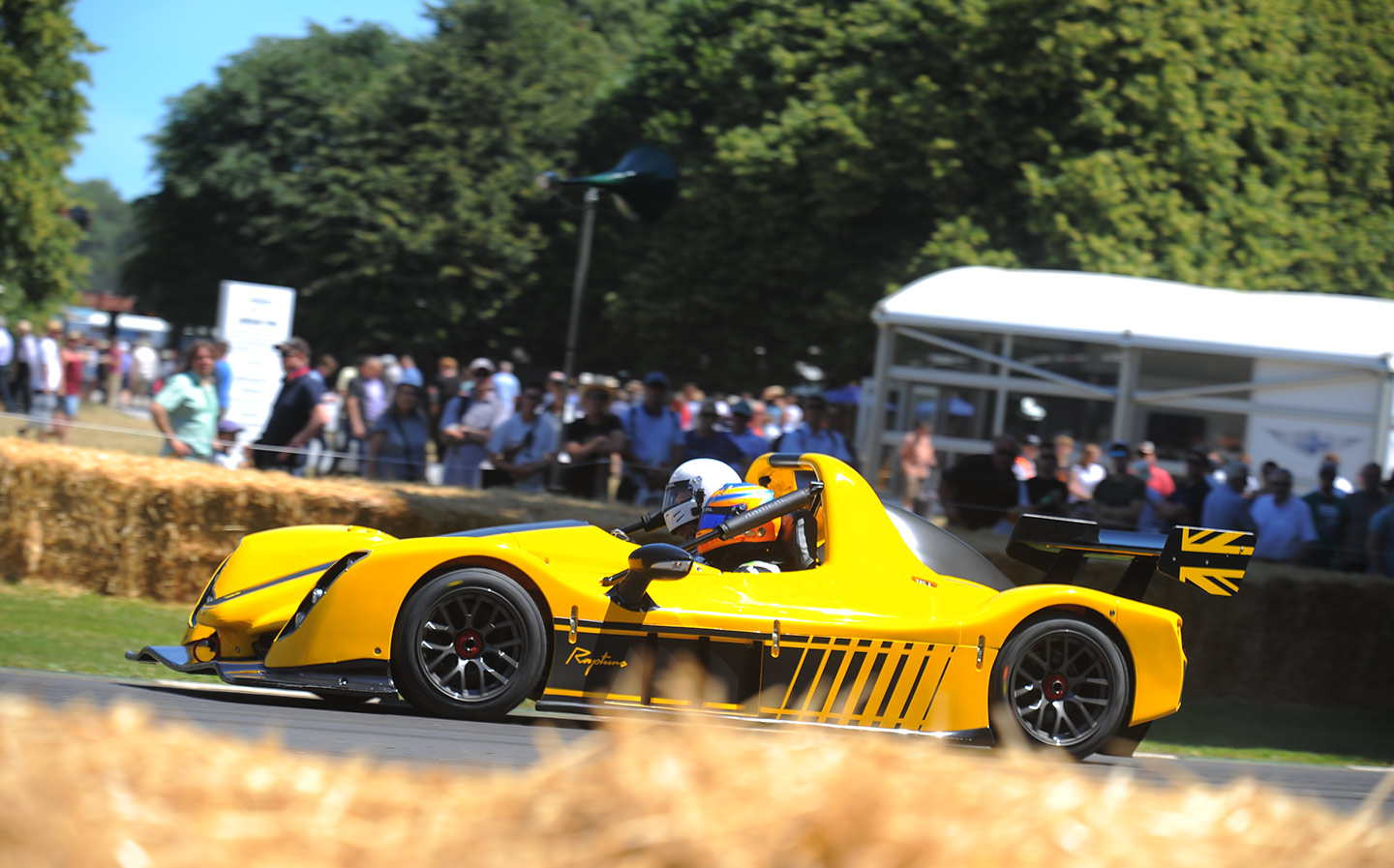 The Rapture is currently undergoing IVA type approval, to make sure it's road legal in the UK and Europe, and the company plans to get "State by State" approval throughout the USA from later this year. But it's on sale now, with prices starting at £89,500 plus tax.
Is it worth it? At probably the world's most impressive celebration of performance cars, the Rapture definitely managed to make an impression. We'll have to take one out on the road ourselves before we can fully recommend it, but based on the passenger ride it's hard to see why it wouldn't be an absolute hoot. And unlike a lot of race-bred track-day specials, with the Rapture you'd be able to drive it home afterwards.
The four most incredible car maker stands at 2019 Goodwood Festival of Speed
Electric Volkswagen ID.R blitzes the Goodwood hill climb (updated)