10 bizarre celebrity motoring endorsements
From Will.i.am's Lexus to Gok Wan's Ampera
---
Published 25 September 2014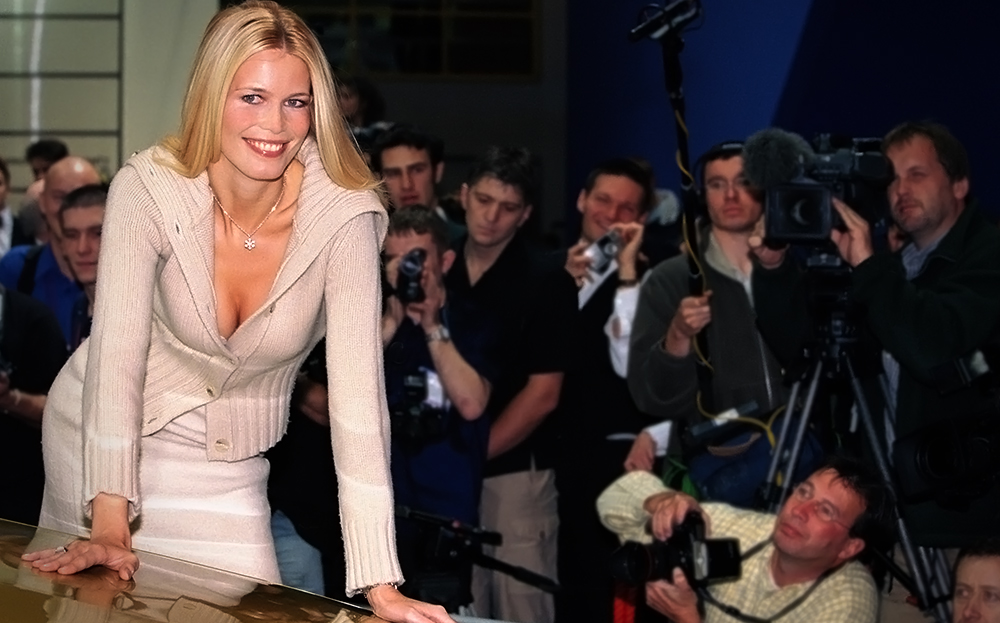 EVER SINCE Clyde Barrow wrote to Henry Ford, creator of the Model T, congratulating him on the speed and comfort of his Ford V8, car makers have been fascinated by the power of celebrity.
Clyde and his friend Bonnie, otherwise known as the criminals (or folk heroes) Bonnie and Clyde, had raced, robbed and crashed out in Ford's big motor, inspiring Clyde to write: "While I still have got breath in my lungs I will tell you what a dandy car you make. I have drove Fords exclusively when I could get away with one. For sustained speed and freedom from trouble the Ford has got ever other car skinned and even if my business hasen't been strickly legal it don't hurt anything to tell you what a fine car you got in the V8 [sic]."
At least Bonnie and Clyde had some experience of the car. Fast-forward a few decades and in return for a large sum of money, today's celebrities, famous and infamous, will stare deeply into a camera and happily evangelise about a car they've never driven. They're not fooling anyone. In a recent survey, of 1,000 people who were asked if a celebrity's endorsement of a model would encourage them to buy it, just 10 said it would, while an overwhelming 87% said it would not.
---
Search for and buy your next car on driving.co.uk
---
But not everyone is deaf to the appeal of celebrity. In China, people take their claims so seriously that this month, the government proposed a "truth in advertising" law that would fine celebrities who endorse products without personally trying them first.
Below we bring you 10 recent, and not so recent, examples of celebrity endorsement from the world of motoring that stretch the limits of credibility.
Gok Wan: Vauxhall Ampera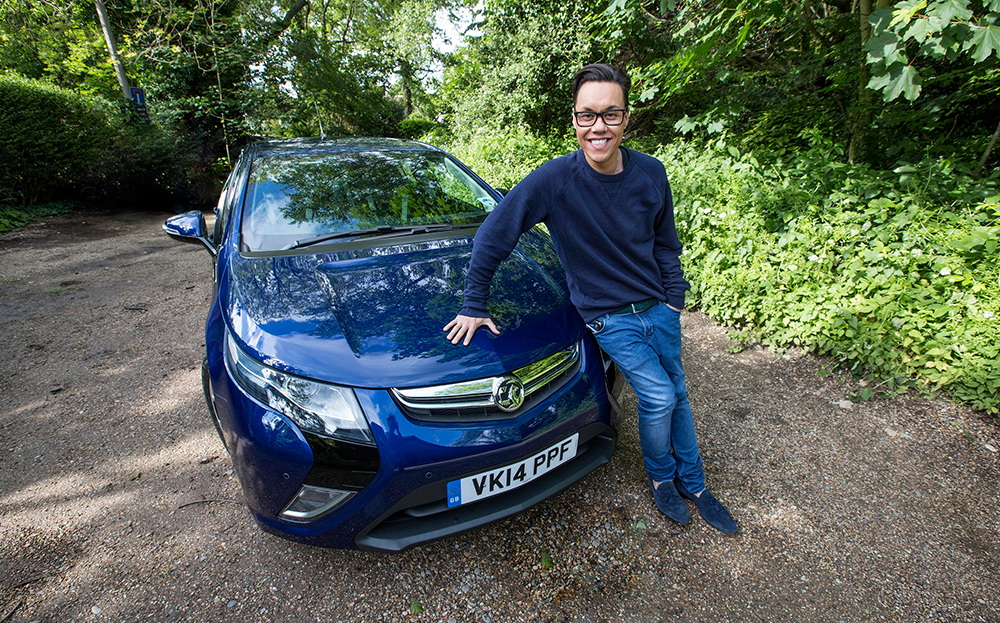 In May the fashion consultant, author and TV personality trilled how happy he was to be the recipient of a Vauxhall Ampera.  Failing to conceal what little he knew of it, he said:  "The guys have told me it is called an extended range electric vehicle, so my new uber cool Ampera is not only keeping me green but gets me wherever I want to go – what's not to love!"
Unfortunately, for car buyers faced with forking out £22,600 (including government plug-in grant) to own the base model, lots. Across Europe, sales have fallen from 5,300 in 2012, when the model was launched, to what is predicted will be less than 1,000 this year. This month, General Motors announced it was, quite literally, pulling the plug.
Browse Vauxhall Amperas for sale
Claudia Schiffer: Opel Corsa
Opel and Corsa: not words likely to conjure up an image of a beautiful woman whose face, so the press release gushes, has graced 1,000 magazines and who has been named one of the most beautiful women in the world. Can you guess who it is yet? None other than German super-model, Claudia Schiffer who, in December 2013, was named European Opel brand ambassador.
She'll be on hand at the 2014 Paris motor show to help launch the new Corsa and we look forward to penetrating insights into the new model on the lines of her recent, clearly unscripted, utterances on the Opel Meriva: "The Meriva with its rear-hinged rear doors is unique and a first for Opel. It is fantastic for families like mine." Claudia Schiffer doing the school run in a Meriva? Really?
Browse Vauxhall Corsas for sale
Justin Timberlake: Audi
If James Bond could do it for Aston Martin, surely, so could Justin Timberlake? It must have sounded like such a good idea to sign up the actor and singer-songwriter as Audi brand ambassador and star of an internet-only, six-episode action thriller to support the launch of the, then, new A1. Except that the acting, the script and the direction of The Next Big Thing plumbed new depths.
Note to director: when filming a car advertisement that seeks, among other things, to demonstrate your model's handling attributes, do not film the vehicle on a trailer with the actor making exaggerated turns of the steering wheel around the straight ahead that have no effect on the car's direction of travel. Unless, of course, you believe lifeless steering to be an attribute.
Browse Audi A1s for sale
Delia Smith: Proton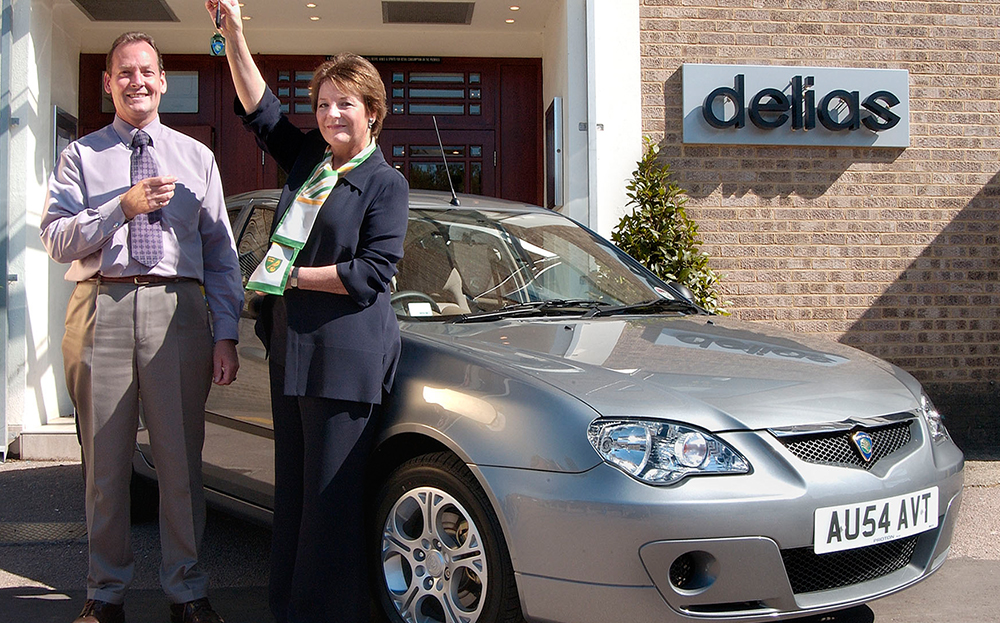 Ever since she took to the pitch at her beloved Norwich City football ground in February 2005 to urge the supporters to get behind their team in the face of a dominant Manchester City (Norwich lost 3-2), we'd been waiting for another Delia Smith moment. It came just three months later when the nation's best-loved cook was photographed holding aloft the keys to a shiny new Proton and looking for all the world like she'd chosen it over a mint-fresh Bentley.
In truth, Proton was a major sponsor of Norwich City, in which Smith was a majority shareholder, and she was holding the keys at the launch of a new Proton dealership at the Carrow Road club. So that's all right then…
Browse Protons for sale
Christopher Biggins: Peugeot 207CC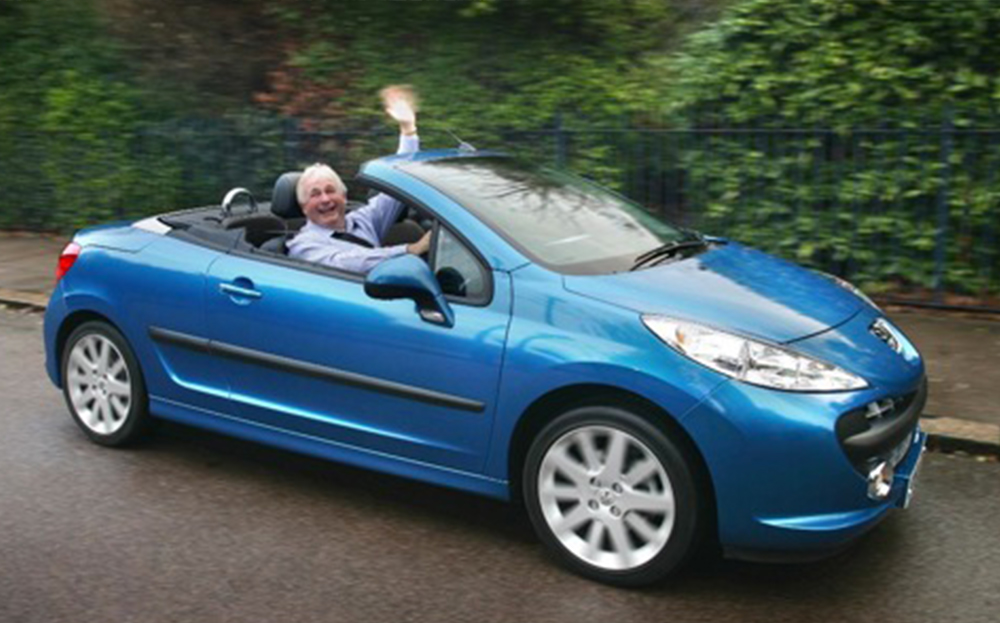 Fresh from winning series seven of TV's I'm a Celebrity… Get Me Out of Here!, Biggins had the world eating out of his hand (which would be a bushtucker trial to end all trials).
One of the first to offer their congratulations was Peugeot. It conspired to give the impression that Biggins had just strolled into one of its dealers and, enchanted by the blue 207CC convertible in the corner, snapped it up.
"I simply can't wait to drive it with the roof down, and with a lion at the front of the car – I might just be 'King of the Road', too!" said a delighted Biggins.
Browse Peugeot 207s for sale
Manchester United: Chevrolet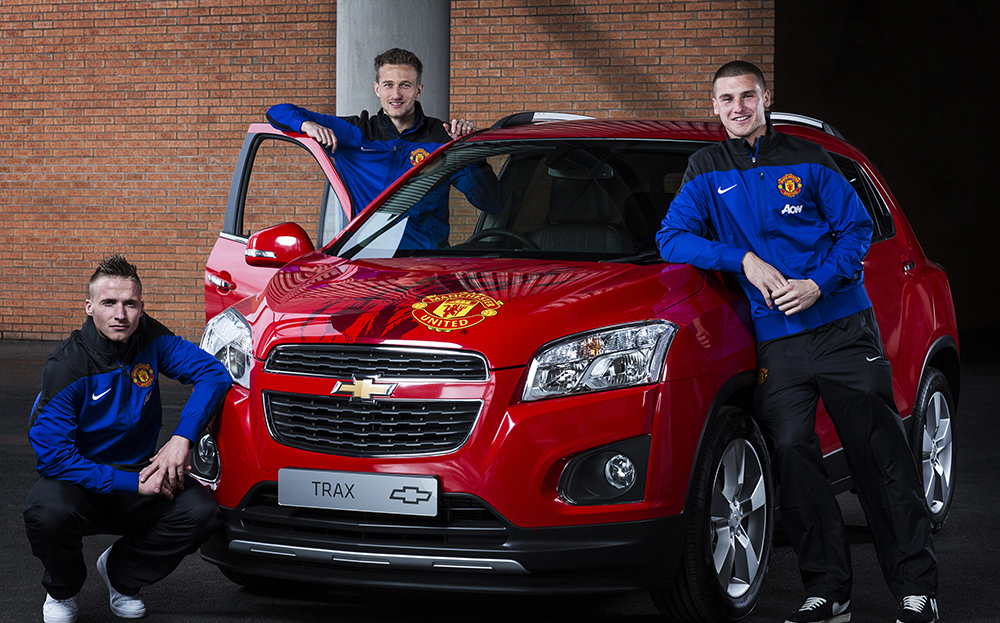 At least everyone knew the score when, in July 2012, Chevrolet announced a seven-year sponsorship deal with Manchester United worth £329m, or £47m a year. The footie stars would be photographed with the cars, giving every impression they enjoyed their assorted Volts, Captivas, Orlandos and Sparks, before driving home in their Ferraris, Bentleys, Range Rovers and Lamborghinis.
However, one player was clearly off-message. Striker Paul Scholes left his Captiva unattended on his driveway with the engine running to defrost the windscreen. But, just when his back was turned some nasty person jumped in and drove it away without telling Scholesy. It must have been horrifying for the poor chap.
Browse Chevrolets for sale
Atomic Kitten: Seat Alhambra, Nissan Micra… 
What was it with car makers' marketing departments and Atomic Kitten? Throughout the noughties, the people in suits flirted shamelessly with the scantily clad members of the hit girl band.
First it was MG who signed them up to sprinkle their stardust on Atomix special editions of the ZR and ZS. Later, former member Jenny Frost was courted by Nissan who wanted her to promote an all-gold Nissan Micra C+C (it was for charity, we should clarify).
The relationship culminated in 2010 with the girls' sudden affection for the Seat Alhambra, a vehicle aimed not at a group of lissom teenagers but at the mums and ads who have to cart them about. The girls' excuse? It was their tour bus.
Browse Seat Alhambras for sale
 Will.i.am: Lexus NX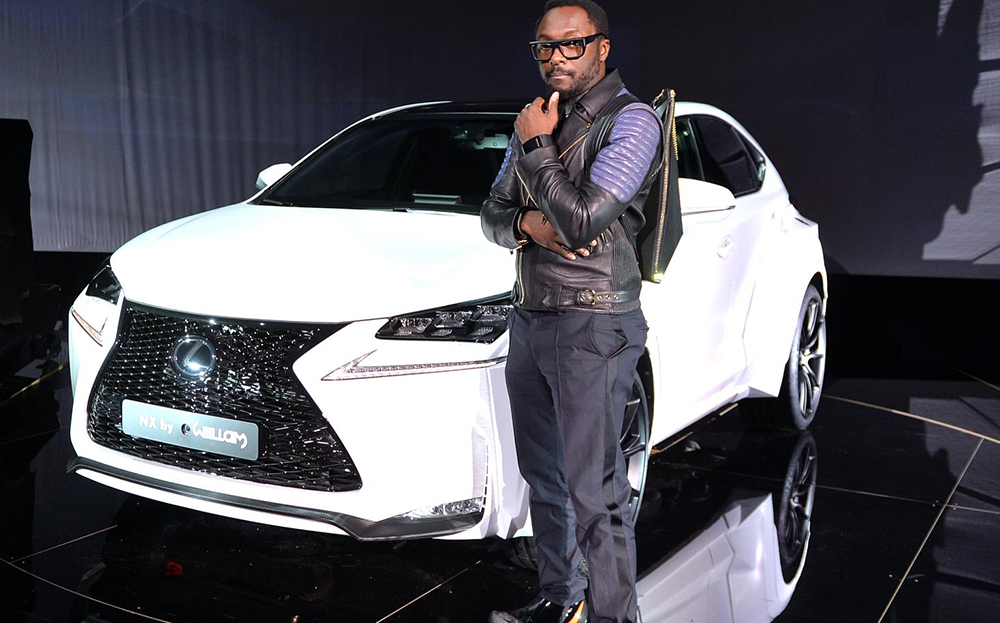 Not content with merely standing alongside a Lexus NX and gushing something complimentary about it before taking the cheque, singer-songwriter, talent show judge and entrepreneur Will.i.am, has restyled one to his taste. And then taken the cheque.
The result, revealed this week in Paris, is the lowest, widest and blingiest NX 200t F Sport on the planet. Finished in matt pearl white, and bedecked with aluminium and carbon vinyl detailing, it sits on massive 22in alloy wheels with orange brake callipers.
Inside, the star's bespoke Lexus continues the aluminium theme and adds Nappa leather seats embroidered with Will.i.am's willpower logo. On top of that, Will.i.am has specified four 180-degree cameras which can capture panoramic photographs and video as the star drives. The images can then be displayed instantly on passengers' smartphones in order that they may appreciate yet another of the star's many talents. What joy.
Browse Lexuses for sale
Scott Hartnell: Cherry Hill Audi
In this refreshingly honest take on the art of the motoring endorsement, Canadian ice hockey star Scott Hartnell roughs up a customer, struggles to juggle some keys and, in a bizarre closing scene, stands with both arms half raised across his body, like a broken puppet, to highlight the web address below.
His message is simple: "I fall a lot on the ice but I never get as low as Cherry Hill Audi prices." No schmooze, no schmaltz; just the facts. We like that.
Browse Audis for sale
Pat Jennings: Unipart 
And we like this, too. If you're going to pay a celebrity to promote your product, you might as well make them work for it. In this ancient advertisement, legendary Spurs and Arsenal goalkeeper Pat Jennings has to perform a succession of saves – while dressed as an oil filter.
Today's pampered players would consider it degrading but Pat gamely saves ball after ball, his actions representing the filter's ability to absorb harmful deposits. So, entertaining and educational.
---
Search for and buy your next car on driving.co.uk
---