Watch Waymo self-driving car navigating San Francisco in heavy rain
Don't expect such systems in the UK anytime soon though
The autonomous driving technology company Waymo appears to be making considerable progress when it comes to dealing with one of the biggest challenges facing self-driving cars — inclement weather.
In videos posted to Twitter and YouTube by Daylen Yang, an engineer for the firm, one of Waymo's fleet of autonomous Jaguar I-Pace test cars can be seen navigating the busy streets of central San Francisco in what Yang describes as "significant" rain.
The video may go some way towards addressing criticism of autonomous vehicle technology companies for only testing their vehicles in sunnier climes such as California, Arizona and Texas, where systems have fewer weather-related difficulties to contend with.
Critics have argued that if the technology were tested in places such as the UK or Germany, where constant drizzle, mud and snow are regular climactic features, and where wide grid-like streets aren't as common, a less favourable picture of self-driving technology would likely emerge.
As Yang's video proves, however, the San Francisco Bay area does receive variable weather, with not just rain but also frequent heavy fog.
Weather mapping and lidar
One of the bases on which Waymo's self-driving systems works is a weather map, created by networking data from the rest of the cars in the local Waymo fleet that are fitted with sensors, to detect the intensity of the weather through which they're driving. That way, the company says, it's able to glean a much more granular image of localised conditions than by just by relying on data from nearby airports or weather stations.
Waymo cars are also fitted with an array of lidar, radar and other sensors along with video cameras to help them navigate through traffic, adverse weather and times of low light.
The firm's advances come at a time when Tesla, one of the self-proclaimed leaders in self-driving vehicle technology, is abandoning even ultrasonic sensors (fitted on many less sophisticated cars for parking proximity alerts, though also useful for detecting objects around a car while driving). Instead, Tesla now favours an entirely camera-based system that relies on machine-learning data gathered from owners "beta-testing" its cars on the public road.
Tesla is the only major manufacturer pursuing such an approach to advanced driver assistance and safety systems. Last month it was forced to "recall" 362,000 cars with the Full Self Driving Beta option after the US vehicle safety administration NHTSA concluded that it increases the risk of crashing. The required fix involved an over-the-air software update.
In addition to the Bay Area, Waymo (a company originally spun-off from Google) also tests its systems in the state of Michigan where snowy, wet and slushy conditions are common in winter and enable engineers to develop more resilient and versatile systems.
It has also floated plans to test its systems in the state of Washington in the Pacific north-west, an area known for its constant rain.
Are self-driving cars legal?
But what of the legality of testing autonomous vehicles on the public road, particularly in the UK where medieval streets, congestion and a wide variety of weather types could present serious difficulties for the emerging technology?
At present, Waymo and another firm, Cruise, have licences to operate paid "robotaxi" services in parts of California. The conditions of both companies' permits vary.
Cruise's robotaxis are allowed to operate completely without a back-up driver, though only between the hours of 10pm and 6am, only at speeds of up to 30mph and only in specific areas of San Francisco.
Waymo's taxis do require a back-up driver, but can operate in a wider area at speeds of up to 65mph.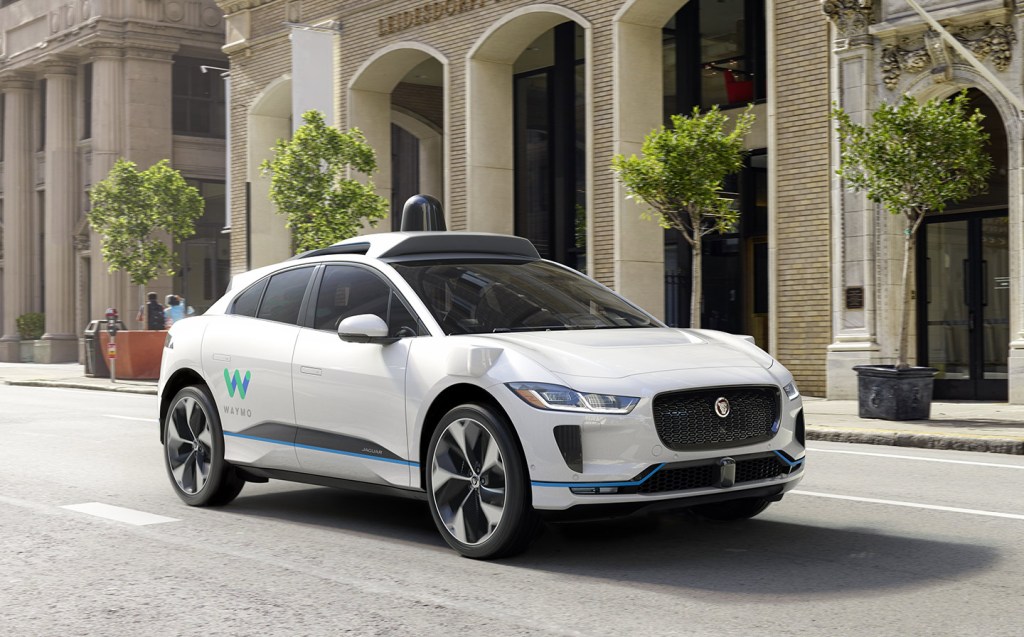 Both companies must suspend their services in anything more than light rain or fog, though it is understood that in the video posted to Twitter by Waymo's engineer, because the Jaguar was not operating in its capacity as a taxi, it did not require a driver behind the wheel and was allowed to drive in heavy rain.
In the UK, licenced self-driving trials on the public road are permitted, but vehicles must have a back-up driver behind the wheel able to take control of the vehicle at a moment's notice.
Those rules mean that the use of certain advanced driver assistance features in the UK such as Mercedes Drive Pilot — an SAE Level 3 system that in a limited set of circumstances allows the driver to take their hands off the wheel and let the car take over control — is not yet legal on the public highway.
The UK isn't exactly a laggard in the field though; only a few locations internationally such Germany and the US state of Nevada permit the public use of Level 3 systems without a specific licence and even then only at speeds of up to 30mph making it more useful for stop-start traffic than high-speed driving.
The vehicles operated by Waymo and Cruise are classified as having Level 4 autonomy meaning that they can potentially operate anywhere without a back-up driver as, in the event of a system failure, the car should be able to come to a safe halt on its own. Level 4 cars may also only operate within certain designated areas.
Such Level 4 technology could be coming to UK roads soon though, albeit with a back-up driver behind the wheel.
The online grocery delivery firm Ocado has invested some £10m in the British autonomous vehicle start-up Wayve, with plans to test self-driving delivery vans on the streets of London.
The trial will see Wayve's hardware and software fitted to some of Ocado's delivery vehicles, which will be tested in complex urban scenarios in the UK where they will be faced with congestion, narrow streets and pedestrians.
Similar to Tesla's approach to self-driving, Wayve's technology primarily relies on cameras, eschewing the expensive laser-based lidar systems favoured by autonomous driving companies such as Waymo, and learns how to deal with different scenarios through AI machine learning.
The trial with Ocado is expected to provide Wayve with a wealth of new data and experience when it comes to applying its technology in challenging, "last mile" real-world situations.
The start date for the UK trial has yet to be confirmed, though it still looks to be decades rather than merely a few years before such Level 4 technology could enter widespread use as a feature on private cars in the UK.
Related articles
Latest articles