Retirement? I'd rather design a supersonic car, says Bloodhound engineer Ron Ayers
Mission: 1000mph
---
Published 04 November 2017
AT 85, Ron Ayers enjoys making stained glass windows and drives a Volkswagen Golf at a sensible, "subsonic speed". He is also the aerodynamicist who designs the fastest cars on earth.
He has tried to retire five times but since discovering a passion for breaking world records in his sixties he cannot resist the intellectual challenge of creating a supersonic car to roar across the desert faster than his last.
This week Mr Ayers and his team unveiled their latest feat of engineering, the Bloodhound, for test runs on a Cornish airfield. They are aiming not only to break their own land speed record but also to blast beyond 1,000 miles per hour for the first time.
---
Browse NEW or USED cars for sale
---
When Mr Ayers became an apprentice engineer in 1950 no one had travelled at 1,000 miles per hour in the air, let alone on land. "Back then, if I'd heard anyone talking about 1,000mph on land I would have treated it as science fiction."
Today it is his job to ensure that the car he has designed to do just that is stable, controlled and going in the right direction so that Andy Green, an RAF fighter pilot, can drive it into the record books in 2019. It is not the retirement he imagined.
Growing up in London he became fascinated with engineering during the Blitz. "When you grow up in wartime you get to know the Spitfires and Hurricanes. We heard the Doodlebugs and knew when to get under the dining room table, depending on the note of the engine. At school we used to collect bits of aircraft and do swaps."
During his career Mr Ayers worked on anti-aircraft missiles, but he never designed a car. When his wife, Irene, died 26 years ago he found himself "retired, with nothing to do".
He needed a hobby so he volunteered at the Brooklands Museum, the famous racing track near his home in Claygate, Surrey, where Sir Malcolm Campbell began racing, and Concorde was developed decades later. There he discovered reports on iconic cars such as Blue Bird and Golden Arrow.
During his career Mr Ayers worked on anti-aircraft missiles, but he never designed a car.
He set about trying to design his own record-breaking car after a chance meeting with Richard Noble, the Scottish entrepreneur who held the land speed record at the time.
"He told me his ambition was to travel faster than the speed of sound on land. I said don't be an idiot, you'll kill yourself." However, after mulling it over for a few weeks, "I realised the reasons I gave weren't totally valid and that I could think of potential solutions to the problems".
The result was Thrust SSC, the first car to break the sound barrier, when Andy Green hit 763mph in 1997. In 2006 the team broke the diesel world record of 350mph with the JCB Dieselmax. Bloodhound is their third and possibly most ambitious car yet.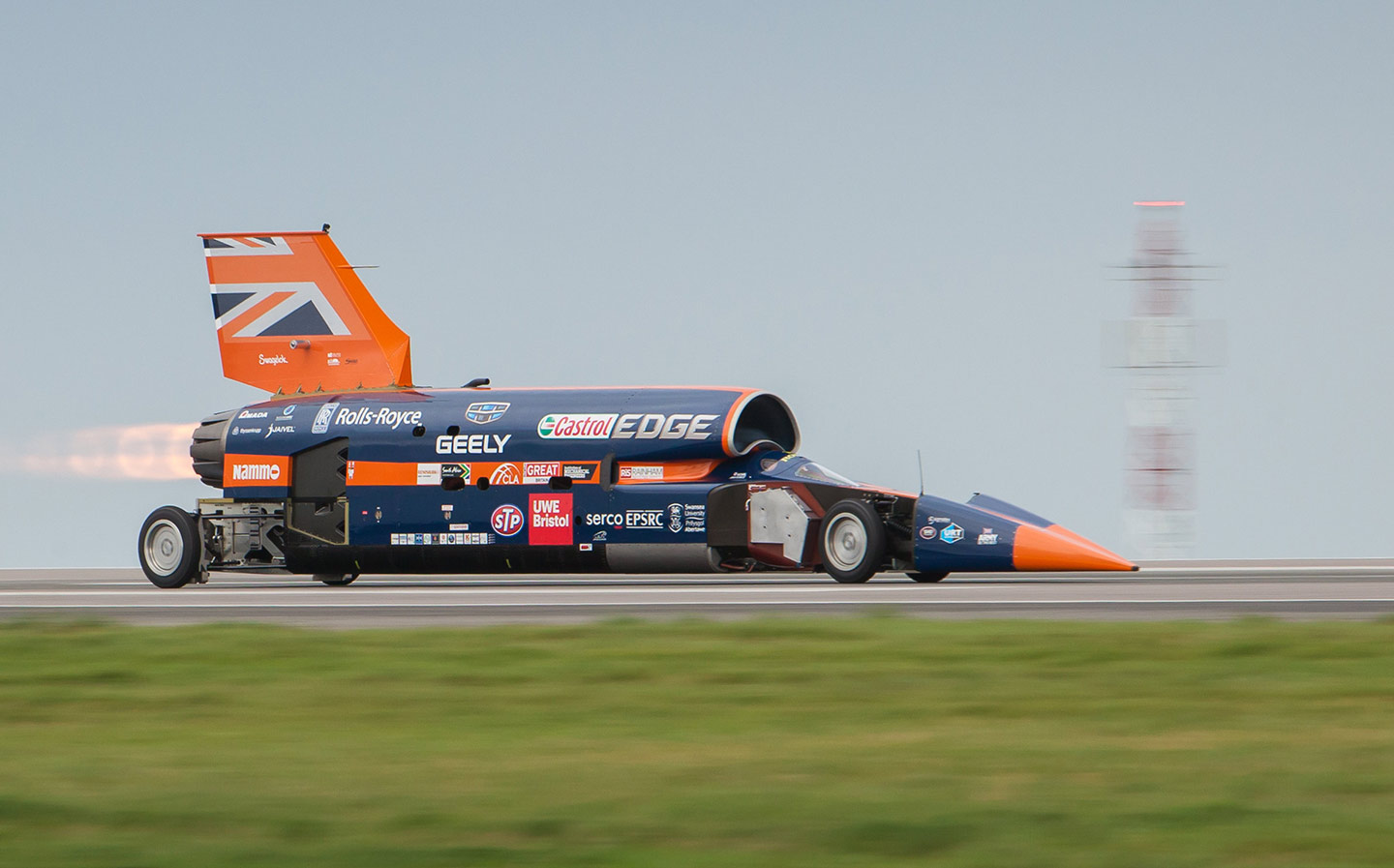 Part aircraft, part racing car, it will eventually be powered by both a jet engine and a rocket motor. If it were to be fired into the sky it would reach an altitude of 25,000ft.
Does it keep him up at night that a man is risking his life in one of his designs? "Worrying about all the things that might go wrong and putting them right is what engineers do," he said. "My job is to worry about everything. If I do Andy is safe."
He hopes that the record attempt will inspire future generations to become engineers and persuade people that there is no expiry date for knowledge and expertise. "I've evolved with the technology," he said.
Does he believe that the 1,000mph record will be broken in his lifetime? "I can't guarantee it."
If the Bloodhound team does pull it off, what next? "I suppose I'll retire again until the next project."
Lucy Bannerman
This article first appeared in The Times
From 0 to 200mph in seven seconds: Bloodhound land-speed record car's first jet-powered run