The Clarkson review: 2017 Volkswagen Golf GTI
They say it's new, but thank heavens it's not
ONE OF the problems with running a car company is that no department actually finishes what it's working on. Which makes launching a new car extremely difficult.
Think about it. You're the boss and you call the styling department. You ask if it has completed the way the new car will look and it says: "Give us two more weeks." So you give it two more weeks and then you call the engine department, which says it wants another week. So you agree to that, which causes the styling department to embark on the set of changes that somehow takes three weeks to implement. And when that's done, the suspension people call to say: "Look, give us 24 hours."
And so it goes on until eventually you, as the boss, have to turn on the factory PA system and say: "All of you. Step away from the Cad-Cam equipment. Give us what you have now and we will build that." Which means the car you and I buy is invariably made up completely of parts that aren't quite as good as they could have been if only there'd been a bit more time.
---
Browse NEW or USED cars for sale
---
The problem for Volkswagen is doubly difficult because of Dieselgate. So much money has been put aside to compensate customers who were sold a better car than would have been the case if it had complied with the regulations, that there is only £2.75 left in the petty cash tin for research and development.
Which brings us on to the new Golf GTI. Well, VW says it's new — in reality it's a facelift of the current Mk 7 — in the hope that existing owners will feel compelled to sell their old model and sign on the dotted line of whatever nonsensical finance arrangement the beancounters have come up with this time.
I am one of these existing owners. The Golf GTI is what I use as my daily driver. It is an extremely good car, apart from the fact it's permanently convinced it has a puncture when it hasn't. I get in it in the morning, start it up and it says: "You have a puncture." So I push the button saying: "No, I haven't." And then, when I get back into it to go home from work it says: "You have a puncture." And I start to foam at the mouth.
I've taken it to a dealership, which reset the computer. And ensured all the tyres contained exactly the same amount of air. And the next morning it says: "You have a puncture."
Today I have solved the problem by sticking duct tape to the dash so I can no longer see the message. Oh, and a flannel between the passenger seat and centre console to solve the rattle it somehow doesn't seem to know it's got.
I used to be very much in the manuals-are-for-men camp. 'Alexander the Great would never have ordered a car with an automatic gearbox,' I would thunder
Apart from these things, it's a wonderful car. It's equipped like a Bentley, it goes like a Ferrari and in traffic, because it's just a Golf and it's grey, no one takes my picture. Which is what happens, constantly, when I'm in anything more flash. Which is everything.
Anyway, my car has done only 15,000 miles so it'd take quite a lot to convince me I should take the resale hit and buy the new model. But I'm open to suggestion so VW dropped one off at the office.
I looked at it for a very long time. Then I looked at my car. And then I looked at the new one again and after a lot of doing this I realised that while my car was a sort of gunmetal grey the new one was definitely white. I also noticed after a lot more looking that the new model had slightly different trim in the headlights and some styling tweaks to the wheels. I then stepped inside and straight away saw that the rather attractive speedometer and rev counter in the old model had been replaced by some less attractive instruments in the new one.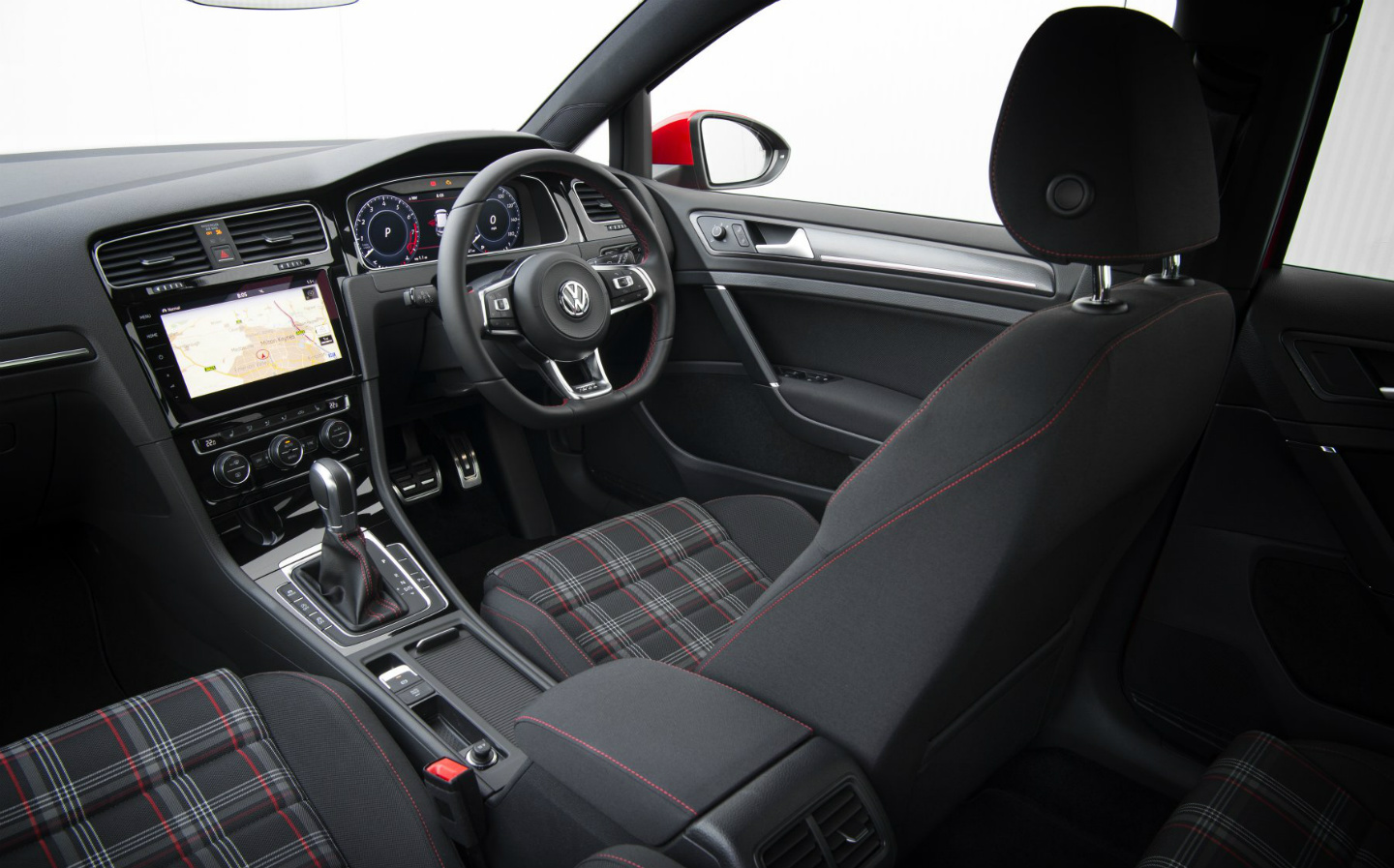 Also, instead of a button to start the car, I had to put the key in a slot and twist it. I haven't had to do that since someone worked out that in an accident an ignition key protruding from the steering column can play havoc with a driver's kneecaps.
And then I noticed the gearlever. And the clutch pedal. And I thought: "No. I'm sorry. It's pouring with rain. The traffic is going to be dreadful and life is too short to be using my left leg every time I want to set off." So I climbed out of the new car and into my own, which has a flappy paddle system. "You have a puncture," it said from behind the duct tape.
It's strange. Not that long ago, I was very much in the manuals-are-for-men camp. I saw the automatic and the double-clutch alternatives as a sign of weakness. In my mind they were a way of saying that you were a functionary, that you were willing to relinquish control to an algorithm. "Alexander the Great would never have ordered a car with an automatic gearbox,"I would thunder at people who had.
Now, though, I reckon buying a manual is like buying a television that has no remote control. Who says: "I like getting out of my chair to change the channel"?
---
Browse NEW or USED cars for sale
---
Maybe it's because I'm getting old. But more likely it's because the modern flappy paddle can change cogs far more quickly than any human being. And your left leg is free to tap along to the radio.
Much later in the week, of course, I had to park my prejudice and my bone idleness and take the new car for a drive. I'd been told its 2-litre turbocharged engine had 10bhp more than the old model and that this equated to a top speed that's 2mph higher. Which sounded great. But actually all VW has done is fitted the old performance pack as standard. Which means that the updated car has exactly the same amount of power and performance as mine.
Everything else. The steering. The suspension. And even the option of a clever limited-slip front differential is the same as well. And that's a good thing, if I'm honest. Because the old Golf GTI was the world's best hot hatch. And the new one is as well. Partly because it isn't new at all. But mainly it doesn't think it has a puncture.
Head to head: VW Golf GTI v Peugeot 308 GTI
| | | |
| --- | --- | --- |
| | Volkswagen Golf GTI | Peugeot 308 GTI |
| Price | £27,920 | £29,405 |
| Fuel | 43.5mpg | 47.1mpg |
| 0-62mph | 6.2sec | 6.0sec |
| Top speed | 155mph | 155mph |
Write to us at driving@sunday-times.co.uk, or Driving, The Sunday Times, 1 London Bridge Street, London SE1 9GF