President Trump's new armoured limousine may not feature at Inauguration Day
When will "The Beast" pounce?
---
Published 20 January 2017
IT HAS taken more than three years to create the brand new state limousine for the President of the United States, and it looks like we may have to wait a little longer still.
A replacement for "The Beast", as it is nicknamed due to its extensive armour and safety features, was ordered in 2013 under President Obama but the first to take a ride in the new vehicle was due to be Donald Trump during his inauguration today. However, Jalopnik reports that the new car is now expected to be completed "later this year".
The new armoured vehicle has been developed by General Motors at a reported cost of $15.8m (£12.9m) and The White House is thought to maintain a fleet of around 12 of the cars, each valued at $1.5m, which are deployed around the world to protect the President.
---
Browse NEW or USED cars for sale on driving.co.uk
---
The motorcade between the Capitol, where President Trump will be sworn in as the 45th president of the United States, and the White House will travel at a snail's pace today. The secret service refers to the short trip as the two-mile nightmare, as tens of thousands of well wishers and, in all probability on this occasion, demonstrators, line Pennsylvania Avenue.
For the President's secret service detail, and the extra 30,000 security personnel on duty in
Washington, this is when their new leader is most vulnerable. So he needs a fairly serious ride — luckily, the current state limousine is up for the job.
But what do we know about the new Beast?
The Beast: 2017 model armour, weaponry and tech specs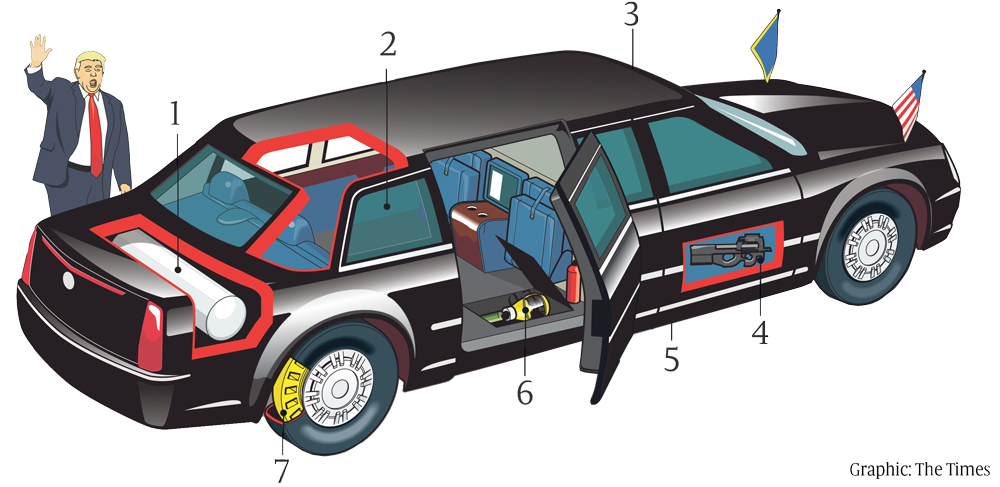 Make Cadillac
Top speed 60mph
Engine 6.6 litre V8
Cost $1.5m
Length 18ft
Weight 6,800-9,100kg (est.)
1 Fuel tank
Tank is bullet and blast-proof. Car runs on diesel, which is less volatile than petrol.
2 Glass
Laminated windows are several inches thick and made up of layers of polycarbonate and toughened glass.
3 Driver
Highly skilled driver can manoeuvre the car out of trouble using a variety of anti-terror techniques, including 180 degree J-turn. Hopefully the new car will also be able to avoid this sort of trouble.
4 Weapons
Protection officer and driver carry an array of guns and car is equipped with CS gas.
5 Doors and body
Paintwork conceals military grade armour up to 8in thick.
6 Personal protection
The car contains an oxygen supply in case of a gas attack and reserves of the president's blood.
7 Wheels
Run-flat tyres have a solid core that maintains their structural integrity if punctured.
For more details about today's motorcade, head to The Times. Register with a few details to gain full access tot he article.