Interview: Nissan's electric car chief on new Leaf, hybrid Qashqai and the EV tipping point
Surging ahead
---
Published 16 September 2015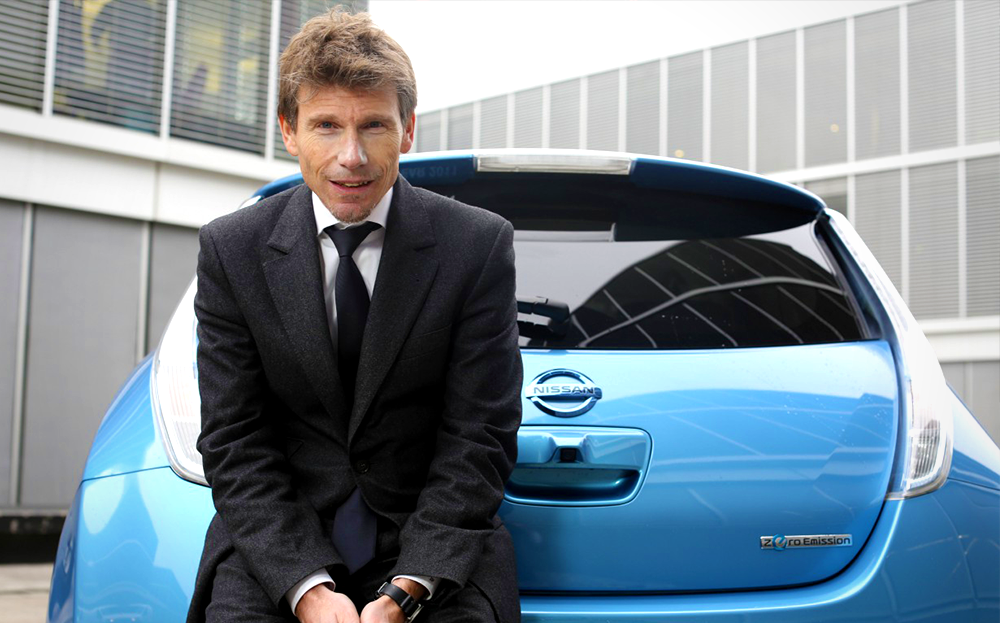 IF THE 2015 Frankfurt motor show is anything to go by, plug-in cars that run purely or partly on electric power are still very much part of car makers' plans for the near future. In fact, after Tesla Motors' success with the Model S, the mainstream car makers seem to be redoubling their EV efforts.
---
View the electric cars for sale on driving.co.uk
---
Peugeot brought along the Fractal Concept, BMW showed the new 225xe, 330e, 740e, and X5 xDrive40e models, as well as the i3 and i8 (perhaps the strain of it all was what led the company's chief executive to collapse on stage), Audi announced that it has 310-mile electric SUV in the works and Porsche is tackling Tesla head-on with its 330-mile, 600bhp Mission E four-door coupé.
However, it wont be plain sailing for the established car makers. Upstart Tesla had an update for its long-range Model S electric car, boosting its power in the process to 762bhp, and its electric Model X SUV will be launching in 2016, followed by the Model 3 family car in 2017.
According to the Society of Motor Manufacturers and Traders, the number of plug-in models on sale in the UK has more than doubled from 12 in 2012 to 25 this year. The VW group, which includes Audi and Porsche as well as Bentley, Bugatti, Lamborghini, Volkswagen, Seat and Skoda, plans to launch 20 electric and plug-in hybrid (PHEV) cars by 2020 (see the Driving section this weekend for more).
The number of plug-in models on sale in the UK has more than doubled from 12 in 2012 to 25 this year
Amongst all this, another company is fighting to remain at the head of the electric car pack. Nissan says it has sold 200,000 Leafs since the pure-electric hatchback launched in 2011, making it the world's best-selling electric car. It brought an updated Leaf to Frankfurt, with a new, longer range (155-mile) battery pack, along with a new extended-range electric (E-REV) crossover concept called Gripz.
Driving asked Jean-Pierre Diernaz, Nissan Europe's electric vehicle director, about the new Leaf, Nissan's EV programme, and the future of electric cars in general.
Driving: The Nissan Leaf is getting a 30khw battery – how much extra range will that yield?
Jean-Pierre Diernaz: A 250km (155-mile) range, which will be – excluding the Tesla, which is in a different segment – the highest range of any competitor.
Driving: What has changed technically?
JPD: The battery is changing significantly. We don't want to reveal how it is being constructed, but the physical size is exactly the same between the 24kWh and the 30kWh, so we have actually just increased the density of the battery.
Driving: How has that been achieved?
JPD: An evolution of the construction techniques and we are more mature in the way we develop the technology. It's really a normal curve in innovation management.
One thing that is important to notice is that the durability of the battery has been increased, so we're going to move from a five year warranty to an eight year warranty.
Driving: What else is new on this Leaf?
JPD: We have a new onboard telematics system with a new look and feel, and additional functions. It will be faster, and the mobile apps that link to it – the way drivers charge their battery, the way you remotely charge and look at the battery level – is improved. I think customers will really appreciate this. It's faster, simpler and has a better look and feel.
Driving: When Leaf was launched in 2011, Nissan explained that 80% of daily driving in Britain is below 30 miles, so 100 miles of range was more than adequate to cater for our daily needs. Is the bigger battery an admittance that the original battery was too small?
JPD: No. In fact, it's still the same size. The statistics from 2011 in terms of how many people actually need more than 100 miles is still the same. What we're talking about here is a difference between what you actually need, and what you believe you need, which is a big difference. There's two things: one, battery technology is improving, therefore range is improving, and by doing so we effectively increase our accessible market, because more and more people will be interested in EVs, as the range effectively goes up.
As far as your question is concerned, it's not just that we admit the range was too low, because literally for all the commuters who are the number one target for EVs, you don't need more than 150km a day. It's just a perception; it's to remove the anxiety. Claiming 250km is going to reassure everybody.
Driving: Do you think the education process is taking longer than imagined?
JPD: I don't know if it's longer than we imagined but it's effectively long, for sure. It's a massive shift, and when it comes to cars and massive macro trends, it is relatively slow and the adoption curve is slow to reach a tipping point, and then we all believe that when the tipping point is reached, then it will explode.
Driving: How close are we to the EV tipping point, do you think?
JPD: The tipping point will come from a combination of things like price down, battery range increase, and we're close to it. We have a double digit increase in sales year-on-year, despite the Leaf getting older and older. So it's a totally different life cycle curve compared to other cars, because no matter the age of the car, we double our volumes. The percentage of EVs as a total in the industry is increasing, at least in our key markets.
It's actually normal that it is slow. There is a combination of perception and reality, and perception is much harder to manage than reality. It took 40 years to convince people to reduce smoking, so if it takes us 10 years to convince people to shift from internal combustion cars to EV, which is the same level of shift in terms of uptake, I don't think it is slow.
To take another example, moving from traditional banking to direct banking, where everything is dematerialised, it's still very slow as a total in Europe. Why? Because it is a massive shift of behaviour on something that is absolutely sensible for consumers, which is money. In the case of electric cars, it's about cars, which is the second biggest cost after your house.
Of course, everybody would be happy if it happened faster. Now we have to look at the positive factors of this: is it increasing? Yes. Is it increasing at a double digit rate? Yes. Do we see more and more appetite for electric cars? The answer is, yes. Is it going to accelerate in the future? The answer is yes. Why? Because our product is better. Again, the 250km range is going to change the way people are looking at Leaf.
And there is something which is key, which is air quality. Climate and air quality is now resonating very strongly with individuals. And we see a direct correlation between people being sensitive to air quality and people willing to change their car for an electric car. Here's an example that works in London and in Paris: when high pollution levels are declared in cities, and you have to tell your kids, "Don't play football outside because the air is too polluted," and when you have playgrounds that are locked closed, as we did in Paris last year, we see ten times the volume of visits on our website. We multiply by five the requests for brochures. That's why I'm telling you we are close to the tipping point; people are now beginning to believe the quality of the air is absolutely key for your household, for your family, for your health, and electric cars are the solution.
There's another point, and that is mega cities. We have more people living in cities, we have to find solutions, these come from energy grid management, car sharing, connected parking, and electric mobility.
So yes, it is slow, but it's actually much more positive than what people believe when you compare it to other trends. The future is bright!
Driving: Some people see hybrids as a stepping stone to electric cars. Are we going to see a hybrid Juke or Qashqai?
JPD: We're looking at any kind of electrification. We are not disregarding any technology. Which one for which car by when is something we don't want to reveal but for sure our ambition is to be the leader in electrification in the world and we'll look at all the technology for this.
Driving: That's a yes, but you don't know by when…
JPD: No, it's not necessarily a yes because at this stage I cannot say what technology will be for which car. I'm just saying that we are not single-minded from an electrification standpoint. And by the way, we already have Infiniti in our group, which already has some hybrids, so we show that we are a multiple technology company.
Driving: In the UK Infiniti is a small player; an electric or hybrid Qashqai would be a clear signal, don't you think?
JPD: Yes, the more electric cars we have, the easier it is to make a sign to consumers, but if you expect me to say what is the line-up and which of the next cars will be electric, I just cannot do this.
Driving: What about plug-in hybrid
JPD: For me, the ultimate solution is full electrification because simply it works, you have fewer parts in the car therefore you have less maintenance, you have low emission, it's really the pinnacle for me of what we should look at. However, in the short term, for some segments, for some markets, for a specific model, plug-in hybrid might be a solution
Driving: Will you create a rival to the Tesla Model S?
JPD: For the time being, our mission is to make electric cars accessible to the masses. At this stage we're looking at every segment. We have proven that we have mastered the technology to a point where we take the Leaf technology and put it in a van (the e-NV200), and it works perfectly well. If we have to put it in a small car, we can, if we have to put it in a sports car, we can, and if we have to put it in a bigger car, we can. As far as the Nissan is concerned, the objective is accessibility – accessible for everyone, so we have to think about it in terms of an accessible range of prices.
---
Click to read car REVIEWS or search NEW or USED cars for sale on driving.co.uk
---