Incredible 1958 Golden Sahara II future car had light-up tyres and a remote control
Fully restored car back in the public eye after 50 years
CARS MAY become more advanced over time but our fascination with futuristic visions of motoring never changes.
The 1950s and '60s were especially active decades for future cars; against the backdrop of the space race, and post-nuclear dreams of limitless energy, robotic homes and flying cars, the Golden Sahara II was a shining example of just how keen people were to make their motoring fantasies come true.
The first Golden Sahara, developed by Jim "Street" Skonzakes and customiser George Barris from a 1953 Lincoln Capri, was unveiled in 1955 but the Golden Sahara II, which came a few years later, became truly famous.
It was packed with incredible features for the time, some of which could be operated via remote control; you could open the doors, start the engine and propel the car forwards, albeit slowly, via the remote.
It also had an electronic steering, braking and accelerating system could be controlled via a an aircraft-style lever or a touchpad on the dashboard, and sensors below the headlights that could automatically activate the brakes if they sensed a pedestrian in the car's path, leading to Golden Sahara II being labelled one of the first autonomous cars (although we'd now think of it as "semi-autonomous").
The amazing tech didn't stop there: the car also featured massaging seats and contained not only a radio but also a telephone and television, and a drinks cabinet between the rear seats suggested the auto-braking system might have been prudent kit, on occasion.
One of the car's standout features were the amazing tyres. Developed by Goodyear using Neothane, a translucent form of synthetic rubber, they contained internal lighting, which allowed them to glow.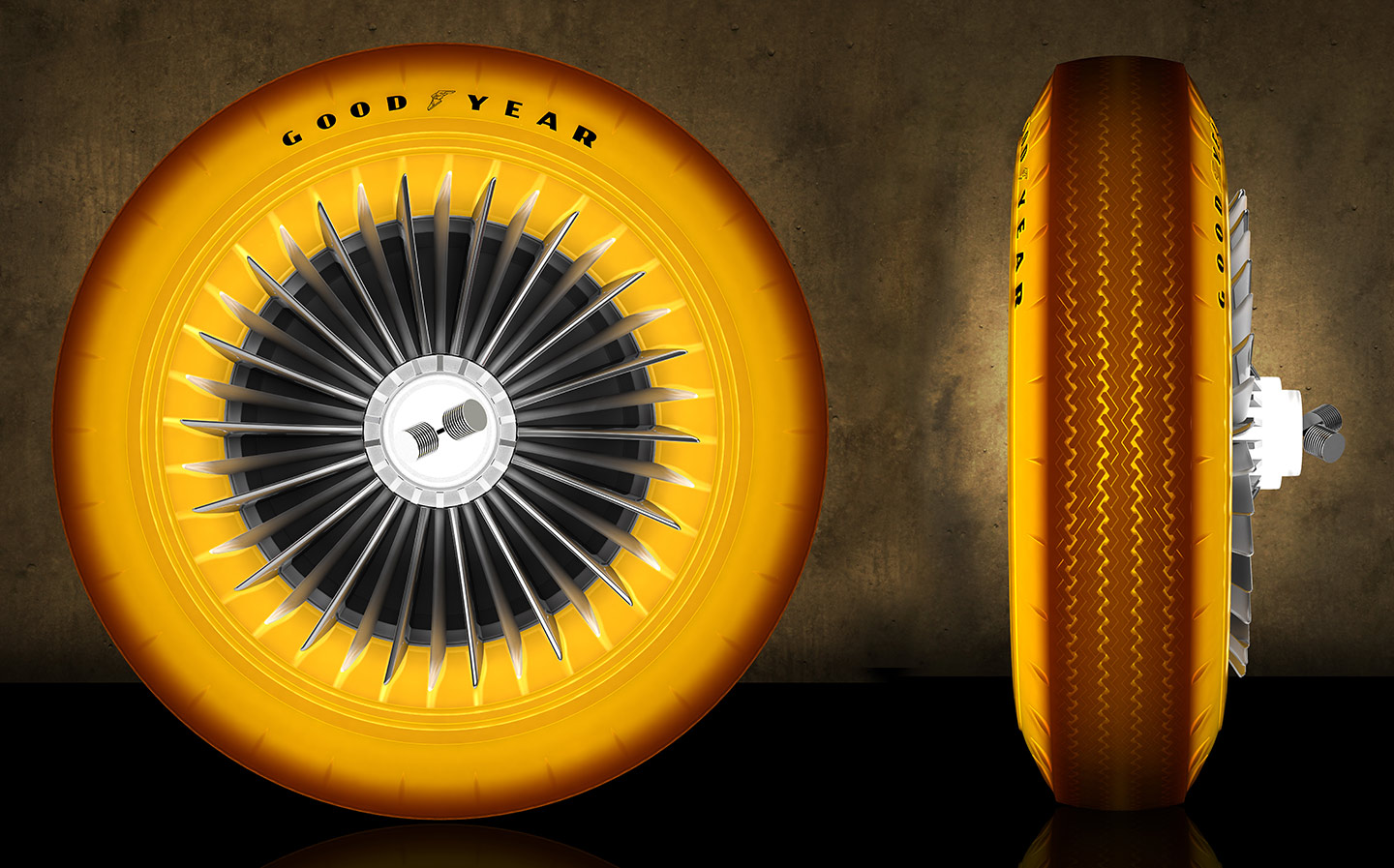 According to Goodyear, its involvement in the Golden Sahara II project was part of broader research into the feasibility of tyres that could help improve visibility in bad weather conditions, or be wired to light up when a driver hit the brakes.
It also had a custom pearlescent paint made from dried and crushed fish scales.
It wasn't a cheap project, of course: while demonstrating it on television show I've Got a Secret in 1958, Street said that the Golden Sahara II was worth $75,000 — more than $653,000 (nearly half a million pounds) in today's money.
As well as TV appearances, the car appeared at major shows around America and even appeared in a movie: Jerry Lewis's 1960 Cinderella adaptation, Cinderfella.
But then it disappeared for the best part of 50 years. According to Autoweek, Street may have on occasion taken it to local "cruise nights" in Ohio before being hidden from view in the late 1960s, as it fell into disrepair, because of "Street's perfectionist mentality".
Then, in 2018 it emerged again, nearly 50 years later, to be sold at auction. It was purchased by Klairmont Kollections, a collector of rare and one-off stars of automotive history, for a reported $350,000. Restoration to its former glory began immediately, with the help of Speakeasy Customs and Classics, in Chicago.
The finished car has just been presented by Klairmont Kollections and Goodyear at the Geneva motor show… on four, newly-built Goodyear translucent tyres, naturally.
"We are truly honored to have once again been a partner in the Golden Sahara II project," said Henry Dumortier, Vice President Consumer for Goodyear Europe.
"Discovery and innovation continue to be the core of what Goodyear does. Working on projects like the Golden Sahara II and the concept tyres that we present at Geneva is an opportunity to stretch our imagination and envision the possible products and services of the future."
Those products and services of the future involve a new design study for a wheel with flexible spokes that double as propellers, potentially allowing for flying cars to finally take off. It's heartening to know that some people never stop dreaming.
Can't see the videos? Click here.