Child seat makers on verge of introducing integrated airbags (updated)
But expect roadblocks from car makers
---
Published 10 October 2017
CHILD seats fitted with airbags are to go on sale in a move that is likely to prompt new debate over children's safety in cars.
One leading maker of child seats says the technology that has saved thousands of adult lives around the world is now ready for use in child seats.
From next week, British drivers will be able to buy a child seat fitted with a restraint system that incorporates airbags. The £550 "Air Technology" seat from Maxi-Cosi, one of the leading manufacturers, will be available via pre-order from October 12.
---
Browse NEW or USED cars for sale
---
In a frontal collision, children in forward-facing seats are at risk of severe spinal and neck injuries, or traumatic "chin-to-chest" strikes. In a side-impact collision, there is a risk of head and neck injuries. Fitting airbags to the top section of the child's harness could reduce such injuries, according to some analysts.
Maxi Cosi's new seat, which is due to be revealed in full on October 17, uses an acceleration sensor and trigger installed in the back of the seat to set off a CO2 air cartridge, which inflates a pair of small airbags around the child's shoulder and chest area.
Not all child seat manufacturers agree that the technology provides improved safety. Richard Frank, director of engineering and product development at Britax Römer, said that while the technology offered the potential for "superior restraint performance", his company did not believe the technology is ready for the market.
Asked to explain, Frank said that the method of deployment — the moment the airbag is inflated — is critical to ensuring that they protect children.
"You need to have a reliable trigger signal, because you don't want to have an unintended deployment," Frank said. "And it must deploy in certain crash situations, so if you just have a 10kph parking contact it should not deploy, but if you have a 30kph or 50kph impact, it must deploy."
He told Driving that airbag technology in child seats requires a power supply and a communication link to a car's electronic control unit, which manages the sophisticated sensors that detect an accident.
Rainer Stäbler, managing director of Britax Römer Europe, suggested communication between the car and the child seat was the next step in safety. "If we get more information from the car, then we can also make much more on the car seat side," he said.
He added that as well as deploying airbags, the technology could be used to prepare a seat for the impact by swivelling, or tilting from a sleep to an upright position, in a split second, or by tightening the safety harness.
However, Stäbler said in the short term car makers were unlikely to allow this car-to-seat communication because of the danger of interference with the vehicle's own safety circuitry. "If they open an interface to partners like us, what does that mean for them? There are a lot of discussions around this," he said.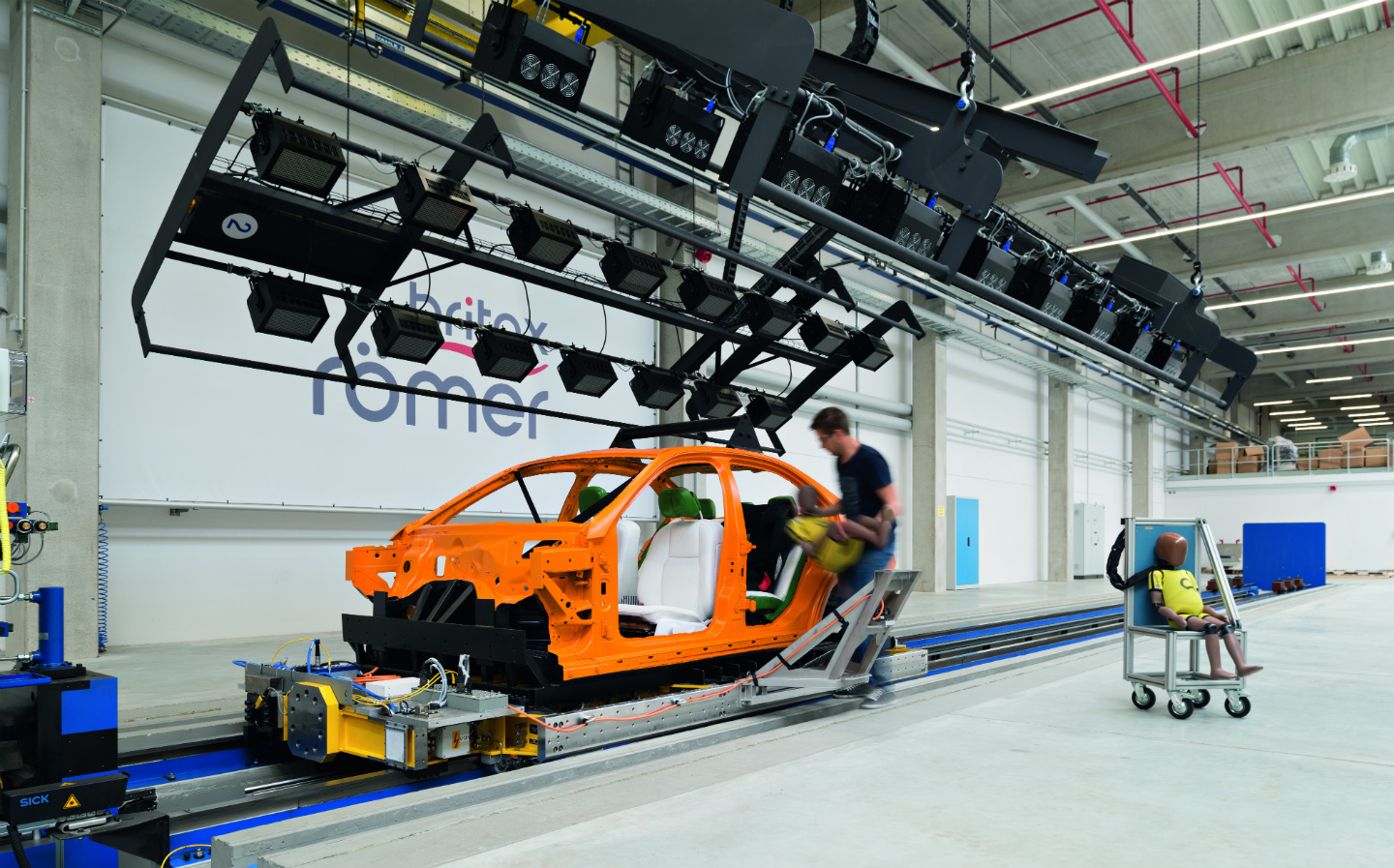 The company issued a statement saying that while Britax Römer has "tested airbag technology and it can offer superior safety", without the communication link to the car it's "not something that Britax will be testing or developing".
Matthew Avery, Director of Research at Thatcham, the safety research organisation, told Driving that he could see the conflict between child seat makers and car companies from both sides.
"If [a child seat airbag] is well-timed and intelligently programmed, it could do good. But I see them as a last resort, like saying we need airbags because we don't want to wear seat belts."
Avery said that airbags in child seats wouldn't be needed if more drivers followed the habits of parents in Scandinavia and used rear-facing seats. "The sensible Swedes use rear-facing seats until children are six-years old. Their child fatality rates are really small. So they don't need airbag technology."
In the UK, child seats must be used by law until children reach than 12-years old or 135cm tall, and must be rear-facing until they are at least 15-months old, but they can be forward-facing legally after this age. Last year, 69 children were killed in road accidents in Britain.
Avery believes there are other ways to protect children, using existing technology and better education for parents. He adds, "Modern cars can avoid the collision in the first place."
Britax Römer is one of the largest manufacturers of child seats, with a turnover of €400m (£358m). It has recently completed the development of a €5m research and development centre in Leipheim, between Stuttgart and Munich.
The German company has historically taken a strong stance over the safety of children. In 2001, the company stopped making seats that use "shield" technology — large cushions that replace harnesses — because it claimed that they were not safe in real-world accidents. And in 2010, it stopped selling simple booster cushions for the general market, saying that tests showed they were not as safe in a car crash as a high-backed seat.
This article was revised at 16:00 on October 10, 2017, following a statement from Britax Römer refuting that it is developing airbag technology.
Tweet to @squarejames Follow @squarejames
Buying Guide: Best child car seats and booster seats reviewed