Buying Guide: Best child car seats and booster seats reviewed
Expert reviews to provide peace of mind when buying a car seat for your baby or child.
---
Published 19 February 2019
BUYING a child seat for your car is a minefield. Even if you're buying a seat for a second child and have been there, done that already with your firstborn, rules change, safety standards improve and new products come out, so it can be just as baffling the second time around. And then you need to upgrade the seats as your child grows.
Hopefully, this guide will take some of the pain out of the experience. Every child seat we review will appear here, so the page will be updated over time.
We have grouped the reviews by age/weight, so you can jump straight to the section that is most relevant to you, and we include the date of the test, information about how easy it is to install, comfort levels and even links to buy them. Consider this your one-stop show for baby seats, child seats and booster seats.
And if you need an update on child seat laws, including which seat is right for your child, along with installation advice, find out comprehensive guide here.
Jump to…
Child seats for toddlers/ pre-schoolers and up
Child seats and booster seats for children aged 4+ (15kg and up)
CHILD SEATS FOR BABIES
Britax R
ömer

 First Class Plus review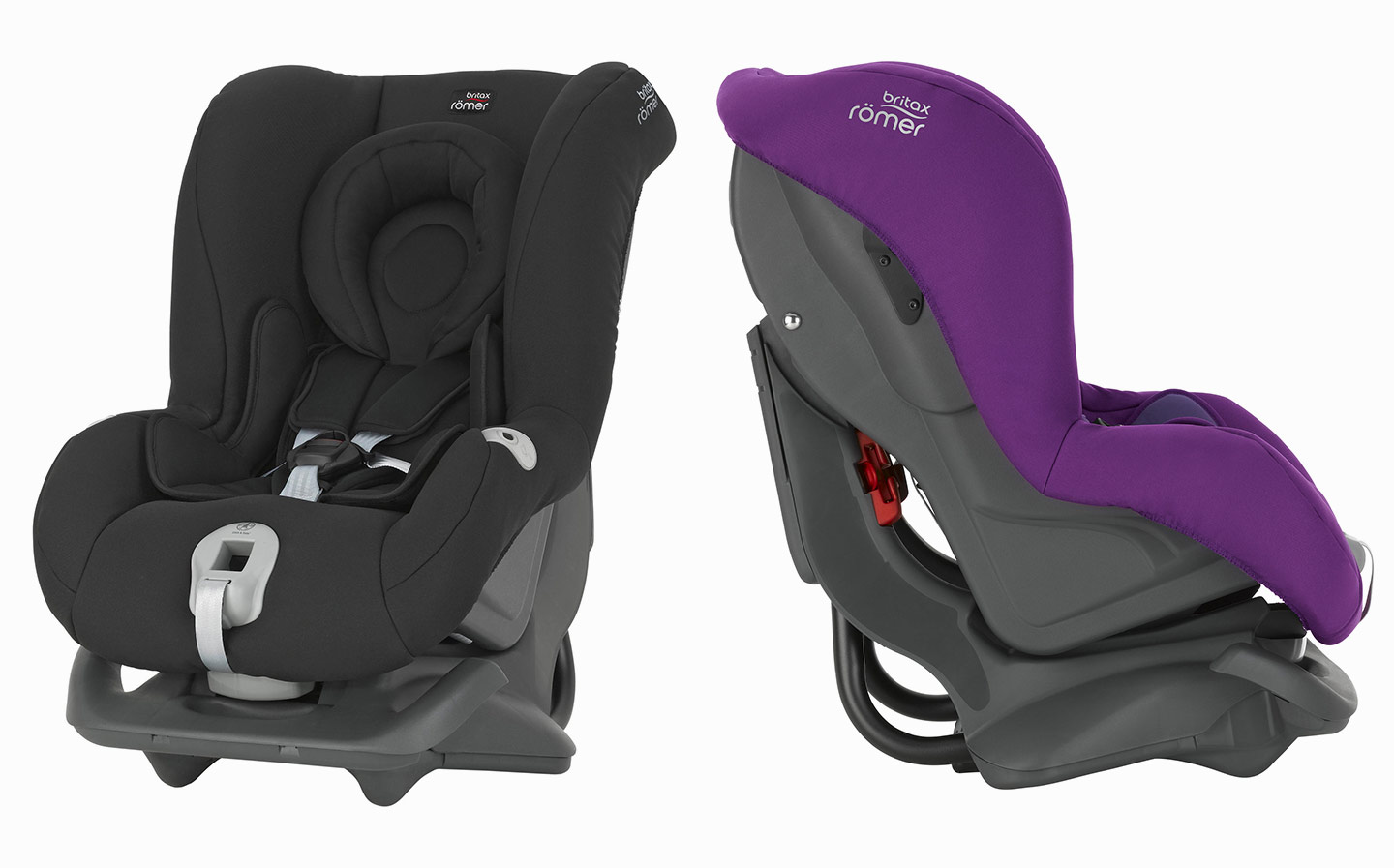 You get the impression the First Class Plus is a little out of date. Britax's own research has shown that child seats without Isofix connectors are only installed correctly 30% of the time, whereas those with Isofix are correctly installed 96% of the time. Yet, the First Class Plus relies solely on the car's seatbelts to keep it in place, and getting this right does require careful attention to the instruction manual.
One of the big benefits of the seat is that it can be used rearward-facing for children up to 13kg (around 12-15 months old) and then forward-facing up to 18kg (around four years old). But, of course, this adds an extra level of complexity. In rear-facing set-up, the belt goes across the front of the base then through the slots on the back of the seat and then in through a guide on the shoulder nearest the door. Assuming you've done it all correctly, the belt crosses the gap from the seat shoulder to the door frame making it difficult to get a child in or out of the car. The temptation is to push the belt down, under the seat edge, but it would be easy to forget to put it back in the correct (safe) position before driving off.
When forward facing, the belt has two set-up options, depending on how long your belt buckle protrudes, and it must be thread through a red guide. It's a lot to ask of time-poor parents.
On the plus side, it's robust, supportive and well padded, has a good amount of recline and the cover is simple enough to remove and clean should your baby have an upset stomach and a leaky nappy (we know this from experience). The harnesses also have a handy audible click when the correct tension is achieved, although parents who don't read the manual won't realise the first click means check the tightness, but usually a second tug is required to get it to the correct tension.
With Isofix this would be a good seat but without, it's possibly one to ignore, even at its relatively affordable price.
BUY IT AT Halfords.com
Joie i-Level review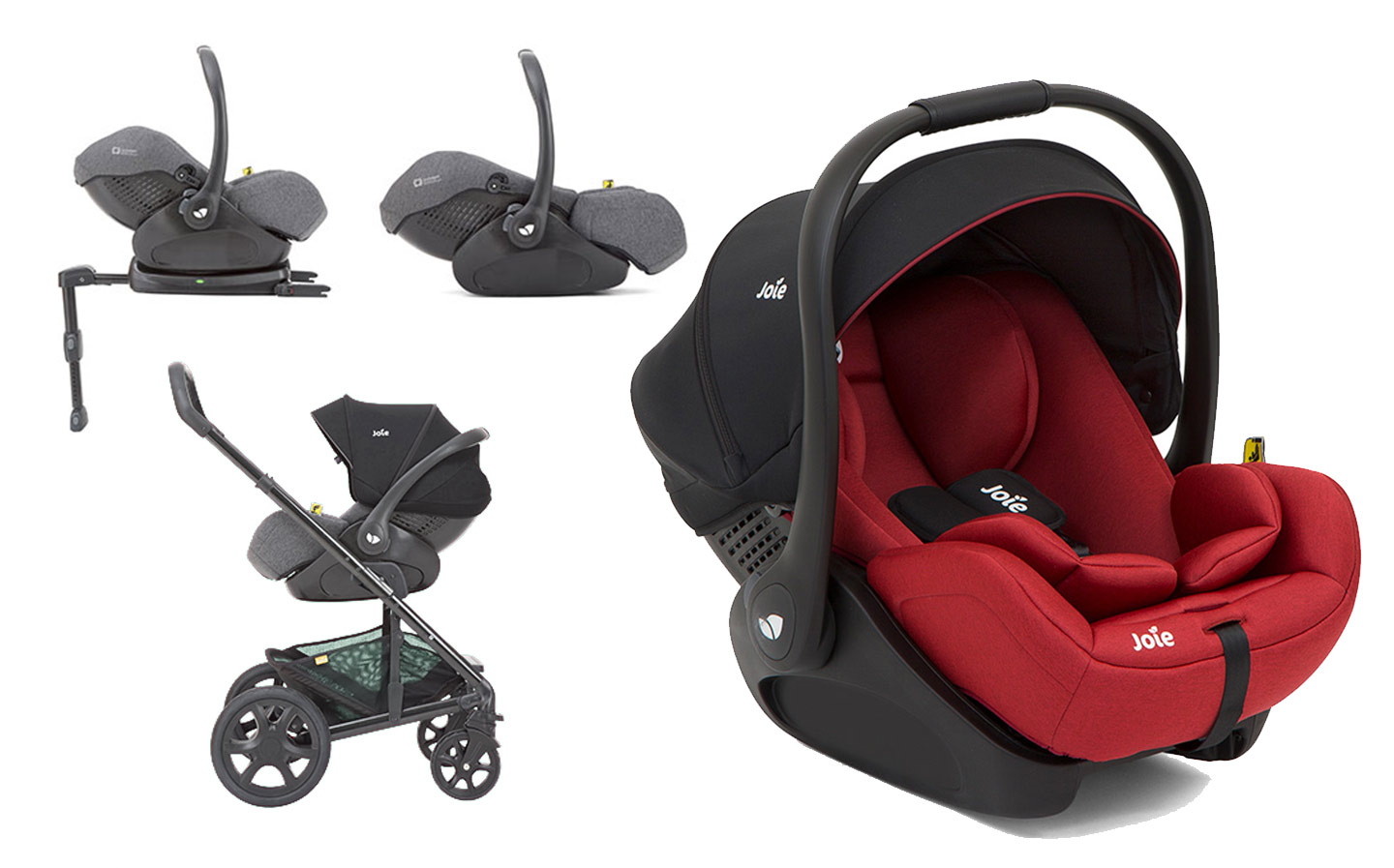 Lugging around all the accessories necessary when you have a newborn means a practical car seat can't be heavy. The Joie i-Level takes this seriously — it's noticeably portable at less than 5kg without the base, and even the ISOFIX base, which comes with the seat, is slight.
The i-Level's big selling point is the Sleepytime Tilt, which lets you flatten the seat to a 157-degree angle, meaning better sleep for babies tucked under pub tables after snoozing in the car, or easier breathing on long journeys on the road. This does set it apart from other seats on the market and is a real boon, both for nervous first-time parents and those who really value an extra ten minutes peace and quiet.
The ISOFIX base leg has 10 different height settings and so takes almost no brainpower to fit (a bonus for exhausted new parents), plus it has a handy green/red button on the side of the base to show when the seat is correctly clicked in.
Joie make a big fuss of the Tri-Protect headrest, which has three different layers to keep your baby's head safe in the event of a crash. From a practical viewpoint, though, it's snug and can appear uncomfortably tight on a newborn's head, especially when using the newborn insert. However, it's easy to adjust its height, even if the fabric is a bit slippery, which can be tricky when you're trying to manoeuvre a floppy sleeping baby while strapping in. And it feels lovely and smooth.
The retractable sun canopy comes right down over the seat, which is great for low sun but less good for still being able to see the child in your rear seat mirror. Reassuringly, it has a panel for ventilation, and it's removable — though it's unclear what benefit this affords except perhaps the chance to lose it.
But apart from a few niggles, the i-Level is practical, has a firm eye on safety and looks slick for the affordable price tag. It's worth considering for the Sleepytime Tilt alone.
Words: Alessia Horwich
Joie Stages review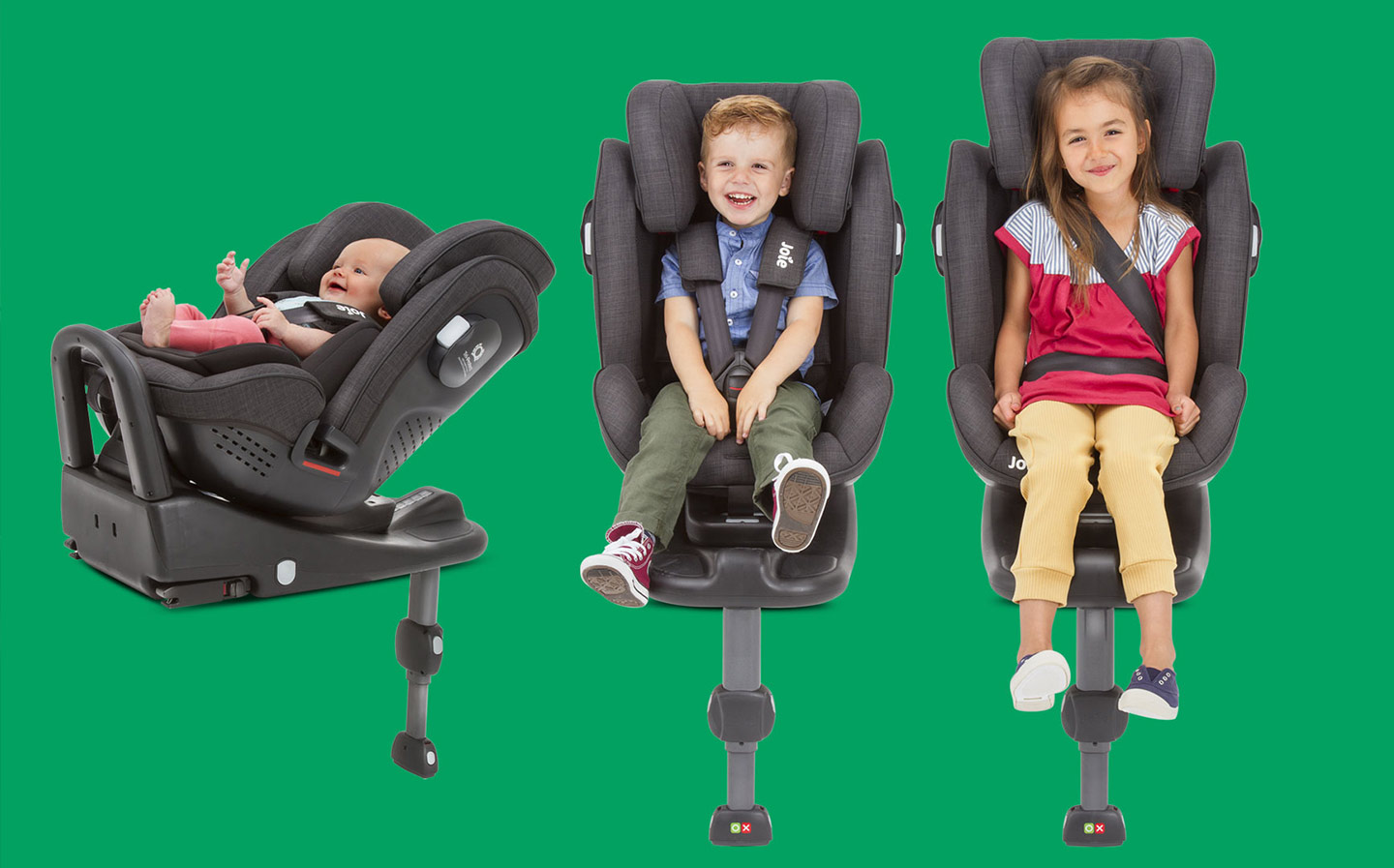 Straight out of the box, you know you're dealing with a quality product here: all the components fit together very snugly and solidly, with no rattles or flimsiness, and the seat itself feels soft and thickly padded yet supportive. Even better, it's suitable for newborns right the way up to around six or seven years old, so although it's not cheap with an RRP of £300 at the time of testing, it should prove excellent value for money.
In the box is an Isofix base, into which you slot the "rebound bar" (which rests against the car seatback to stop the base lifting up over bumps) before connecting to the Isofix points in your car, then the whole unit is pushed back against the seat, clicking into a tight position. The "load leg", which features shock absorbers, then extends to touch the rear passenger footwell. You know you've got all this right when you see the green indicators, but it's a doddle, really, and the instruction manual is easy to follow.
The easiest bit is connecting the seat to the base — it literally just clips on top. The seat connects rear-facing until you child is over 9kg, then you can remove the supportive lining for babies, unclip the seat with the eject button and turn it around to face forwards; the seat clips in just as easily as it does for rear-facing. If you'd prefer to keep your child rear-facing for as long as possible, the Joie Stages is will do it until your child is 18kg, or around four years old. The seat has been i-Size safety tested in these first two stages, using the latest child dummies and side impact tests. The seat also connects to two different infant carriers so you can leave your child sleeping in their seat when you arrive at the shops.
It's trickier to get a child in and out when the seat faces rearward, and older children may not like the tight legroom as they grow, but the choice is there. In either configuration, the Joie seems to fit more easily in the rear row of smaller cars than other seats we've tested. When forward facing, it sits far back on the base, leaving maximum legroom. A simple one-handed recline system has seven positions.
As your child grows, the Stages becomes a booster seat with seven height positions for the backrest, suitable for children up to around seven. If there's a grumble, it's that the metal clasps on the shoulder straps, which fit together before latching into the buckle, are a little fiddlier than those of some rival products, and locating the button to loosen the straps is also not too user-friendly.
However, overall it's an extremely versatile, well-made, easy-to-install, safe and comfortable seat. We were impressed.
BUY IT AT Mothercare.com
Joie Spin 360 review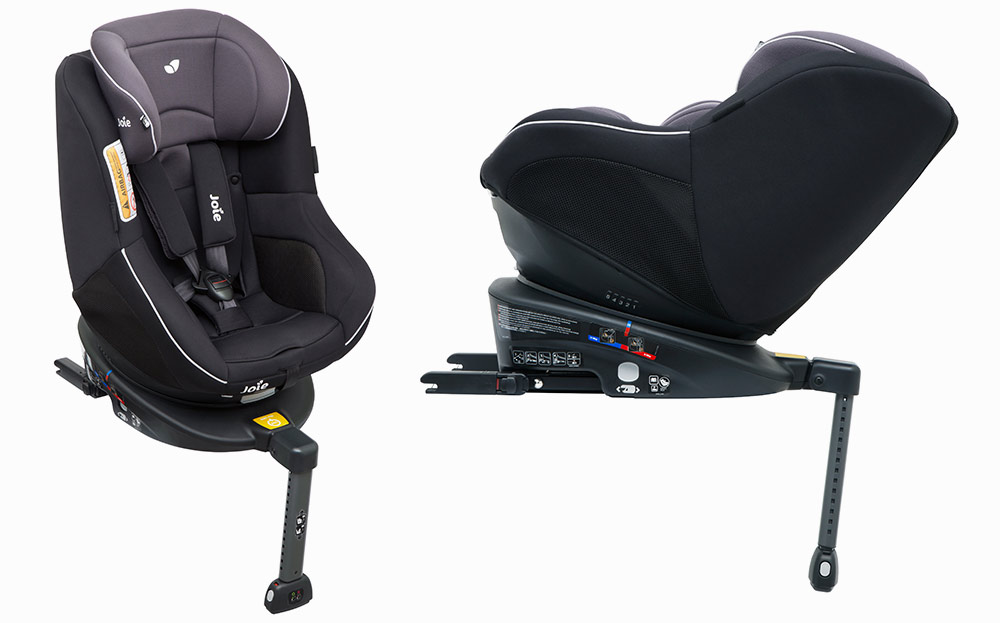 The seat and base do not separate, so forget about carrying your little one from the car without first removing them from their throne. Cue rousing from slumber and tears. However, it does mean that installation is a breeze: the two extendable Isofix arms slot into compatible points on your car (read about Isofix here).
Lifting a lever at the front of the seat allows the seat to spin, making it easier to load a child in and out of car doors. The unit also offers an audible 'click' and another safety window when the seat is safely secured into its forward or rearward facing positions, post-swivelling.
There are five reclining positions in both rear- and forward-facing positions, which will keep your child comfortable as he or she gets bigger, plus the 'Grow-Together' multi-height headrest and harness system make it simple to adjust without having to take anything apart or re-thread harnesses. Just pull a lever and slide.
BUY IT AT Amazon.co.uk / Mothercare.com
Mothercare Madrid review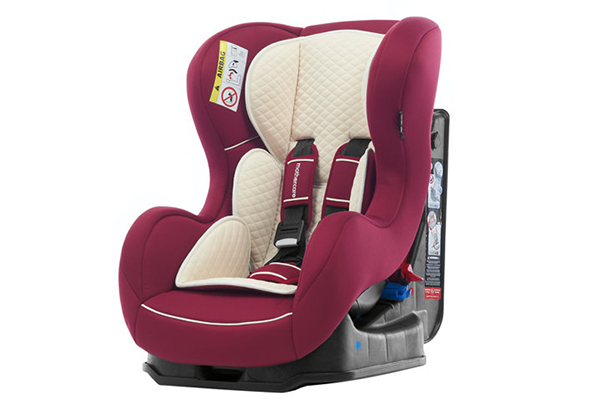 The Mothercare Madrid has a five-point harness, is suitable from birth all the way up to around the age of four, rear-facing until about nine months and forward-facing afterwards.
It may be one of the cheapest on the market but it isn't bad on the eye; while the Madrid is not made from luxury materials, it's handsome enough and available in burgundy and cream or black and cream.
It doesn't have Isofix and instead is secured by a seatbelt. What's more, this is not a seat that you'll want to be lugging backwards and forwards to the house as there's no carry-handle.
BUY IT AT Mothercare.com
---
CHILD SEATS FOR TODDLERS / PRE-SCHOOLERS
Britax R
ömer
Evolva 1-2-3 SL SICT review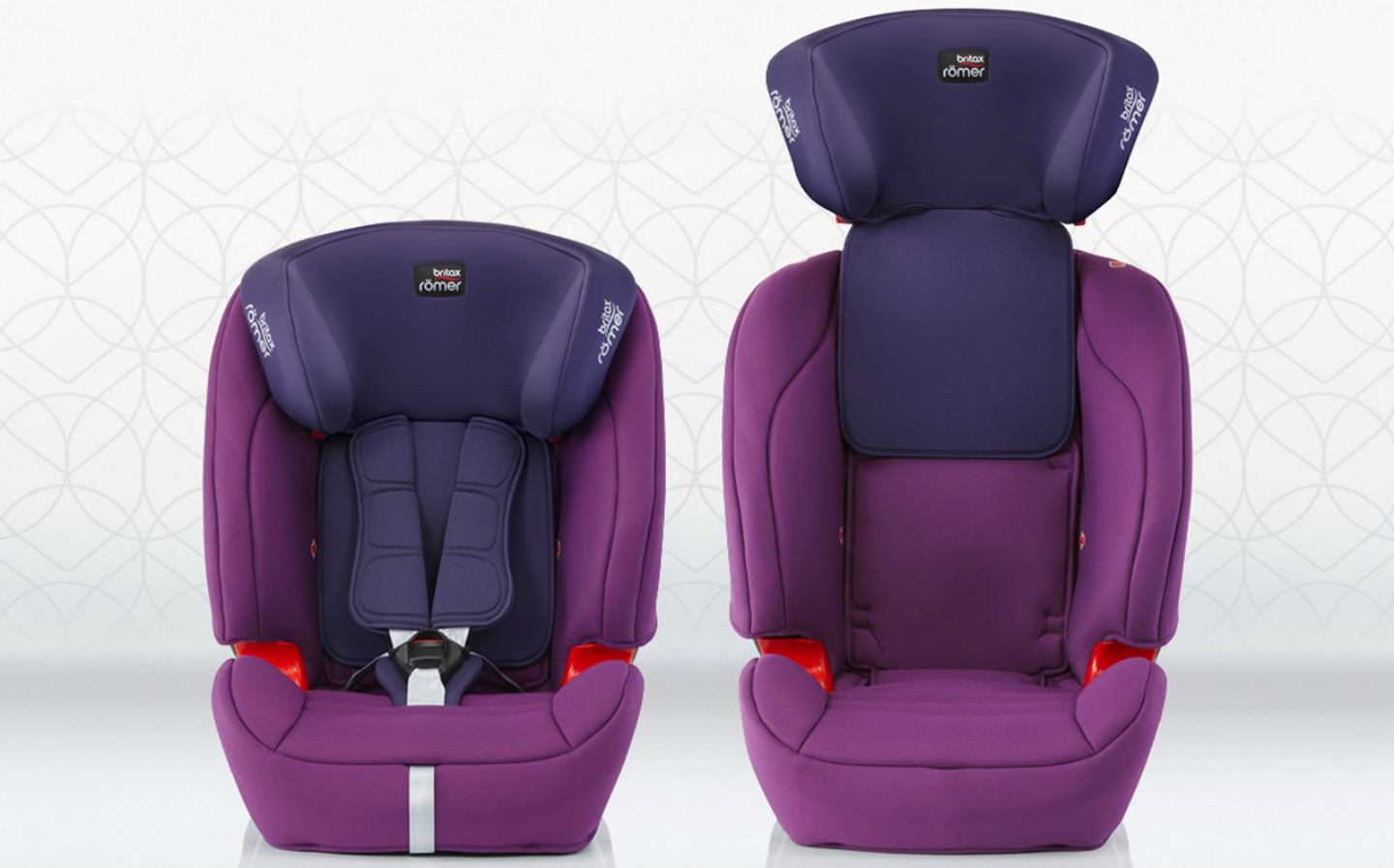 The Evolva 1-2-3 SL SICT left us unimpressed. So much so, in fact, that we wouldn't recommend buying this seat.
The Evolva 1-2-3 SI SICT is a Group 1, 2 and 3 car seat. That means it spans an approximate age range of nine months to 12 years. The beauty of this is that it can grow with a child, and save parents from having to buy multiple seats over the years. If only someone could do the same for children's shoes.
It uses a five-point restraining harness for children in Group 1, which allows for a body weight of 9 to 18kg. Once children pass 15kg, says Britax, the harness can be removed and the seat can be used with a regular seatbelt.
Fitting the Evolva is not straightforward, because it doesn't use traditional, solid arms to mount to a car's secure Isofix points. Instead, it has what Britax refers to as 'Soft Latch', which uses webbing straps with latching devices on their ends to secure the seat in place. This is a more complicated approach, so there is more potential for parents to install the seat incorrectly.
In Group 1 use, it also requires the three-point seat belt to be fed through the frame of the seat, as the child is kept in place by the five-point harness. In Group 2 and 3, the seat belt is used to restrain the child, so only the Isofit straps secure the seat.
Given that Britax invented Isofix, together with Volkswagen, and champions its use – highlighting studies that show that only 30% of car seats are installed correctly when using an adult seatbelt, compared to 96% per cent when using Isofix in Group 1 car seats – it seems counter-intuitive for the company to deviate from such a simple, safe system.
Once the seat was secured in place (we used a Renault Grand Scenic, 2016-on), and the "Isofit" straps and seatbelt had been correctly secured with no slack (we spent a long time checking the manual and ensuring we were following the instructions correctly), there was a concerning amount of lateral movement in the top section of the seat. It was possible to rock it from side to side, much like you would be able to with basic high-backed booster seat that is secured only using a seat belt.
Whereas, seats — including those from Britax — that use solid Isofix bars to connect to the mounts don't allow lateral movement. We would always recommend a seat with these.
Britax told Driving: "It is important to remember that the Evolva 123 SL SICT is not an Isofix seat but a belted installation, like the original Evolva models, but with improved performance due to the addition of the Soft Latch and SICT."
There are other features of this seat that didn't impress us. The five-point harness is tricky to loosen, as the button to allow parents to pull through some slack is hidden from view, beneath the seat fabric. The sides don't expand as you lift the headrest, as they do on, say, the Joie Transcend, so it's arguably not quite true for Britax to say the seat "Grows with your child".
And tilting the seat, such as when your child falls asleep, can't be done without stopping the car, taking the child out of the seat, unfastening the Isofit and seatbelt, then turning it over to swing the 'spacer wedge' through 180 degrees, before installing the seat all over again.
For all these reasons, we wouldn't recommend buying the Evolva 1-2-3 SL SICT. Britax makes some impressive car seats, but this isn't one of them.
BUY IT AT Mothercare.com
Britax R
ömer

 King II ATS review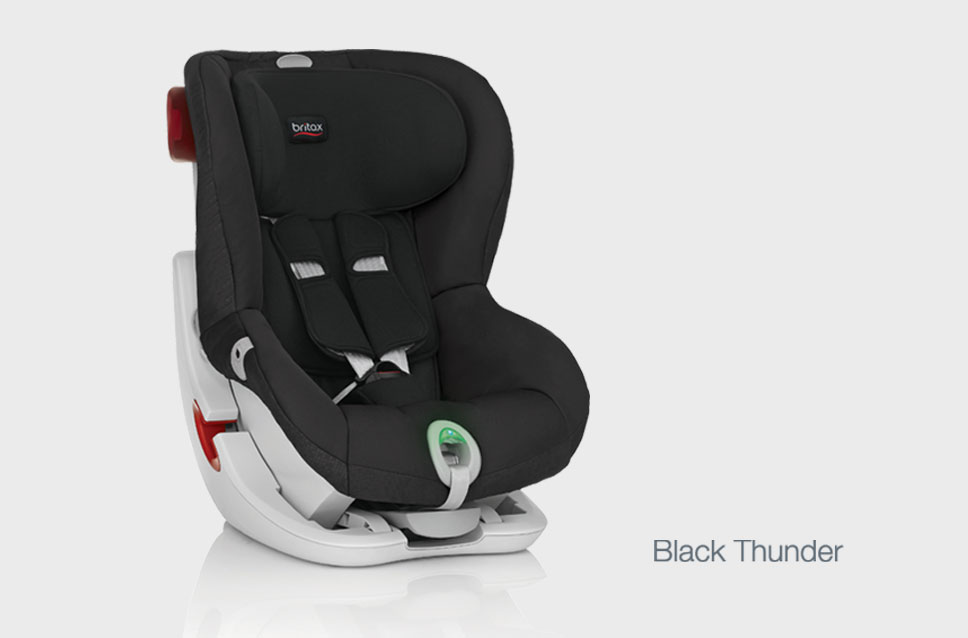 The King II ATS is one of Britax's top seats. There's no yanking at straps here and crossing fingers that you've got it right: the clever Active Tensioning System tells you when the one-pull, five-point harness is at optimum tension for each individual child. And should the tension change during the journey, it will let you know with beeps and flashes.
It's a forward-facer and secured by seatbelts only, rather than the sturdier Isofix connections, and the seat tilts forward to assist with easy installation. If you're hoping for a little peace and quiet on the road, the King II ATS has four reclining positions that can be adjusted without disturbing nap-time.
Another clever feature is the height-adjustable headrest and harness, which means there's no need to unbuckle the seat from the car, take it out and fiddle about at the back whenever the straps need to go up a notch.
Click to watch a video of this seat
BUY IT AT Halfords.com / Amazon.co.uk
Joie Bold review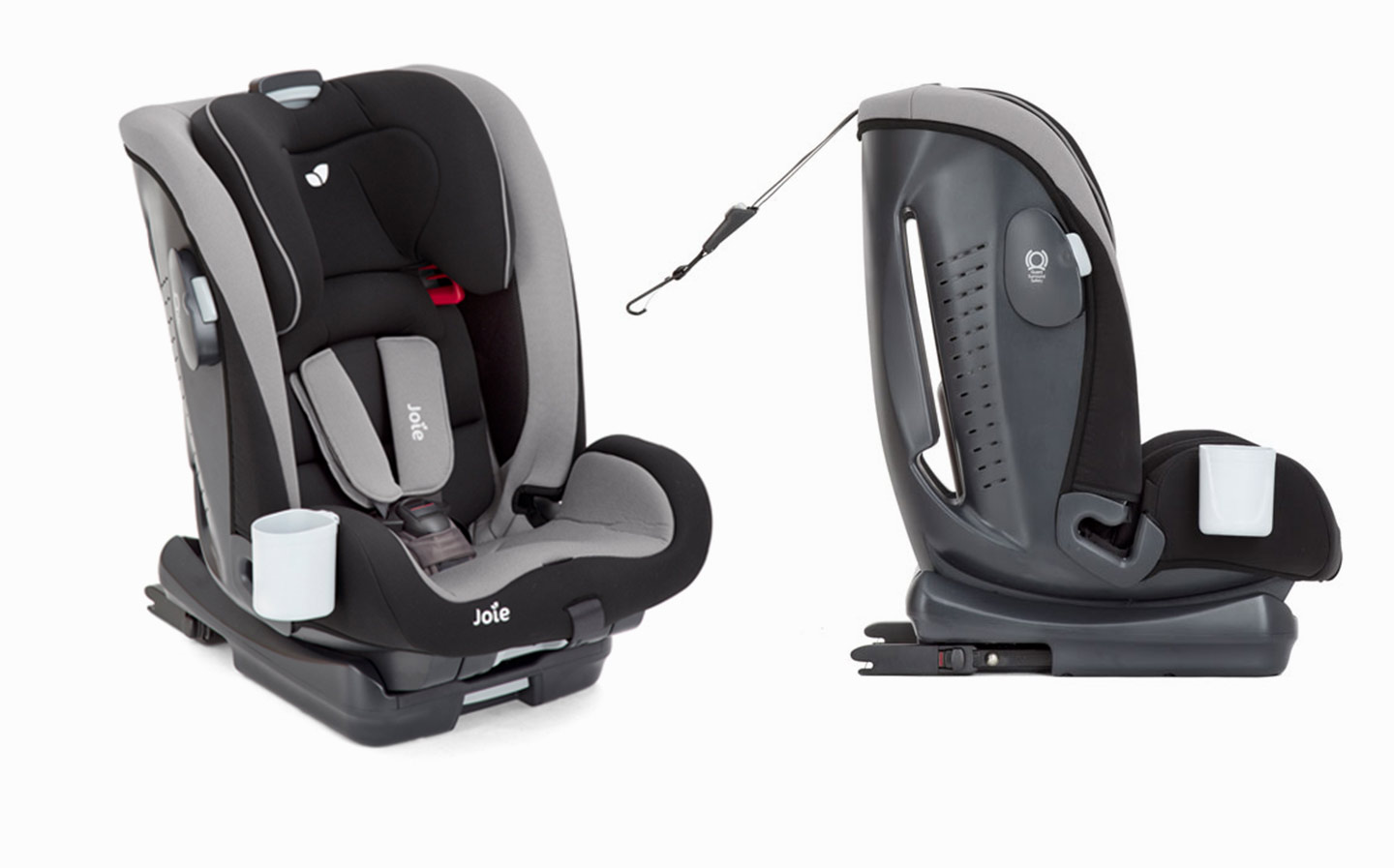 Like the Joie Transcend (below), the Bold is designed for children from roughly one year old right up to when they graduate from child seats altogether, around 12. It's forward-facing and when installed is more secure than Fort Knox thanks to Isofix connectors, a top tether and the car's seatbelt going through the rear of the seat when the harness is used (9-25kg children) or around the chest when it's used as a booster seat (15-36kg).  The fact that you can use the five-point harness right up until your child is around six or seven years old is a real bonus of this seat.
In addition, as your child grows and the headrest goes up, there are 11 positions to ensure comfort and safety, and there's no messing around trying to rethread the harness through new slots higher up; it simply extends with the headrest. Then, when in booster mode, the harness can be hidden away in the back rather than having to remove it altogether.
A toddler support — with the thickness and feel of a wetsuit — adds an extra level of safety and comfort for smaller children, particularly in the legs; it was just right for our three-year-old girl. It can be removed for older children, however. And we made full use of the three recline positions. As with the Joie Stages, there is pop-out side impact protection on each shoulder of the seat, designed for impact absorption, although we're not sure how much protection that would provide in reality.
A cupholder adds an extra feature that our little girl really loved, while the two-tone black and grey upholstery looked very smart in the back of our Audi test car. Smart, safe, comfortable and versatile: another top seat from Joie.
BUY IT AT Mothercare.com
Joie Transcend review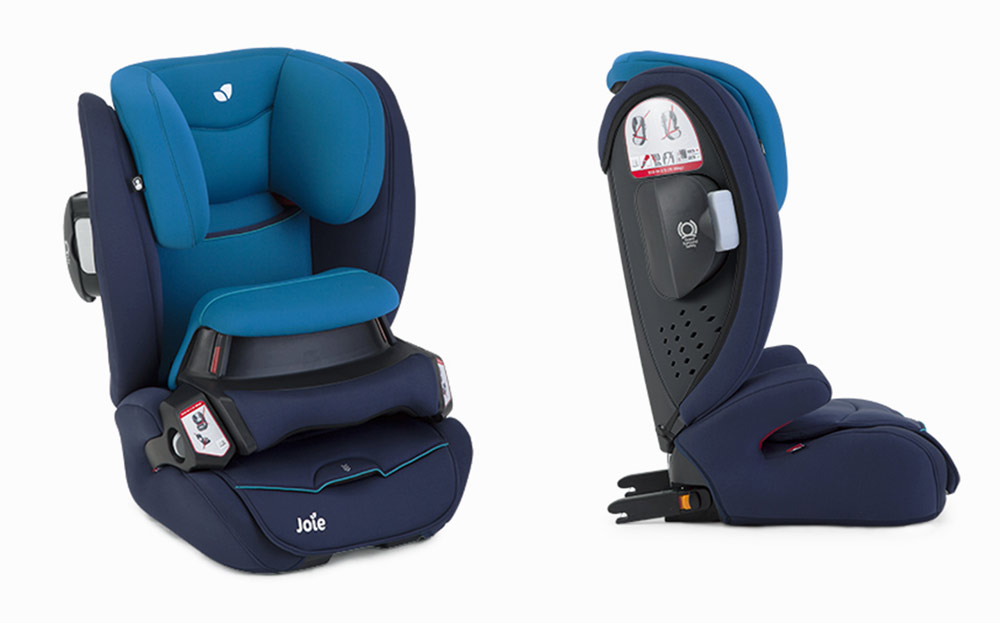 Joie says the Transcend child seat is 'born to grow' and suits children aged from just nine months (9kg) to 12-years old. This will be music to the ears of parents; in the past, mums and dads would quietly weep into a large glass of wine at night, after finding that they were having to buy their third car seat to accommodate a child that is shooting up in height faster than Jack's magic beanstalk.
So the engineers took this onboard, went away and returned with a seat that expands as children grow. It's a brilliant idea but does it work in practice? We put it to the test.
The forward-facing Transcend uses Isofix mounts to fix to a car, which is Driving's recommended approach. These are easy to operate and have green and red coloured indicators to show when it's correctly fastened. There's are also side-impact energy absorbing panels.
For youngsters from 9-18kg, it features a 'SnugShield'. This is effectively a restraining cushion that is meant to reduce the forces acting on a child's body in an accident compared to the use of a seat belt. It adjusts for fit using a pair of rotary wheels on either size, so it can be expanded as little ones grow, and is fastened in place using the seat belt.
However, even in some of the vehicles approved for use with the seat, we found it was sometimes difficult to latch the seatbelt securely and without it touching the side of the seat's casing – notably a BMW 3-series (2012-on).
The SnugShield can make little ones hotter than when using a seatbelt, but that's a small price to pay for the added safety. It's well made, comfortable and has washable covers. When the headrest is lifted, to better fit taller children, the seat's side bolsters expand outwards to make more room. The seat base can be adjusted for depth, with three positions to accommodate younger or older kids.
During an extended test, we had no complaints from three or four-year olds about its comfort, and it adapted well to the shape and size of an eight-year old.
Once they grow out of the cushion restraint, older children just use the seatbelt. And it's here that the Transcend drops a star in our rating system. If the seatbelt could be encased in a padded harness, to reduce the load in the event of an accident and help prevent abrasions on the neck (see the Britax Kidfix XP-SICT review, below) it would be a five-star seat.
Given its features, versatility and highly competitive price, this seat has to be on every parent's shortlist.
BUY IT AT Amazon.co.uk
Nuna MYTI review (new for 2019)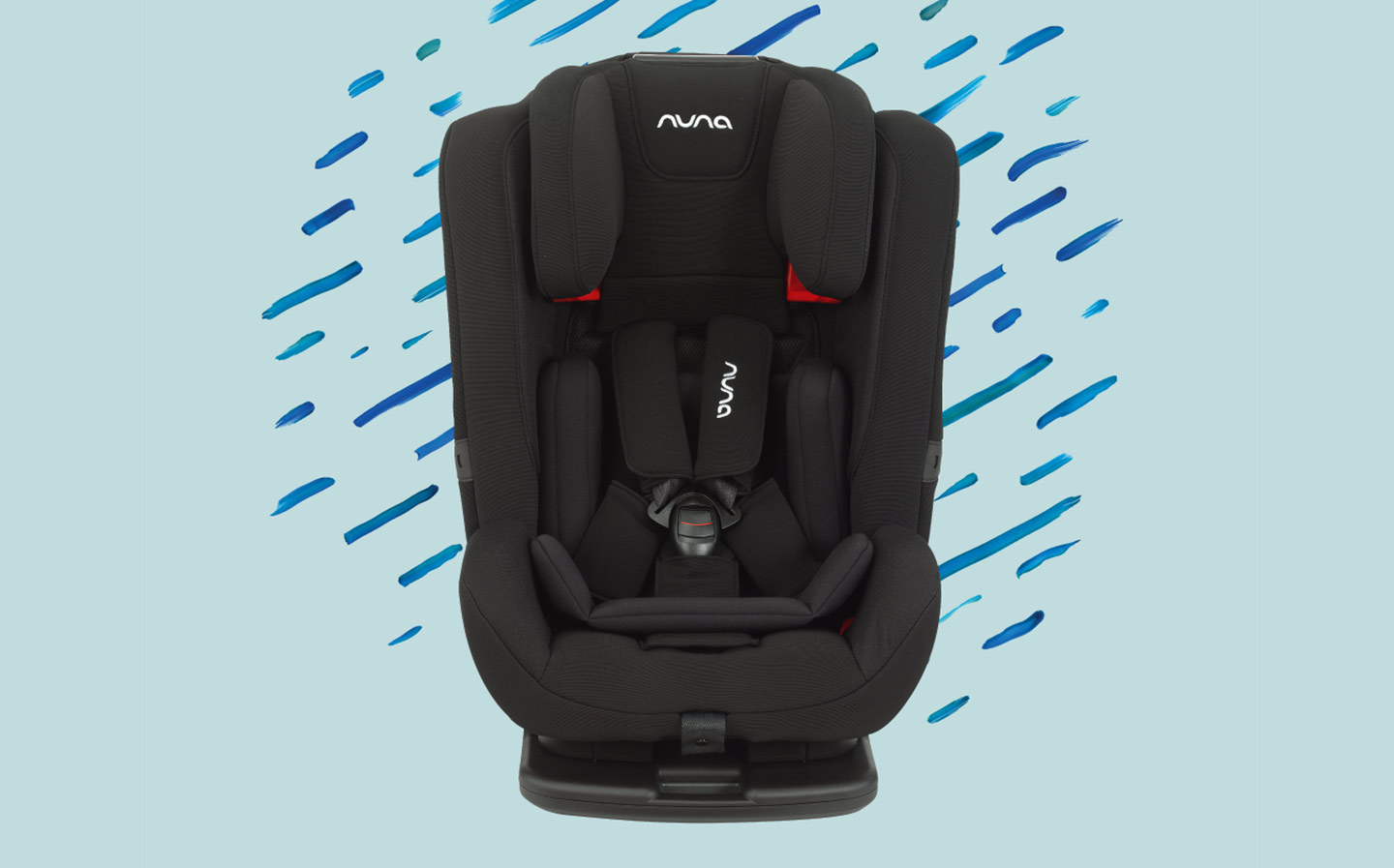 Nuna markets itself as the child seat choice of celebrities, and it's clear as soon as you open the box why the MYTI will appeal to the pampered. The deep padding includes memory foam for extra comfort, and the quick-start user guides — printed on premium paper — are attached to the harness via a ribbon, tied in a bow, rather than the usual plastic cord. The colours are a dead giveaway, too, with one named after "Aspen", the exclusive ski resort, and our test seat in "Caviar".
At £275 it has a premium pricetag, too, but don't be put off: it should last your child from around 15 months old, using the removable plush body insert, to the time a child seat isn't required by law (in the UK, that's children over 135cm). Children from 76cm (around 9kg) to 105cm (around 19.5kg) use a five-point harness, which tightens and slackens very easily, and this folds neatly into a storage compartment once your child is over that size (the car's seatbelt is used thereafter).
The MYTI is actually designed to suit children up to 150cm (the legal requirement in Europe) but in reality, getting any child of that height to use a cosseted child seat like this may be a tough ask.
It's a heavy seat, too, weighing over 13kg, but assuming you're not having to lug it in and out of a car all the time, that may not be too much of an issue for parents. The weight hints at its sturdiness; the MYTI feels like a solid, well-built product.
Being an i-Size tested seat, it should be safe, too, with thick side impact energy-absorbing polystrene over a high strength plastic and steel structure, and includes ISOFIX points as well as a top tether for a secure connection to the car. It sounds complicated but installation proved quick and easy, and the installation guides are clear and concise.
The smartest feature is the recline function, which is possible even when the seat is firmly installed against the car's seatback, as the MYTI's seat slides forwards slightly while tilting. The headrest is easily raised and lowered between the nine settings, and the side wings open outwards to provide extra shoulder room as your child grows.
Our only complaint, really, is that in the middle recline position there's a slight rattle (no problem in settings one or three). That's a small grumble for what is a really superb quality bit of kit.
BUY IT AT shopnuna.co.uk
---
CHILD SEATS FOR CHILDREN AGED 4+
IMPORTANT: The law on booster seats changed in March 2017: check the new rules here.
Britax R
ömer

 KIDFIX XP-SICT review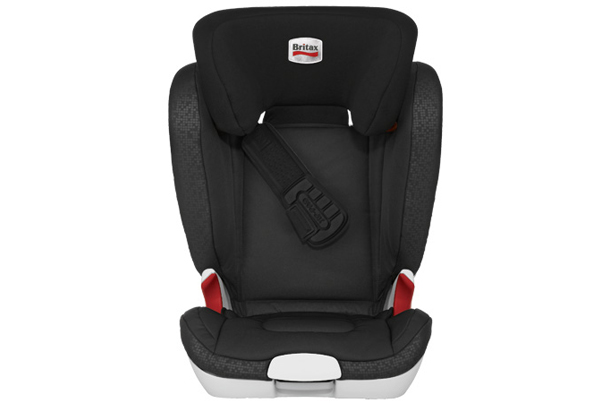 As you'd expect of a seat from the company behind Bin the Booster, the Kidfix appears to be big on safety, with oversized headrest supports and Isofix connections. It uses side-impact cushion technology (SICT) with cushions that move outwards to provide protection in the event of a crash.  There is also the "XP-PAD", through which the seatbelt is fed and which is claimed to absorb energy in a frontal impact.
The downside of all this is the weight — it's a heavy and reasonably bulky unit.
BUY IT AT Halfords.com / Amazon.co.uk
Britax R
ömer

 KIDFIX II XP review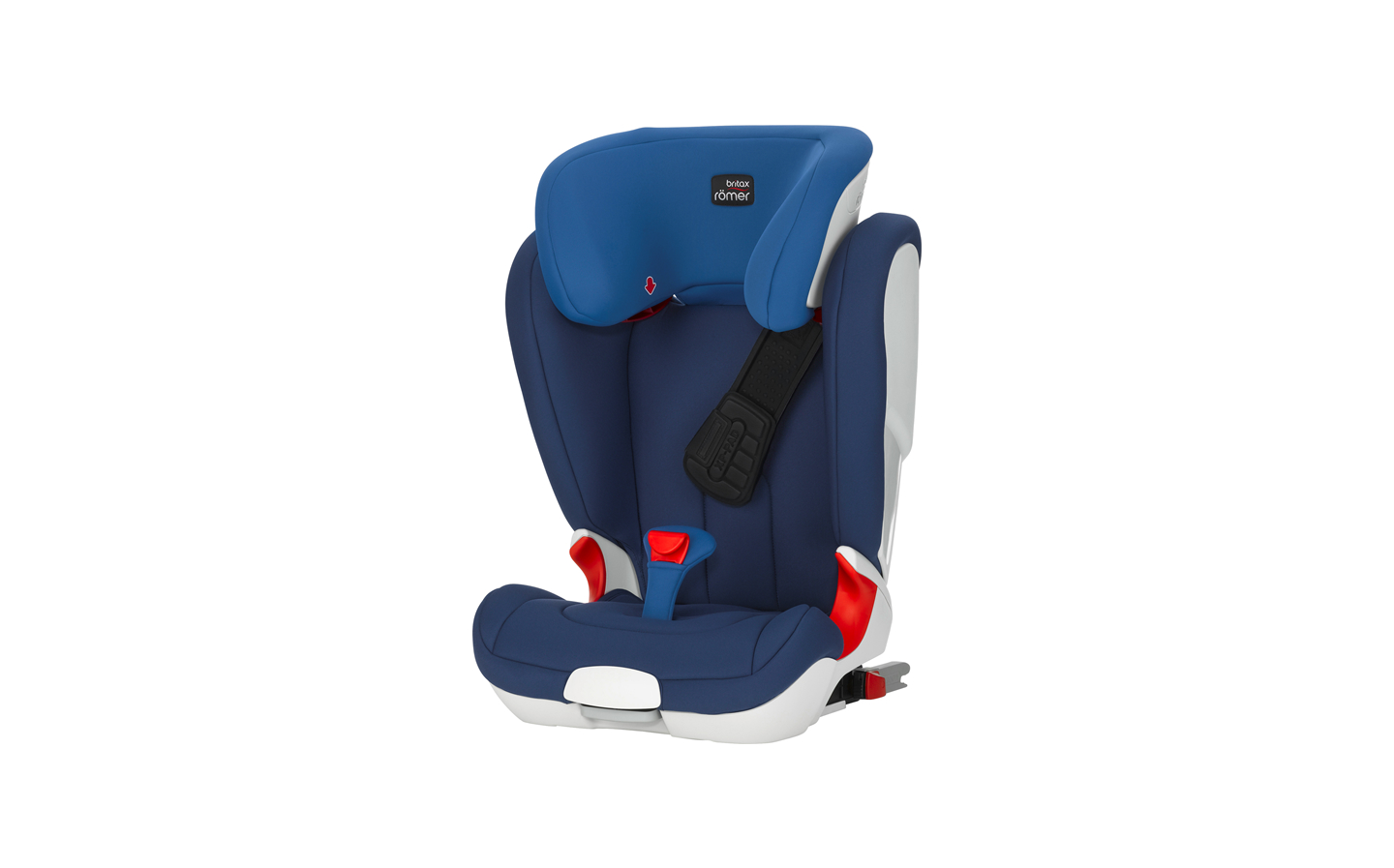 There's a wide range of Kid and Kidfix seats available from Britax, but the one tested here is the Kidfix II XP, chosen because it boasts some impressive safety features that don't come with other seats in the range.
The Kidfix II XP is a forward-facing Group 2 and 3 car seat, which makes it suitable for children weighing between 15 and 36kg, which is roughly four to 12 years of age.
It is secured using retractable arms that lock onto Isofix mounts, and each side has clearly visible indicators to show when it's securely latched in place. The seat can also be fitted using only a three-point seat belt, which could be useful if using it in another vehicle for a brief period.
It's a doddle to fit, and the backrest has a certain amount of adjustability, by pulling a lever in the front of the base and sliding it backwards or forwards, which reclines the backrest slightly.
The headrest is well shaped, comfortable and adjustable, naturally. It incorporates something called an XP-Pad, which the seatbelt passes through. Britax claims it can reduce forces acting on a child's neck by as much as 30 per cent. Additionally, a clip called SecureGuard, that correctly positions the lap belt section, is said to help reduce abdominal forces by up to 35 per cent. These two safety features show Britax at the top of its game.
Our junior testers found the seat to be comfortable over both short and long journeys. And the cover can be removed for washing.
If the seat's side bolsters were adjustable, so that the Kidfix II XP grew to better accommodate children, it would score a full five star rating. Even so, this is an excellent seat that comes recommended.
BUY IT AT Mothercare
Britax Römer KIDFIX2 S (new for 2019)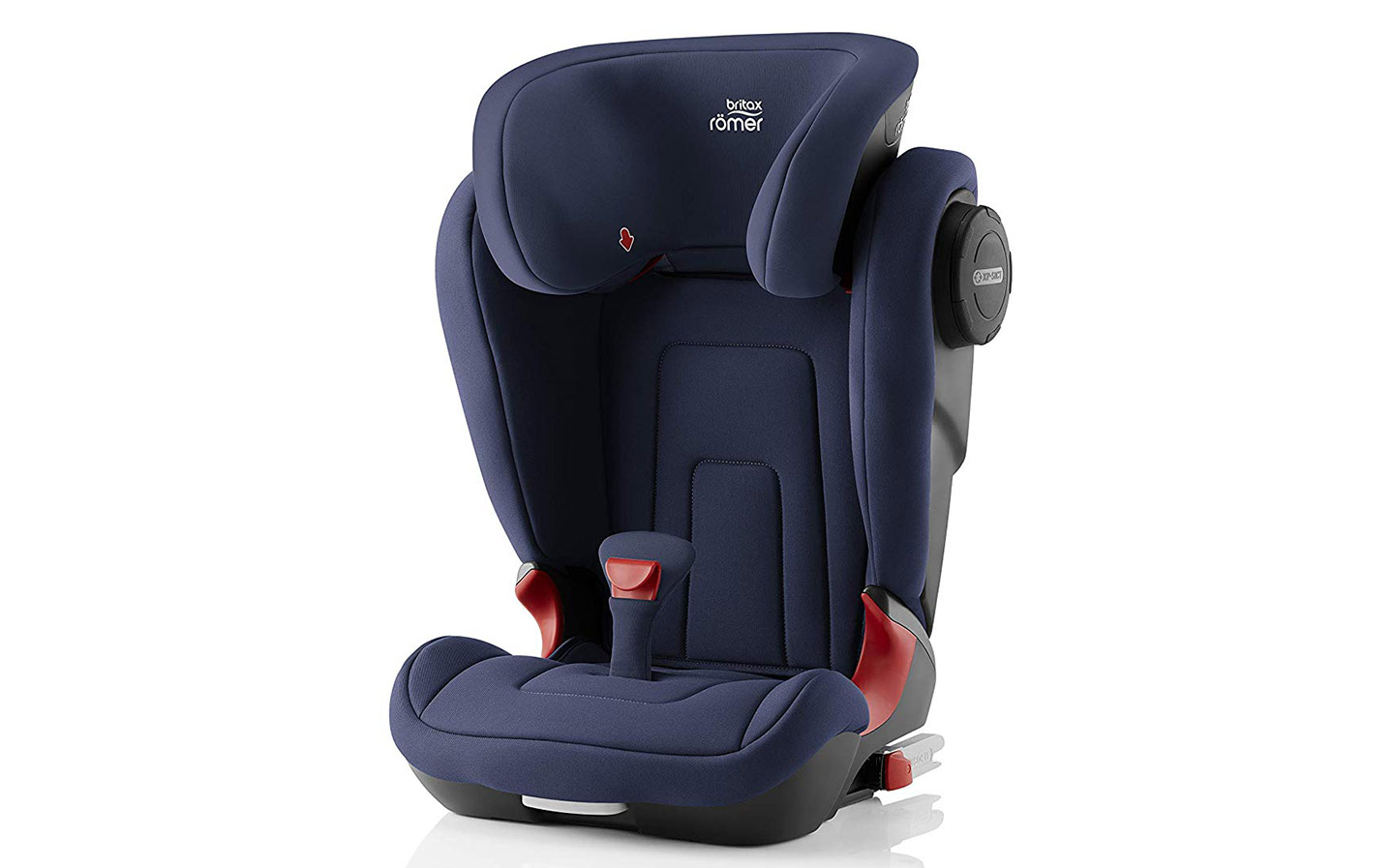 In 2015, Britax Römer launched the Bin the Booster campaign to educate parents about how backless booster cushions poorly protect children in accidents, and the message got through: in March 2017 new legislation, came into force making it illegal for new backless booster seats to be approved for children smaller than 125cm or weighing less than 22kg.
But what have we here? A new Britax seat for children aged over 3.5 years that allows parents to remove the backrest. How so? Well, the KIDFIX2 is designed to be used with the backrest for children up to 150cm in height, which is beyond the UK requirement for using child seats of 135cm, in fact.
But, the company says it recognises parents need a bit of flexibility from time to time, when "occasionally faced with travel situations where alternatives [to high back seats] are required." This could be when three child seats are needed in the rear but three highbacks won't fit side-by-side.
Either way, the safety standards should be comparatively high as Britax has its own crash testing facility in Germany, where it also manufactures the KIDFIX2. The booster seat on its own has ISOFIX points, meaning it is anchored into the car and won't slide in an accident. In addition, a belt clip guides the seatbelt down over the shoulder in the optimal position, and a new SecureGuard helps keep the lap belt over the pelvic bone, to protect the abdomen.
Britax stresses the back should only be removed for children over 135cm, though, and with the v-shaped backrest in place, there's important added protection for the head and back, with the side wings also containing energy-absorbing side impact protection (SICT) elements, which unscrew on the side nearest the door. The backrest is extremely easy to raise and lower, too, and it's very light, even with the backrest, making it easy to transfer from car to car.
On the downside, my daughter noticed it doesn't feature armrests or cupholders which she's particularly fond of using on another highjack booster, and although the seat cushion has a good amount of padding, the sides don't feel quite as soft as some other models.
On balance, though, the new KIDFIX2 S is affordable, looks very smart (particularly in the Moonlight Blue of our test seat) and its balance of safety and convenience should prove appealing to many parents.
BUY IT AT Amazon.co.uk

Cosatto Skippa Fix review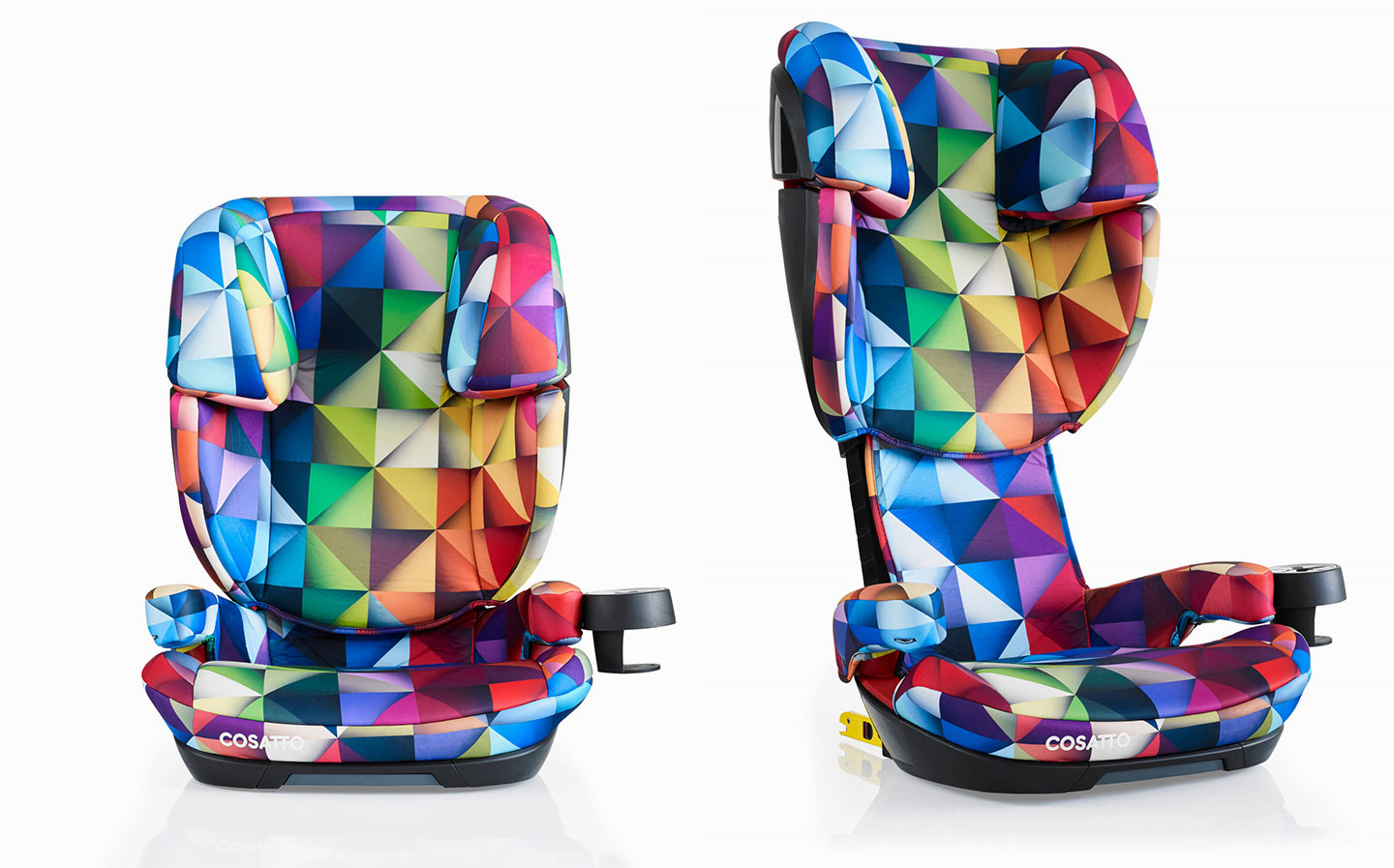 Progressing to a booster seat can be daunting as many seem flimsier than child seats suitable for younger children, and usually rely on the car's three-point seatbelt to keep not just your child in place but also the seat itself. The Cosatto Skippa Fix does attach to the car's Isofix points, though, so it's quite secure once installed. It's also extremely easy to get into and out of the car, as it weighs very little.
It's advertised as suitable for children from 15kg, and as our three-and-a-half year old is just 15kg, we tried her in it. She loved the bright colours (Cosatto's brand ethos is "baby stuff with personality"), and it was the first seat she tried with a cupholder (can be fitted either side), which she thought was fantastic. However, her legs ached on long journeys as they weren't quite long enough for the knees to hang comfortably over the end of the squab, so we recommend progressing to a booster seat as late as possible.
It was supportive for her back and head, however, she never complained about seatbelt comfort and she liked the armrests. There are two recline positions but reclining once on-the-move is difficult, due to the seatbelt holding the seat in place.
The Skippa Fix has an extendable backrest, making it suitable for children up to 36kg, which is roughly 12 years old, and so this should be the last child seat your little one needs. Whether or not older kids still like the bright colours and patterns (unicorns and cars are two other options) remains to be seen. Many parents will find it a jolly addition to the back of the car, though.
BUY IT AT Halfords.com
Graco Logico L Sport review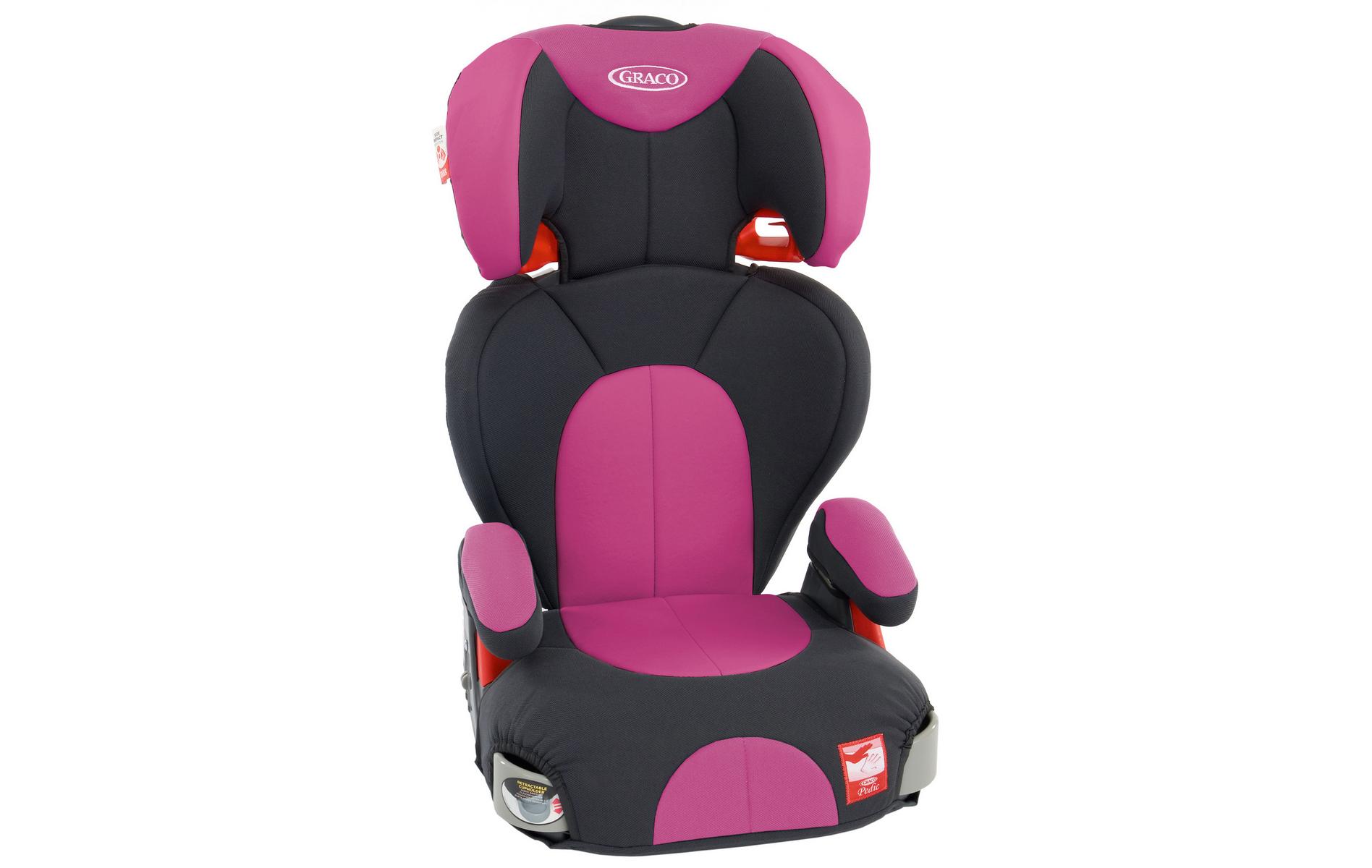 The back can be removed, leaving just the booster cushion, and that makes it easy to install or remove from the car when transporting your children's friends but isn't advisable as the back and headrest provide support in an accident (since March 2017, new backless booster seats are only approved for children taller than 125cm or weighing more than 22kg, which is at least six years old).
As a value car seat it doesn't come with any Isofix connections and it lacks comfort on long journeys. As with the Pampero, the Graco has retractable cupholders.
BUY IT AT Halfords.com / Amazon.co.uk
Halfords Group 2/3 Highback review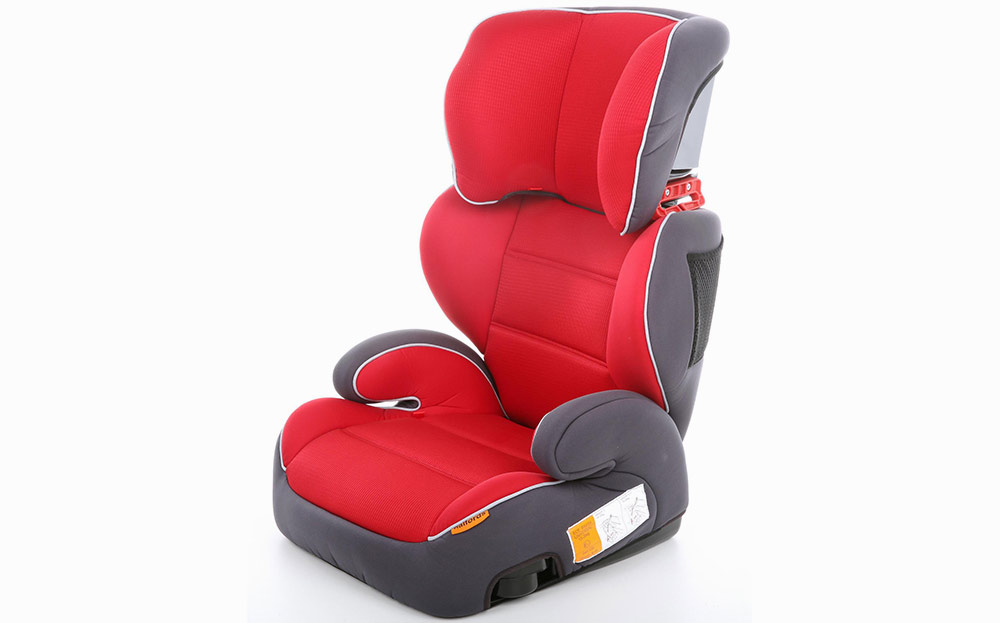 This seat from Halfords is very similar to the Pampero Whipper Snapper and also scores highly on comfort — the padding is soft and forgiving while the cover feels of high quality.
The two cupholders, which pull out from each side of the squab, are useful and the seat is light, even when the high backrest is attached (it can be removed, leaving just the booster seat — from December 2016 your child needs to be taller than 125cm and weigh more than 22kg before you can do this in the UK. See the link in the intro for more details).
Unfortunately  this seat doesn't come with Isofix connectors, so it's not as secure as those featuring the system, and particular care is needed when belting up — read the instructions carefully. However it does represent good value for money and looks good, especially in red, meaning older children shouldn't bemoan using it.
BUY IT AT Halfords.com
Joie Duallo review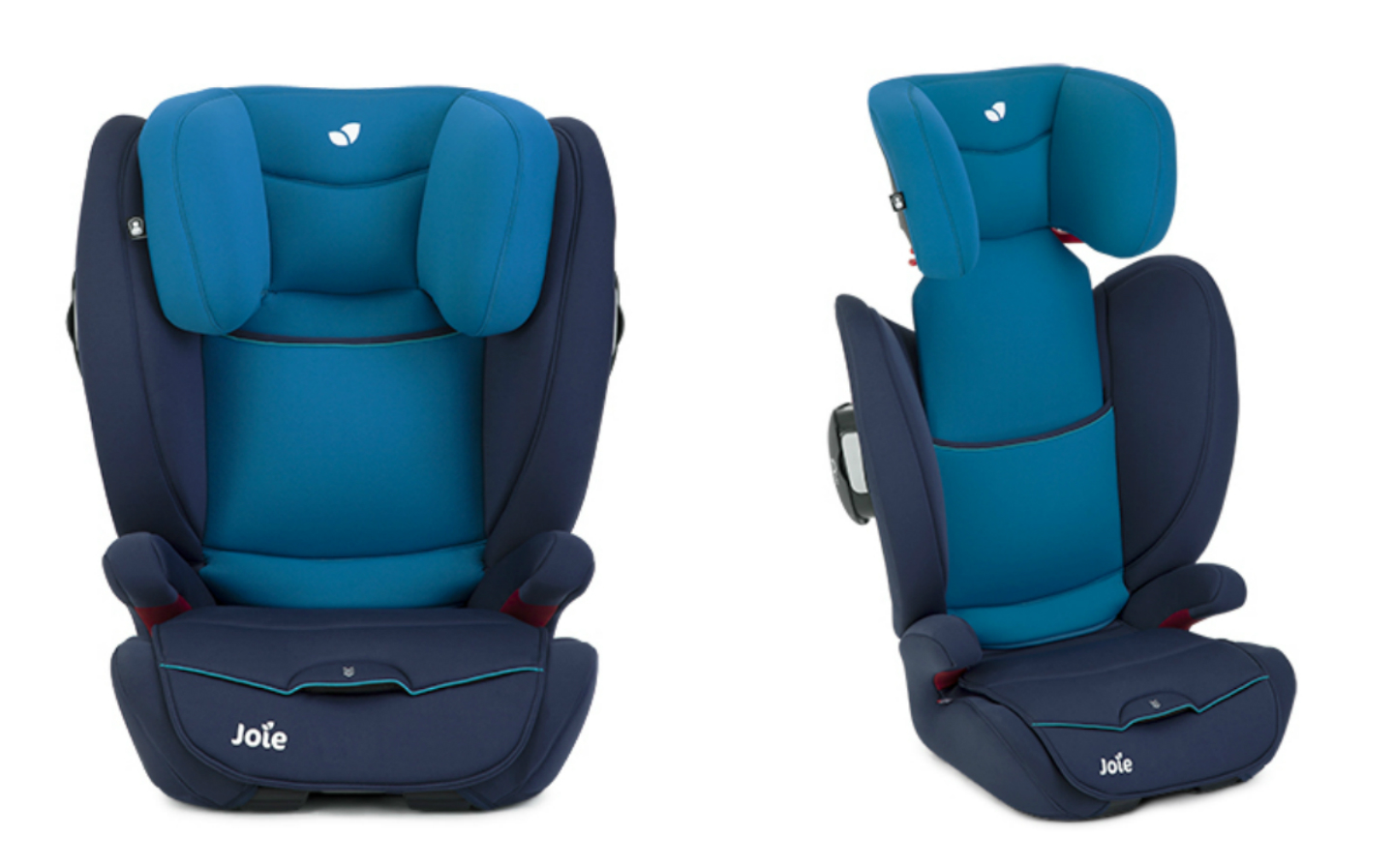 Joie is a Taiwanese manufacturer that's designing some impressive child seats, if our experiences are anything to go by.
The Duallo is sister model to Joie's Transcend child seat. It is a Group 2 and Group 3 child seats, suitable for kids that weight between 15 and 36 kilos, which is around four to 12-years old.
For all parents with babies, we'd suggest first considering the Transcend, as it is effectively the same as a Duallo but features a 'SnugShield' a special restraining cushion that makes it compatible as a Group 1 seat, for youngsters from 9 – 18 kg. That means you get more mileage out of the seat, as it could span from the age of one right through to 12, or whenever your child grows to 135cm in height.
Back to the Duallo. It can be secured using solid arms that attached to Isofix mounts, which feature clear warnings when the seat is not latched correctly. It's also able to be used just with a three-point seat belt, although we wouldn't recommend that for everyday fitting.
The seat features myriad adjustments for the height of the headrest, and as that's raised, the side-bolsters open out slightly, to better accommodate growing children. The seat cushion also has three positions, extending outwards to offer more support beneath the legs as children grow.
It proved a very comfortable and versatile seat for our young testers. And its specification and adaptability is impressive, making it a sound buy.
But for it to receive our full five star rating, Joie needs to come up with a padding device for the seat belt, and a fastening clip to keep the lap section of the belt in place and reduce loads in an impact – as Britax has done with its Kidfix II XP seat (reviewed above).
BUY IT AT Mothercare.com
Maxi-Cosi Rodifix Airprotect review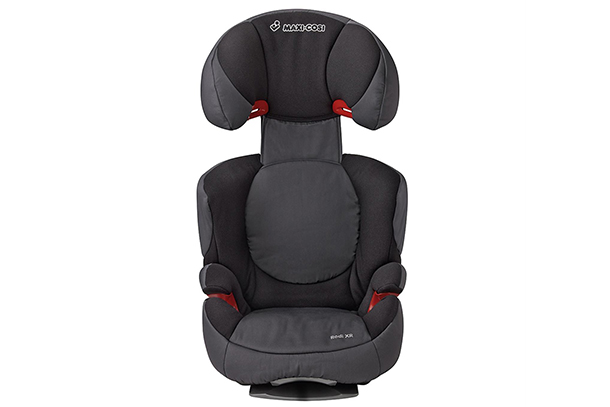 The Maxi-Cosi is one of the heavyweights of the test but it proved easy to set up. The belt feeds through the guides easily and there are two recline positions. The AirProtect system is designed to protect the head and neck in a side impact. They are also very comfortable for sleeping children to rest their heads on — it gets top marks for comfort.
BUY IT AT Halfords.com / Amazon.co.uk
Pampero Whipper Snapper Booster Seat review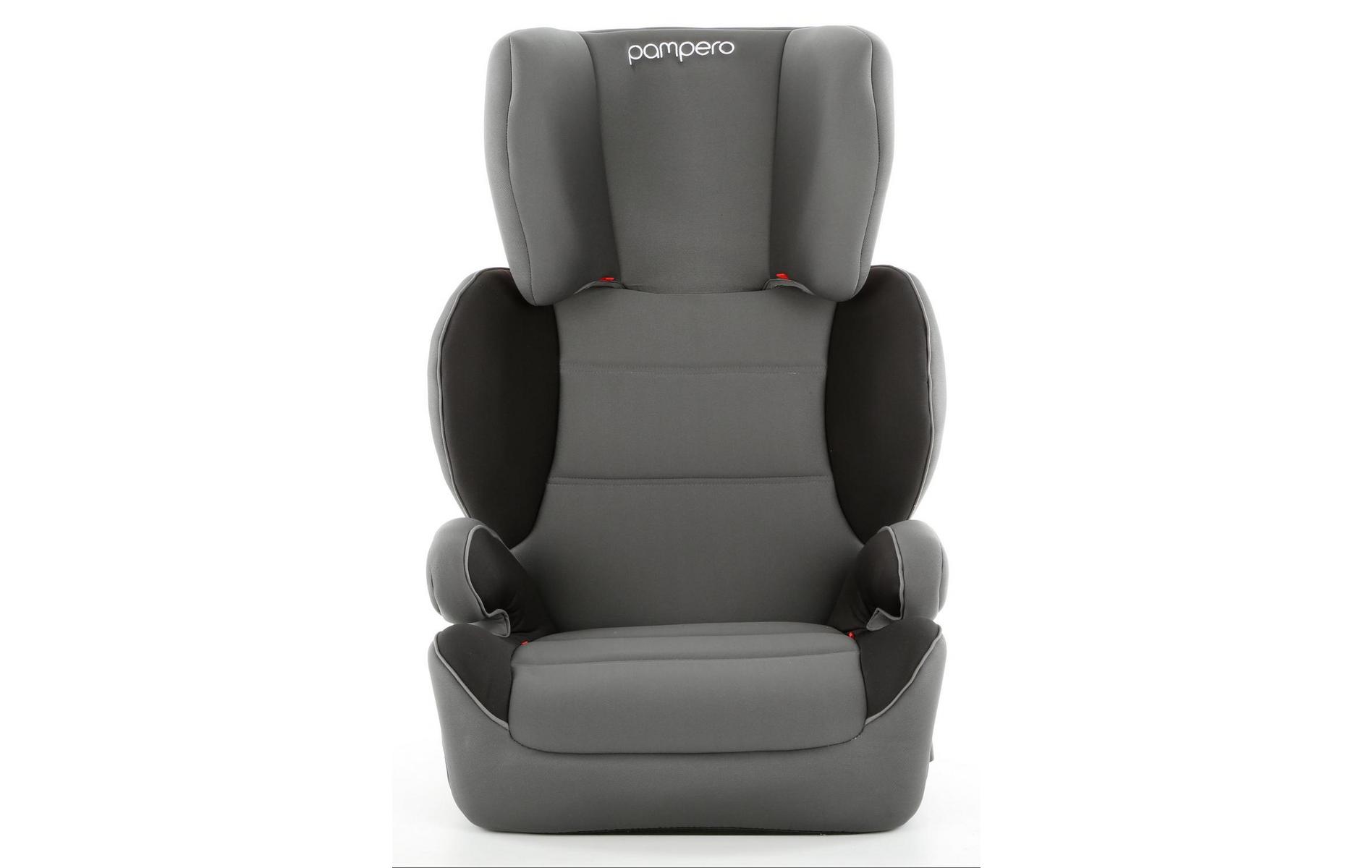 You might not expect much from a seat that costs £30 but the Pampero surprised our testers by scoring very highly in the comfort stakes despite having what appeared to be a shorter squab than some. It also comes with cupholders (they pull out from each side of the squab), and is light. The back can be removed, leaving just the squab, so it can be used as a normal booster seat if you get bored with lugging the entire seat around.
There were concerns: it doesn't fix in place with Isofix, running the belt through the guides is not the easiest here and it appears flimsier than the more expensive seats.
BUY IT AT Halfords.com
Recaro Monza Novo 2 Seatfix (Racing Edition) review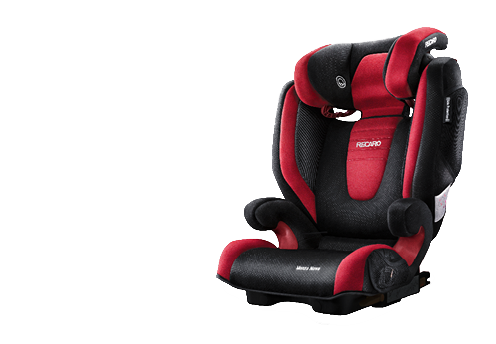 For all the budding Lewis Hamiltons out there, this Recaro gives the standard Monza Nova 2 a motor sport-inspired facelift. Features include a pump-up headrest, Isofix connections and "advanced side protection".
It was a huge hit also thanks to the headrest speaker system, which can be connected to a phone or a back-seat screen and is quiet enough that only the child can hear it. It means kids need no longer wear headphones, which can be a bit constrictive for younger children, but those up front are shielded from the audio. Yet it's still possible for your child to hear you, if necessary. An excellent innovation.
BUY IT AT Halfords.com / Amazon.co.uk