A remarkable mission: On track at Race of Remembrance 2019
The Race of Remembrance is a motor sport event that supports injured and battle-damaged ex-military personnel through track competition. Nick Trott meets the people who owe their lives to racing.
---
Published 15 November 2019
LESS THAN a week after F1 fans witnessed Lewis Hamilton claiming his sixth world championship in America, across The Pond a ragtag collective of professional and amateur racing drivers were heading for a significantly lower profile but arguably just as noteworthy race at a little known circuit on the small island of Anglesey.
For many racers the 2019 season is already concluded, and these competitors no doubt have important things to do during their freed-up weekends as winter begins to bite: rebuild relationships with loved ones; spend money on items other than brake pads and fuel; enjoy two consecutive weekends in their own beds. Yet every year since 2013 they have made this pilgrimage.
They decamp, filling the paddock with tents and gazebos — often in raging gales — and extract battle-damaged race cars for one last blast. This year a team drove for more than five hours from Scotland without their race car: it had been destroyed in a race the previous weekend. Drivers, families, mechanics – the whole team. Still they came.
They're here for a Remembrance service commemorating the sacrifices made by all military service personnel and their families, both in the past and still on active duty. There's a 12-hour endurance motor race attached to it, but that's merely the dressing; this event is so much more than throwing a car around a track as fast as possible.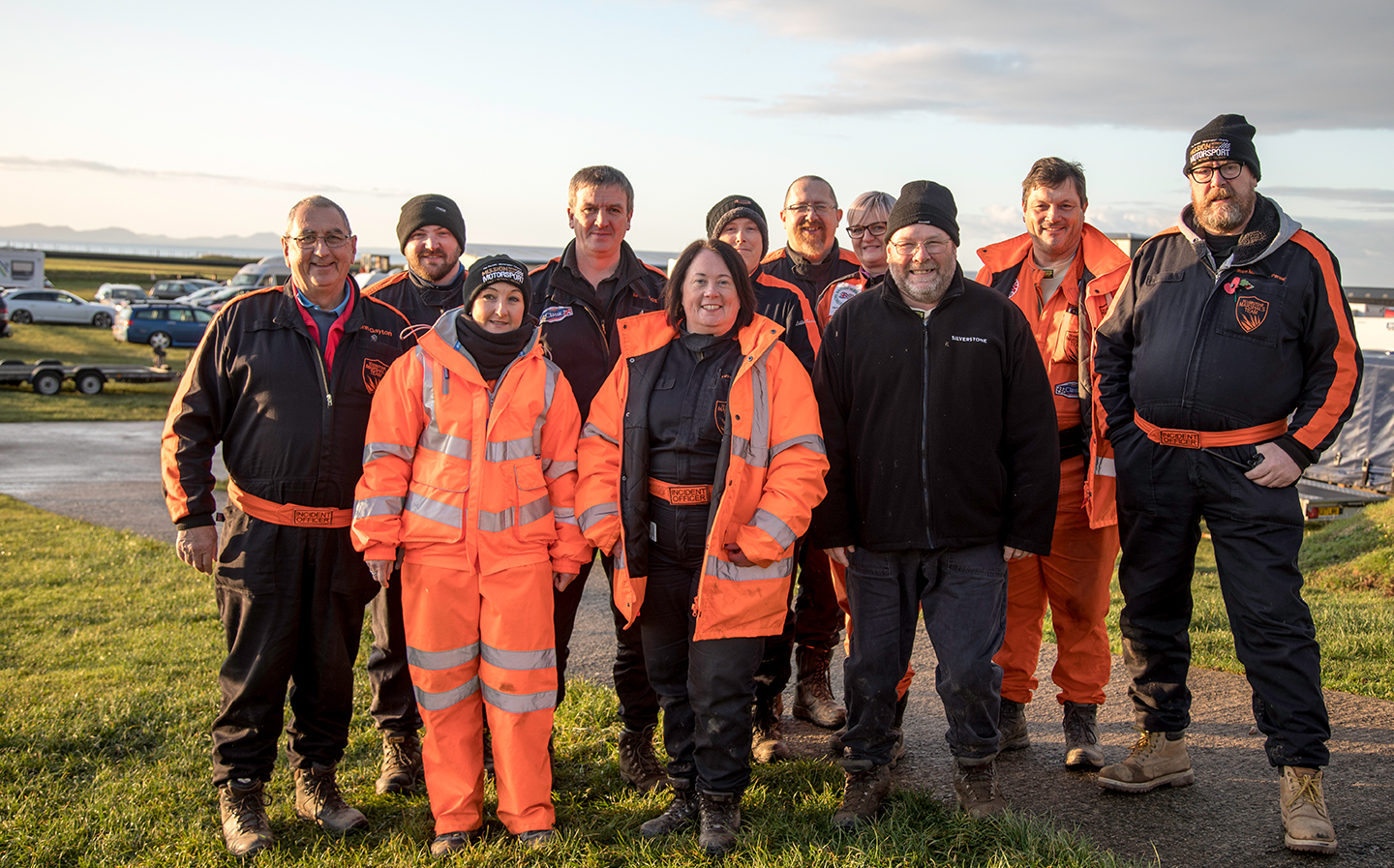 No motor sport event could happen without the marshals, and Race of Remembrance is no exception
"We formed Mission Motorsport in 2012 to help those affected by military operations through engagement with sport, and the first Race of Remembrance a year later seemed like a good way to signal to those who are hard to reach," explains Jim Cameron, Mission Motorsport's CEO and a retired Army Major.
"We didn't — and don't — generate revenue through the event. It's a loudspeaker for what we do."
The loudspeaker is working. At the sixth Race of Remembrance this year, 44 teams, 158 drivers, more than 150 charity beneficiaries and 353 charity staff, officials, circuit staff and marshals braved the wildest of weather to take part.
'Race, retrain, recover'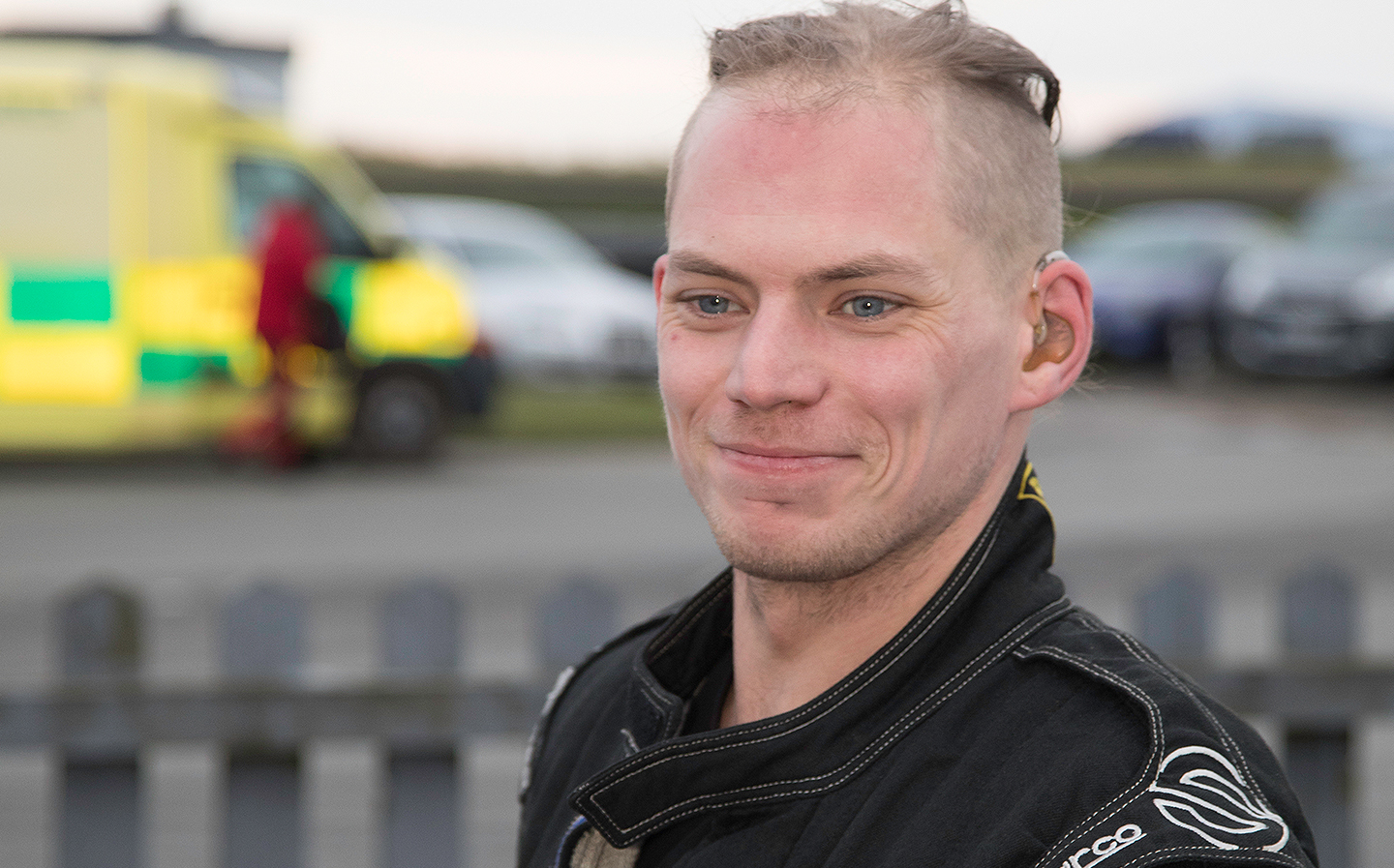 Matt Stringer was injured by an IED in 2010
One of the drivers was was Matt Stringer. During deployment to Afghanistan in 2007 with 1st Battalion The Royal Anglian Regiment — otherwise known as The Vikings — Stringer's unit lost nine soldiers, including five of his close friends.
He was sent back to Helmand Province in late 2009 for another tour, and in March the following year an IED blast killed two service personnel, injured the platoon commander and rendered Stringer deaf.
Like many others, despite a prolonged period of treatment it was clear that he would no longer be fit for military service. In February 2013, Stringer began resettlement activity and was appointed to a Recovery Career Services Specialist Employment Consultant (SEC). These were dark times for a young man who had spent his formative years fighting the Taliban.
Mission Motorsport came to his aid. The charity helps in the recovery and rehabilitation of those affected by military operations, providing opportunities through motor sport. Driving a racing or rally car is just one possibility; retraining in engineering and other fields of the sport for a life beyond the military is another. Just being part of a team again provides solace for many.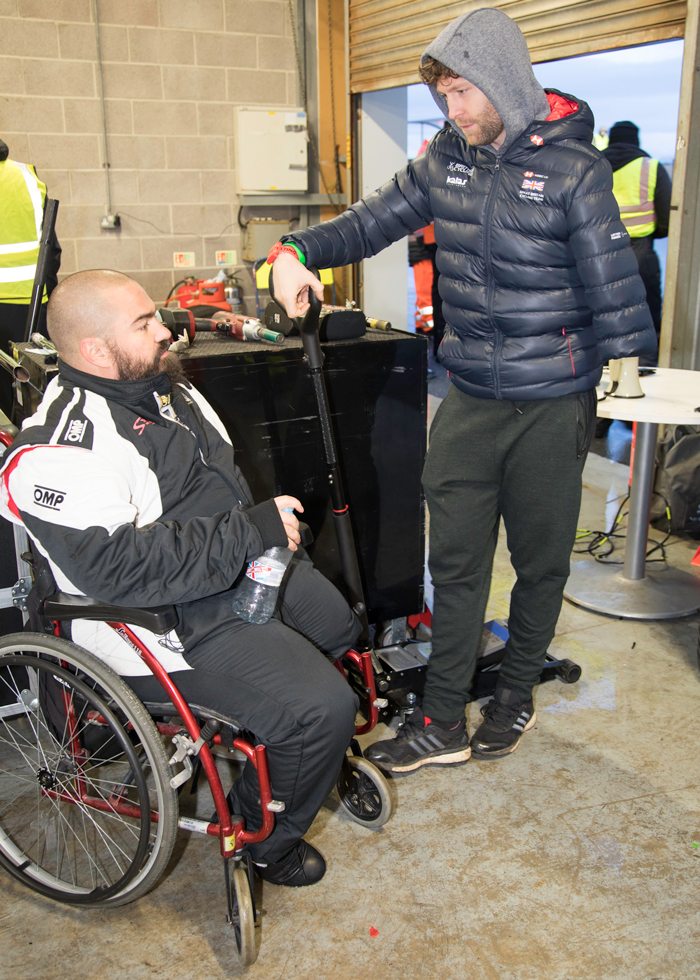 Lionel O'Connor and Jon-Allen Butterworth, a paralympic cyclist, are both beneficiaries of Mission Motorsport's work
In its short life, Mission Motorsport has engaged with more than 2,000 wounded, injured or sick servicemen and women, and seen over 170 beneficiaries gain employment through the charity's training and placement schemes. Mission Motorsport alumni have filled roles in Formula One, Formula E and World Rally Championship teams.
This year, the charity launched Mission Automotive – the Armed Forces engagement initiative for the UK car industry. Collaborating with the Royal Foundation and the Society of Motor Manufacturers and Traders, Mission Automotive shines a light on the skill of service leavers and helps the automotive industry gain access to ex-forces talent. Many of the skills learnt in the military are proving highly valuable in the automotive and motor sport industries.
'We got to him just in time'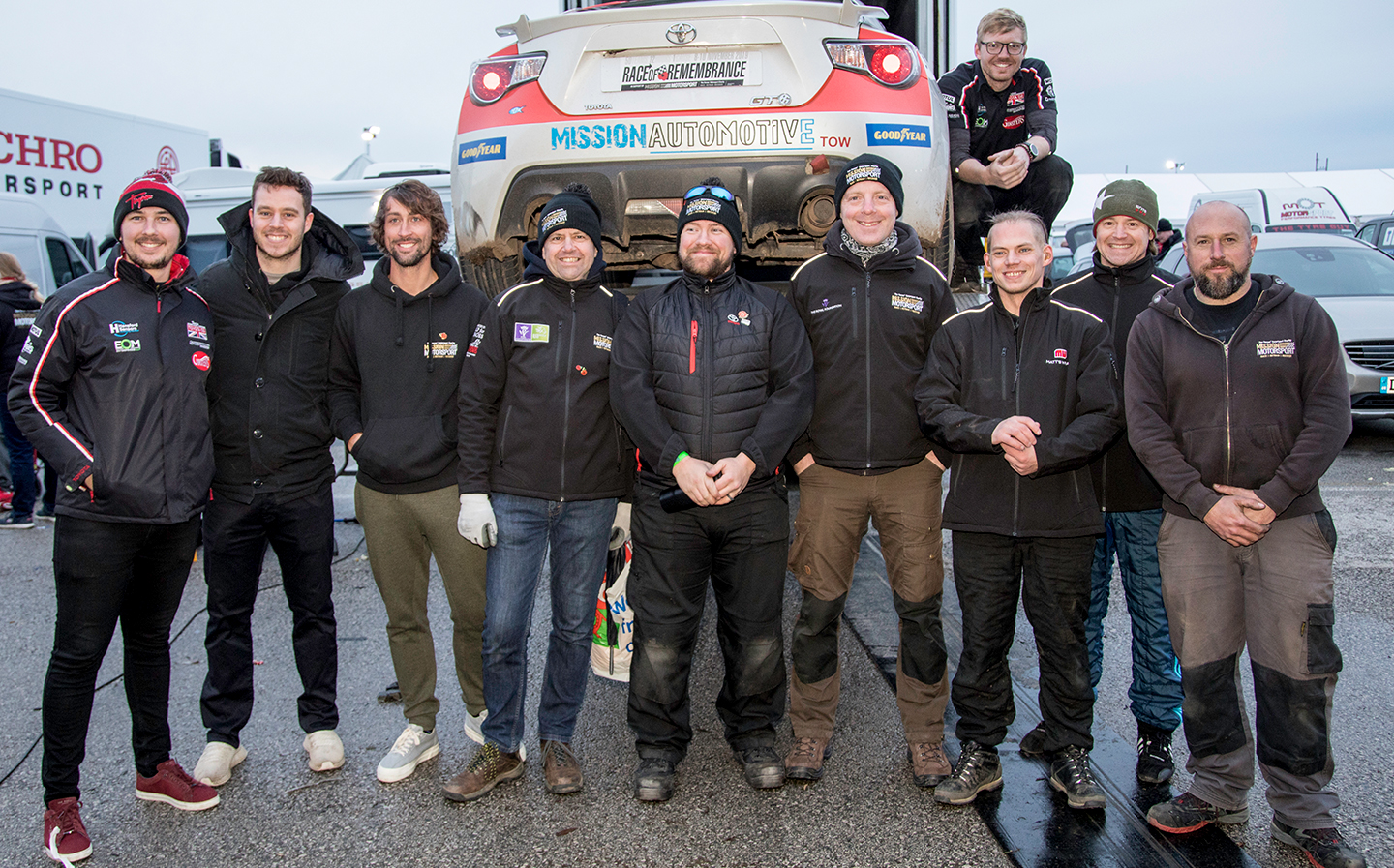 The Toyota GT86 team, left to right: Tom Ingram; Roland Wilkinson; James Cross; Julian Pitt; Martin Bashforth; James Griffin; Jack Coker (on ramp); Matt Stringer; Nick Trott; Aston Dimmock
Also in the paddock at Race of Remembrance this year is Martin Bashforth, one of the early success stories of Mission Automotive. Bashforth left the military as a disillusioned young man: "I ended up going from one dead end job to another with everything being to tide me over for a while."
Bashforth admits that years passed him in this transitory state until it dawned on him that he had "a lot of my working life ahead of me". Via Mission Automotive and its 'veterans-to-vehicle technicians' programme, run in association with Toyota GB, Bashforth recently qualified as a tech and is now working for Vantage Toyota in Preston.
"Without this programme I simply wouldn't have had the chance to get paid to do something I love," he says.
At Race of Remembrance, Bashforth played a vital technical role on the Toyota GT86 that Matt was set to race.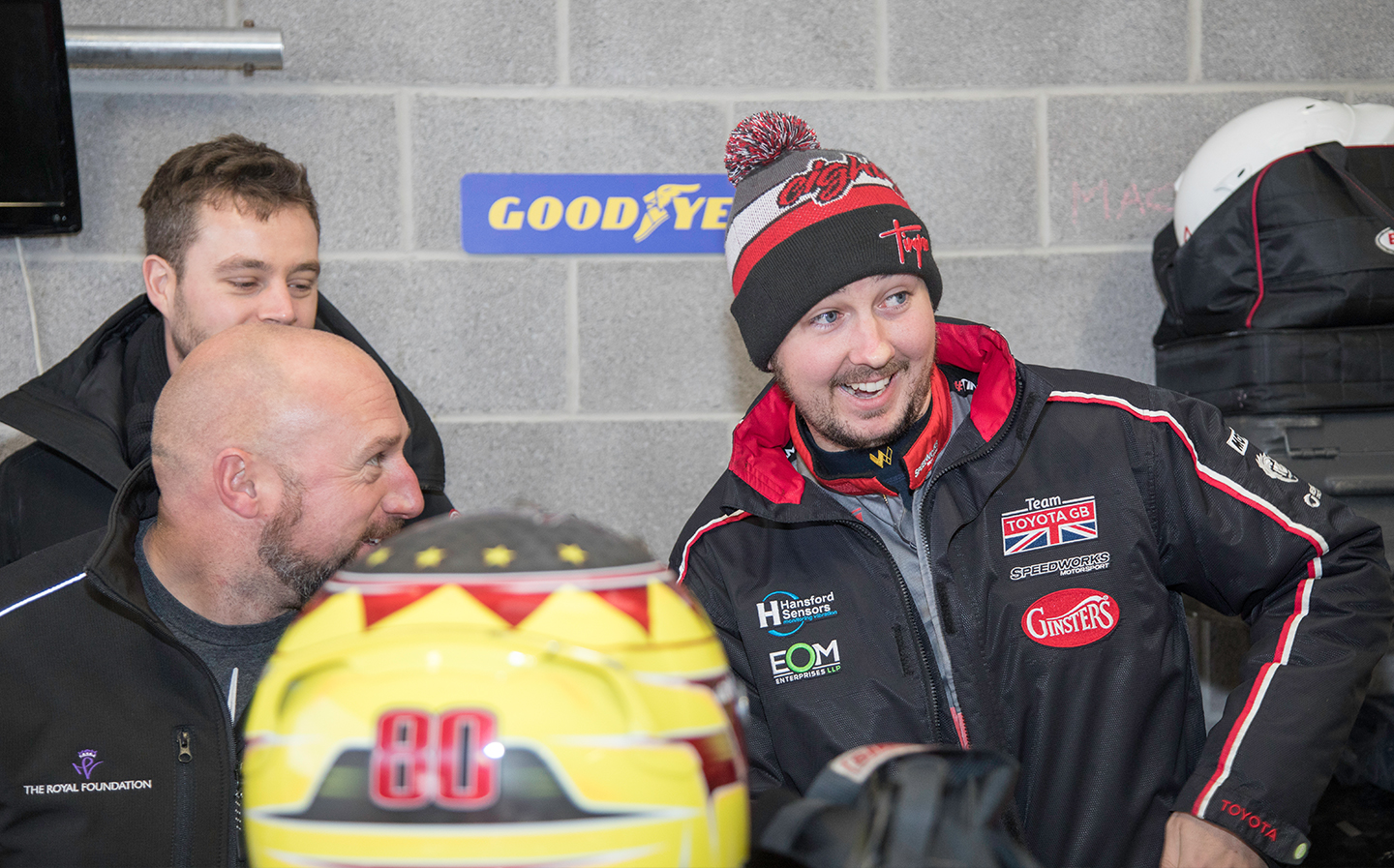 Toyota's British Touring Car Championship star Tom Ingram joined the GT86 team this year
Joining him in the drivers' seat would be Tom Ingram, a BTCC star and professional racing driver giving up his time to assist the beneficiary drivers, and Roland Wilkinson and James Cross, amateur racing drivers and Directors of OpenWorks Engineering – a counter terrorism business. Wilkinson and Cross have made a donation to join the team, but they're also intrigued to see the skills of charity beneficiaries up close.
Oh, and I'm in the team, too – feeling rather humbled to be part of Matt's squad.
Stringer's recovery journey and his association with the charity goes back a little further that Bashforth's. "I was looking at a mechanic's apprenticeship with the SEC back in 2013, and was then introduced to Mission Motorsport," he explains.
"It didn't take long for the motor sports bug to bite, and I started to go to track days and races." This happened during the period when Matt was being discharged from the service and, like many soldiers, he was struggling to come to terms with his new life.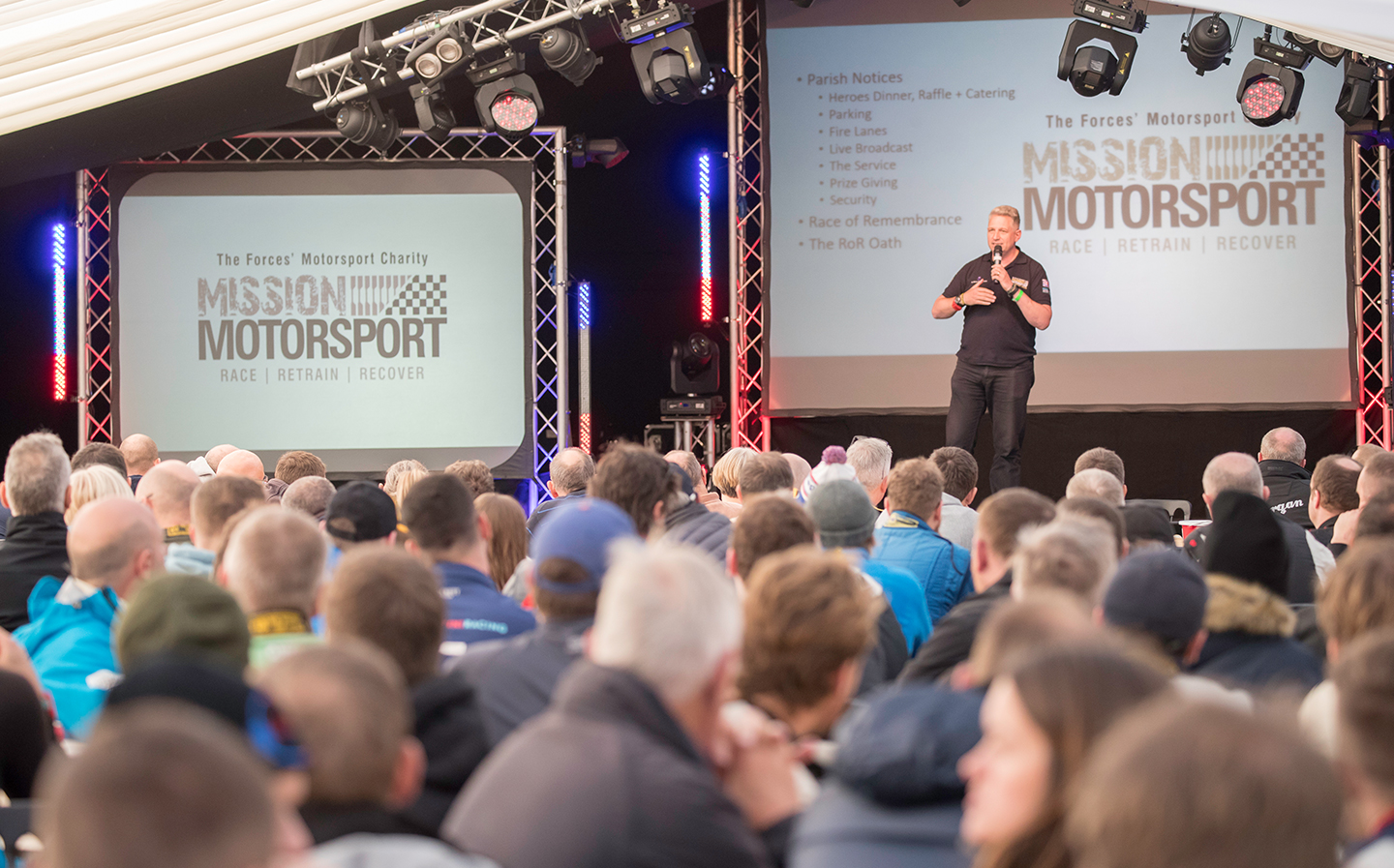 Jim Cameron briefs the competitors before the race
"We got to Matt just in time," says Cameron, "but one of our biggest challenges remains seeking out and engaging with the wounded, injured or sick before they fall down the gap between military service and second careers as civilians."
After his initial introduction to Mission Motorsport, Stringer gained work experience as a race truckie. Then, in 2014, and with funding from the Army Benevolent Fund, he passed his HGV C+E license, enabling him to drive articulated race support trucks.
Like so many other ex-military personnel, once Stringer found his way into a vocation he impressed his employers with his skill, dedication and attention to detail.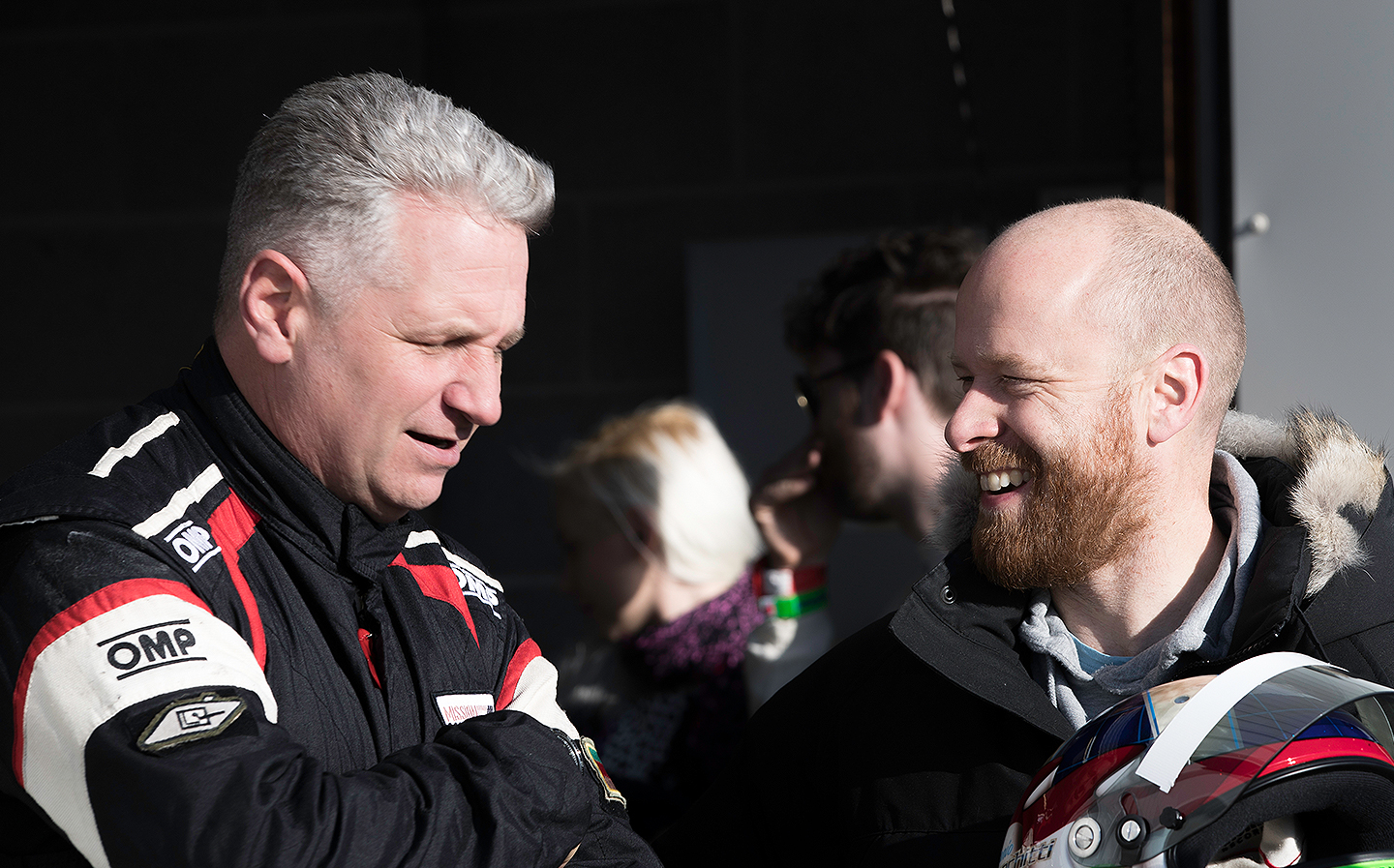 Jim Cameron and Ferrari champion Jamie Clarke share a joke
"This is the message we're putting out there with Mission Automotive," says Cameron. "It's not just the transferable skills that service leavers offer the car industry, it's an extraordinary work ethic."
For Stringer, this work ethic led to him becoming a fully qualified mechanic and this year he spotted an opportunity to become a vinyl wrap specialist in his native Cambridgeshire.
The pride in Stringer's voice when he talks about "Matt's Wraps", his own business based in Peterborough, is palpable. "I can't believe how lucky I am to have fallen on my feet doing a job I really love."
He has gone from medical discharge, and in his own words, "lacking any sense of direction," to running his own business in just six years.
Why is he at Race of Remembrance? Another little reward from the charity, but it's also talismanic. Stringer's story is one that needs to be heard. One that can be replicated. One that resonates around the paddock at Race of Remembrance, to beneficiaries literally seeing daylight for the first time in a long time, to VIPs, media and industry professionals here to witness Mission Motorsport in action.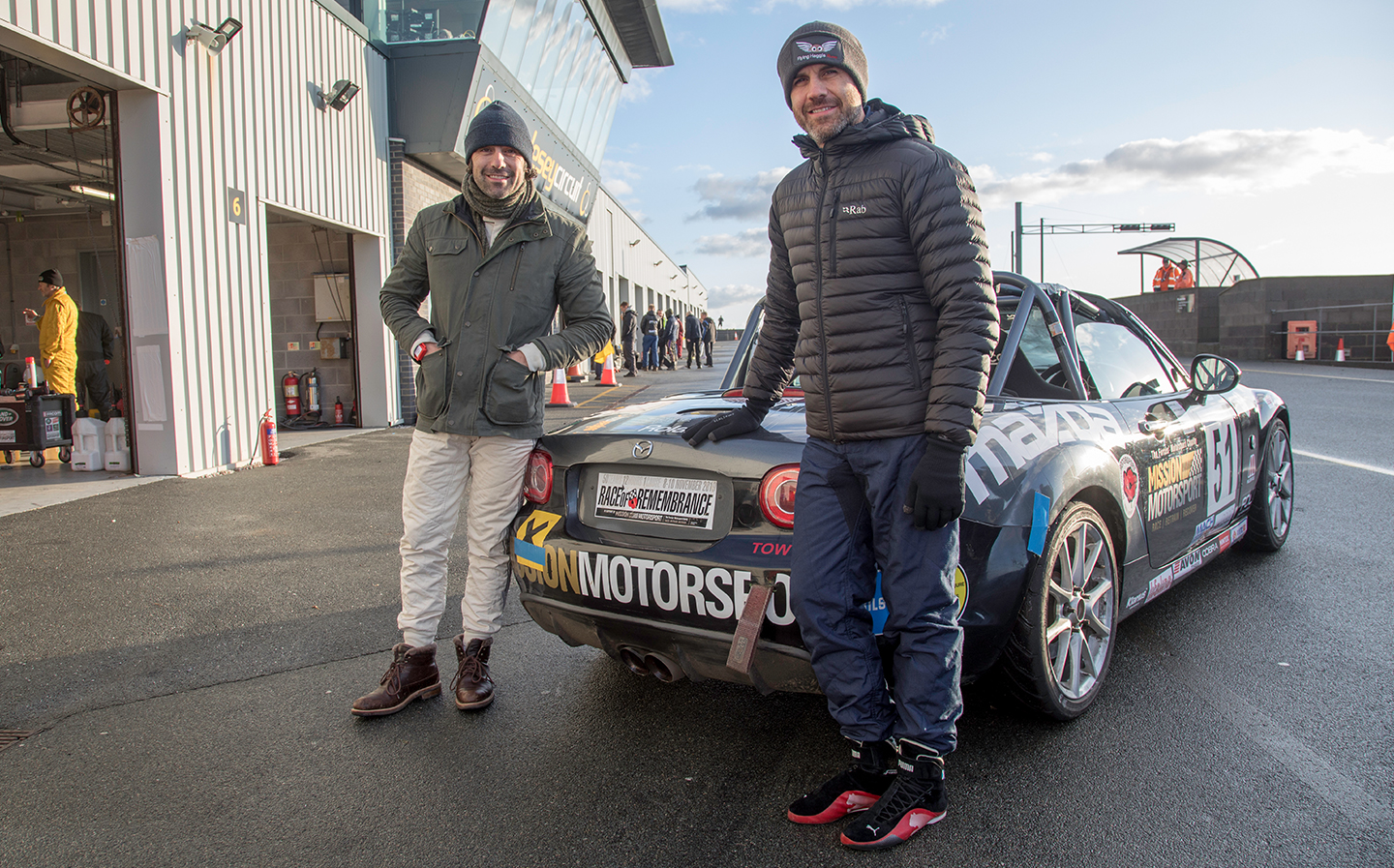 Dario and Marino Franchitti were two of the big name drivers to get involved at Race of Remembrance 2019
And it's quite a sight. Dotted around the paddock are people from every walk of life. Dario Franchitti, three-times Indy 500 winner, competing in his second comeback race since retirement from professional motor racing through serious injury — in 2013 he suffered a spinal fracture, right ankle fracture, and concussion in a crash.
Also here is Marino Franchitti, a sports car champion and brother of Dario, and someone who has some idea of what the families of injured service personnel are going through.
The Franchittis are joined by Ferrari Challenge UK champion Jamie Clarke and racing journalist Dickie Meaden in a Mazda MX-5, alongside Sophie Burt, a charity beneficiary making her racing debut at the event.
'I found a new family'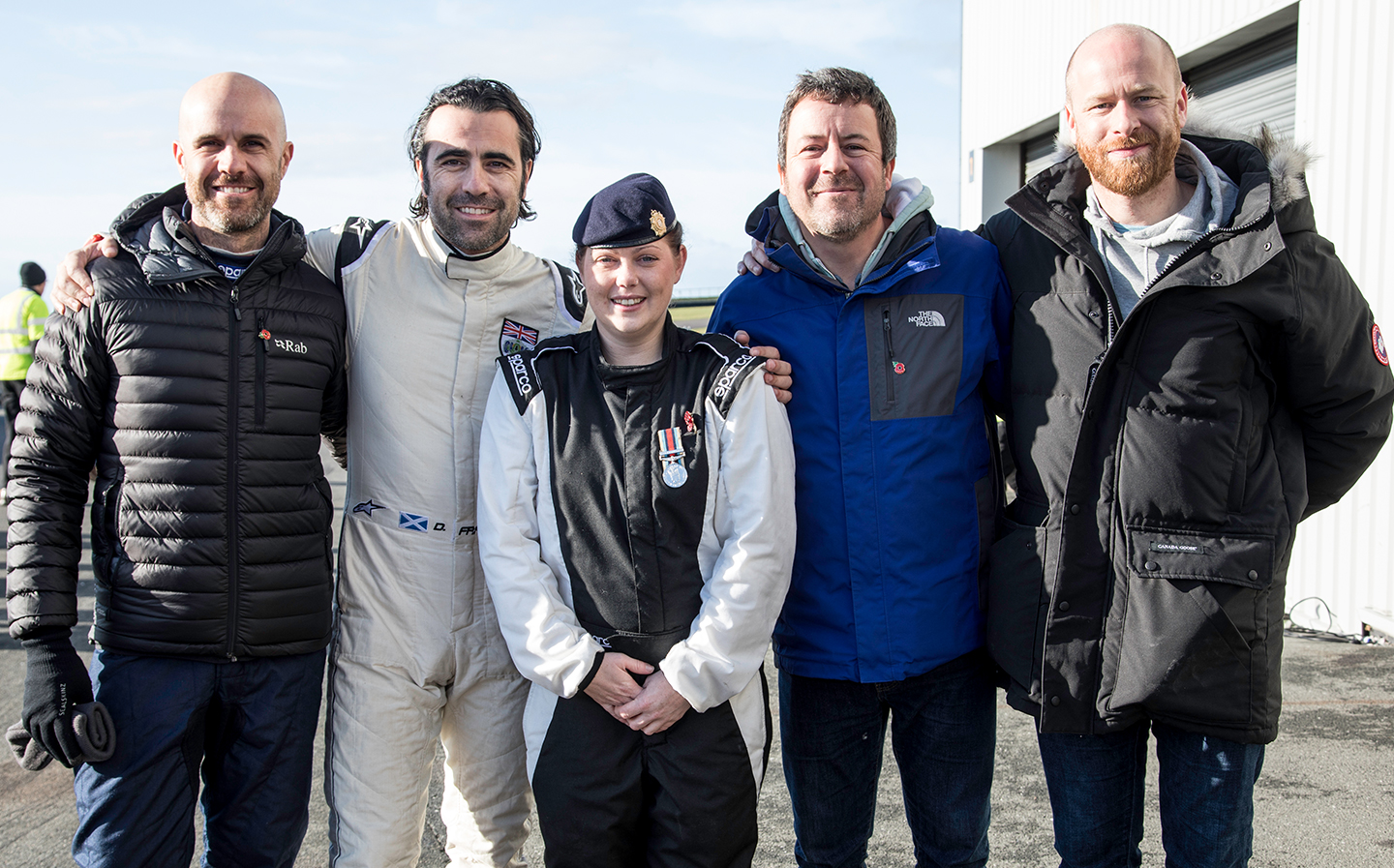 Sophie Burt (centre) with Dario Franchitti, Marino Franchitti, Dickie Meaden and Jamie Clarke
Burt joined the army in 2007, where she gained her HGV 1 licence at just 18. In late 2009 she spent six months in Kandahar, where her camp came under mortar and small arms fire daily. In 2013, aged just 23, she became a Corporal.
Health issues including PTSD meant Burt was forced to surrender her driving licence in 2016, isolating her from friends and family, and was downgraded and signed off from work. She battled to recover and came to Mission Motorsport in early 2017 where, she says, "I found a new family that helped me focus and gave me hope, and quite honestly saved my life."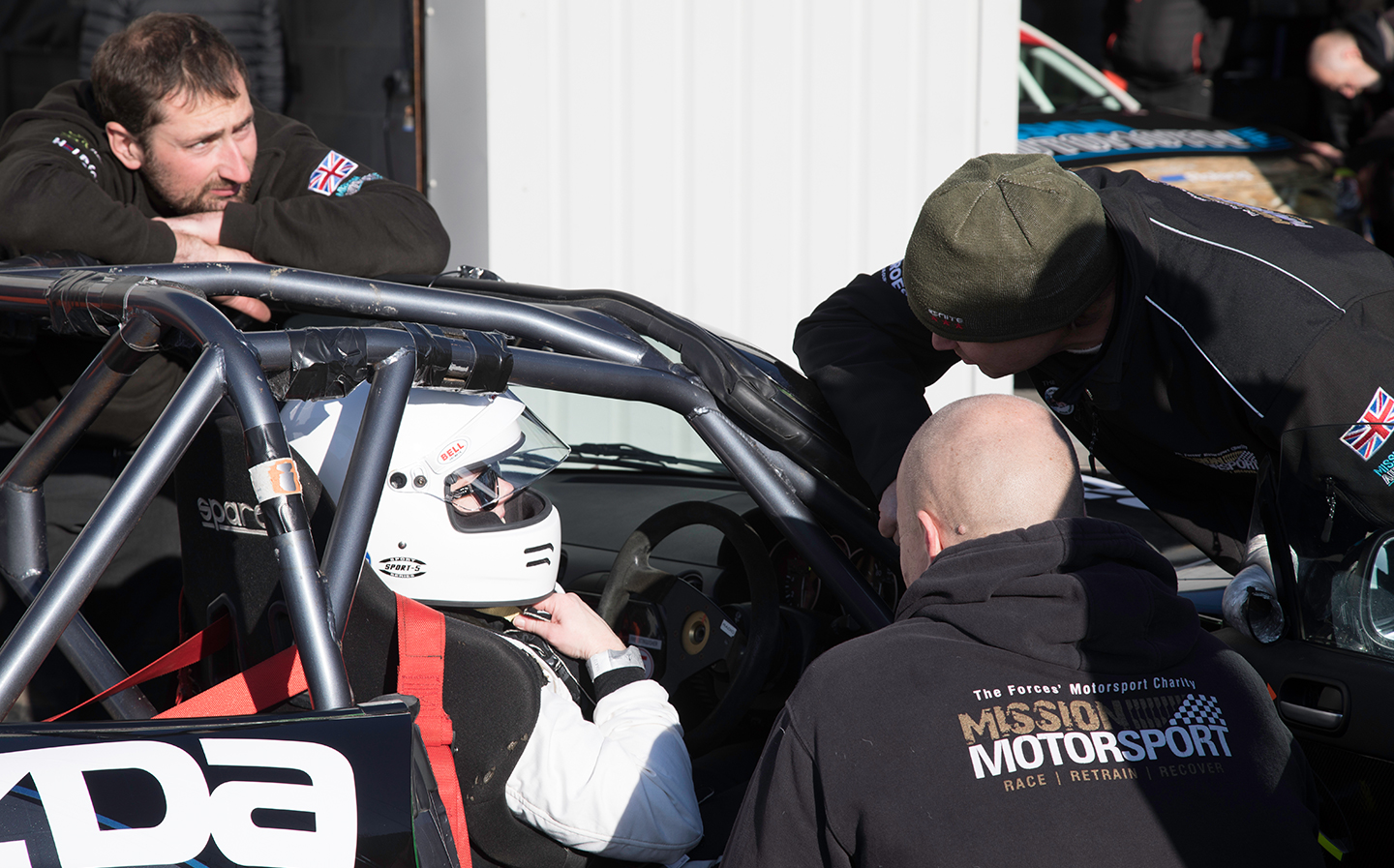 Burt gives feedback to her race engineers
In the pit garage and among the paddock, Mission Motorsport beneficiaries take up roles. Broken men and women. Recovering men and women. Some are not quite ready to tell their story and carry out their roles quietly, efficiently. Others are more open.
Solicit a "How are you?" in the Race of Remembrance paddock and you had better be ready to listen to the answer. Rarely is it, "I'm fine." More often it's, "I'm going through a divorce," "I'm waiting for an operation," "I'm really struggling with my mental health," or, "I'm just pleased to be here."
'I hate this day … I hate it'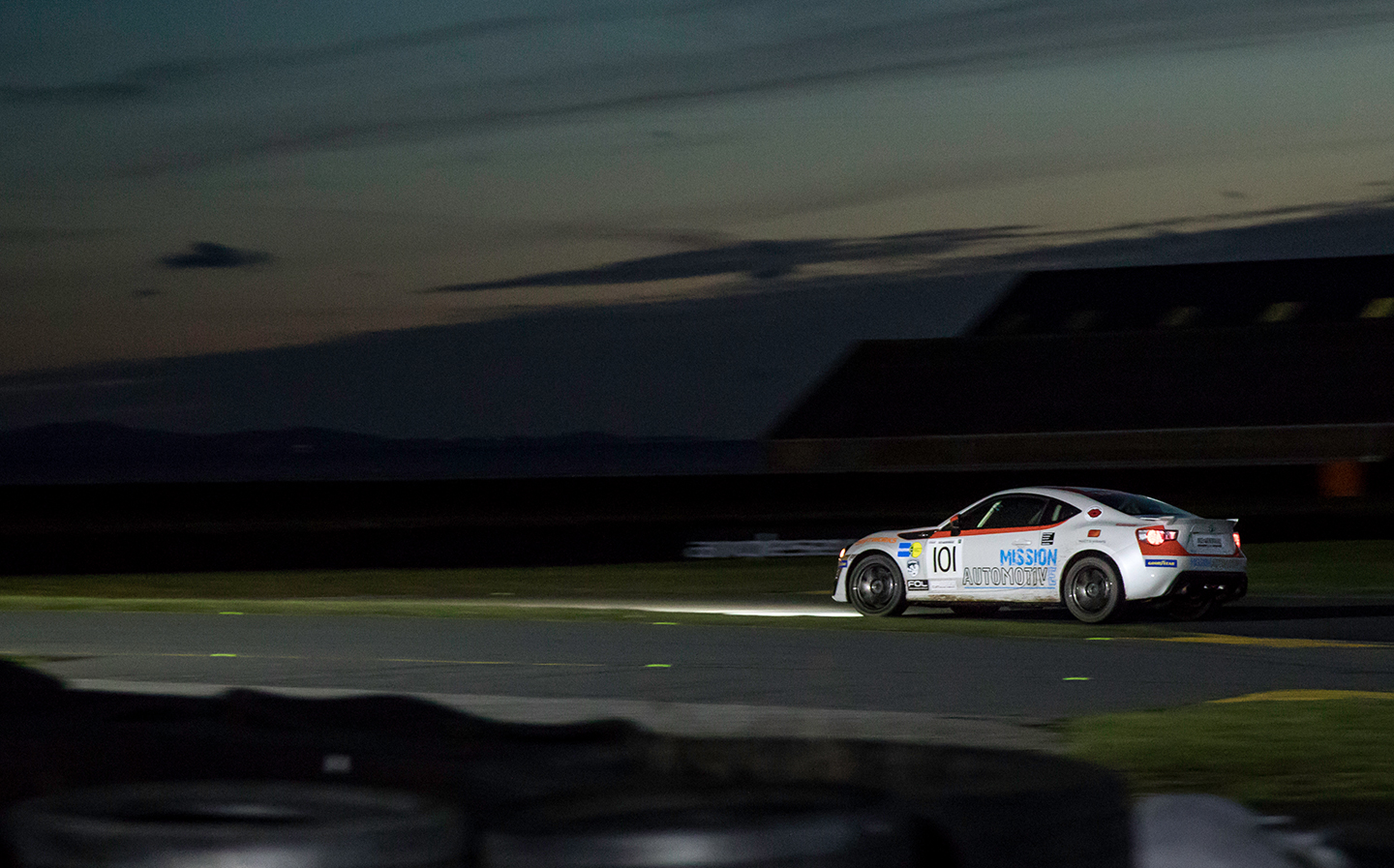 The GT86 races into the evening. The Toyota, owned and run by Mission Motorsport, is a mildly modified road car fitted with Goodyear Eagle F1 SuperSport road tyres and is ideal for rookies and professional drivers alike
Racing starts on the Saturday before an overnight suspension, then restarts at 9am on Sunday morning. Remembrance Sunday.
The mood in the paddock on day two is different. More reflective. The racing pauses again just before 11am, in order for the drivers and teams to assemble in the pitlane for the Service.
"I hate this day … I hate it," one veteran told me. "Every fibre of my being is telling me to get out of here; go somewhere else; go anywhere but here."
He doesn't want to hear the Last Post echo across the Menai Strait and he doesn't want to listen to the padre deliver the most unique Remembrance Service you'll ever hear. But he does.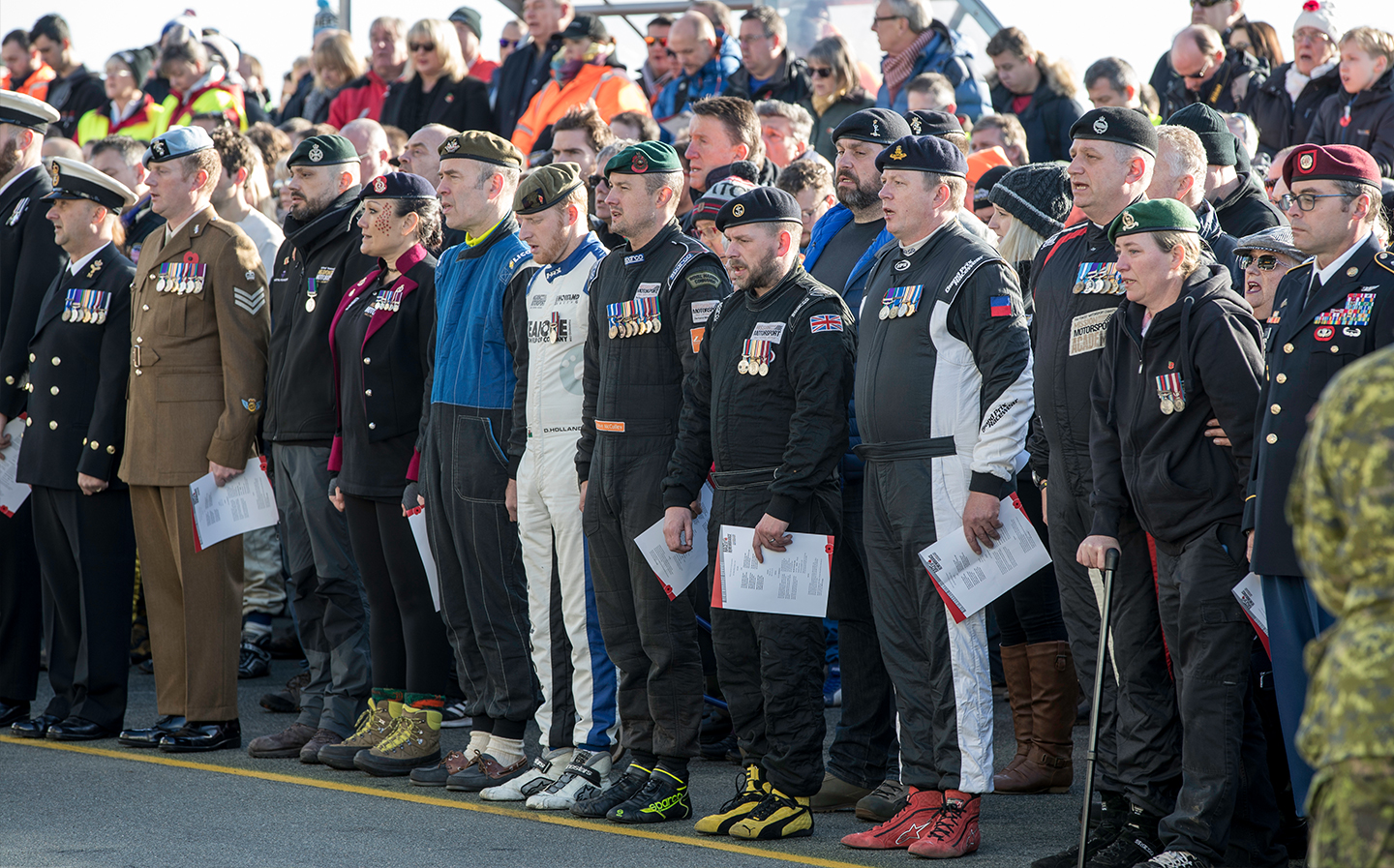 The heart of Race of Remembrance is the Sunday Service
The occupational therapy team from the Defence Medical Rehabilitation Centre at Stamford Hall intervene throughout the weekend, and he stands with his friends to remember the fallen with everyone else at the 11am mark.
"I'm glad I did that," he says afterwards.
And the race? Oh yes – the race. Utterly wonderful. Cold, wet, challenging, muddy — but wonderful. In Ingram's words: "I've got a newfound respect not only for the challenges of this as a racing event, but for those inspirational characters who make it happen. To see Matt driving the car, and Martin working on it — well it's pretty humbling."
With Ingram's guidance, Stringer's resolve, Bashforth's skill with the spanners and the efforts of Wilkinson and Cross, we make it to the finish. Stringer does the final stint — nearly 90 minutes in the car in greasy conditions. He's brilliant.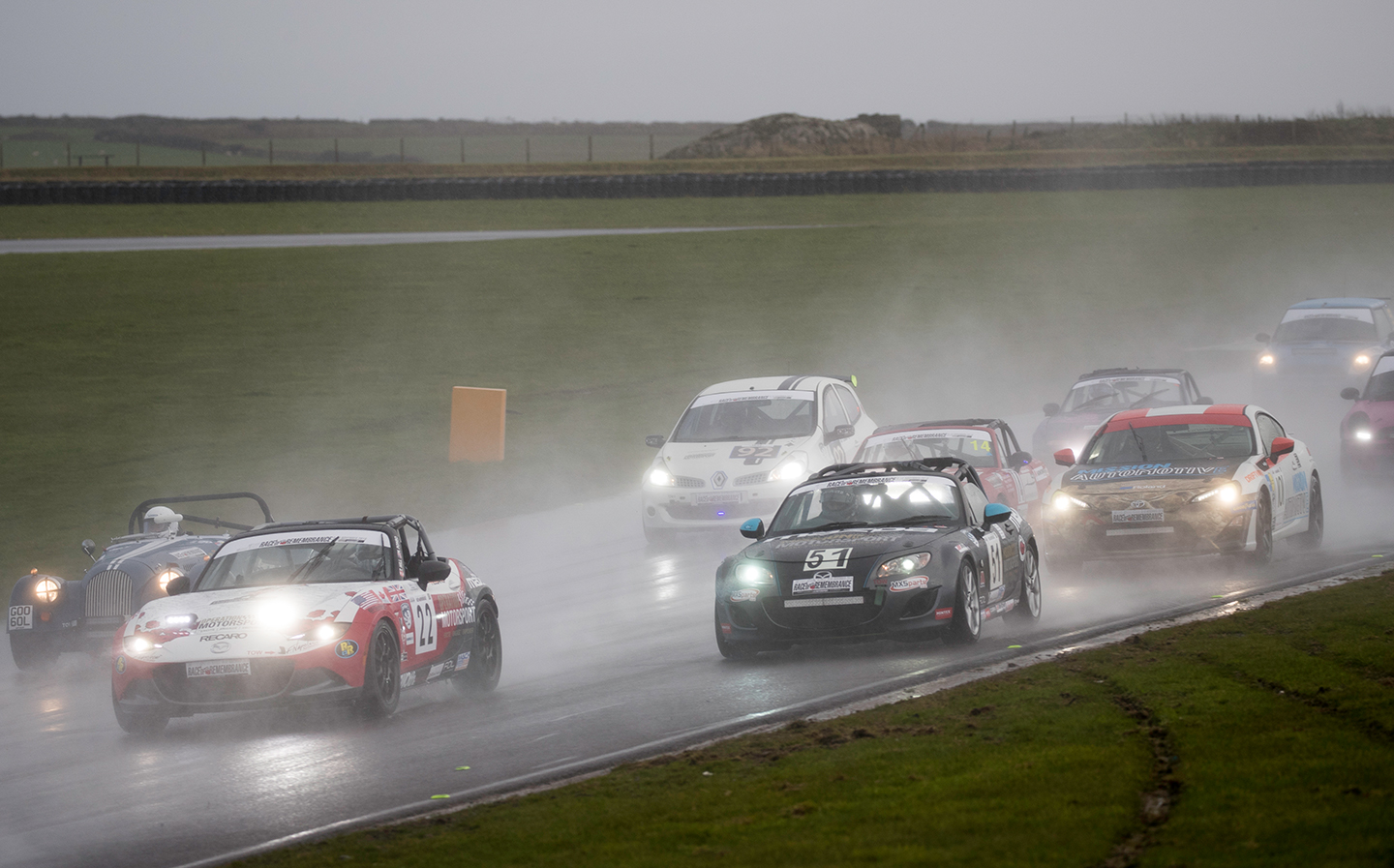 Conditions were tough for the racers at times — particularly those driving convertibles
"It's back to the day job tomorrow," he says — not with an ounce of desolation but with a glint of joy in his eyes. "Racing is an amazing thing, but having a job to go back to is even better. I've got Mission Motorsport to thank for that."
Nick Trott is a former editor of Evo & Motor Sport magazines who volunteers on the committee for Race of Remembrance. For more information about Mission Motorsport visit missionmotorsport.org. Images: James Wadham
Tweet to @Missionmotorspt Follow @Missionmotorspt
Mission Automotive puts military veterans on front line of car industry