Mission: Motorsport... and a new lease of life for soldiers
Soldier, you're on the fast track
---
Published 28 December 2015
IT IS a damp December morning at the Donington Park race circuit in the East Midlands. All around, engines are roaring into life and an impressive collection of supercars is rumbling out onto the track: a Lamborghini Huracan, a sleek Audi R8, a McLaren 12C, a Caterham, a Nissan GT-R, a Mazda MX-5 and a string of Porsches. But the really remarkable thing about this day is not the cars. It's the drivers.
At first glance, they look like any other group of young men and women on a typical track day. Take a closer look and you begin to notice the differences. Some are obvious — those with missing limbs; some standing on two prosthetic legs visible beneath a pair of shorts — others less so. In some cases it is nothing more than a stiff gait; others simply seem unnaturally anxious.
This is a track day with a difference because all the participants are former servicemen and women (as well as their spouses, partners and carers), and it is part of a pioneering recovery programme that is helping transform the lives of wounded and traumatised soldiers. Where conventional treatments offer doctors, counsellors and physiotherapists, Mission Motorsport turns to the healing capacity of horsepower, speed and adrenaline.
The registered charity has its own race team of injured veterans and serving soldiers, who do everything from driving and preparing the cars to arranging meetings and booking tracks. The idea is to harness the team spirit of racing while also making use of the technical skills and training that the ex-soldiers may no longer be able to use in everyday life.
Yet the charity goes one step further. Its motto is Race, Retrain, Recover, and it has built a network of contacts within the British car industry with the aim of finding jobs for former service personnel.
At Donington, Kes Bradley, 43, one of a small number of female motor-racing enthusiasts at Mission, has just finished a lap in an Audi R8. A former operating department practitioner — assisting surgeons and anaesthetists and helping with recovery on the battlefield — she was in the army for 17 years, before being medically discharged with post-traumatic stress disorder (PTSD) in 2013.
"I did two tours in Afghanistan," recalls Bradley. "There was a lot of trauma, it was just constant bombardment. At one point we had to stop all operations because we were just overrun at the hospital. It was an accumulation of things that led to me breaking down. Mission has helped massively. On a track day, your focus is simply that you want to go around the track as fast as you can. It takes you away from your worries for a day or two."
It's about dragging guys off the sofa, getting them out and seeing how we can help them. Mission is at its best when we are used as a springboard for someone to get into their dream job
Bradley is partway through the charity's vehicle repair course and has just been found a job with Arnold Clark, the car dealer group, working in aftersales.
James Webley, 29, a former army corporal, was at Donington too. He served in Bosnia and Kosovo and saw action in Afghanistan before being medically discharged about three years ago. He now works for Mission Motorsport, managing the workshop where recruits can undergo training in vehicle maintenance and where cars are prepared for races and track days such as the one at Donington.
"I didn't want to leave the army, but I developed early-onset arthritis in both hips, possibly because of the increased weight you have to carry and the distances you cover in the army now; the pace of army life," says Webley, who is in almost constant pain and will one day need a double hip replacement.
"Without Mission, I'm not sure what I would have done. You feel part of a team: you are there with people who have shared similar experiences, they know the banter, you know they get where you're coming from. It really helps to transition into civilian life. It's still very hard, but it takes the edge off."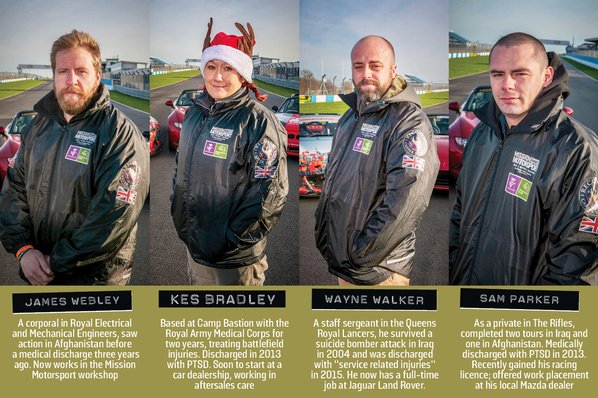 Mission Motorsport, based in Wantage, Oxfordshire, began life about 3½ years ago, when Major James Cameron, Major Jim to his friends, left the army to look after his ailing mother and was searching for a way to help other former servicemen and women — particularly those who had been injured physically or emotionally — adjust to life beyond the army.
"I was commanding an armoured group in Afghanistan and in 2011 I had a lot of my blokes who were wounded," says Cameron. "Initially, I just wanted to do something for my guys."
A long-time lover of cars and motor racing, Cameron, 42, now Mission's chief executive, saw the opportunities for former soldiers (many of whom were already experienced automotive technicians) in British industry. He also understood the potential for using motor racing as a way to connect with young men who might not be too keen to embrace more conventional offers of help.
"Motor sport is really good at getting guys out and distracting them, so they don't notice we are doing lots of other worthy stuff," says Cameron. "It is a powerful attraction tool. We can tap into something and it's important that we use this opportunity for their benefit. It's about dragging guys off the sofa, getting them out and seeing how we can help them.
"Mission is at its best when we are used as a springboard for someone to get into their dream job."
Cameron sees the track days as a way to contact wounded soldiers; to draw them into a support network; reconnect them with friends or colleagues in the military; and to set them on the road to a career in the automotive or motor sport industries.
The charity says that since September 2014 it has found jobs for 48 people, ranging from technical positions to management. One soldier has been employed by the Goodwood Estate, the home of the historic motor-racing circuit in West Sussex, to work in forestry, while another infantryman is now a clay modeller at Jaguar Land Rover, helping design the next generation of family saloons and sports cars.
A recent success is Wayne Walker, 37, from Lichfield, Staffordshire, whose left leg was seriously injured in an explosion in Iraq. After a short placement this summer, he is now working full-time for Jaguar Land Rover and has recently been promoted to work at the company's prestigious special vehicle operations division.
At Donington, Walker was able to return to Mission, driving other ex-service personnel around the track in a Jaguar S-type R. "Now I'm in a good place, it's great to be able to give something back," he says.
The charity is not large: last year its turnover was £600,000, of which £250,000 came from Help for Heroes, the far better-known military charity with which it is affiliated. It does not receive money from the Ministry of Defence. According to Cameron, however, cash donations are just a small part of the help it receives.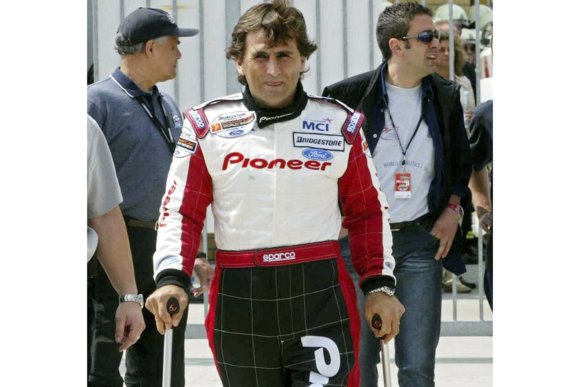 He estimates that last year the charity received £860,000 worth of "gifts in kind", such as venues waiving their fees for track hire or manufacturers giving free tyres. An annual invitation event sees wealthy private collectors offer passenger rides in priceless classic cars.
Not everyone finds a job at the end of it, but even if they don't, the charity can still open the door to a new world. Sam Parker, 30, an army rifleman from the age of 20, has just been offered a work placement at his local Mazda dealership in Devon, but also recently gained his racing licence and is set to take the wheel for various Mission racing events in the coming year.
"I'm their newest racing driver," says Parker proudly.
"I did two tours of Iraq and one of Afghanistan. I was medically discharged with PTSD and bipolar disorder after I was interrupted while trying to commit suicide. My tours were quite arduous. It was quite full-on. But coming home, that's what really did the damage. It really throws you.
"Civilian mates try to understand but I can't talk to them about certain things. Mission Motorsport feels like a second chance."
"I have a friend at Mission who is a double amputee and he's a great racing driver. Even though our injuries are completely different, we are very understanding of each other. Civilian mates try to understand but I can't talk to them about certain things. I've been through the wringer. Mission Motorsport feels like a second chance."
For more information about Mission Motorsport go to missionmotorsport.org
Beware those amputee drivers — they'll leave you choking in the dust
From Argentina to Anglesey, wounded veterans are leading the charge to show that losing a limb — or four — is no obstacle to competing at top levels of motor sport, where brains, speed and courage matter more than physical mobility, writes Dominic Tobin.
The Dakar Rally is often described as the world's toughest race. For two weeks across South America, cars, trucks and bikes crash for 5,000 miles along rocky passes, churn through sand dunes and navigate dry riverbeds.
In 2013 the Race2Recovery charity, which helps people with life-changing injuries take part in motor sport, entered four Land Rover Wildcat vehicles in the gruelling event. Among the tools and spares were Allen keys to repair the damage that sand and vibrations caused to the prosthetic arms and legs worn by some of the team's drivers, co-drivers and support crew.
Three of the cars failed to make it, but Major Matt O'Hare and his co-driver, Phillip Gillespie, who was injured in Afghanistan and had his leg amputated below the knee, became the first disabled team to finish the Dakar Rally. The following year, another Race2Recovery entry became the first disabled team to finish in a truck.
Next year Frédéric Sausset will prove that no limbs at all are needed to compete at the top level of motor sport
Other Race2Recovery drivers have been notching up success closer to home. In October, Grant White, a former Royal Marine, and Yanto Evans from the Parachute Regiment, both amputees, won a round of the British Cross Country Championship rally series. Davie Birrell, who lost both legs after being blown up in Afghanistan, competed in Mission Motorsport's Race of Remembrance last month — a 600-mile race in Anglesey held over two days to commemorate Remembrance Sunday.
It's not just disabled military veterans on track, either. Alex Zanardi, the former Formula One Williams driver, lost both his legs while racing in the F1-style Champ Car American series in 2001. Two years later he was back, in a modified racing car, competing in the European Touring Car Championship. He won two gold medals for handcycling at the 2012 Paralympic Games in London.
Next year Frédéric Sausset will prove that no limbs at all are needed to compete at the top level of motor sport when he enters the 24 Hours of Le Mans in a specially adapted Morgan prototype sports car. Sausset lost his arms and legs in 2012 after scratching his finger on a wall; the cut became infected and toxins advanced through his body, killing the flesh.
After recovering from a coma, the former fashion chief executive rediscovered mobility behind the wheel of a car and set about becoming a racing driver. Controlling the steering wheel with a lever on one side of his body and the accelerator and brake with pads under his thighs, he has already completed a test drive at Le Mans.
Last summer, he published a book about his journey. "Life can change at any moment," he wrote. "If you have a dream, do everything you can to achieve it before it's too late."