Alpine A110 to Le Mans: the perfect road trip machine or a test of endurance?
Brilliant on a backroad, but what's the A110 like over 1,000 miles of mostly motorway? Alex Goy sets the sat nav for Circuit de la Sarthe
When you think of cars in which to travel vast distances, to sit in for hundreds of miles on the motorway, and to fill with the kind of stuff you'll need for days of unexpected travel, you tend to think of a Range Rover, or Audi RS 6, or… something big, quick and squishy. After all, if you're going to cover 1,000 miles in a few days, you don't want to be folded into a pretzel and sent on your way. Which is why the idea of taking an Alpine A110 to Le Mans was as daunting as it was exciting.
The lightweight A110 sports car has been around since 2017, and recently got a nip and tuck to keep things neatly up to date. It can now come with up to 296bhp, unless you have the keys to the base car, as I did, which fires a not inconsiderable 249bhp and 236 lb-ft of torque from its mid-mounted 1.8-litre turbocharged engine. It's a brisk little thing thanks to its Quaver-esque 1,102kg kerb weight, with 0-62mph achievable in 4.5 seconds.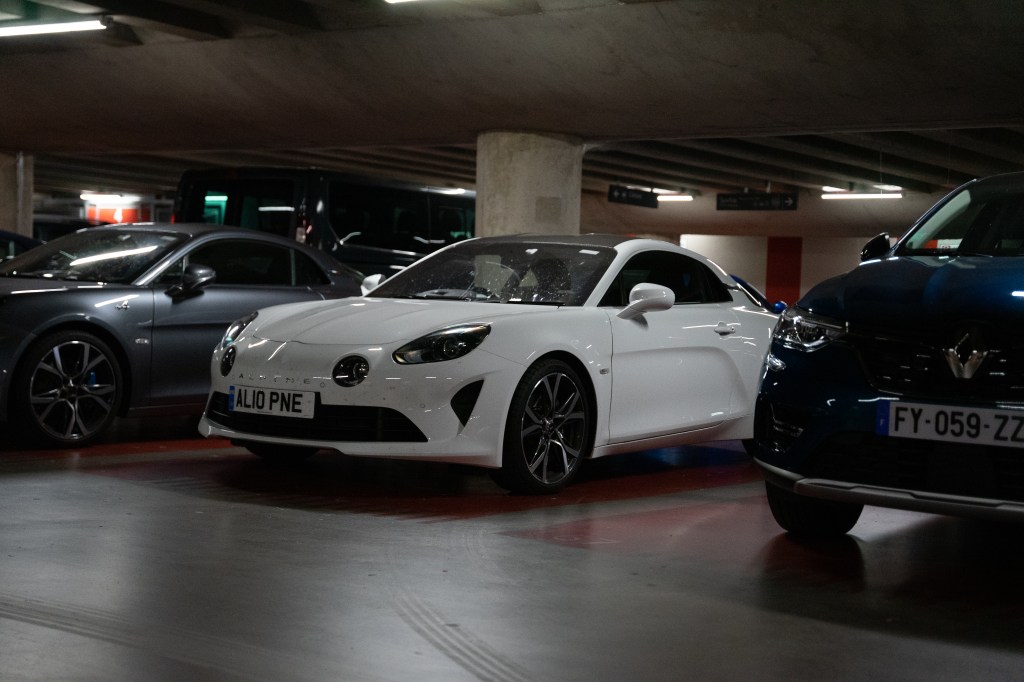 Speed is one thing, but what about practicality? Well, there's a sort of shallow trough under its bonnet for small items, and a carpeted bucket behind the engine (that gets rather warm, for obvious reasons). They offer a combined 196-litres of space but aren't really very useful for more than squishy/ flat bags, flat shopping.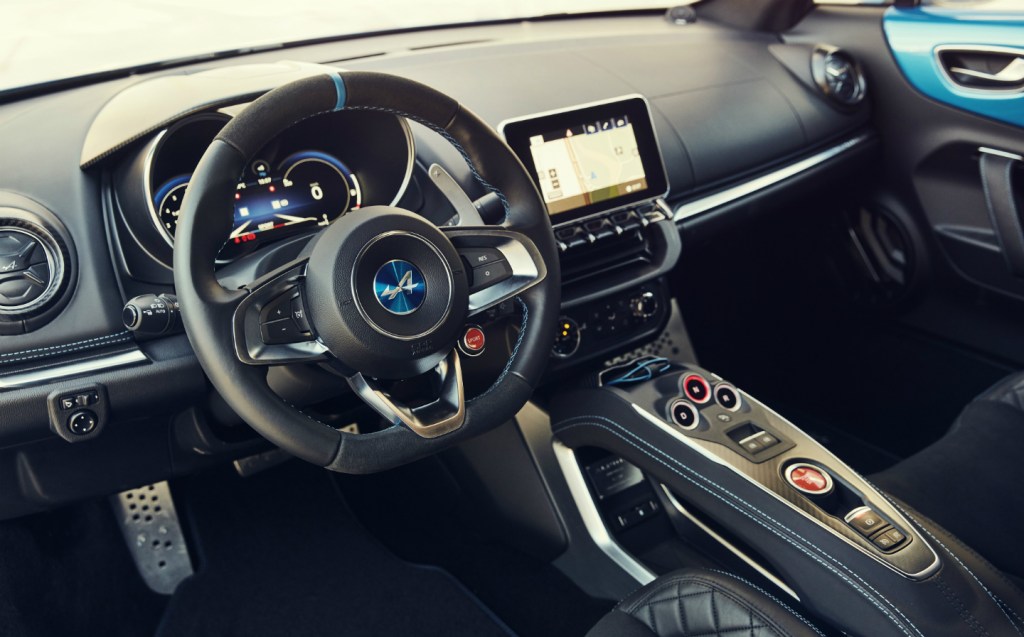 In the cabin there's no glove box, no door pockets, and a tray for your phone. Everything you don't want on your person needs to go there or, inevitably, on the passenger seat. A minor inconvenience for a few days, but probably enough to strike the idea of an A110 off a few 'my only car' lists. 
Alpine's not just a road car manufacturer, but a race team as well. Having done rather well in the World Endurance Championship with its A480 racer, hopes were high for a decent showing at the 90th Le Mans 24 hour race.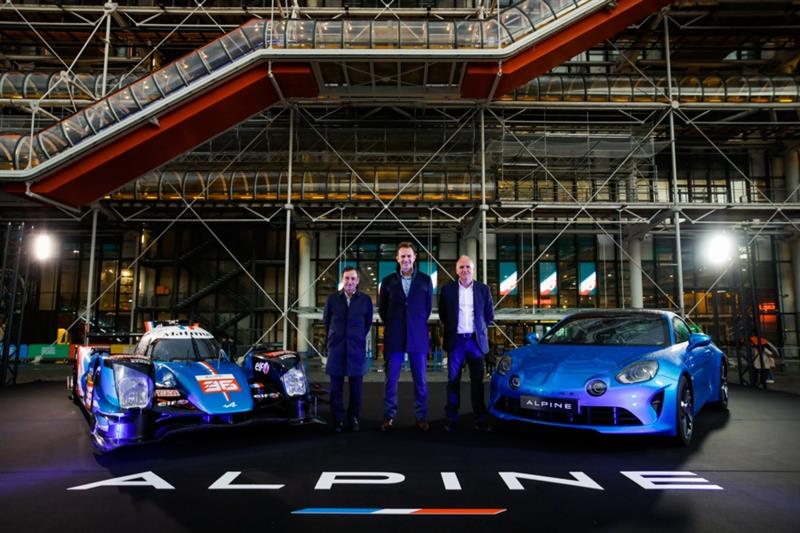 It was up against Toyota's fearsome, and very modern, GR010 hybrid, and Glickenhaus' distinctively-nosed 007 LMH. While its competitors are custom made for the top flight Hypercar class of racing at Le Mans, the Alpine very much isn't. It's an old LMP1 car (the former top class) that's been modified and allowed to play with the big boys.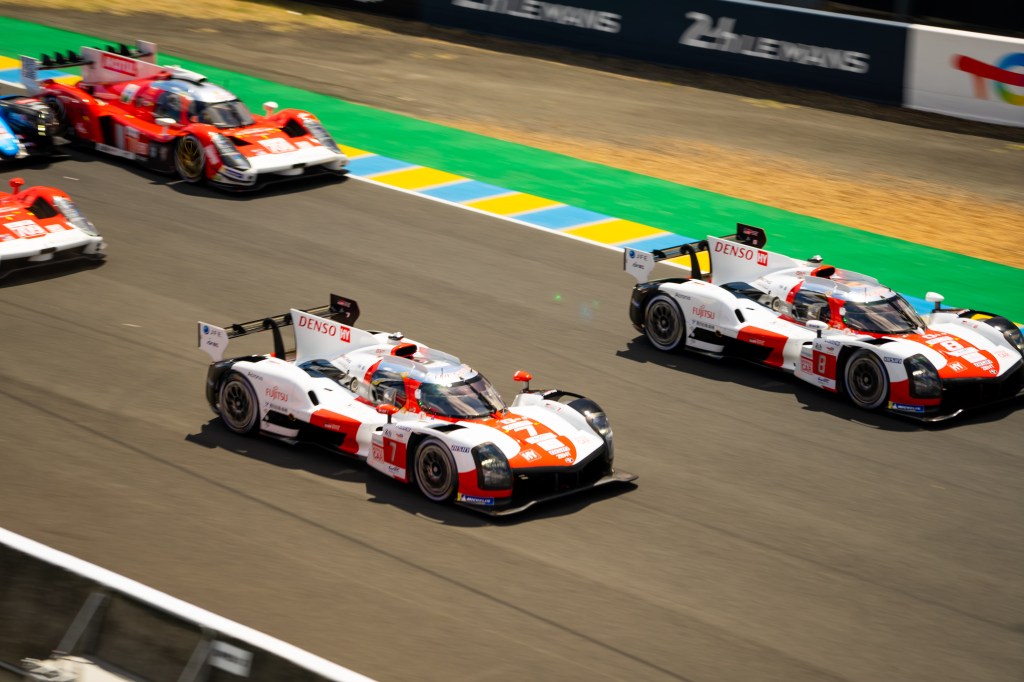 It won't come as a huge surprise to hear that the A480 shares nothing more than a logo and an ethos with the road car. It's light, at 930kgs, and its engine sits in the middle of the car, but that's about all they have in common. That engine is a naturally aspirated V8 producing 610bhp.
It's a machine designed to drive round wibbly circles as quickly as possible, not play the Toni and Ryan podcast at an audible level on the way to Tesco. 
Le Mans, like the rest of the world, had a couple of rough years. Its 2020 race was behind closed doors, and 2021 allowed a limited number of punters in to watch the race unfold. 2022, happily, allowed a full crowd back in. The atmosphere was one of excitement, hope, and, as it ticked by midday on the Saturday… beer. Lots and lots of beer.
Le Mans, while being one of the pinnacles of motorsport on one side of the fence, feels like a festival on the other. Loud music booms from bars, people wearing team shirts leap excitedly when their favourite car flies by, and the booze consumption is off the scale. Reading and Leeds for petrolheads, then.
After the tricolore had been dropped off by a chopper, the race began and thousands of people got fully back into the swing of Le Mans proper.
While it's easy to watch the cars at Le Mans — they roll round every few minutes — it's pretty tough to find out what's actually happening in the race unless you're glued to a timing app, or find a giant screen to follow along. Of course, the true fans will do just that, but the rest will go for a toddle and soak up the atmosphere of the place. 
Not keeping a close eye on the Alpine was probably the best idea. It started well enough, but soon Le Mans can be a cruel beast.
Cars doing perfectly well can be hit by another, tyres can go pop, mechanical issues can steal a win on the very last lap, and genuine mistakes can take cars out of the race. The Alpine suffered a malady that sunk it deep, deep in the standings.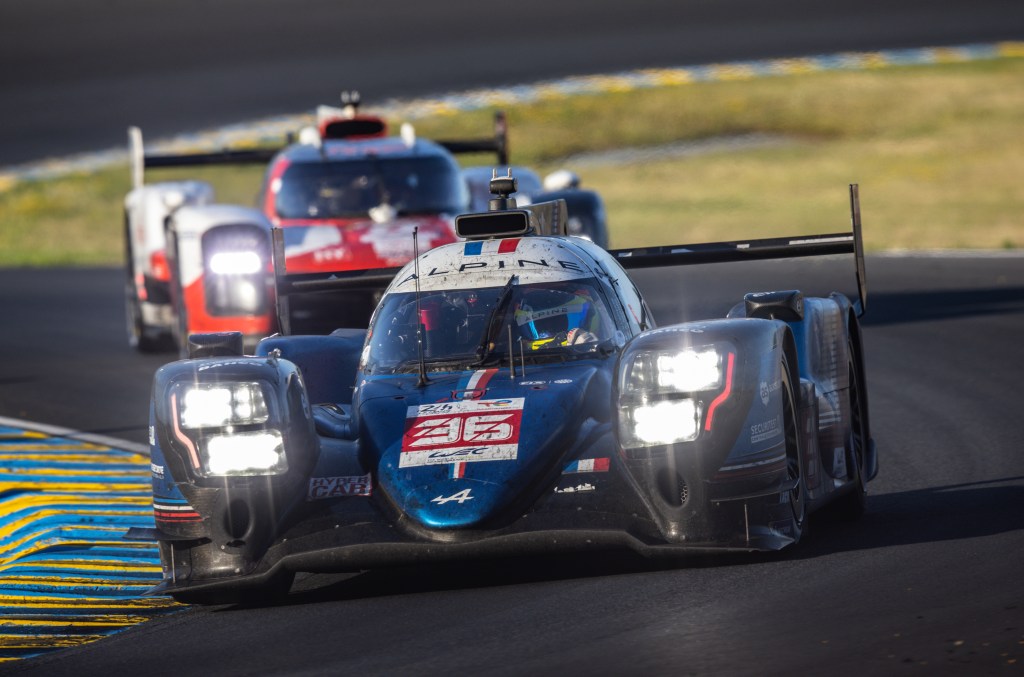 The partying outside felt at odds with what was going on in the pits. Largely because people were watching as the sun sunk, and got ready to try and watch through the night. This is a challenge many try, and few manage. Partly because they've had a bit too much to drink, and partly because staying awake for that long is really, really hard. You don't have to look hard to find failed attempts at all night viewing the following morning.
As Sunday rolled around, the Alpine, on top of other issues, had a crash. It was repairable, but combined with the previous day's problems you can't imagine there were smiles in the data centre. It ended up finishing 23rd overall, not a result the team had hoped for. Toyota and Glickenhaus made up the podium.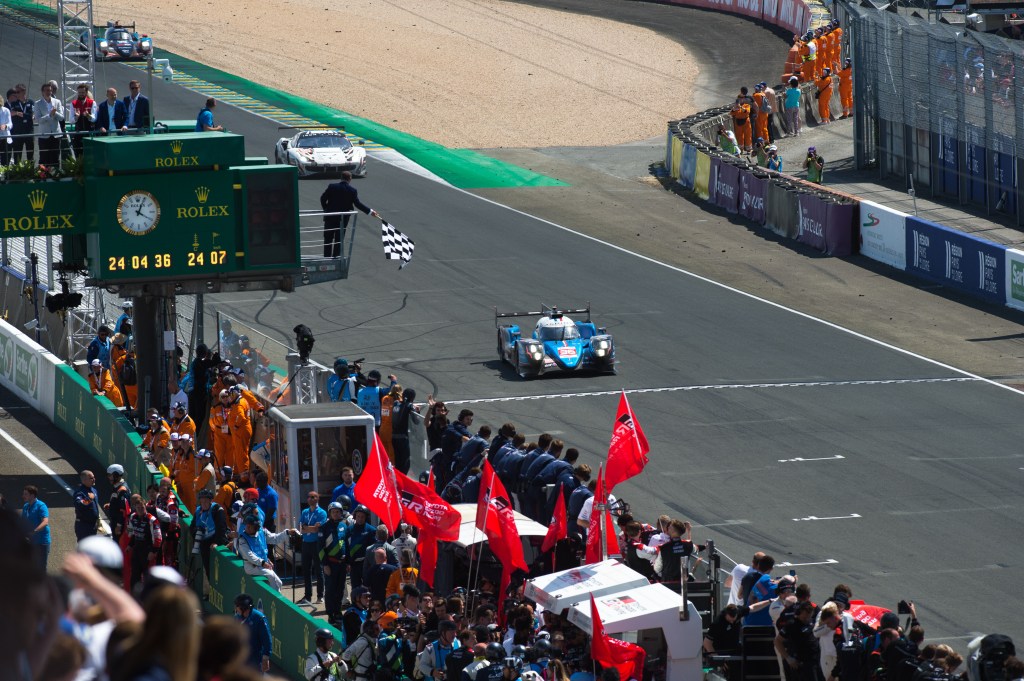 Stepping back into the A110 for the (very) long drive back to the UK, it was hard not to feel for the Alpine team, but at the same time it was a joy to reflect on Le Mans being back to its full, messy best.
It wasn't long ago when the mere idea of stepping out of the house was fraught with risk, let alone driving to another country to stand in a field and watch hyper-engineered race cars try their all to go faster than the other guy, and also not get slotted by a ProAm car. And now we can.
Next year there'll be more teams in the top flight hypercar class, and with them come more fans. Probably more beer, too. 
What about driving an A110 all the way over? Despite its lack of space, and form fitting bucket seats, it was surprisingly comfortable. The road noise irked from time to time but actually the car did the job admirably.
Grumbles? Well, white paint shows dead bugs rather too well, and the base car's stereo could do with some extra oomph for when you really need to bellow a power ballad, but those issues are easily solved in the configurator.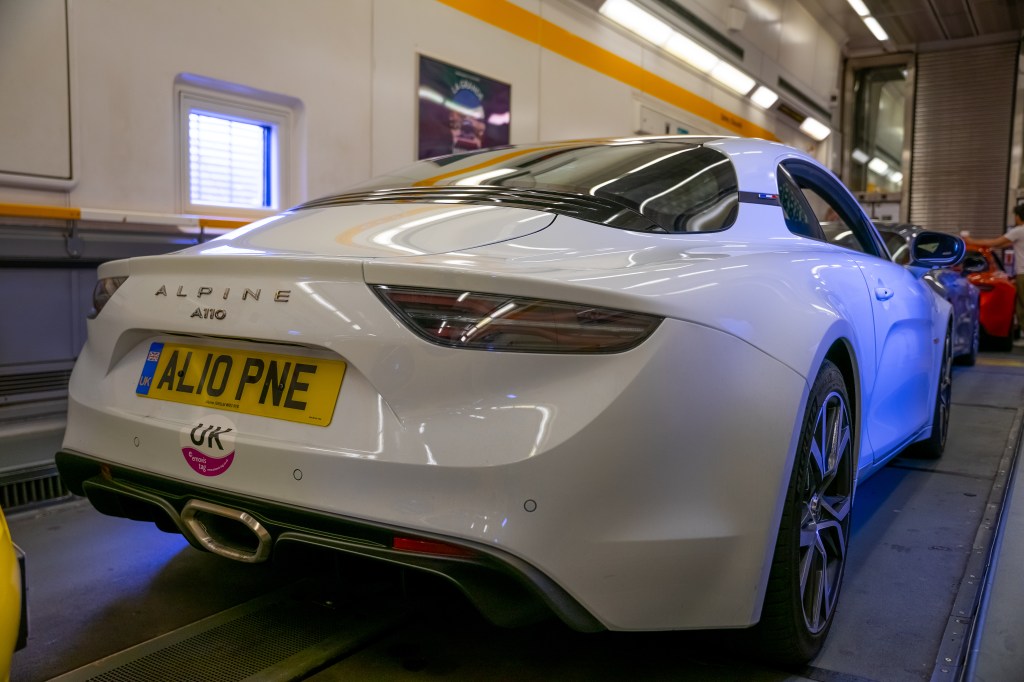 Oh, and if you decide to make this journey next year, for the first year of the new hypercar class (Ferrari and Porsche fighting it out for overall victory? Count me in.), then you are required to take a picture of your car on the train, else it never happened. Them's the rules.
Tweet to @A1GOY
Follow @A1GOY
Images: Alpine/ DPPI and Alex Goy
Related articles
Latest articles