Eco engines are among the most polluting according to new emissions index
"Downsized" petrol engines shown to produce high levels of NOx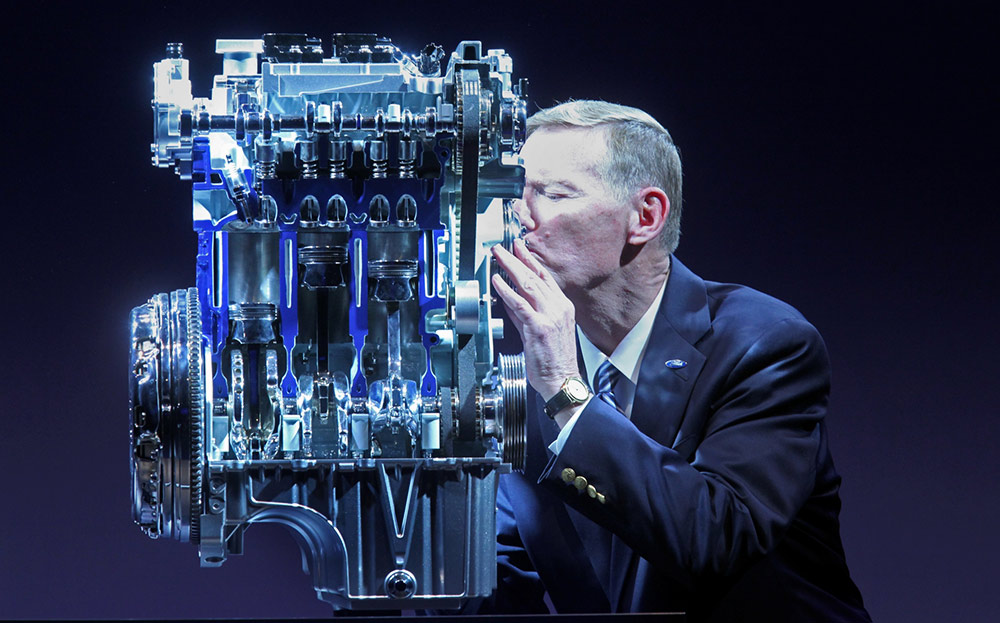 A NEW independent ratings system for vehicle emissions suggests that cars marketed as having some of the cleanest petrol engines available, incorporating the very latest "downsizing" emissions technology, are in fact producing many times more harmful gases than was thought.
The Equa Air Quality Index has been set up by Emissions Analytics, a company that specialises in independent fuel economy and emissions testing. It measures levels of nitrogen oxides (NOx) that, together with fine exhaust particulates called PM2.5s, are blamed for the deaths of thousands of people in the UK each year.
Petrol cars in general produce less NOx per kilometre than diesel vehicles. However, the new test shows that the Ford Focus 1.0 EcoBoost and Mini Cooper 1.5, which both feature three cylinder, turbocharged petrol engines that are said by their makers to bring "downsizing" efficiencies to drivers, produce far more NOx in real world driving than petrol vehicles with more traditional, larger engines.
"The current test is a failure of the market. Car buyers deserve better"
As the worst performing petrol car tested to date, the Focus 1.0 EcoBoost was ranked "E", which means it emitted between 250 and 500 milligrams per kilometre (mg/km) of NOx, compared with the current Euro 6 limit of 60mg/km for petrol cars.
About 30,000 people a year are said to be killed in the UK by air pollution, with as many as 23,500 deaths attributed directly to diesel vehicles.  NOx, in particular, is associated with asthma and other related breathing problems.
A Mini spokesman said "the fact that emission levels in tests differ from those in actual driving is not new. Many variables can influence real world emissions and the industry supports the swift introduction of new regulations to ensure clarity, not only for consumers but also for the automotive industry itself."
Responding to the results, Ford told Driving that its vehicles meet all applicable emissions requirements.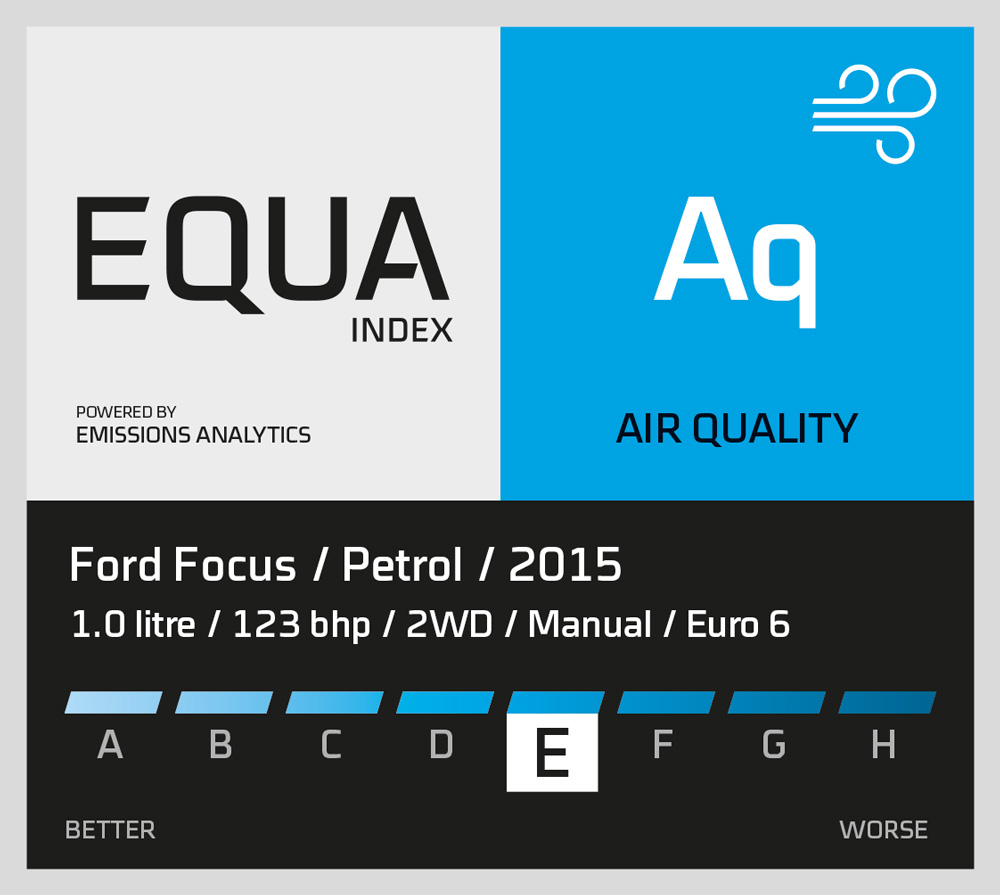 In a statement it said: "Ford is aligned with the UK automotive industry body, the SMMT [Society of Motor Manufacturers and Traders] on this issue. They have noted that it is not appropriate to comment on results from non-official tests where the robustness or methodology is unclear.
"All Ford vehicles meet all applicable emissions requirements:
"- All Ford vehicles in Europe undergo emissions tests witnessed by the Type approval authorities and their technical services. Ford conducts all emission tests fully in line with regulations.
"- It is widely acknowledged that on-road fuel efficiency and emissions vary, depending on factors such as on road conditions, driving style, vehicle load, speed and traffic, and emissions may be higher than those observed on the NEDC test.
"- Ford fully supports efforts to ensure that test procedures more closely match the real-world conditions that customers experience under normal driving.
"- Ford has supported the development of a European Real Driving Emissions initiative going into law as part of the Euro 6 standards – and we are fully supportive and involved in the development of the World Light Vehicle Test Procedure, which addresses this."
Meanwhile, the dirtiest diesels, according to the Equa Air Quality Index, are the Ssangyong Korando and Fiat 500X.
---
Browse NEW or USED cars for sale on driving.co.uk
---
A spokesman for Fiat said it did not believe such tests were valid. Referring to the results from Emissions Analytics, he said: "This is not a fair or scientific test and we do not accept it. We do not believe that this method can deliver reliable repeatable results. Our cars all meet the legal requirements."
The least toxic performers include the Audi A5 and Skoda Superb, both fitted with the 2-litre TDI diesel engine, and Audi A1 1.4 and BMW 1-series 1.5 petrols.
The findings follow a separate government report on NOx, carried out by the Department for Transport in the wake of the Volkswagen dieselgate scandal, which concluded that levels of NOx from cars can be more than six times higher in real-world driving than the current official legislative limits allow.
Emissions Analytics hopes its new Equa Air Quality Index could become the Euro NCAP of vehicle pollution — the independent car safety testing organisation that is relied on by millions of car buyers every year, who want to check how safe a car is in the event of an accident.
New rules in 2017 will add an element of on-road testing to make the official results more meaningful but a margin of error will be permitted
The company says its rating system will make motorists and the car industry more aware of harmful exhaust gases, their health implications and the true quantities new cars continue to produce, helping car buyers determine which cars are the most polluting during normal, day-to-day driving conditions.
Nick Moulden, CEO of Emissions Analytics, said: "Ours and other independent, real-world tests show that many new cars' Euro 5 and 6 NOx emissions are still three to four times over the official limit. I see the current test as a failure of the market. Car buyers deserve better. The Equa Air Quality Index allows manufacturers and retailers to show how different models compare in the showroom."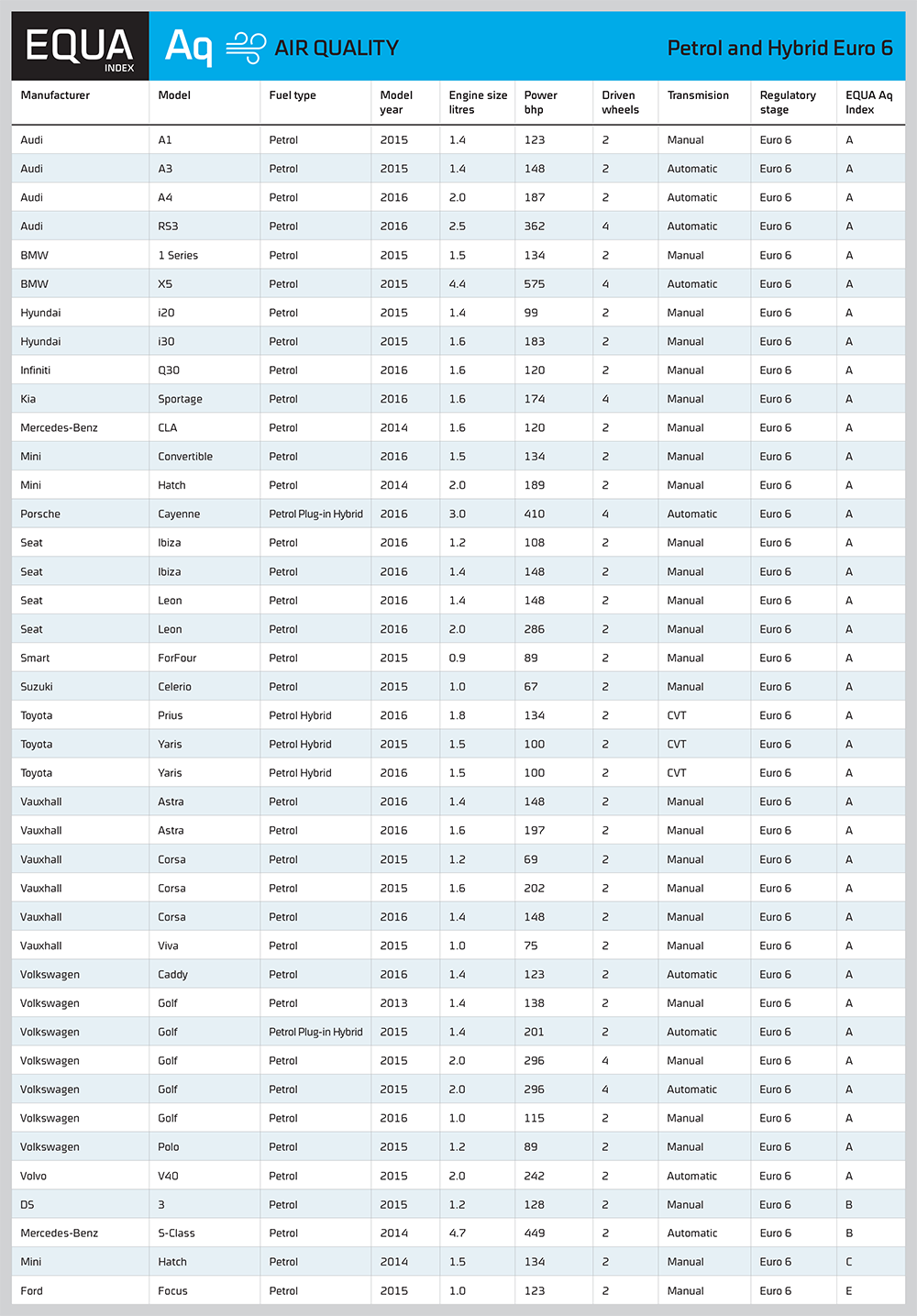 The Equa Air Quality Index lists over 400 diesel and petrol cars including current Euro 6 and earlier Euro 5 models — EU regulations that define the minimum emissions standards new cars must meet. More cars are being added each day, says the firm.
According to how much NOx they emit, cars are rated from A (the least) to H (the most). Like CO2, NOx emissions are also measured in grams per kilometre. According to the index, A-rated cars emit no more than 0.8g/km NOx, a measure that satisfies the Euro 6 limit for diesel and Euro 4 limit for petrol engines.
At the other end of the scale, H-rated cars conform to no comparable Euro standard and emit approximately 12 times the Euro 6 limit of NOx.
---
Advice: Should I buy a diesel or petrol car?
---
To calculate how much NOx a car is emitting, Emissions Analytics uses a portable emissions measurement system (PEMS). Essentially a mobile laboratory, unwieldy equipment is attached to the car's exhaust pipe and measures the engine's emissions as the car is driven on public roads along a defined road route. It is said to better represent how and where drivers use their cars, compared with a test track or laboratory with a rolling road.
It also means car makers are unable to exploit various loopholes in the laboratory tests to flatter their emissions figures — something that Mitsubishi has been caught doing to improve the fuel economy of cars sold in Japan.
New rules in 2017 will add an element of on-road testing to make the official results more meaningful but a margin of error will be permitted that would allow the cleanest new cars to emit 0.168g/km NOx.
In addition to the Ssangyong Korando and Fiat 500X diesels, both Euro 6-compliant cars that rated H on the Equa Air Quality Index, other poor diesel car performers include the Infiniti Q30 (G), VW Polo 1.4 (F), Mercedes C Class 2.1 (E), Mazda CX-5 2.2 auto (D), Jaguar XE 2.0 (C) and Volvo S60 2.0 (B).
Also read: Is diesel doomed? Why the lawmakers have turned against the fuel they once promoted