Cabbies hail new electric taxi but call on government to help drivers switch from diesel
Licensed Taxi Drivers Association says residuals of diesel cabs have plummeted
---
Published 23 October 2019
THE LAUNCH of London's first pure-electric 'Hackney Carriage' taxi in 120 years has been welcomed by the body representing the capital's 23,000 black cab drivers, but the Licensed Taxi Drivers Association (LTDA) also called on the government to do more to help drivers of diesel cabs switch to a low-emission alternative.
Steve McNamara, general secretary of the LTDA, said that contactless payment systems and the LEVC TX extended-range electric cab that went into service in December 2017 have helped turn around the fortunes of licenced taxi in the face of competition from ride-hailing services such as Uber.
"We're on the ascent again," he told Driving.co.uk. "We suffered massively at Uber's hands three or four years ago. What we've seen recently is since our adoption of credit card payments, our job figures have gone through the roof. We're calling it a renaissance of the cab trade, and it is being massively aided by the electric cabs. The TX and these other new electric vehicles are helping."
McNamara added that many customers are shunning diesel taxis in favour of the new, cleaner cabs: "It's happening massively. If you open mytaxi or FreeNow – the two apps – you can choose the electric cab, and the guys with the electric cabs are just seeing constant demand all day.
"I've seen customers hiding in doorways then jump out to get one. They let the diesel cabs go past."
The new Transport for London-approved pure-electric Dynamo Taxi, which was launched this morning by Mayor of London Sadiq Khan outside City Hall, adds further choice for officially-licenced black cab drivers looking to switch to zero-emission-capable vehicles.
"I've seen customers hiding in doorways then jump out to get an electric cab. They let the diesel ones go past"
The Nissan e-NV200 Evalia-based cab is capable of up to 187 miles from a single charge in city driving, and 124 miles on a mix of roads, according to the tougher, more realistic WLTP emissions test introduced in 2017. The average taxi driver in London covers a distance of 90 to 120 miles a day, according to Dynamo. The company also claims diesel cabbies spend £25 per day on fuel, compared with £3-6 per day for electricity to cover the same distance in the Dynamo Taxi.
McNamara said that plug-in cabs are proving very popular with drivers. By the end of the year there are expected to be 3,000 electric cabs in London, he said. But that causes an issue for those drivers still in diesel vehicles.
"This time next year, a third of the fleet will be electric," he said. "And then what's going to happen is there's going to be a tipping point. Once we reach one in every three cabs, passengers are not going to need to dive out of doorways [when they spot an electric cab] – they're going to be able to simply hail one [from the roadside]."
Drivers of electric cabs will also be favoured via the phone apps, McNamara (pictured below) predicted, while drivers of diesel cabs will receive little to no custom.
He told us: "If I have an electric cab and you have a diesel cab, and we stop for a coffee, my phone's going be going 'Ding, ding, ding, ding,' and your phone… it ain't going to be dinging."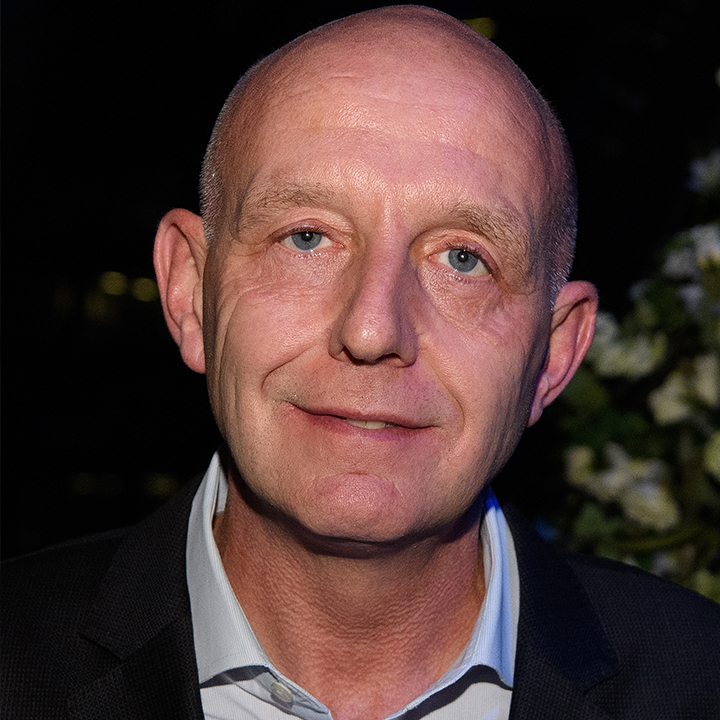 Drivers of black cabs who recently upgraded from taxis with "Euro 5" diesel engines to newer, cleaner "Euro 6" models are at a particular disadvantage, McNamara told us, as their relatively new vehicles have plummeted in value since TfL introduced new rules for licensed taxis in January 2018. To be eligible for a licence, black cabs are now required to emit less than 50g/km of CO2 and have a zero emissions range of at least 30 miles.
"The big problem is the residuals," said McNamara. "Residuals on the older diesels are going through the floor. And if you can't sell an old one, you can't get a new [electric] one.
"Most of the sales [of the TX] up until now have been people who were renting, or had an old cab, so they've been able to step in and lease a new one. The problem is, if you've got a cab that three years ago you paid forty-five grand for, and it's now worth 20 grand, you still owe 30 grand on it, so you can't sell it for 20."
Those Euro 6 taxis could be sold outside London, "in places where are quality isn't such an issue," he said.
To help cabbies with older Euro 5 diesel engines, McNamara says he's been working with the Mayor of London on a deal to convert the taxis to Euro 6 engines, ready for sale outside London.
"That will get the residuals up, and we can then afford to invest in new electric taxis," said McNamara.
"They made me buy a diesel and now they're saying, 'You know that vehicle we made you buy? It's really dirty — when are you gonna get rid of it?'"
City Hall should pay for these conversions, McNamara argues, because black cab drivers weren't able to buy an electric Hackney Carriage until very recently.
"We were made to buy them [diesel]. If you want to try to drive a black cab that's got a tight turning circle, a partition [between driver and passenger compartments] or whatever, you've got no choice. I couldn't go out and buy a Prius. So they made me buy a diesel, and up until 18 months ago, I had no choice.
"Now they're saying, 'You know that vehicle we made you buy? It's really dirty — when are you gonna get rid of it?' We are a unique case, genuinely. The mayor or someone like the transport minister needs to step in."
Magic Dynamo? First pure-electric black cab for 120 years launched in London