BMW risked customers' lives by failing to recall thousands of cars, inquest told
BMW: "The decisions are made in Germany and not the UK to recall cars"
BMW FAILED to act on customer complaints and issue a recall for thousands of cars affected by a potentially fatal electrical fault, an inquest has been told.
Despite owners highlighting the problem as early as 2011, and the Driver and Vehicle Standards Agency (DVSA) telling BMW in 2014 that it "[did] not want a fatality" caused by the fault, the German car giant did not recall all affected models.
The fault would shut down all lighting systems, including the hazard warning lights, brake lamps and headlights, and leave cars as good as invisible in the dark. Owners reported experiencing the issue in the outside lane of motorways while driving at night.
---
Browse NEW or USED cars for sale
---
The company acted only after the death of Narayan Gurung, 66, a former Gurkha who had served in the British Army for 20 years. Gurung swerved into a tree in Hampshire on Christmas Day 2016 while trying to avoid a BMW that had stalled suddenly, after being affected by the electrical fault.
BMW had been alerted as early as 2011 to a problem in particular models that caused a total power failure, Mr Gurung's inquest at Woking coroner's court was told.
The manufacturer received further vehicle safety defect reports from the Driver and Vehicle Standards Agency (DVSA) in 2014. The Times reports that the agency later said that it "[did] not want a fatality" caused by the fault.
Despite recalls in other countries, BMW convinced DVSA officials that the faults were under control in the UK
Owners had reported to the DVSA how their car's electrical system would shut down without warning.
"I was in the third lane of a motorway and it just cut out," said one. "I had no lights and could not use my indicators or brakes as motorists behind me would not know that I was braking. I was stranded in the third lane of the motorway and there were cars just narrowly avoiding my car as they could not see it."
More than 500,000 cars were recalled in the United States in 2013, with other recalls in Canada, South Africa and Australia because of the problem, the inquest was told.
However, after a meeting in February 2016, BMW convinced DVSA officials that the faults were under control and no British vehicles were recalled, the hearing was told.
Mr Gurung, from Aldershot, was in his Ford Fiesta with his wife on a dark A-road at 6.20am when the BMW saloon in front stalled and its brake lights cut out. He swerved to avoid the car and hit a tree. He died at the scene and his wife was seriously injured.
The inquest was told that it was not until two months after Mr Gurung's death that BMW customers in the UK were informed about the flaw, with 36,000 affected cars being recalled in February last year.
BMW received its first complaints about a batch of 370,000 cars, including the 1 Series, 3 Series and Z4 models in 2011 when at least five cases were fixed under warranty.
A representative of the manufacturer told the inquest that the electrical fault was not "critical" because drivers could steer and brake — despite their headlights, hazard lights, indicators and brake lights not working.
He also explained that "The decisions are made in Germany and not the UK to recall cars."
The fault was caused by the cars' battery cable connectors and fuse box terminal degrading, potentially causing a break in the electrical connection between battery and fuse box.
Andrew Tudor, DVSA lead engineer, told Mark Hill, BMW's supplier quality engineer, during the February 2016 meeting that "we do not want a fatality".
Ed Ramsay, who questioned Mr Hill on behalf of Mr Gurung's family, read out the experiences of three BMW owners who made safety defect reports to the DVSA.
One motorist said: "On three separate occasions the car has done it whilst driving. I was on a motorway at night and luckily I was able to pull over and narrowly missed a truck. My passenger was in tears due to this."
---
Browse NEW or USED cars for sale
---
Another added: "Driving on the M1 south the vehicle went out of electric and then came alive luckily after about 20 seconds. I was driving at 70mph. I went to BMW and they said they could not find anything. But this is untrue as I went for a diagnostics and they knew exactly what I was talking about."
BMW said: "We are deeply saddened by this tragic incident and we extend our heartfelt sympathies to the family of Mr Gurung. As this matter is still the subject of court proceedings, we are unable to comment specifically on it."
The inquest was adjourned until later in the year.
Tweet to @squarejames Follow @squarejames
Questions raised over BMW's recall record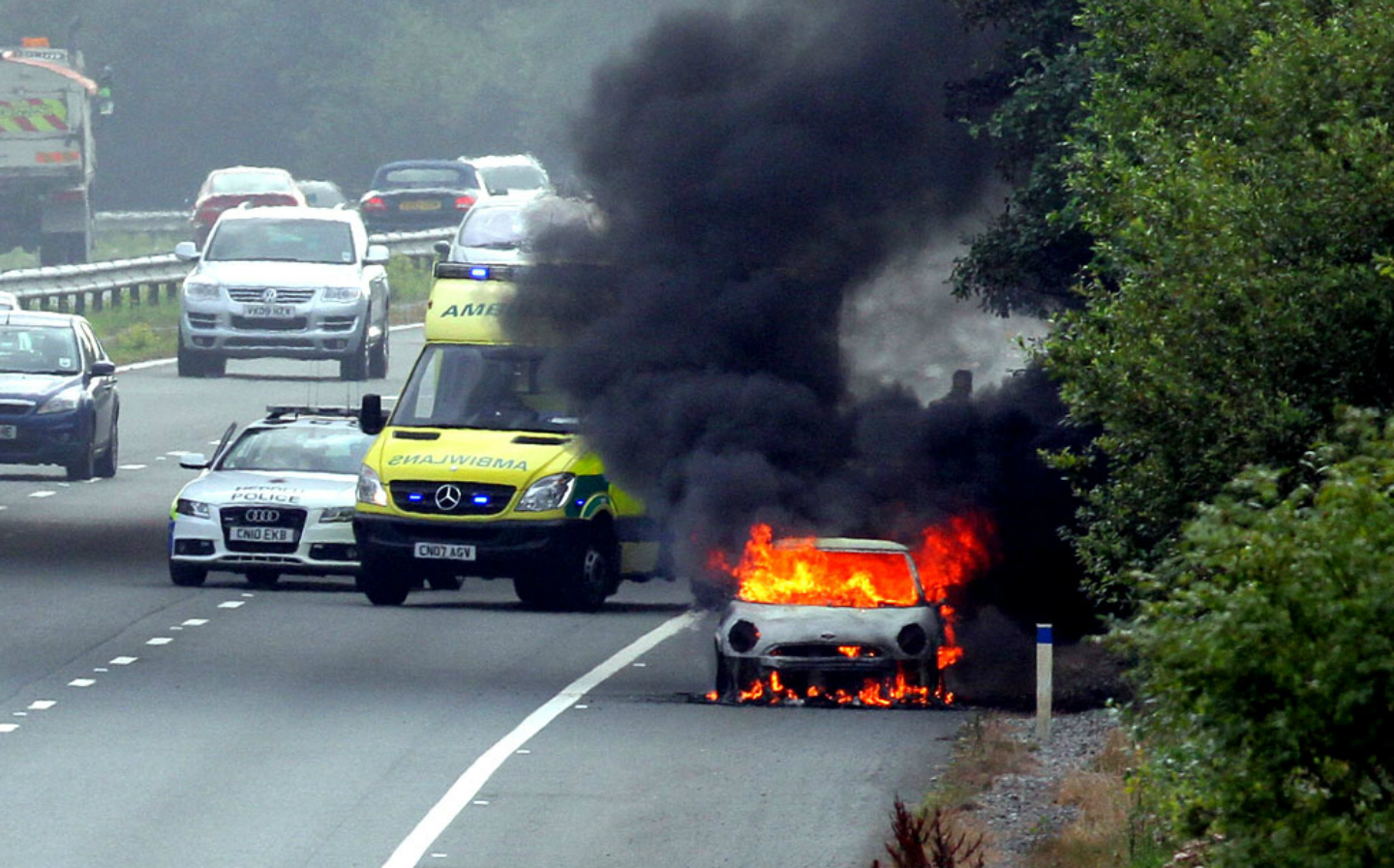 Driving.co.uk asked BMW UK whether it was correct that only BMW Germany had the power to initiate a recall of cars sold in the UK. The company said that that it was unable to comment as the matter was still the subject of court proceedings.
The company's track record of responding to its customers' concerns may seem unimpressive to some drivers. In October, 2011, The Sunday Times Driving reported that readers had contacted the newspaper to alert other Mini owners to a fault with the turbocharged Cooper S model, that could cause it to burst into flames.
Some had experienced their car being burned to the ground as long ago as 2010, but no recall was issued by Mini's parent company, BMW, until January, 2012. It emerged that BMW first became aware of a potential problem with the car's water pump in September 2009.
The company defended the delay, saying it took time to trace the fault, design replacement parts and manufacture stock before any recall could be issued.
Is the DVSA a "toothless tiger"?
A senior lawyer investigating car fires affecting some Vauxhall Zafira models has previously told Driving that the DVSA lacks the will to act decisively.
Jacqueline Young, head of group litigation at Slater and Gordon, told us:
"The DVSA's role simply appears to be to oversee recalls and ensure they're carried out properly," Young said. "There's a fear the DVSA is a toothless tiger. Car makers only act reluctantly because they fear a public backlash."
Unlike safety authorities in other parts of the world, the DVSA, like its predecessor, the Vehicle and Operator Services Agency (Vosa), does not have the power to order a recall. A spokesperson told Driving.co.uk that "…we have the power, working with Trading Standards, to take action against the manufacturers who do not comply with regulations, but we don't specifically have the power to order a recall [of vehicles]. We are working very hard to encourage consumers to report things direct to us if they feel that the manufacturer's response has been inadequate."
BMW to 'finally' recall 312,000 cars in UK over electrical glitch that risks lives
Millions may be owed compensation in BMW, Daimler, VW cartel claims