BMW to 'finally' recall 312,000 cars in UK over 'potentially fatal' electrical glitch
Government agency asked for a recall of 370,000 cars in December 2016
BMW HAS confirmed it is to recall an extra 312,000 cars in Britain over a "potentially fatal" electrical fault that can cause cars to completely lose power, including to the lighting system.
It follows an inquest into the death of a 66-year old former soldier who hit a tree while swerving to avoid a BMW affected by the problem.
The fault would shut down all lighting systems, including the hazard warning lights, brake lights and headlights, and leave cars as good as invisible in the dark. Owners reported experiencing the issue in the outside lane of motorways while driving at night.
Affected cars include BMW 1-series, 3-series, Z4 and X1 petrol and diesel models produced between March 2007 and September 2011.
BMW recalled 36,410 cars in April last year, but that was well short of the 370,000 cars it was asked to recall by Driver and Vehicle Standards Agency in December 2016 following the death of Narayan Gurung, from Aldershot, a former Gurkha who served in the British Army for 20 years.
---
Browse NEW or USED cars for sale
---
Gurung was in his Ford Fiesta with his wife on a dark A-road at 6.20am on Christmas Day 2016 when the BMW saloon in front stalled and its lights cut out. He swerved to avoid the car and hit a tree. He died at the scene and his wife was seriously injured.
In a statement following the inquest, BMW said: "We are deeply saddened by this tragic incident and we extend our heartfelt sympathies to the family of Mr Gurung. As this matter is still the subject of court proceedings, we are unable to comment specifically on it."
The DVSA was first alerted to the electrical failures in October 2014 through a report from a single consumer. However, it told Driving.co.uk: "It appeared, at that point, and after conversations with BMW, that the defect would give drivers warning of the need to have the vehicle fixed, before the system failed entirely."
It said that, in some circumstances, it may agree to "action short of a full safety recall, where there is not a significant risk of injury or death."
A full safety recall is only issued when a fault is "liable to cause significant risk of personal injury or death and can be attributed to a failure in a vehicle's (or vehicle component's) design or construction" and, importantly, the driver does not have any warning that a failure will occur.
Chief executive Gareth Llewelyn told Driving.co.uk: "BMW did not make the DVSA aware of 19 cases of electrical failure in its cars between 2011 and 2014, as it is required to do. It then provided us with incorrect information about the faults, so we were not able to make an informed decision."
The DVSA said that it had not yet received formal notification of the (latest) recall
Had BMW been totally transparent, the DVSA said its response, in 2014, "might have been different".
BMW told the BBC it had worked with the DVSA and rejected suggestions it had ignored instructions or provided incorrect information.
More than 500,000 cars were recalled in the United States in 2013, with other recalls in Canada, South Africa and Australia because of the electrical failure, an inquest was told earlier this month.
Llewellyn said that by December 2016, growing evidence [of failures] led the DVSA to contact BMW to ask it to conduct a full safety recall of 370,000 affected vehicles, and the car maker "finally" agreed to recall the vehicles on April 10, 2017.
The agency pointed out that it does not currently have the power to order a recall, only to ask the manufacturer or distributor to do so. (See below)
Driving.co.uk asked the DVSA to explain the 22,590 vehicle shortfall between the reported 312,000 cars involved the latest recall, on top of the 36,410 from February 2017, and its own 370,000 figure from December 2016. The DVSA said that it's not possible to speculate on any shortfall as it has not yet received formal notification of the (latest) recall, which will include numbers.
---
Browse NEW or USED cars for sale
---
As part of a BBC Watchdog's investigation, due to be aired tonight at 8pm, BMW said: "We now recognise that there may have been some cases of similar power supply issues in vehicles not covered by the original recall.
"In order to reassure customers with concerns about the safety of their vehicles, we are voluntarily extending the recall.
"We are therefore announcing today that we will take the proactive step of expanding the existing UK recall to cover all vehicles potentially affected by the power supply issue."
BMW told the BBC that it will open a customers' complaints line and will contact affected owners directly.
BMW electrical failure timeline
2011 BMW first made aware of the electrical failures. There are nineteen cases in UK between 2011 and 2014 but car maker fails to tell DVSA
2013 BMW recalls more than 500,000 in the United States because of the problem, with other recalls in Canada, South Africa and Australia
October 2014 DVSA first made aware of a problem via a report from a single consumer. DVSA examines the case and speaks to BMW. Agency is reassured the defect would give drivers warning of the need to have the vehicle fixed, before the system failed entirely
February 2016 DVSA lead engineer Andrew Tudor tells Mark Hill, BMW's supplier quality engineer, that "we do not want a fatality" (as stated in the 2018 fatality inquest, below)
December, 2016 Narayan Gurung dies after steering his Ford Fiesta into a tree, potentially to avoid a fault-affected BMW. DVSA asks BMW to conduct a full safety recall of 370,000 cars
April 10, 2017 BMW agrees to recall of 36,410 cars
April 30, 2018 BMW tells inquest into Gurung's death that the electrical fault was not "critical" because drivers could steer and brake — despite their headlights, hazard lights, indicators and brake lights not working
May 2, 2018 The Times reports on the inquest
May 9, 2018 BMW confirms recall of an additional 312,000 vehicles made between March 2007 and August 2011, after BBC Watchdog investigation
"Toothless" DVSA fails to bite again?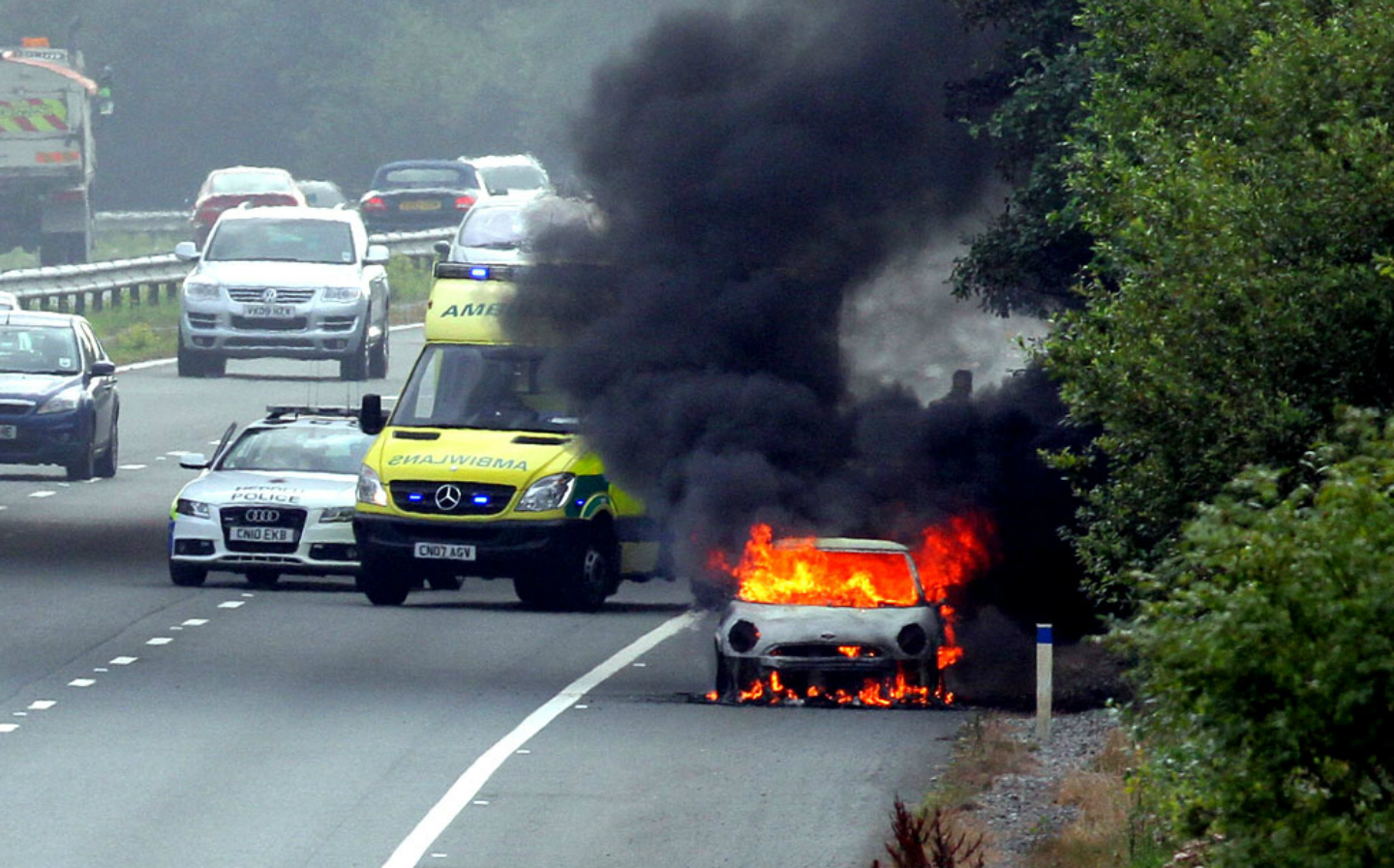 This is not the first time BMW has dragged its heels regarding safety recalls. In 2012, the BMW-owned Mini brand recalled 29,868 vehicles sold in Britain between 2006 and 2011, after a 2011 report in the Sunday Times Driving section (then InGear) about the vehicles catching fire.
"Mini played down the findings," Driving reported following the recall. "It said that while it would co-operate with the investigations on both sides of the Atlantic it had no evidence of a design fault in its cars. Readers kept writing in…"
It emerged that BMW was aware of a potential problem as early as 2009 but the DVSA, then known as "Vosa", only became aware in October 2011, after the Sunday Times investigation.
In 2010, Toyota recalled its third-generation Prius models because of fears of a sticky throttle pedal. Vosa did not know of the fault until the National Highway Traffic Safety Administration (NHTSA), the organisation that oversees car recalls in America, alerted it.
And in 2015, Driving.co.uk carried several reports on fires involving "B model" Vauxhall Zafiras built between 2005 and 2014. Despite hundreds of cases between 2007 and 2015, the DVSA had not elevated the problem to the status of a full safety recall and asked Vauxhall to bring in all affected cars for inspection and repair.
Unlike the NHTSA, which has a specific brief to "save lives [and] prevent injuries" that includes investigating reports of dangerous faults with cars and, if necessary, insisting that manufacturers issue safety recalls, the DVSA does not currently have the power to order a recall, only to ask the manufacturer or distributor to do so.
Jacqueline Young, head of group litigation at Slater and Gordon, said: "The DVSA's role simply appears to be to oversee recalls and ensure they're carried out properly. There's a fear the DVSA is a toothless tiger."
The DVSA told driving.co.uk: "Around 80% of safety recalls are notified to DVSA by the manufacturer so, in the main, this process works," and that despite not having the power to force a recall, it has "made it clear that we will not hesitate to take further action against those who do not fulfil their legal and safety obligations."
It also said its approach to safety recalls is constantly under review to, "ensure we are able to respond, more quickly, to emerging issues and prioritise activities where they are most needed," and that it is looking at strengthening its enforcement powers.
In February it launched a "check a recall" service at www.gov.uk/check-vehicle-recall, which has so far been used by more than 180,000 car owners.