Vauxhall Zafira fires: is DVSA car safety regulator fit for purpose?
Watchdog feels the heat
---
Published 23 November 2015
AT LUNCHTIME last Monday, residents of Manor Road in Richmond, west London, witnessed an unusual sight: a car belching flames in the middle of the road. Firefighters took half an hour to put out the blaze. In Birmingham, just three hours earlier, a terrified mother had dragged her two young children from her car after the dashboard went up in flames. A garage owner used a fire extinguisher to put out the flames.
For Vauxhall Zafira owners such reports are all too familiar. These were the latest of a string of fires now thought to number more than 200.
The blazes are so intense they can reduce vehicles to burnt-out shells in minutes. But what could prove even more incendiary are the responses of Vauxhall and the government agency whose job it is to protect drivers from faulty cars.
---
Browse NEW or USED cars for sale
---
The experience of Sue Freemantle, a 37-year-old mother from Plymouth, is typical. Last September, Freemantle, her two youngest children and her stepdaughter were in their Zafira, parked on the driveway, when it burst into flames. "I was in shock," says Freemantle, who escaped with the children moments before flames engulfed the car. "The heat was so strong it burnt the plastic guttering and window frames of our house."
After alerting her insurer to the fire, Freemantle contacted Vauxhall's customer services department. She was told her case would be forwarded to the company's legal team. After two weeks she rang for information, to be told that, since her insurer had settled her claim, her case had been closed.
Freemantle then checked the Driver and Vehicle Standards Agency (DVSA) website for safety recalls relating to Zafiras. The DVSA is the government body that launches and oversees vehicle safety recalls, and describes itself as the "competent authority in the UK for product safety issues in the automotive sector". There was no recall notice, so she sent the agency a report about her car. "They acknowledged my email but they simply said they had passed the information on to Vauxhall," she says.
Frustrated, she next went to Vauxhall's Facebook page, where she made contact with other Zafira owners whose cars had caught fire, including two other women, Claire Wheatley and Jade Hellewell.
Together they started a Facebook campaign group: Vauxhall Zafira Car Fires. In just over a month it amassed 13,000 members. The stories they tell reveal the scale of the problem with older versions of Vauxhall's bestselling people carrier: since 2007 there appear to have been more than 200 fires involving "B model" Zafiras built between 2005 and 2014. Most are thought to relate to the ventilation system.
Vauxhall says it became aware of the problem six months ago and is currently investigating 40 cases. It claims it was not notified of many fires because owners' insurers had paid without identifying the cause. But as the social media campaign attracted attention, the company was forced to act: last month it began an investigation into the cause of the fires and this month it announced that, under an interim recall, it was contacting 220,000 owners, inviting them to take their cars to their dealers for inspection and, if necessary, repair.
The DVSA has not elevated the problem to the status of a full safety recall, which would in effect force Vauxhall to bring in all affected cars for inspection
The fact it took a Facebook campaign to spur Vauxhall into action has raised questions about the effectiveness of the DVSA and its relationship with the motor industry. Despite hundreds of reports of fires, Britain's car safety watchdog is standing on the sidelines. The campaigners point out it has not even elevated the problem to the status of a full safety recall — meaning it would be listed on the DVSA recall database — which would in effect force Vauxhall to bring in all affected cars for inspection.
This is surprising since, on its website, the DVSA defines a safety-related defect as "a sudden and catastrophic failure of a component that occurs with little or no warning to the driver to enable preventative action to be taken". When we asked the DVSA about the problem, it said that it was a matter for Vauxhall.
This is not good enough for some. Steve Gooding, director of the RAC Foundation, which campaigns on behalf of motorists, believes the DVSA should have encouraged Vauxhall to act sooner.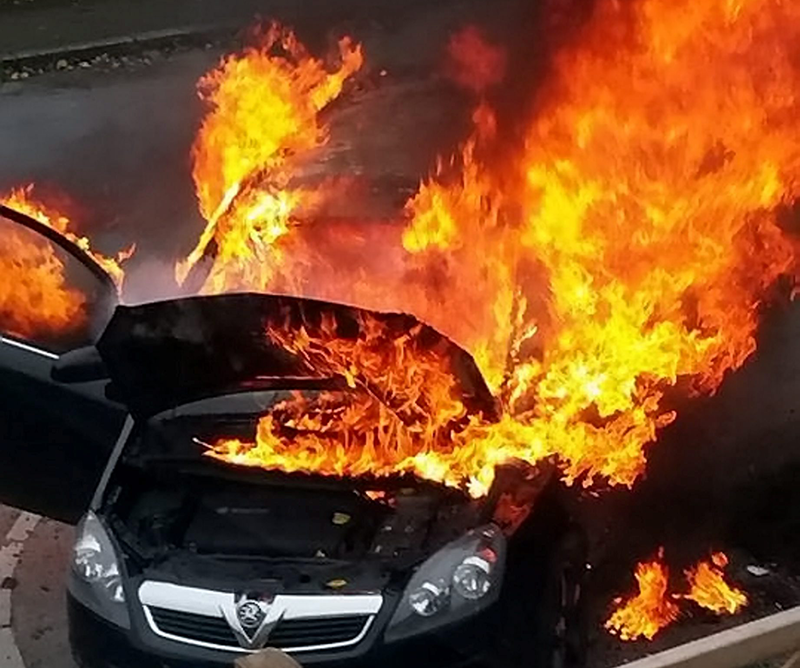 Another Vauxhall Zafira on fire in Wootton Bassett, Wiltshire, earlier this month
"The recall system has been in place for decades and should be a well-oiled machine," he says. "That there has been no formal safety recall, despite 200 fires, will surprise many Zafira owners, not least those who have seen their cars literally go up in smoke. The DVSA is legally responsible for product safety, so it needs to exert as much pressure on Vauxhall as necessary to get this matter sorted out before someone is hurt."
Jacqueline Young, head of group litigation at Slater and Gordon, a law firm that is investigating claims on behalf of Zafira owners, believes the DVSA lacks the will to act decisively.
"The DVSA's role simply appears to be to oversee recalls and ensure they're carried out properly," Young says. "There's a fear the DVSA is a toothless tiger. There's no time compulsion on Vauxhall. Car makers only act reluctantly because they fear a public backlash."
Unlike safety authorities in other parts of the world, the DVSA, like its predecessor, the Vehicle and Operator Services Agency (Vosa), does not launch independent investigations and relies instead on co-operation with the car makers. It does have the power to order a recall, however. It has never used it.
Contrast this with the American National Highway Traffic Safety Administration (NHTSA). With a brief to "save lives [and] prevent injuries", it identifies safety problems by forcing manufacturers to submit information on serious crashes, fires and complaints, so any patterns that might indicate a safety problem can be identified.
It responds to complaints from owners, anonymous tip-offs and alerts from manufacturers by launching its own investigations, and can also demand warranty claims, parts sales data and detailed crash reports from car makers.
If it identifies a safety defect, the NHTSA will ask a manufacturer to order a recall. Car makers almost always agree. If they don't, they can be forced to do so.
Germany's car safety authority, the KBA, has engineers and technicians who will independently investigate reports of potential safety problems. "If the manufacturer tells us that there is a problem and they have got a solution, we don't say, 'Oh that's nice'," says Stephan Immen of the KBA. "We will study the information and investigate."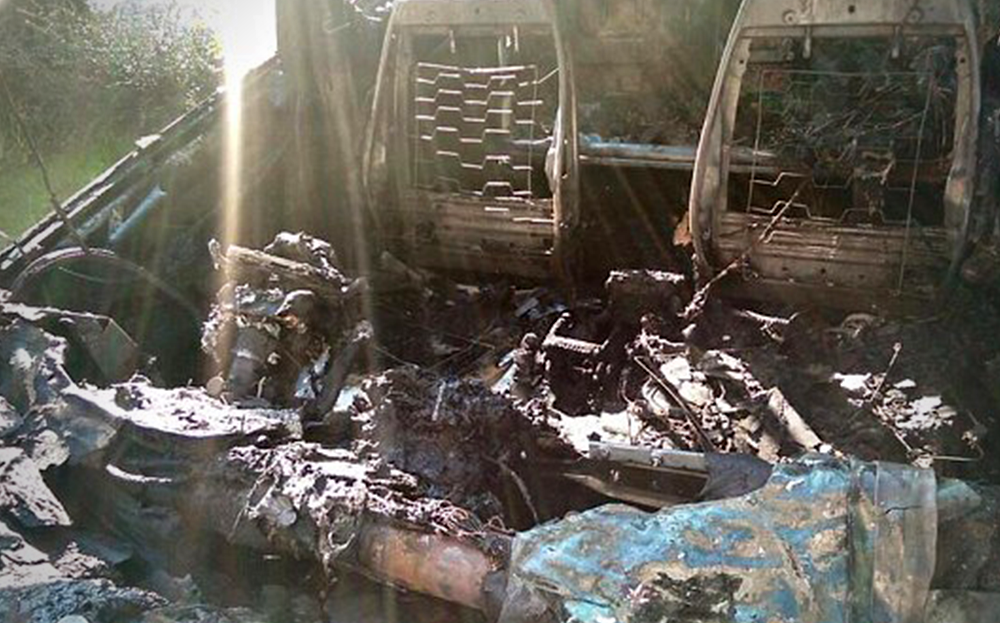 The inside of a Vauxhall Zafira after a fire. [Credit: Vauxhall Zafira Car Fires Facebook group]
This is not the first time Britain's official regulator has come under scrutiny. In 2011, The Sunday Times revealed that some Minis were prone to bursting into flames (see below). It campaigned for months in the face of delay from BMW, Mini's parent company, and a back-seat approach by Vosa. Finally, in 2012 BMW said it would recall 29,868 vehicles sold in Britain between 2006 and 2011, and a further 205,000 worldwide — the largest recall the company had issued. It has been a similar story with other big recalls, including Toyota's unintended acceleration problem.
In 2011, the consumer group Which? identified several instances of cars being recalled in America but not the UK. "Vosa is a toothless organisation that appears to pander to the car industry," it said. "We believe it is providing a substandard level of protection to British motorists."
Even manufacturers have called for the DVSA to be given more teeth. "The big problem in this country is that we don't have the information that could identify safety problems early," said one senior industry figure. "Manufacturers would welcome new laws that forced them to hand over information on fires and accidents to improve safety. This would mean insurers would have to tell us about every fire. At the moment, if they don't think it was caused by a manufacturer fault, the car just goes to scrap."
The Zafira fires have also highlighted the importance of having a strong safety watchdog in Britain: the problem affects only right-hand-drive cars, so regulators are unable to rely on warnings from most other nations in Europe.
Paul Satoor, chief executive of the DVSA, insists the organisation is quick to address safety problems: "The DVSA works closely with manufacturers to ensure a speedy response to any issues. This has proved a successful approach."
"We're tired of being fobbed off and ignored. All along we've just wanted Vauxhall to take our situation seriously before someone is injured — or worse."
He said that in 2014, manufacturers issued 256 safety recalls involving 1.2m vehicles and automotive products. Of these, 75% were a result of the car maker notifying the DVSA; the remaining 25% were a result of consumers reporting problems to the agency.
Satoor defended Vauxhall, saying: "Vauxhall is carrying out an interim recall as a precautionary measure, to allow owners to have their vehicles checked while the investigation into the causes of the fires is ongoing. Once the investigation is concluded, Vauxhall will launch a full safety recall."
Denis Chick, a spokesman for Vauxhall, says it acted as quickly as it could: "The nature of the fires has been such that cars have been totally destroyed, leaving our investigators with nothing to go on. Without knowing the precise nature of the problem, we couldn't ask the DVSA to issue a full safety recall." He says the preliminary results of investigations enabled Vauxhall to request the interim recall — what the DVSA calls a non-code action — reserved for product faults rather than safety defects.
Wheatley and Freemantle are keeping up the pressure on Vauxhall. Earlier this month they travelled — by train — to Vauxhall's head office in Luton to meet the company's "customer experience and corporate strategy director".
"We're tired of being fobbed off and ignored," Freemantle says. "All along we've just wanted Vauxhall to take our situation seriously before someone is injured — or worse."
US speeds into action while UK sits on brakes
2009-10 Toyota recall
Owners reported that their cars would accelerate suddenly and without warning.
US The National Highway Traffic Safety Administration (NHTSA) investigated reports of cars accelerating suddenly, and ordered Toyota to issue a recall to prevent accelerator pedals becoming trapped by floor mats. Toyota admitted to a separate problem with accelerator pedals sticking. It was fined more than $1.2bn, and 7.5m cars were recalled.
UK Toyota failed for a year to notify officials in the UK about a potential problem, despite reports of incidents here. The Vehicle and Operator Services Agency (Vosa, forerunner of the Driver and Vehicle Standards Agency) asked for information only after being alerted to the problem by investigators in America. Toyota eventually issued a voluntary recall.
2011-12 Mini recall
A problem with a circuit board for a water pump put petrol turbocharged Minis at risk of catching fire.
US The NHTSA investigated Mini Cooper S fires in October 2011 after reports of 12 blazes, and forced BMW, which owns Mini, to admit there was a problem. All affected cars were recalled.
UK British officials appeared to discover the problem only after The Sunday Times brought it to their attention (below – click to enlarge). Vosa did not launch its own independent investigation; instead it sent details of British cases to America. BMW recalled UK cars at the same time as its American models.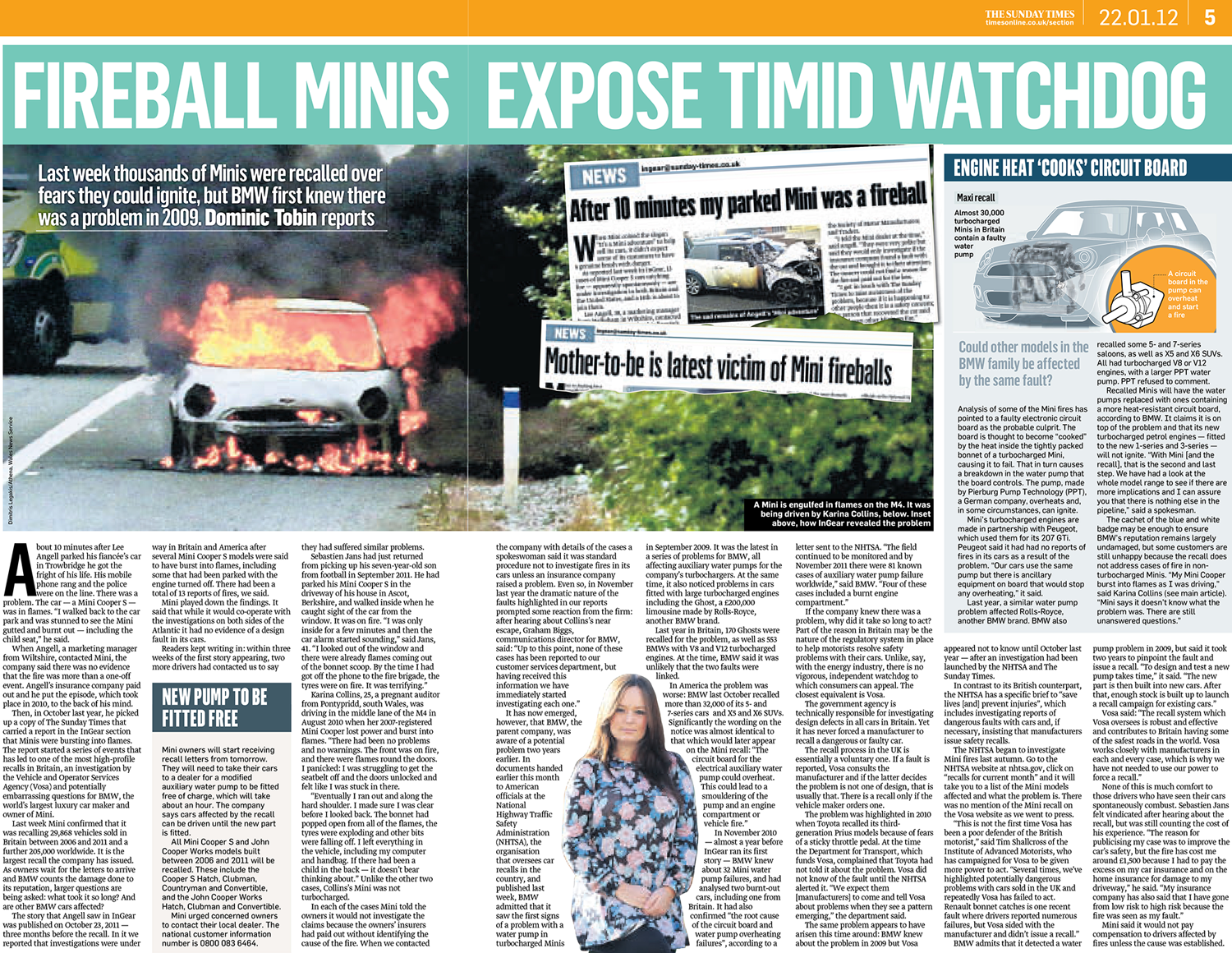 2015 Takata airbag recall
Takata airbags had the potential to rupture in a crash and spray deadly shrapnel. Some Toyota, Honda, BMW and Mazda models were among those affected.
US The NHTSA investigated after six airbag ruptures. Within two weeks it had forced manufacturers to recall the first batch of cars; a further 19m vehicles were eventually recalled. Takata was fined $200m.
UK The DVSA told The Sunday Times it was the car makers' responsibility to investigate. It did not force manufacturers to recall the cars. After the action taken in America, car makers issued a voluntary recall.