Volkswagen ID.4 GTX review 2021
It's no GTI
---
Published 23 December 2021
ONE DAY we may look back and recall with bewilderment that time Volkswagen decided its first sports-focused electric model would be a two-and-a-bit-ton family SUV: the ID.4 GTX.
That three-letter suffix is important — this kicks off, as did the original Golf GTI in 1976, a theoretical bright future of fun-to-drive electric models from VW. GTX is meant to sit on the same hallowed car enthusiast turf as GTD, GTE and GTI.
This is potentially epochal stuff — just as that original Golf GTI took a humble family car and made it fun, so the ID.4 GTX tries to apply the same recipe to electric SUVs (which are effectively the family hatchbacks of today).
The base is the regular ID.4, of course, but the GTX gets an extra electric motor producing almost 300bhp, more torque, tweaked suspension and some styling changes to try and justify both its badge and its higher price tag.
Exterior design and rivals
The ID.4 GTX does look subtly — very subtly — different to its humbler electric SUV stablemate. Up front, there's a new GTX-specific bumper, which gets gloss black air intake inserts that themselves have extra LED lights, creating a new lighting signature.
Those extra LEDs also contribute to the 'I.D. Light' system at the front, which includes cornering lights and an active main-beam system.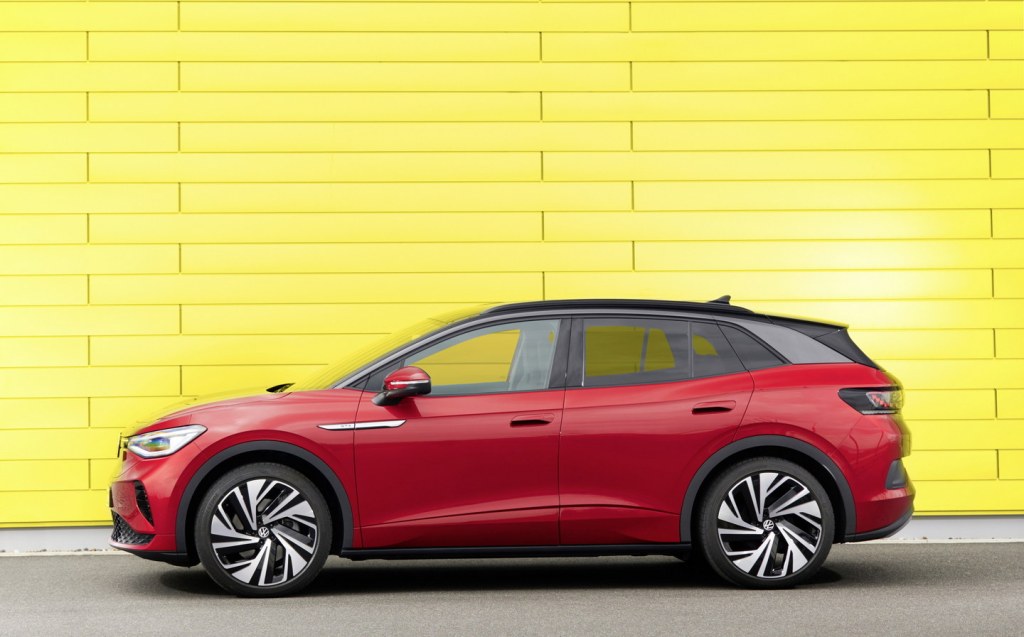 Down the sides there are more prominent side skirts, while the protecting strips on the doors are now body-coloured. The roof is painted a contrasting black, as is the rear spoiler, while the new rear bumper gets a 'diffuser' insert (not sure how actually aerodynamically beneficial it might be…) painted in a contrasting dark grey.
Top all that off with the optional 21in alloy wheels (20s are standard) and 'Kings Red' metallic paint of our test car, plus a small scattering of subtle GTX badges and you have an ID.4 that definitely, but still rather quietly, stands out from its siblings.
It's a handsome thing — certainly, the design looks better resolved than the soap-bar look of the smaller ID.3, while the grille-less front end seems somehow more intellectually honest than the fake grilles of the closely-related Audi Q4 e-tron and Skoda Enyaq iV.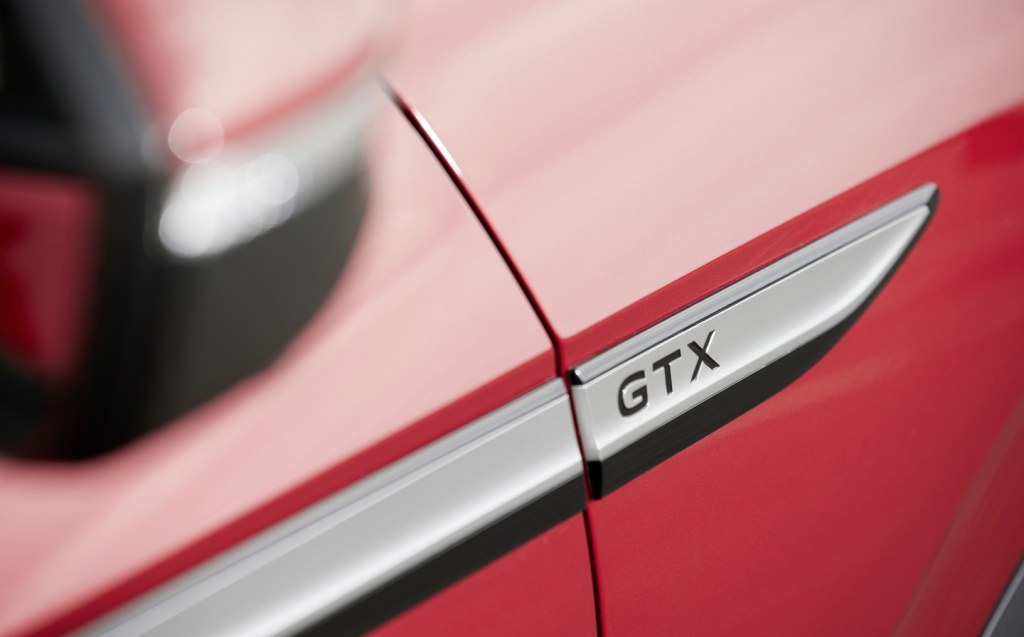 However, lurking in the background is the clear and present threat of the Tesla Model Y — a car that costs slightly less than our fully-loaded ID.4 GTX Max test car, yet offers longer range and more power. Can the magic touch of Volkswagen's GT engineers bridge that gap?
Interior and practicality
The cabin of the ID.4 GTX is, unsurprisingly, pretty much identical to that of the standard model although you do get some GTX differentiators.
There are high-backed bucket seats trimmed in a material called 'ArtVelours' — a synthetic microfibre made from 20% recycled plastic bottles. Who knew old Evian bottles could be so comfortable?
They're great seats but there's a slight offset to the driving position that isn't helpful. Other GTX markers on the inside are a slightly sportier style for the steering wheel, and dark blue leatherette trim for the doors and the dash-top, which adds a welcome extra touch of warmth to the interior.
Space is an ID.4 strong suit, and it makes maximum use of the inherently roomy flat-floor layout. There's copious leg- and headroom up front, and the front seats electrically adjust as well as having little pop-out seat cushions for extra under-thigh support. There's a massage function up front too, but to be honest it just feels as if the lumbar support is repeatedly poking you in the small of the back, so don't bother with it.
The dash layout and design are broadly similar to that of the smaller ID.3, but the ID.4's materials and assembly are both of noticeably better quality than those of the smaller car.
Thanks to the gear selector being a small switch next to the instrument panel, there's lots of storage space between the front seats, including four cupholders and a small tray for wirelessly charging your phone.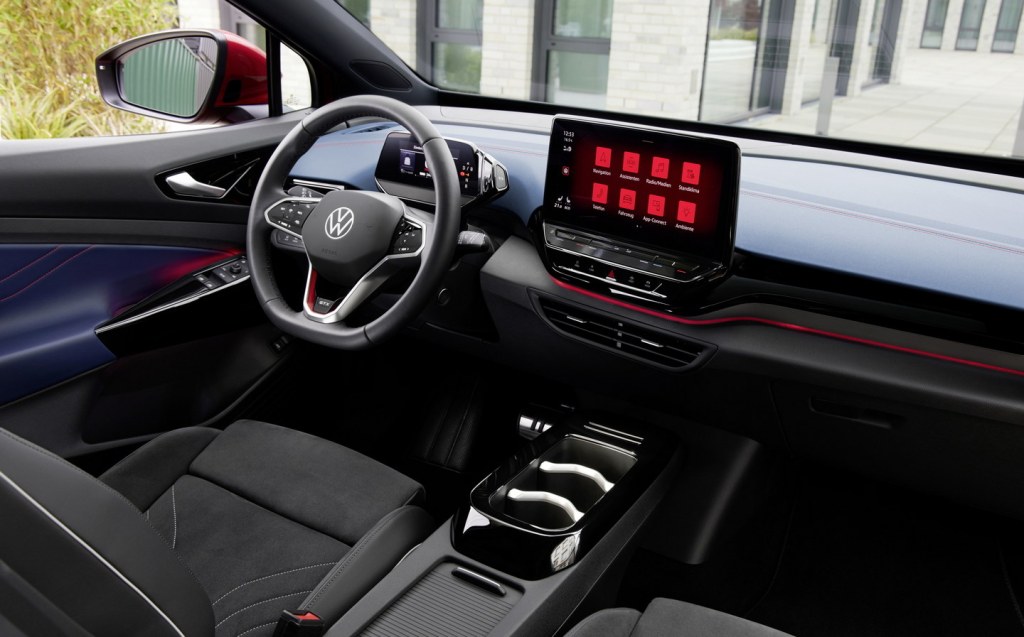 In the back, there's enough room to get three people sitting one beside the other, but as ever with modern cars the middle rear seat passenger will feel a bit pinched.
The GTX Max model comes with a standard panoramic glass sunroof, but thankfully it doesn't impinge too much on rear headroom, while legroom is excellent, not least because there's no transmission tunnel to block your feet. Rear-seat passengers benefit from temperature controls and a couple of USB-C sockets, too.
Space in the boot is good — there's 543 litres on offer, or a maximum of 1,575 litres if you fold down the 40:20:40 split rear seats, and there's a moveable boot floor so that you can slide objects in an out with ease.
There's also a small compartment under the boot that is handy for storing charging cables, but the ID.4 doesn't get an under-bonnet storage area. It's also worth noting that the Skoda Enyaq has a bigger boot, as does the Tesla Model Y, which also has a front luggage compartment.
If you need to tow, your maximum weights are 750kg unbraked, or up to 1,400kg braked, depending on the gradient.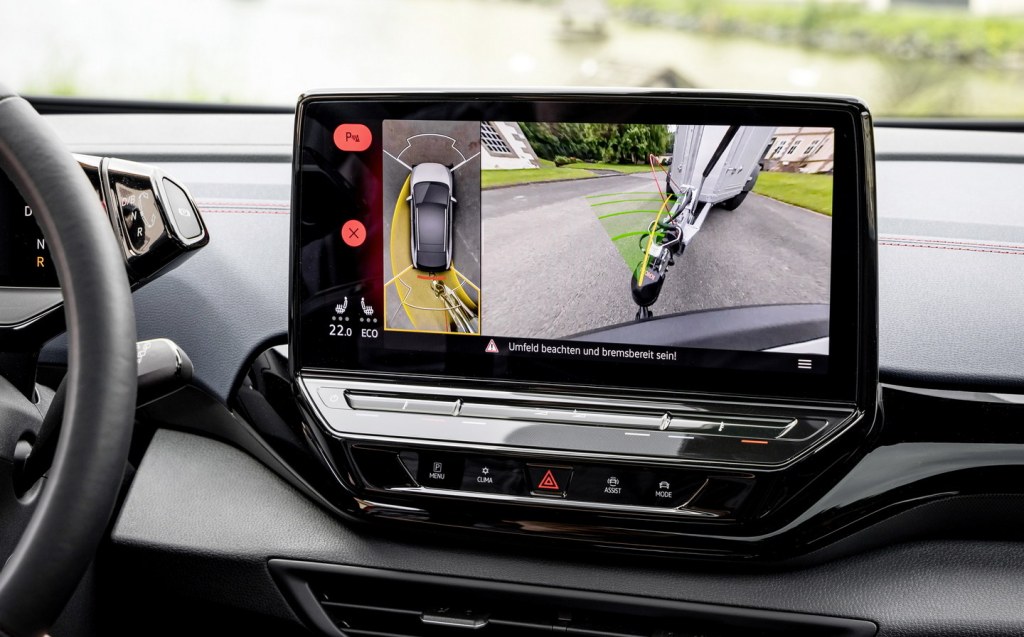 Technology and safety
As with the standard ID.4, you get two digital displays in the cabin. The bigger one — a full 12in for this GTX Max model — looks after your navigation, entertainment and charging functions, as well as heating, ventilation and air conditioning. The smaller display behind the wheel shows you your speed, range, battery charge, driver assistance features and nav directions.
Both displays look smart, with expensive-looking graphics, but the big infotainment screen is flawed. Ever since Volkswagen launched its MIB.3 software, which is what the big screen runs on, it has proved itself to be glitchy and slow, and with an often-infuriating layout. Menu options that you would think might be constantly useful — such as, say, the ability to turn the screen brightness down at night — take several pushes and swipes to locate. Others, such as the heated seats (vital in an electric car on a chilly day) appear to have a one-touch shortcut, but actually just take you to another layer of menu.
When you have a phone connected via Apple CarPlay or Android Auto, swiping between menu screens often comes with a noticeable delay, or sometimes no response at all.
The touch-sensitive controls for the temperature and stereo volume are also needlessly fiddly and are not backlit at night, so are effectively impossible to use. Thank goodness for the volume controls mounted on the steering wheel, and there's AI voice recognition for that, too.
It's notable that Audi, in its Q4 e-tron, which uses the same basic chassis, battery and motors as this ID.4, sticks with separate, physical buttons for heating and air conditioning.
On the upside, that heating system is very efficient — in the Max it uses a heat pump, which works like a fridge in reverse but also converts waste heat from the battery pack to cabin heating, and which therefore exerts less of a strain on the ID.4's electric range when you want to be toasty.
Even so, you can expect to lose a considerable amount of range when the temperature drops. Against VW's official 289-mile one-charge range, we were getting more like 217 miles on a full charge, as early December temperatures started to bite. It's still a reasonable mileage, but EV range foibles requires getting used to.
At least the ID.4 charges up briskly — find a suitably powerful DC public charger and it will fill its 77kWh (net) battery at speeds of up to 125kW, which results in a VW-claimed 186 miles of extra range in as little a 30 minutes.
The ID.4 GTX Max also comes with a head-up display, which VW says uses 'augmented reality'. Those hoping for a full-on Minority Report effect will be disappointed — it amounts to a couple of extra lines projected, along with speed and navigation stuff, onto the windscreen. Those lines tell you when the car has spotted that it's not running straight in its lane, and also that it has spotted another vehicle ahead of you. And the nav items are essentially turn arrows that point to the road you need to go down and grow larger as you approach.
There's a problem, though. Remember that seat position offset? Well, it means that you're not looking square-on at the head-up display, and that makes it awkward. Effectively, the display isn't hitting your left eye properly (or at least, it wasn't hitting mine properly) and that made it look a touch fuzzy at times.
The active cruise control and lane-keeping steering work pretty well, but as ever these are not, nor anything like, 'self-driving' so you need to remain alert and attentive at all times.
There's also a 'bird's eye' parking camera system, background communication between the car and roadside info beacons and over-the-air software updates.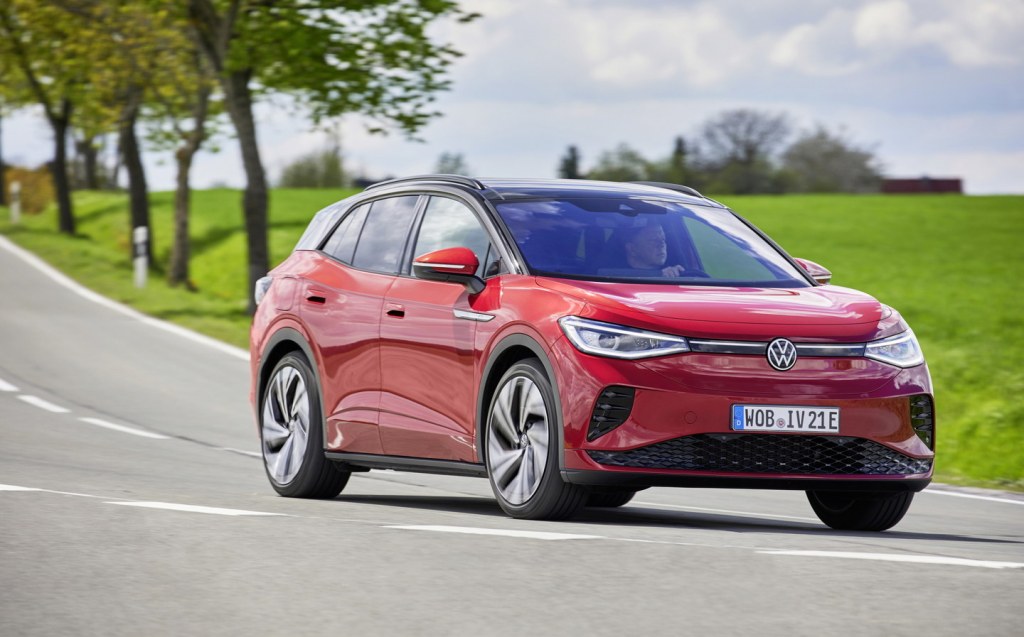 Ride and handling
This is where the ID.4 GTX should pull out a significant lead over its competitors. After all, it was that faraway Mk1 Golf GTI that showed us all how much fun a front-drive hatchback could really be, and as the first electric GT model, that's the modern-day role of the GTX.
Sadly, it falls flat. That's not to say that the GTX is a bad car to drive — far from it — but it's no electric GTI.
To turn an ID.4 into a GTX, VW adds an extra 93bhp electric motor, driving the front wheels. Added to the 201bhp electric motor driving the rear wheels, you get 294bhp and a combined 339lb ft of torque.
That makes the GTX pretty brisk — a 6.2-second 0-62mph time is not to be sniffed at, not least because it's around two seconds quicker than the standard, single-motor, ID.4.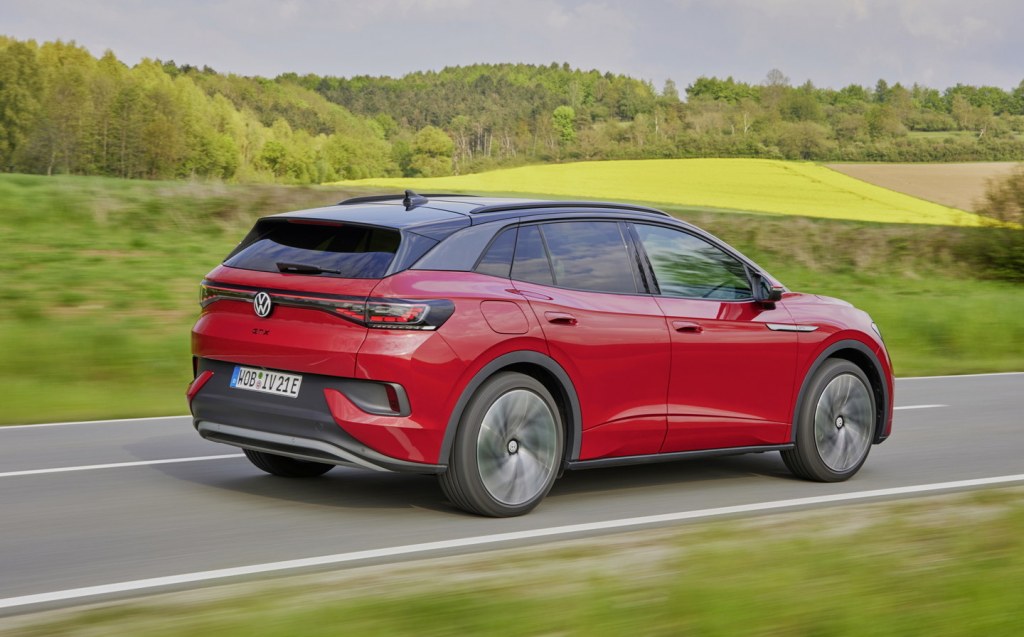 However, it's not really enough. Select Sport mode on the dash and plant your right foot and the ID.4 GTX picks up and moves without delay. It's quick — unquestionably — but the initially brisk acceleration tails off pretty quickly, and subjectively it never feels all that much quicker than the standard car. Its advantage is more on paper than under your bottom.
Worse, rivals such as the Tesla Model Y and Ford Mustang Mach-E AWD accelerate with significantly more venom. A Model Y will pin you properly back in your seat if that's something you crave.
So, does the GTX make up for that slight lack of straight-line performance in the corners? Nope. Even with adaptive suspension (standard on this Max, optional on other models) the GTX can't get away from one overriding fact — it weighs 2.7 tons.
Now, that sort of avoirdupois doesn't stop, say, the Audi e-tron quattro being reasonably engaging to drive, but the Audi uses air suspension, which can be tuned to help disguise its bulk. The GTX is relying on steel springs, and it just can't keep its weight at bay.
Although the steering always feels nice — well weighted, accurate, not too much road feel but it's good enough — the inertia of all that heft means that while the GTX turns in to a corner keenly, it rolls more than you'd expect and is always being pulled by its own weight towards the outside of any given curve.
It's just not agile enough to be engaging or enjoyable — the half-ton-lighter Mustang Mach-E is way more enjoyable to drive on a twisty road.
The GTX is incredibly good at other stuff, though. In spite of its stiff suspension and big alloy wheels, it rides with the sort of deportment and comfort that you'd usually need a car with a big chrome grille and a silver lady on the front to equal.
It's also hugely refined, with very well-suppressed tyre and wind noise, and a cabin that just refuses to creak nor groan (not all rivals manage that, and the Tesla Model Y is particularly bad in this area.
On a long journey (or at least as long as the battery lasts), the ID.4 GTX is a hugely relaxing and refined companion. But then, you could say exactly that about the standard ID.4.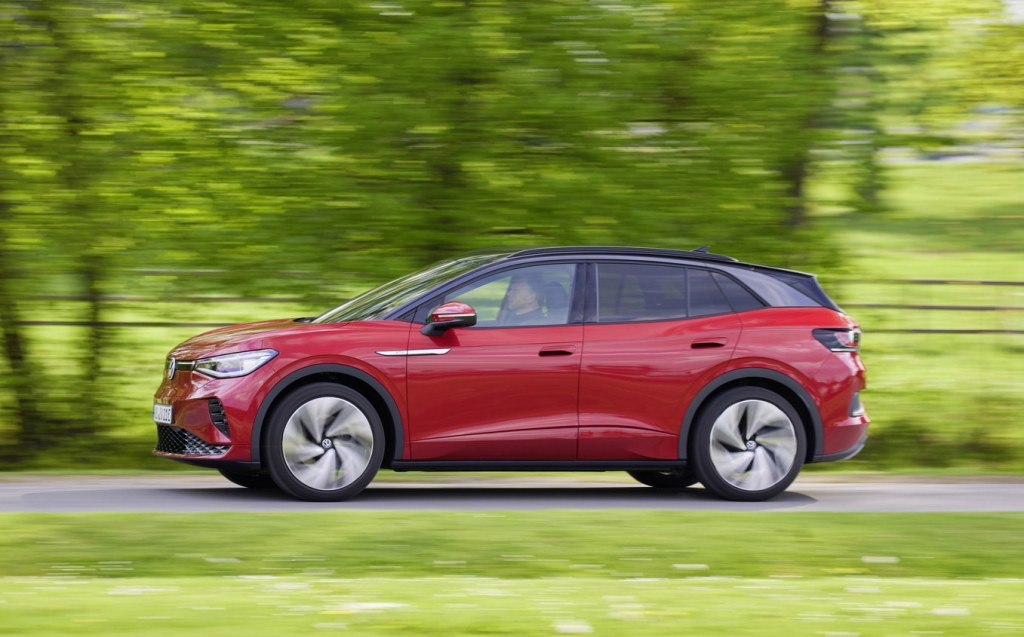 Pricing and on-sale date
The Volkswagen ID.4 GTX is already on sale, and has a starting price of £49,025. For that you get the extra electric motor, four-wheel drive, the body kit, the augmented reality head-up display, the 12in infotainment system, a rear-view camera, keyless entry and Matrix LED headlights.
For £56,380, our GTX Max test car added the 'ArtVelours' seat trim, the panoramic roof, rear safety glass, three-zone climate control, adaptive suspension and the heat pump heating system.
That's compared to the cheapest ID.4, with the smallest 52kWh battery and a 213-mile range, which costs £34,995.
It's also worth noting that, against the ID.4 GTX, a Tesla Model Y long range, with 434bhp, and a 315-mile range, costs £54,990, while a Ford Mustang Mach-E extended range all-wheel drive offers 335-mile range, 345bhp and costs £58,230.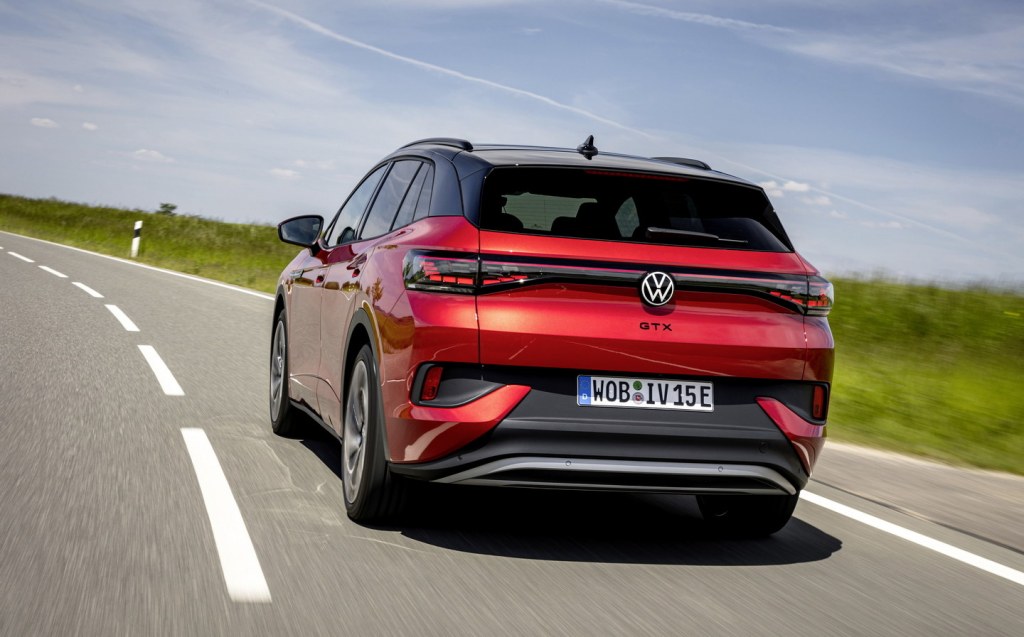 Verdict: Volkswagen ID.4 GTX review
The ID.4 GTX should have been a marker-post, a significant waypoint in the evolution of the electric car. The point where such cars stopped being merely about emissions reductions and good planetary stewardship, and started to become fun as well. In that mission, it fails — it's just too heavy to be any fun to drive, and is priced against competition from Tesla and Ford that actually do the job better. The ID.3-based Cupra Born is more of a true heir to the Golf GTI.
Yes, it's handsome, exceptionally comfortable, and refined, but those attributes can also be found in any ID.4, including versions that are significantly more affordable.
Tweet to @ST_Driving Follow @ST_Driving
Related articles
Latest articles