Mercedes-Benz EQE review 2022: Will E-Class-sized electric car finally tempt you away from Tesla?
Still want that Tesla?
Elon Musk likes to refer to most rivals as "legacy car makers" in a derogatory fashion. By legacy, he means companies that have been churning out combustion cars for decades. Well, no-one has been making cars longer than Mercedes-Benz; Karl Benz's 1886 patent application for a three-wheeled petrol vehicle kicked off more than a century of motoring.
Musk's sneering was designed to kick-start the electric revolution, and it has worked. In the last 18 months, we've seen an explosion in EVs from the established brands, and Mercedes is no exception. Merc's line-up of EVs now includes the EQA, EQB, EQV and, most recently, the EQS luxury saloon. And now it's the turn of the new Mercedes EQE, reviewed here.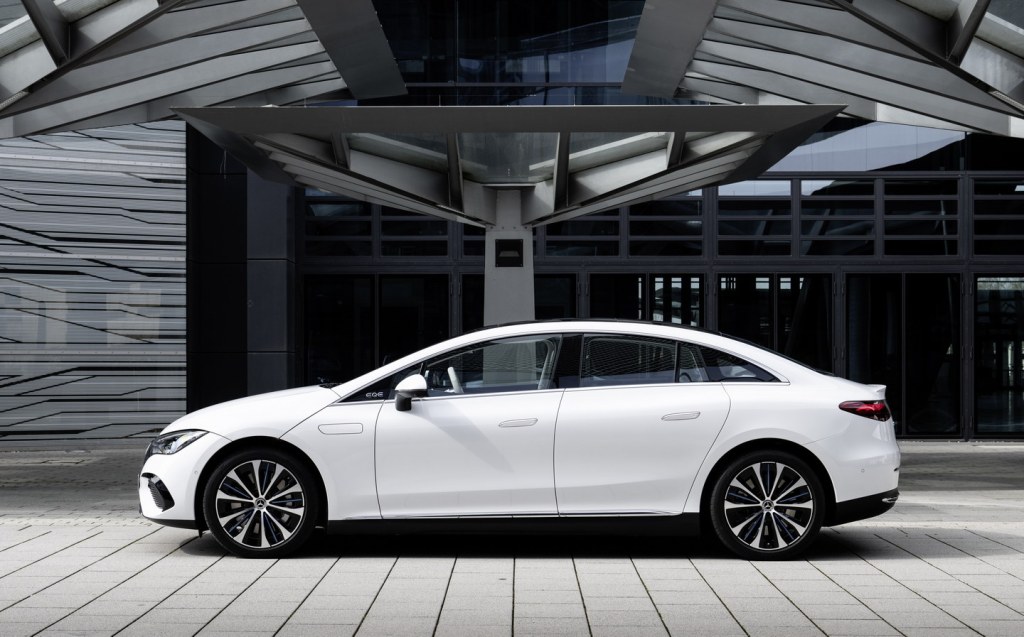 As the name suggests, the EQE is a roughly E-Class-sized EV, using the same underpinnings as the bigger, more luxurious EQS.
Being smaller than the EQS, it's more affordable (although still not what you'd call cheap) and comes to the market with a massive 394-mile range on one charge.
Exterior design and rivals
The EQE sticks very closely to the design template laid down by the bigger EQS. Mercedes design chief Gorden Wagener is very proud of that long, sweeping 'single bow' roofline that runs unbroken from the top of the front wheelarch to the top of its partner at the rear, though the side profile is less than distinctive.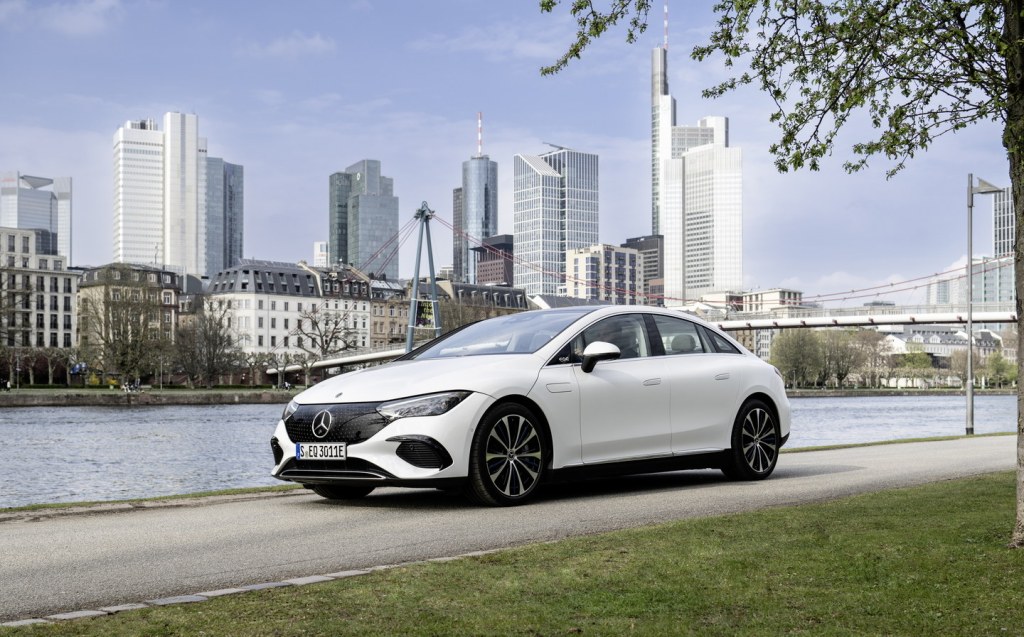 Like the EQS, the EQE's aesthetics suffer a bit from a quest for aero efficiency. It's certainly managed that — with a drag coefficient of 0.22 it almost matches the EQS and betters the Tesla Model 3's 0.23 rating — but in doing so, it's rounded off all of the exterior panels to the point where it all becomes a bit amorphous.
The boot has a small spoiler-like kick-up, which makes it a little more interesting to look at than the EQS, but only a little.
You can make the EQE look more distinctive by going for the AMG Line Premium Plus model, which gets gorgeous multi-spoke 21-inch alloy wheels, but then it becomes an £88,450 car.
It's a little tricky to pick out pure-electric rivals for the EQE as in terms of both size and price it's out on its own for the moment. Priced from £76,450 for the single-motor 350+ version (the only EQE on sale for now), the mid-sized electric Mercedes is bigger and more expensive than the likes of the Tesla Model 3 and BMW i4, but much more affordable than the more luxurious £100,000+ EQS.
You can't currently order a Tesla Model S (well, you can with a £100 deposit, but Tesla won't confirm a total price until closer to the delivery date, which it also won't confirm), but in terms of likely price and range the bigger Tesla is the closest to the EQE for now.
Interior and practicality
If the exterior of the EQE is a little bit of a let-down, then the cabin makes up for it. The digital displays we'll come to in a minute, but the rest of the EQE's interior is just gorgeous.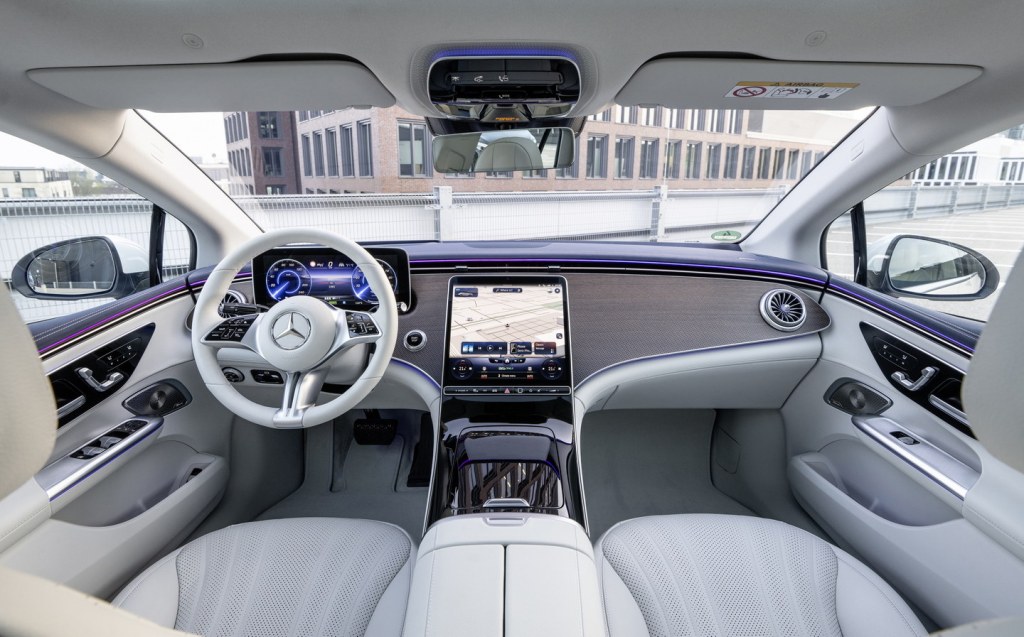 There's a big sweep of dashboard, which in our test car came with rather lovely wood trim — a bit anachronistic for an electric car maybe, but it visually warms up the cabin a treat — and round air vents at either end.
These vents get an intricate jet-turbine look to them, while the central air vents are slimmer, and almost disguised at the top of the dashboard.
The front seats are excellent, and you sit low and comfortably in the EQE. That makes it something of a refreshing change from the apparently unstoppable cavalcade of taller SUV models, although inevitably there will be an SUV version of the EQE in due course.
There's loads of storage space, with a big bin under the 'butterfly' lid beneath your elbow, plus another lidded area under the central screen that also houses the wireless phone charger and some USB sockets. There's an open storage space down under the centre console, too.
Lots of shiny 'Piano Black' trim will be a magnet for dust and fingerprints but when clean it does look smart.
In the back, the EQE is a little less successful. It's 300mm shorter overall than the EQS, so you'd expect it to be smaller inside but there is reasonable space for legs. However, a thicker floor (to house the battery pack) and low seats result in your feet resting a little higher than you'd expect, which means so too do your knees.
Combine that with tall, bulky front seats, that low and sweeping roofline, plus relatively shallow side glass, and you get a rear compartment that feels more cramped and confined than it actually is. Certainly, a conventional E-Class feels roomier and airier.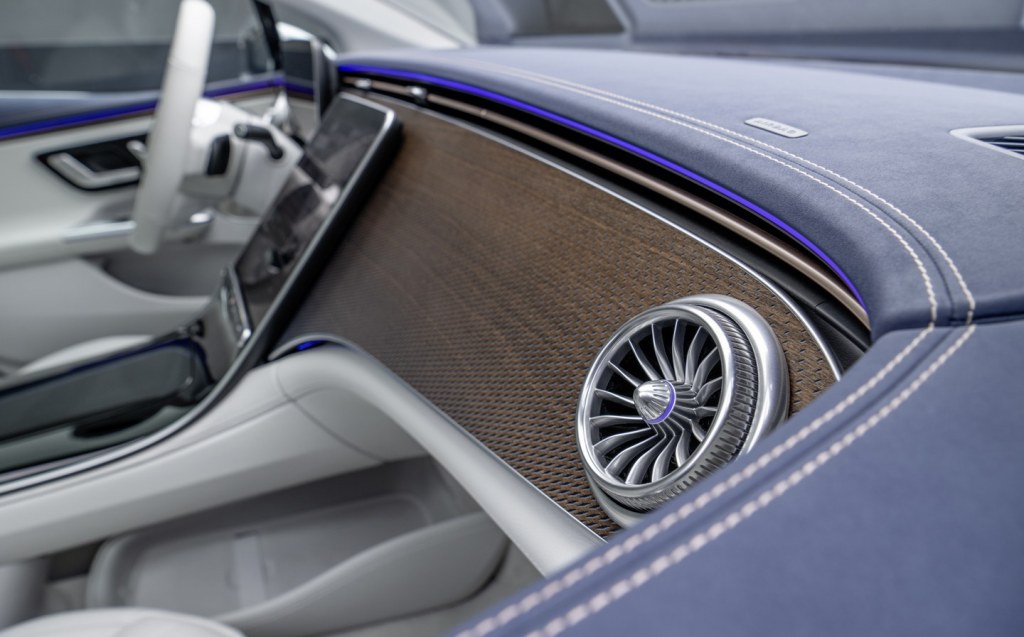 The EQE's boot has been a bit compromised by the car's search for aerodynamic slipperiness too. At 430 litres capacity, it's over 100 litres smaller than the E-Class saloon's. Unlike the EQS, which is actually a gigantic fastback, the EQE uses a traditional separate boot, which means it's less versatile, too.
Though it would be much more practical, there are no signs right now that Mercedes will make an estate version of the EQE.
Technology and safety
Our test car was a standard-spec AMG-Line model, which uses the same 12.3in digital instrument display and the 12.8in central infotainment screen as the EQS, the S-Class and the C-Class. It's a really good layout, because the instrument screen is clear and bright, and has expensive-looking graphics.
Better yet, the menu layout is reasonably logical, and the display reacts pretty briskly to inputs. It keeps the heating and air conditioning controls in a separate band of the screen, no matter which menu you're accessing, which is helpful but ultimately not as tactile as physical controls.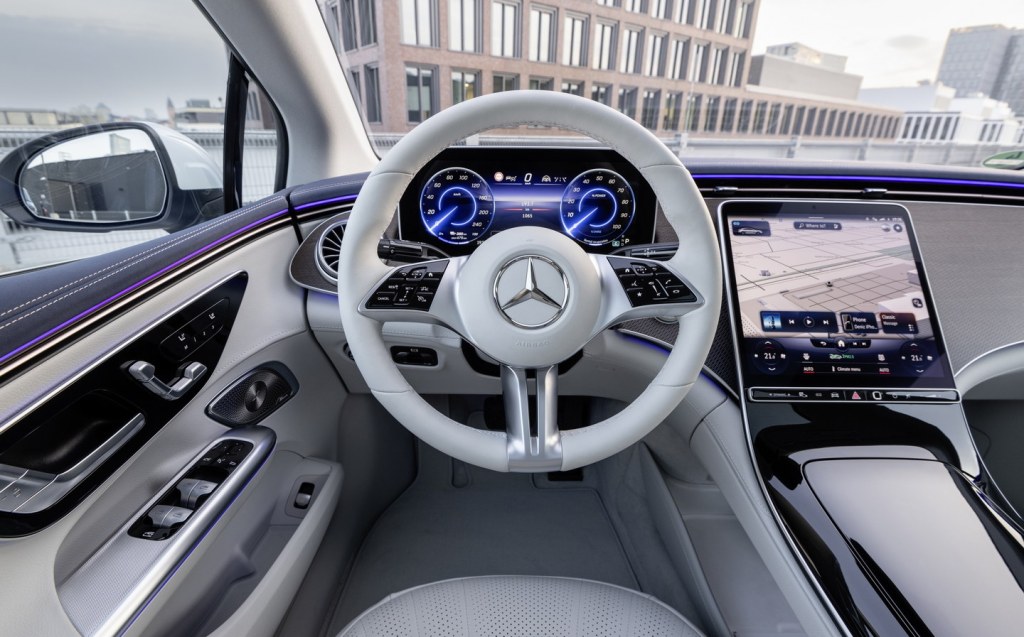 Equally, you'll find the touch-sensitive volume control, both on the console and on the steering wheel, fiddly to use, while the little fingerprint scanner — used to call up your pre-set preferences — occasionally just won't recognise your finger, and you have to use the PIN code instead.
As standard, you get a parking assistant with rear parking camera, and that can be upgraded to a fully surround camera system. There's also an 'Urban Guard' vehicle protection system, which can flash a burglar warning to your smartphone via the MercedesMe app.
Higher spec models get upgraded LED headlights, a head-up display and an electrically heated windscreen.
Basic AMG Line models get a forward collision avoidance system that works at speeds of up to 80mph, while there's also active lane-keeping steering and a blind spot monitor. Higher spec versions get active blind spot monitor that stops you steering out into the path of another car, cross traffic warning and braking, active lane changing and a capacitive steering wheel, which senses if your hands are resting on it when using the radar-guided cruise control.
There's also optional air suspension, and as with the Audi A8 this can raise up one side of the car to better protect the occupants against a side-impact (when detected by sensors).
The vast, 55in full-width 'Hyperscreen' (actually three separate screens under a common glass panel) is available as an option for the EQE, albeit not just yet — you'll have to wait until later this year. It looks impressive, but so good is the EQE's conventional separate screen setup that we're not sure that the Hyperscreen will be worth the extra cost.
Performance, electric range and charging times
The EQE gets a 90kWh (net capacity) battery, mounted low and flat between the axles. In EQE 350+ form, that powers a 288bhp electric motor with up to 416lb ft of torque — enough to make it feel pleasantly brisk but without the neck-snapping acceleration of a Tesla or a BMW iX.
The 0-62mph time is a Golf GTI-like 6.4sec, which is about as fast as anyone needs their luxury saloon to accelerate.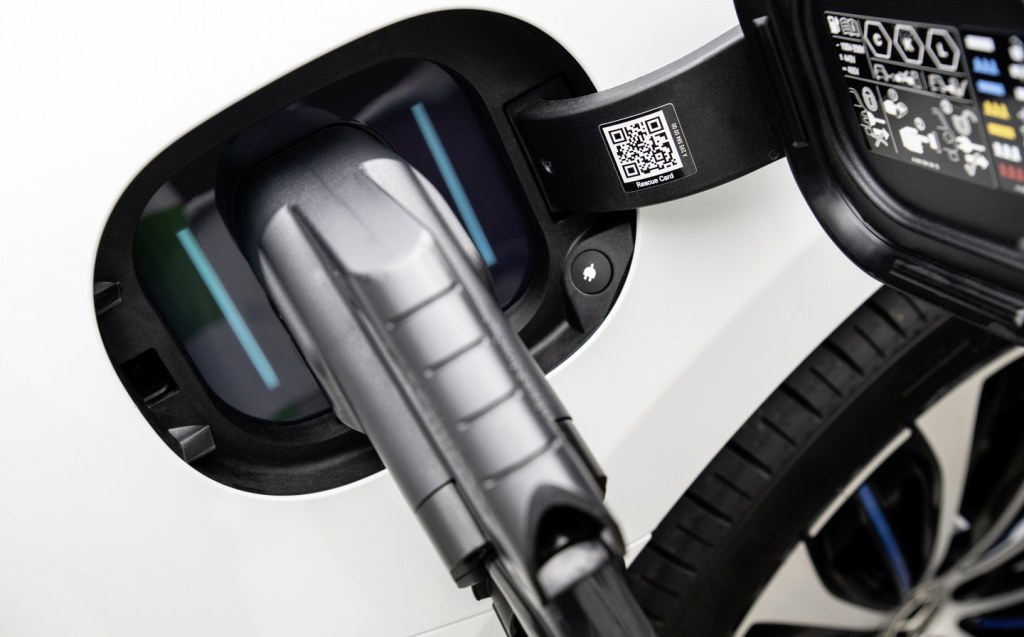 It's the distance that the EQE can cover, not the speed that impresses most. Officially, it'll go for 394 miles on a single charge, and that seems to be an on-paper claim the EQE can back up in the real world.
Judging by the battery readings we were seeing on our test drive, 300 miles should be an absolute minimum, and you might get close to 350 or even 375 miles if some of your mileage is in town, or on slower roads than motorways.
Rapid DC charging at a rate of up to 170kW is possible in the EQE, meaning a theoretical 10-80% recharge in 32 minutes (depending on the rapid charger). On AC power, the EQE is capable of 22kW charging, which is helpful if you're using kerbside charging points.
Ride and handling
First up, if you want your EQE to ride properly you're going to have to pay for air suspension, which comes as standard only on AMG Line Premium Plus models and above. The standard EQE is quite firm; not exactly harsh, but equally you're not in much doubt as to where the lumps are in the Tarmac.
That said, the EQE is superbly refined in an aural sense. There is little noise from the electric motor mounted in the rear, while wind and tyre noise are also impressively suppressed. Once you're on the motorway, it just glides along, without any apparent effort.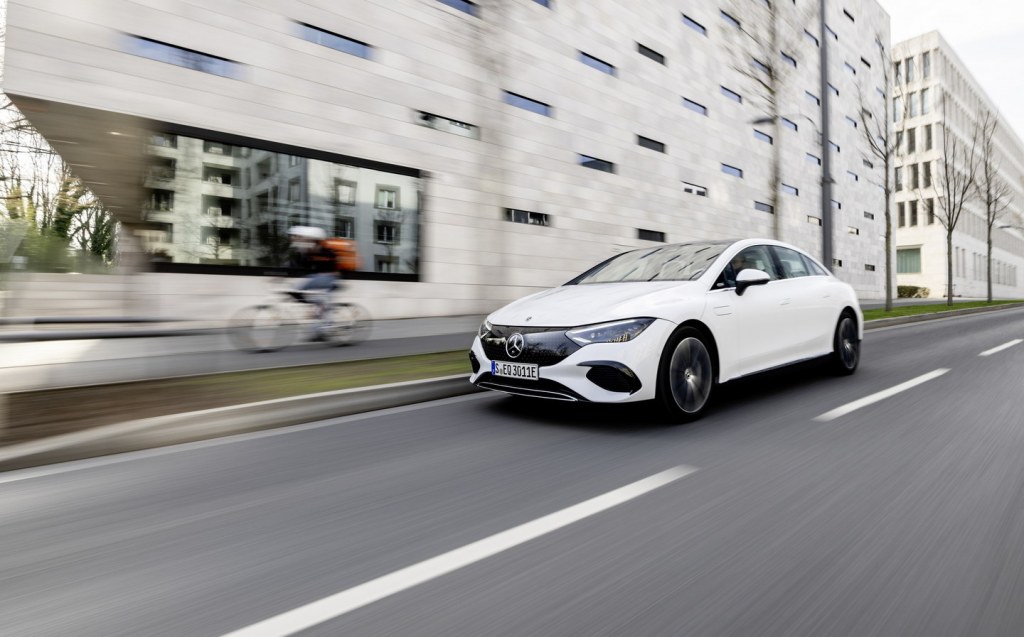 Thankfully, it's also rather enjoyable to drive. It's not quite as much a driver's tool as, say, the smaller and lighter BMW i4, but it feels precise and, aside from somewhat numb steering, fairly accurate and agile on the road.
It's far more fun to drive than the too-distant, rather boat-like EQS, and the fact that this basic EQE 350+ feels so good from behind the wheel bodes well for the upcoming AMG models.
True, it's not the most engaging car in the world from behind the wheel, but rather like its cousin the E-Class, it feels all-round satisfying and at the end of a given journey, you're not quite sure you want to get out.
Pricing and on-sale date
The EQE is on sale now although, as with all car makers right now, Mercedes is not able to ramp up to full production under current market conditions.
Prices for the 2022 Mercedes EQE start from £76,450 for an AMG Line EQE 350+, which includes 19in alloys, an AMG styling kit, a panoramic glass roof, 64-colour ambient lighting and heated front seats.
Next up is an AMG Line Premium model for £81,450. That comes with 20in alloys, upgraded ambient lighting, keyless entry and four-zone climate control.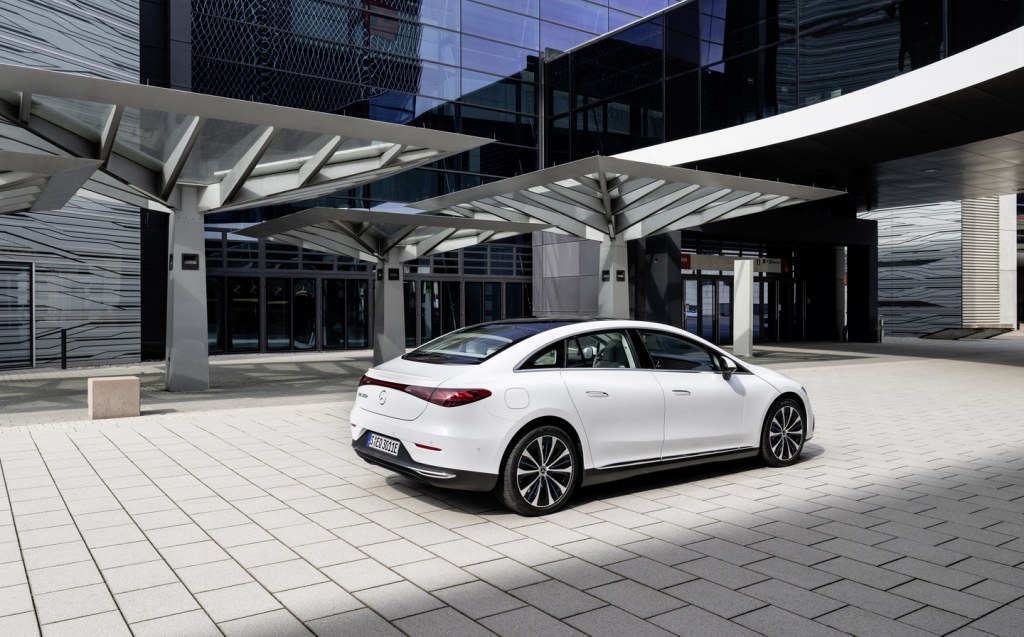 The £88,450 AMG Line Premium Plus gets the air suspension, 21in alloys, upgraded LED lights, head-up display, electric heated windscreen, a Burmester surround-sound stereo, an upgraded electronic safety aid pack and a 360-degree parking camera.
Finally, there's the EQE Exclusive Luxury, also for £88,450, which comes with 20in aerodynamic alloys, upgraded body kit, heated and cooled front seats, heated steering wheel and heated rear seats.
Verdict: 2022 Mercedes-Benz EQE review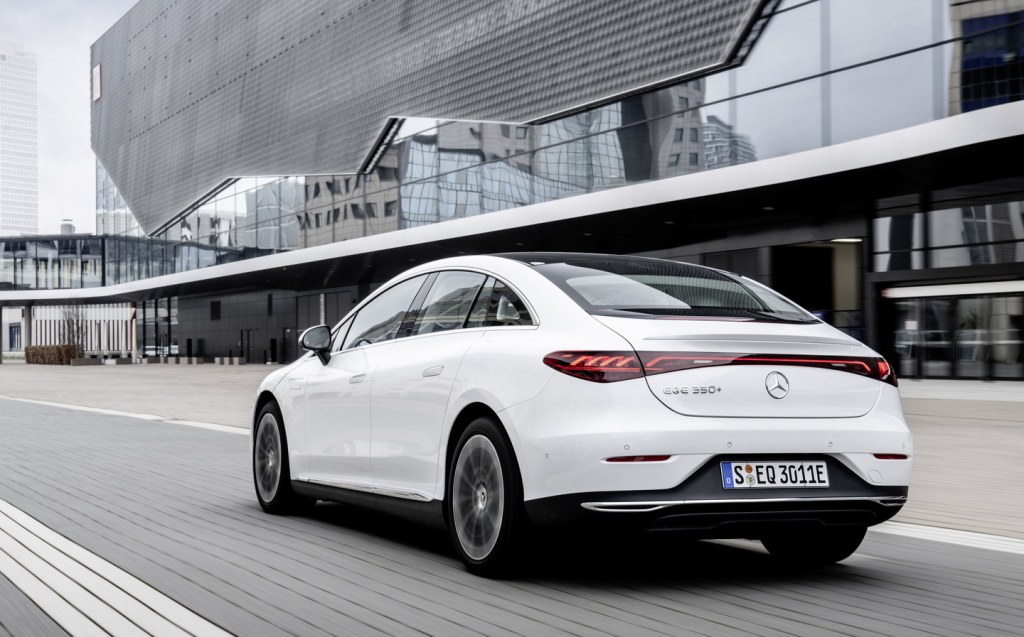 The EQE is not cheap but against the competition it's a bit of a bargain. Because in the long tradition of E-badged Mercedes cars, it's a brilliant all-rounder.
It combines long-legged battery range with a reasonably engaging driving experience, has a gorgeous cabin that's just about spacious enough, and hits some seriously high-quality notes.
Give it a better boot and standard air springs and it would be nigh-on unbeatable right now.
Related articles
Latest articles