McLaren Artura review: Woking wonder hybrid is a true Ferrari-worrier
Plug in to McLaren's new generation
You'd be forgiven for thinking the McLaren Artura is cursed. Its launch in October last year was cancelled at the last minute due to issues with the all-new powertrain software, and when we finally got to Spain to drive it earlier this month, a fault with some of the test cars' oil coolers meant they had to be "quarantined" – in other words we couldn't drive them.
The remaining Arturas were available for use on the road though there'd be no time behind the wheel on track, we were told. As this is kind of important when assessing a new supercar, there was a certain amount of disgruntlement among the assembled press, as you might imagine. After some polite discussion McLaren was able to fly in replacement parts, which had been manufactured correctly by the supplier, and an engineer worked through the night to get two cars running for us at the circuit… though only for a few laps each.
Don't worry about the problem on customer cars, we were told: they'll all have the upgraded part. Nothing to see here.
It's also worth noting what a monumental effort the Artura has been for McLaren. While the Woking-based car maker has produced hybrids before — see P1 and Speedtail — those were ultra-low volume specials; Artura is its first series production hybrid.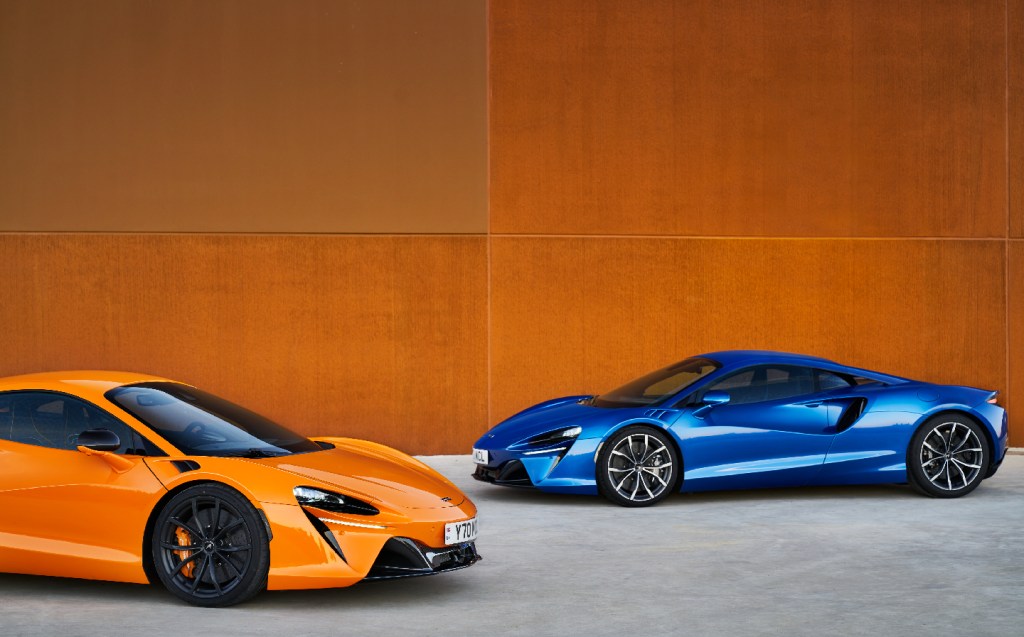 It's also built around a new platform, with a new engine and e-motor powering it, driving the rear wheels via a new eight-speed gearbox and riding on new active suspension. The electronics, too, are completely revised, with the Artura introducing McLaren's new infotainment system and ethernet-based electrical architecture.
So this has been a complicated car to get through the door, amid the toughest of tough times for the business.
McLaren can breathe a sigh of relief, though, because the road route the company picked was truly spellbinding and the test car proved terrific, so by the time we reached our coffee stop and were told we would be heading to Ascari circuit after all, much of the dissent had evaporated.
Read on for the full McLaren Artura review.
Exterior design and rivals
Artura is unmistakable as a McLaren. In fact, it's probably fair to say that most people wouldn't be able to tell it apart from any other McLaren. Whether you see that as a problem or an important part of continuing the family DNA is up to you, but the supercar proportions, hammerhead nose, deeply-recessed boomerang air intakes at the front corners, dihedral doors (that now open tighter to the car) and, at the rear, raised exhausts poking out through a mesh rear grille are all distinctly McLaren.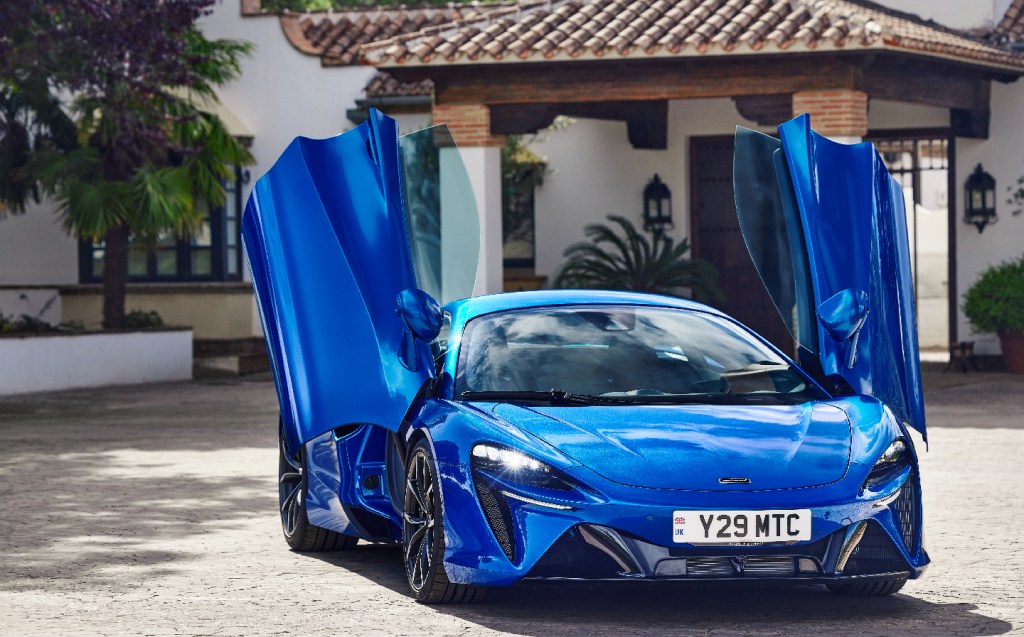 It's the construction that is particularly interesting. Overall weight is around 1.5 tons, which is the same as a modern petrol hatchback or the smaller, less powerful Lotus Emira, despite the addition of a lithium-ion battery pack and e-motor capable of 19 miles of electric driving.
That's thanks to a number of weight-saving initiatives, not least the introduction of McLaren's Carbon Lightweight Architecture (MCLA). Artura is built around a carbon-fibre monocoque tub created at the company's new composites technology centre in Sheffield, onto which a rear subframe and front mounts are bolted. These are made from lightweight aluminium, rather than steel, as are the body panels, of which there are just eight, all superformed against moulds using hot gases, rather than pressed, for extra detail and accuracy. The superforming, says McLaren, is what allows a single clamshell at the rear.
The windscreen surround isn't aluminium — it's made from more carbon fibre, and the glass itself is thinner but tougher than found in any previous McLaren — but the roof section is metal, and weighs just 5.2kg. All of which helps keep the weight not just down, but down low.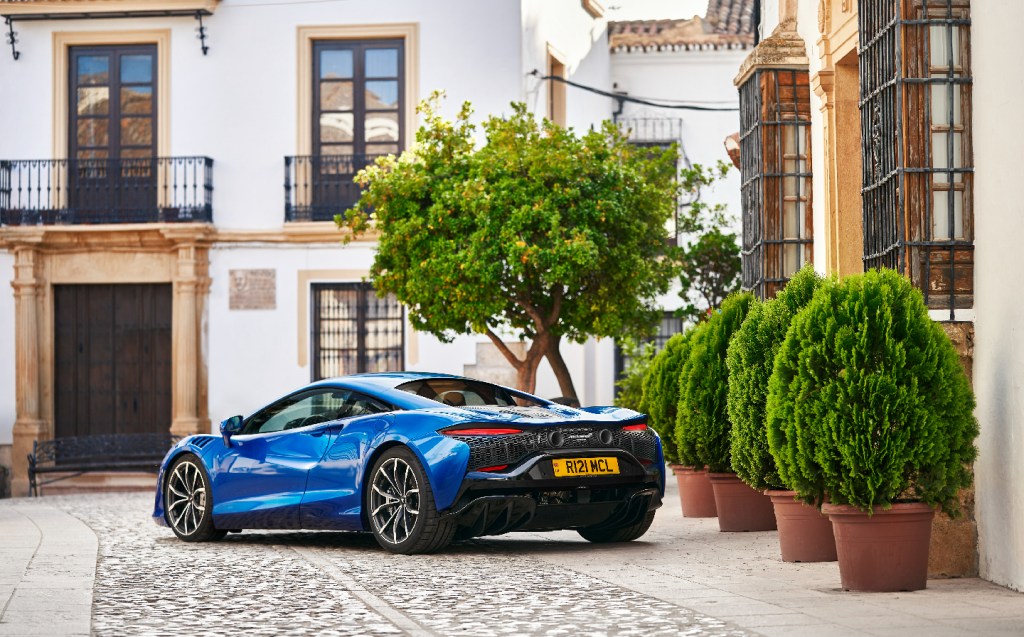 Aero work includes vents around the wheelarches to reduce pressure and clean-up airflow, side intakes to feed and cool the engine, and buttresses that both channel air for cooling (the "powertrain chimney" produces air at up to 900C) and help improve downforce at the rear. There's also a flat floor and double diffuser at the rear to create ground effect at speed.
The most obvious rival is the Ferrari 296 GTB. Neither company would make the comparison, especially given the differences in price (the Ferrari is £60,000 dearer) and power (671bhp vs 818bhp), but both are supercars, both feature new V6 engines and both come with a plug. There's also the Mercedes-AMG One, but with an asking price of $3m (£2.5m) and ultra-limited production, that's in another league altogether.
Interior and technology
There was some discussion with McLaren personnel — and other journalists — prior to my drive about how well I'd be able to fit inside the Artura. This is a supercar, after all, and I'm 6ft 5in tall. In the end it was simple, with plenty of headroom (even putting on a helmet didn't cause head-craning) and just enough legroom.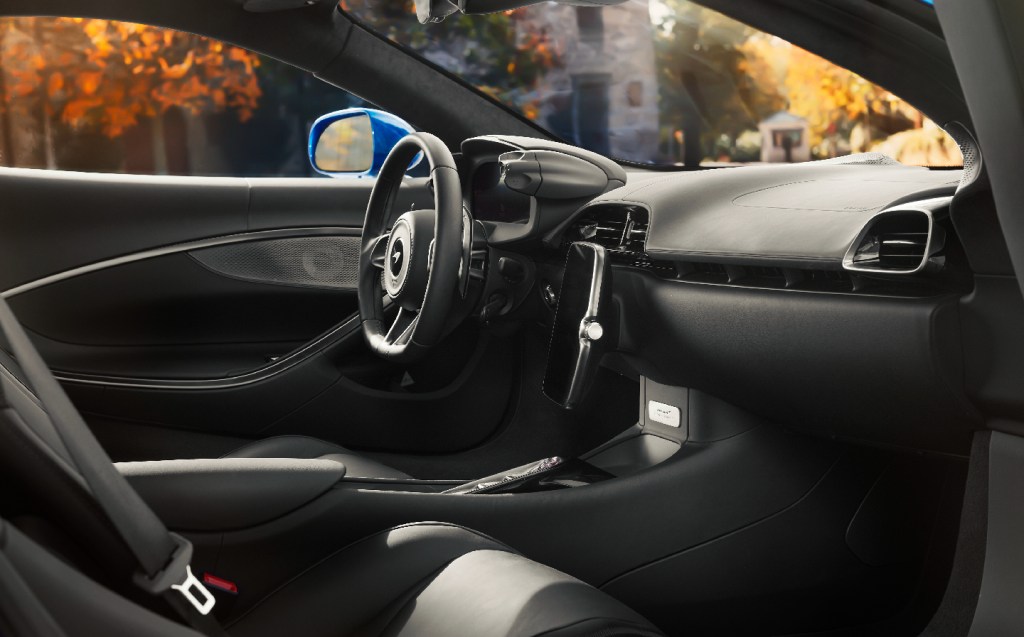 McLaren has two sets of stalks on the steering column and I feared I'd be knocking the cruise control with my left knee, though that didn't happen once the steering wheel was adjusted for reach and height.
One of the Artura's clever bits of design is the fact that the instrument binnacle is connected to the wheel, not the dashboard, which means that when you bring the wheel closer the digital driver's display comes with it. And on the top corners of the binnacle are rocker switches for drive modes — powertrain to the right and chassis to the left — within easy reach of your fingertips. It works brilliantly.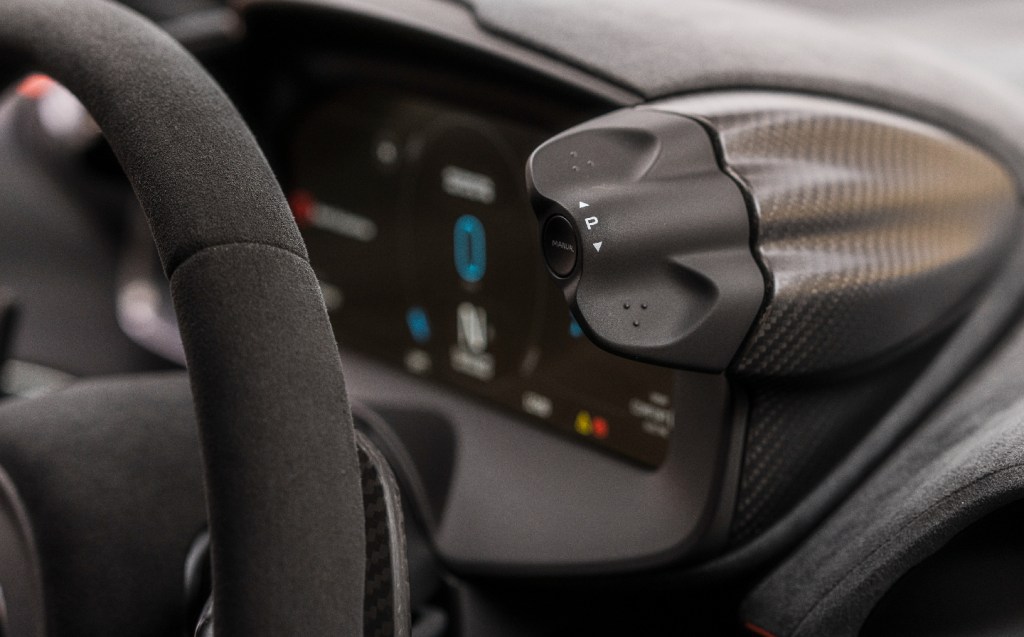 McLaren has gone down the route of decluttering its steering wheels, and so in stark contrast to Ferrari's button- and dial-festooned wheels, you'll find no controls on the Artura's. It even has indicators on a stalk attached to the column — imagine that.
If there's a grumble with the ergonomics it's that the standard Clubsport seat, which is all-new and made from one solid piece of carbon fibre that pivots through an elliptical arc allowing you to recline, is not suited for taller drivers; the backrest pushes into all the wrong places.
Adding lumbar support (which is optional) helps to some degree but without question I'd pay for the Comfort seats shown in the pictures here, which have a flatter back, a tilting backrest and extra padding. That adds extra weight, of course, and normally-heighted owners may well prefer the sportier Clubsports.
Overall the cabin design is pared-back and fuss-free, which is unusual in this day and age, and if you're wondering why the central touchscreen isn't a little bigger, it's nothing to do with cost-saving and everything to do with reducing distractions, apparently. In fact, even with the satnav running I barely recall looking at the thing.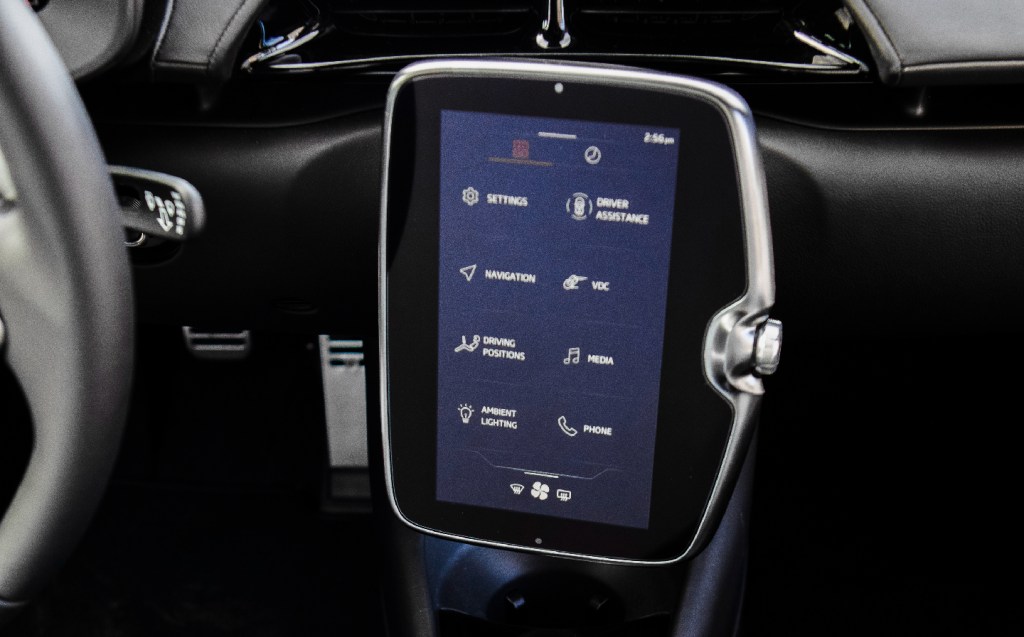 When you do, McLaren's new MIS II system is intuitive if slightly uninspiring to look at, very similar in functionality to a tablet PC. The rotary dial on the side adjusts volume and allows you to return to the Home screen with a single press, while there are simplified (think Volvo touchscreens) and more detailed layouts available, depending on preference.
The satnav seems to work well and is notable for prominently displaying your speed as determined by GPS, rather than the rotation of the wheels, which makes it more accurate than the speed shown on the driver's display. It also features Wireless Android Auto and Apple CarPlay, as well as over-the-air updates allowing improvements to the infotainment and drivetrain systems to be sent to the car over time.
The Artura also features some advanced driver assist technologies, including launch control and variable drift control (allowing 15 different levels of slip at the rear), front and rear parking sensors and a reversing camera.
Even cleverer, though, is the debut on a series production car of Pirelli's Cyber Tyre technology. The Italian tyre-maker worked with McLaren on bespoke tyres for the Artura, and the P Zeros fitted to the rims (19in at the front, 20in at the rear) include electronic sensors that detect not only pressure but also temperature and even type of tyre.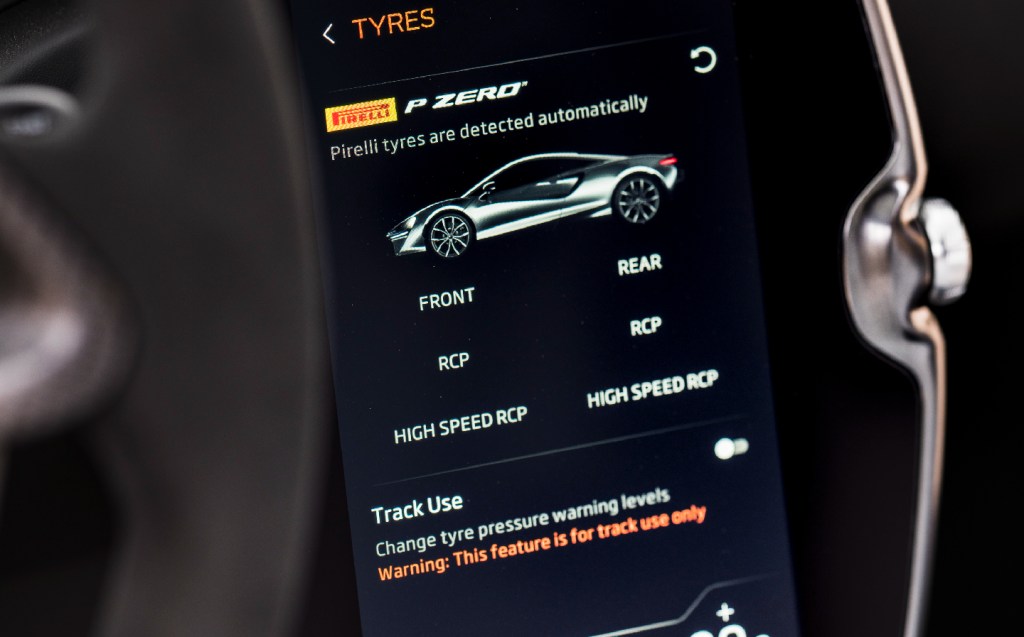 That means you can rock up to a circuit on regular P Zeros and fit a set of P Zero Corsas, and the car will automatically detect that it's now shod with rubber designed for track use. Without having to press a thing, the Artura knows the ideal pressures and temperatures for use at a circuit and will alert you only if you venture outside of the windows.
There's also a manual mode, available via the touchscreen, in case you decide that a particular circuit or conditions demand pressures slightly higher or lower than normal. It means you have accurate, real-time tyre information at each corner without any fuss. It just costs around a quarter more than a regular "dumb" tyre.
Pirelli even makes a winter tyre with this technology, which will automatically limit the maximum speed of the car to 270kph, as that's all the winter compound can handle. Though that's maybe only useful for drivers using the German Autobahns.
Engine, e-motor, transmission, performance and electric range
McLaren's familiar 4-litre V8 engine is dropped for the Artura and in its place is an all-new 3-litre V6, designated M630. Its twin turbochargers are mounted within the 120-degree hot vee to save space, and McLaren says the V6 engine, at 160kg, is 50kg lighter and the centre of gravity 40% lower than the V8.
Added to that is a 94bhp axial flux e-motor, which sits inside the bell housing of the 8-speed twin-clutch gearbox. McLaren claims it is half the weight of the electric motor in the P1, at 15.5kg, but 33% more power-dense. We were shown the V6 and e-motor at the Ascari circuit and it is pretty amazing how thin the Artura's e-motor is — not much wider than a brake disc — and how compact McLaren has made the whole package.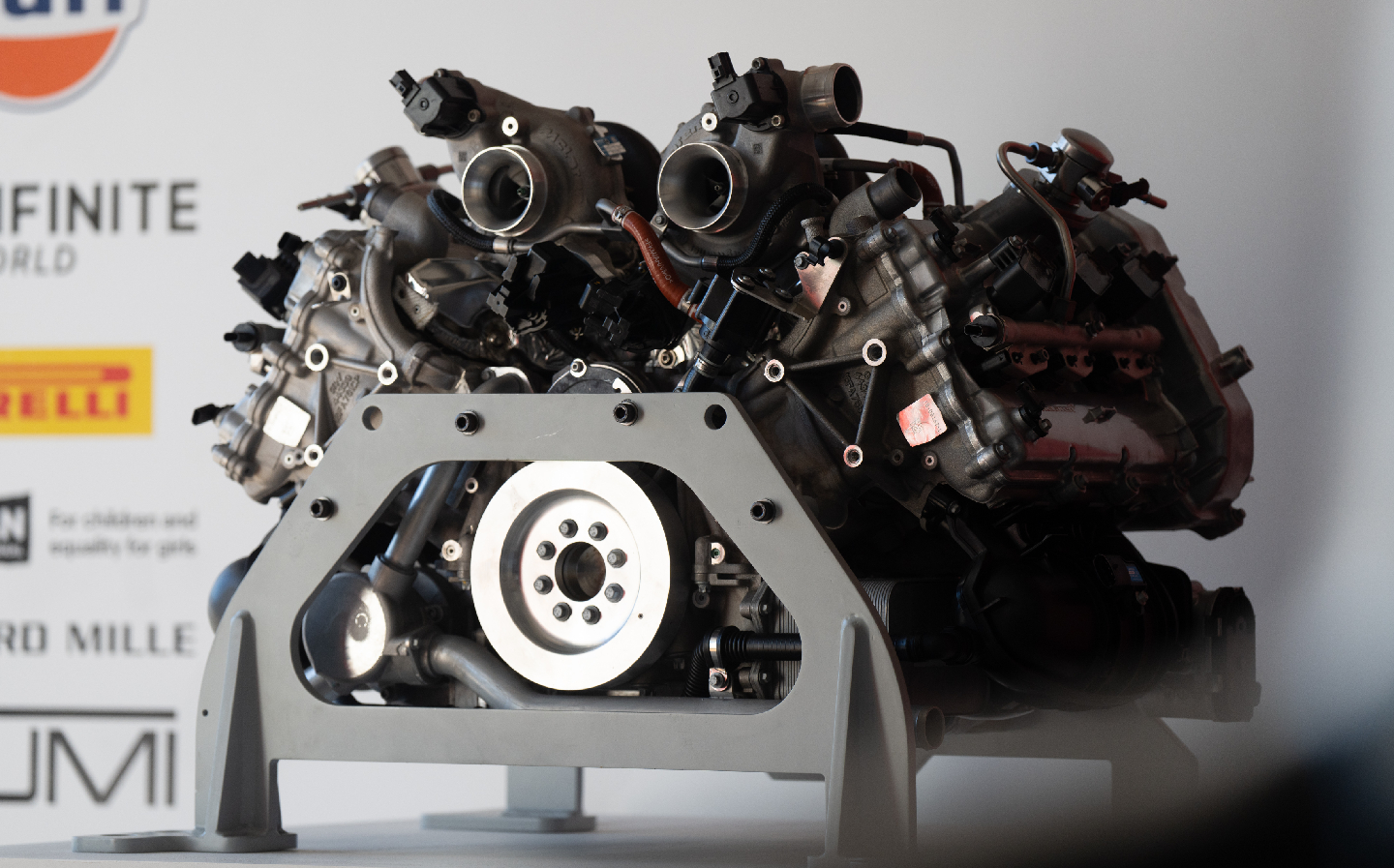 Combined power out is 671bhp, with 531 lb ft of torque, though the numbers don't really explain the true benefit of the hybrid system, which is to say more immediate torque delivery, and torque infill through the rev range. That means much earlier peak torque, and a flatter peak, resulting in consistent pull as the speed increases.
What's interesting is that in both Comfort and Sport driving modes, the Artura feels truly usable on the road. It's very, very quick, make no mistake, but it never feels too quick, and the e-motor never gets in the way of a seamless power delivery — it improves it. That means balancing the car on the throttle is supremely easy, and gives the Artura a delicacy to match its potency.
Then, when you enter a town with a 30kph speed limit, the Artura becomes a much more civilised machine thanks to the e-motor. You can cruise through virtually silently, which means when people do spot you they're even more astonished to see a sleek supercar slip by than if they'd heard you coming a mile off. With nose-lift the Artura makes for a fine town car — relaxed, calming, easy-to-drive and never anti-social.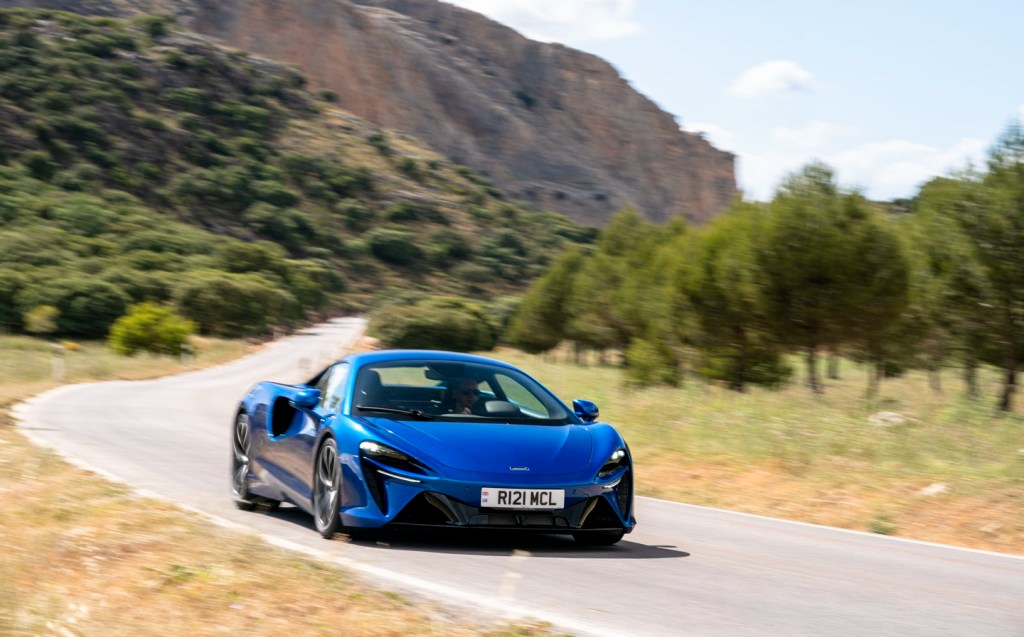 The Artura starts in E-mode by default, so there's no danger of waking the neighbours if you have an early start. Maximum driving range from the 7.4kWh battery is 19 miles, it can be recharged from zero to 80% in around two and a half hours "via a standard EVSE cable", according to McLaren, and the top speed in electric mode is 80mph.
Flick the rocker switch down into Comfort and the engine will fire up to offer support. In this mode, the minimum battery level is set to 40% and the focus is on assisting the engine for maximum efficiency. So if you're pulling up to traffic lights the engine will switch off, then when you pull away you'll do so under e-power, too. Stab the throttle, though, and the engine will join the party sharpish to deliver maximum power.
Sport mode increases throttle response, tightens the chassis control and raises the minimum battery level to ensure maximum performance can be unleashed more of the time, while Track mode goes further on all counts, targeting 100% battery constantly to allow for sustained attack around a circuit. McLaren claimed that in this mode you can hammer around the 14-mile-long Nardo high speed bowl in Italy several times before the electric motor runs out of juice.
Ride and handling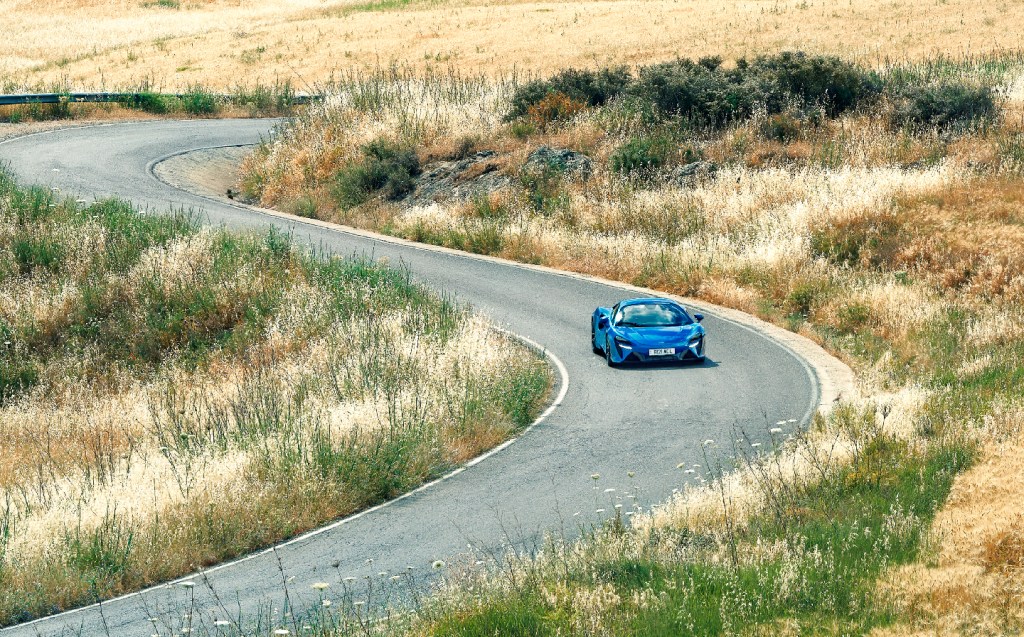 The versatility of the Artura is evident in the ride and handling, too. The adaptive damping at each corner and the new high-speed electronics, the chassis control seems to be a cut above all other McLarens we've tried. Whether in Comfort or Sport, on undulating, broken roads the car has superb poise when pushing hard, and hitting mid-corner bumps doesn't phase the Artura.
Of course, being a wide, low-riding supercar helps, but there's definitely electronic trickery going on here. Pleasingly, it happens very much in the background; as the driver you still feel in control.
Even more impressive is cruising around at low speed in town. A rear e-differential provides cornering ability at speed but also intervenes to great effect with sharp, low-speed turns.
Meanwhile there's a suppleness to the Artura that can't be found even in some much more everyday sports cars and roadsters. I was recently horrified to see the interior of a friend's newly-purchased 981 Boxster splattered with coffee but he explained it was fitted with sports suspension, which meant even cups with screw tops had no chance in holding their contents when negotiating speed humps and potholes. No such trouble with the Artura.
Yes, alright, the difference in price could afford many cups of coffee and many trips to the valeters, but you get my point. Set the chassis to Comfort, press the nose lift button and over speed humps you could be forgiven for thinking you were driving a hatchback, not a £180,000 supercar.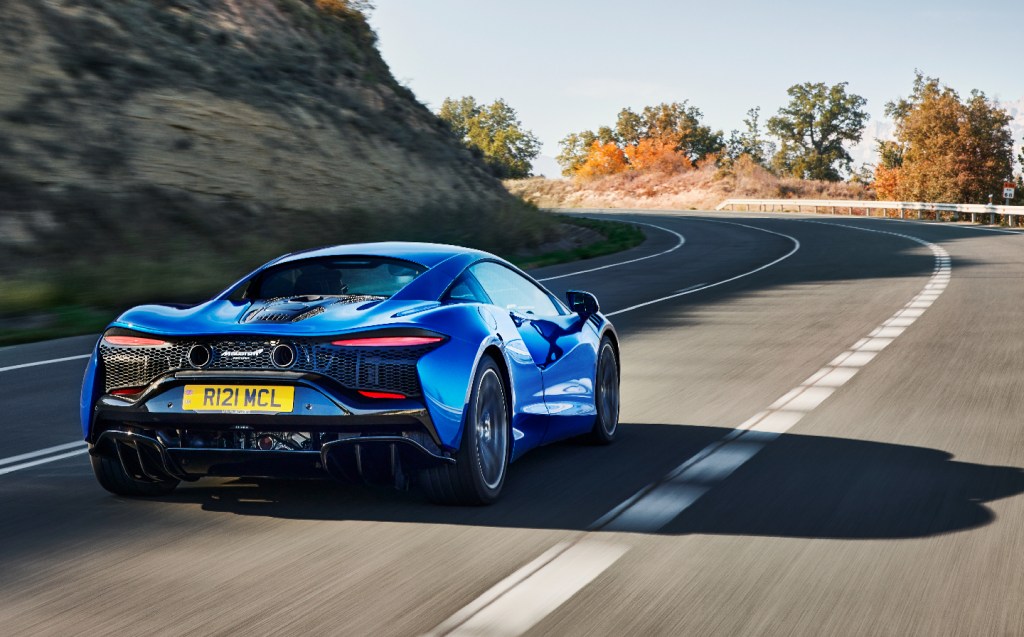 The cab-forward layout is very much supercar territory, though, and on fast, flowing roads it feels as though you're sitting over the front wheels as the car whips through the turns, but unlike most other supercars forward and side visibility is excellent.
The feel through the wheel, meanwhile, is sublime thanks to McLaren retaining hydraulic steering.
At one point on the glorious roads near Rhonda, the glass and metal and leather and Alcantara all faded away and I was gliding from corner to corner seemingly by thought alone. I generally favour lower-powered, lightweight sports cars to supercars but those spine-tingling 20 minutes or so in the Artura were as close as I've come to an out-of-body experience. Quite honestly it's hard to think of more fun I've had on any road at any time.
We jumped into different cars for our curtailed 15-minute sessions around Ascari, both of which were fitted with the P Zero Corsa tyres, Clubsport seats and full race harnesses (and working oil coolers). It's a long and very tricky track to learn, and that meant most of our group were nowhere near having learnt which way the turns go by the time we were directed back into the pits, but as a result we were encouraged to let rip from start to finish.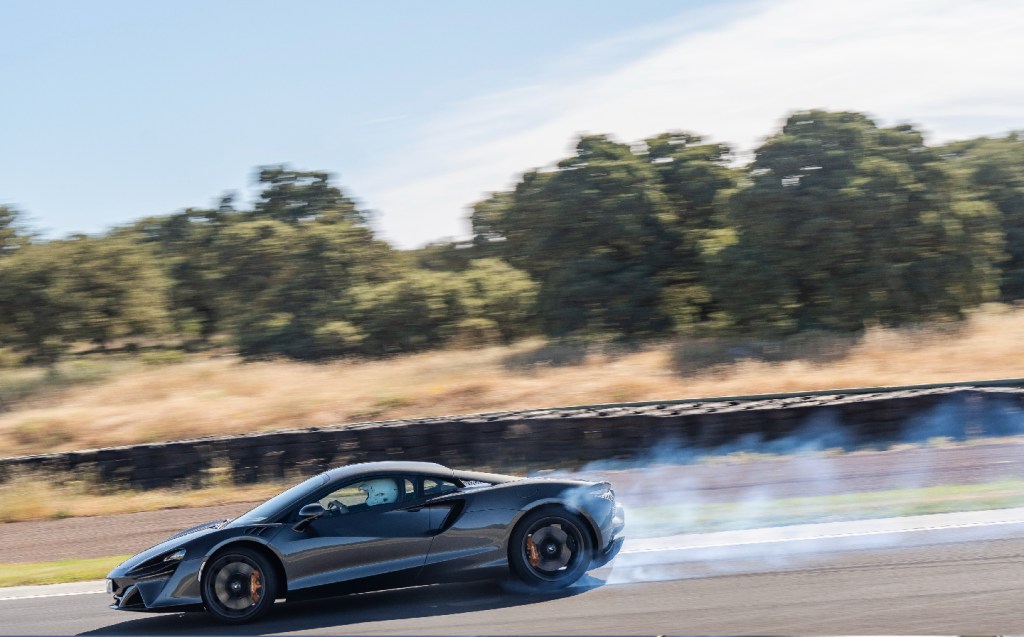 I can't say it was terrifically enjoyable because it didn't feel like I had the measure of either the track or the car by the end of my run, but it did suggest that the McLaren Artura is a machine that will provide thrills on track as well as the road.
Of course, it should, but whereas the McLaren 765LT requires super-sized balls and superhuman reactions before you can extract a 10th of its potential, our time at Ascari with the Artura suggest it builds confidence and encourages you to wring its neck.
This is about more than balance — the 765LT has that — it's about combining performance, power delivery, mechanical grip and electronic chassis control in a heady cocktail that is usable, not frightening.
Price and on-sale date
The Artura is available in four trim levels — Standard, Performance, Tech-Lux and Vision — with prices starting at £189,000.
Our test car came in Vision specification, which adds £3,500 to the list price, with Flux Green paint (£4,500), the Carbon Fibre Interior Pack (£4,000), Sports Exhaust (£4,700) and Polished Silver brake calipers calipers (£1,570). You want lumbar support on the standard Clubsport seats? That'll be £900. Prices for the Comfort Seats weren't immediately available but you can bet they're well above £1,000.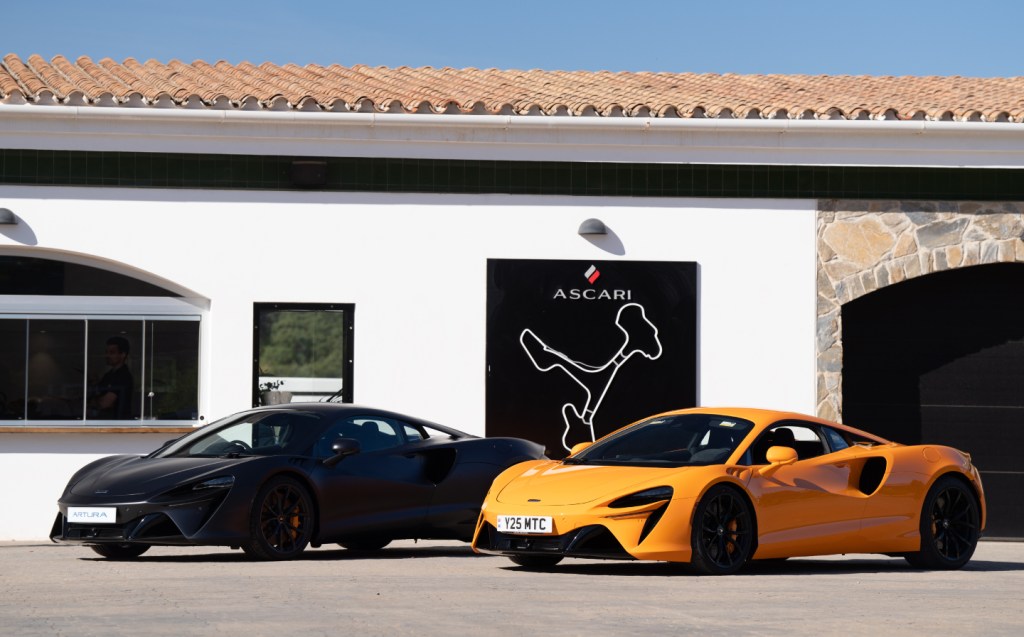 All of which means you can quickly head north of £200,000 when speccing your Artura, bringing it closer to the more powerful, Prancing Horse-badged 296 GTB. The Ferrari is more likely to hold onto its value, too.
Working in McLaren's favour is an impressive after-care commitment, including a six-year battery warranty, five-year vehicle warranty, 10-year perforation corrosion warranty and three-year service plan, all of which is transferrable to new owners. That should add some much needed confidence for buyers of both new and nearly-new cars given how much on this car is new (and the various issues that preceded and occurred during the cars' launch).
Verdict: 2022 McLaren Artura review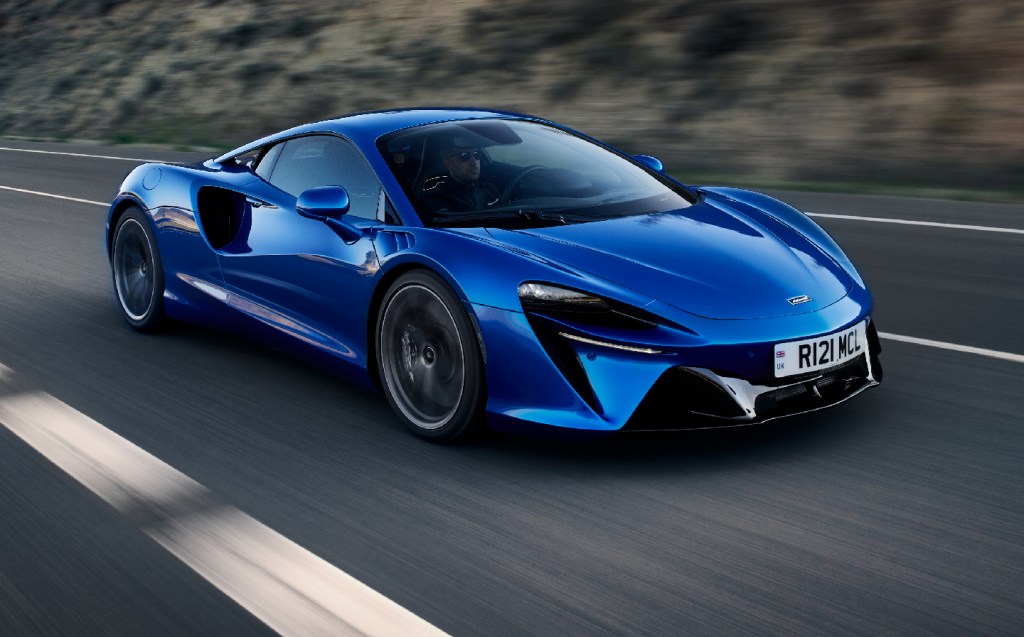 The Artura opens a new chapter for McLaren and so a lot is riding on its success. But whereas other models such as the Elva may have failed to spark much interest from buyers, the Artura deserves much success. It's a glorious concoction of petrol and electric, mechanical grip and electronic stability control, comfort and aggression. It may sit in the supercar line but it's also a track weapon, a GT that can be driven in comfort across continents and an everyday cruiser. It's all things to all people, and could be driven all the time.
The fact that it's by far the most economical model in McLaren's range to date may be of secondary or tertiary concern to potential customers, but that it costs the same in tax and has the same fuel economy (on paper) as a family car is quite the eye-opener.
The only real concern for some, given Artura's troubled conception, may be reliability. But McLaren's real fault may be its transparency. How many car companies would be so open about its technical and mechanical gremlins, I wonder, especially at this end of the market? For some, that may be a reason to choose McLaren over more elusive, apparently-polished brands. McLaren is straight-talking, and that should be applauded.
That it has created such a sublime debut series production hybrid supercar is even more important, however.
Tweet to @wdron
Follow @wdron
Related articles
Latest articles