SUV Triple Test: Hybrid Lexus NX300h vs petrol Volvo XC40 T5 vs diesel BMW X1 25d
Which type of engine best suits drivers' needs?
BRITAIN'S drivers have fallen under the spell of the SUV. They are the Amazon and Netflix of our times, offering motorists everything they want and making humble family hatchbacks seem old-fashioned in the eyes of drivers who want to ride high and mighty.
Last year, the SUV, or sport utility vehicle, was the only part of the UK car market to grow. Take the briefest of moments to glance around during a school run, or at a supermarket car park, and you can immediately appreciate that one in five cars sold is an SUV.
This popularity presents drivers with two dilemmas: the conundrum that comes with having to choose from a wealth of new models on the market, and the challenge of knowing which type of engine to plump for.
---
Browse NEW or USED cars for sale
---
Increasing numbers of plug-in hybrid models are arriving in showrooms [see panel, at end of feature], but the mainstream choices remain petrol, diesel or what have become known as "self-charging" hybrids.
If you're in the market for a mid-size SUV with a posh badge on its bonnet, you'll want to know which fuel type is the way to go.
To help, Driving.co.uk brought together the new Volvo XC40, with a T5 petrol engine, a BMW X1, with a 25d diesel, and our hybrid alternative, the Lexus NX.
Volvo XC40 T5 RDesign AWD review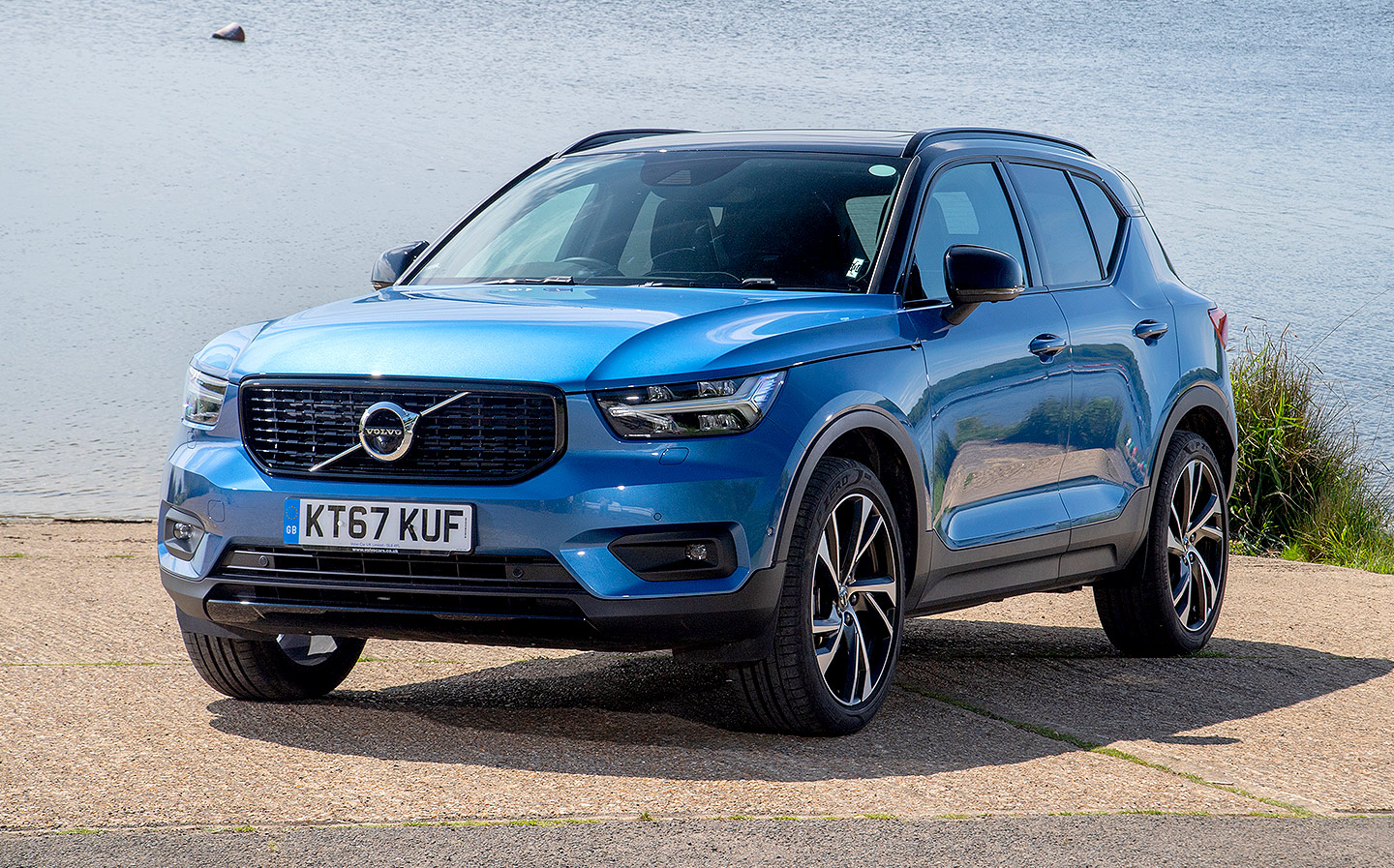 Price: £40,070
Volvo isn't new to SUVs. Its very survival could be attributed to the XC90, the big, strong seven-seater that soon became a familiar sight at prep school gates. With it, in 2002, Sven and Co showed the likes of Land Rover where the modern SUV was heading, several years before the Discovery III reached showrooms.
The XC40 you see here is Volvo's first junior offering. While the roads have gradually filled with Audi Q3s, BMW X1s, Range Rover Evoques, Mercedes GLAs and even the likeable (but recently-replaced) Skoda Yeti, Volvo's designers have refused to rush in.
Instead, they wisely took their time to let the market establish itself and scratched under the folds of their polo necks as they dreamed up an entirely new car – rather than one cobbled together from a box-load of shared components.
There is something reassuring about the way the Volvo XC40 looks. It is no larger than the typical car in this class, but somehow looks sturdier. That's partly because it's a Volvo, which conjures up visions of a log cabin haven in the wilderness, with fire roaring, shelves stocked with provisions and a hunting rifle slung over the kitchen door.
But it's also down to the clever tricks used by the designers, such as the kink in the back doors, concave shape of the nose and squat, wheel-at-each-corner stance.
The front daytime running lights get Volvo's now familiar signature shape – said to be inspired by Thor's hammer.
And there's a predictable smattering of black plastic around the bottom of the doors and encircling the wings, which is an absolute devil to keep clean – a surprising addition from a part of Scandinavia that prides itself on cleanliness, slippers and the whole hygge feel-good movement.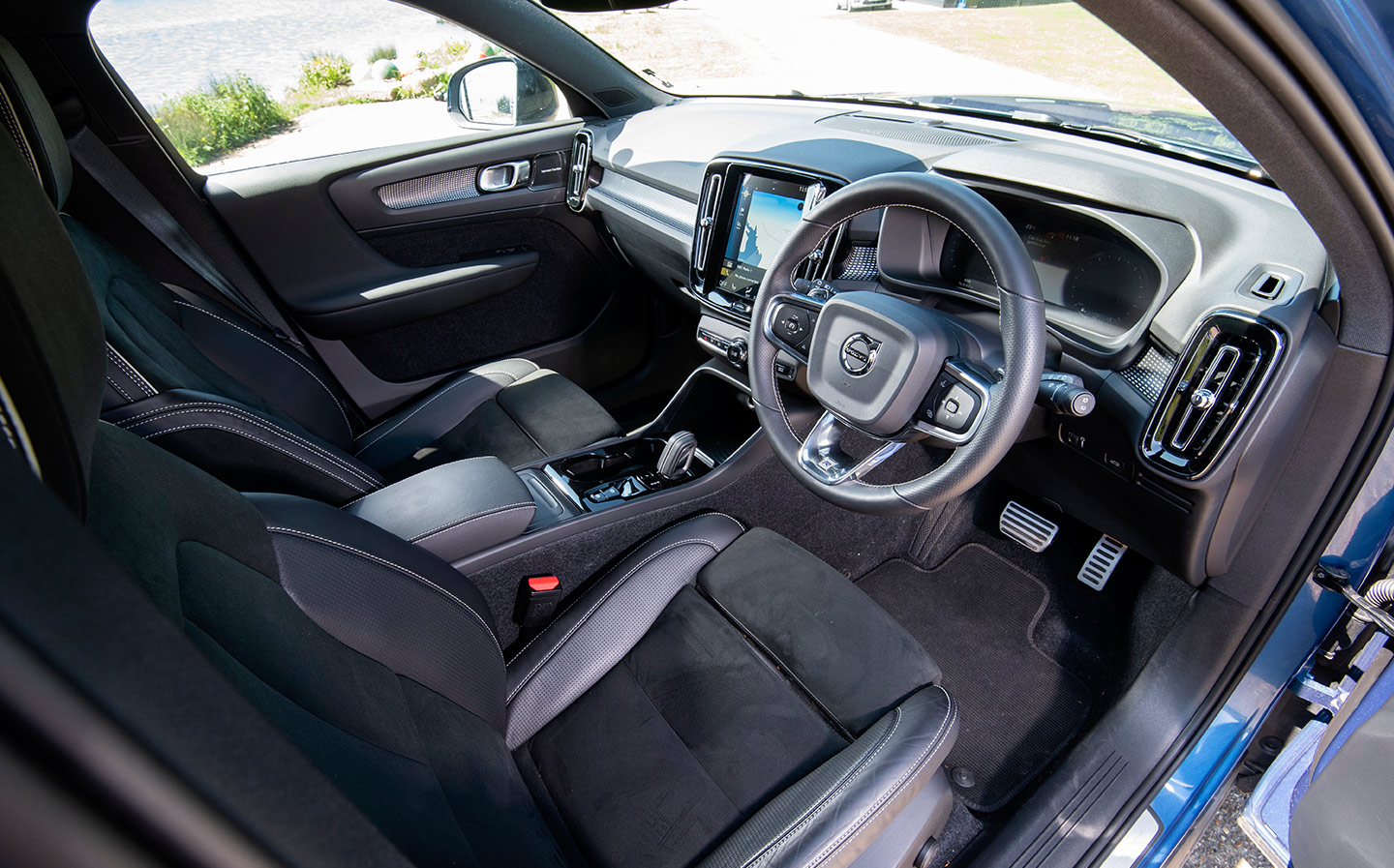 Inside, the distinctive design continues. Of the three cars in our test, the XC40 has the most minimalist look. Volvo has achieved this by handing over responsibility for the majority of controls to a touchscreen.
This is great, until you realise that it gets covered in greasy fingerprints and, because you have to scroll through layers of menus, can draw the driver's eyes from the road for an alarming amount of time.
That's one way of demonstrating the car's myriad electronic driver aids, we suppose.
There's also digital instruments, wireless charging for phones, Apple CarPlay and some of the largest door bins we've yet had the pleasure to fill with keys, wallets and discarded chocolate bar wrappers — made possible by moving the speakers to the tops of the dashboard and doors.
Volvo refers to the speaker positioning as Air Woofer technology, which sounds like an ideal feature for dog owners. All we know is that with the optional Harman Kardon audio system, the sound quality is better than being in the front row of an Abba reunion gig.
The aesthetic qualities are a cut above the BMW and Lexus. Glance around and it all looks cool, feels solid and reminds you that Volvo has really found its mojo of late. And just as some German car makers are licking their wounds from one scandal or another.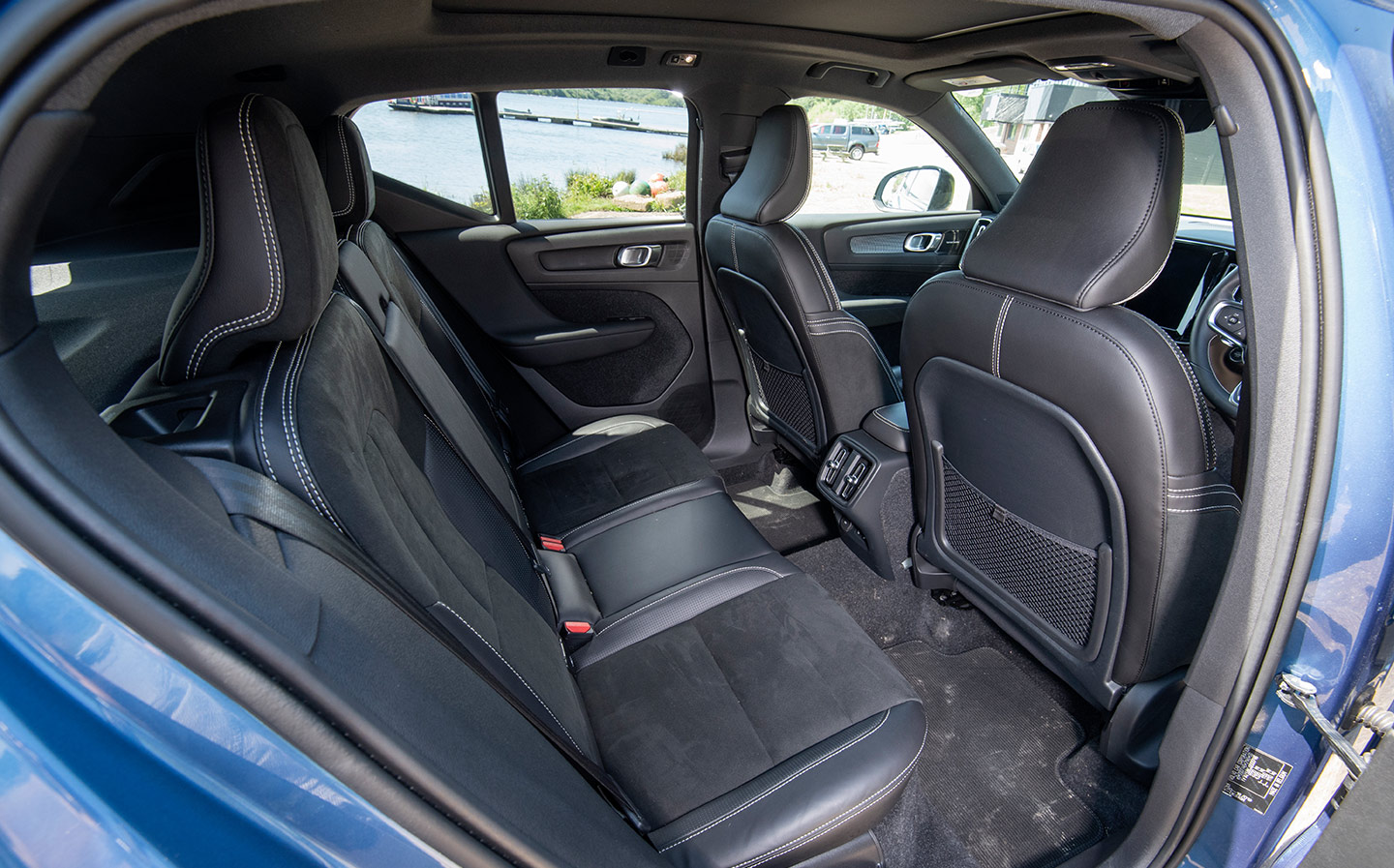 When it comes to stretching out in comfort, there's precious little to separate these three SUVs. All offer comfortable seats and generous amounts of room in the back, while the Volvo provides back seat passengers with air vents and heated outer seats and a tilt/slide panoramic roof, in this First Edition specification.
The boot is a good, square shape and comes with a ski hatch, 12V power sockets, catches to fold down the seat backs, and a false floor.
The latter is nothing new – all these cars have one – but the Volvo's clever party trick is to concertina into a boot divider, allowing you to put the week's grocery shop behind it whille bags hang from integrated hooks. It's another example of how Volvo is doing a good job of making cars work smarter around everyday life.
So far, so practical. What about the driving experience? As the representative for pure petrol power in this group, the XC40 features a 2-litre, four-cylinder petrol engine with 243bhp, which is channelled through an eight-speed automatic gearbox and an all-wheel drive system.
It is, in this company, something of a star. Silent at idle, smooth throughout the rev range and packing plenty of performance to make effortless progress, it serves to remind drivers just how much more pleasant petrol engines are than nearly all, equivalent four-cylinder diesel engines and hybrid powertrains.
The rest of the package is impeccably behaved. The XC40 feels taut and composed, with light steering that is judged about right for a Volvo that isn't trying to be a sports car.
The handling is tidy and the ride comfort is better than the BMW or Lexus. It also makes an outstanding long distance cruiser, thanks to that refined and punchy engine.
There's the opportunity to adjust the way the car responds, using the driving mode menu, but we suspect most owners will ignore Dynamic, Off-Road and Individual, and jump between Comfort and Eco.
However, the electronic lever for the automatic gearbox can irritate, as it required a double-push or pull to switch from Drive to Reverse, or vice versa.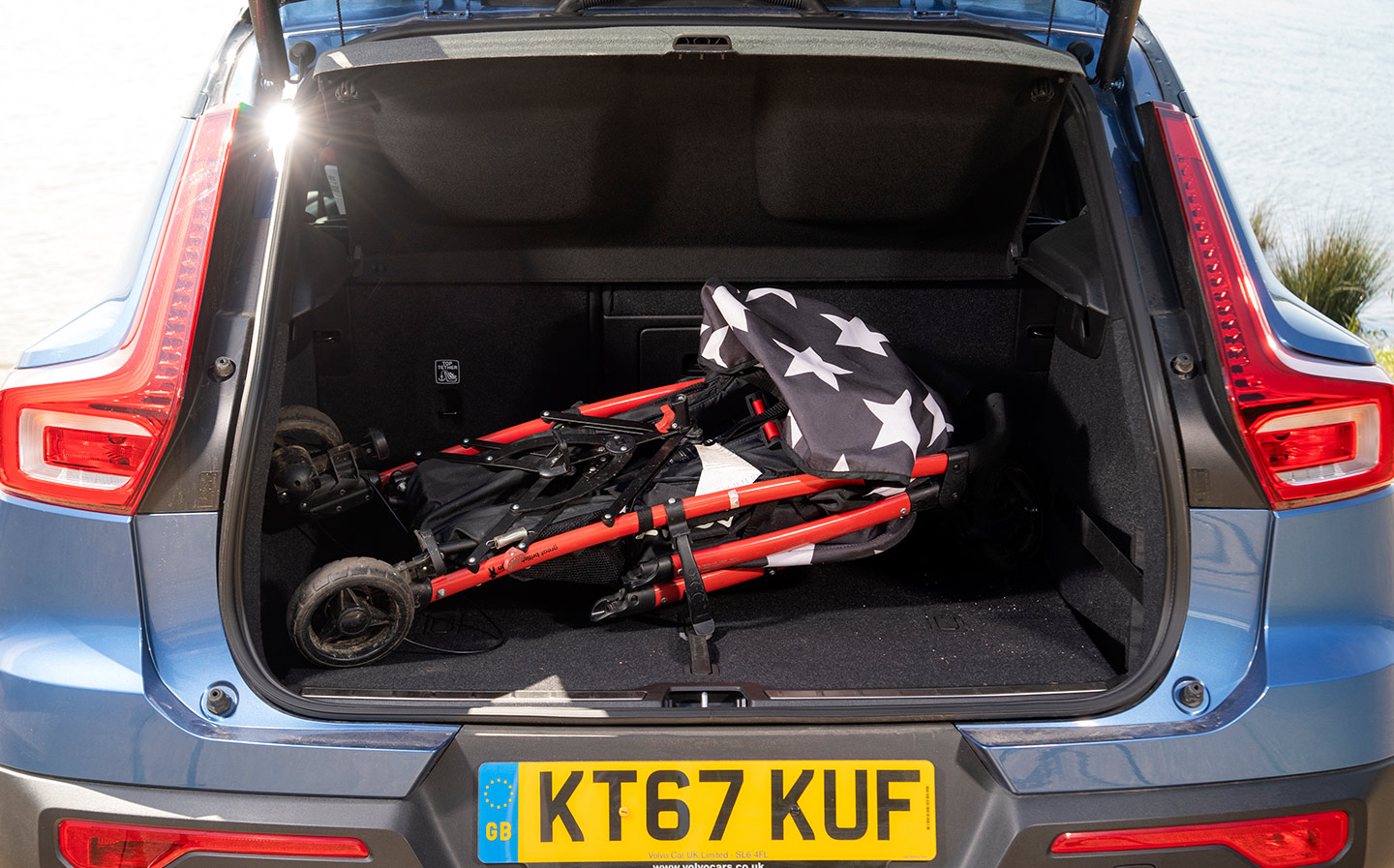 The only cause for alarm was the autonomous emergency braking system. It's one of the few cars we have driven that has misread the road ahead; cars parked to the side, well off the road, triggered emergency braking without warning.
It was a relief, on both occasions, that there was no traffic following, and serves as a reminder that such semi-autonomous systems are not yet a match for an alert driver. Unfortunately, alert drivers seem to be hard to find these days.
This is a chilled, confident SUV that goes its own way and feels all the better for it. A plug-in hybrid, known as the T5 Twin Engine, is joining the XC40 range in the future but for now, anyone looking for an alternative to diesel should start their search here.
Be mindful, though, that by picking the First Edition trim level with this engine, the list price of more than £40,000 increases the road tax bill substantially.
Lexus NX 300h F Sport review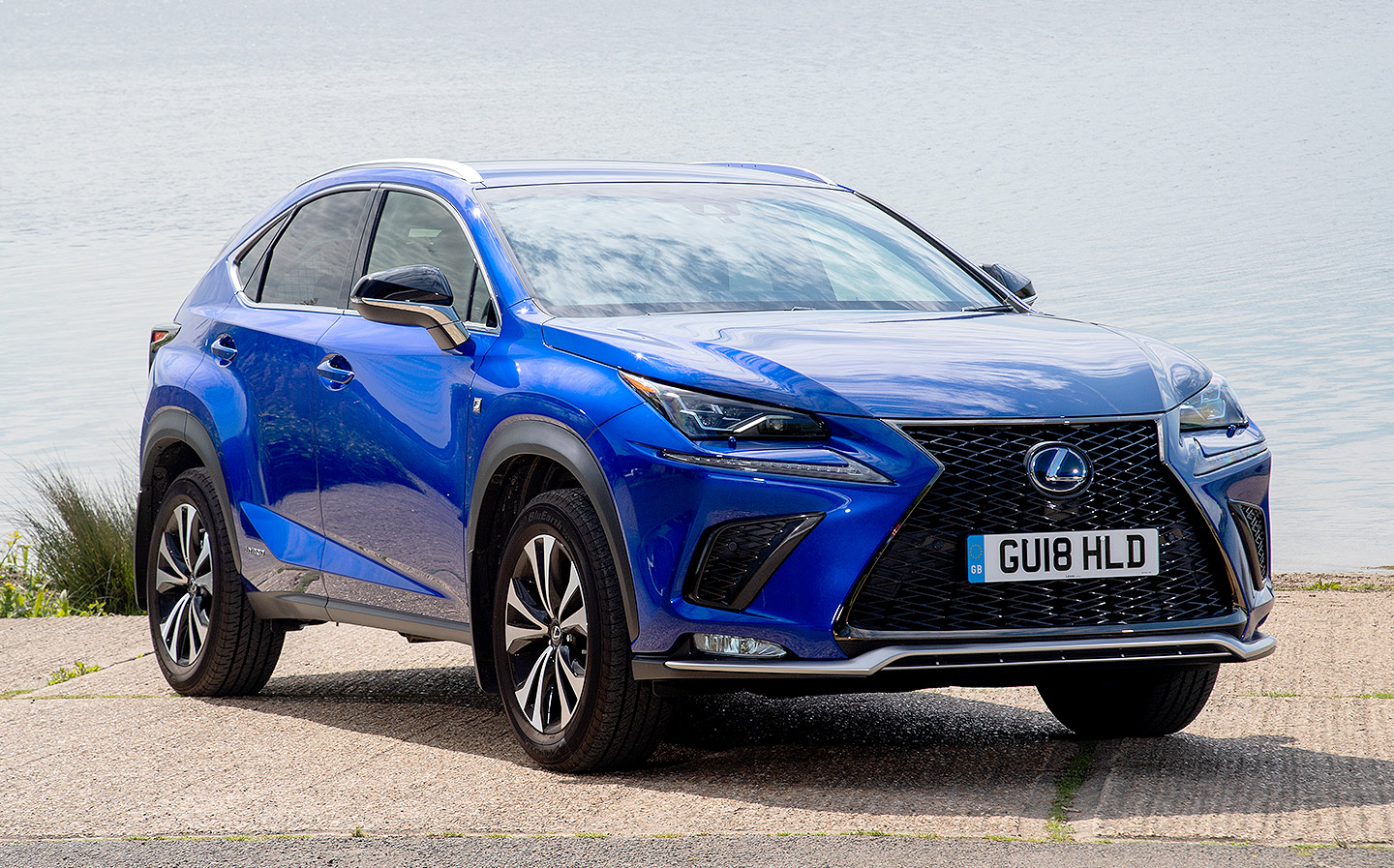 Price: £39,995
If this was a contest for design that gets people talking, we could end things here — the NX would walk it. The designers at Lexus have thrown a lot at their smallest SUV and the result is a car that stands out of the crowd and, judging by our experience, will have the neighbours coming round for a better look.
It starts with the grille, which has enough plastic in it to have David Attenborough leaving protest flyers under the windscreen wipers.
Yet, with the Nike-swoosh shaped daytime running lights creating some interesting angles it succeeds in grabbing attention without turning stomachs.
This theme continues all the way round the car. Walk around it and your eyes are kept busy taking it all in. It gives off an aura of energy, there's a swagger about it, and it makes the BMW look about as conservative as a tub of butter.
There's also that badge. Lexus has come a long way, since it was launched in 1989. Originally, a lot of drivers were drawn to it for the simple reason it was an alternative to German cars.
What they soon learned was that the cars were impeccably engineered, which meant they were reliable, and the dealers couldn't do more to keep customers happy.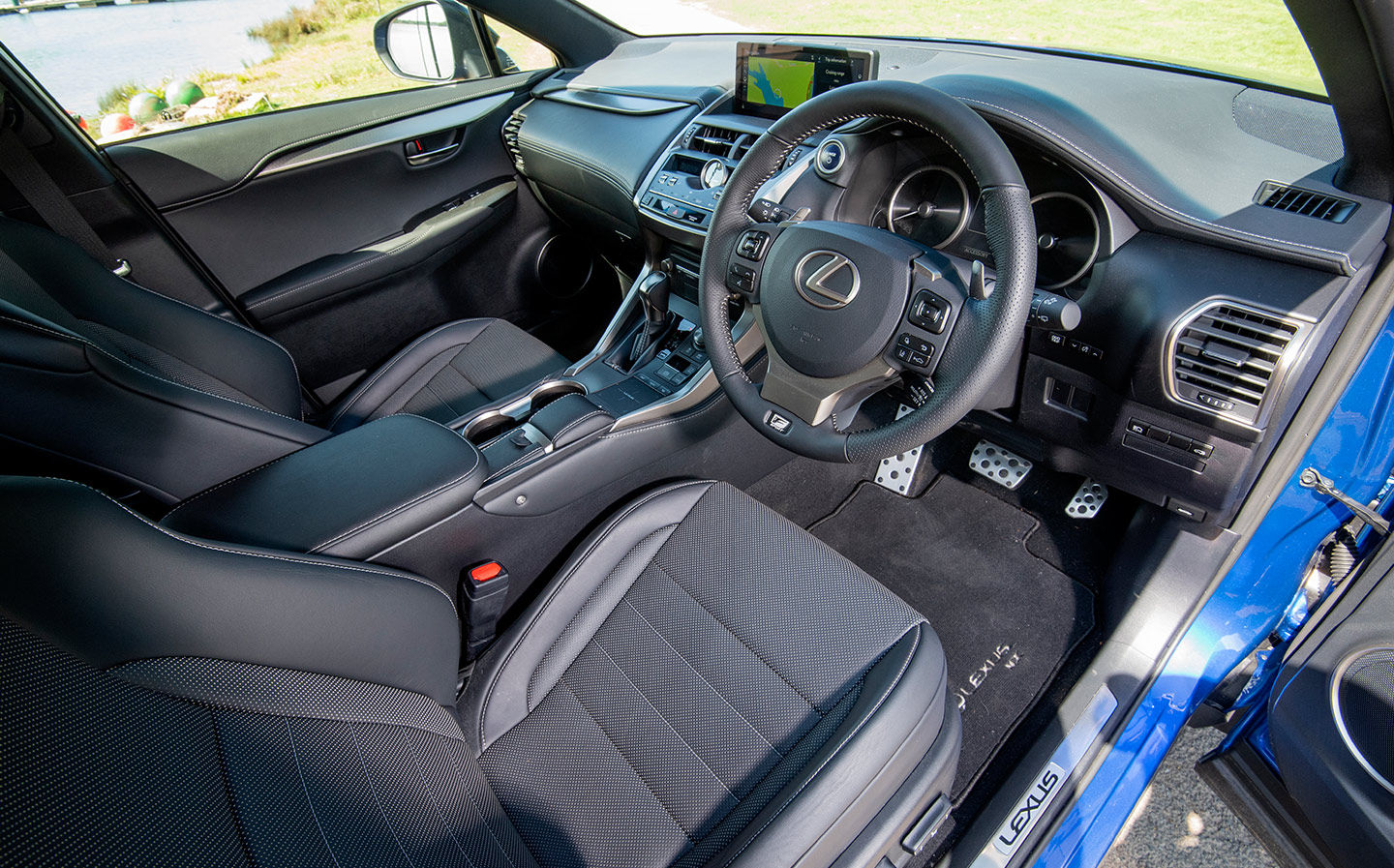 The design theme is carried through to the dashboard. It's different, but busy, with two levels, lots of buttons and no touchscreen. Instead, the infotainment system is controlled by a track pad, which some owners have nicknamed the faff pad.
It's a touch-sensitive pad that you drag your finger around to manipulate the cursor on the infotainment screen, and getting to grips with it is like trying to learn a new language. Like anything, it just takes some getting used to, but to our mind, the rotary dial, as fitted to the BMW X1, is the most intuitive thing to use and, in turn, the least distracting.
There are big sporty-looking, aluminium-effect pedals, the driving position is good and you grasp a chunky steering wheel, while much of what you can see is wrapped in thick, nicely stitched leather.
Some of the switches, with a turned aluminium effect finish, feel slightly cheap, but you can't fault Lexus for trying something different. It's also practical, with lots of storage space.
In the back seats, there's good knee room and the seat backs have a tilt function, helping passengers get more comfy or better accommodate the shape of a childseat.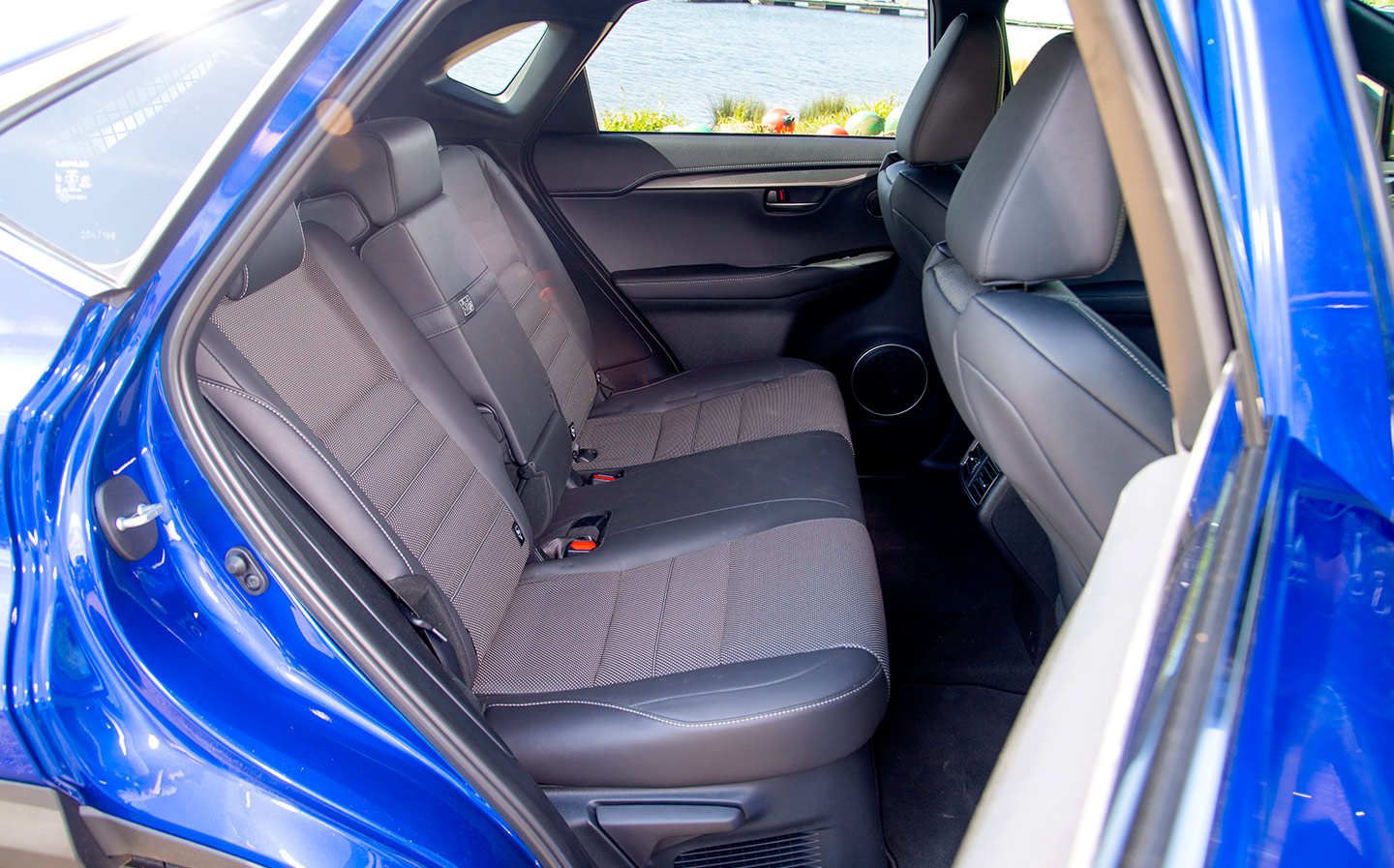 It's a shame there are no 12V sockets, though, and the roofline feels lower and therefore more enclosed, but there are air vents to keep everyone chilled.
A quirk we discovered with the NX is that, after the doors lock as you pull away, you can't then stop and open the tailgate unless you remember to first manually unlock the doors. That's the case even if you try doing it via the interior button, on the dashboard, or have opened the driver's door and walked round to the rear.
Like all these cars, the boot is a good size (even with the optional cage we had fitted), has a false floor and carries a space-saver spare wheel, and it comes with a 12v power socket and tie-points.
But the back seats can only be lowered using handles inside the back doors, built in to the seat base.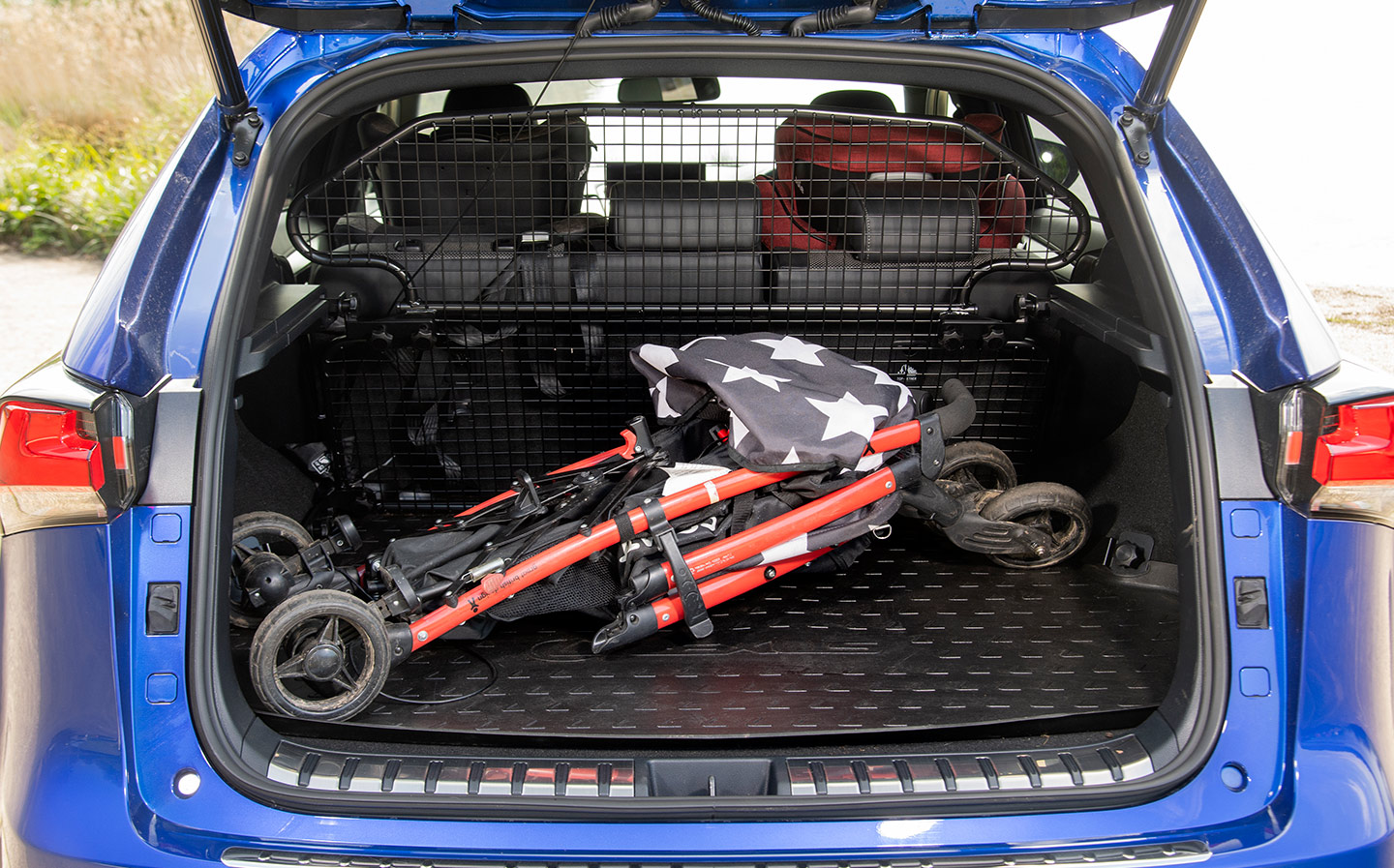 Enough about the boot… what about the promise of the technology that lies beneath the floor – the petrol-electric hybrid system?
This is a mild hybrid, which means there's no need to plug it into the mains electricity supply.
Instead, it charges its high voltage battery via the 2.5-litre petrol engine and regenerative braking. It asks nothing of the driver – good to know for those weighing up a switch from diesel.
It also calculates when best to engage the two electric motors, when to use the engine, and when to combine the two. In other words, it takes care of everything for you.
You can switch to an electric-only operating mode, but the range is little more than a mile at best. In 30mph zones, though, the car's able to spend a surprising amount of time running on its electric motors.
There are three driving modes — Eco, Normal and Sport — and as with all these cars, Normal works the best. This car's ride is quite harsh enough, thank you very much, without switching to Sport and the firmer damper setting.
Which is a surprise, given the NX 300h has the tallest profile tyres here, and perhaps a reminder that it is heaving around an extra 100kg in weight than even the four-wheel drive Volvo.
There's something called Active Sound Control adjustment, which sums up the car's personality, or lack of… it's supposed to create a more sporty engine note for the cabin but it's a horrid, artificial noise, in reality.
And contrary to the way the NX looks, there's nothing very sporty about the way it drives. The harder you push it, the noisier and less pleasant it becomes. It also feels heavy and cumbersome on the brakes.
Let's say something nice, though…
For most of the time, you'd never know that this was a four-wheel drive car, which is a sign of a decent system. Drive to the back wheels is provided by the rear electric motor, and it only engages when the front wheels lose traction. For most drivers, in most conditions, to all intents and purposes the Lexus spends its time behaving much like a front-wheel drive car.
Can it match the fuel economy of a diesel, though? In our hands, it did, recording 38-40mpg — around the same as the BMW. [See the panel, below, for more detail]
Despite this car's kerbside swagger and F Sport billing, it feels at its happiest being used in the frugal fashion most drivers of family cars adopt, as they keep an eye on fuel bills and sleeping children in the back seats.
And finding that it has the ability to match the fuel economy of diesel is food for thought for those pondering a change.
BMW X1 xDrive 25d M Sport review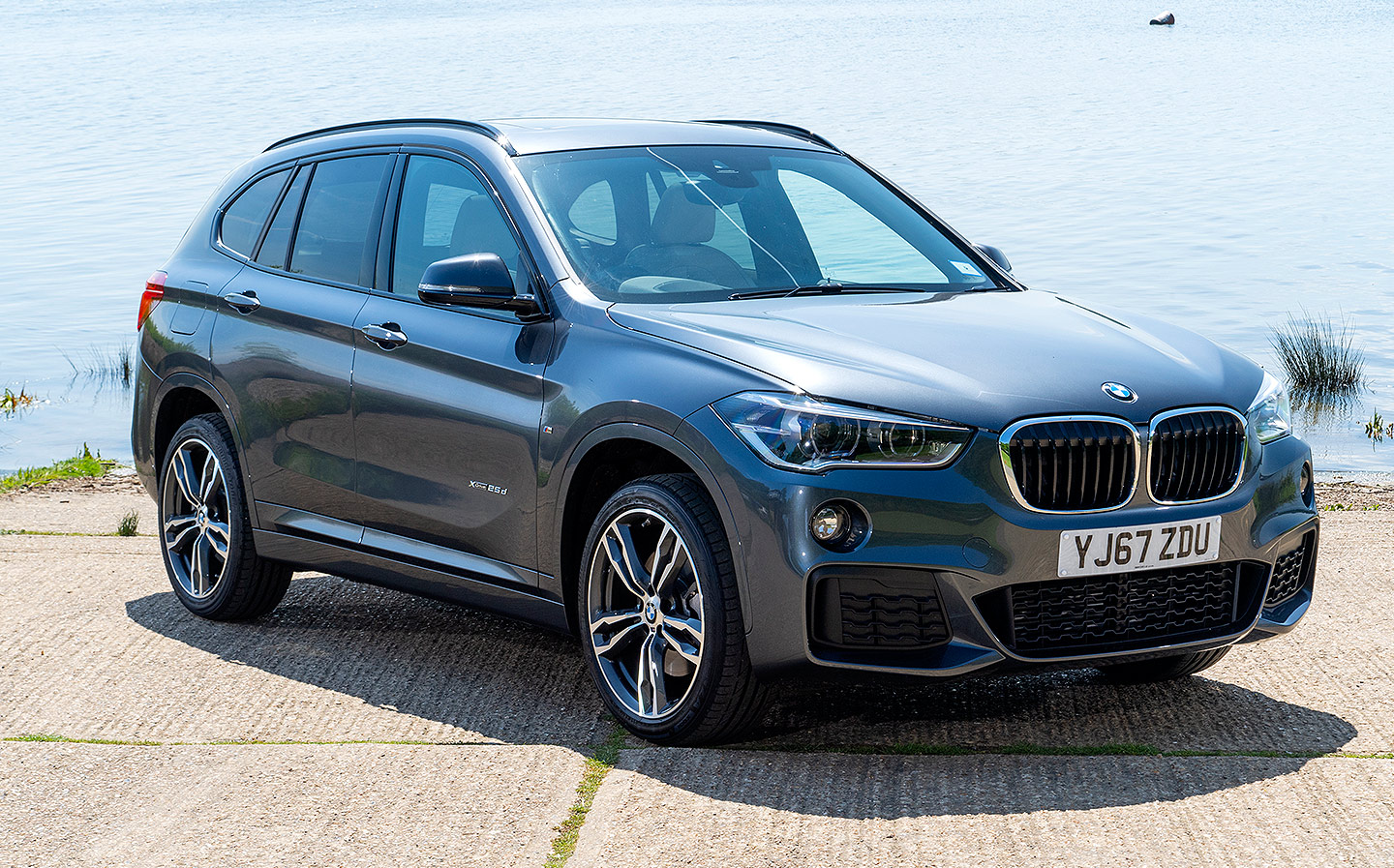 Price: £38,950
It is a measure of how competitive things are in the SUV market, and what a good job Volvo and Lexus have done, that the BMW looks underwhelming in this company.
With some car companies, you can feel when the design department is on a roll and able to argue the case for being bold and progressive. That used to be the case at BMW, too. But these days, the German car maker appears to be playing it safe, perhaps paying too much attention to focus groups and adhering to the Russian Dolls formula for making small, medium and big SUVs appear like scaled versions of one another.
That doesn't matter, fans of the car maker will tell you, because you're getting the "ultimate driving machine". But are you? We'll come to that in a moment.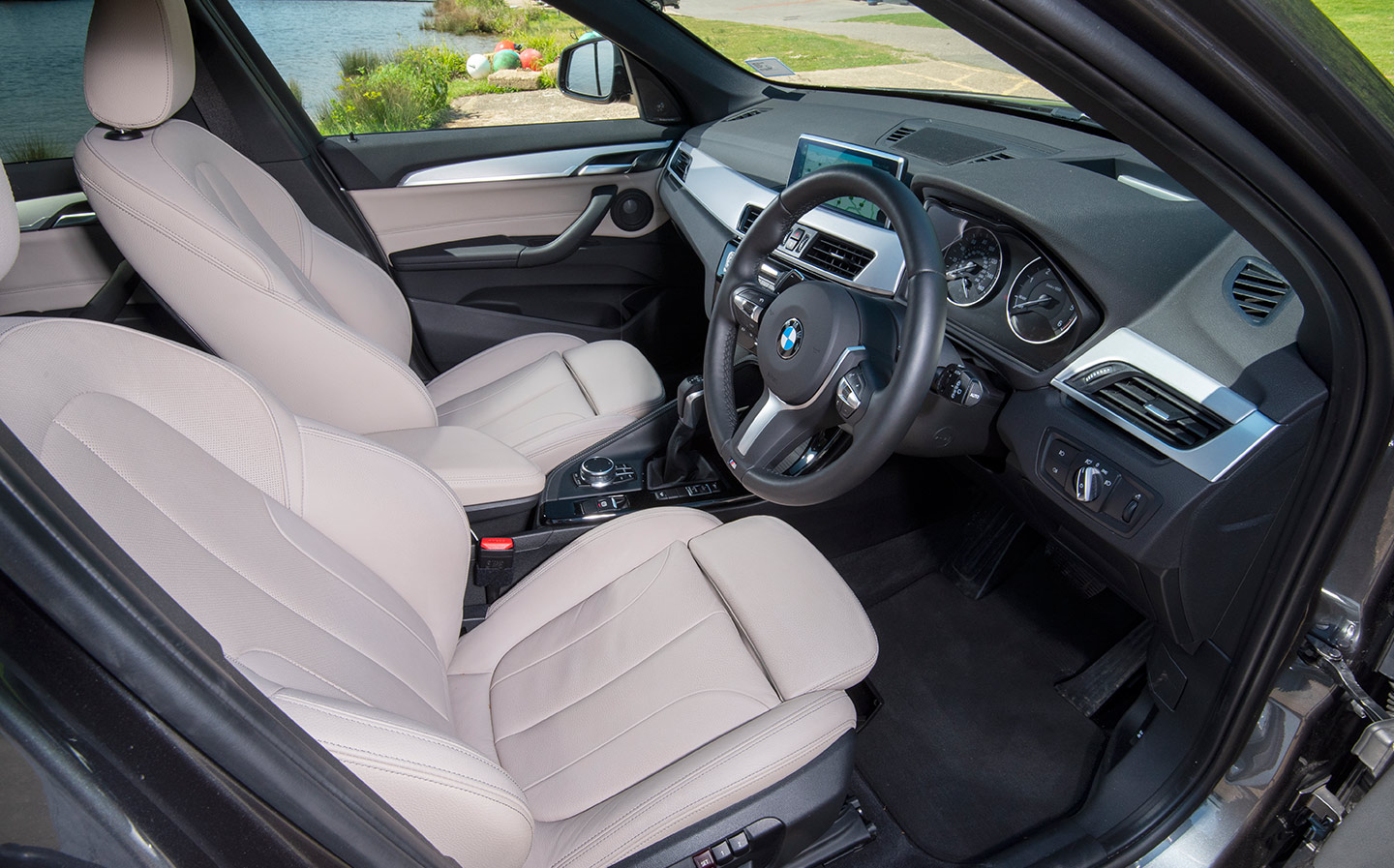 First, a look inside. The cabin design divides opinion among our testers. Some say it looks stylish and feels well made, others argue the look of BMW interiors has had its day, and companies including Audi, Mercedes and – notably in this company – Volvo are moving the game on.
Whatever your view, there's no faulting the ergonomic layout and clarity of the controls. BMW retains the most buttons for features such as the audio system and the climate control, and the rotary controller gives the most intuitive control of all the infotainment menus, resulting in the least eyes-off-the-road distraction time.
There are also analogue dials, which feels dated compared with the Volvo, especially. Both other cars have helpful digital displays and graphics, which gives more scope for helping coach drivers who want to make their fuel travel as far as possible.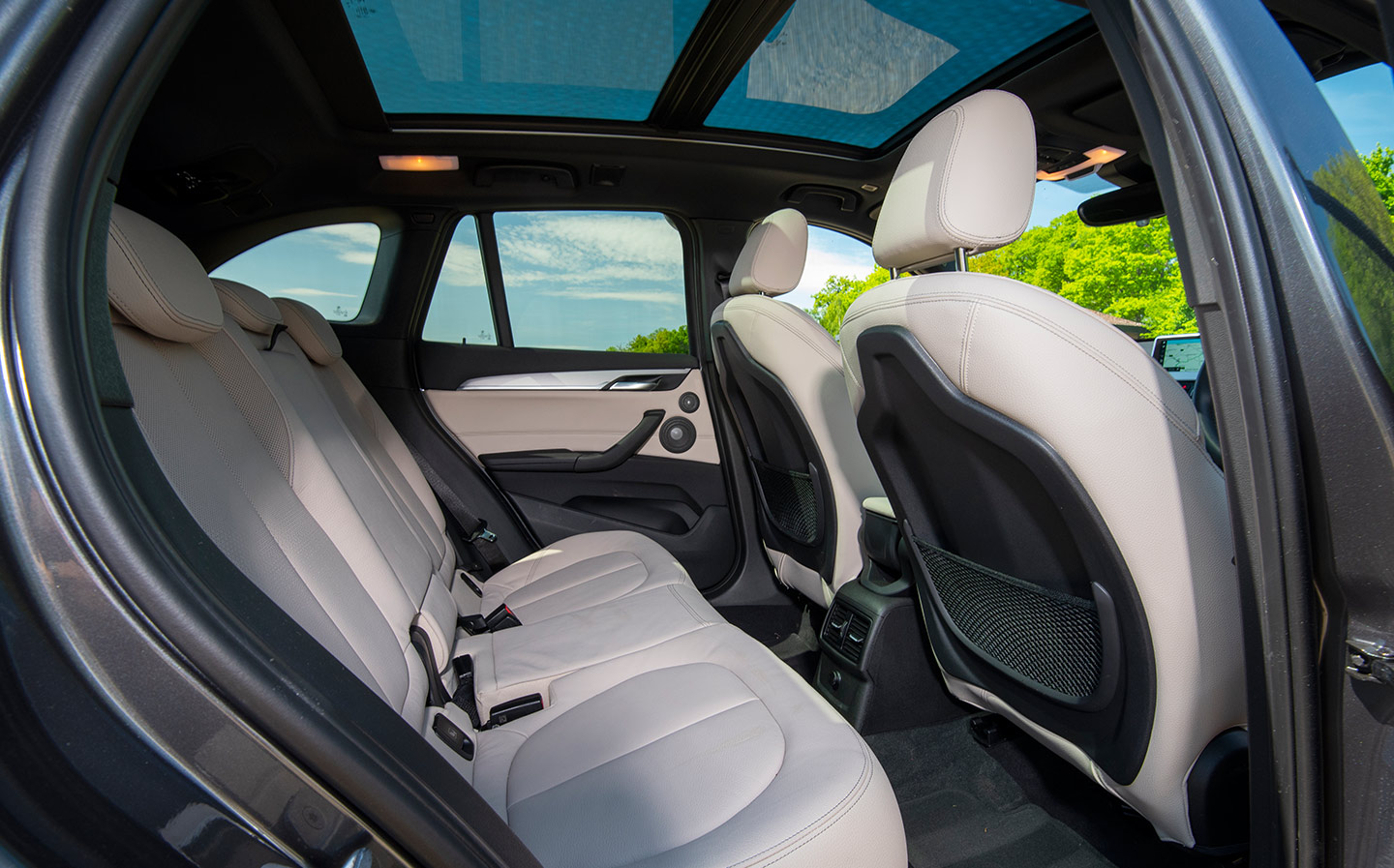 It's not as practical as the Volvo, too, with less stowage space, but counters with the most legroom for back seat passengers.
Although the boot appears shallow, it hides a seriously large underfloor compartment, and the seats can be reclined from switches in the boot. It's also possible to adjust the recline of the backrests.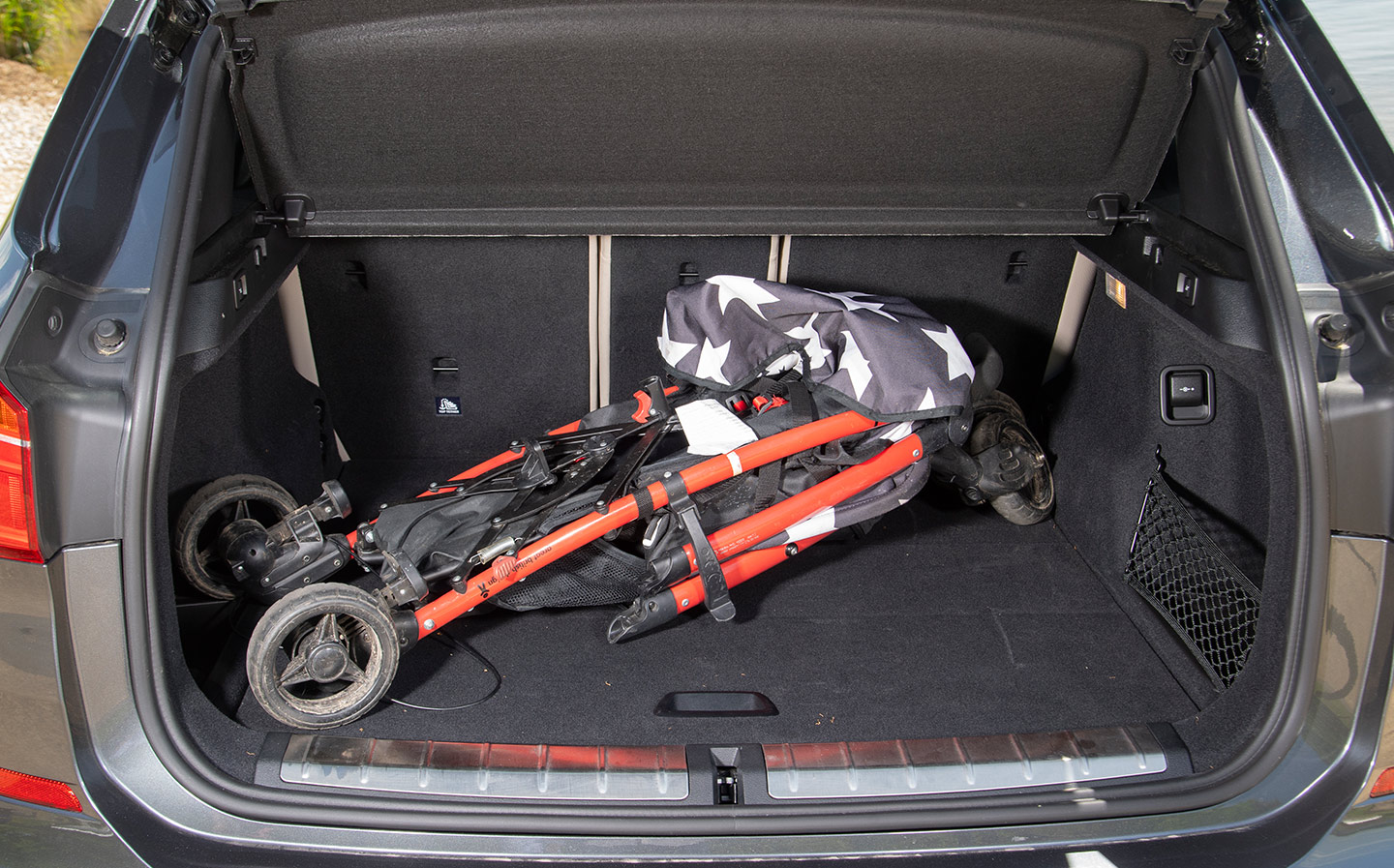 This adds up to a practical SUV. But will the so-called "ultimate driving machine" walk the contest when it comes to hitting the road?
There's an upset straight away. Start the diesel engine and the most unpleasant grumbling sound fills the air and filters through into the cabin. The 2-litre, four-cylinder unit would benefit from being sent to finishing school, and that racket continues as you power up through the gears of the eight-speed automatic. It's a reminder of just how refined petrol engines are by comparison.
The fuel economy and driving characteristics go some of the way toward compensating. The consumption – 39mpg [see panel below] – is better than the Volvo and a match for the hybrid Lexus. And the ample supply of power from low in the rev range makes for effortless progress.
But there's no getting away from the fact that the noise and vibration are unwelcome, and constant, companions, especially in a car costing more than £40,000.
As for the handling and ride comfort, neither match the Volvo. The steering feels plain peculiar, the ride is unsettled (and too much tyre noise enters the cabin – we blame the run-flat tyres) and the handling is not all it's cracked up to be.
Adjusting the car's driving modes, from Comfort to Eco to Sport, does alter the response of the gearbox and engine but never gets round the fact that the car doesn't feel as polished as the Volvo.
For many drivers, diesel may still be the fuel of choice. But this comparison shows that there are alternatives – genuinely good alternatives, in fact, for those who travel less than 10,000 miles a year.
It also shows that by taking its time and not rushing into the compact SUV market, Volvo has been able to create a remarkably good car. A car that could just be the very definition of hygge. Whatever that really means.
---
Browse NEW or USED cars for sale
---
Fuel economy: how the petrol, hybrid and diesel SUVs compare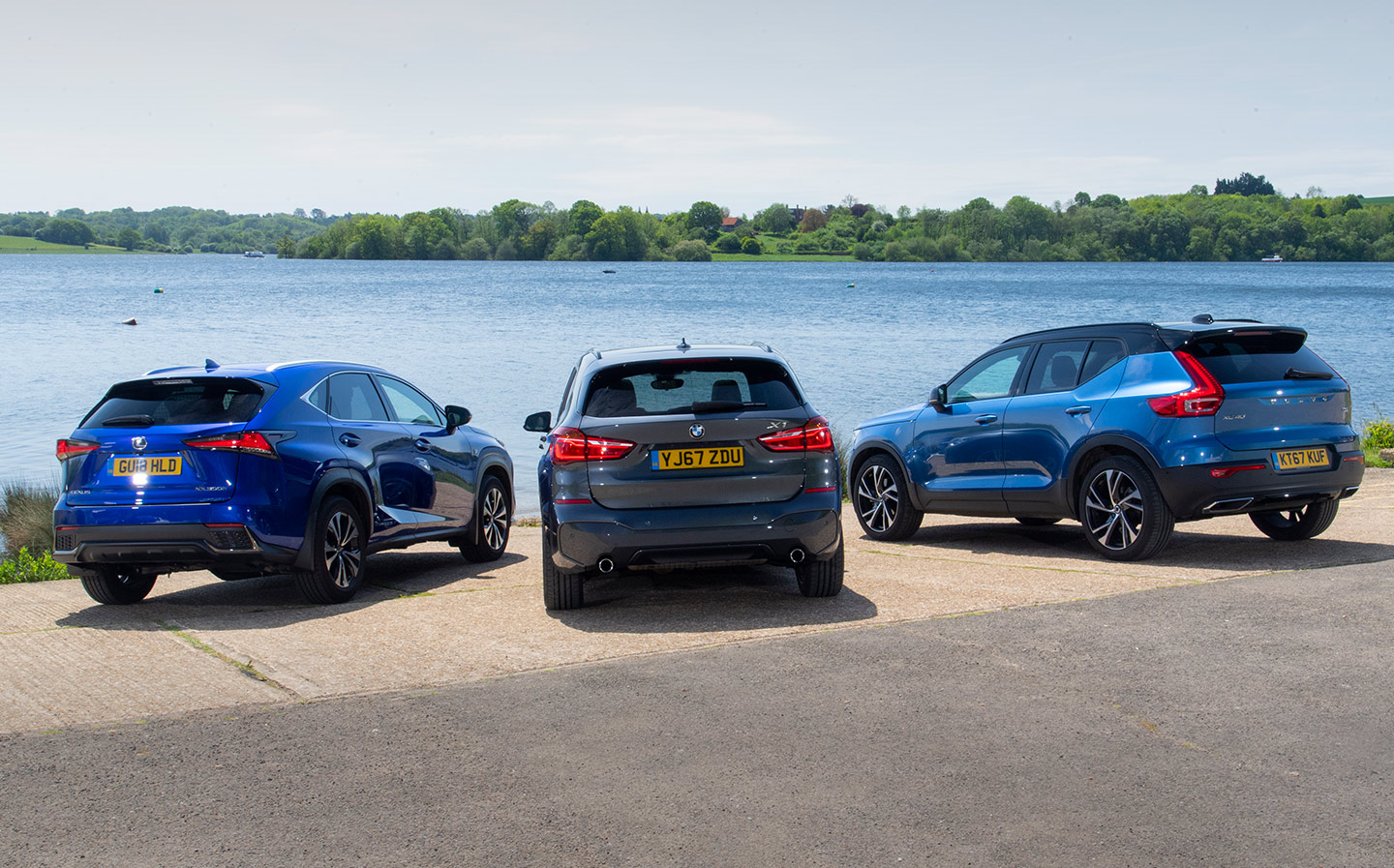 Drivers have been encouraged by past governments to choose diesel-powered cars, as authorities attempted to lower the average CO2 emissions of new cars. Now diesel is under the spotlight, following the VW dieselgate emissions cheating scandal, and concerns over the levels of harmful particulates emitted by diesel engines.
Some corners of the car industry counter that diesel cars have never been cleaner. Others suggest hybrid, or plug-in hybrid is the way ahead. All the while some drivers, concerned about the impact of their car on the environment and air quality, wonder whether the time has come to return to running a petrol car. So what's the answer?
Needless to say, there is no one-size fits all solution. And company car drivers will have their own, individual priorities. However Driving.co.uk put all three cars through their paces to see how their fuel economy and cost of driving 10,000 miles a year compared.
Petrol Volvo economy
We are often told petrol cars have a bit of a drink problem, but the Volvo XC40 T5 AWD First Edition is claimed to return 39mpg and emit 168g/km of CO2, which doesn't sound too bad, does it? But what about in day-to-day use, rather than lab tests?
We achieved an average of 31mpg, over the course of a week's driving. And the Equa Index fuel economy test, which precisely measures all new cars on a defined road route, recorded 27mpg, meaning most drivers should achieve somewhere between the two figures.
Diesel BMW economy
By contrast, the diesel-powered BMW X1 25d managed 39mpg in our hands, and 42mpg in the Equa Index economy test, against a claimed combined economy figure of 55mpg.
Lexus hybrid economy
The Lexus NX300h combines a petrol engine with an electric motor, and this so-called self-charging hybrid system is claimed to achieve 54mpg. In our tests, it returned an average of 38, while the Equa Index rated it at 42mpg. So, it's giving the diesel-powered BMW a run for its money.
FUEL COSTS OVER 10,000 MILES
Based on the economy we experienced when testing the cars, and using the AA's average UK fuel prices for April, this is what the three cars would cost to fuel over one year and 10,000 miles:
Lexus (hybrid) £1,452
BMW (diesel) £1,485
Volvo (petrol) £1,780
Car specifications compared
| | | | |
| --- | --- | --- | --- |
| | BMW X1 xDrive25d MSport | Lexus NX300h F Sport | Volvo XC40 T5 AWD First Edition |
| Price | £38,950 | £39,995 | £40,070 |
| Power | 228bhp | 194bhp | 247bhp |
| Acceleration | 0-62mph: 6.6 | 0-62mph: 9.2 | 0-62mph: 6.5 |
| Top speed | 146mph | 112mph | 140mph |
| Economy | 55.4mpg | 54.3mpg | 39.8mpg |
| CO2 | 133g/km | 121g/km | 166g/km |
| Road tax | £205 first year, then £140 a year | £165 first year, then £130 a year | £515 first year, then £450 a year |
| Boot space | 505 litres | 475 litres | 432 litres |
How do the Volvo, Lexus and BMW compare with the best-selling plug-in hybrid electric vehicle?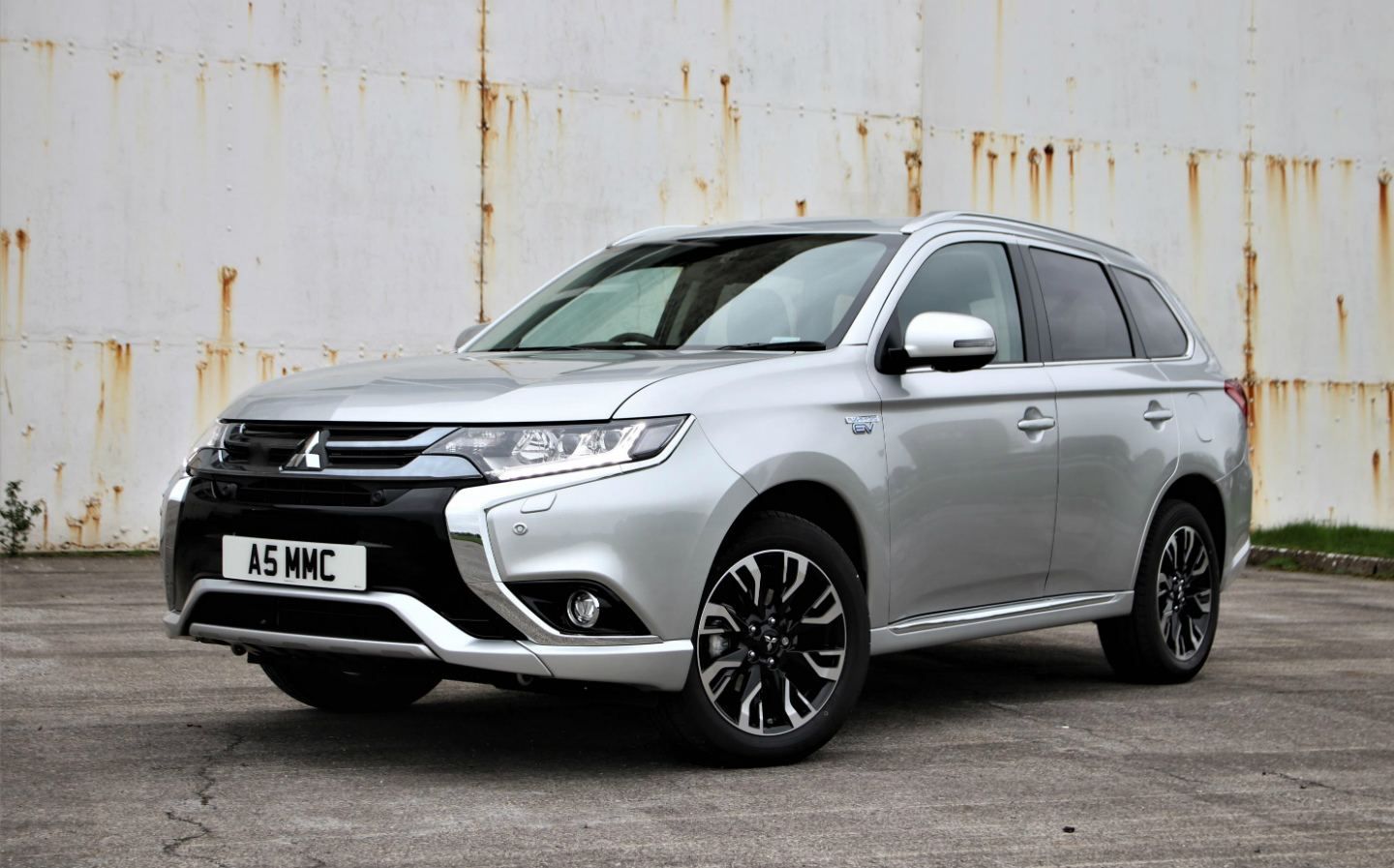 Do you know what was the best-selling plug-in car last year? It wasn't a fancy Tesla, squeaky-clean Nissan Leaf or clever BMW i model; instead, a Mitsubishi topped the sales charts.
Once again, the Outlander PHEV proved to be the most popular car that can be charged from mains electricity. Why? Most likely because it's an SUV at a comparatively affordable price, that brings the tax and fuel economy advantages of a plug-in hybrid electric car.
It is claimed to offer a combined average fuel economy of 166mpg, has CO2 emissions of 41g/km and the driving range on battery power alone is a claimed 33 miles.
After driving a £39,055 '4hs' model for a week, we couldn't get close to the 33 mile battery range. It was roughly half that in a mix of 30mph, 40mph and 60mph motoring.
It was interesting to note that the Outlander's plug-in hybrid system is exceedingly keen to use the battery and electric motors exclusively, unless you floor the throttle. So it depletes early into your journey, but the car allows you to recharge it using the petrol engine as a generator, which is handy but hardly efficient.
For school runs and commutes, not to mention reducing the company car tax bill, this car makes a deal of sense. It can be recharged from empty to full using a household socket, which takes five hours; have a dedicated charging box installed, and that is reduced to 3.5 hours.
There's also meaningful performance from the electric motor, so you never find yourself holding up traffic, and with the petrol engine joining in, the Outlander feels nippy.
However, everything else about it comes as a shock after driving the BMW, Lexus and Volvo. It feels like a museum piece, drives poorly – the steering, ride comfort and body stiffness are particularly bad – and the interior emits lots of creaks and rattles.
Our advice? Consider another plug-in hybrid, or wait for the Volvo XC40 PHEV.