Super investments? Audi R8 V10 vs Jaguar F-Type SVR vs Porsche 911 GTS
Super sports car triple test
HAS THERE ever been a better time to have a mid-life crisis? Traditionally, the car to help you reclaim your youth after years of hard-slog was a Porsche 911, but now there are convincing alternatives, and two from Audi and Jaguar spring to mind.
Audi's R8 V10 and Jaguar's F-Type SVR are proper, rip-it-up, no-holds-barred super sports cars, good enough to give the Porsche 911 a run for its money.
Note we're refraining from using the term "Porsche slayers". That's because so many Porsche slayers have come and gone, left behind by the simple, zesty formula of flat-six engine in the rear, bags of power and no excess weight has seen off every challenger.
---
Browse NEW or USED cars for sale
---
But there's no doubt that the gap is narrowing and horsepower is cheaper than ever. Once upon a time, a supercar cost as much as a house, but as property prices have gone relentlessly in one direction — upwards — and the cost of supercar-standard power, acceleration and speed has gone down, there's no excuse not to, at least, take one for a test drive.
We've done just that, and here are our verdicts.
Audi R8 V10 plus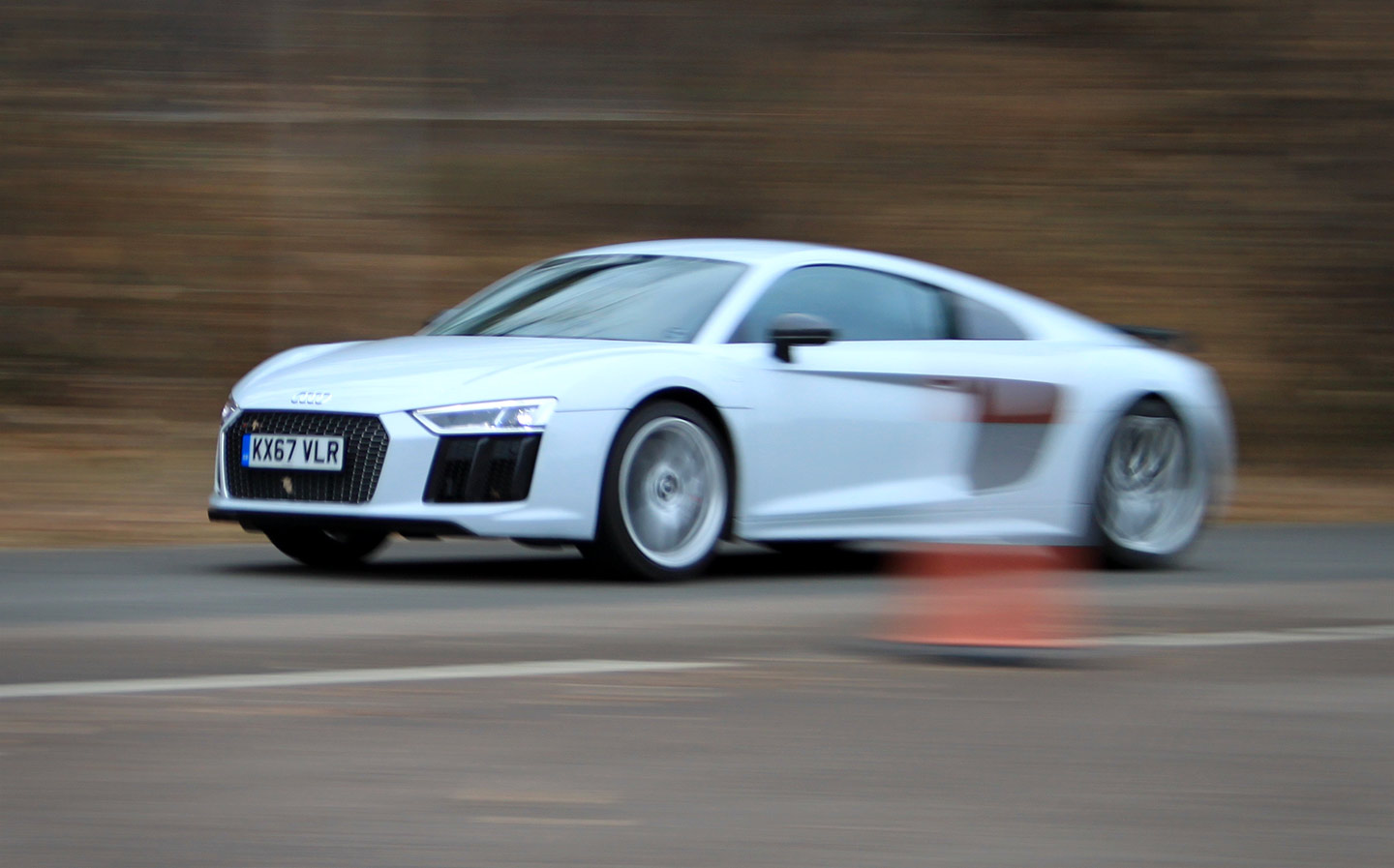 James Mills
The Audi R8 looks as though it has driven straight out of a designer's computer screen. The Porsche and Jaguar are covetable, but it next to the R8's sharp edged silhouette, they look weighed down by decades of history.
It's a similar story inside – if you can get in. Like all these cars, the R8 is not exactly your typical family car. It's the lowest here, with the roof barely rising above the driver's waist, so you have to perform a quick spot of yoga to insert yourself in the driver's seat.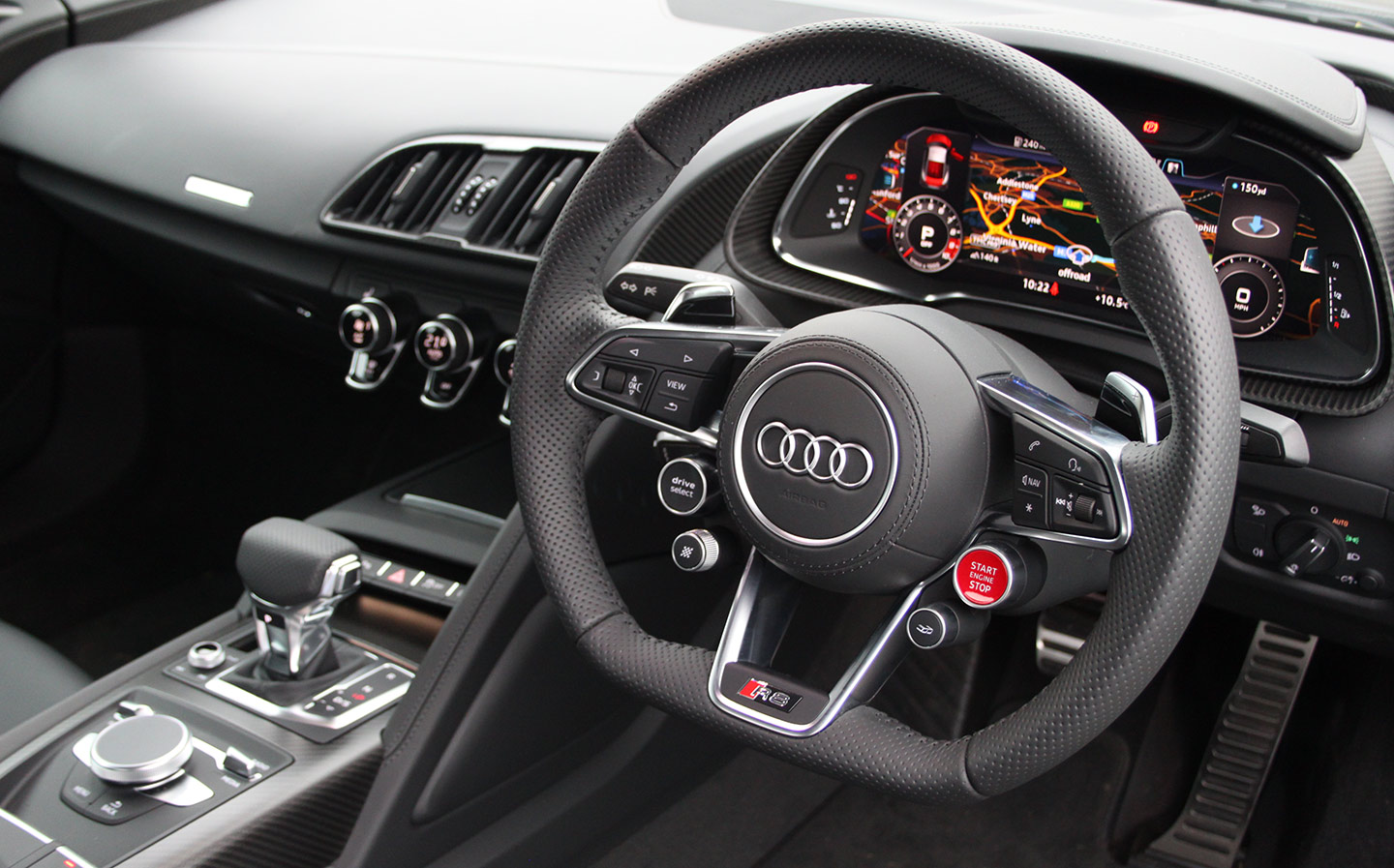 Once in, the dashboard is minimal, like a homage to Steve Jobs. There's just a solitary digital instrument display – known as the Virtual Cockpit – which can be configured multiple ways depending on the information you want to see. If you're going into an unfamiliar city, you might want the panoramic, and detailed, 3D map in front of you. But if you're letting the car off the leash in the Scottish Highlands, then a press of a button brings up a big speedo and rev counter.
Ah yes, the rev counter. One glance tells you all you need to know about this car's secret ingredient: there is a naturally-aspirated, 5.2-litre V10 engine behind your head that will rev to a celestial 8,700rpm.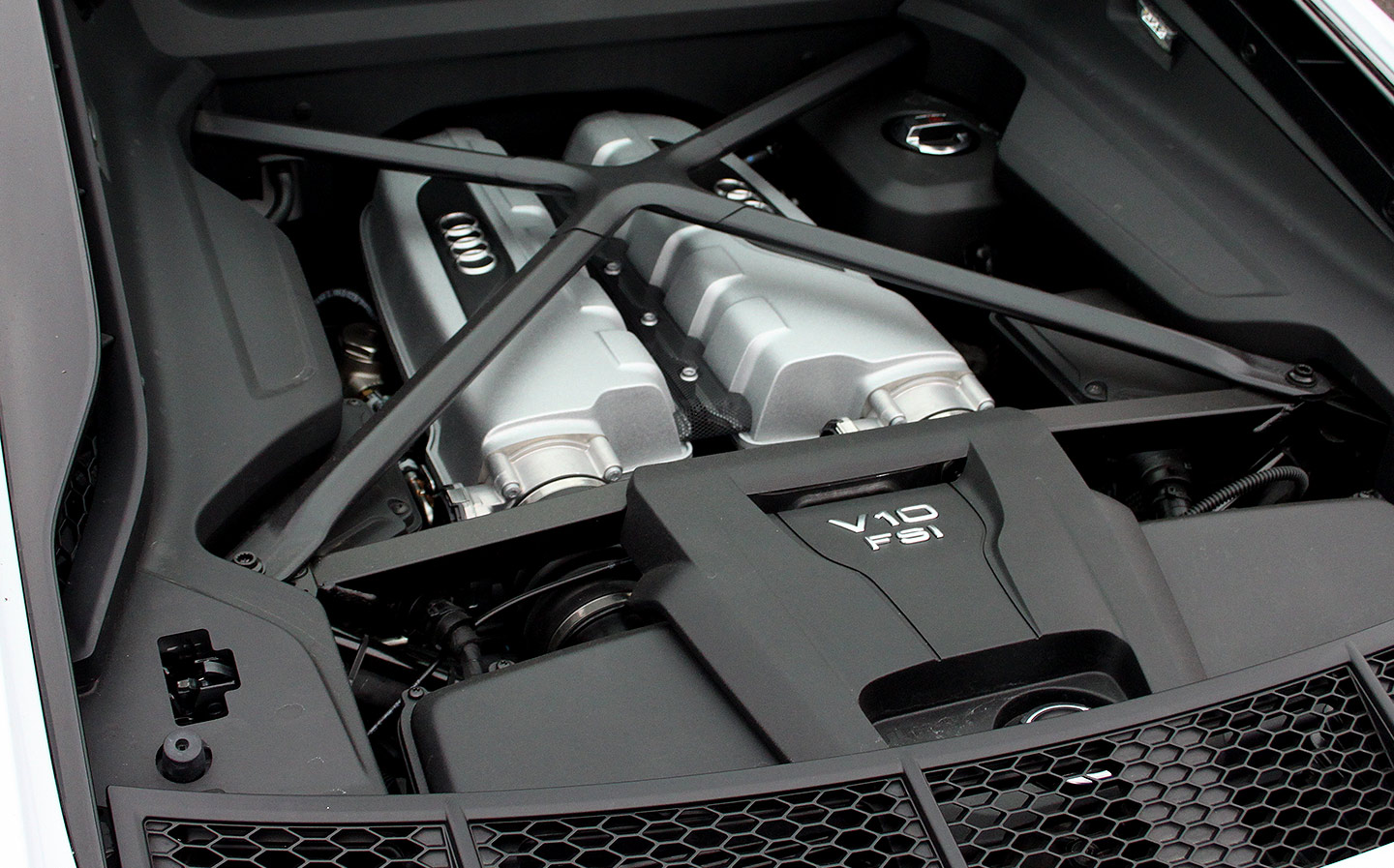 And the noise… boy, it's good. If Audi released a digital recording of the R8's V10 it would shake up the iTunes download charts.
Equally good are the gearbox, brakes and chassis. This is the most precise-handling car of the three, which feels as though it has a centre of gravity that's half that of the Jag and Porsche.
Yet Audi's engineers have pulled off an even more remarkable feat. Despite it being so thrilling and satisfying to drive, an octogenarian could happily drive this car. When you want it to be, it's a pussycat, even managing to ride over potholes as though its suspension is fashioned from parts of Aladdin's magic carpet.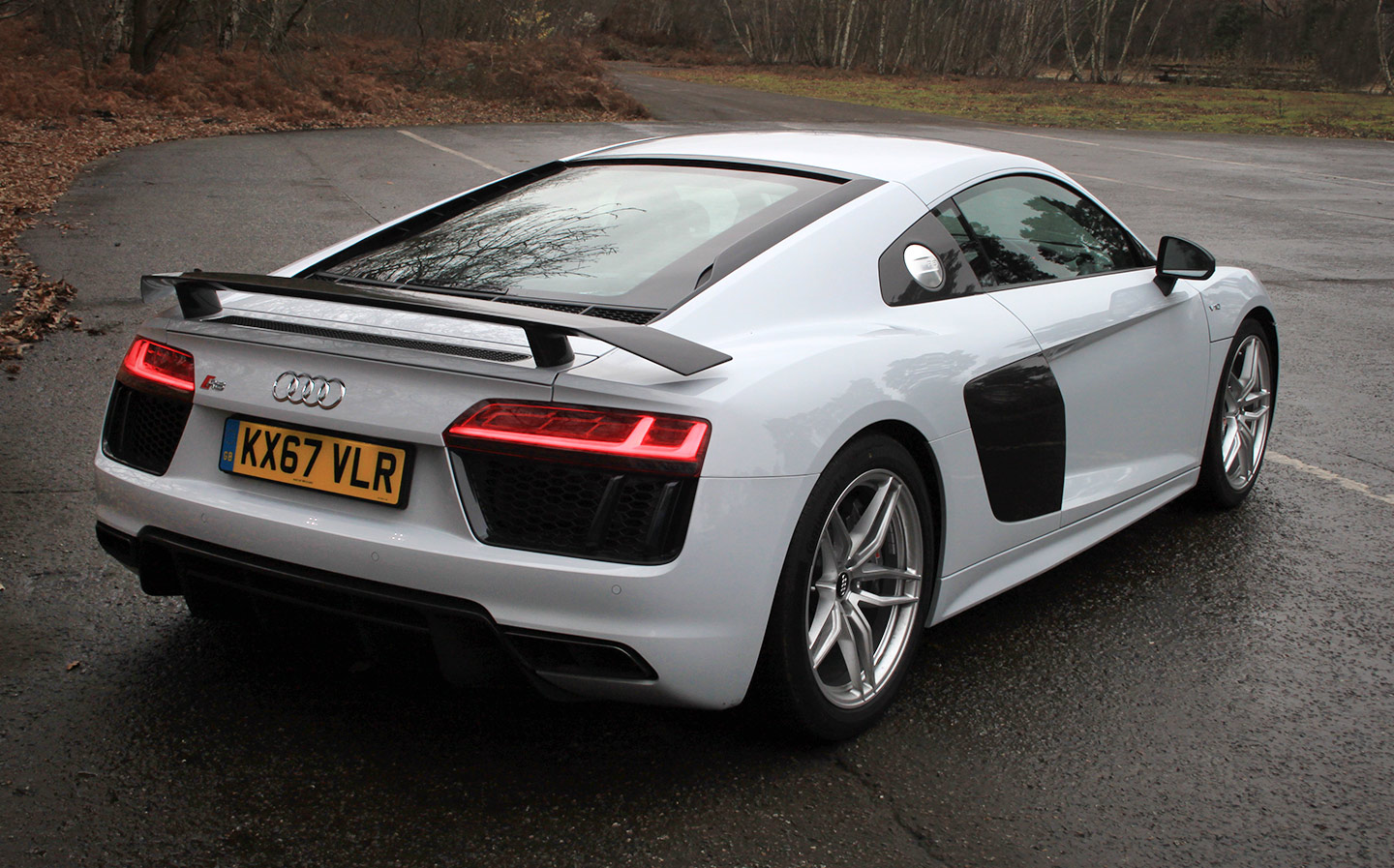 Admittedly, the Porsche is more practical. But anyone buying this sort of car is bound to have a seven seat SUV in the garage as well. And why bring passengers along when you could enjoy it all to yourself?
Some may view the R8 as a trophy to success for displaying on the driveway. But it is so much more than that. This isn't just the best sports car in this company, it is one of the best of all time.
Audi R8 V10 Plus specifications
Price £141,130
Engine 5.2-litre V10
Power 602bhp @ 8250rpm
Torque 413 Ib ft @ 6500rpm
0-62mph 3.2sec
Top speed 205mph
Economy 23mpg
CO2 287g/km
Luggage 112 litres
Tweet to @squarejames Follow @squarejames
---
Browse NEW or USED cars for sale
---
Jaguar F Type SVR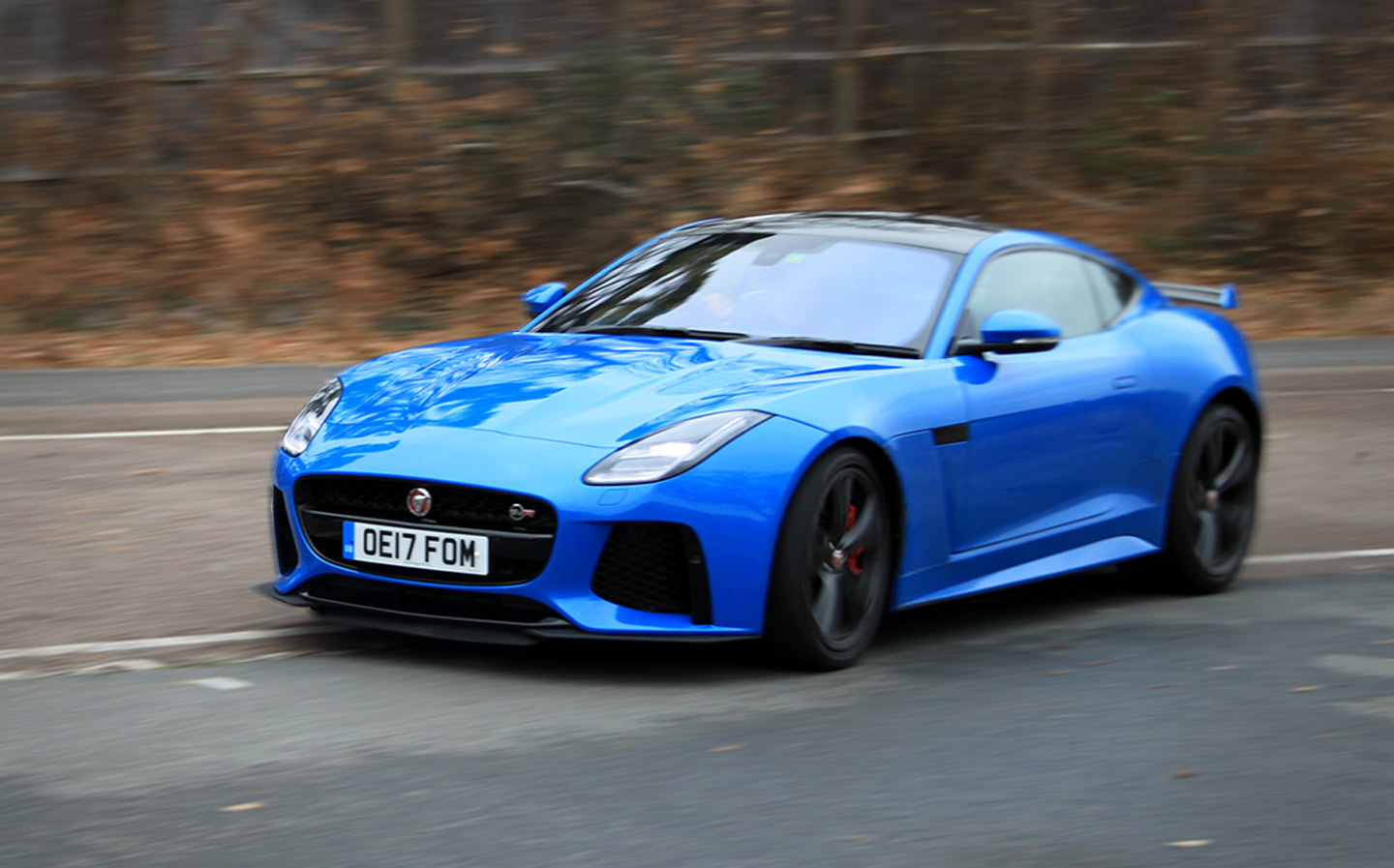 Will Dron
When the Jaguar F-Type first went on sale in 2013, it was available with three engine choices, including a rear-wheel drive V8 S with 545bhp. It was a fantastic car but heavy at the nose and with savage thrust via the rear wheels; so much as a dab of throttle on a damp roundabout sent you facing the wrong way without much bother at all.
When we said as much at the time, some sceptics thought we'd exaggerated the issue. But head to the Jaguar website now and try to buy a rear-wheel drive V8-powered F-type. You can't, can you? No, if you want a big, 8-cylinder lump at the front, you need to go all-wheel drive. Sense, it seems, has prevailed.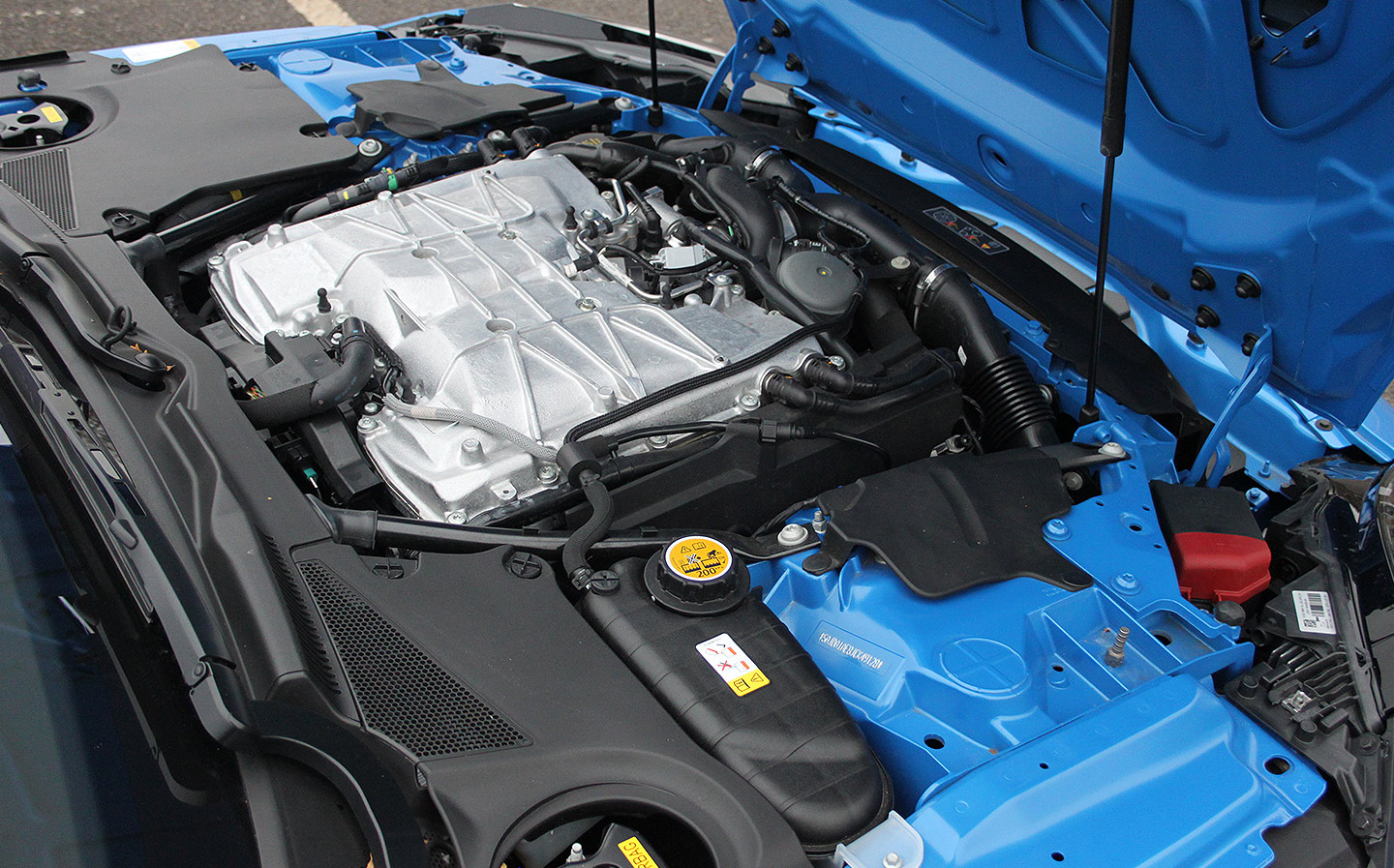 This F-type SVR, from Jaguar's Special Vehicle Operations department, is the most extreme iteration of the road-going F-type. It has a V8 – a 5-litre supercharged unit pumping out 567bhp and 516 lb ft of torque, which is 22bhp and 55 lb ft more than the widowmaker we drove in 2014.
But you'd be wrong to think it's an even hairier experience. It sends power to all four wheels (albeit biased towards the rear), so it doesn't want to snap the rear end round and fire you backwards into a ditch every time you try to exit a corner.
Not only that, but the balance is a revolution. Yes, it's still nose-heavy but it feels nimbler through the corners. Jaguar engineers did a lot of work to change the handling of the car, including shaving 25kg off the standard all-wheel-drive F-type R, or 50kg if you spec it with the optional carbon brakes and roof.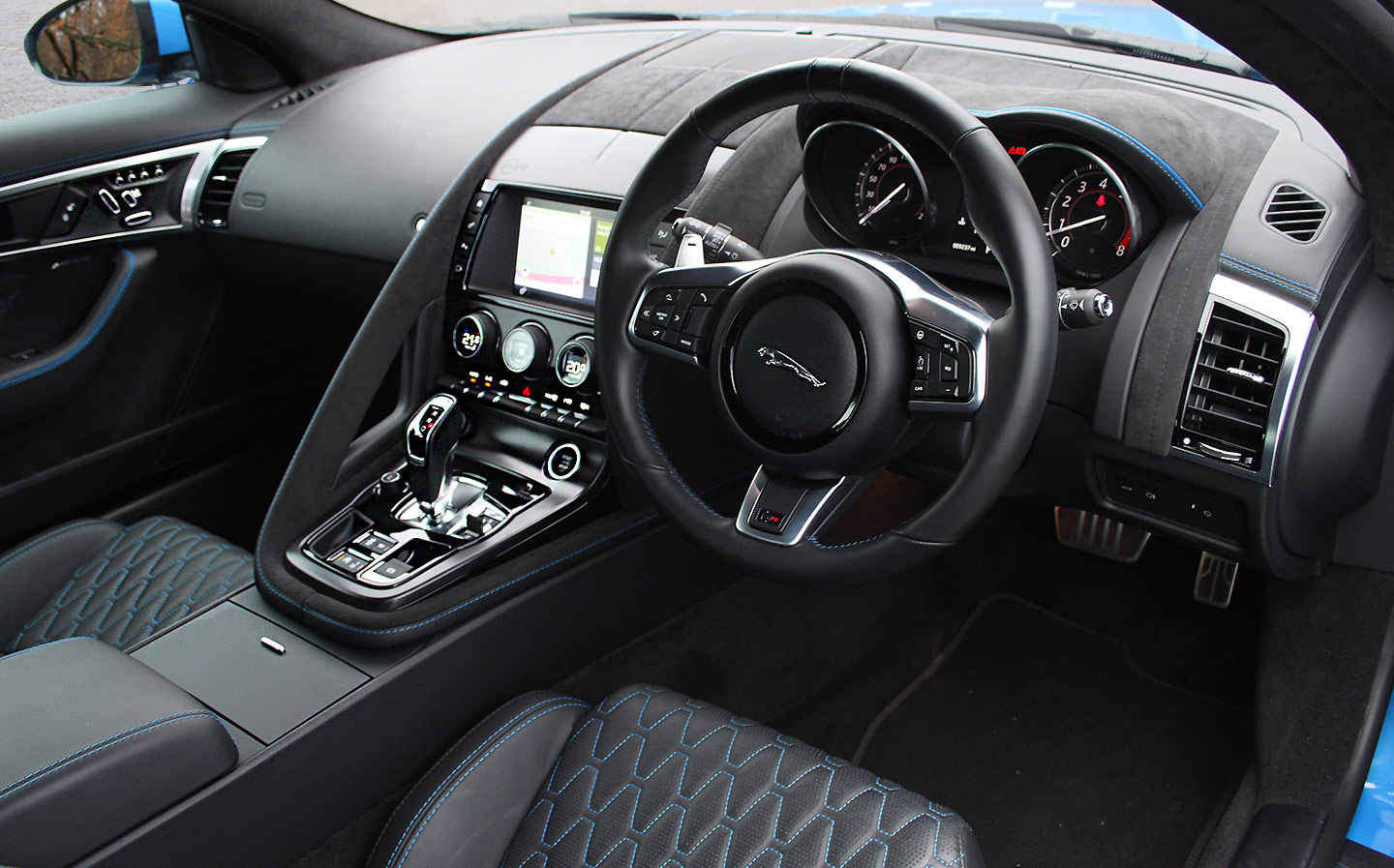 There's also a different aerodynamic treatment to reduce lift and drag, new dampers and anti-roll bars, wider tyres, lightweight 20-inch wheels and so on. The transmission, steering and power delivery also have bespoke calibrations. The result is a car a world away from the V8 S we drove in 2014, and won't send you the wrong way round a roundabout.
That extra power means it's — how best to put this — no slouch. Officially, it can reach 62mph from standstill in 3.5 seconds, and reach a top speed of 200mph (195mph for the convertible), which are impressive statistics but they don't prepare you for the viciousness of the SVR's power delivery. It's awesome, face-flattening speed.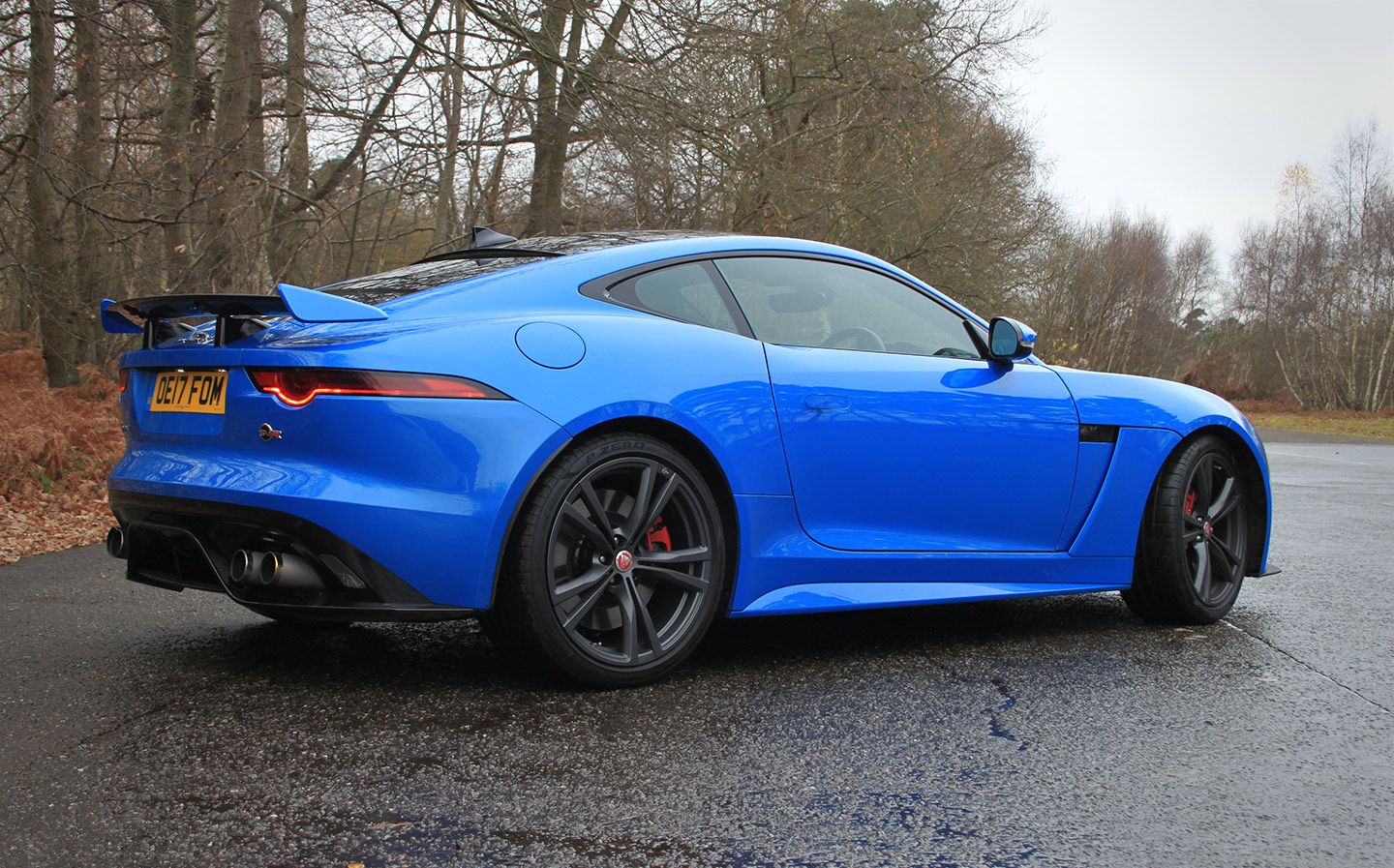 Even more awesome is the noise. This car makes a wicked, tooth-rattling growl when you start it up, which turns into a wild roar when you put your foot down. Lifting off releases a rat-tat-tat from the rear end. It's as if the engineers started with the problem, "What is the most dramatic sound we can produce," and built the car around that.
Jaguar says the SVR is an "all-weather supercar" that retains its day-to-day usability. It's hard to disagree.
Jaguar F-type SVR specifications
Price £112,680
Engine 5-litre V8 supercharged
Power 567bhp @ 6500rpm
Torque 516 Ib ft @ 3500rpm
0-62mph 3.7sec
Top speed 200mph
Economy 25mpg
CO2 269g/km
Luggage 310 litres
---
Browse NEW or USED cars for sale
---
Porsche 911 GTS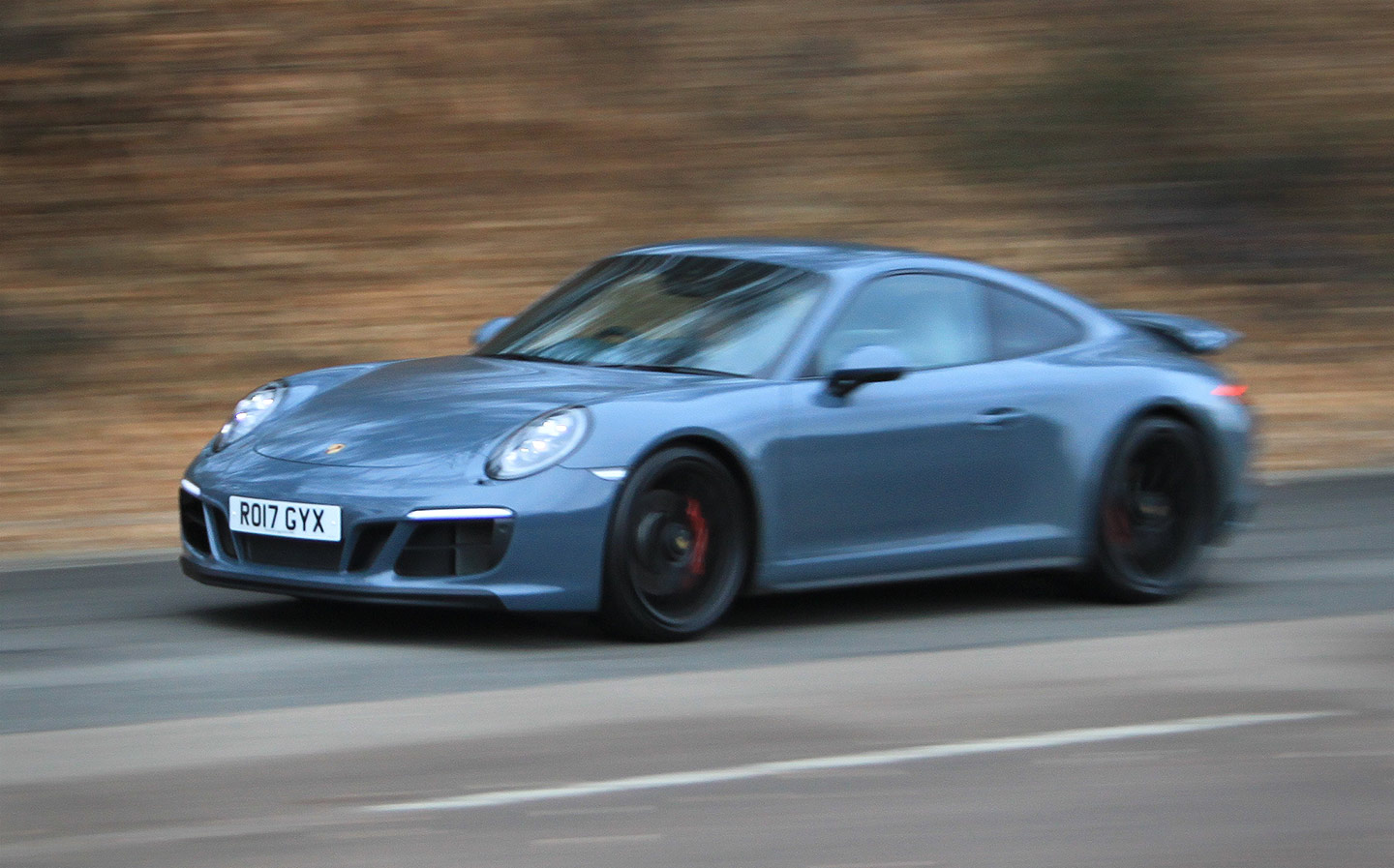 Nick Rufford
There's nothing quite like the feeling of a 911. You could drive it blindfolded, with ear plugs to shut out the distinctive engine note and still know you were behind the wheel of one of the most successful cars in automotive history. Unveiled at the Frankfurt motor show in 1963, the 911 is still going strong, a million and more sales later.
Porsche fans — yes, we know that, according to folklore, these people are middle-aged dentists and architects bent on recapturing their youth — could tell you why, but only by subjecting you to death by statistics. Porsche owners are like masons. They recognise one another in a handshake and immediately launch into Porsche-speak. If two are let loose at a dinner party they'll still be comparing spoilers and vents by the time coffee is served.
But there's a good reason for the 911's longevity and loyal following. Put it up against its all-wheel-drive rivals and the steering is sharper, the brakes tauter and the whole car more grippy and planted. It does what you want it to, and goes where you tell it.
The parent company now sells more SUVs than sports cars, but is still offering more and more choice choices of 911 sub-types to cater for the ever-expanding legion of fans – as our recent review of the new 911 T pointed out.
Every 911 is built to the same basic formula – flat six engine located over the rear wheels, jelly-mould body, bug-eye headlights. To the trained eye, they all look slightly different (or as Porsche explains, have different "visual cues") but even Walter Röhrl – the company's chief test driver whose name is whispered with reverence by fans – would be hard pressed to identify all the derivatives blindfolded.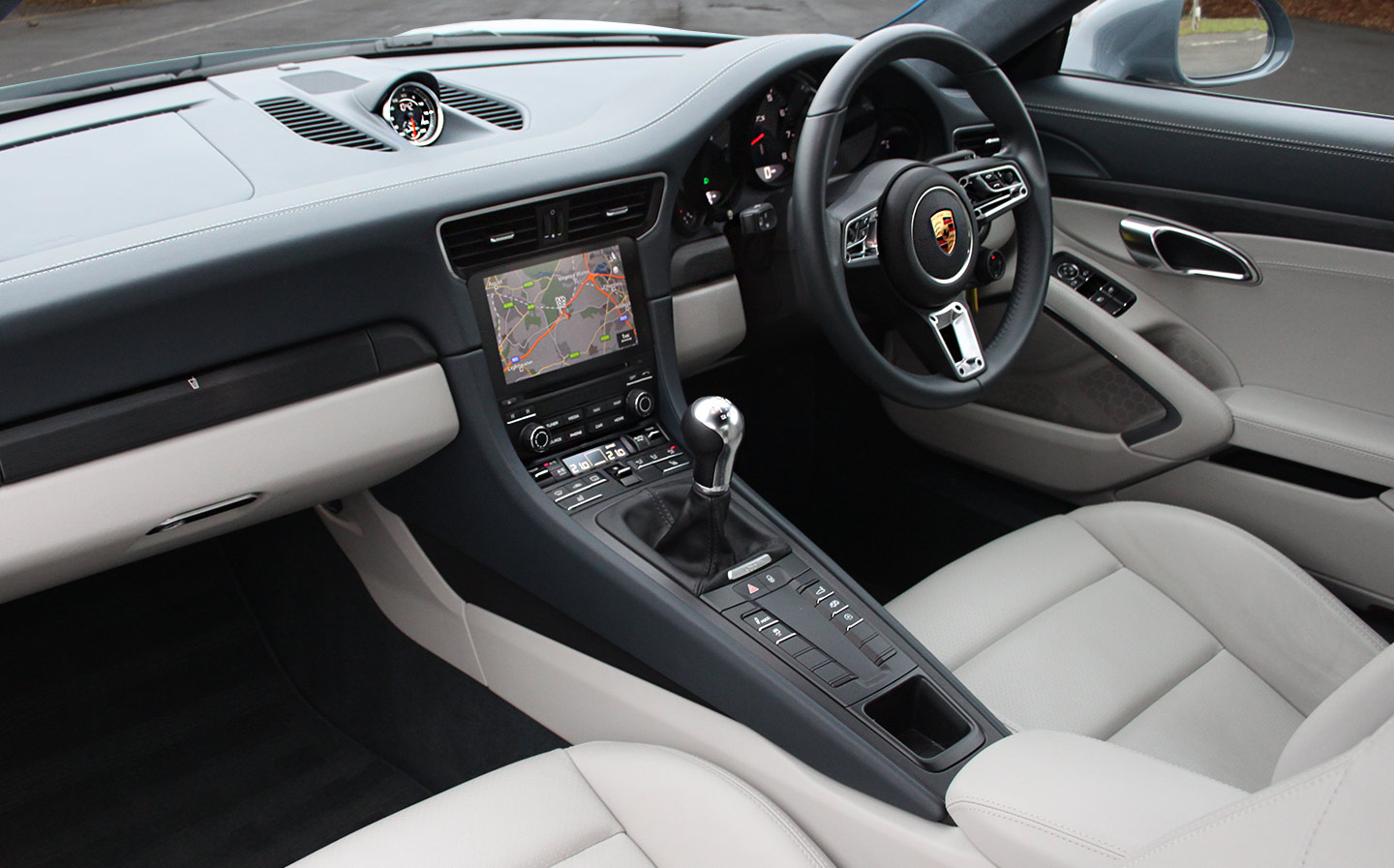 For simplicity, then, the car in the picture is the GTS, or Gran Turismo Sport, the middle of the non-motor sport-derived range, midway between the £77,891 base model Carrera and £147,540 Turbo S coupe. It's milder than the Turbo, more hardcore than the Carrera. An unkind sceptic might say that it would suit those half-way through their crisis of libido – still wearing the black turtleneck and sunglasses, perhaps, but now with a bald patch instead of a ponytail.
Let them sneer, though. The GTS is anything but middle of the road in performance. At £95,795 it may have been the cheapest of the trio in our test but it easily held its own even against the futuristic, £141,130 Audi and the snorting, off the wall, £112,680 Jaguar.
On paper it's a tad slower than both in a straight line but that doesn't matter because around the Chobham circuit where we put all three through their paces it gained enough ground in the twisty sections to make up for what it lost in the straights.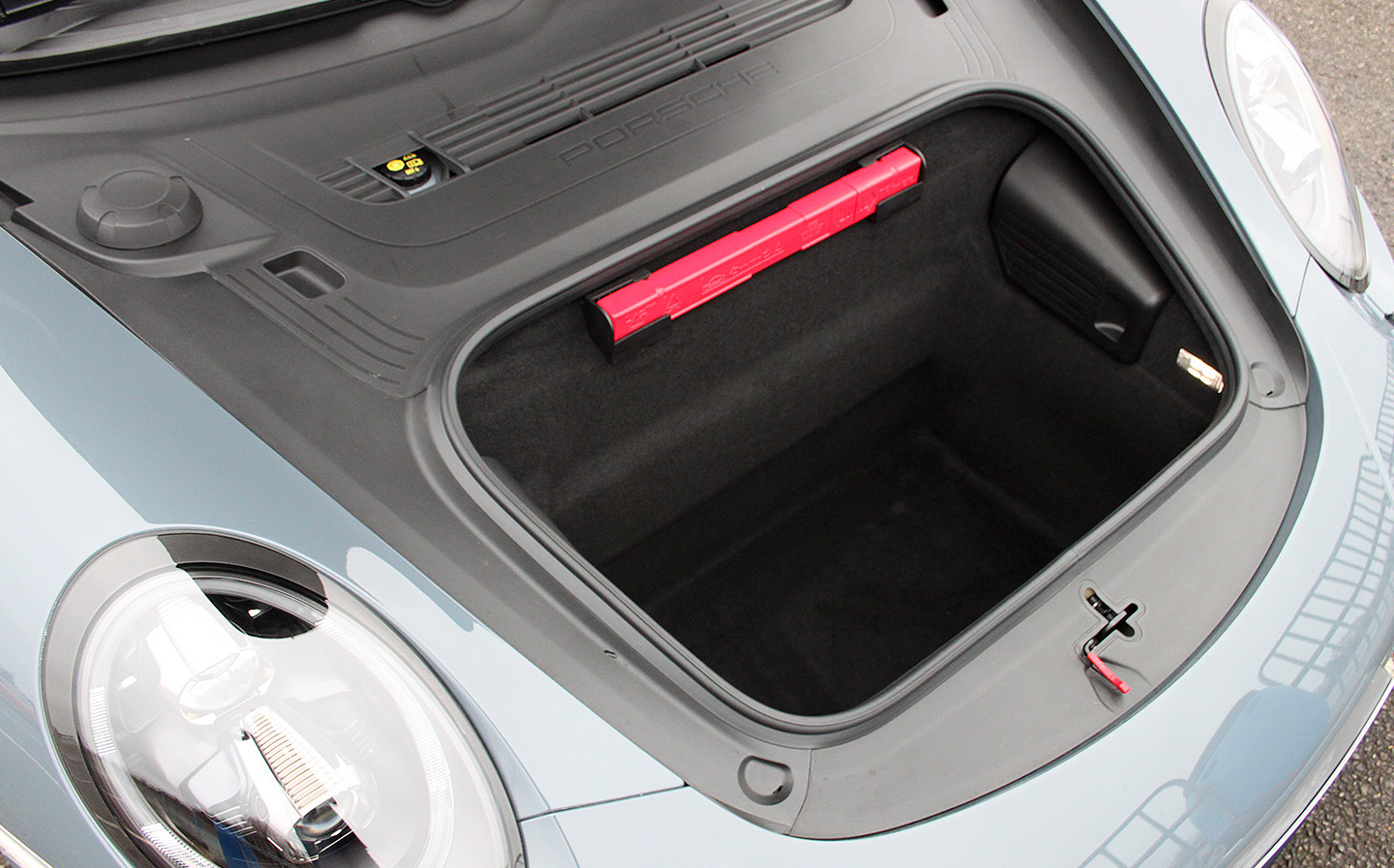 True, it doesn't look as strikingly understated as the R8 and it doesn't sound as exciting as the gorgeous F-Type, even after pressing the GTS's loud button to amplify (with butterfly valves) the exhaust. But on a damp track, nothing could match the 911's road-holding.
Visually, the theme is black. Black dual tailpipes, headlights framed in black, plus more inside with enough black Alcantara to suit a German rock band ("an expression of sports purism" says Porsche's website). All this offset by a red-edged tachometer and coloured seams on the bucket seats.
The GTS shares with the pricier Turbo the sports suspension and exhaust that gives both cars a characteristically low stance, low growl, and uncanny cornering ability.
So, is the GTS simply a Turbo-lite? Nothing wrong with that. As chastened drivers know, the 0-60 in 2.9 seconds Turbo is a warm flask of nitro-glycerine. One mistake — and boom.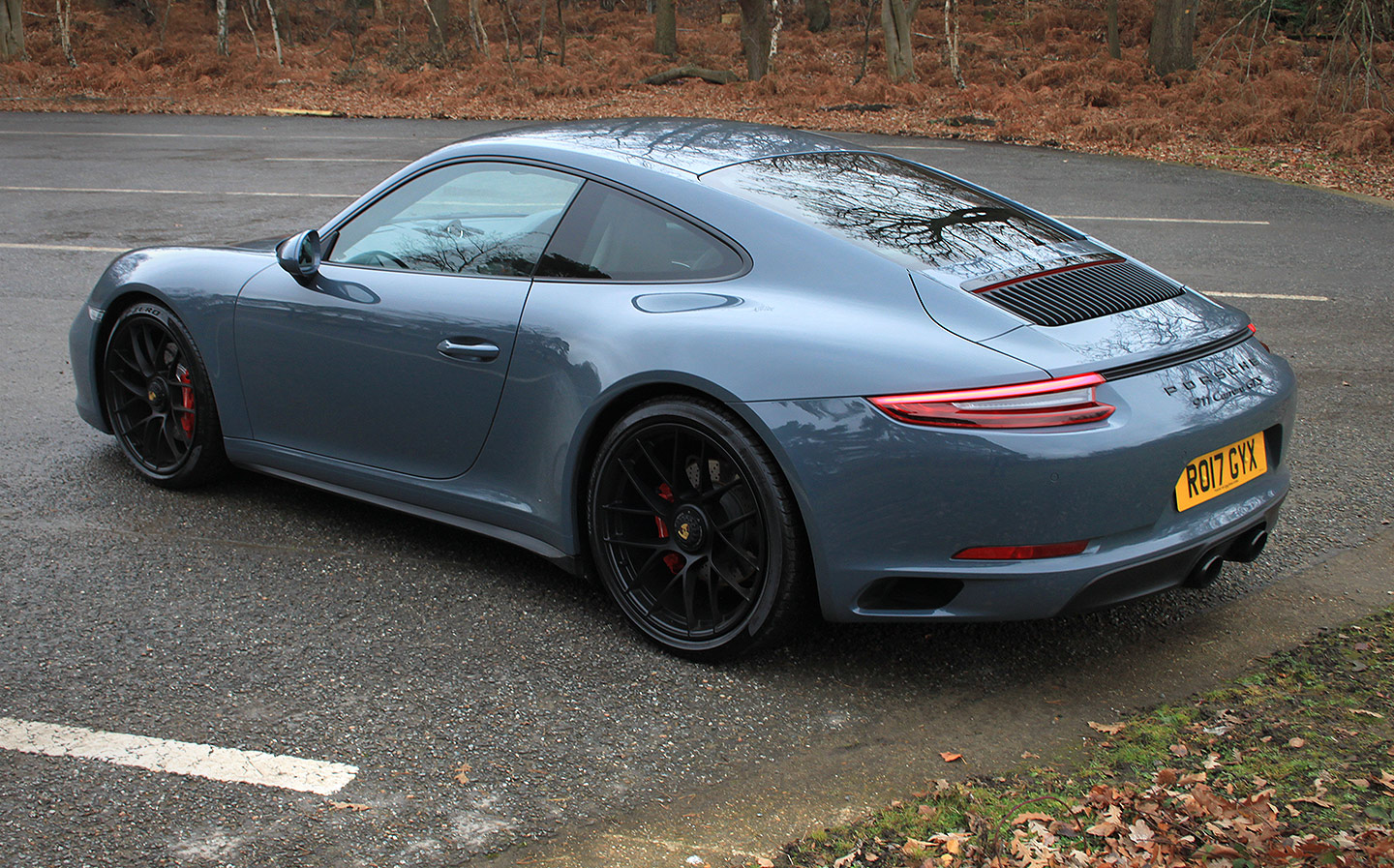 The GTS is more restrained (standstill to 60 in 4.1 seconds, with manual gearbox) and the better for it. You can give it the full beans without the fear that when you apply the ceramic composite brakes (a £6,018 option) the engine over the back wheels will follow the laws of physics and try to keep on going while the lighter front half slows down — putting you into a 360 degree spin.
If you meet a Porsche enthusiast at a dinner party, just say it's the best 911 money can buy — for under £100,000.
Porsche 911 GTS specifications
Price £95,795
Engine 3-litre six-cylinder turbo
Power 443bhp @ 6500rpm
Torque 406 Ib ft @ 2150rpm
0-62mph 4.1sec
Top speed 193mph
Economy 30.1mpg
CO2 212g/km
Luggage 145 litres