Five tough-as-nails pick-ups tested
Somebody get Bob the Builder on the blower
IT WAS once the preserve of builders and farmers. But the humble pick-up has undergone a transformation, from a noisy, uncomfortable beast of burden with a hose-clean interior to a luxuriously appointed family car.
Because of this change in character — and perhaps the favourable road tax rate (the "light vehicle" charge is a flat £240 a year) — increasing numbers of drivers are switching to a pick-up, finding it fits in with their family life just as well as their work life.
Car makers are expanding their ranges with "lifestyle" pick-ups. Ford and Volkswagen are taking on manufacturers more traditionally associated with work vehicles, such as Isuzu and Toyota, and the sector is booming. Last year nearly 48,000 new pick-ups were bought in Britain.
---
Browse NEW or USED cars for sale
---
Many of those are not what you may imagine — basic, utilitarian workhorses. Instead, customers demand luxury trappings and the latest technology, and don't mind paying for it. For drivers who are new to the pick-up market, choosing the best make and model for their needs can be as overwhelming as walking into a DIY superstore for the first time.
To help navigate, we've tested five top new models, including the Fiat Fullback, Isuzu D-Max Blade, Mitsubishi L200 Barbarian, SsangYong Musso and Volkswagen Amarok Aventura. And we'll update this group test comparison as and when we get behind the wheel of other key pick-ups.
Fiat Fullback automatic pick-up review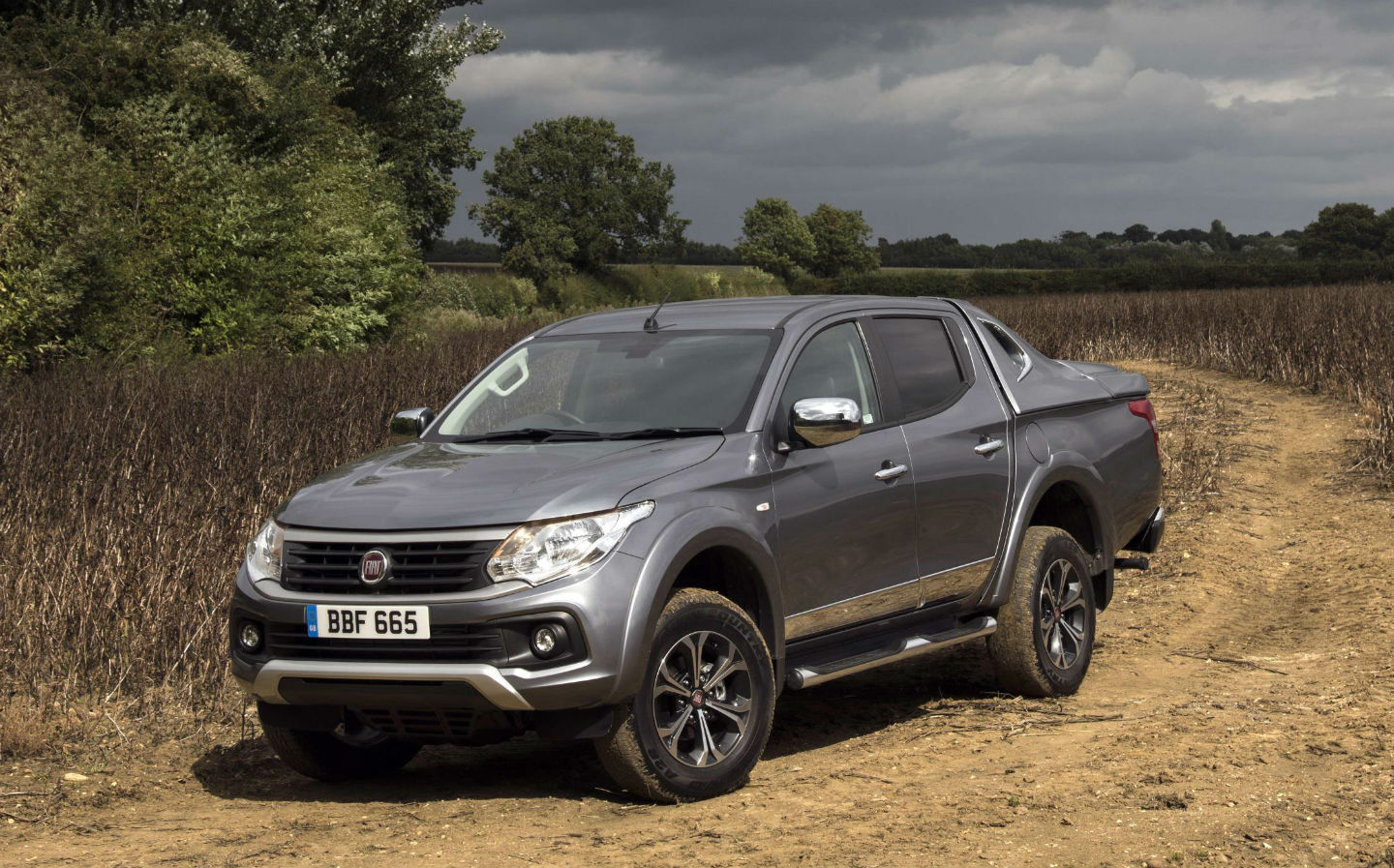 The name may not be familiar to drivers and buyers of pick-up trucks, but the chances are the Fullback looks familiar. Fiat has teamed up with Mitsubishi to create its new pick-up. It's an approach that has served it well; Fiat has also established a partnership with Mazda, to build a roadster (the 124 Spider on the MX-5 platform) and makes vans together with Peugeot-Citroen and Vauxhall and Renault.
Built in Thailand, Fiat refers to the Fullback as the "ultimate pick-up" but given it's a Mitsubishi L200 with different badges, that's as open to interpretation as a builder's estimate.
It's only available with a double-cab body, and prices start from £26,683 (on-the-road). There are three versions in the range. All use a 2.4-litre, four-cylinder diesel engine, and the entry-level SX model has 148bhp, a six-speed manual gearbox and selectable, part-time two-wheel drive and four-wheel drive.
The others are in LX trim and have the same engine, tuned to produce 178bhp, one with a six-speed manual gearbox, the other with a five-speed automatic. Both feature permanent, switchable four-wheel drive.
Fiat has kitted out the Fullback with most of the mod cons today's car buyer demands, and the LX models in particular come generously equipped. Gadgets include bienon headlights, a touchscreen audio system, rear-parking camera, dual-zone climate control, keyless entry and start, heated front seats, leather trim, automatic lights and wipers, a lane departure system and an alarm.
The interior is well made and comfortable enough for four adults. However, the touchscreen system that takes care of the audio and navigation is particularly fiddly, as it uses small graphics.
In the back, there are two Isofix mounts for child seats.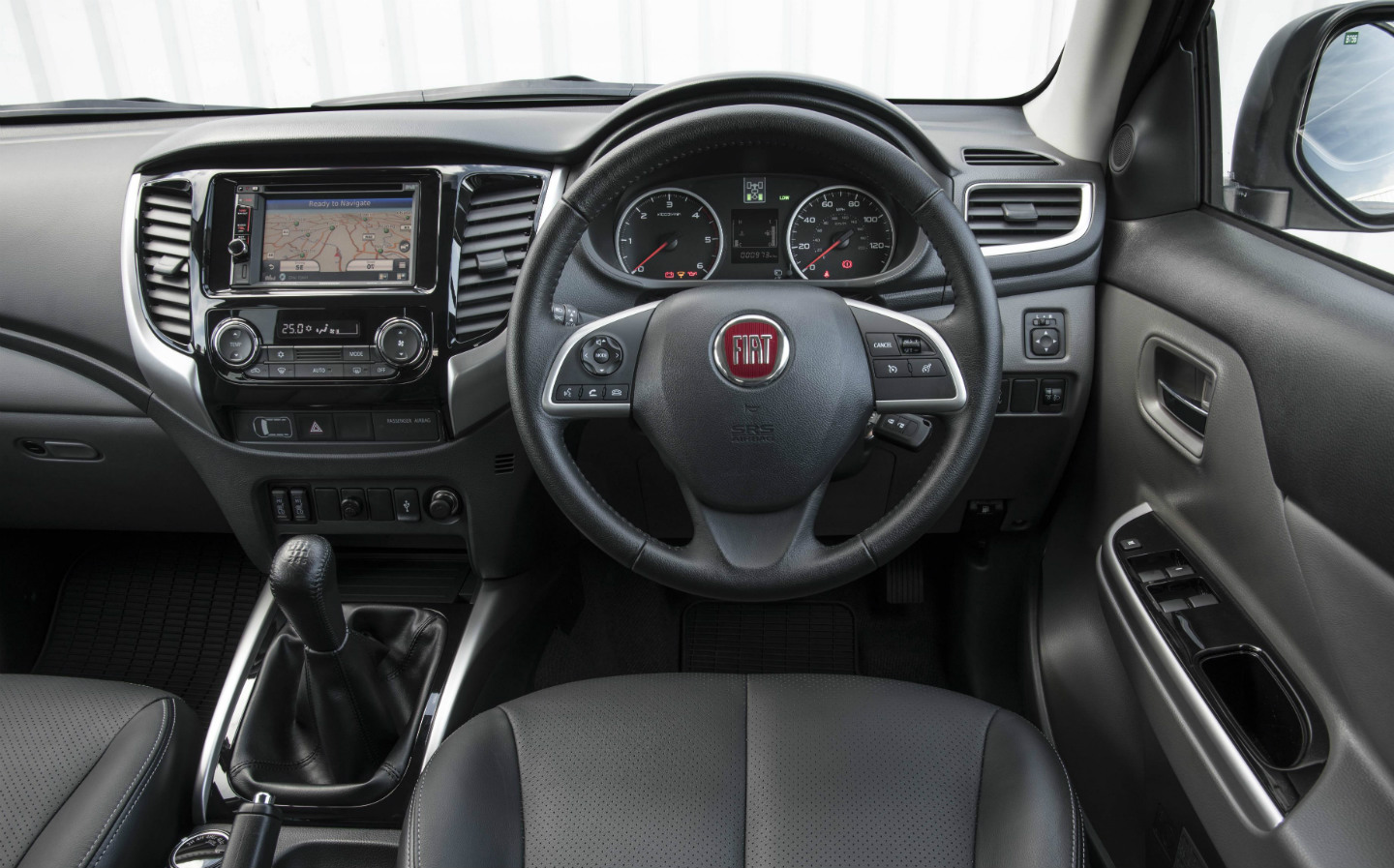 The tailgate has a damper, so it opens smoothly, rather than dropping with a thud, and the load bed is rated to carry one ton.
We drove the 2.4-litre, 178bhp version with a manual gearbox. It is claimed to return 40.9mpg (on the combined cycle) and has CO2 emissions of 186g/km.
The five-speed automatic gearbox gets on with its job without giving cause for complaint, but the engine could do with more torque low in the rev range – it peaks at 2,500rpm, which is relatively high for this type of car and diesel engine.
The Fullback handles itself competently off-road, with good ground clearance, strong traction on climbs and good stability when descending. But there's quite a lot of vertical, pogo-like motion on the road when driven unladen.
For plenty of drivers, it won't be the Fiat's capability that sees it come unstuck. The warranty is rather meager, with two years' unlimited cover followed by a third year restricted to 100,000 miles. That's easily bettered in this class.
Verdict ★★★☆☆
Like the Mitsubishi, it's a strong all-rounder but the infotainment isn't the best we tested and the warranty doesn't satisfy.
Isuzu D-Max Blade automatic pick-up review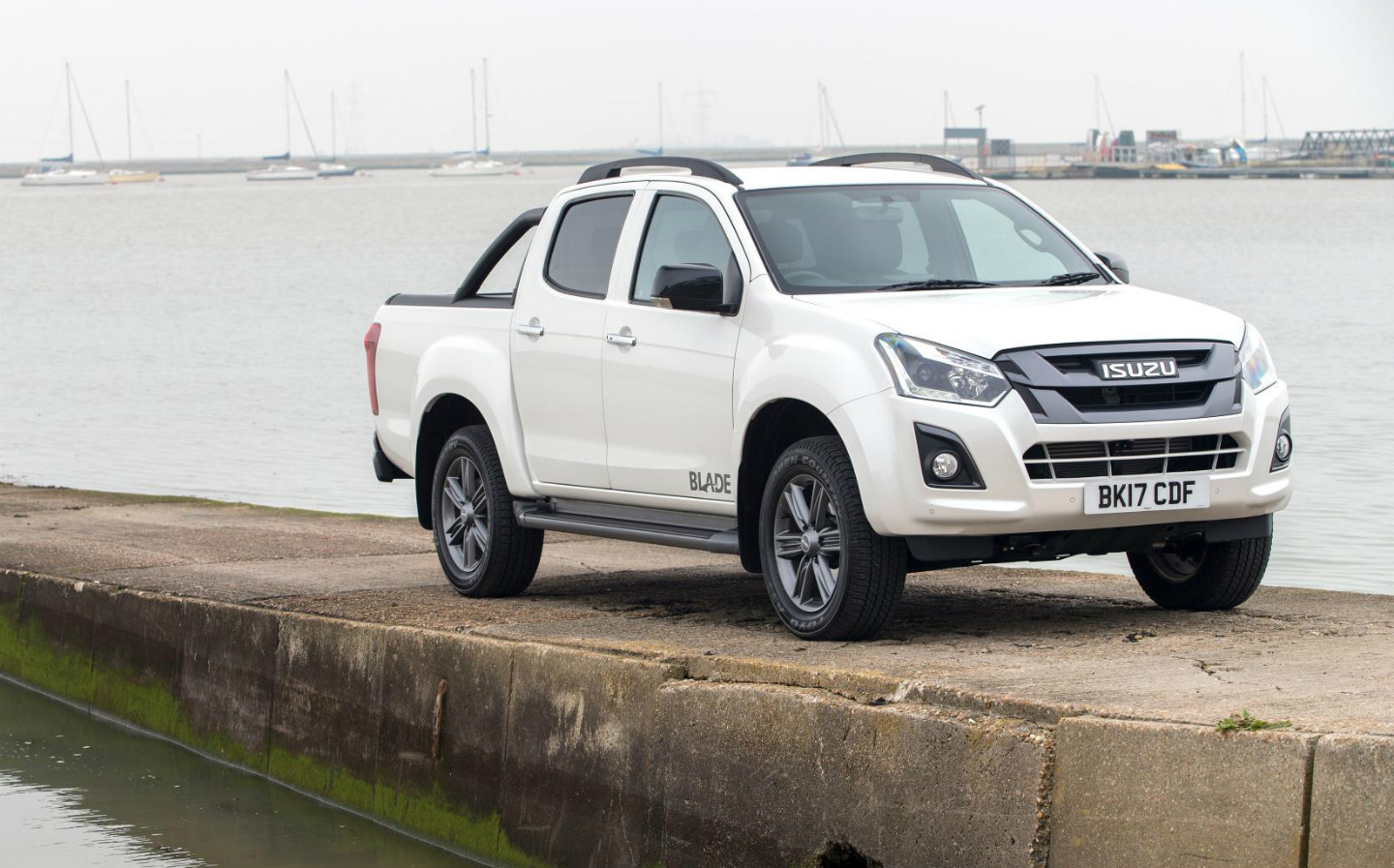 'It just works,' says the strapline for the D-Max. It sure does, if this pick-up's reputation is anything to go by. The Japanese manufacturer only makes commercial vehicles, so considers itself a specialist in the field (literally), and has long been popular with farmers who have no desire to end up stranded miles from home, with only the sheep for company. But how does the Blade version fare against the latest models from rivals that also produce refined road cars?
The Blade is sold as a double-cab and costs £33,541, as tested here with a six-speed automatic gearbox, but the D-Max comes in a wide range of bodystyles. One trim level that caught our eye is the basic Utility spec (from £23,341 for the double cab) which features vinyl flooring that makes the D-Max as practical as a wet room.
By comparison, a Blade is as plushly appointed as a mansion from the screens of The Only Way Is Essex. It's one of the most car-like workhorses money can buy, with a large, 9in colour touchscreen that has big, chunky graphics that made it a doddle to operate, smart styling and comparatively upmarket-feeling materials.
It's comprehensively equipped, too. LED daytime running lights, a reversing camera, alloy wheels, sat nav, digital audio system, Apple CarPlay and Android Auto, air conditioning, heated front seats and leather trim and a canopy for the load bay or optional roller cover.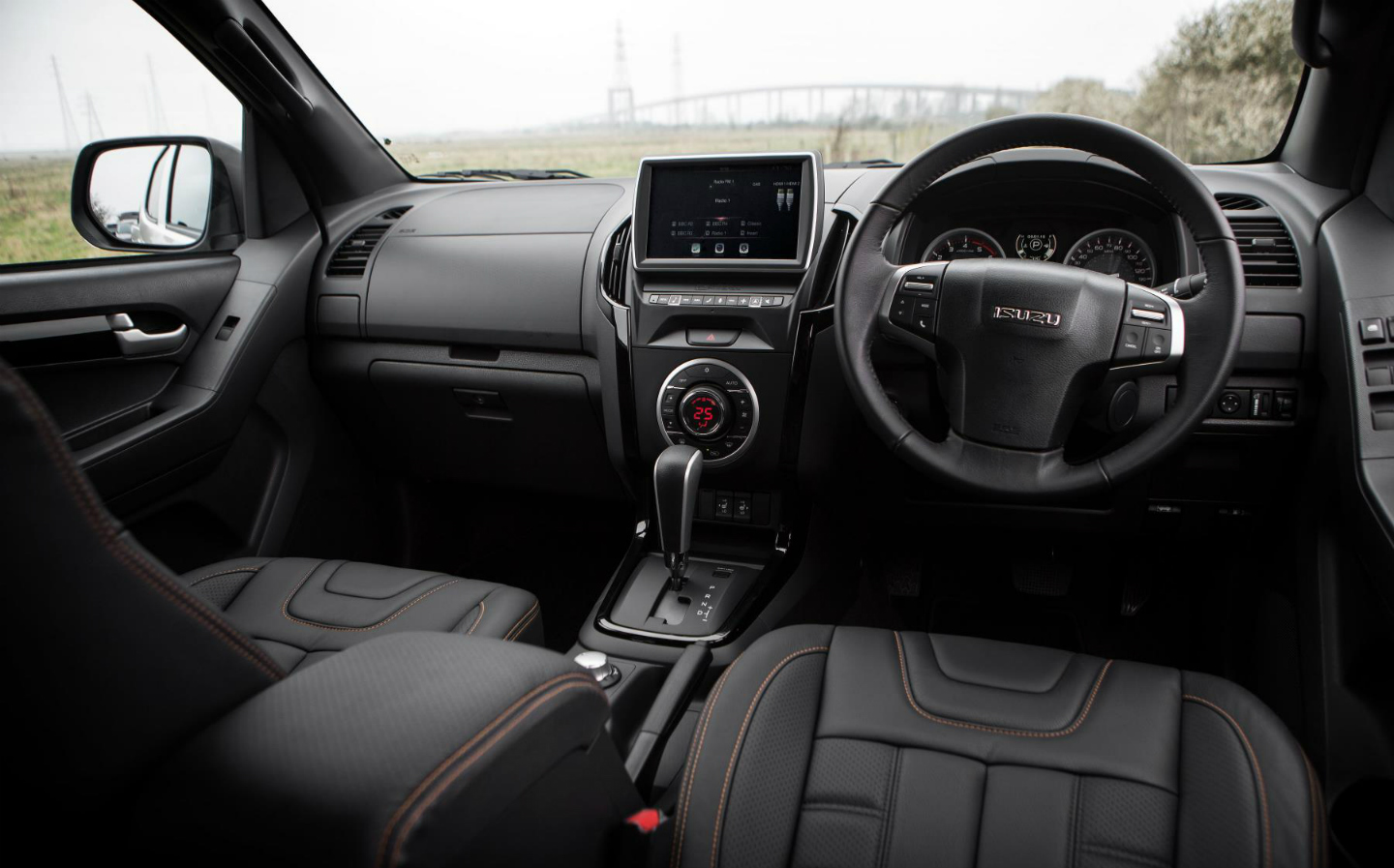 It's a spacious cabin and with two Isofix child seat mounts in the rear seats, and practical touches include a split back seat base that can lift up like the base of a theatre chair to free up storage space.
As a workhorse, its stats are impressive. The D-Max Blade is rated to carry 1,101kg, and has a braked towing weight of 3,500kg.
It's powered by a new, 1.9-litre, four-cylinder turbo diesel engine that's smaller than models sold up to 2016, but musters 162bhp and has 265 Ib ft from 2,000rpm. With the automatic gearbox, the fuel economy falls to a claimed 36.2mpg and emissions climb to 205g/km of CO2 (from 40.4mpg and 183g/km respectively).
Like rivals, with no payload onboard, the rear of the leaf-sprung D-Max pogos like a punk rocker, but off-road it's a competent operator, and is helped by all manner of electronic driver aids such as anti-stall, so you can start off easily in second gear (in the low ratio gearbox) in tricky conditions without touching the accelerator and let the electronic brain do all the work keeping the thing moving. It also has a switchable four-wheel drive system that can go from two- to four-wheel drive on the move, but lacks a locking differential – something that could deter those who need to conquer challenging terrain.
On the road, the D-Max drives well with one provison: it's let-down by an over-sensitive electronic stability control system. The moment it detected a loss of traction, it intervened in the most ham-fisted fashion, almost bringing the vehicle to a halt which, ironically, creates a hazard for following drivers. It felt like it had been poorly calibrated.
A big part of the Isuzu's appeal will be its warranty. The company offers five years of cover up to a maximum of 125,000 miles. That's impressive.
Verdict ★★★☆☆
An attractive interior with surprisingly good touchscreen infotainment, and one of the toughest vehicles off-road, but its road manners fall short.
Mitsubishi L200 Barbarian SVP pick-up review
Its name makes this pick-up sound like an axe-wielding warrior intent on wreaking havoc against rival clans, but the reality is it's one of the UK's best-known apprentices to builders and farmers.
One of the reasons for its popularity is that it has established a reputation for being as tough as old boots. And over the years, Mitsubishi has built on this, broadening its appeal with a range of increasingly plush models that mean it can be used as a tool of the trade during the day, and a family car the rest of the time.
There are three bodystyles to choose from – a single cab, club cab and the one tested here, double cab.
In top spec Barbarian SVP double cab trim, this is an expensive machine, at £34,174. But for £10,000 less, there's the entry-level 4Life double cab, which is possibly better suited to a life of hard grind.
The interior is relatively car-like, so drivers switching from an SUV or 4×4 shouldn't find it too basic. There's piano-black gloss finish, a touchscreen infotainment system, dual zone climate control and a toolbox-load of buttons on the steering wheel, to control everything from cruise control to the audio to a hands-free mobile phone connection.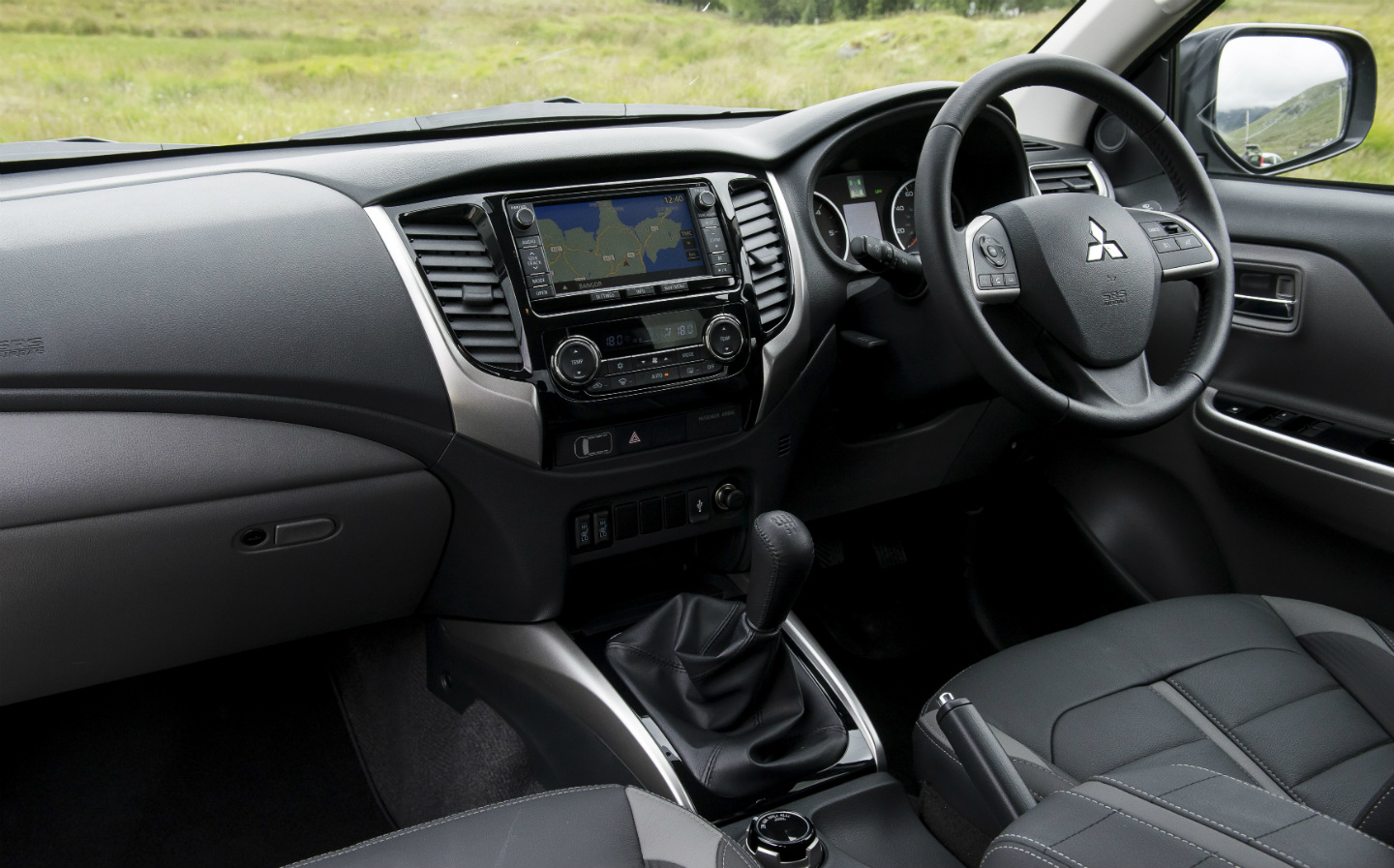 As for gadgets, there's no shortage with the Barbarian model. Trailer stability assist, lane departure warning, hill-start assist, an alarm, cruise control, leather trim and a rather fancy styling pack for the bodywork and wheels give it a bit of Grrr.
Its double cab makes a spacious setting for four burly builders, or a family with three children, and there are two Isofix child seat mounting points in the back. It's also worth noting the back doors have a wide aperture.
The maximum payload is 1,045kg and, like the Fiat (the two are very similar), the tailgate is damped to stop it falling open.
We tested the 2.4-litre, 178bhp version with a manual gearbox. It is claimed to return 39.8mpg (on the combined cycle) and has CO2 emissions of 186g/km.
Needless to say, the driving experience is the same as the Fiat. The six-speed manual gearbox is typically truck-like, and the engine could do with more torque low in the rev range – it peaks at 2,500rpm, which is relatively high for this type of car and diesel engine.
It handles itself competently off-road, with good ground clearance, strong traction on climbs and good stability when descending. But there's quite a lot of bunny-hopping motion on the road when driven unladen.
Mitsubishi's Super Select 4WD four-wheel drive set-up allows drivers to run the Barbarian in two-wheel drive mode, to help improve fuel efficiency when on the road, and comes with a choice of three settings for the four-wheel drive, including a low-ratio with a locked centre differential – helpful when tackling tough terrain.
The warranty lasts for five years. However, for the first two years it's unlimited in mileage; after this it has a 62,500 mile limit, which is far from generous.
Verdict ★★★☆☆
Tough, and a strong performer on- and off-road. But the warranty isn't as attractive as the vehicle itself.
Ssangyong Musso pick-up review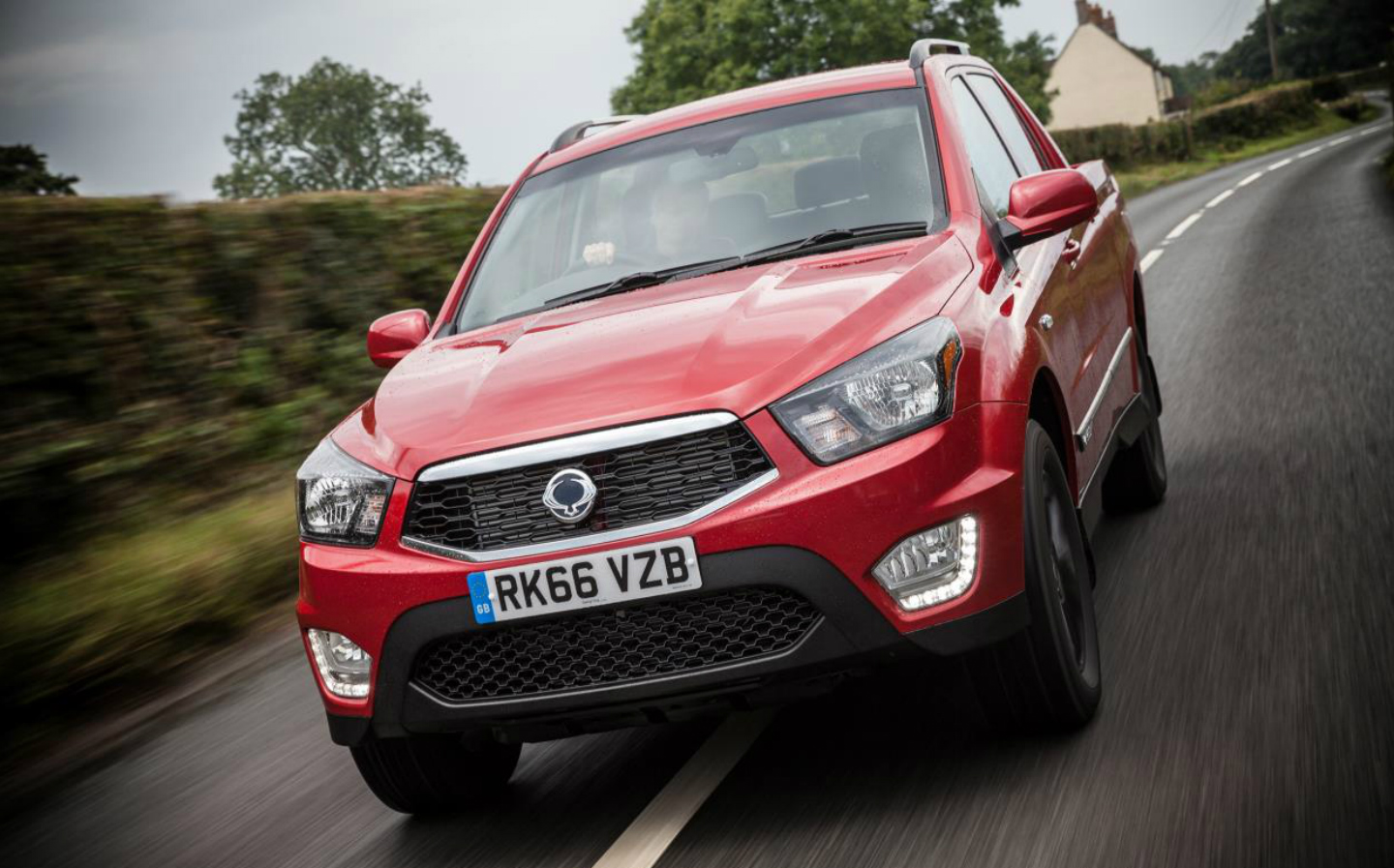 Not everyone wants a job done as cheaply as possible, but for those that are on a tight budget, the SsangYong Musso pick-up has to be worth a test drive. It's the equivalent of the trade counter at a DIY store, where non-branded goods and materials can save tradesmen a pretty penny.
It's priced from £19,615, and even the flagship 2.2 EX automatic tested here is a competitive £23,215, and if those don't raise an eyebrow or two, the way the Musso drives will: it's surprisingly good.
Before we get to that, however, it's worth pointing out that although it's quite a good-looking pick-up, the Musso isn't one of the larger ones. Its cargo area is compact, but despite this the car can carry up to 1,050kg of payload, and is able to tow up to 3,500kg, which matches the best in class.
It only comes in a double cab body style, and the back seat area isn't the most spacious. There are two Isofix child seat mounting points included, but the absence of any side-impact/curtain airbags could rule the car out for a lot of drivers who want their pick-up to occasionally double as a family car.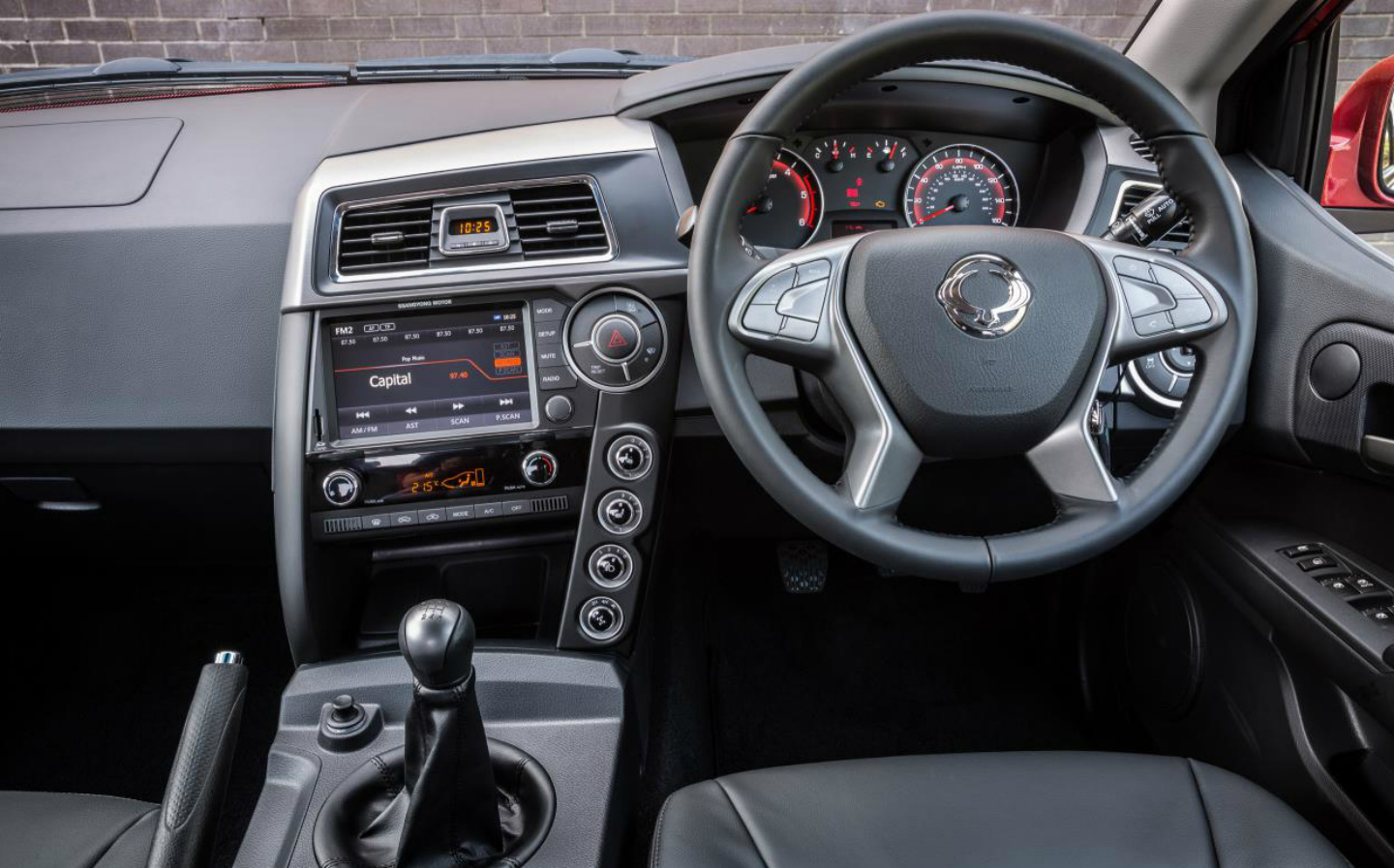 However, the rest of the equipment is generous enough given the car's price. The EX auto comes with heated front seats, leather trim, an electric driver's seat, cruise control, automatic lights and wipers, rear parking sensors and camera, automatic air conditioning, a 7in touchscreen infotainment system and 18in alloy wheels.
The dashboard has shades of 1980s all-in-one hifi units about it, with brittle plastics and lots of small dials littered about the place, but the driving position is comfortable enough.
The star of the show has to be SsangYong's 2.2-litre diesel engine. It's smooth to the ear and eager to perform, with a healthy 195 Ib ft from just 1,400rpm, which makes easy work of overtaking or towing. The six-speed automatic gearbox isn't too shabby either, and the pair achieve 37mpg and 202g/km. There are no concessions to reducing emissions here, though, with systems such as AdBlue.
It drives in a car-like manner and isn't as easily upset by lumps and bumps in the road when unladen, most likely due to having car-like coil-spring rear suspension. There aren't any off-road driver aids like anti-stall or a locking differential, but it is surprisingly capable off-road and you're less worried about wear and tear, given this is a budget option. And with a selectable four-wheel drive system, it's possible run the car in two-wheel drive on the road when not towing or carrying heavy loads, before switching the system via a rotary dial in the cabin.
Arguably the icing on the cake of this value-for-money pick-up is the warranty. To offer peace of mind to prospective customers, the South Korean company provides five years of cover and there's no mileage limit.
Verdict ★★★★☆
Limited bells and whistles and not the most heavy duty, but with keen on-road manners, strong off-road capability and a long warranty, the budget SsangYong is an excellent package.
Volkswagen Amarok pick-up review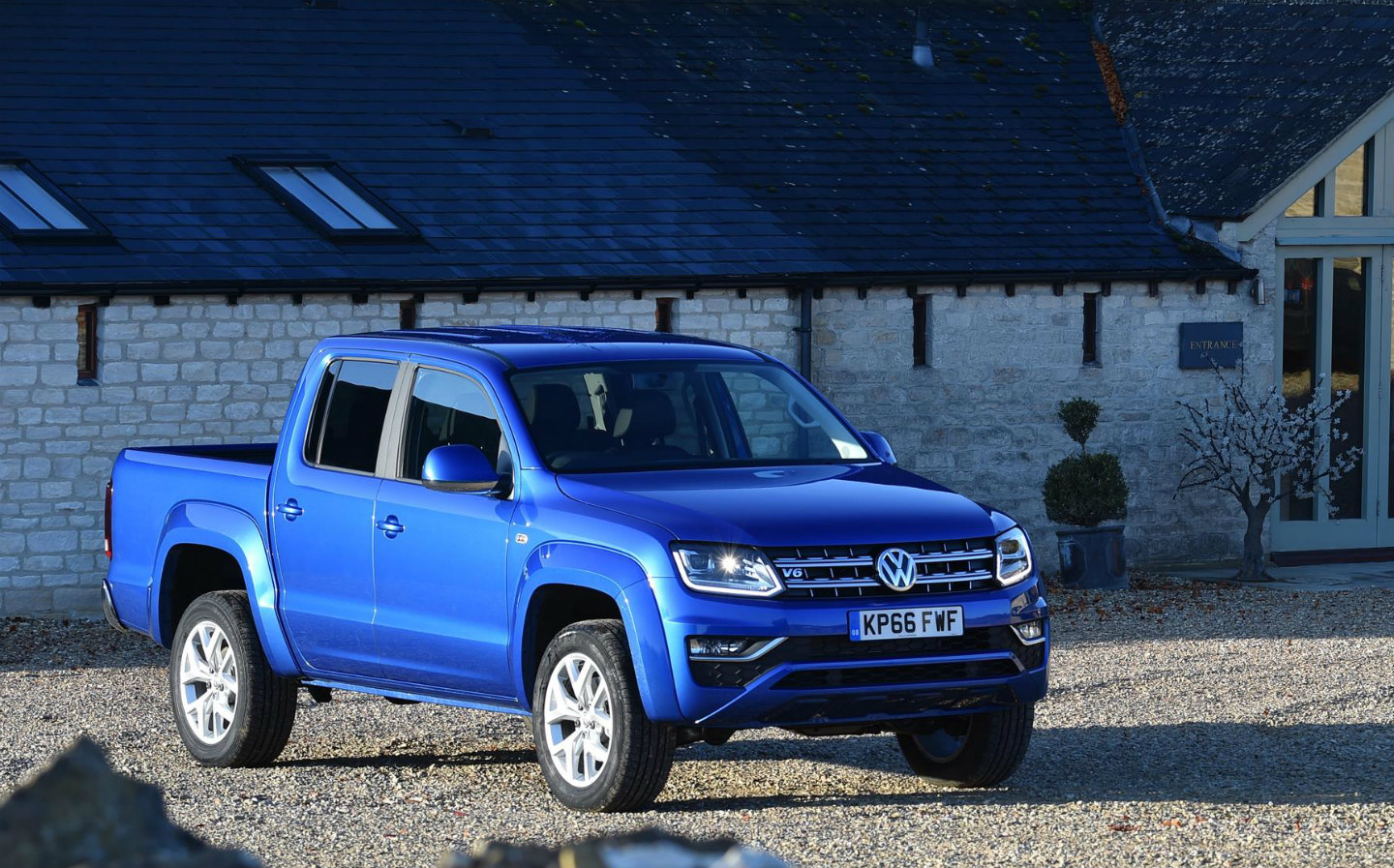 Volkswagen's Amarok is the new kid at school, having originally entered the pick-up market in 2010. The latest version came out last June, and bucked a trend; as most rivals fitted smaller, "downsized" four-cylinder engines, VW decided to go it alone with a new, bigger capacity 3-litre V6.
Presumably, this was a deliberate ploy to tap in to the rapidly growing market for plush "lifestyle" pick-ups. Increasingly, drivers want to be able to carry a pallet of patio flagstones one day, and take the family on a camping trip the next.
Because of this, VW doesn't offer back-to-basics Amaroks with a cabin floor you could jet wash. The range starts £32,303, and the poshest Aventura version, tested here, is nearly £40,000 (£39,391). All come in the double cab bodystyle.
It's big, butch and, in places, a little bit bling. Chrome-finish bumpers sparkle like builder covered in gold rings, and the large 19in alloy wheels and high ground clearance give it an imposing stature.
Inside, the overwhelming feeling is that you could be sitting in any Volkswagen. Much of its bits have been borrowed from other models, so the switchgear and touchscreen infotainment system are among the best you'll find in any pick-up, and the impression is that this is a cut above the competition.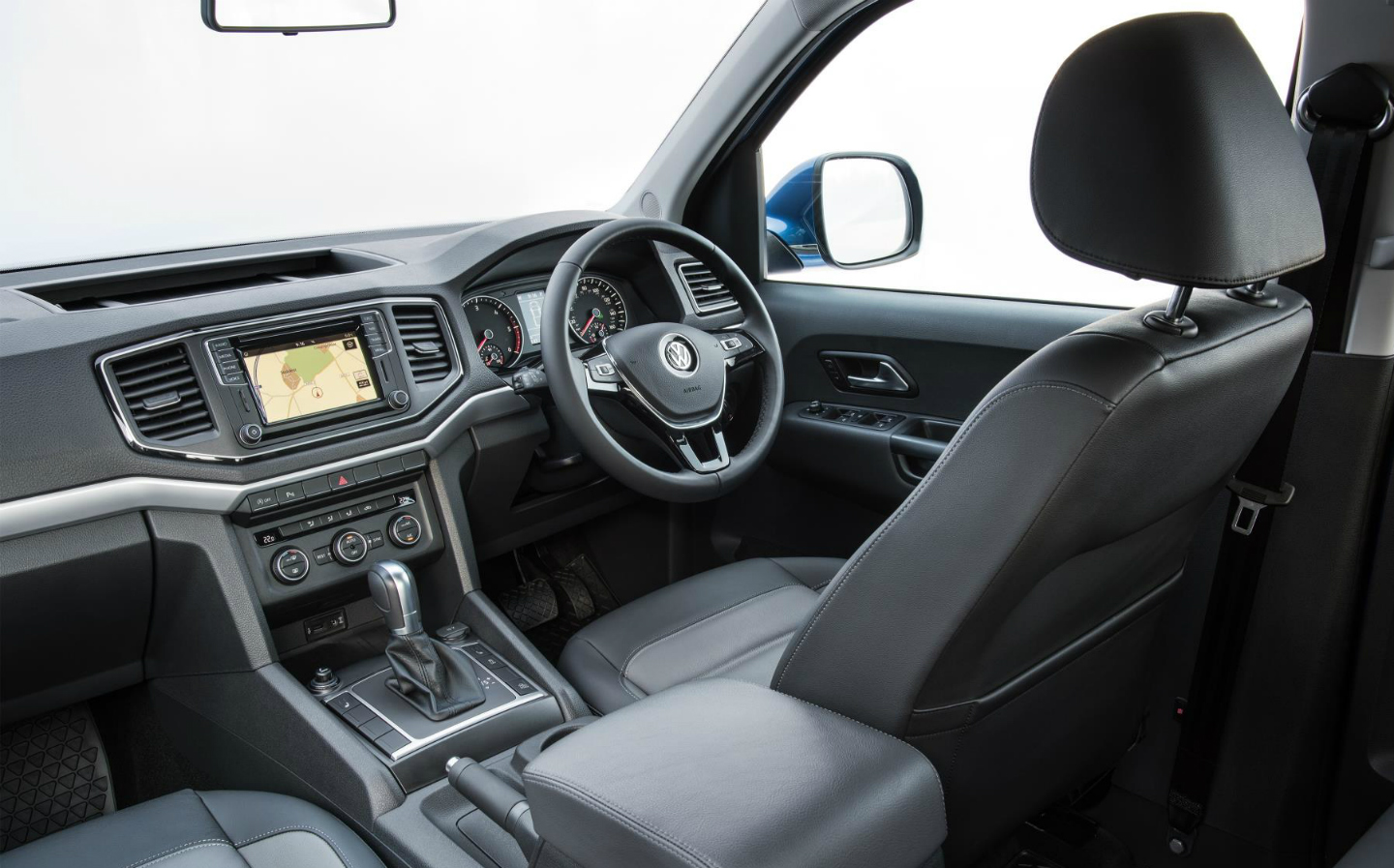 The Aventura comes with Ravenna Blue metallic paint, sat nav, bienon headlamps, parking sensors and a rear-view camera, heated front seats, privacy glass for the back windows, two Isofix child seat mounts, cruise control, climate control and voice control for the audio and phone system. There are also three 12v sockets in the cab, and one in the cargo area.
If you think this is plush, wait until you sample the engine and gearbox. After experiencing the V6's smooth, tuneful power delivery, the rivals' four-cylinder diesels are seem as uncouth as a builder clearing their 20-a-day chest. It's also muscular, with 406Ib ft of torque from just 1,400rpm, which ensures effortless progress compared to competitors.
And the eight-speed automatic gearbox is by far the most smooth-shifting and responsive to the driver's commands. However, there's a modest price to pay. The Amarok's fuel consumption is 36.2mpg and it emits 204g/km of CO2. But you could forgive it for the impressive maximum payload (1,114kg) and handy 3,100kg braked towing weight.
Its permanent four-wheel drive system doesn't come with a locking differential as standard but at least it's available as a £294 option.
Volkswagen may ask buyers to pay a premium for the Amarok but it fails to go the extra mile when it comes to the warranty. The first two years have no mileage limit, but the third and final year is restricted to 100,000 miles.
Verdict ★★★★☆
Pricey but powerful, with the best interior by far and plenty of bling for the lifestyle pick-up buyer.