Vauxhall Astra Sports Tourer 2022 review: Estate gets the hatchback's sharper looks plus much more space for the family
Family friendly, eco-friendly
The Vauxhall Astra has been one of the UK's best-selling cars on more than one occasion, though it was rarely what you might call an exciting car. More steady and sensible than sleek and sexy. However, since Vauxhall became part of the PSA Group — and subsequently the larger Stellantis conglomerate — it has been knocking out more appealing designs and future-proofing its models with electrification at the same time. 
This latest iteration of the Astra is no different. Its taut sheet metal presents a cleaner, more modern look and that reflects a streamlined product offering; Vauxhall has axed 85% of its model variants.
Petrol and diesel versions are available, and a pure-electric version of the Astra is coming, too, though not until next year. Plugging that gap (pun intended) is a PHEV (plug-in hybrid) with a useful 37-mile electric range.
Meanwhile, the Sports Tourer (estate car in Vauxhall parlance) is a more practical version that's ideal for families.
However, with the ever-increasing popularity of crossovers and SUVs, can the Astra Sports Tourer compete? Read on for our review.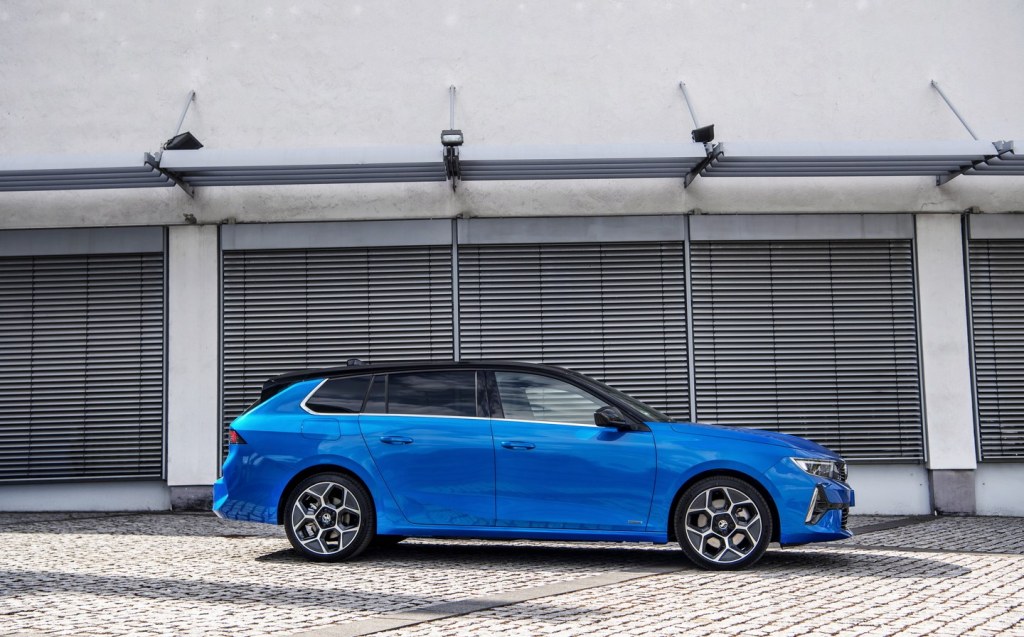 Exterior design and rivals
The most distinctive aspect of the new Astra is its front, with the 'Vizor' grille design that harks back to the Manta (a name that will return in 2024 on the back of an electric crossover) and is defined by its contrasting black colour that also neatly disguises the air inlets. Horizontal daytime running lights crown the standard LED headlights, creating a compass-like shape that includes a sharp crease running down the bonnet's centreline. 
It is markedly different to the Peugeot 308 that shares the same underpinnings and is easily as handsome as the Volkswagen Golf, a car that has long-defined this segment. Other direct rivals include the Skoda Octavia iV, which also comes with a plug.
In creating the Sports Tourer there has been little compromise on the design side of things, though the front and rear axles have been pushed further apart to increase cabin space.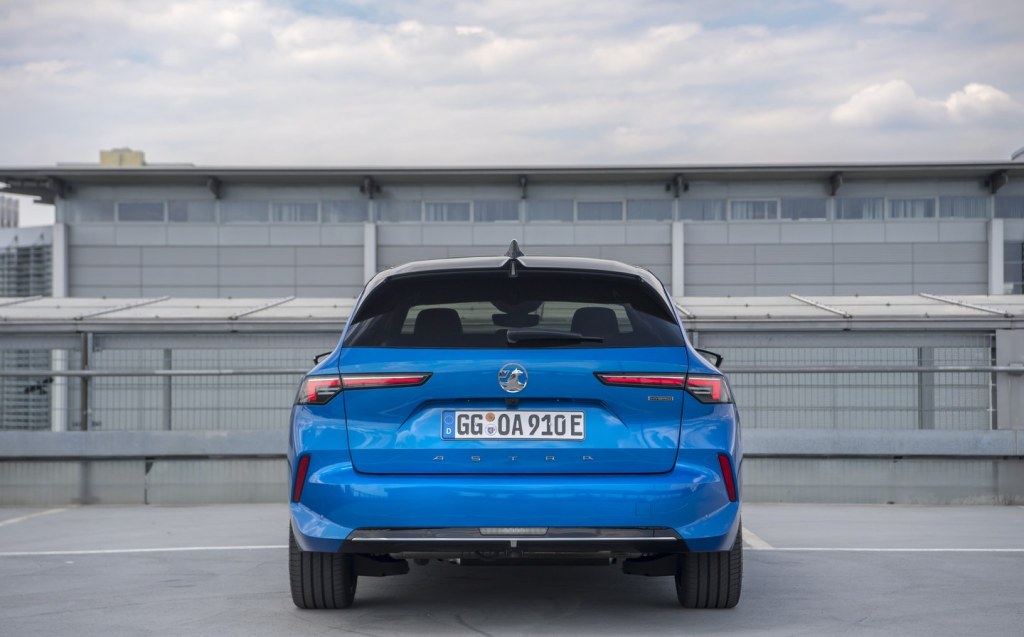 The standard Design specification gets 16in alloy wheels, black door mirrors and LED headlights, though you'll have to spend a little extra on the GS Line specification to get the snazzy contrasting black roof design.
Silver-effect roof rails are a useful touch and they are neatly styled to appear as if they are an integral part of the car, tying in with the window frame surround. A thick C-pillar at the rear continues the look that now runs through most of Vauxhall's model range. 
View the Sports Tourer directly from behind and there isn't a great deal of difference between it and the hatch – though the number plate has been repositioned from the bumper up onto the boot lid, to lower the load height.
Interior and practicality
Vauxhall Astra interiors of the past were a button-strewn sea of black and grey plastic so it's very refreshing to see some real effort go into the design of the new model.
What immediately grabs your attention is the 'Pure Panel' dashboard. Made up of two 10in digital displays it provides a modern look that is similar to that of the company's Mokka crossover.
Pleasingly, it's not a fully digital experience, as Vauxhall has retained two rows of flush-fitting buttons for easy operation of frequently used functions, including temperature and climate control settings.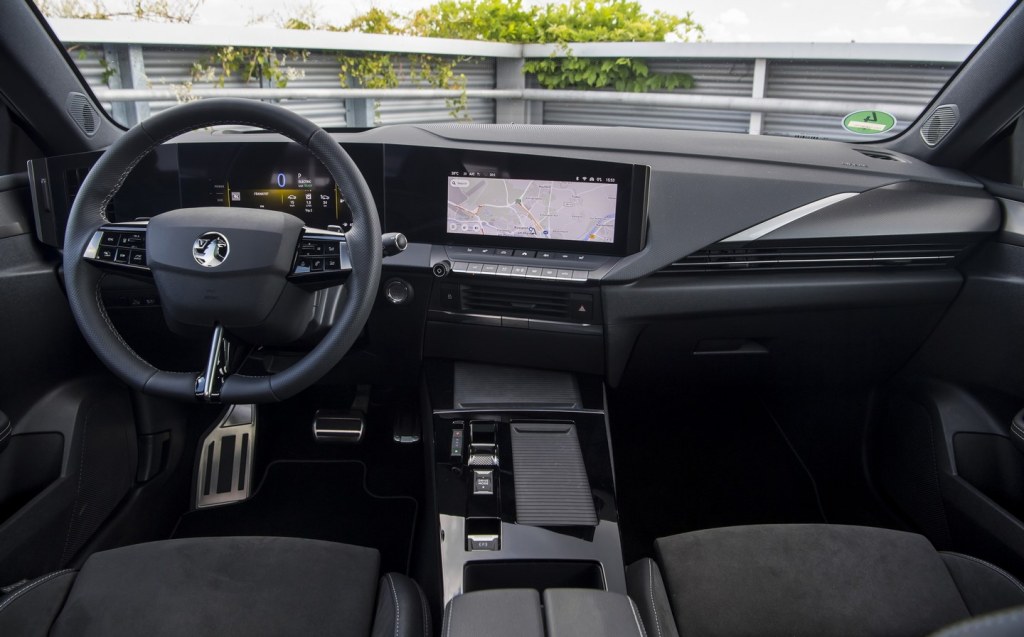 The multifunction steering wheel also carries buttons that are very easy to use, helped by a raised centre button to make it easier to feel your way around without looking down.
A generous amount of adjustment for reach and rake of the wheel plus lots of driving seat adjustment will make it easy for anyone to get comfortable. 
Both outer rear seats contain Isofix anchor points, of course (a legal requirement since 2011), while 40:20:40 split-folding rear seats with a handy lever release in the boot are standard.
There are 597 litres of boot space in the Sports Tourer, including a useful adjustable floor that can either make loading bulkier items in easier or double up as an underfloor storage compartment to help keep valuables out of sight. Dropping the rear seats down increases overall cargo volume to 1,634 litres. 
Another very practical feature is the ability to stow the retractable tonneau cover within the boot itself when it is not in use.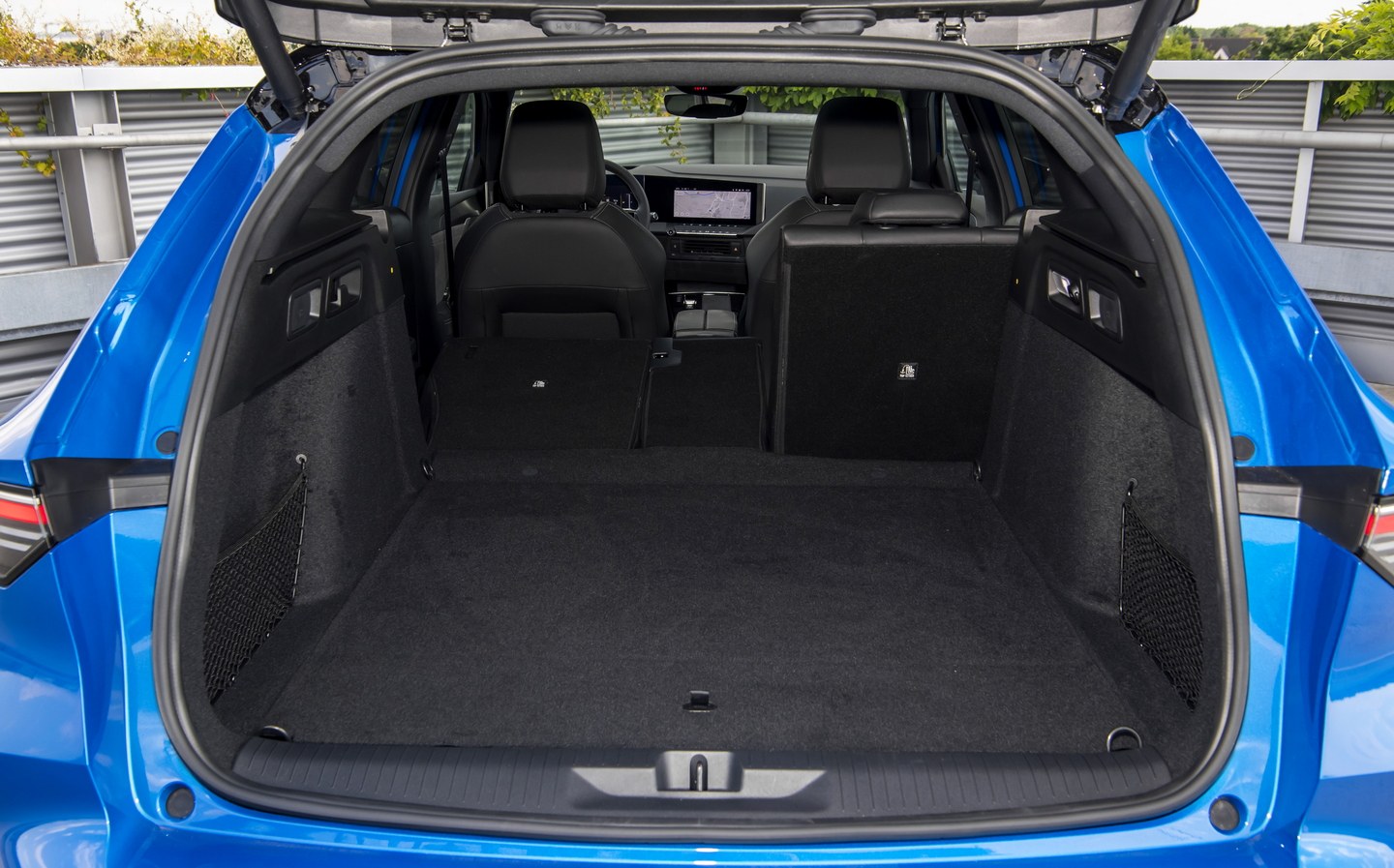 The plug-in hybrid version as tested here does get a slightly smaller boot on account of the battery placement. Still, at 516 litres, it is a decent size and can increase to 1,553 litres when the rear seats are down. 
Technology and safety
Powered by Qualcomm's Snapdragon Cockpit Platform, the Pure Panel's pair of 10in screens provide all the info a driver (and passenger) might want.
The native infotainment system is pretty easy to navigate and there is wireless connectivity for Android Auto and Apple CarPlay, which opens up easy use of your favourite apps.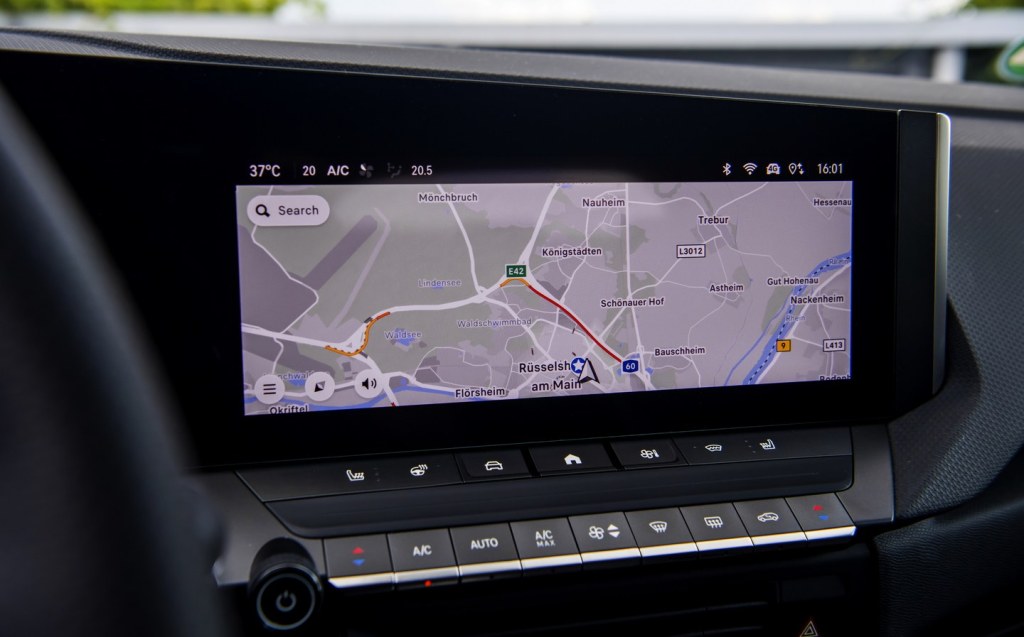 In the most recent Euro NCAP safety tests, the Astra scored four out of five stars, losing marks for the lack of a centre airbag. Vauxhall does, however, include LED headlights, lane departure warning with lane keep assist, low-speed forward collision alert, eight airbags and automatic emergency braking with pedestrian detection, even on the entry-grade Design spec.
The GS Line adds forward collision alert at all speeds, traffic sign recognition, a 360-degree parking camera and adaptive cruise control with intelligent speed adaptation. The latter can detect a change in speed limit zone and act accordingly.
Keyless entry and start is another convenient feature of the GS Line spec, as is the preconditioning and remote charging access for the PHEV model via the Vauxhall app. 
Performance, power output and acceleration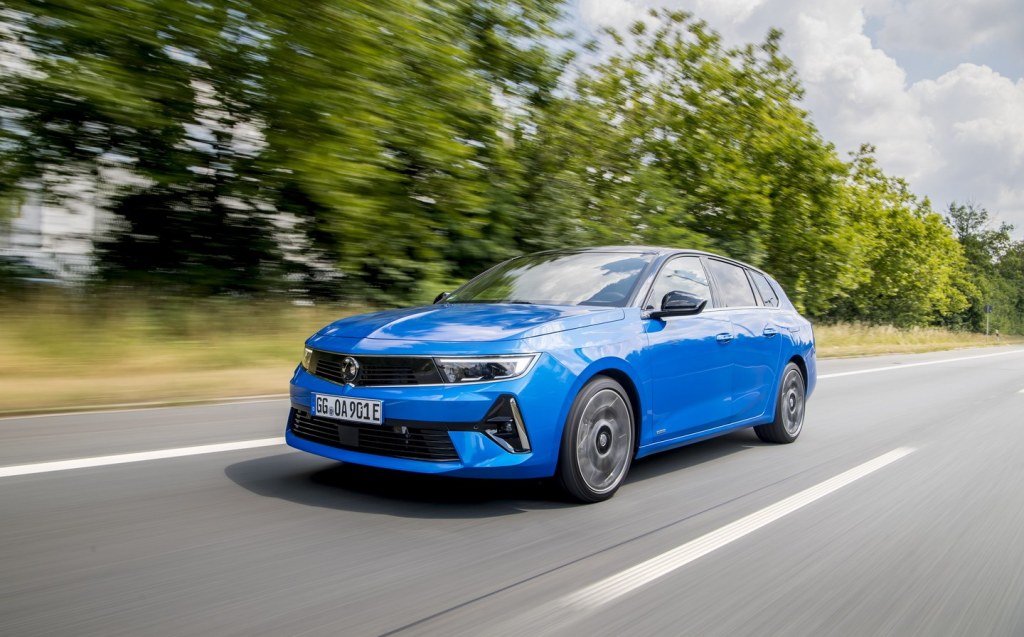 From launch there is the choice of a 1.2-litre petrol engine in two guises, a 1.5-litre diesel and a plug-in hybrid with a 1.6-litre petrol engine, but you'll have to wait until 2023 before a pure-electric Astra estate goes on sale. 
The 1.2-litre turbocharged three-cylinder engine starts the Sports Tourer range with a 108bhp version in the Design trim. We'd suggest that buyers should pay the small premium for the 128bhp version of that engine as the extra power will make a difference.
For a £1,500 jump there is an eight-speed automatic, which is far slicker in operation than the six-speed manual gearbox. That has a gear change that never feels quite as precise as it should, where the automatic is smoother and tends to do a better job of keeping the engine in its optimal performance window. 
In general, the three-cylinder petrol engine does a good job at pulling the Astra along. It has a pleasing thrum and it's reasonably perky. Load the car up with passengers and a boot full of luggage and it will begin to struggle, and "three-pots" tend to feel especially gutless at altitude (useful to know if you live up a mountain), but for most people on shorter everyday journeys, it should be fine.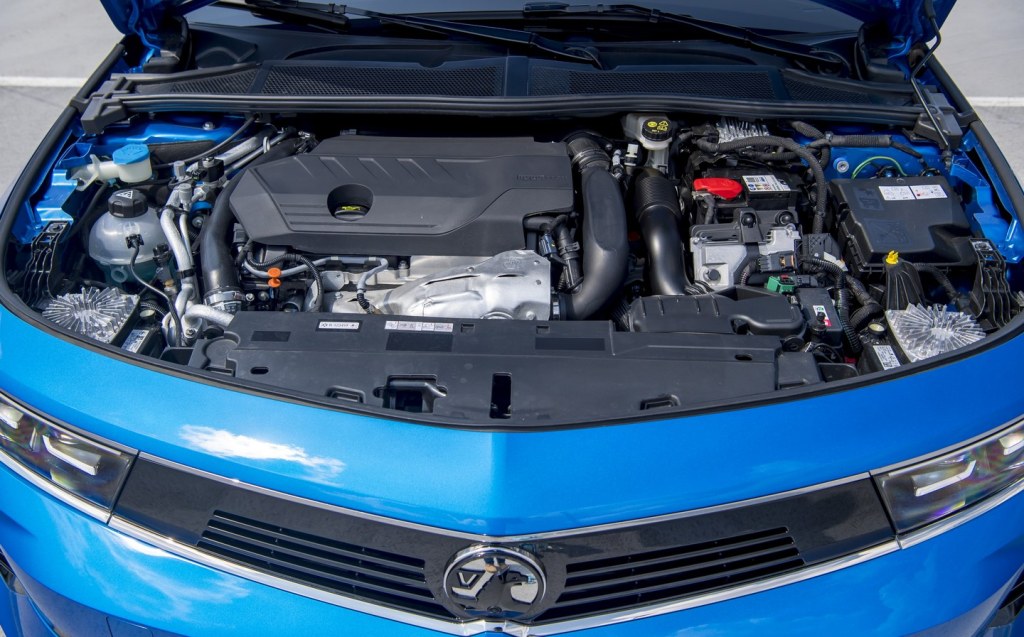 Diesel may be moving towards the stage exit as a technology in our cars, but there is still plenty of reason to consider the 1.5-litre four-cylinder engine in the Astra if you're going to spend much of your time pounding up and down the nation's motorways.
It comes as standard with the eight-speed auto 'box, which serves to flatter its performance, so it purrs along at speed with plenty of refinement while its 60-plus mpg figure will help lessen visits to the increasingly expensive fuel pump.
It has the highest towing capacity of the Astra estates at 1,500kg for a braked trailer and 740kg unbraked.  
The benefit of the plug-in hybrid is that it can cover a reasonable amount of ground on electric power thanks to its 12.4kWh battery. Vauxhall says that up to 37 miles is possible over a mix of roads and conditions.
Charging the battery can take as little as two hours depending on the charger.
The 81kW electric motor ensures the Astra never feels slow; in fact it can drive at up to 84mph in electric mode, while a Sport setting engages both it and the 1.6-litre turbocharged four-cylinder petrol engine for a combined 178bhp output and 0-62mph acceleration in 7.7 seconds. 
Ride and handling
Mirroring the sophisticated image of the new Astra Sports Tourer is a suspension setup that makes it feel more polished than previous versions. The 16in wheels of the Design trim might not turn as many heads on the high street but their high-profile tyres cushion the ride.
Moving up to the sportier GS Line does bring larger wheels, though the Vauxhall remains comfortable in almost all scenarios, so you won't be visiting the dentist with loose fillings anytime soon in it.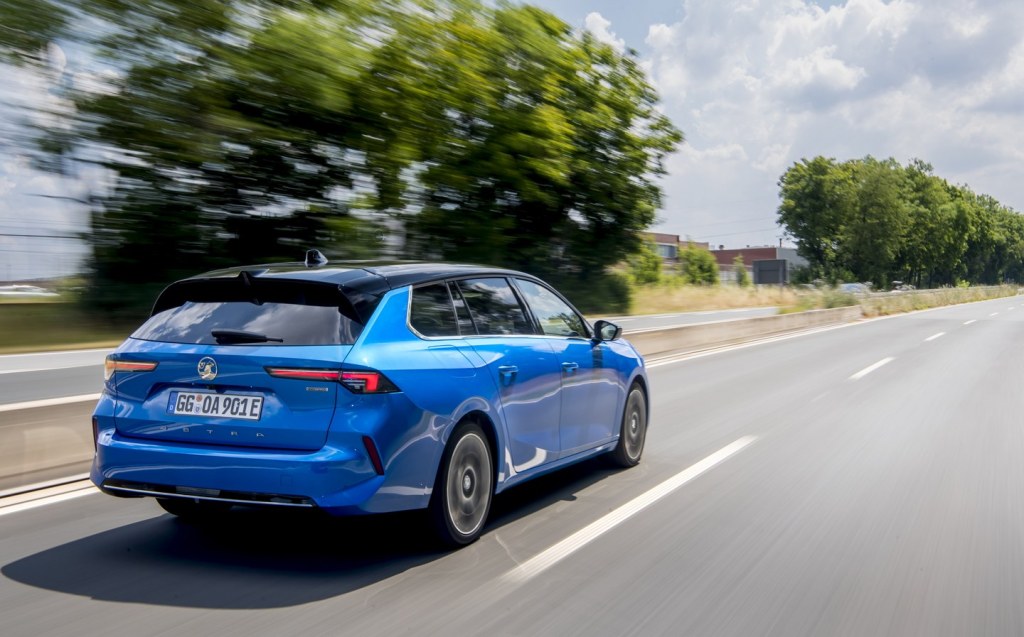 The little petrol engine's low weight makes the nose seem a little lighter compared to the other powertrain options, to the benefit of agility.
Generally, the Astra Sports Tourer is a fine car to drive, whatever engine you go for.
Plenty of sound insulation adds to the upmarket feel that it now has, comfortably making it a rival for past segment benchmarks such as the Volkswagen Golf. The PHEV takes that one step further with its near-silent running ability over shorter journeys. 
Pricing and on-sale date
The Vauxhall Astra Sports Tourer is on sale now and it can be purchased through a traditional dealer or online, the latter of which includes a 14-day return guarantee.
An entry price of £25,515 gets you the base petrol engine version, with the more powerful motor costing £600 more – that's money well spent.
The sole diesel option costs from £28,615 while the plug-in hybrid — available only in GS Line trim — is priced at £33,900, making it the most expensive variant. 
Expect the pure-electric version to have a further premium.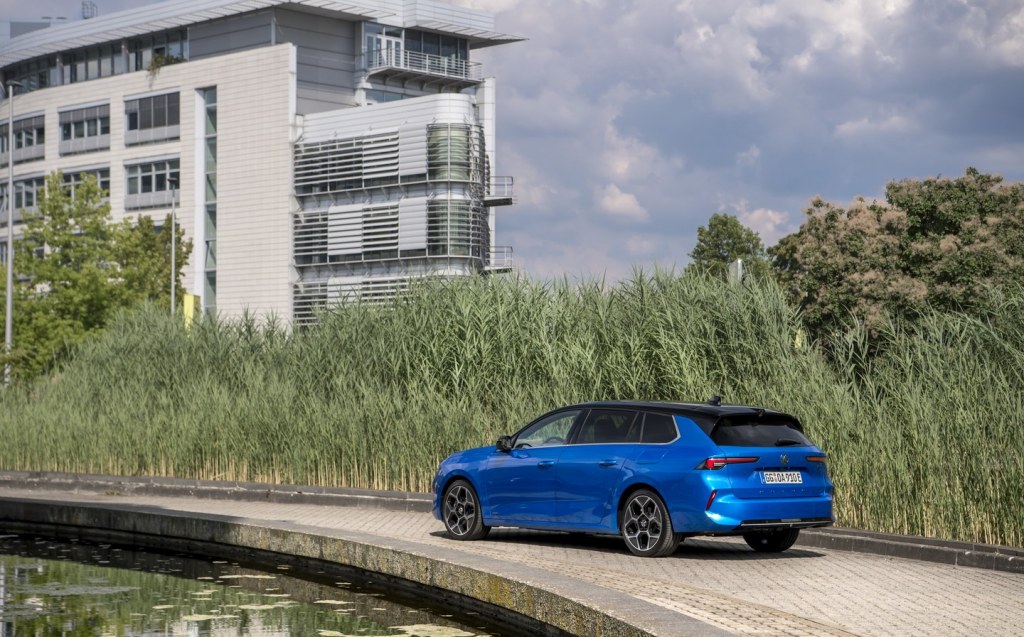 Verdict: Vauxhall Astra Sports Tourer review
Estate cars are often seen as the less interesting looking version of a hatchback, though the Astra Sports Tourer is an attractive thing, especially in the GS Line specification.
Its spacious interior and ability to carry a lot of luggage makes it a great alternative to often-compromised crossovers and SUVs, and many will see it as a more socially acceptable car for driving in urban areas.
Decent refinement and a simplified product range makes this an easier consideration for many buyers than ever before. 
Related articles
Latest articles