Nissan Qashqai e-Power review 2022: Power to the people who aren't ready to go pure-electric
No plugs ... but is that a good thing?
Nissan has been something of a pioneer when it comes to pure-electric cars, but even the maker of the Leaf and e-NV200 believes there's still a way to go before every customer is ready to go combustion engine-free. To bridge the gap, the Japanese carmaker has created the new e-Power hybrid system, which is designed to merge the electric car driving experience with the flexibility of a petrol engine.
The system is being introduced in the Qashqai SUV – the British-built star of Nissan's range – and while the Qashqai e-Power looks conventional on the outside, the system is anything but.
Sole responsibility for driving the front wheels lies with the electric motor, while the 1.5-litre petrol engine is merely an on-board generator. There's no plugging in or waiting to charge, as you might with a plug-in hybrid or a pure-electric car; you just fill up with petrol as you would in a normal Qashqai.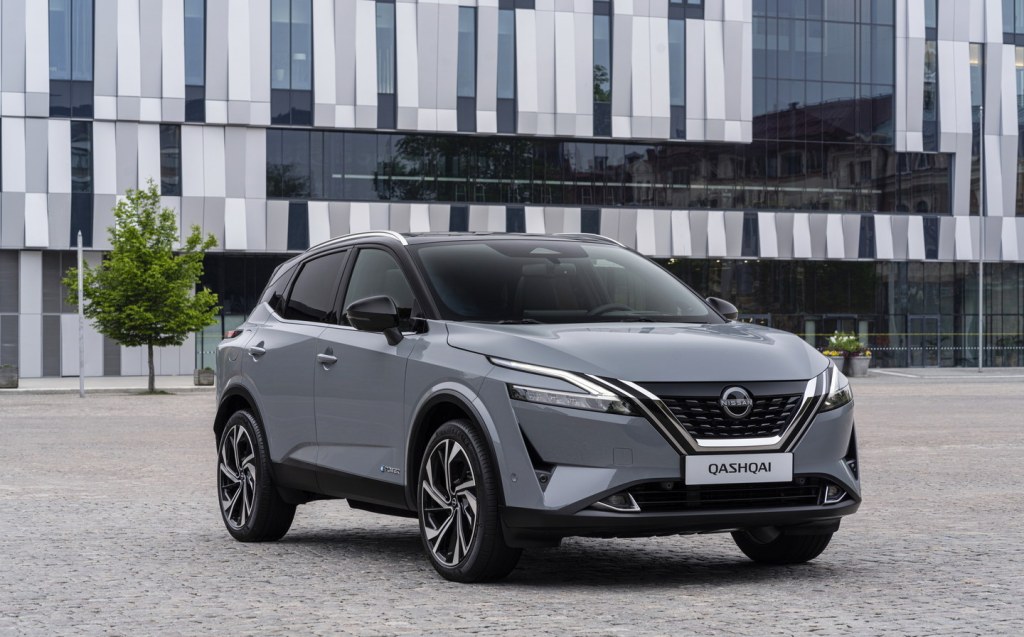 Nissan claims the system is more efficient than simply using a petrol engine, and the e-Power is designed to be a stepping stone for customers who may one day make the transition to electric power.
It's arguably designed to wean drivers off the internal combustion engine. But to do that successfully, the Qashqai e-Power has to have at least some discernible appeal.
Exterior design and rivals
That appeal certainly doesn't come from any kind of extravagant exterior flourishes. At a glance, the Qashqai e-Power looks much like any other Qashqai. Look really closely and you might notice a glossy black panel at the top of the grille, and there are some e-Power logos on the doors and boot lid, but that's pretty much it.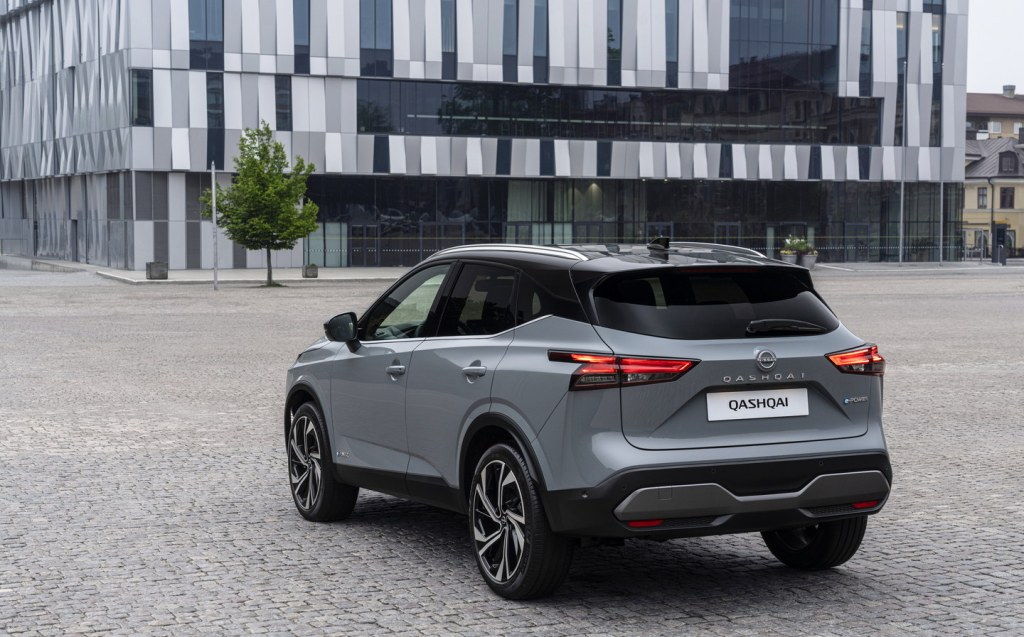 Not that there's anything wrong with the way the Qashqai looks, regardless of whether it has a mild-hybrid petrol engine or the new e-Power system. It's a modern, clean design with narrowed headlights and a chiselled rear end. Perhaps it isn't the most attractive family SUV on the market right now, but nor is it the ugliest.
Speaking of the other family SUVs you could choose, the Qashqai e-Power doesn't really have natural rivals. The e-Power system is fairly unique in this sector but plenty of hybrid SUVs do much the same job. Chief among these is the Honda CR-V with its e:HEV hybrid system, which also uses an e-motor for much of its propulsion, as well as the Toyota RAV4.
Then there are the many plug-in hybrids such as the Volkswagen Tiguan, Ford Kuga and Peugeot 3008, which offer a lot more miles on electric power and will be a smarter bet for company car drivers, due to excellent tax breaks.
Interior and practicality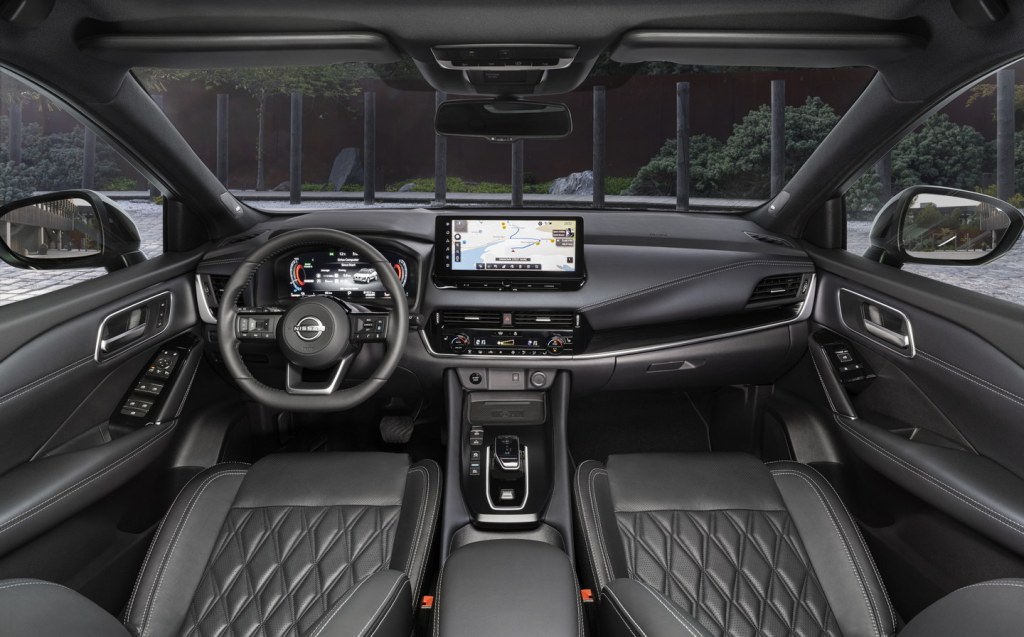 Inside, the Qashqai e-Power is more or less identical to the standard Qashqai. You get the same basic design, the same interior trim and the same level of quality.
There's nothing wrong with that, of course – the Qashqai's interior might not be especially ground-breaking but it has plenty going for it. Quality is generally very good, aside from a few rogue cheap plastics, and it has a kind of understated style.
There's plenty of technology, too, with top-end models getting the latest-generation, 12.3in Nissan touchscreen, which is a vast improvement on its predecessors, and a digital instrument cluster. High-specification versions also benefit from a head-up display.
Because so little has changed with the move to e-Power technology, the Qashqai remains as practical as ever. The cabin is spacious, with ample rear legroom and headroom, so carrying four adults won't be an issue. There's also a selection of cupholders and cubby holes that combine to create some useful extra storage.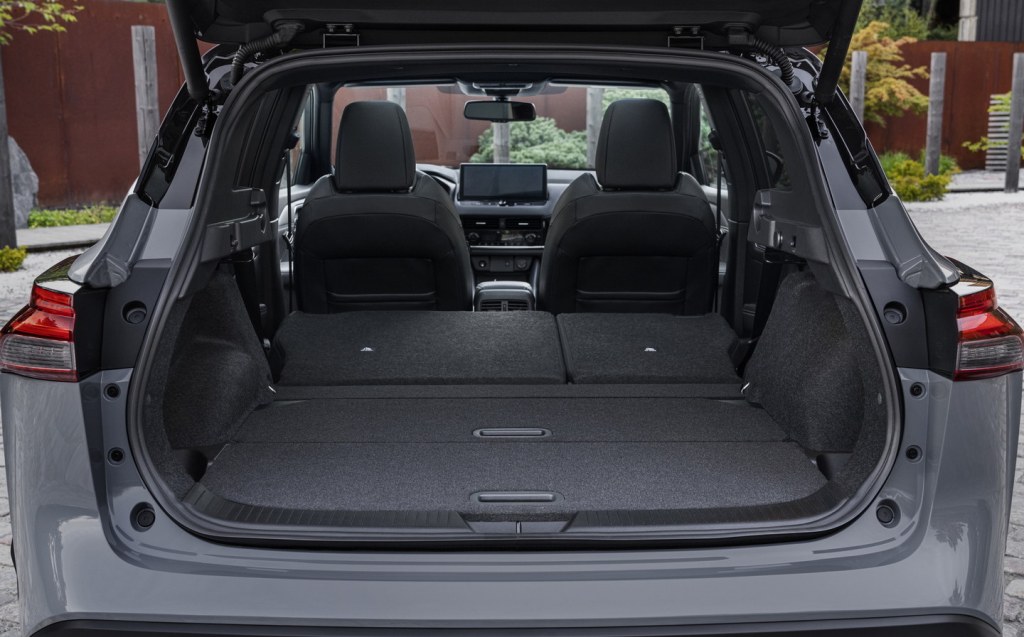 Boot space is solid without being especially competitive. There's no penalty for choosing the e-Power model over a mild-hybrid petrol, and both get a luggage bay holding 504 litres in Acenta Premium models, while more upmarket N-Connecta, Tekna and Tekna+ versions have 479 litres of luggage space.
That's perfectly reasonable but it's much less than you get in a plug-in hybrid Ford Kuga or a Toyota RAV4. That said, it's about the same as a plug-in hybrid VW Tiguan and noticeably more than you get from a hybrid Peugeot 3008.
Technology and safety
Nissan places huge emphasis on technology and safety equipment so it's no surprise to find this clever propulsion system is matched by the on-board technology. But there isn't much more than you get in a conventional Qashqai, which was already a tech-heavy car.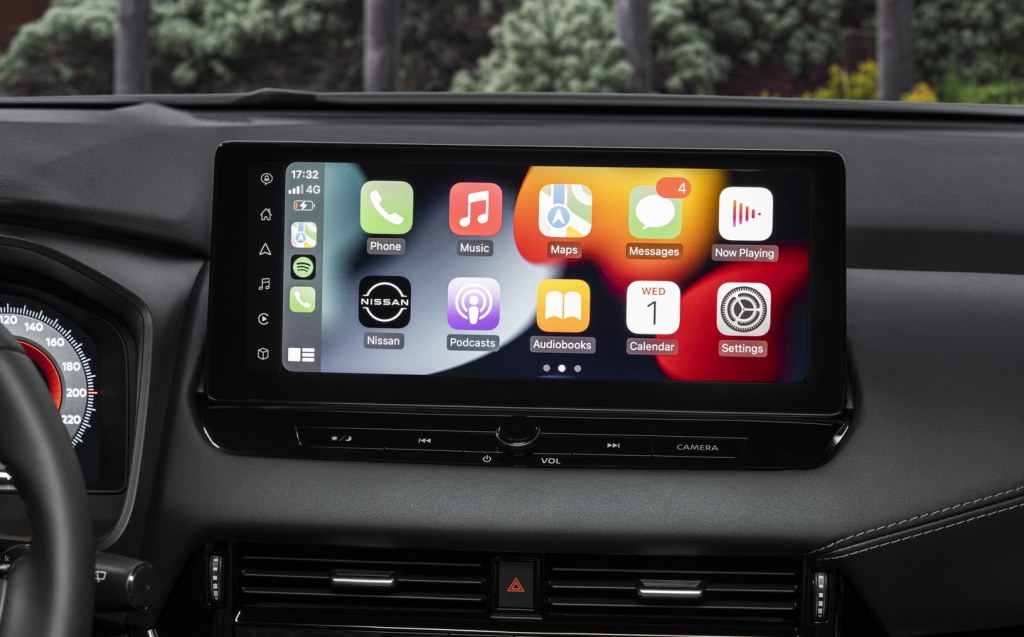 For a kick-off, there's the 12.3in touchscreen found in high-specification models such as our Tekna+ test car. Superior to its predecessors (and the standard 8in screen) in almost every way, the system looks the part and feels more upmarket.
It has its issues – the response can be a little slow at times – but it's sharp and logically laid out, and everything is easily accessible.
That's joined by a digital instrument cluster that also has a clear display and plenty of functionality, but lacks a little restraint. It's as though Nissan has tried to fill every available pixel with information and data, making the whole thing feel a bit busy. It isn't bad, but systems such as the Virtual Cockpit in the VW Tiguan remain classier and more impressive.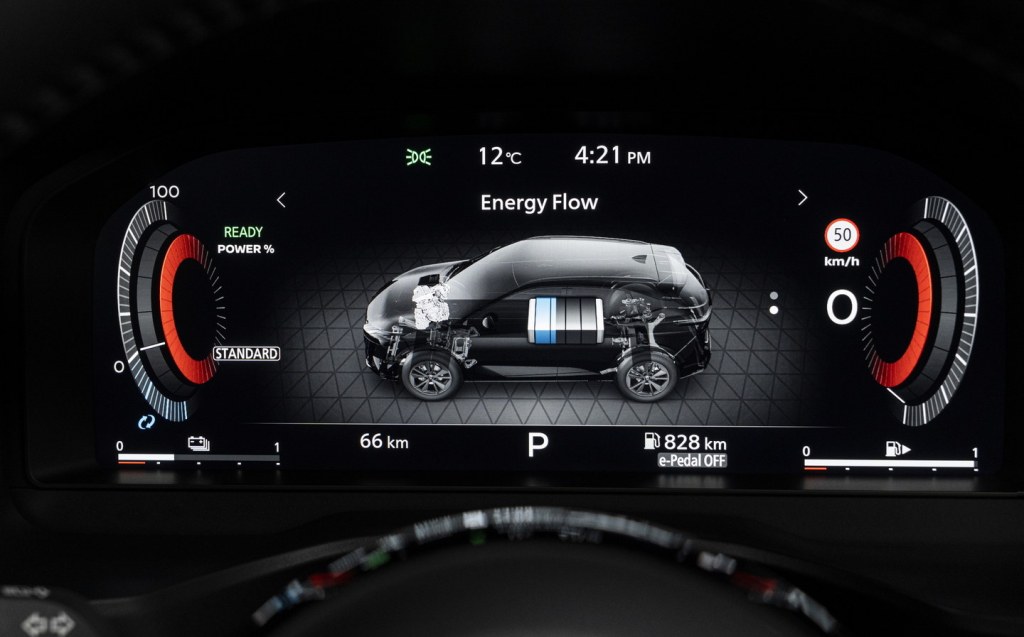 Upmarket Qashqai models also get a head-up display, which is both clear and quite big, filling a large area of the Nissan's windscreen. Again, it has its issues, including a blueish tinge when you drive through a tunnel and less-than-seamless integration into the Qashqai's dashboard trim, but it offers clearer and more concise information than the instrument display, and places it right in front of you.
The e-Power has also inherited Nissan's ProPilot technology, which works as an advanced driving assistance tool. Essentially, the car combines its radar cruise control and lane-keeping assistance technology to command the accelerator, steering and brakes in one lane of the motorway.
It can't deal with lane changes or forward planning – the driver still needs to monitor its behaviour – but it can maintain a safe distance to the car in front and keep the Qashqai in its lane.
As with all other such system at present, the driver has to stay in control with their hands on the wheel but ProPilot is a great safety net when you're distracted by kids in the back or on a long drive where there's a risk of tiredness creeping in (we're obliged to say here that you should always stop for a rest if you get tired).
Performance, power output and acceleration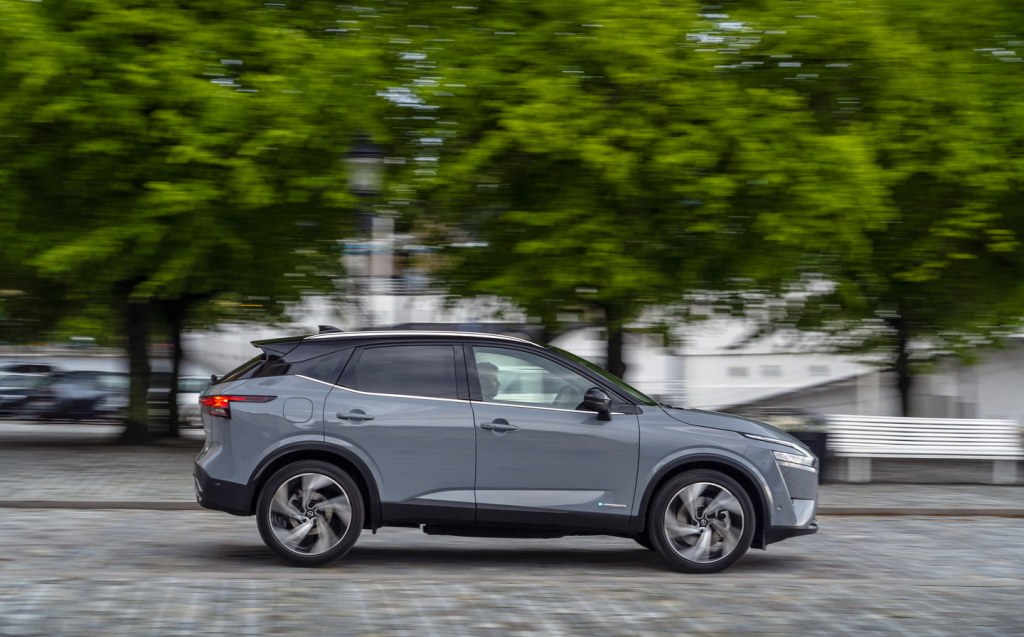 The e-Power system makes this version of the Qashqai more closely aligned with an electric car than a true hybrid. The petrol engine – a 1.5-litre, four-cylinder unit – never powers the wheels, but instead works to charge a small lithium-ion battery that evens out any peaks and troughs in the electricity supply and allows the engine to be shut down at times.
Even if you run out of fuel, the battery will keep the car going for a short while longer, but it can't be recharged as a plug-in hybrid might be.
The result is, perhaps unsurprisingly, a car that feels like a cross between an electric car and a hybrid. The acceleration is straight from an electric vehicle, as is the way the car crawls through urban traffic, but the noise is more reminiscent of a hybrid, albeit a refined one.
The engine speed does rise with the car's pace as it has to supply that battery with energy, but unless you really put your foot down it does so smoothly and quietly. Most of the time, you can barely tell whether the engine is running or not.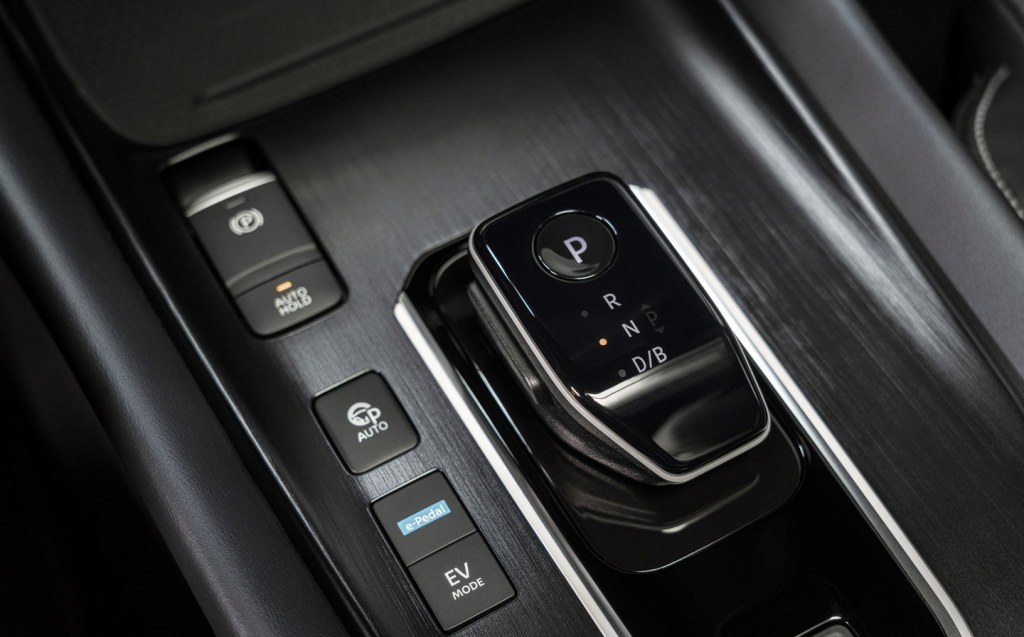 But although the car feels as responsive as an electric car, the electric car in question is not particularly rapid. The sprint from 0-62mph takes about seven seconds, and that's brisk, rather than fast. Still, with 188bhp on tap nobody will accuse the e-Power of being slow, and who buys a Qashqai for its performance credentials anyway?
Economy is more important – particularly for the e-Power – and there the car can do very well as the official figure is over 50mpg on a mix of roads. Around town, where the petrol engine will be used most sparingly, the e-Power will achieve quite impressive economy, but it fares less well on long drives.
On our test route, which included a mixture of urban, countryside and motorway driving, the e-Power managed around 48mpg – only slightly better than a mild-hybrid Qashqai will manage on a long run. And were it not for the city-centre miles, the figure might well have been lower.
Ride and handling
Although the e-Power system changes the Qashqai's acceleration somewhat, it doesn't make a vast amount of difference to the way the car rides or handles.
Like the 1.3-litre mild-hybrid Qashqai, the e-Power feels pretty comfortable, soaking up the bumps well enough and sheltering you from the more savage potholes. But there's a grainy quality to the ride that prevents it ever feeling settled, and that doesn't inspire much confidence in the corners.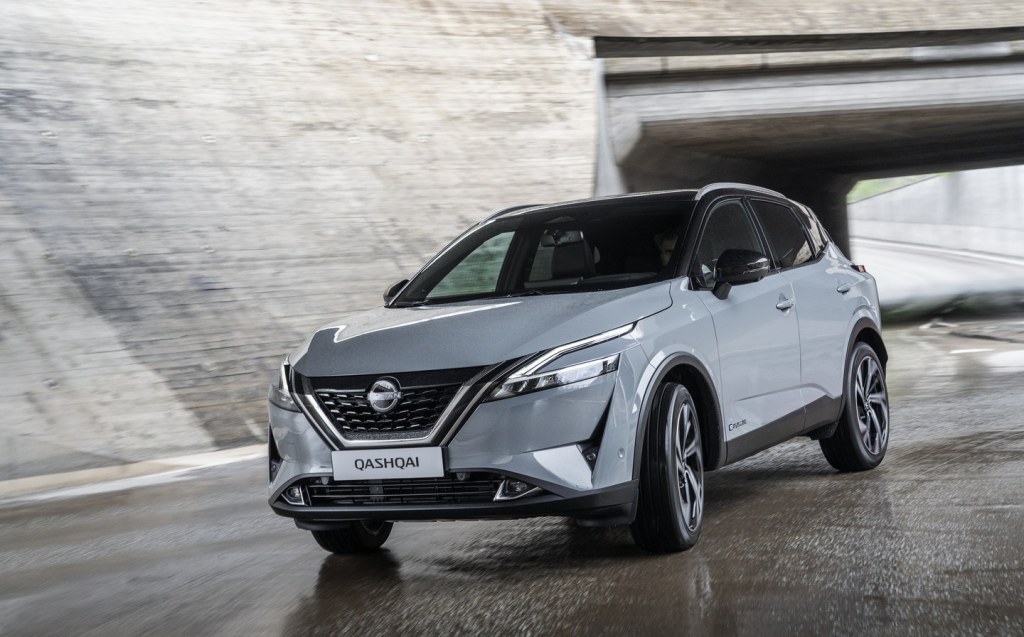 Not that the Qashqai ever encourages you to drive like your hair has caught fire. The steering is numb and light, which is far from ideal if you want to go quickly.
Around town, however, it's perfect. It makes the car feel manoeuvrable and light on its feet, which is exactly what you want when you're nipping into lanes and threading your way through tight spaces.
The e-Power also comes with the e-Pedal setting from the Leaf electric hatchback, which ramps up the electric motor's regenerative braking function. That essentially allows you to drive using just one pedal — the accelerator — with lifting off resulting in strong deceleration that helps to tickle a bit more energy that would normally be lost through heat in the brakes back into the battery. The more charge there is in the battery, the less you need the petrol engine.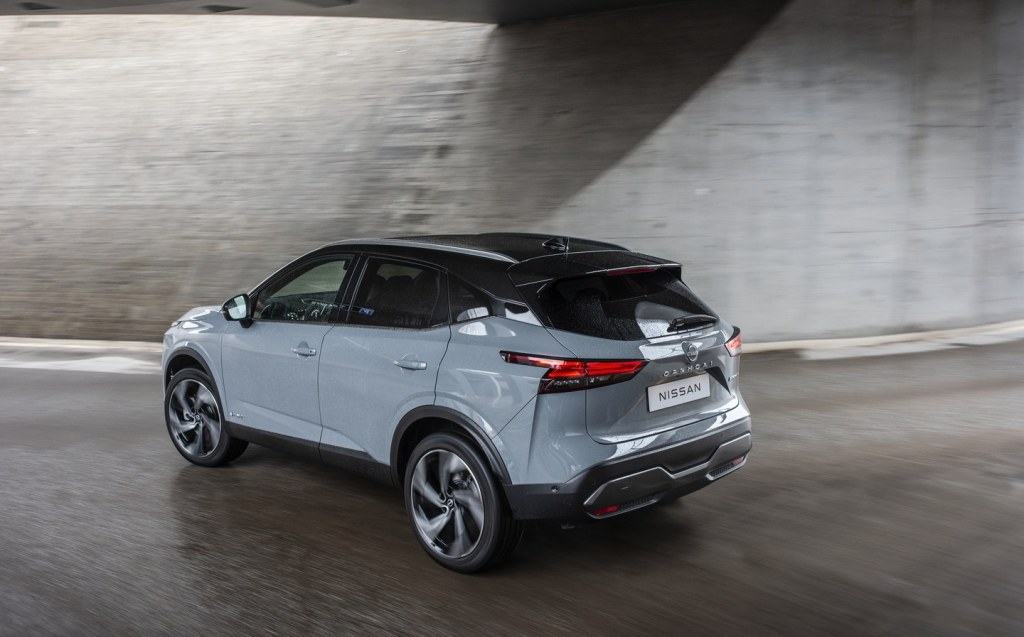 There is one minor problem, though. No matter whether the e-Pedal mode is on or not, the brake pedal feel is inconsistent, which makes it quite difficult to judge how much force you should apply to stop smoothly. It isn't too bad when you're pulling up from 30mph or so, but if you're crawling in traffic, it can make life a bit jerky for your passengers.
It's something we've seen before in hybrids as they balance the demands of two kinds of motor and the regenerative braking system to find the most efficient balance, but the e-Power shouldn't need to do so much of that. For a car that should be at its best in town, it's an issue Nissan really ought to improve.
Pricing and on-sale date
Nissan is charging the princely sum of £32,950 for the e-Power, which makes it just under £2,000 more expensive than the equivalent 156bhp, automatic, mild-hybrid petrol Qashqai.
The e-Power system is only available on mid-range Acenta Premium models and the more luxurious N-Connecta, Tekna and Tekna+ versions, so the basic Visia models are still available solely with the less potent 138bhp mild-hybrid engine.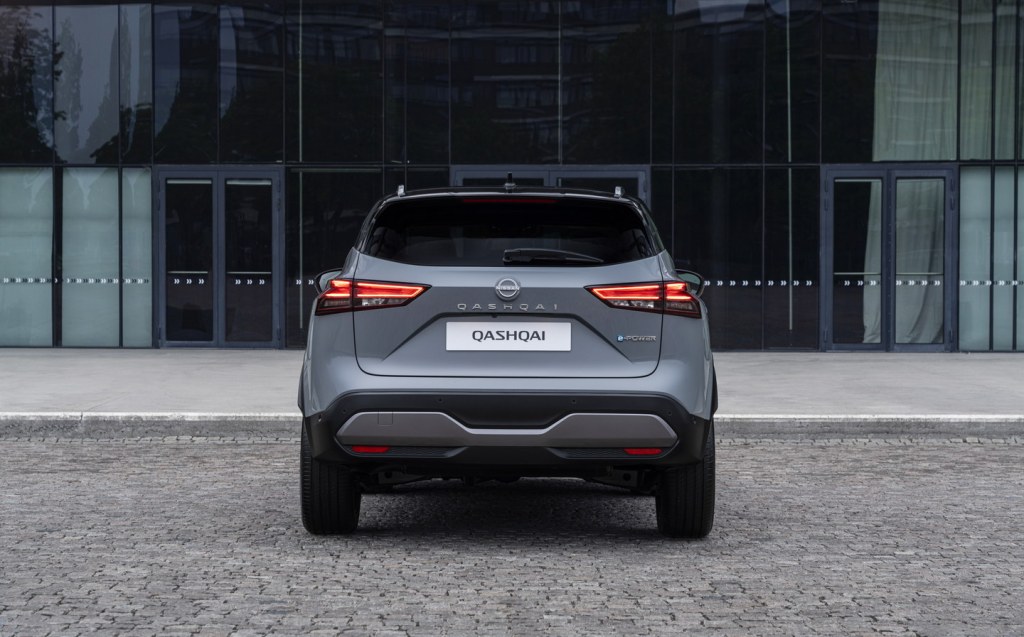 Standard equipment for e-Power models will be much the same as that of the mild-hybrid petrol variants, with the Acenta Premium versions including alloy wheels, a touchscreen infotainment system and keyless entry and start. A rear-view camera is also included, along with two-zone climate control and the Apple CarPlay and Android Auto smartphone integration systems.
Verdict: Nissan Qashqai e-Power review
The e-Power system works well, and it'll suit some customers down to the ground. Sensible emissions and the flexibility of a petrol engine will appeal to company car drivers, and those who mostly cover lower mileages, while the relatively low purchase price compared with a plug-in hybrid and impressive urban economy will tempt plenty of suburban commuters.
The problem is that most of those attributes also apply to plug-in hybrids, which can save a lot on fuel for short journeys and offer even lower emissions (and running costs) for company car drivers.
Yes, plug-in hybrids are often slightly less efficient on long runs, they're usually more expensive up front and you need to charge them to get the best of the powertrain, which means you probably need off-street parking, but the PHEV likes of the Cupra Formentor and Ford Kuga are cheaper to run and better cars than the Qashqai to drive, too.
Related articles
Latest articles