Porsche Taycan GTS on track: the new benchmark for electric drivers' cars?
Electric sports cars are fast, but can they have soul?
---
Published 30 November 2021
WHAT'S THIS? An electric Porsche with a GTS badge? Surely not? Three letters that indicate more agility, more handling precision, more drama and improved endurance. Does the 2.3-ton Taycan deserve such a label?
Purely on a nomenclature basis, you could argue that a Gran Turismo Sport version makes more sense than the range-topping Taycan Turbo, given that electric cars don't have turbos. And when even the big old Cayenne SUV now has a GTS derivative — in fact, all Porsche model lines now have one — why not do so with the Taycan?
But to really earn the GTS badge, Porsche needed to do something special with the car. So what has been done to mark it out from the rest of the range, and what does a day of driving on track reveal about the new Taycan GTS?
Exterior design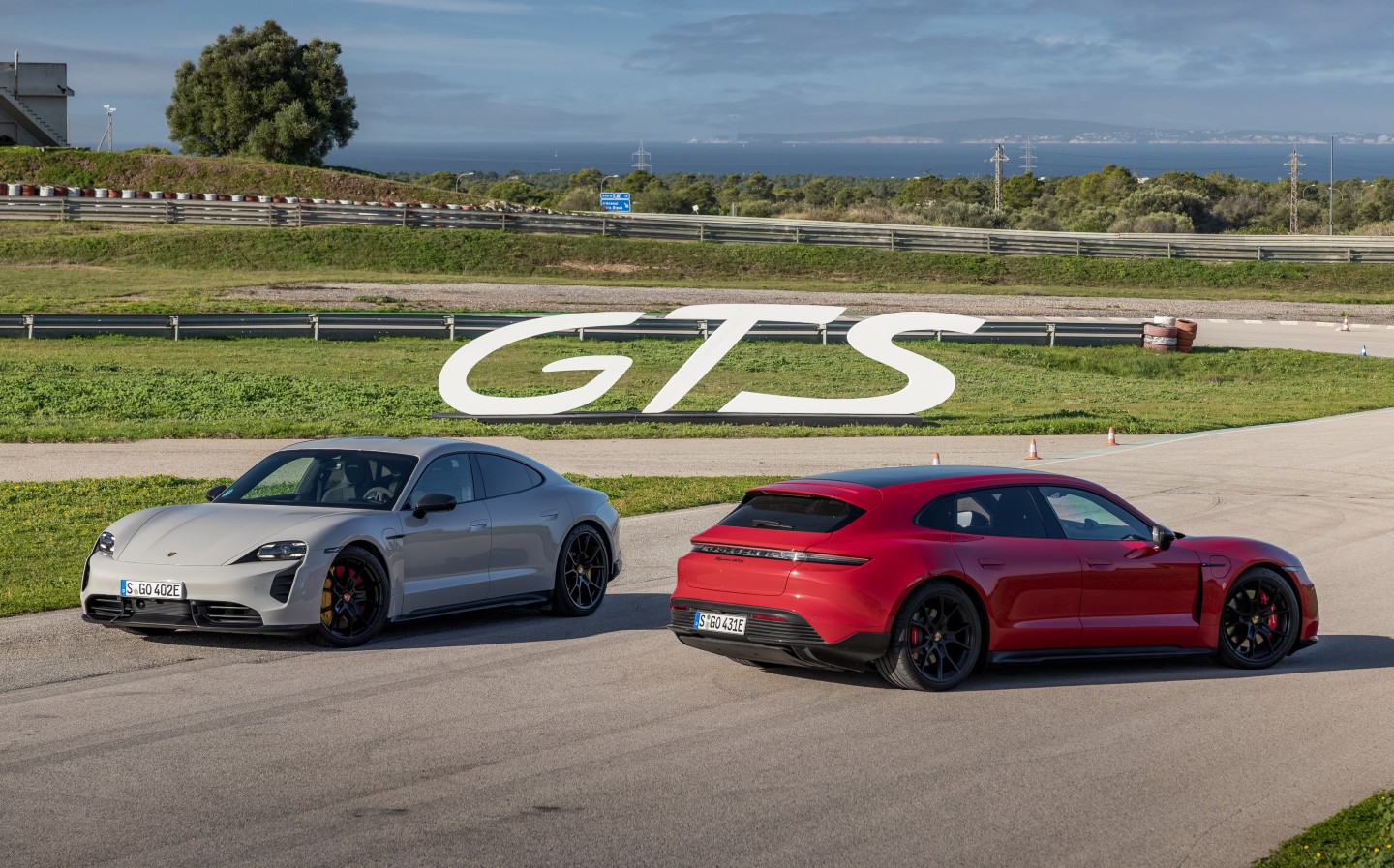 The Taycan GTS comes in two bodystyles, with a new Sport Turismo version joining the saloon and offering extra luggage space and rear headroom. Think Cross Turismo without the jacked-up suspension. Eventually all versions of the GTS will be available with the Sport Turismo's load-lugging rear end, apparently.
Both types are good-looking machines, though put the Turbo and GTS saloons side-by-side and it's hard to spot the differences at first glance, badging aside. The GTS even features the same rear diffuser geometry as the Turbo and runs on 20in Taycan Turbo S Aero Design wheels as standard.
The aesthetic changes are subtle and involve splashes of black trim here and there, for example to the Porsche badge front apron, bases of the side mirrors and side window trim, and the optional 21in RS Spyder Design wheels come in satin black — unique to the GTS.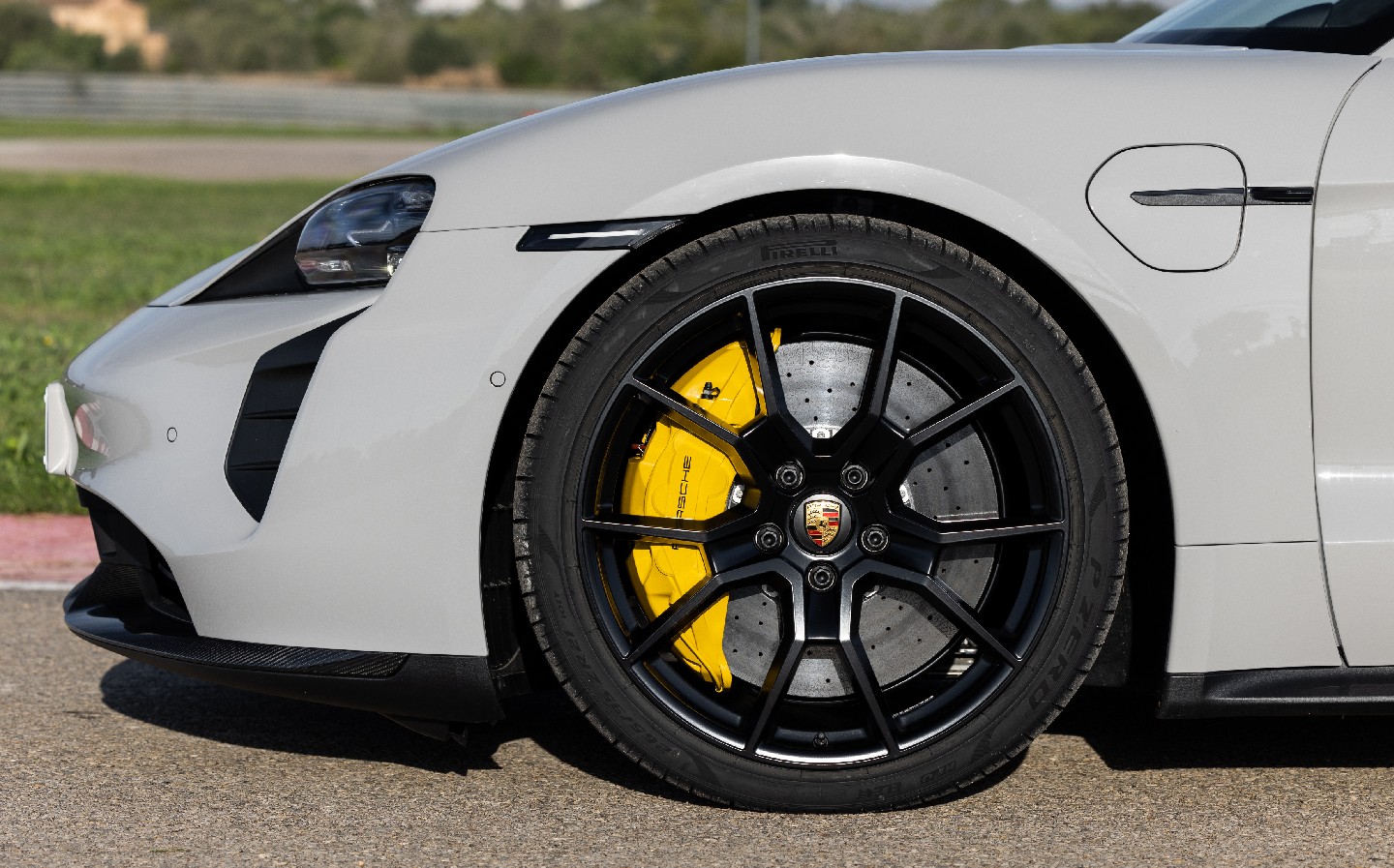 The GTS also comes as standard with the Sport Design package, which means more purposeful front, rear and side skirts finished in gloss black, while a neat touch is smoked LED running lights with black trim at the front.
Get the Sport Turismo and you can add a bike carrier and roof rails, though probably best take them off if heading to a track.
Interior, technology and practicality
The black theme continues inside the Taycan GTS's spaceship-like cabin, with black "Race-Tex" (essentially Alcantara by another name) cloth covering the centre console surrounds and electrically-adjustable sports seats (which include adjustment for the side bolsters and seat base, to help secure the slimmer-of-frame). Race-Tex clothes the roof lining and rear seats, too, while all four pews are heated and leather-lined. Brushed aluminium elements help the GTS stand out, too.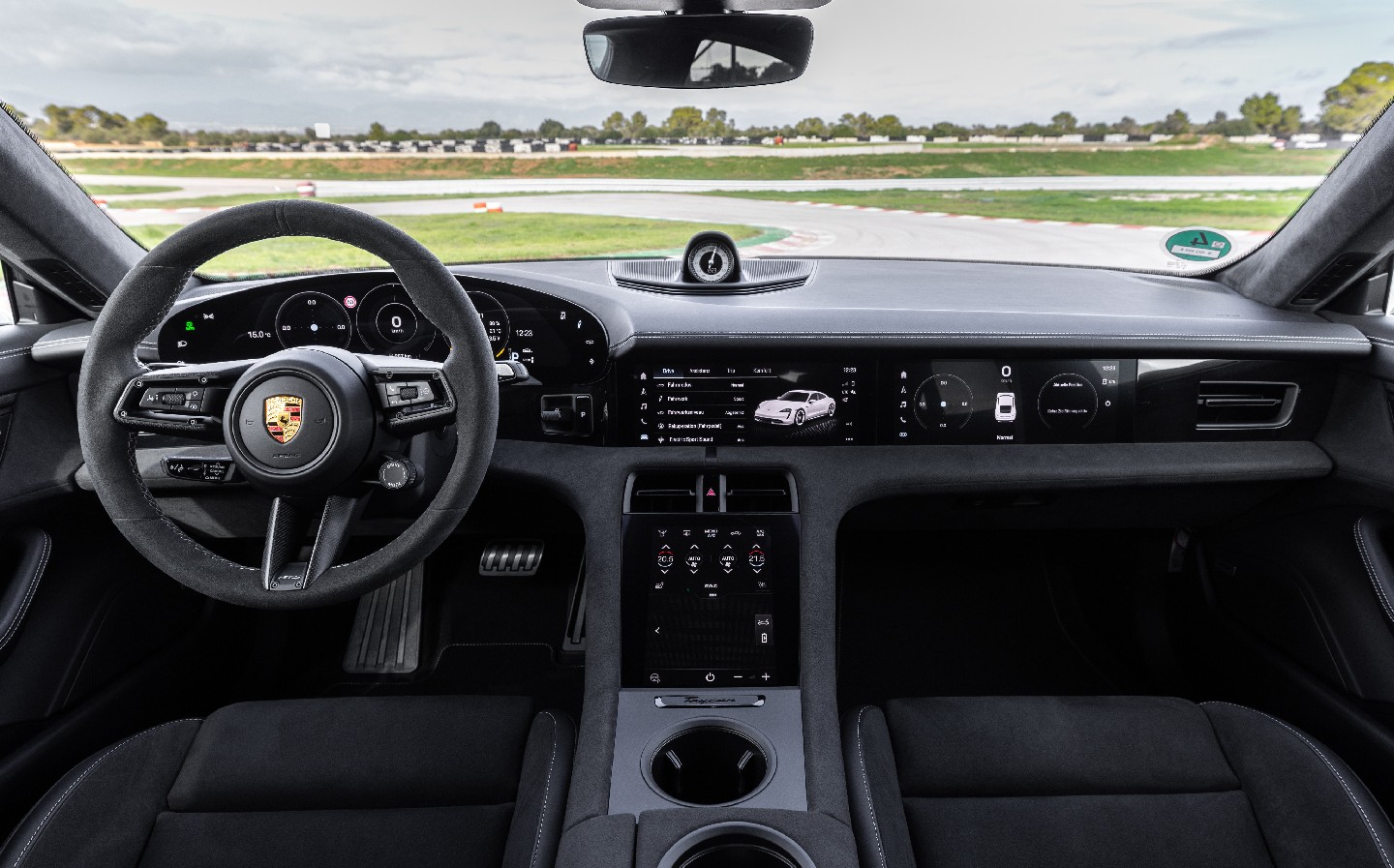 Importantly, the beautifully-enveloping feel of the Taycan's cockpit remains, and the driver feels very much part of the car, with their backside near-enough scraping the asphalt and the high, wide, ruler-straight dashboard framing the view ahead.
The interior of the Sport Turismo is bathed in sunlight thanks to the GTS' party piece: the world's first panoramic sunroof with what Porsche calls "Sunshine Control" — glass split into nine sections with liquid crystals that can be turned opaque individually via a control on the main touchscreen. Slide your finger up to create shade from rear to front, as you would a regular fabric roof blind, or select panels individually. Gimmicky, maybe, but this is the kind of feature that sells cars, and Porsche claims its panels are better at "heat blocking" than conventional glass roofs.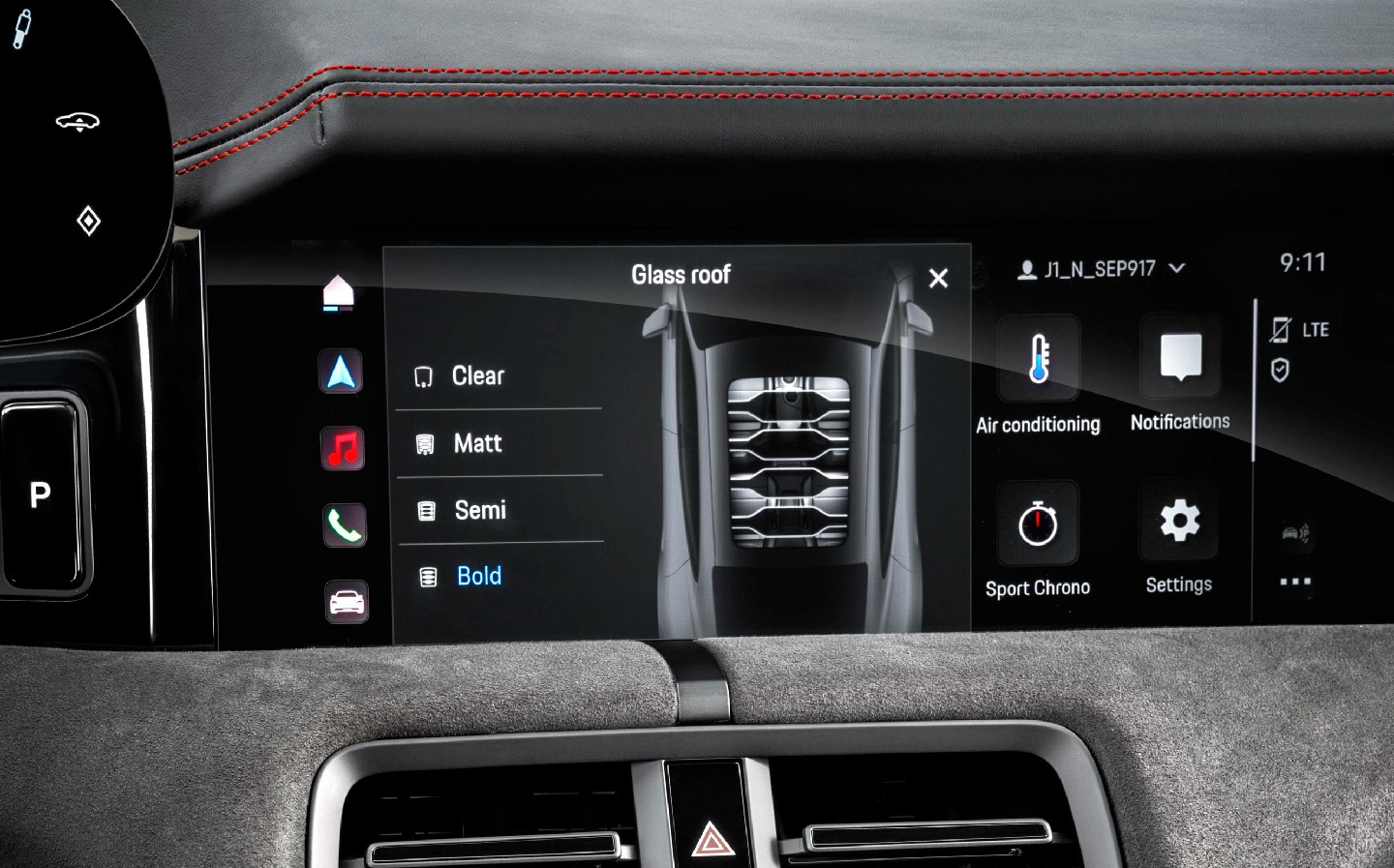 Speaking of touchscreens, that the Taycan comes with four of them raises a smile considering Tesla favours a single (though much larger) central display. Porsche clearly believes quantity is as important as quality if it is to distinguish itself, though there's the typical Porsche precision in designing the menu systems and somehow they don't overload the driver with information, or distract from the important duty of pedalling the car down the road; they're part of the seamless integration of human and machine. And no doubt the passenger will enjoy having access to their own display, capable of showing navigation, media, phone or driver display info.
The GTS gets the Sport Chrono package as standard but for anyone doubting its circuit-focused intent, Porsche has also made its Track Precision app — normally reserved for two-door sports cars — available. When loaded onto your smartphone, the car will transmit GPS-based data about lateral forces, acceleration, braking, and speed in real time during a lap of a specific circuit, allowing lap-by-lap analysis of your performance. There's no need to start and stop the lap timer — it works automatically as you cross the start-finish line — and your smartphone can be used to record video of the laps, too.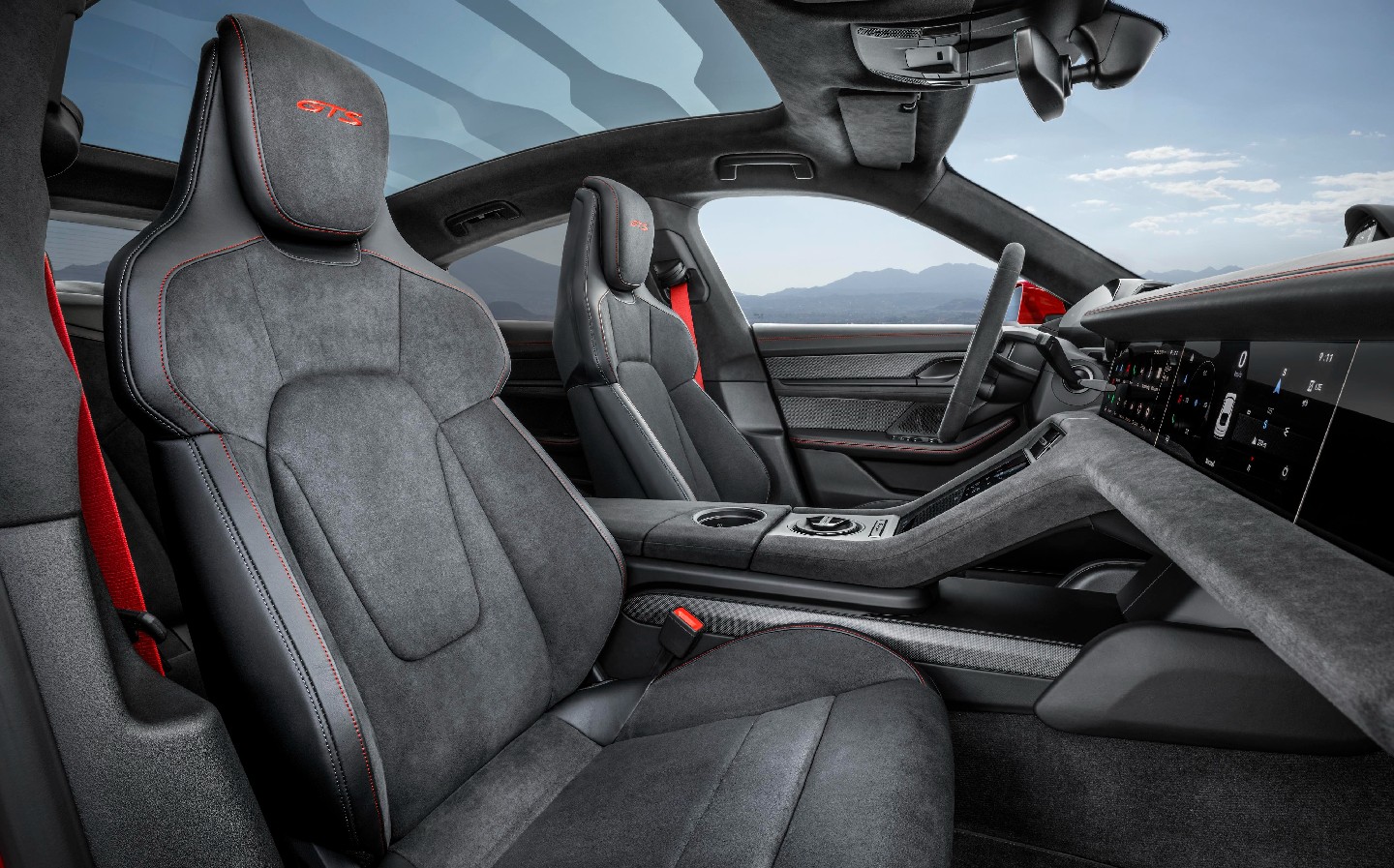 All of this from a four-door, genuine four-seater.  Space in the back of the saloon is decent for all but the tallest adults, though if rear passengers are likely to be a regular occurrence, the Sport Turismo is the one to go for as it offers an extra 45mm of headroom, while rear luggage capacity increases from 407 to 446 litres, with a more convenient hatchback to boot (excuse the pun). Fold the Sport Turismo's 60:40 split rear seats and 1,200 litres becomes available. Both cars have an extra 84-litre storage compartment under the bonnet, too.
Performance, electric range and charging times
Porsche's personnel kept repeating one word at the GTS media drive: "emotion". The GTS is "the most emotional of the Taycans," they told us. It is "soul, electrified."
One has to assume these pointed efforts are because a number of esteemed motoring journalists have found the Taycan to be undeniably impressive in performance but somewhat lacking in heart. It's a problem many petrolheads have with electric cars — yes, they're fast, but do they tickle your sensitive areas in quite the same way as the Porsche 911 GT3, for example?
The Taycan GTS designed specifically to address those concerns; the "sporty sweet spot" of the model range. To strip back the marketing gloss and establish if it succeeds in its goal is a tricky business — we're talking about a feeling rather than objective matters, after all. But what has Porsche's engineers have done to the car in their efforts to dial in the fun?
If the heart of a car is its powerplant, let's start there. With 510bhp on tap, or up to 590bhp on overboost, during launch control, the Taycan GTS sits somewhere between the Taycan 4S (483/563bhp) and Taycan Turbo (617/671bhp) in terms of power, which follows other GTS Porsches.
I like that, as it shows that Porsche knows power alone does not make a good driving experience. Having found the Taycan Cross Turismo Turbo S way too much for English country lanes (you'd have to only be concerned with motoring Top Trumps to choose it over a 4S, in my opinion), it is reassuring to find Porsche pointing to a mid-power model as the true drivers' car.
Having said that, glance at the torque figures and you notice that the GTS has exactly the same punch as the Turbo: 626 lb ft. It also shares the same twin motors as the Turbo, though with their performance adapted specifically for the GTS, which only really becomes evident in the handling (more below).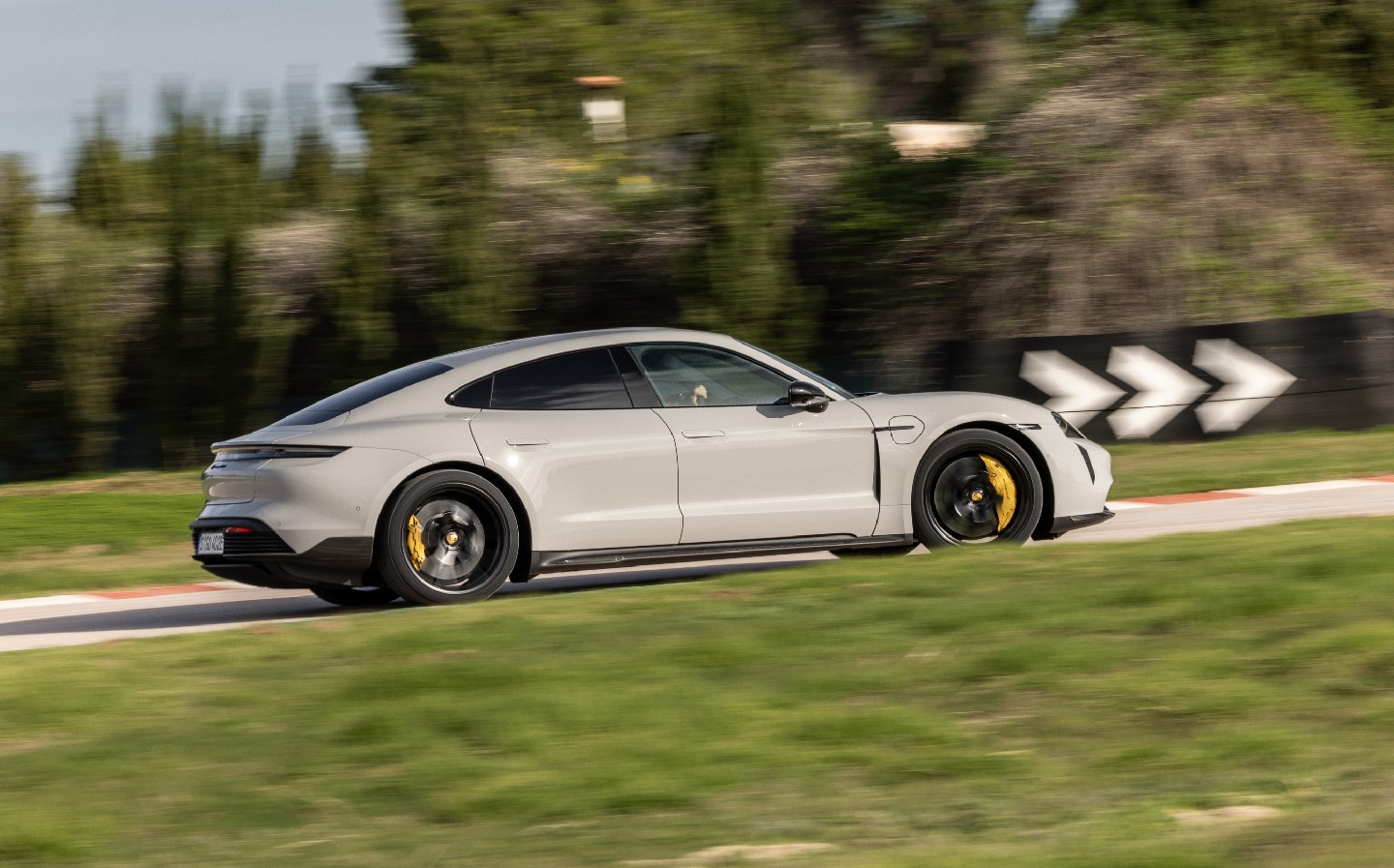 And, of course, it's no slouch: 0-62mph takes just 3.7sec, which is pretty good for a car that, with a rotund man behind the wheel, weighs the same as the new Range Rover. A two-speed gearbox helps with that initial turn of pace.
Put your foot down in Sport Plus mode (Range, Normal, Sport and Individual are the other options) and the Taycan GTS can pin you to your seat as well as any supercar, though Porsche's attempt to add emotion here through its fake "Electric Sport Sound" is one bum note in the overall composition. It's faintly ridiculous, in fact — especially when the gearbox shifts down and you are delivered a "throttle blip" — and an artifice that actually detracts from the driver engagement rather than adding to it. Fortunately it can be switched off via the touchscreen.
On the plus side, one thing the Taycan isn't short of is range: over a mix of roads, the GTS is the Taycan that should be able to travel furthest per charge: up to 313 miles, according to the official WLTP cycle, which compares with up to 290 miles for the 4S.
When you do need to top up the battery, the 850v system can take a 270kW DC ultra-rapid charge, which means going from 5-80% in 22.5 minutes, under optimal conditions. Public chargers capable of delivering that are few and far between at the moment, but more are being installed every day. A full charge at home using an 11kW wallbox will take nine hours, which means most owners will wake up to a full battery every morning.
Ride and handling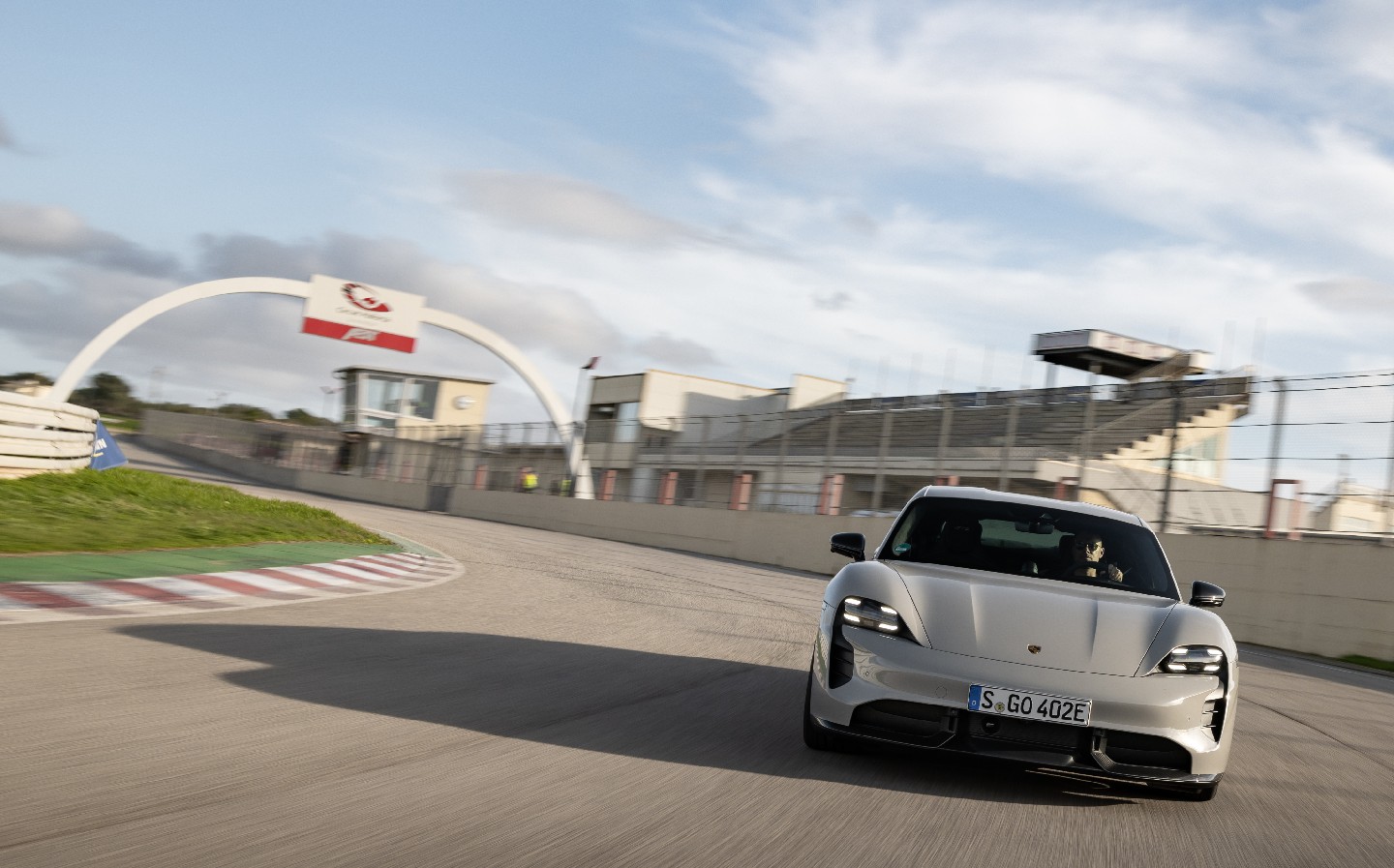 Although I drove the GTS Sport Turismo on the road, I'm not allowed to tell you what it felt like for another 10 days or so. I am allowed to say what the GTS was like on track, though (ours not to reason why…), and it's here that the true character of car begins to shine through.
I've already mentioned this car weighs 2.3 tons. For perspective, that's equivalent to two entry-level Ford Fiestas. By all rights, this car has no business on a race circuit — Colin Chapman, the Lotus founder famous for his mantra of "add lightness", must be spinning in his grave — but the heft of the GTS is compensated for astonishingly well by a combination of grippy Michelin Pilot Sport tyres (our test car riding on the 21in rims, rather than the 20in standard fitting), rear-wheel steering (another option) and adaptive air suspension.
The latter has been tuned specifically for the GTS, and when compared with the Taycan Turbo it affords a more neutral balance through the turns, with a front end that is more willing to turn in at higher speeds. The four-wheel drive system also favours the rear end a little more, too, and even with traction control engaged you can feel the car pivoting around hairpin bends as you apply the power.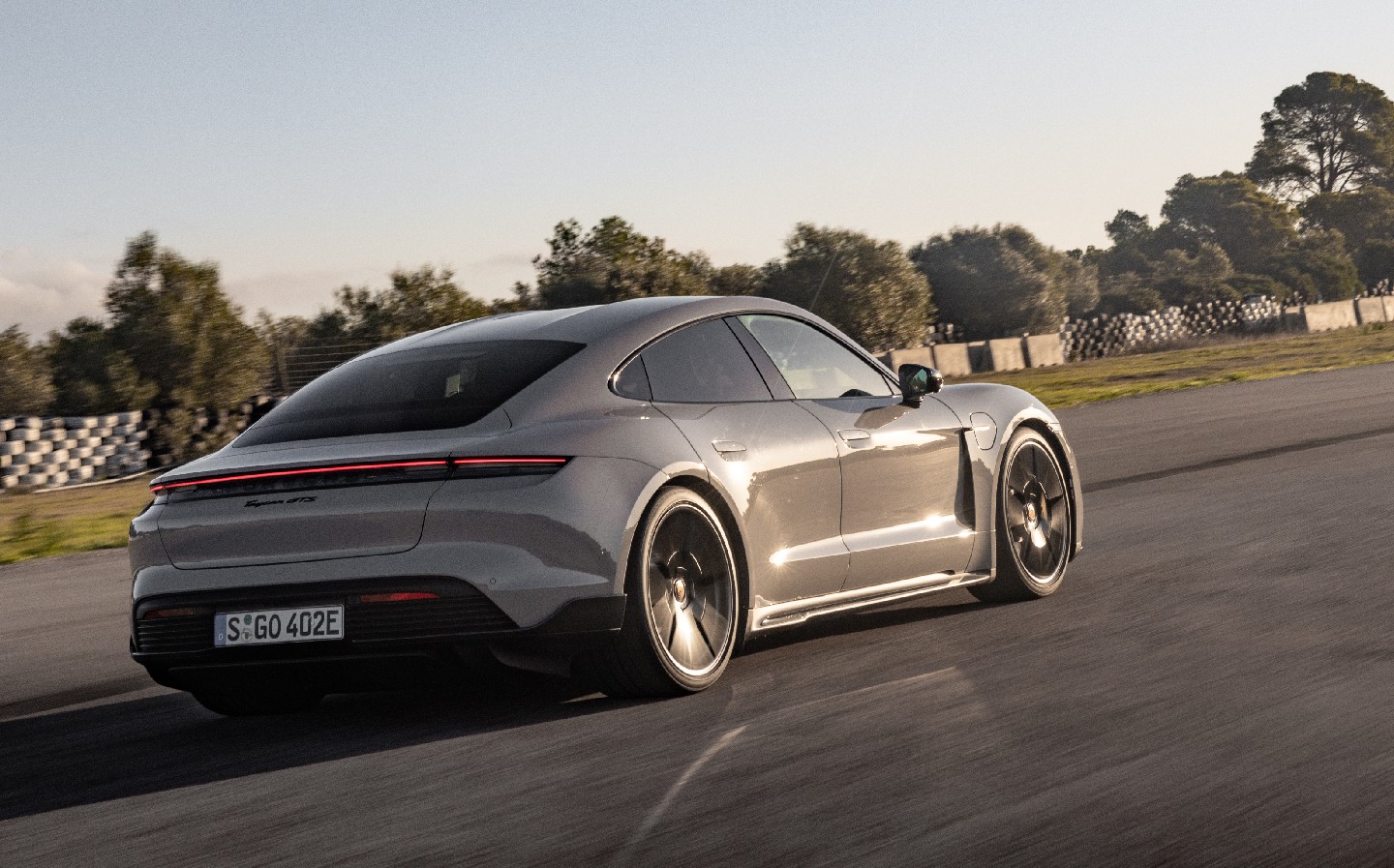 The mass of the car and the stability systems mean that powering out of a cornering isn't as lively as it might be, but it is possible to get controlled oversteer on demand, which means fun can definitely be had.
There was also no issue with slowing our Taycan GTS test car from speed, thanks to the optional carbon ceramic brakes fitted to it. I'd recommend these for track use, though the standard six -piston aluminium units ought to be ample for use elsewhere. Porsche favours coasting over regenerative braking as a way to improve the range in Normal mode but switching to Sport and Sport Plus results in a certain amount of "engine braking", which is definitely useful in scrubbing off extra speed on track — and extending the life of your brake pads.
So while weight is always going to be the enemy on a racing circuit, the Taycan GTS is far from an inert track car and somehow it even feels balletic when danced from corner to corner, with aggressive braking force into tight turns and controlled, potent acceleration on the exit. With traction control engaged, there's a certain rubber band-like effect as the electronic systems feed power to all four corners and the GTS claws its way towards the next apex, but on the long back straight at the circuit in Mallorca there was no drop-off in pull all the way up to our indicated top speed of 192kph (120mph) before more heavy braking into the following hairpin.
Pricing, on-sale date and rivals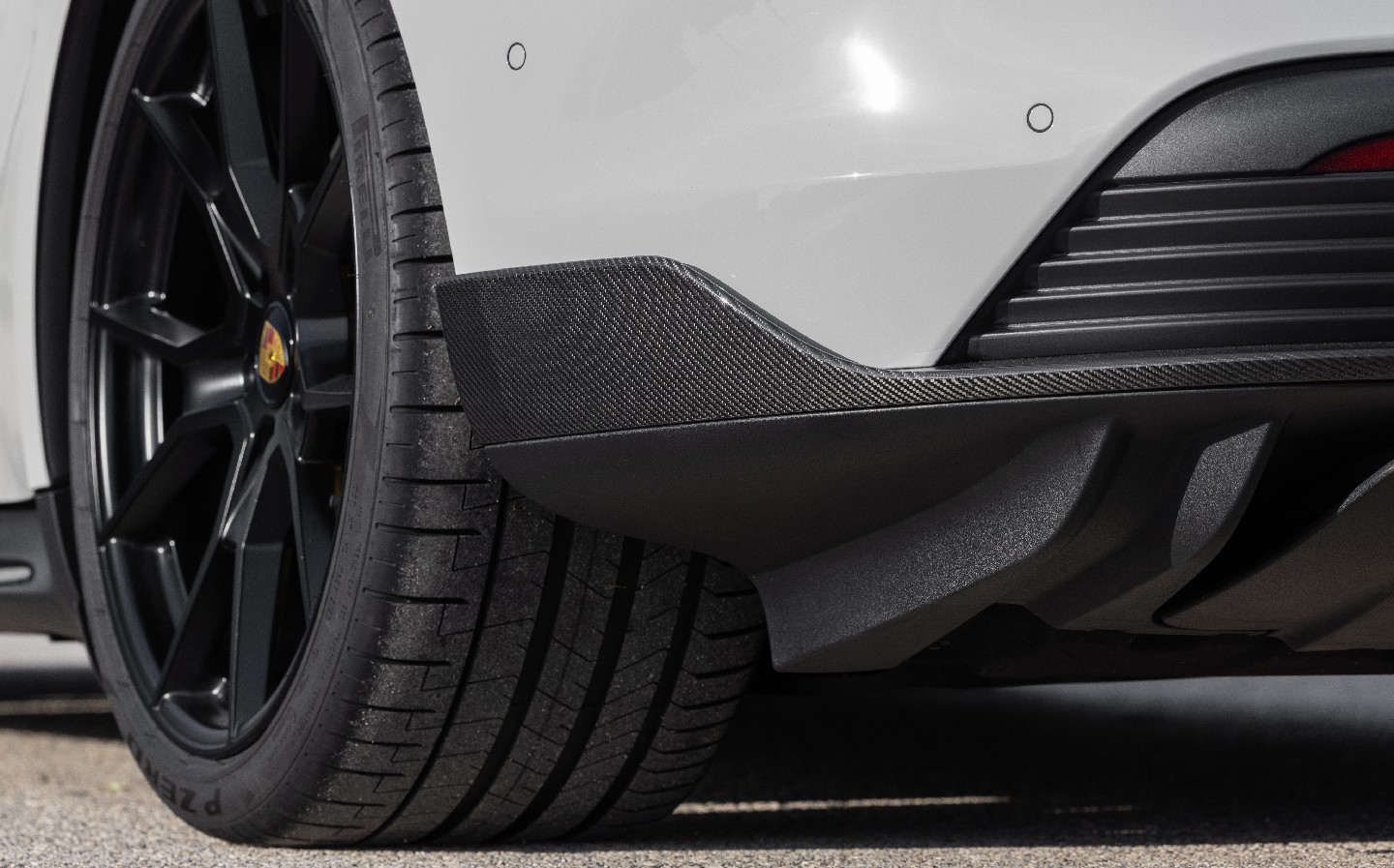 The 2022 Porsche Taycan GTS is on sale now, starting at £104,190 for the saloon and £104,990 for the Sport Turismo model. Options, as ever, will add a significant chunk to the cost of the cars: the 21in RS Spyder wheels fitted to our test car will set you back £1,860 while rear-wheel steering and ceramic brakes are £1,650 and £6,902 respectively.
Deliveries are expected to begin in Spring 2022.
Because of this model's track focus, few electric cars currently rival it but in terms of performance the new BMW i4 M50 is certainly competitive, and around £40,000 more affordable. Tesla is the obvious one to look at for stonking EV acceleration, and the Model 3 Performance is both quicker to 60mph and should go further per charge, but I doubt it'd be as quick or accomplished around a track.
Then, of course, it's worth looking towards Audi's sister car, the RS e-tron GT, which costs from £113,915 and on paper is actually slightly quicker to 62mph. This would be an interesting comparison around a circuit.
Verdict: 2022 Porsche Taycan GTS review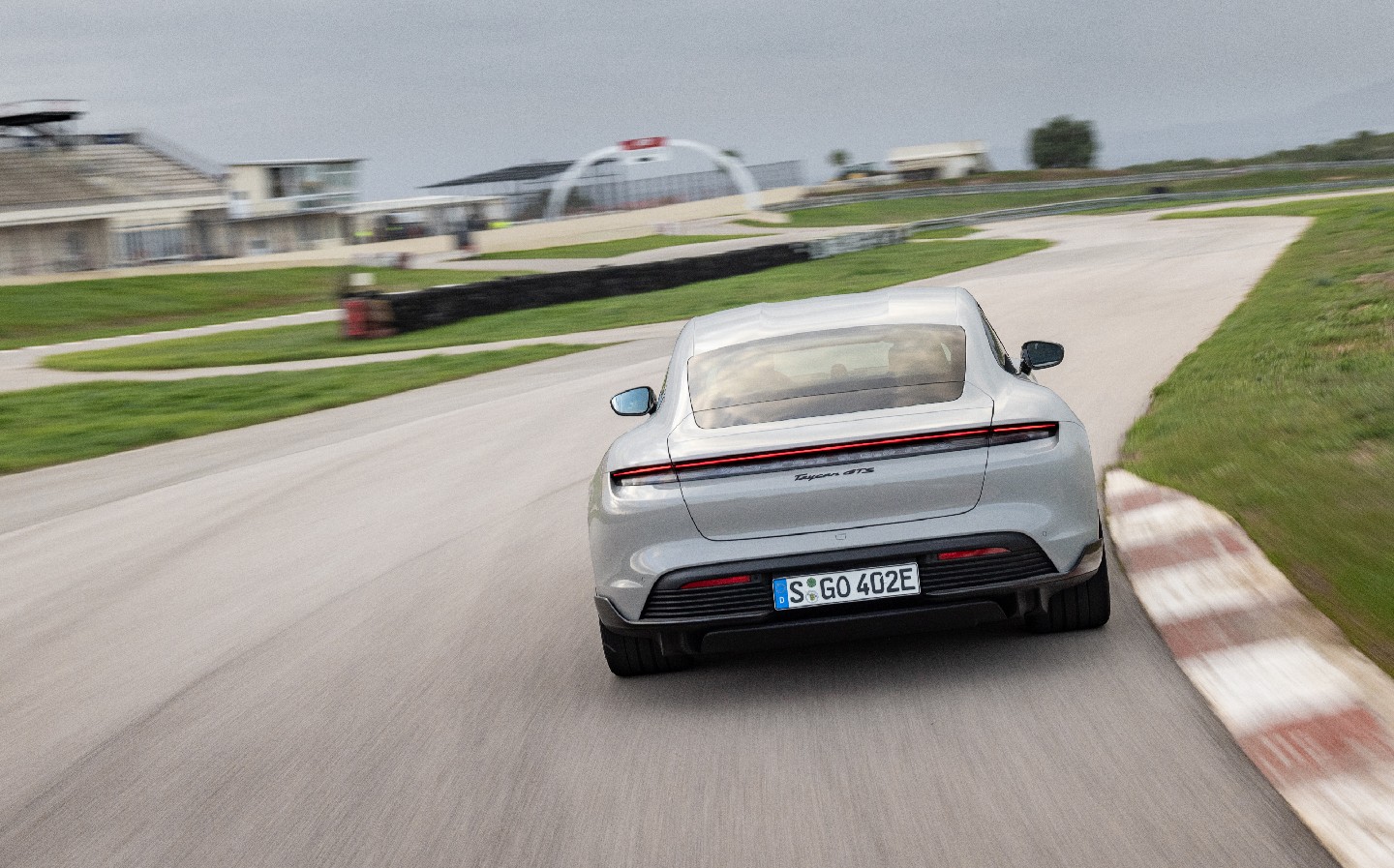 When reviewing the 911 GT3 earlier this year I said it was the most fun I've had on track in any car. That's still the case — the Taycan GTS can't beat it for thrills. But as a first example of how Porsche intends to make circuit driving with electric cars fun, they've done an astonishing job. This is the most engaging EV yet. A drivers' car and, dare I say it, emotional.
Tweet to @ST_Driving Follow @ST_Driving