Porsche 911 GT3 (992) review 2021
Weissach's finest have engineered in even more fun
---
Published 08 October 2021
THE new Porsche 911 GT3 is probably the best car I have driven around a racing circuit. How's that for a succinct review?
I suppose you want a little more detail, though, so let's buckle our bright-coloured belts, fire up the 4-litre, 6-cylinder naturally-aspirated engine and get started.
This 911 GT3 is technically in its seventh generation and bestows the latest 911 (known as the 992) with track-focused upgrades that have enabled it to circulate the infamous 20.8km Nürburgring Nordschleife in just 6min 59.927sec — a full minute quicker than the original 911 GT3 in 1999, and, perhaps more astonishingly, a couple of seconds quicker than the Porsche 918 Spyder supercar.
That should leave you in no doubt that it's quick — very quick — around a racing circuit, but it doesn't quite explain the pure joy of its engineering alchemy — its ability to put a smile on your face, which, surely, is the key to a really good sports car.
Design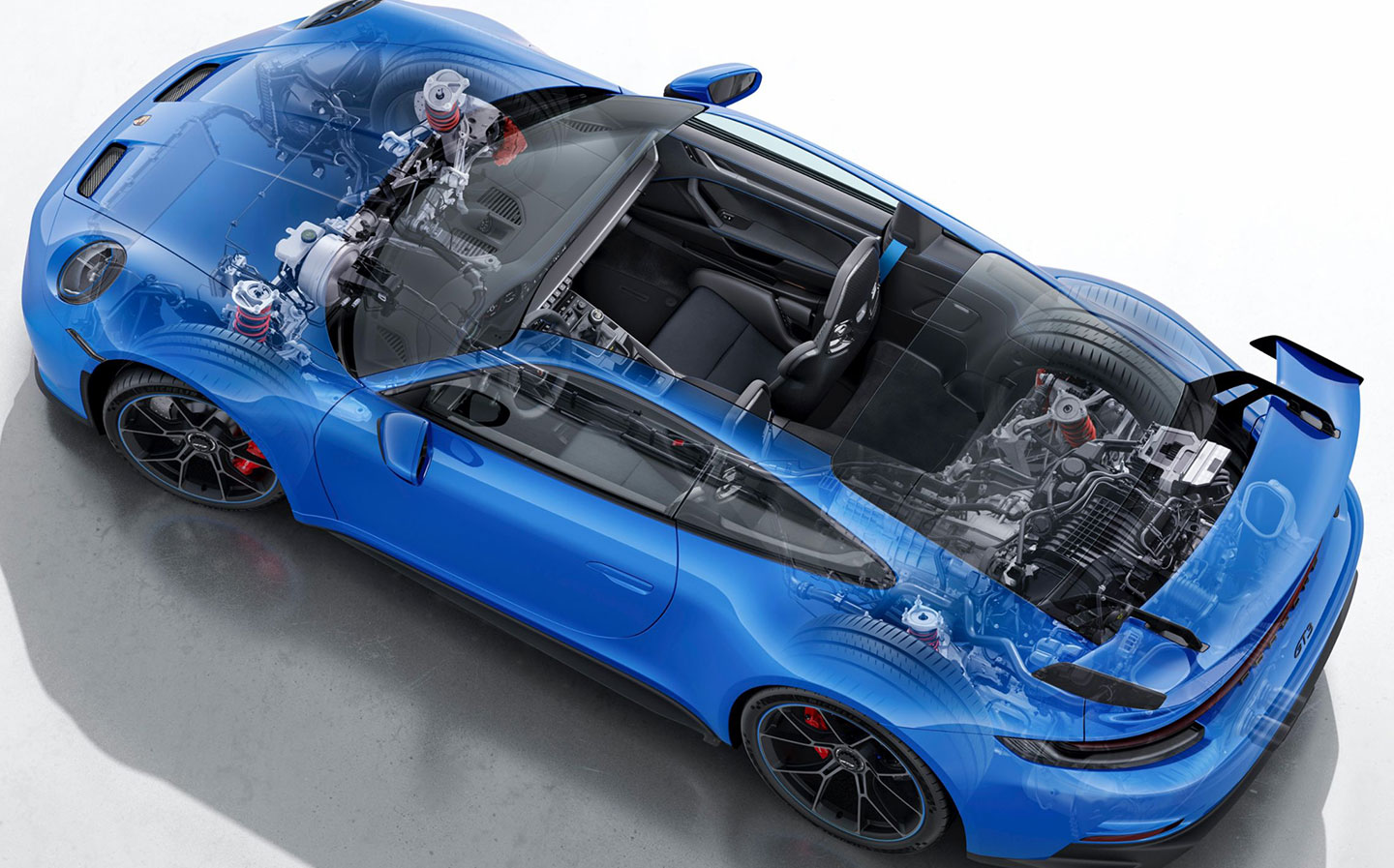 To say the 911 GT3 looks aggressive would do it a slight disservice, as it retains the classic, slinky Porsche 911 silhouette to a great degree — there's no mistaking that this is a 911. But at the same time its track-honed bodywork upgrades give away its fearsome circuit potential.
The large "swan-neck" rear wing is the clearest example of this. It's the first time a suspended rear wing has been fitted on a Porsche series production car, and it's a direct descendent of the rear wings fitted to the 911 RSR and GT3 Cup racing cars (Porsche motorsport magicians having worked on this road-going GT3).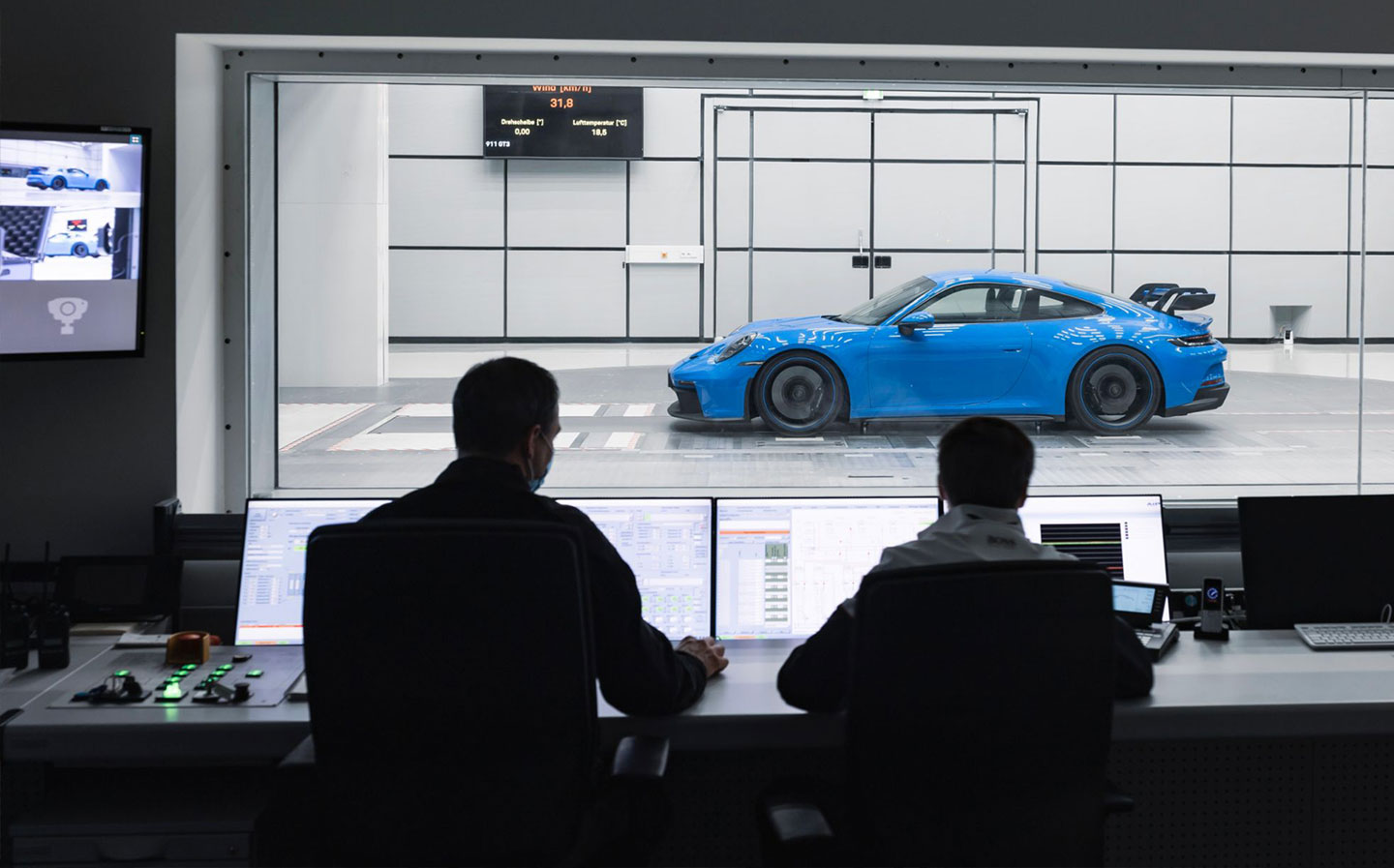 Below that you'll spot the impressive rear diffuser, and combined with the front splitter the new GT3 generates 50% of additional downforce at 124mph when compared with the previous 991.2 GT3 in regular set-up. However, if you dial up the downforce at the front and rear (both the wing and front splitter have four angle settings) there's up to 150% more — equivalent to 385kg pushing down on the car, helping it stick to the road.
The aero updates have been made over 160 hours of testing at Porsche's ultra-high tech wind tunnel at its Weissach Development Centre. The engineers were able to monitor airflow not just with the car travelling in a straight line but through corners, too, simulating what happens when roll, pitch and yaw are introduced.
All of which contributes massively to the feel of the car at speed.
Interior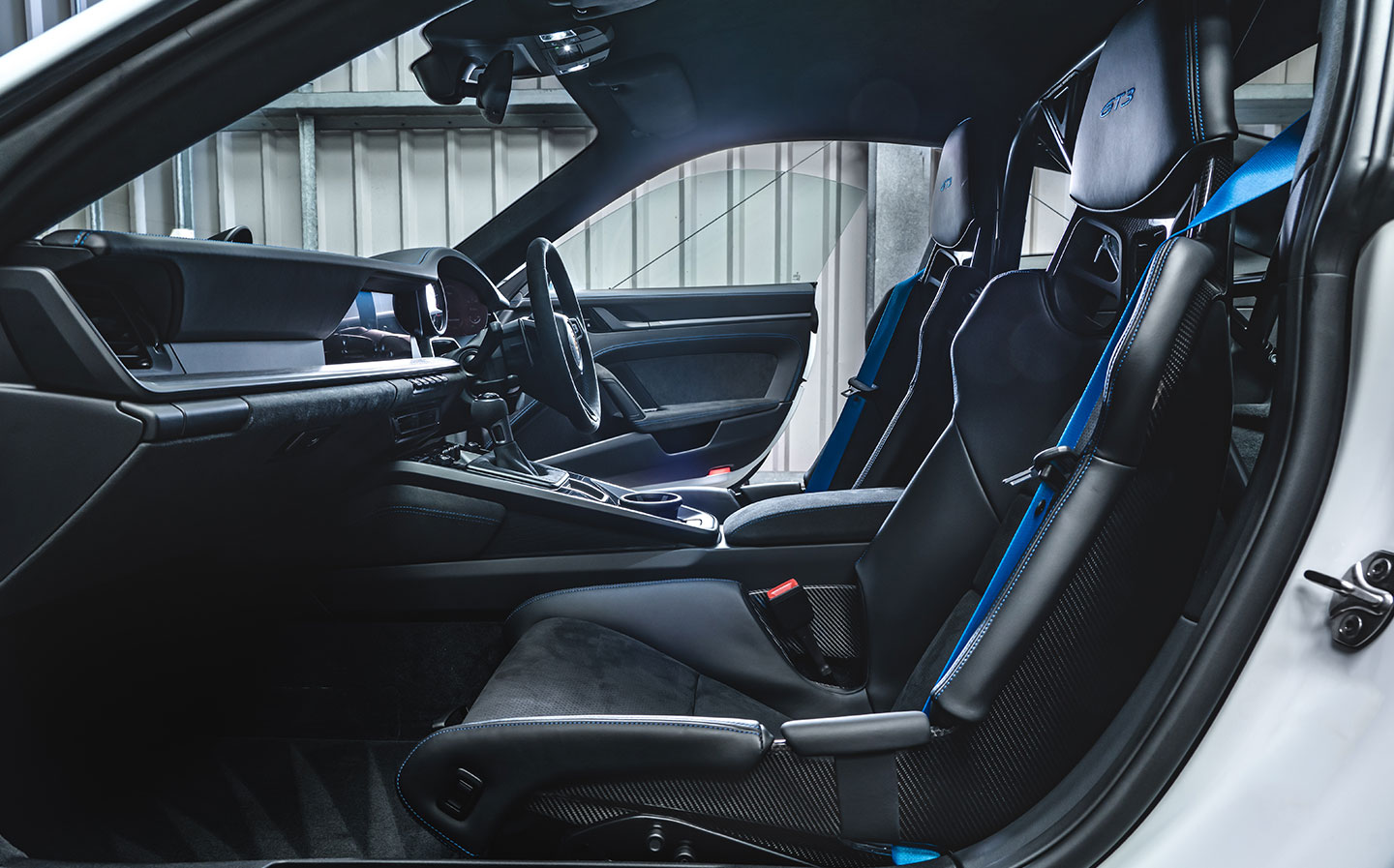 Porsche has been getting the 911's cabin right pretty much forever, and the 992 interior is no exception, from the cosseting seats and position of the gear lever to the infotainment controls and driver assist toggles.
The GT3 gets all that but of course features some bespoke changes: a tweaked instrument cluster with an analogue rev counter (centrally, of course) that redlines at 9,000rpm, and on the PDK automatic model, a different gear selector to other 992 models that's easier to find by touch while your eyes are focused on the next apex.
Customers can also spec the interior trim to include colours for the rev counter dials, Sport Chrono stopwatch, seatbelts and trim strips that match the body colour (or a number of other hues).
The instrument binnacle also can be configured to show the information you want at any time, and on track that means tyre pressures, oil pressure, oil temperature, fuel tank level and water temperature. A new track mode display can remove all superfluous information, to reduce distractions.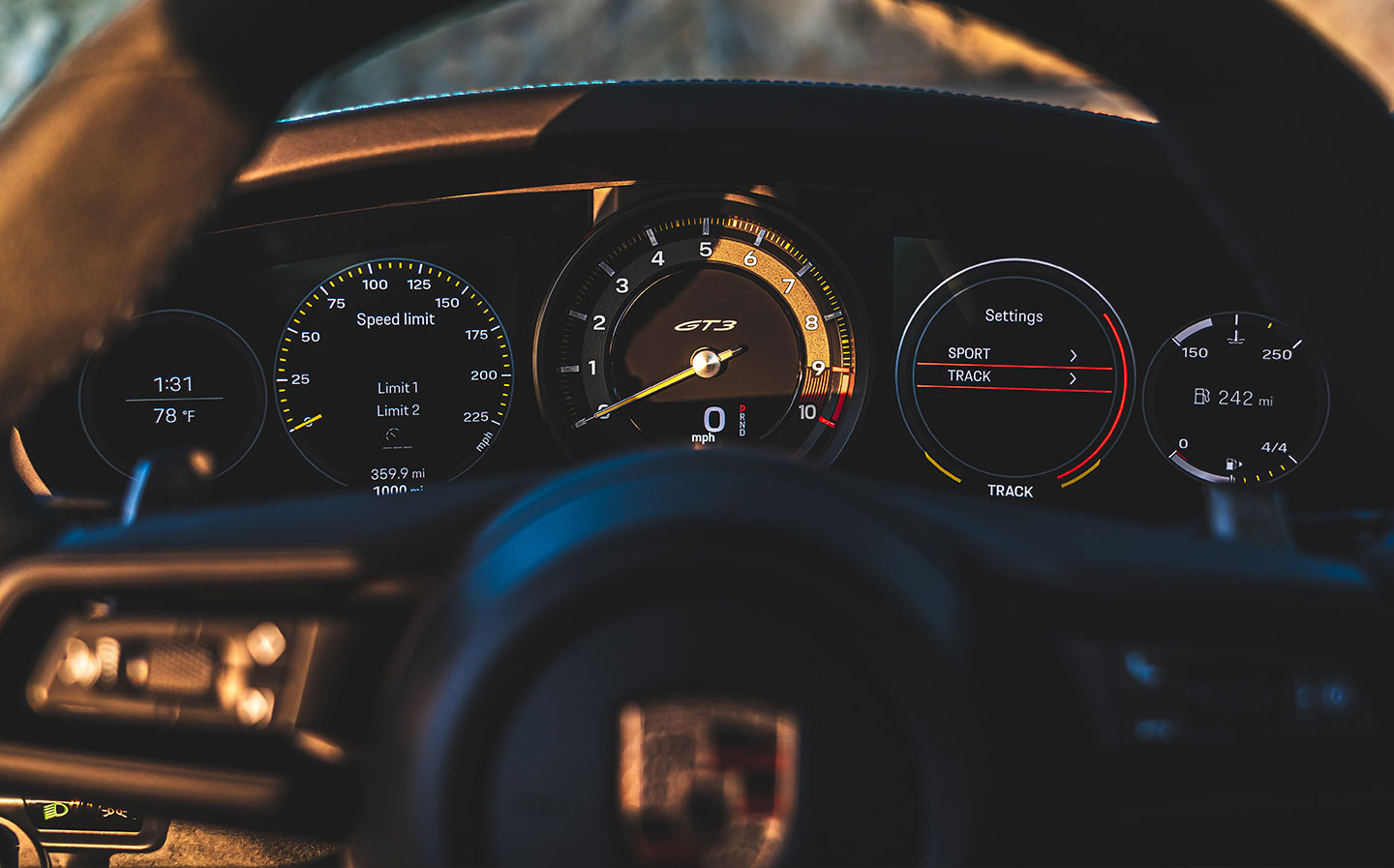 We drove a manual model and one with PDK, the latter in Club Sport spec, which adds a rollcage and full racing bucket seats, as well as the option to add a six-point racing harness, though ours came with the regular three-point belt.
Though it didn't have a rollcage, which makes throwing a bag in the back a lot easier, the manual test car had also been fitted with optional bucket seats, so I can't comment on the the comfort of the standard sports seats. Around Anglesey Circuit I was glad of the upgraded pew, though. They lack backrest tilt adjustment but can be adjusted for height and lock you into position superbly.
The 10.9in PCM touchscreen comes as standard in the GT3, and is easy to navigate and customisable, with Porsche's excellent in-built sat-nav. The eight-speaker, 150W stereo system can be upgraded to a Bose 570W surround sound set-up with 12 speakers.
There's also an optional reversing camera and support for Apple CarPlay … but not Android Auto, frustratingly. As an Android user it irks me that Porsche believes its customers must only be purveyers of Apple handsets. Mind you, perhaps they are.
It's amazing, really, that you can get all this kit in a such a track-focused sports car. You can even add Isofix child seat mounts to the front passenger seat if you want. It's a reminder that this is a car with a dual life — it's tuned for the track but designed to be used on the road, too.
Ride and handling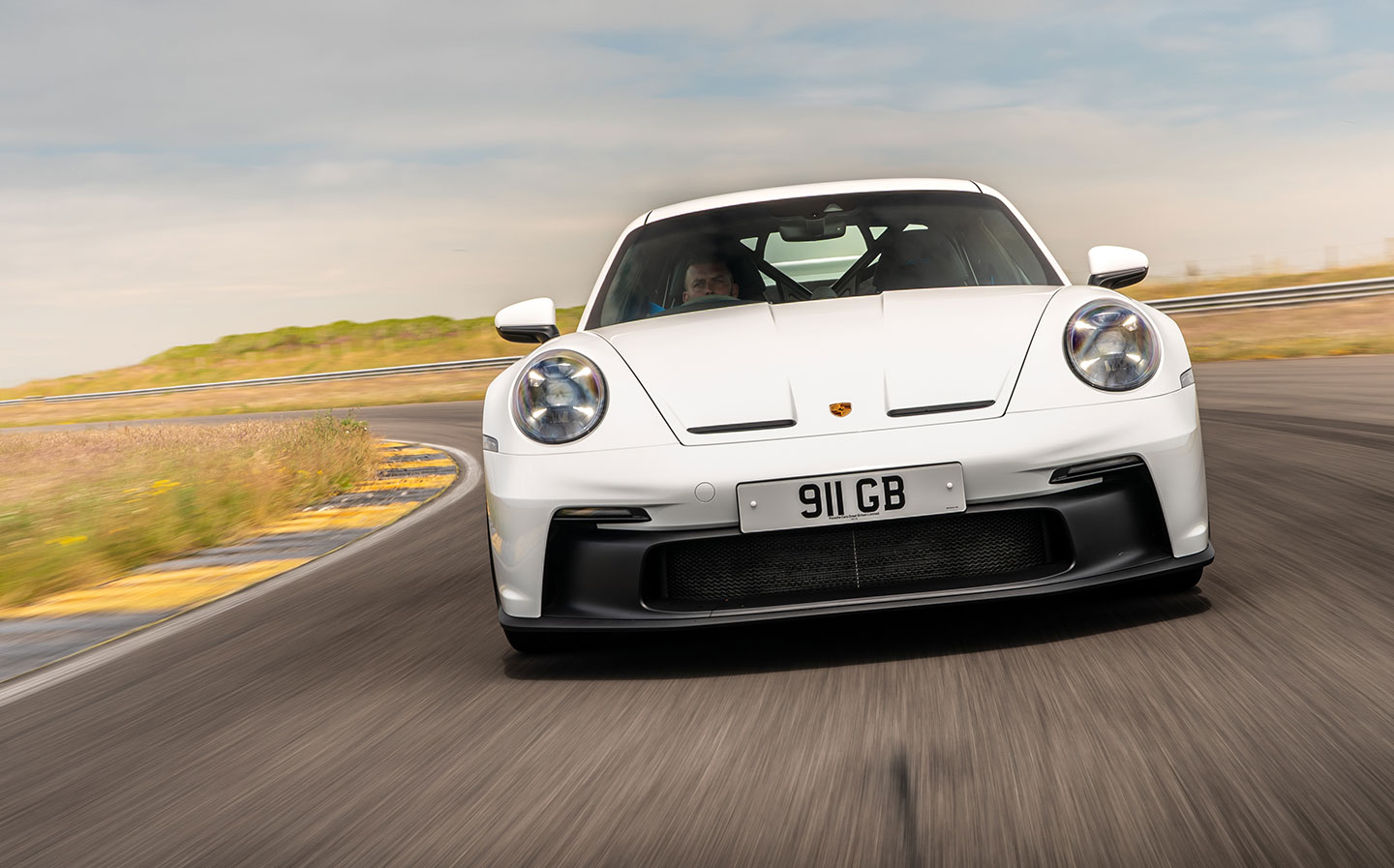 Sadly, though, I can't tell you what it's like to drive on the road as we spent all our time with the two cars out on track (I did ask for a an opportunity to take it out for 10 minutes but was told time didn't allow for it). Other reviewers have reported, though, that despite increased spring rates compared with the old GT3, the 992 model doesn't feel too stiff for street use.
This is down to the new race-bred double wishbone suspension set-up at the front of the car, they say. Which is remarkable because its real purpose is increasing the size of the contact patch between tyre and asphalt while cornering on the track, and I can report that the new GT3 is exceptionally grippy at the front around Anglesey.
Astonishingly so, in fact, which, combined with the impressive downforce, rear-wheel steering and active damping, allows you to point the nose towards the apexes of fast, flowing corners at far higher speeds than you might imagine possible, even when rain begins to fall (as it did towards the end of our tracks sessions).
What's interesting is that it only takes a lap or so to get used to this, and before long you're dialled in fully, pushing harder and harder to find the limits of adhesion.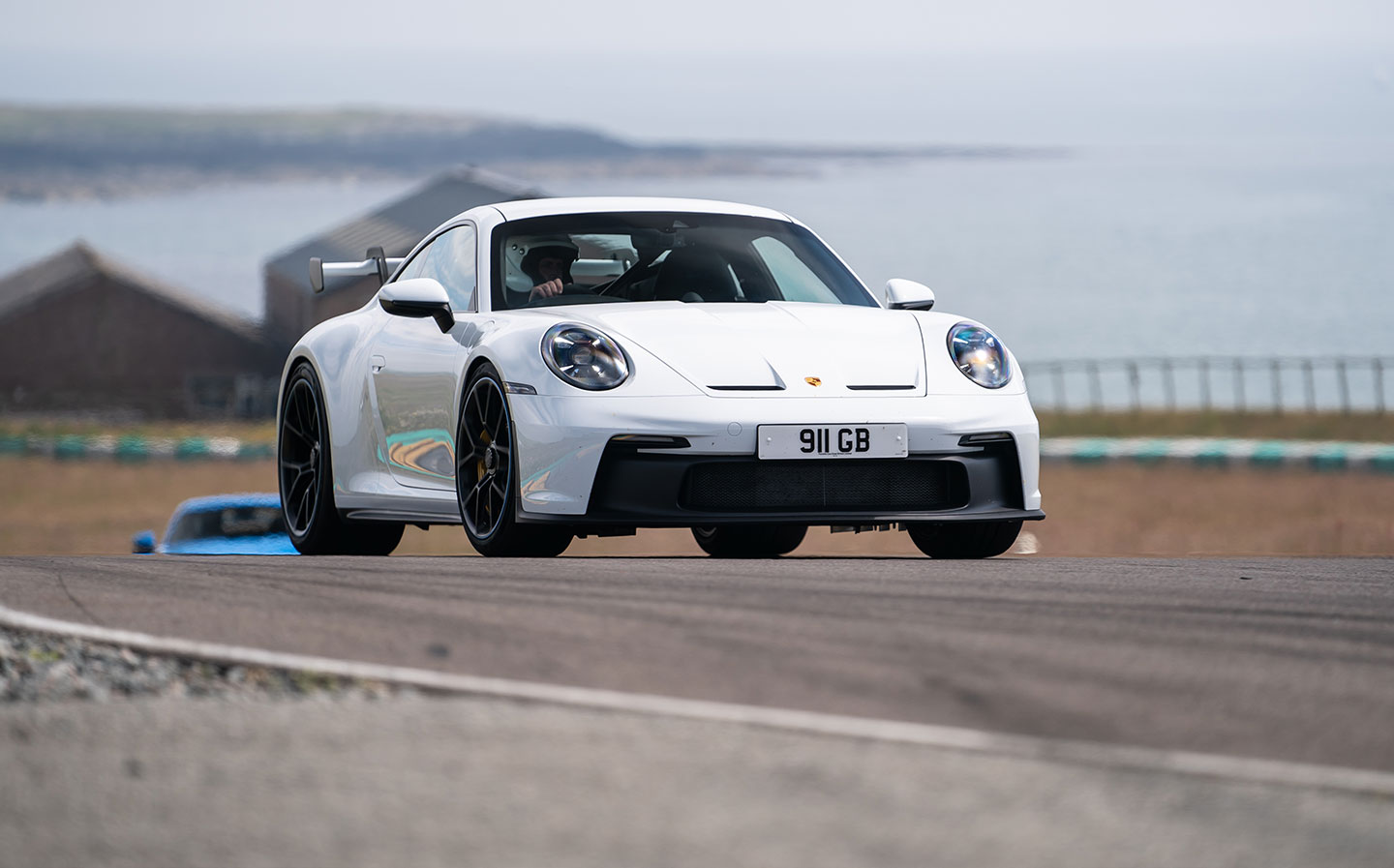 Meanwhile the back end, through which all the power is delivered, is so easy to keep in check. The naturally-aspirated engine allows you to feel intuitively how much power to send to the rear rubber at any moment as you progress through the turns, while the mechanical grip from the trick rear differential and aerodynamic downforce is phenomenal. Pressing the accelerator transfers the weight to the driven wheels, you feel the car squat down and that encourages you to press harder. The GT3 veritably leaps towards the exit of each turn with joyful levels of gusto.
It isn't too hard to get the back end out of shape if you want to, but catching a slide is so easy. If we were reaching into the motoring journalists' box of clichés, we'd call it telepathic.
But the joy with the GT3 is finding perfection — the perfect lines, the perfect lap time, the perfect flow — and it just eggs you on you to go faster and faster.
Engine and performance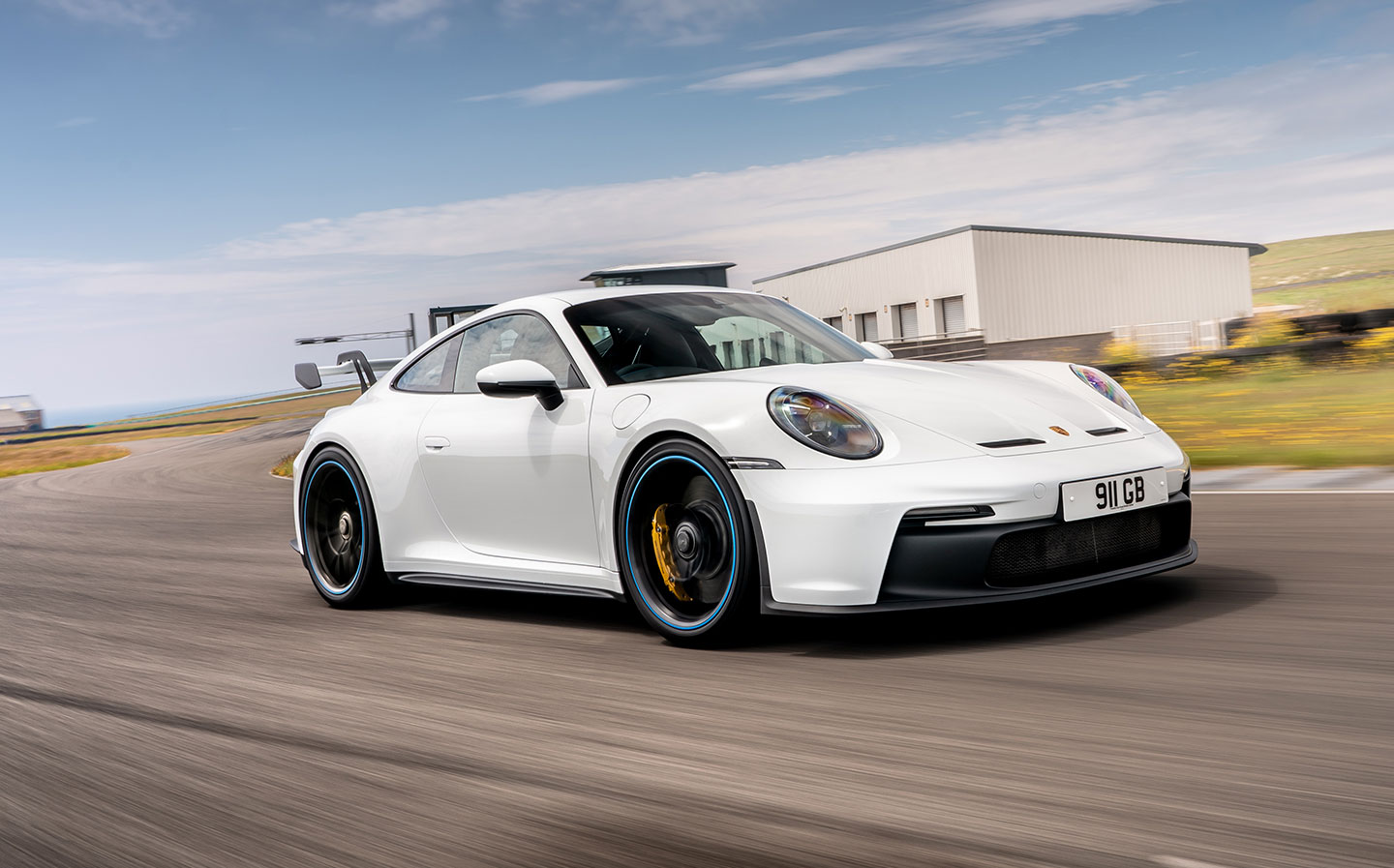 It's admirable the Porsche has chosen not to greatly beef up the 4-litre naturally aspirated flat six engine from the 991.2 GT3 (for it is the same unit), and power output is a quoted 503bhp— an increase of just 10bhp. You really don't need any more power than that, trust me. Especially on the road.
But don't think Porsche just turned a dial and thought, "That'll do" — engineers spent 22,000 hours testing it on a rig, simulating different circuits and running it at full throttle "for a very high proportion of the time."
Apparently it's basically unchanged in the GT3 Cup racing car, which is an even better test of performance and reliability, and as an evolution of the tried-and-tested motor from the old GT3, you'd expect it to be fairly bulletproof.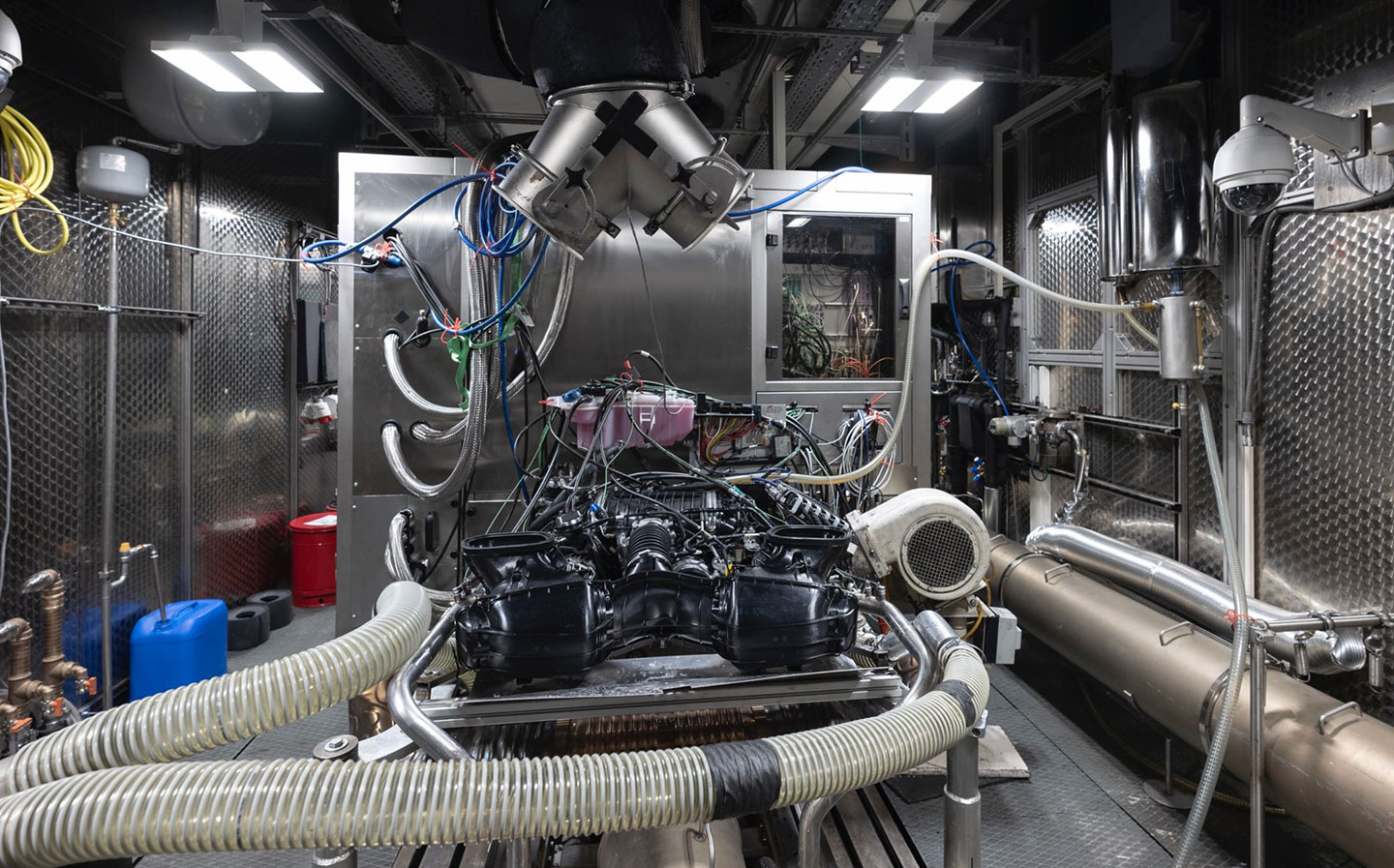 Why would they make great changes, anyway? It's such a beautiful piece of kit, with lovely smooth, linear power delivery as it screams its way up to the full 9,000rpm red line. With the six-speed manual 'box the new 911 GT3 accelerates from zero to 62mph in 3.9 seconds, and with the seven-speed PDK auto 0-62mph takes just 3.4 seconds.
Is the PDK better, then? Well, it depends, of course. A purist will love the manual gearbox — it's a lovely, smooth transmission and you can slip between the gears without even really noticing yourself doing it, it's so natural. And the throttle blips on downshift, for those who don't want to (or can't) heel-and-toe, ensuring the car isn't unsettled under braking (with the added benefit of making you look like a track god to passengers).
At this point I do have to report that, after a great deal of punishment on track and, I suspected, another driver in our group not being entirely kind with the clutch, by late afternoon third gear had had enough and was reluctant to engage. A Porsche spokesperson later told me it was a suspected synchro issue, and was being investigated, but in typically diplomatic style refused to answer my question about whether the failure was ultimately human or component-related.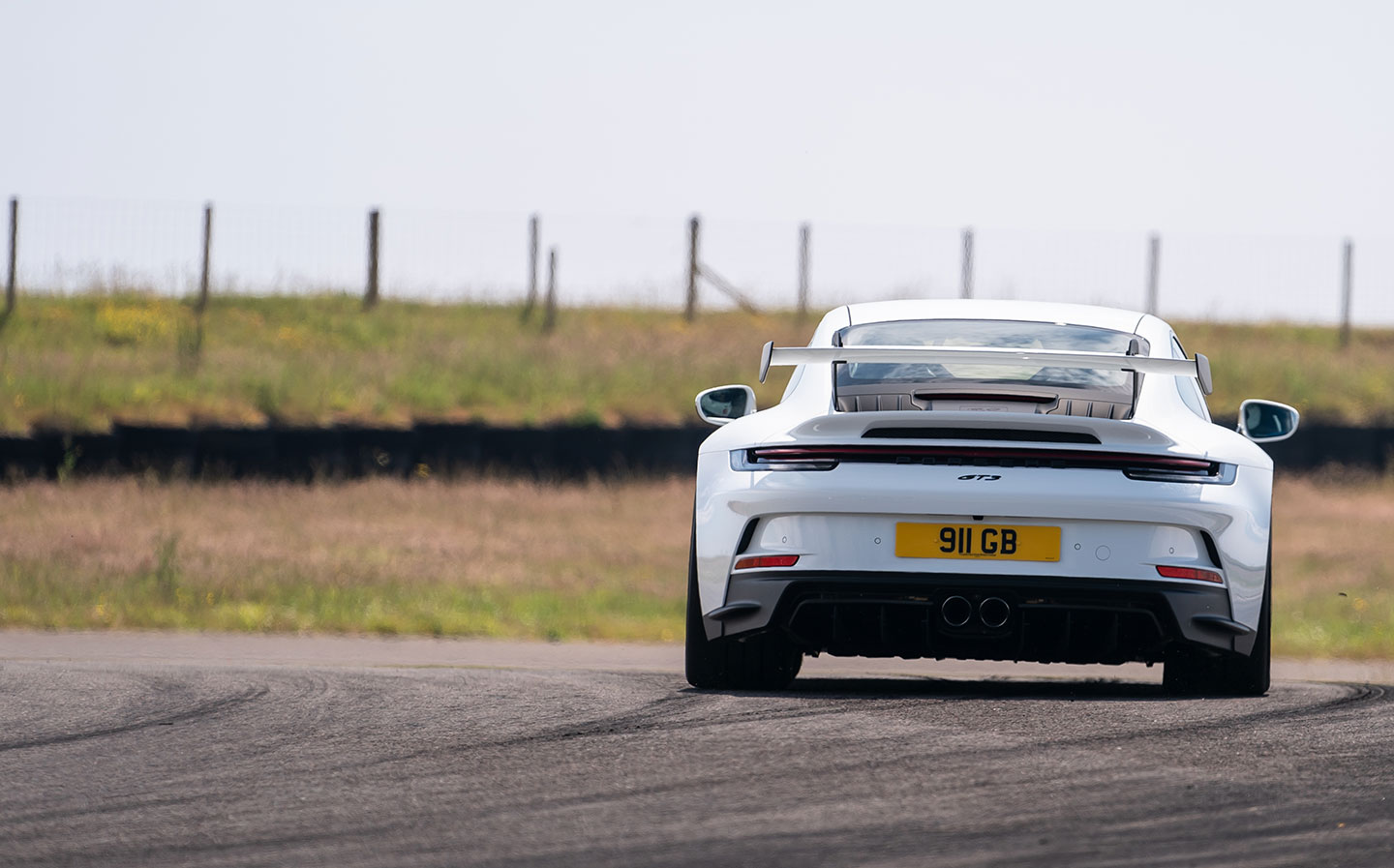 The PDK had no such issues, though (the car's electronic brain does all the clutchwork, you may note), and it continued taking our abuse lap after lap as the afternoon wore on.
While the manual arguably gives you the most engaging driving experience, you can't avoid the fact that the auto 'box shifts faster and more smoothly, and using the paddle shifts you still feel at one with the car while being able to keep both hands on the wheels at all times. For that reason, personally, I'd pick the PDK. And I'd not regret it while driving around town, I suspect.
Economy and emissions? If you really want to know, check the stat box, but it was interesting to note that the low fuel warning sounded while I was out on track despite the car having half a tank of petrol left, such was the rate at which we were burning through it. On the road it'd not be so hysterical, I'm sure.
How much is a 992 Porsche 911 GT3?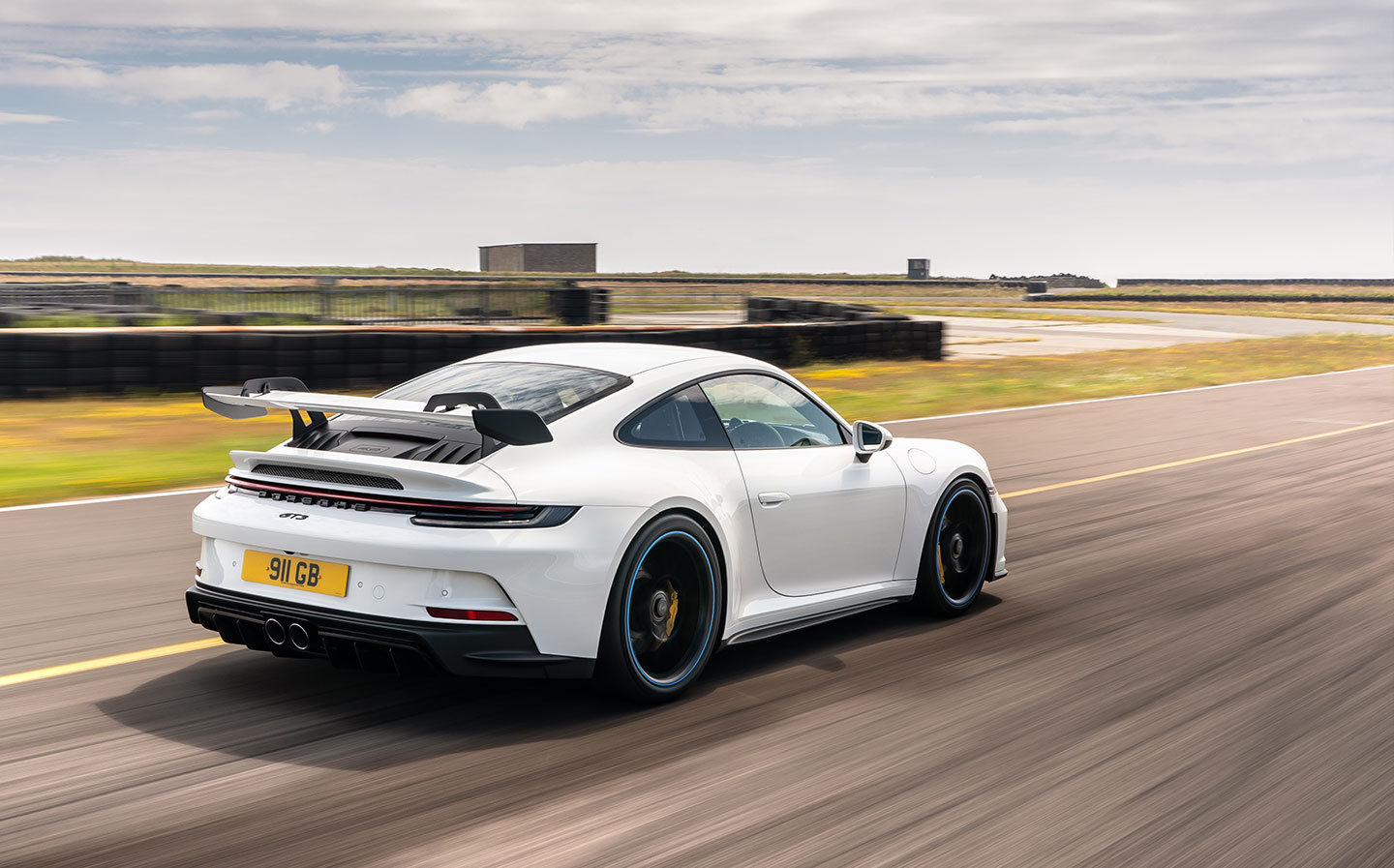 Given all the motor sport-derived upgrades, and the fact that rivals include the Audi R8 Performance RWD, Aston Martin Vantage and Mercedes-AMG GT, it's no surprise the 911 GT3 is a six-figure car.
Prices start at £127,820, with four colours as standard, regular sports seats and none of the other sports trimmings.
It should be noted that there's no extra charge for the PDK automatic transmission, perhaps suggesting that most buyers opt for the manual gearbox. On the configurator, the Club Sport package is a no-cost option but in reality, it replaces the standard seats with the bucket seats and they're an extra £3,788.
Other options rapidly add cost, too, as you'd expect: the interior trim package is £2,189; carbon-ceramic brakes are £6,498; the front-axle lift system, which is probably essential in towns, will set you back £2,214; and the Bose stereo is a further £1,002. That's before considering the carbon fibre roof, premium colours and so on. Basically, it call all add up rather quickly.
One bit of good news is that the 911 GT3 Touring package, which removes the rear wing and adds some interior comforts, is a no-cost option. And it looks sensational.
But even better news is the fact that special edition 911s tend to hold their value extremely well. A quick glance at Auto Trader shows 2014 (991.1) 911 GT3s are selling for more than £100,000, and on other sales sites you're looking at around £70,000 for a 2004 (996.2) model. That's a compelling reason to buy a GT3 new and spec it exactly as you want — it's unlikely you'll end up out of pocket.
Porsche 911 GT3 review: The verdict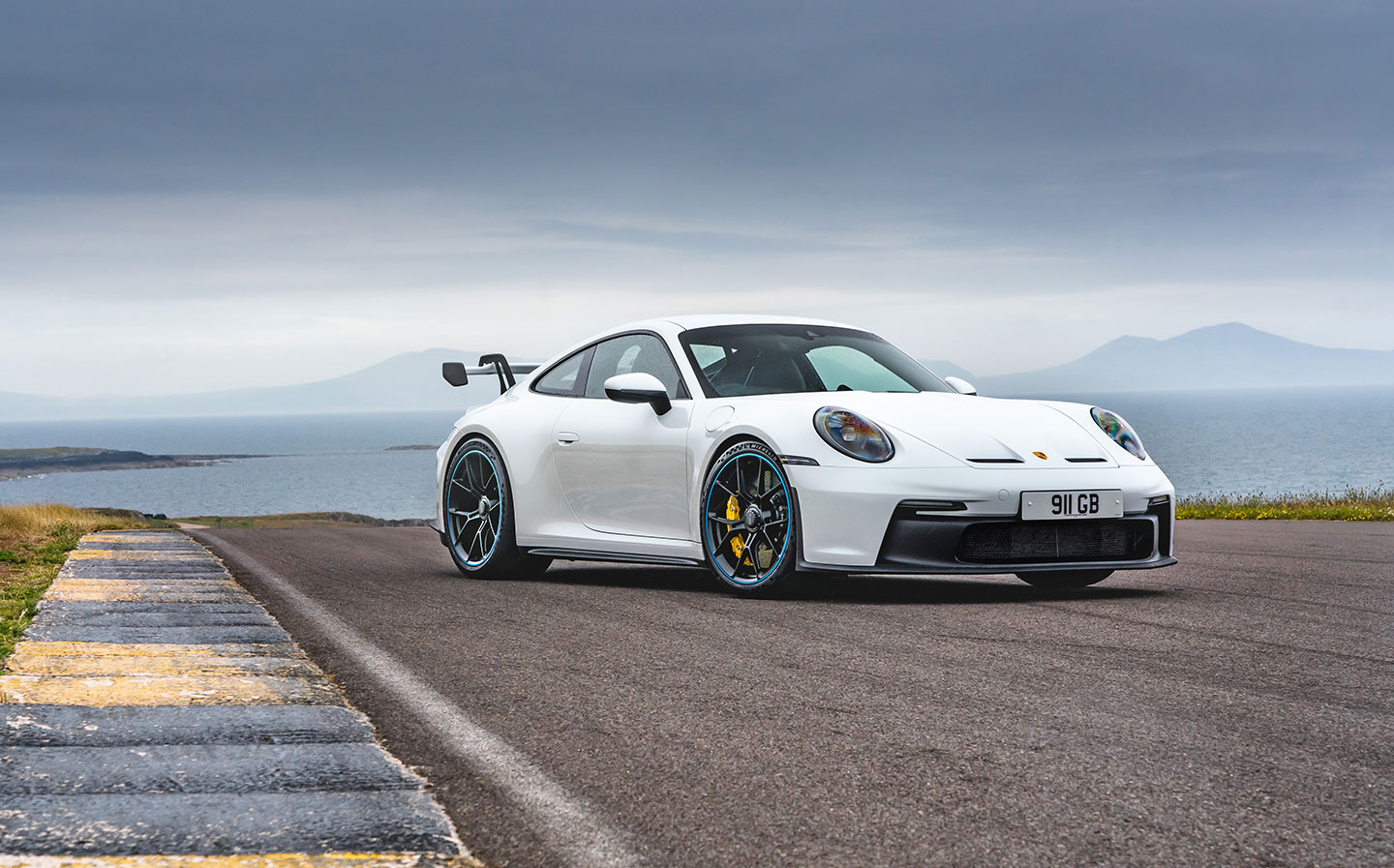 Incremental upgrades to the engine combine with enhanced aero and reworked mechanicals — the headline change being the new double wishbone front suspension — in a sensational blend of performance, handling and excitement.
That makes the new 911 GT3 much faster around a circuit but Porsche hasn't forgotten that driving a sports car should be fun, first and foremost. This is the ultimate iteration of the GT3, and perhaps the most enjoyable experience you'll have around a track in a car you can also drive comfortably on the road.