Dacia Duster 2021 review
Does it leave other low-cost SUVs for dust?
---
Published 15 September 2021
THE UPDATED Dacia Duster arrives amid a refresh of the Dacia brand itself, with a new logo being rolled out and new brand colours. The same no-nonsense, value-for-money approach applies, though, with executives on the new Duster's launch in France emphasising its high "feature-to-cost ratio".
It's a popular approach in more value-focused markets across Europe, and the Duster is the number one seller in its segment across the continent. But even in the UK, where we love our premium cars, it sells well: 75,000 Dusters have found homes on our shores since its launch in 2013 and it's regular a top 10 most popular mid-sized car.
The new model brings improved looks, tech and efficiency, and prices remain low, starting at under £14,000 on-the-road.
Exterior design and rivals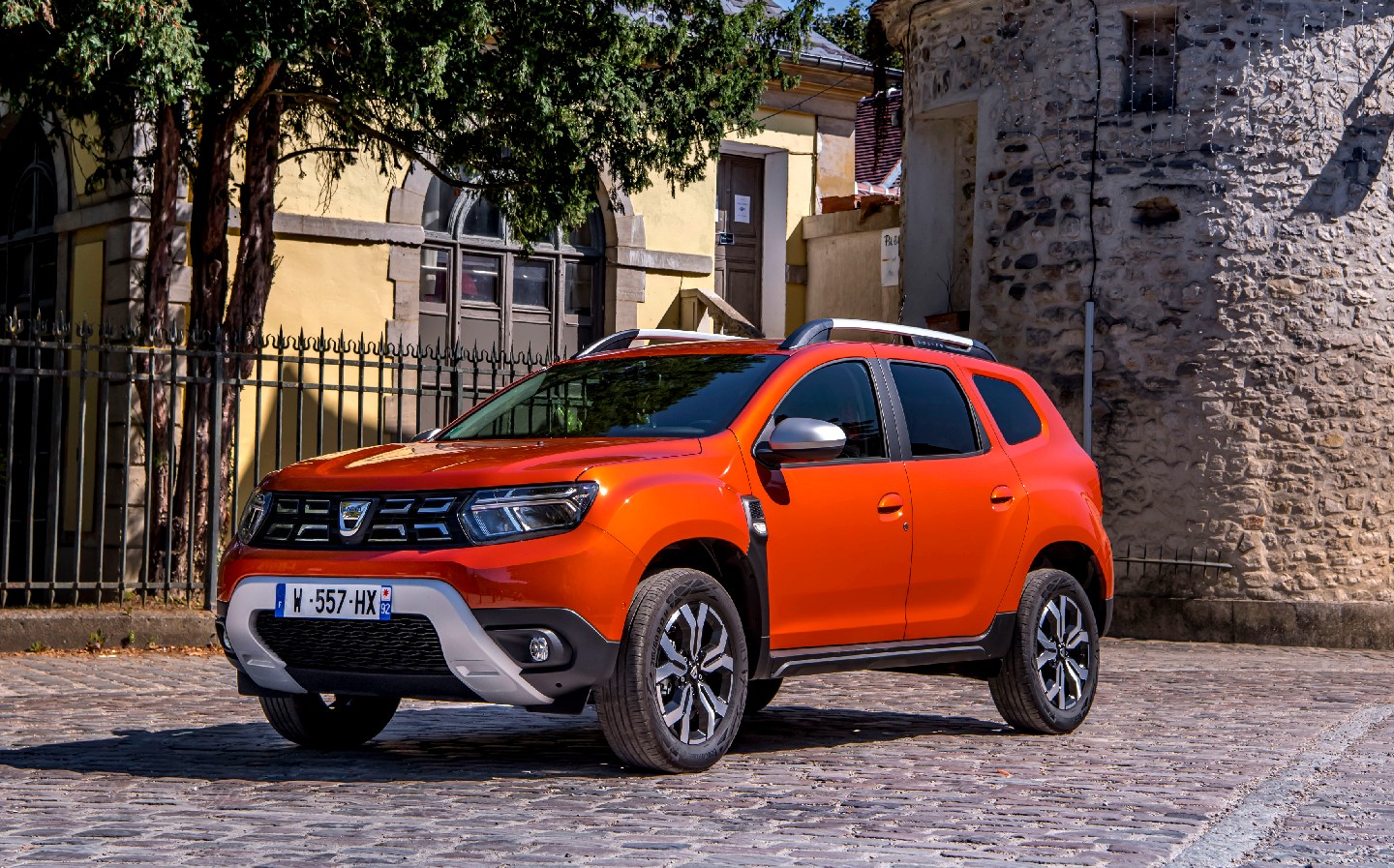 As SUVs go, the Duster has never been offensive to look at but the new model brings aesthetic updates that make it a much more attractive proposition, following the new design language of the Sandero and Sandero Stepway, with sharper lines and smarter details.
The dipped headlights, rear lights and running lights are now LEDs as standard (though high beam still uses bulbs), with a new Y-shaped configuration. I found myself staring at the left rear light cluster while following another car on the launch, and it occurred to me its shape might go down well with South Africans.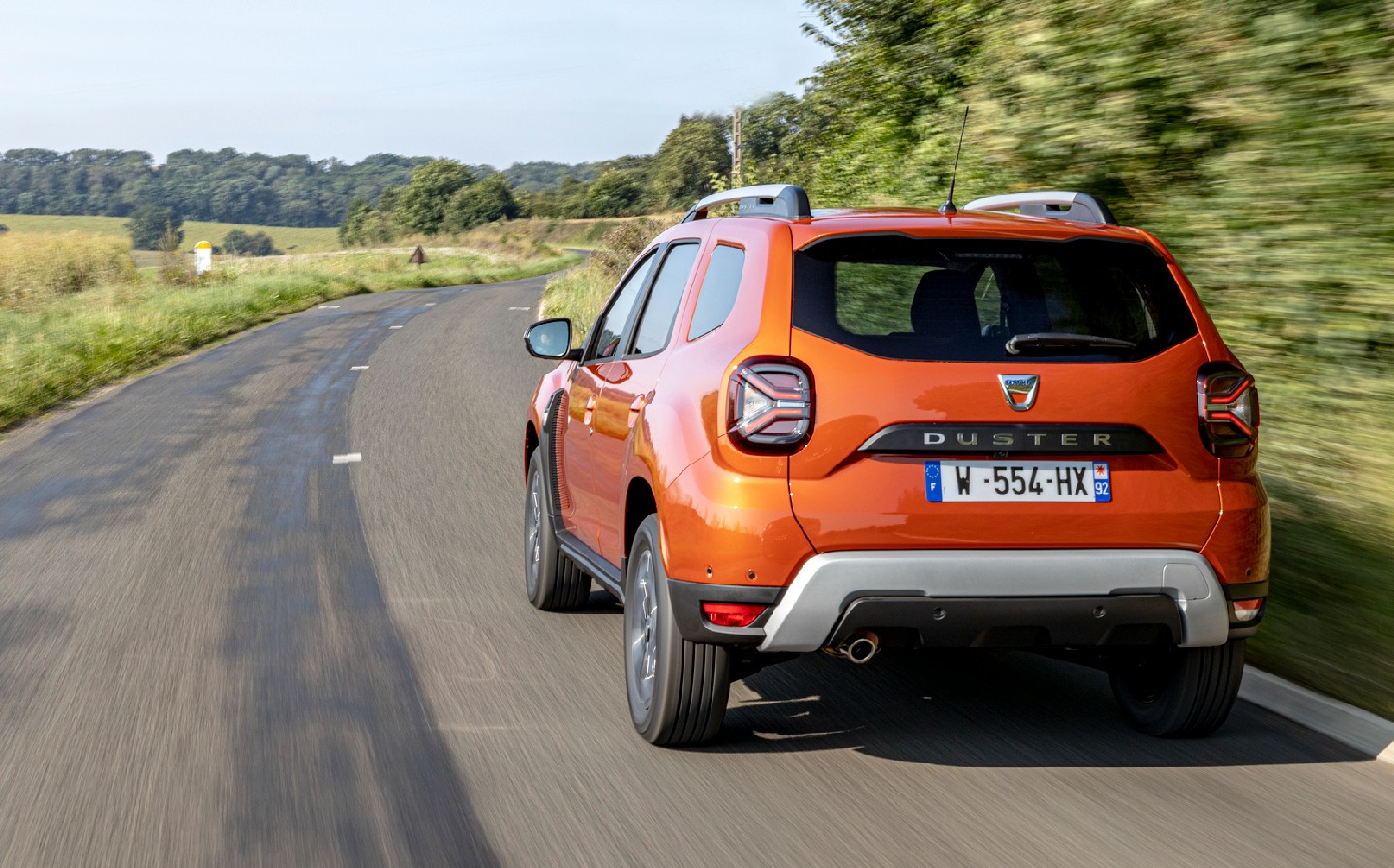 The Duster's low cost, short overhangs and raised ride height mean it's popular with people who don't mind showing it a bit of punishment off-road, and the plastic front skid plate and roof rail sections are designs to resist chips and scratches.
But the exterior updates do more than a change of the look of the car — it's now more slippery through the air, thanks to wind tunnel testing, which means increased fuel efficiency and reduced wind noise for passengers.
In terms of size, rivals include the likes of the Nissan Qashqai, Ford Kuga, Suzuki Vitara and Hyundai Tucson. The Subaru Forester is worth a look if you only have eyes for the 4×4 version, though it's a lot more expensive, so on price the closest rival is the SsangYong Tivoli.
Interior and technology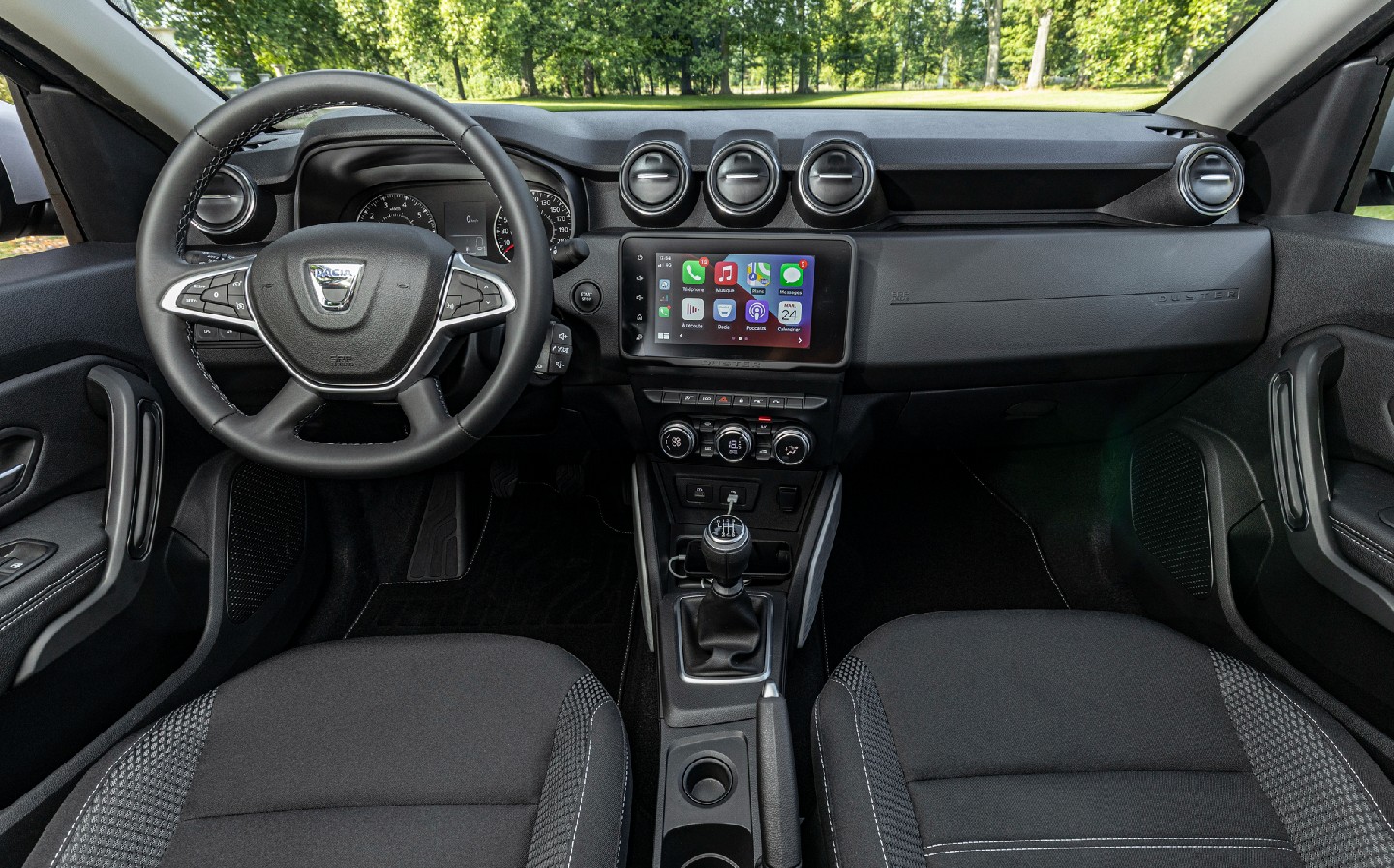 Owners of the outgoing Dacia Duster will recognise the feel of the front seats in the 2021 model, as they're unchanged in design, but they do have new upholstery and new slimmer-profile headrests, which improves forward visibility for those in the back. Not changing the make-up of the front seats is no bad thing, as they're very comfortable — nicely padded but also supportive.
Sadly the ergonomics are terrible for tall drivers and I just could not get comfortable, with the steering wheel not able to come far enough towards me and, with the seat lowered, my knees too high in relation to my hips.
And although in a low-cost, rugged car you'd expect liberal use of hard, scratchy plastics inside the cabin, it becomes a problem when you get reflections of the glossy black dashboard on the windscreen. Cost-cutting is also evident from the exposed top loop for the front seat belts, which in other cars might have height adjustment and a plastic cover.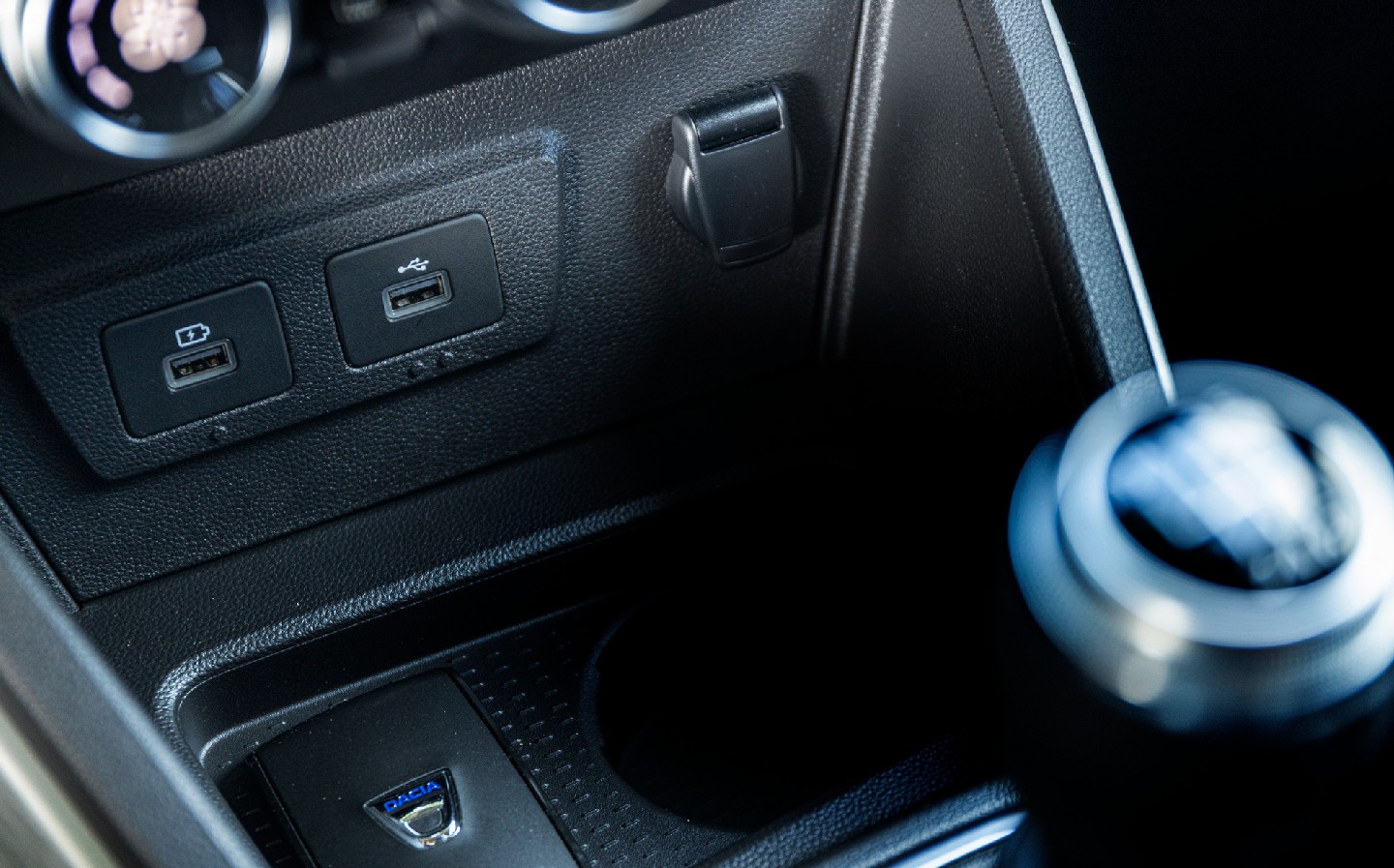 Still, you get what you pay for and while it's the sort of cabin design you might have expected from a new car about five or 10 years ago, with analogue dials in the binnacle and a basic digital information display, it doesn't look terrible by any means, and it works perfectly well. There's a decent control layout, effective air conditioning and convenience features including a couple of USB ports and a 12-volt socket (now located lower on the dash, to prevent wires from hanging down), along with steering wheel controls for the stereo, driver information and cruise control.
What's more, Dacia has fitted a new 8in infotainment touchscreen and my test cars came with the top-spec media nav option, which meant they had could run Android Auto and Apple CarPlay wirelessly, which is impressive. Automatic climate control with a digital display, heated front seats and keyless entry are available on higher specification versions.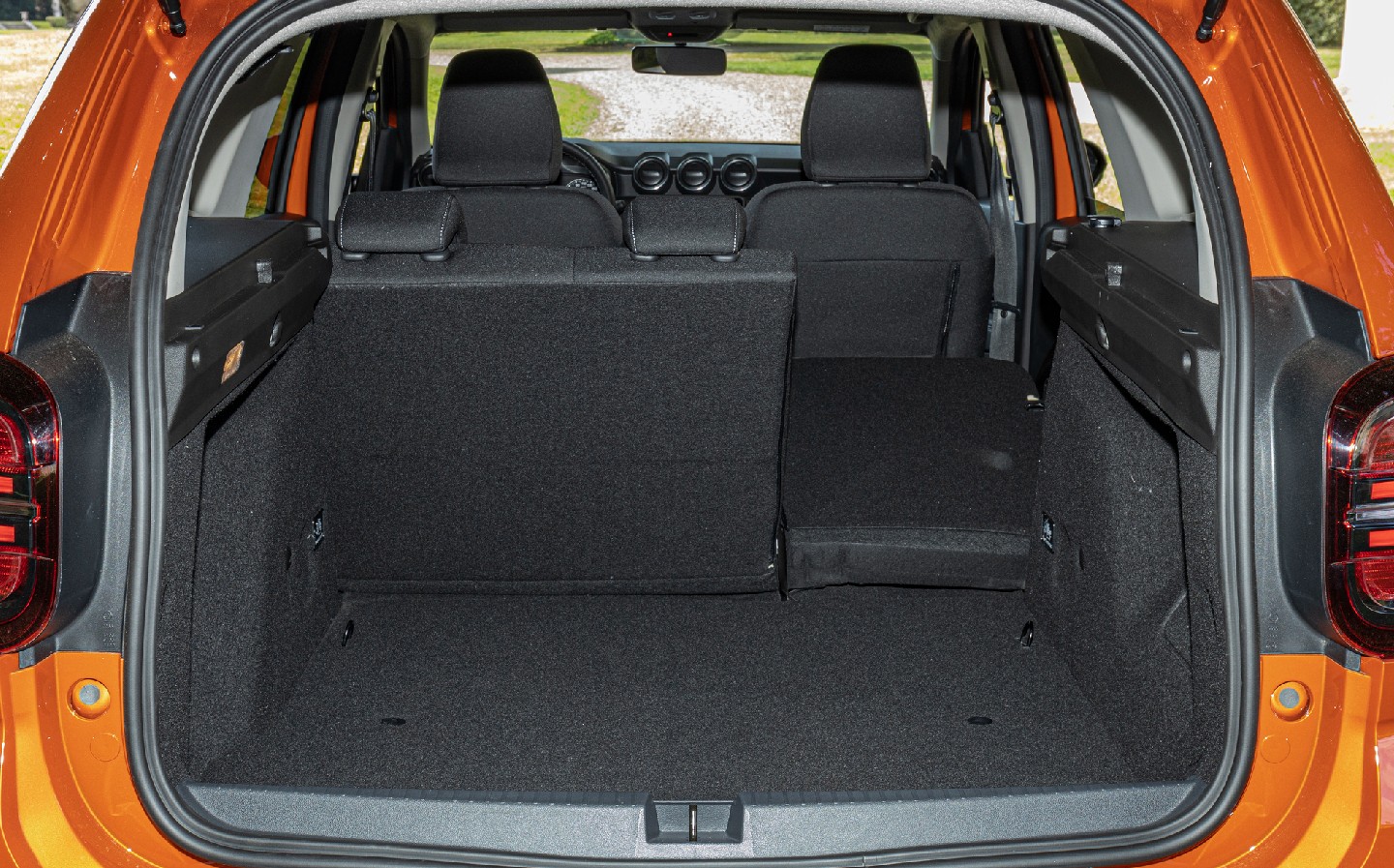 Rear cabin space is unchanged, and the boot of the two-wheel drive models has a very usable capacity of 478 litres (slightly less with the diesel 2WD, and a fraction less still if you want the 4×4, though you'll likely not notice the difference). Fold the rear seats and you get a maximum capacity of up to 1,623 litres.
The car also features blind spot warnings, rear parking sensors and multi-view cameras, with one under each wing mirror to aid off-roading and parking. The reversing camera now comes with dynamic parking guides that adjust as you turn the wheel.
Performance, engines and fuel economy
All-new engines are available under the Duster's bonnet, with improved fuel efficiency.
Buyers in the UK can choose between two petrol engines with three power outputs — the 1-litre TCe 90 3-cylinder or 1.3-litre TCe 130 and TCe 150 four-cylinders — or a lone diesel unit, the 1.5-litre Blue dCi 115.
As all the petrol models are front-wheel drive, the diesel is the one to go for if you want a four-wheel drive Dacia Duster, though according to Dacia's product chief not many people do want a 4×4 version — they make up only 6% of sales in the UK. A petrol 4×4 would account for just 3% of sales, he reckons, so it wouldn't make any sense to bring it to the UK.
Bizarrely, though, Dacia does offer its "Bi-Fuel" models in the UK, which can run on both petrol and LPG, even though it expects the 1-litre, three-cylinder TCe 100 Bi-Fuel to make up just 12% of total sales. Dacia is still plugging away with LPG, as in some countries in Europe it's massively popular due to lower tank costs and reduced CO2 — 60% of Dacia sales in France are Bi-Fuel, for example. It doesn't make so much sense in the UK, as it's hard to find LPG pumps and the price incentives aren't as attractive.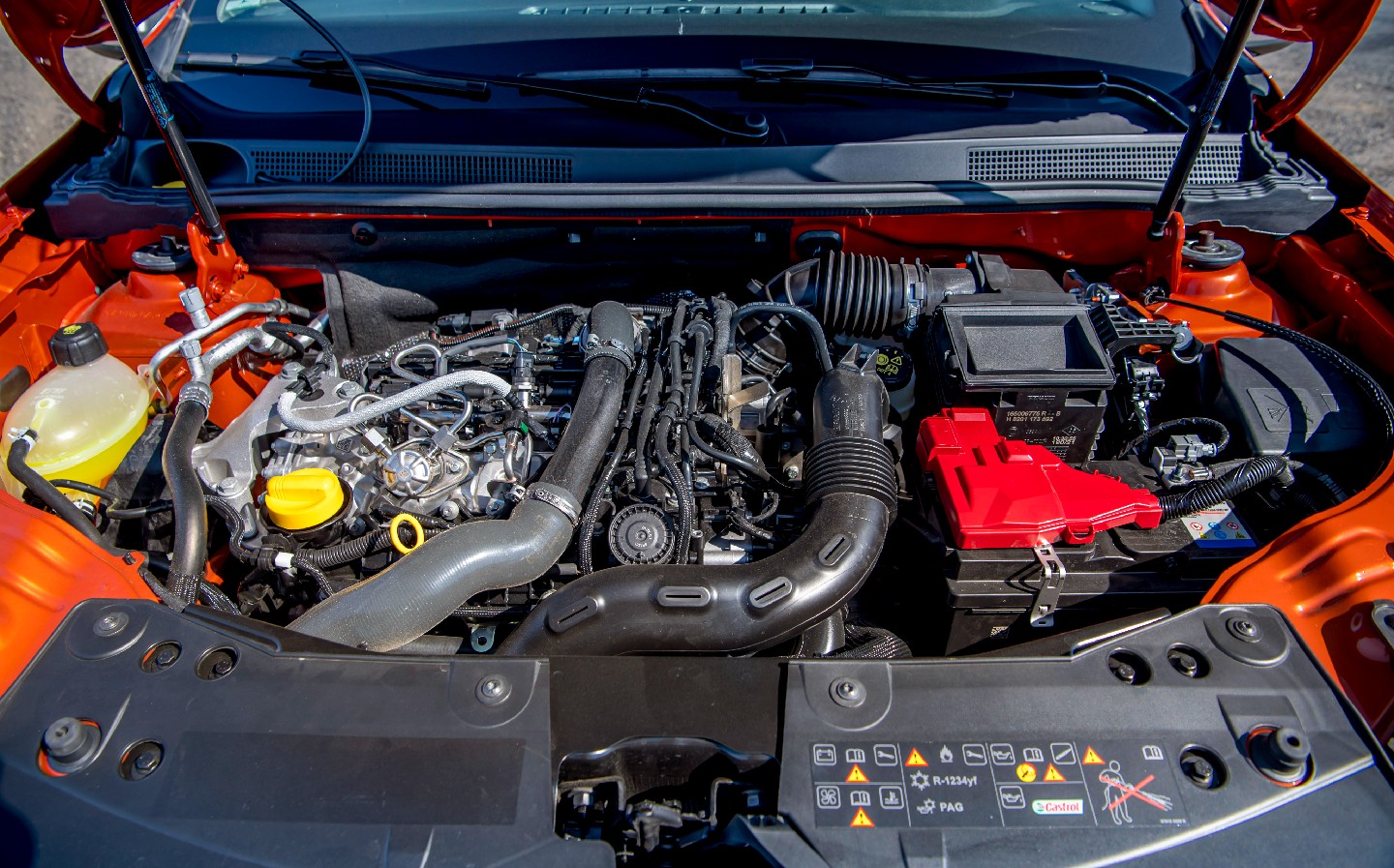 What's impressive about the new Duster's TCe 100 Bi-Fuel engine, though, is how seamlessly it can slip between running on petrol and LPG — the change is imperceptible. It also allows a massive range per fill-up of  767 miles thanks to its pair of 50-litre (usable) tanks.
Sadly it doesn't have a lot of guts; almost nothing below two and a half thousand revs and when you do get it spooled up, there's just 98bhp and 125 lb ft of torque at your disposal, which makes accelerating is rather torturous by modern standards.
Most models are fitted with a six-speed manual gearbox, which is another lowlight; crunchy and not terrifically slick, so you really do feel like you're driving a cheaper car than others in crossovers around you.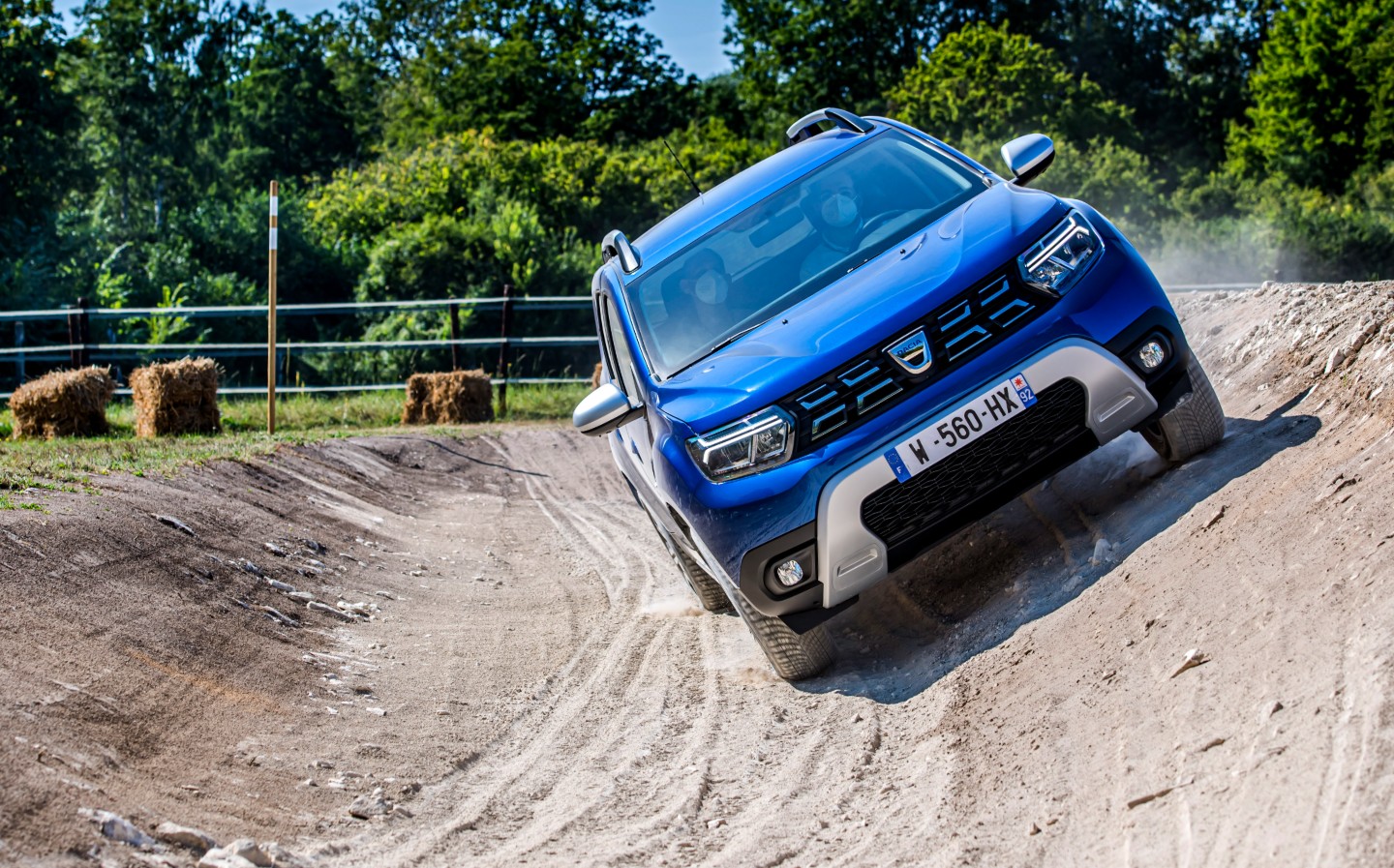 Mind you, the new dual-clutch automatic transmission, available only in combination with the TCe 150 petrol, isn't terrific, either. It uses one clutch for odd gear ratios and the other for even ratios, but whereas most dual-clutch systems offer instantaneous gear changes, somehow the Duster's doesn't seem to offer much improvement on a decent single clutch auto.
Buyers of the 4×4 model should be impressed with its off-road capability, at least — I certainly was, as it tackled 20-degree descents, 30-degree lean angles and axle twists. Hill descent control comes as standard, while anti-stall and electronic stability systems keep the car moving even on some pretty extreme terrains.
Ride and handling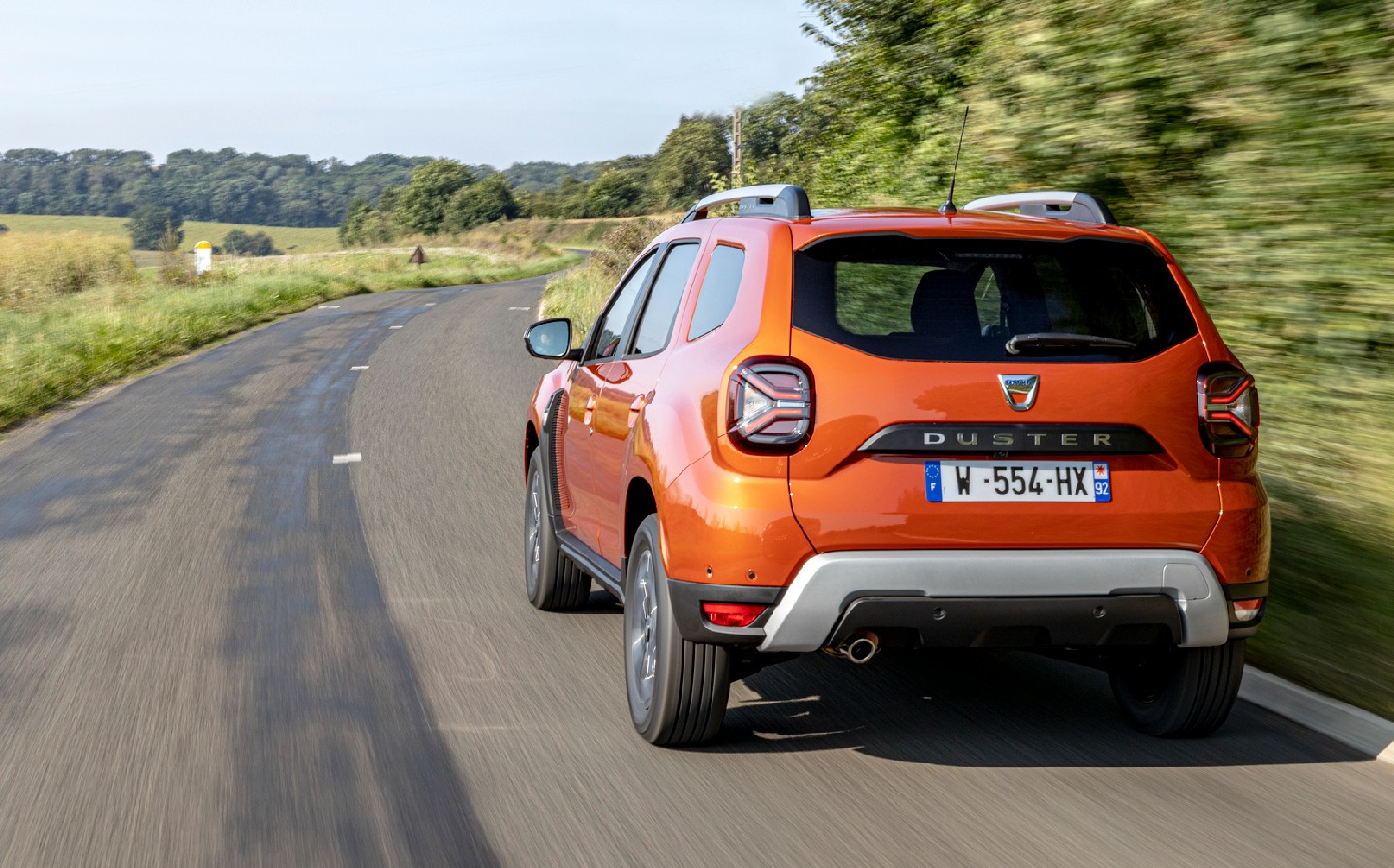 The new Dacia Duster's off-road prowess explains its on-road awkwardness. Its overly soft suspension and light steering (apparently recalibrated for easier parking but also extra stability above 43mph) are fine for straight, uneven stretches of road, but combined with a front end that isn't terrifically responsive, cornering isn't satisfying in the slightest. It has the manners of a pick-up and certainly doesn't feel responsive, dynamic or as stable or some other cars.
On the plus side, though, cabin noise is impressively low, with surprisingly good insulation from wind and tyre roar, and I couldn't detect any rattles or squeaks.
UK pricing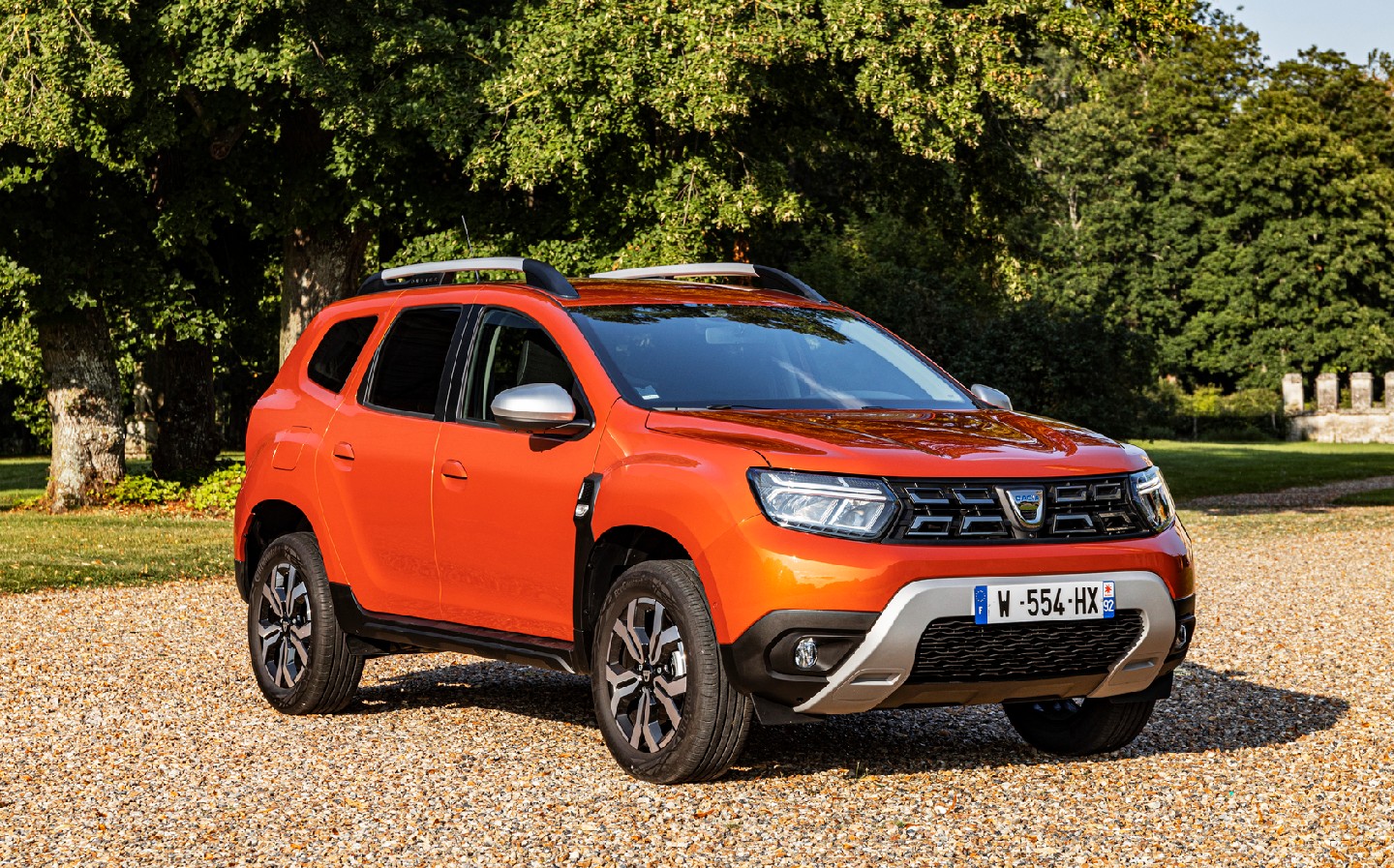 With prices starting at £13,995 and rising to little over £20,000 on the road, it's hard to argue with the value for money offered by the new Dacia Duster. You'll want to avoid the lower-powered engines, though, so look to spent more than £16,000 on a four-cylinder petrol or the diesel.
Three trims are available, Essential, Comfort and Prestige, with 84% of buyers expected to got for the mid- and top-spec versions (fairly evenly split).
| | | | | | | | | |
| --- | --- | --- | --- | --- | --- | --- | --- | --- |
| Version | VED Year 1 | BIK | Basic Price | VAT 20% | Total Retail Price | First Registration Fee | Delivery Charge | OTR |
| Essential TCe 90 4×2 | £220 | 31% | £10,937.50 | £2,187.50 | £13,125 | £55 | £595 | £13,995 |
| Essential TCe 100 Bi-Fuel 4×2 | £210 | 36% | £10,945.83 | £2,189.17 | £13,135 | £55 | £595 | £13,995 |
| Comfort TCe 90 4×2 | £220 | 31% | £12,187.50 | £2,437.50 | £14,625 | £55 | £595 | £15,495 |
| Comfort TCe 100 Bi-Fuel 4×2 | £210 | 36% | £12,195.83 | £2,439.17 | £14,635 | £55 | £595 | £15,495 |
| Comfort TCe 130 4×2 | £220 | 31% | £13,312.50 | £2,662.50 | £15,975 | £55 | £595 | £16,845 |
| Comfort TCe 150 4×2 EDC | £220 | 31% | £14,979.17 | £2,995.83 | £17,975 | £55 | £595 | £18,845 |
| Comfort Blue dCi 115 4×2 | £180 | 32% | £13,762.50 | £2,752.50 | £16,515 | £55 | £595 | £17,345 |
| Comfort Blue dCi 115 4×4 | £220 | 34% | £15,645.83 | £3,129.17 | £18,775 | £55 | £595 | £19,645 |
| Prestige TCe 90 4×2 | £220 | 31% | £13,187.50 | £2,637.50 | £15,825 | £55 | £595 | £16,695 |
| Prestige TCe 100 Bi-Fuel 4×2 | £210 | 36% | £13,195.83 | £2,639.17 | £15,835 | £55 | £595 | £16,695 |
| Prestige TCe 130 4×2 | £220 | 31% | £14,312.50 | £2,862.50 | £17,175 | £55 | £595 | £18,045 |
| Prestige TCe 150 4×2 EDC | £220 | 31% | £15,979.17 | £3,195.83 | £19,175 | £55 | £595 | £20,045 |
| Prestige Blue dCi 115 4×2 | £180 | 32% | £14,762.50 | £2,952.50 | £17,715 | £55 | £595 | £18,545 |
| Prestige Blue dCi 115 4×4 | £220 | 34% | £16,645.83 | £3,329.17 | £19,975 | £55 | £595 | £20,845 |
Verdict: 2021 Dacia Duster review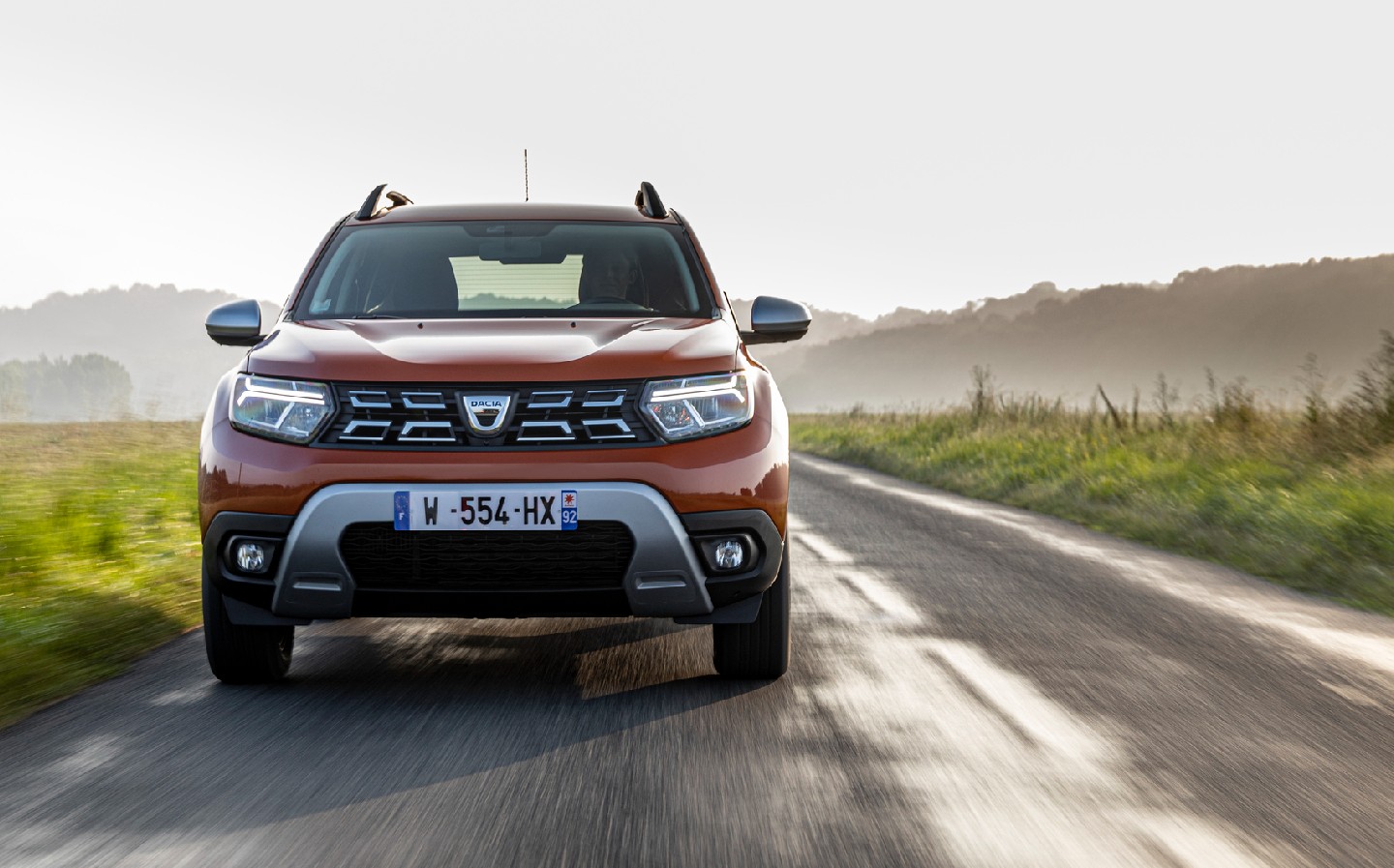 Dacia isn't the brand to go for if you're after sophisticated, satisfying handling, powerful engines and silky-smooth transmission, but the new Duster does offer improved looks, more sophisticated LED lighting, better economy and some surprising bits of kit, such as heated front seats and wireless Apple Carplay/ Android Auto. Comfort is also improved over the outgoing model. So while it's not a match for the likes of the Renault Captur or Nissan Qashqai, there is still a lot going for it if you're after a new car on a budget.